What It's Actually Like To Swim With the Pigs In The Bahamas
To those who may or may not know, there's an uninhabited island in Exuma called Pig Beach (aka Big Major Cay) with yes, wild pigs. From what I've seen on Instagram (and in the Fyre Festival promo video), it's a place like no other.  
Mesmerized by the surreal photos on Instagram from influencers and pig whisperers alike, I had to visit Pig Beach for myself. The best way to get there is to fly into Exuma and check into Grand Isle Resort and Spa. From the penthouse, you can literally see the mansion Billy McFarland stayed at while Fyre Festival was almost, maybe, trying to be a thing. Through a local adventure company Triple A Adventures, resort guests can book a half or full day on the boat through concierge to visit the pigs, as well as nursing sharks and wild iguanas.
After visiting the infamous pigs, I learned that not everything on Pig Beach ends up on Instagram. And that pigs can't fly, but they certainly can swim. This is what it's actually like to swim with the pigs in Exuma.
Pig Beach In Exuma Is F*cking Unreal

First, you find yourself in arguably the most beautiful water in the world. Water so clear you'd be a fool to put a filter on your photo. Then you add in a wild pig just roaming the water. The juxtaposition of the two makes you wonder if you're witnessing real life, or if you died and went to heaven. Approaching the island, I found myself with a dumb smile on my face as the pigs swam up to the boat because it was just the most WTF-is-happening moment. 
Big Pig Energy

Once you process that there are about 20 wild pigs swimming around you in the most beautiful water in the Caribbean, then you begin to realize how big they actually are. We're not talking The Three Little Pigs. That's a fairytale. These are some big-ass f*cking pigs that went to The Bahamas and not to some market.   
Beware Of The Biters
View this post on Instagram
Earlier this year, a video of one of the pigs biting a model's ass went viral. It's not exactly glamorous, but it can and does happen to tourists in search of that perfect Insta. "That one's a biter," my boat captain warned me. He pointed out which pigs are more likely to bite, as they each have a personality of their own. They're more intimidating than cute, but in the water they're moving in slow motion. So worst case scenario, you can outrun a giant pig.   
We Fed Them White Sliced Bread To Get The Money Shots

How do you get the pig to jump up on its hind legs for that money shot? Sliced white bread. Bring a lot of it—like, an entire loaf. I definitely didn't expect that's what would do the trick, but it worked and was low-key a little scary because I didn't want a 400lb. wild pig falling on top of me after jumping up to get some Wonderbread.
The Beach Is A Pigsty, Literally

The beach itself isn't all that glamorous, unless you love the smell of pigs in the heat. It's literally a pigsty with everything the piggies need, including ample shade, water, and small pens for the piglets. Another thing you might not notice from Instagram alone? Each pig was tagged, as they are registered, and frequently checked up on by a local committee of caretakers made up of residents at Staniel Cay. They're responsible for maintaining the large enclosures for the swimming pigs, including a special nursery for the piglets, replenishing and servicing the permanent water installation, and coordinating vet visits to the pigs throughout the year. 
The Piglets Don't Like Being Held

The piglets don't like being held by strangers—I mean, would you? Tourists chase them, and they squeal, loudly. I had a camera in my hand and the other pigs on the beach started squealing and coming at me as I was standing between them and my friend holding a screaming piglet. So just leave the piglets alone, okay? It's uncomfortable, and it's not worth however many likes you would get on Instagram… and you can't see likes anymore anyway, so leave the f*cking piglets alone!
So even though Pig Beach isn't exactly like what it looks like on Instagram, it's not a total Instagram trap either—and still reigns supreme on our bucket list. After you get your perfect Instagram shot, put your phone away and enjoy it, IRL. 
Images: James Barrett; michelle_lewin / Instagram; BlueOrange Studio / Shutterstock
6 Ways To Trick Yourself Into Drinking More Water
Whenever there is anything wrong with me, the advice I always get is "drink more water." A headache? Drink more water. Hungover? Drink more water. Broken leg? Drink more water. I used to think that it was my doctor's mom's way of shutting me up and dismissing my symptoms. But seriously, water has a plethora (*flips hair*) of benefits. It really is that bitch. Who knew! The benefits of drinking more water include increased energy and brain power, flushing out toxins, promoting weight loss and management, improving your skin (bye bye pimples), and tons of others. Needless to say, if there is anything  wrong with you, drink more water. But it can be v hard, so here are some tips to help you drink that water.
1. Get A Water Bottle That Works For You

Shop Betches Not Not Hungover Stainless Steel Water Bottle
Personally, I love my S'well bottle. I don't think there is anywhere I go without it. It keeps my water uber cold. If you don't like ice cold water, then this isn't the bottle for you (and I think there is something wrong with you, so please send me your location so I can alert the authorities to your whereabouts). Get a bottle in a fun color, design, or with a fun saying. You're gonna be spending a lot of time together so you may as well like looking at it.
2. Use a Straw

YIHONG Set of 8 Stainless Steel Metal Straws
Using a straw forces you to drink way more and is my favorite way how to drink more water. But because we care about the turtles and sh*t, invest in some metal straws, rather than disposable plastic ones. My fav are from Amazon. You get an assortment of bendy and straight straws depending on your drinking needs and two brushes so you can keep the straws. But realistically, I just leave them all dirty until I've run out …
3. Use An App

There are TONS of apps to help you track your water intake. I use "My Water Balance" because it is super simple. I'm able to input my water and coffee intake so I can see how much caffeine I've had that day, as well. If you are feeling bougie, you can upgrade the app so you are able to input other drinks like soda, smoothies, and alcohol. The best part? It sends you reminders at whatever interval you choose so it can remind you to keep on drinking. Cheers.
4. Add Flavor
By adding flavor to your water, you can spice up your boring ol' H2O. I love adding fresh lemon and strawberries.Lemon is a natural anti-inflammatory and helps to boosts your immune system, to name a few. Strawberries are considered a "super food" and contain high levels of antioxidants and vitamin C. Infusing your water can kick up your hydration, so try infusing your water with mint, cucumber, or orange (or check out this post for other recipes).
5. One-to-One Rule

This may not be the most fun way of how to drink more water but trust, it'll be worth it. You'll thank me the next morning. So here's how it goes: when you're drinking and pounding back those shots, follow a one-to-one rule—one glass of water for every one glass (or shot) of alcohol. Since alcohol is dehydrating, you need more water to offset the effect. You'll feel way better the next morning, trust me so this won't be you tomorrow.
6. Eat Your Water

One great way for how to drink more water is actually through eating your water. Foods like cucumber, lettuce, celery, radishes, tomatoes, bell peppers, watermelon, spinach, and so many others have super high water contents. By eating some of these foods, you can justify missing a glass or two. If Beyoncé can drink her watermelon, so can we.
Images: William Bayreuther / Unsplash;Giphy (3); S'well; Amazon; My Water Balance
Will Drinking More Water Really Improve My Skin? I Tried It
I've never been especially adept at hydration. If you're confused by that statement because "being adept at hydration" literally just means "drinking water," please know that I am equally as perplexed and frustrated by my own inadequacies. My entire life, I've struggled with drinking enough water. There's likely a lot of reasons for this, ranging anywhere from laziness to total lack of self-preservation instincts, but I like to think it's because there are so many better tasting beverages out there that make water feel like a waste of time. In this moment I can hear health professionals across country the sighing heavily, and I would like each of you to know that I, too, am disappointed in myself.
I'm sure people will read this and have suggestions for me. "But diffused water!!" someone will inevitably posting in the comments section, thinking that they are, in fact, being helpful. To you, sweet soul, I will say this: I have had your diffused water. I've owned countless water bottles with difficult-to-clean diffusers and filled them with ungodly combinations of fruit, herbs, and vegetables in an attempt to trick my body into drinking the one thing it needs to keep me alive. And it always works, for three days.
Three days is what it takes for me to get sick of slicing lemons and rinsing mint and studiously replacing said ingredients before they get soggy and gross. Three days is what it takes for me to forget my fruit-laden bottle in my car overnight and return to a hot, mildew, pulpy mess in the morning. Three days is what it takes for me to abandon the notion of being a better, healthier person and revert back to my former dehydrated troll state. Thank you for your attempts at saving me, but I am too far gone.
So, when I was tasked with attempting to drink double the amount of recommended water a day for an entire week, I jumped on the opportunity. Hydration for my own benefit? Boring. Ordinary. Passé. Hydration for the sake of an article where I get to talk about what a sh*tty person I am? A great time. Sign me up. Break out that soap box.

According to the Mayo Clinic Website, the amount of water we should be drinking per day is a simple question with no easy answer. This is literally my least favorite kind of question. Countless anonymous, omnipotent health gurus and doctors and highly opinionated women with no qualifications around the internet will quote anywhere from 1.5 to 3 liters a day. That's how much they think it'll take to offset the questionable substances I insist on pouring in my body week after week. Fools.
Across the board, it seemed like everyone could agree that about 2 liters a day was optimal, which means that for this experiment I would be consuming 4 liters a day. This is wild for many reasons, first and foremost being that I get maybe a single liter of water on a good day. I don't even want to tell you what a bad day looks like in the event that my mom reads this and then calls and yells at me.
When you research drinking water (something no functional human should have to research, and yet here I am) there are any number of articles that will tell you that doing so isn't just a necessary by-product of being alive, but a beauty and weight loss hack. As if water is this secret elixir that was recently discovered in an untouched cave in Peru and we suddenly have access to its magical properties.

Shop Betches Wetness Is The Essence Of Beauty Water Bottle
Water clears your skin! Water helps you lose weight! Water, when mixed with soap, makes an excellent cleaning solution! All of these things are turned into bold headlines, heralded as newsworthy facts and not just obvious statements, probably because people like me are still Googling things like "benefits of water." The first bullet on any of those lists should be "it keeps you alive," but that's just not enough for us anymore, is it?
If water is going to force me to be alive, it better also give me the skin of a 16-year-old super model and the flat, bloat-free stomach of that same 16-year-old super model. Basically, if this recommended 68 oz of water a day doesn't turn me into Kaia Gerber, what is the point?? Why am I wasting my time??
Well, after seven days of forcing four liters of water into my body, I can tell you the point: you feel good.
After one week of sufficient hydration I can finally recognize what it feels like to be truly dehydrated and let me tell you, in case you weren't aware, it doesn't feel great. I can now say, without a shadow of a doubt, that I have been frequently treating dehydration with almost anything but water. Food. Iced coffee. Sleeping. Iced coffee. Unnecessary snacks. Iced coffee. All consumed under the guise of "I probably need this" when all I needed to do was drink some damn water.

So while the main item in the pro column here is, "my body is finally functioning in the manner for which it was designed," I would be remiss to not mention the cons. Do they offset a healthy lifestyle and fully operational organs? No, but they were still annoying.
First of all, it's really hard to drink four liters of water a day. What you'll find if you attempt to do so is that, once you're no longer thirsty, you have a difficult time remembering to continue to drink water. There are ways around this, but I can't really put into the words the shame you feel when your "DRINK WATER RIGHT NOW!!" reminder pops up on your laptop while it's plugged into a monitor during a meeting and you're forced to explain to your coworkers that you actually require the assistance of technology to do something vital for your own existence.
Also, being fully hydrated means that you pee. A lot. Constantly, even. Enough times that people will start to get worried about you. I don't want to project my own insecurities onto my coworkers, but if I watched someone get up and go to the bathroom twice an hour, every hour for eight hours a day, I'd assume there was a UTI involved. Or they were hungover and taking power naps on the bathroom floor. Not that I'm speaking from experience.
Did my skin miraculously clear up? No. Did my increased metabolism result in magnificent weight loss? No. Did I become a Neutrogena model over the course of seven days? Obviously not. However, if they're interested after seeing my expert selfies below, my DM's are open.

As demonstrated by these (makeup free) before and after pictures, you'll see that I look about the same except that my stress zits have accomplished an entire lifecycle during the length of this experiment. Seeing as how those tend to pop up any time I'm PMS-ing, I didn't expect any amount of water to make a difference. But I also refuse to judge the success of this venture on the aesthetic effects that I may or may not have experienced.
Despite what any number of Instagram pages or low quality videos that your moms friends share incessantly may tell you, not everything in the year 2018 has to be a "hack." I'm not here telling you to drink water because it will magically clear up your skin or make you drop two dress sizes in time for that big event without actually dieting or exercising or suddenly make that cursed amulet in your attic stop whispering turn you into a health and wellness guru. I'm telling you to drink water because it's good for you. And while that may seem like a boring reason in a world of Goop and Beauty Hacks and Instant Fixes, it should be enough.
Images:  Betch Ivy Carter; Giphy (2)
Essential Travel Beauty Tips So You Don't Look Gross After Flying
Travel is without a doubt one of the greatest parts of summer. First of all, there's the crack-like (I assume) rush of turning on an "out of office" email reply. Chase that with a daily routine of margaritas for breakfast, followed by triple-digit likes on a "look at my ass this beautiful view" 'gram, and I'm decidedly living my best life. Unfortunately, even the highest of vacation highs tend to come crashing down within 24 hours of returning home. Not only did your "out of office" reply deter exactly zero people from emailing you multiple times, but you now have to deal with the ravaging effects of whatever public transit hell you were subjected to on your return home. (I'm primarily discussing air travel here, but let's not pretend that buses/trains don't leave you feeling pretty icky as well.) Here are some travel beauty tips for avoiding and even reversing the damaging effects of air travel.
Start With A Clean Face
If you're one of those people who can't leave the house without a full face of makeup, I have bad news. No one believes you woke up like that, and you should absolutely never fly in makeup. If you absolutely have to roll up to the airport made-up, at least take it off ASAP once you're in the air. Makeup wipes like these Philosophy facial cleansing cloths are a must, given the state of airport bathrooms and the fact that your bougie-ass cleanser definitely won't make it through TSA. Alternately, you can go with a (travel size) no-rinse micellar water—just please God use cotton pads, not airplane toilet paper. Ew.

Purity Made Simple One-Step Facial Cleansing Cloths
Embrace In-Flight Skincare
Ok, so now your face is clean. Sadly, your work is just beginning. One of the biggest damaging factors on airplanes is that they dry you out like crazy. This means you're looking at red patches, flaky skin, and the overall pallor of a three-day-old corpse (just me?). Luckily, there are ways to avoid this—though they do involve giving exactly zero fucks what the people in your row think. For starters, it seems like every celeb on earth applies a hydrating mask while flying. Luckily, there are "invisible masks" like the Origins Drink Up Intensive,  or Kiehl's Ultra Facial Overnight Hydrating Masque, both of which you can leave on for hours to absorb maximum moisture, without getting dirty looks from flight attendants. For those a little less shameless, the Summer Fridays Jet Lag Mask goes on like a regular mask (that you'll have to rinse off with a warm towel, somehow), but it provides hydration and anti-inflammation without any harmful ingredients or artificial fragrances (it's also vegan). If you're brave enough for a sheet mask, Chrissy Teigen and J Lo swear by the SK-II Facial Treatment Mask.

Kiehl's Ultra Facial Overnight Hydrating Masque
Once you've removed the mask, it's recommended you follow up with your preferred serum/moisturizer/eye cream. (Or if you're prone to puffy under-eyes (hi), consider some cooling pads like these skyn ICELAND firming eye gels.  Emma Stone swears by argan oil for long flights, but your heaviest daily moisturizer should work fine.

As a final, extra-luxe step, invest in a face mist. Celeb stylists love rose-water infused options (try Khloé Kardashian's preferred Jurlique version), but regular old Evian is fine too. If you're reallyyyy trying to get extra about this, the Caudalie Beauty Elixir is another celeb fave. (It's a toning spray, but don't ask me what toner does). Or,  you can follow up your SK-II celeb-approved face mask with their Facial Treatment Essence. (Seriously, do not ask me what essence does.)
Stock A Full Mom-Purse
You know that one friend whose purse is always fully stocked with Kleenex, lip balm, gum, etc? Yeah, you'll want to emulate that to an extent. In addition to all the face wipes and hydrating essentials mentioned above, you should never board a flight without hydrating lip balm, hand lotion, and more water than you usually drink in a week. This final point is especially key, because in addition to making your outsides dry AF, your insides are also dying from dryness when you're on a flight. So drink, drink, DRINK. Even though it's annoying to get up every half hour and use the bathroom, you'll thank me when you don't arrive bloated and constipated (ew), not to mention the fact that the simple act of getting up and moving frequently is proven to help beat in-air bloat, and can help prevent blood clots. Woo!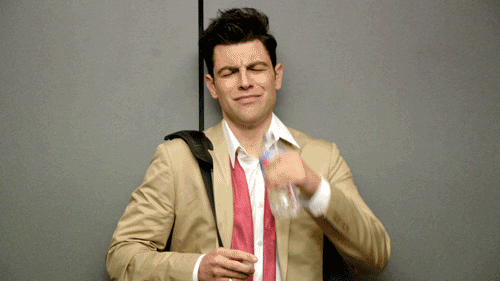 Be Careful What You Eat & Drink
Oh, and speaking of drinking—I have another bubble to burst here. As you know from waking up at 3am with desert mouth after a night of drinking, alcohol dries you out—which means drinking on flights is a big no-no (same is true for caffeine). Yes, air travel is definitely one of those memories I'd prefer be a little hazy, but the pounding headache and exaggerated dehydrating effects all around are not worth the 25-30 minute buzz. Save the drinking for your final destination.
When it comes to eating, you're better off the less you ingest while actually on the flight. Sugar-free foods and gum escalate an already gassy situation (sorry—I don't make the rules), and chewing gum makes you literally swallow air, which, you guessed it, escalates both the gas and the bloat. The same goes for high-sodium foods and any carbonated drinks. So yeah, even your beloved La Croix is a no go. Some experts suggest to avoid eating anything on a flight, since flying may cause your digestive system to slow down, and the restarting process will be all the more unpleasant if there's new food to digest rolling around in there. Whether or not that's 100% scientifically proven, many people who avoid eating on planes say they feel more rested and hydrated after, so it's worth a shot. Were you really that hyped about airplane food anyway?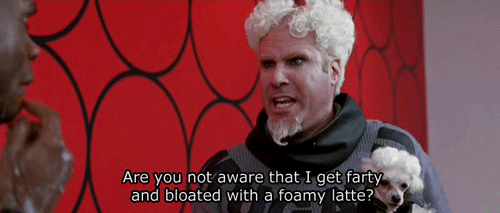 That's all from me (though TBH, it's plenty). I purchased maybe six more products over the course of writing this article, as I'm currently in the throes of post-flight bloat and ogre skin myself. Learn from my mistakes and help slightly soften the blow of going back to work by not having to deal with a pimple the size of a third eyeball taking over your forehead. Really takes away from the glamour of an overseas vacay.
Images: Giphy (2); Sephora (2)
Betches may receive a portion of revenue if you click a link in this article and buy a product or service. The links are independently placed and do not influence editorial content.
10 Ways You're Sabotaging Yourself By Not Drinking Enough Water
We are all FULLY aware that drinking water is good for us. Want clear skin? Water. Trying to lose weight? Replace all meals with water. (Jk. Please don't do that.) Want to look hotter in general? Water. Want to bring about world peace, get Trump impeached, bring back Obama for a third term, and ensure a lifetime of not having to work but getting paid for laying around? Probably water. You get the idea.
But there are magical things that this literal elixir of life can do for you that you may not have known about. Sure, chugging water may clear up your zitty face, but did you know if gives you a lot more energy? Probs not. So I rounded up 10 surprising benefits of drinking water. And no, Diet Coke does not count. Get to chuggin'.
1. You Won't Be So Goddamn Tired All The Time
Water naturally boosts your metabolism and makes you super focused, since your brain is made up of like, water and other things (according to science). So, if you're having trouble concentrating on the mile long to-do list on your desk, chug water and you may be able to focus on it.

2. You'll Flush Out The Crap You've Been Eating & Drinking
Are your weekends full of drugs and binge drinking? Water can help flush those looked-down-upon activities right out of your system. By the miracle of peeing, you can help your body more quickly give the old heave-ho to those tequila shots lingering in your body.
3. You'll Lessen Your Chances Of Getting Sick
My husband is currently laid up in bed for day three of "I can't take care of myself and have the flu." He could have prevented this by drinking enough water and boosting his immune system. That means that instead of watching a grown man moan about sinus pressure, I could have pressured him into taking me to a nice dinner. The more you know.

4. Your Headache Will Magically Disappear
Does your head hurt all the goddamn time? Do you attribute it to the idiots you work with everyday? It COULD just be that you're dehydrated! If you chug water, the headache may actually disappear. If it doesn't, good luck finding a new job.
5. You'll Be Less Likely To Injure Yourself
Hey guess what? If you drink water, your muscles will stay limber, and your joints will stay lubricated (ew, but true). That means you'll be MUCH less likely to fall while wearing your new BCBG flats, break your foot, and have to wear a fug boot for a week, all because you couldn't quite get a grip on texting and walking. Not that I'm speaking from experience or anything.

6. Your Cramps Won't Be Quite As Shitty
Brace yourself, cause it's fucking true. If you have more water in your system when Red October rolls around, your muscles will be more elastic, and therefore, less likely to cramp up on you. Plus, you'll be peeing out all that water weight anyway, so you can justify being like, five pounds heavier that week.
7. You'll Be Less Poor
This is an obvious one, but, in case you missed it, water is FREE unless you're drinking the bougie kind and/or living in Flint, Michigan. Honestly tho, save a few bucks, grab a sustainable metal bottle, fill it with not-disgusting tap, and chug. Your wallet will thank you.

8. You'll Have Less Wrinkles
Yas, we know water is good for our skin (obv), but it can also help stave off the onset of wrinkles. By moisturizing your skin from the inside and preventing fluid loss, you lessen the likelihood of some nasty-ass crow's feet on your face.
9. You'll Eat Less
A great trick is to chug water BEFORE you eat. It'll fill your stomach, make you feel full, and you'll be more likely to exercise some goddamn self-control when faced with cake, cookies, fried chicken, etc.

10. You'll Feel Skinnier
Don't deny that you fucking love taking a grand shit, feeling 10 pounds lighter, and being able to squeeze into that body suit afterward. Yah, it's gross, but chugging water will help maintain your ability to be regular. And that, friends, is priceless.
Images: Madison Bilsborough / Unsplash; Giphy (5)
How To Detox From Your Fourth Of July Hangover
Listen up, heathens. Whether you really give a shit about Independence Day or not, you and I both know you drank enough alcohol this weekend to put Lady Liberty under the table. But now the excuses for day drinking celebrations are over and it's time to drag your bloated, hungover body into work like an adult with bills to pay and a mouth to feed.
Unfortunately, you probably feel like you have absolutely destroyed all the work you put into achieving the summer body you were able to display this past weekend. Fortunately, you have a month or two to recover before the next big binge-drinking event that marks the end of summer—Labor Day parties. Seize this opportunity to cleanse and restore your body from all the shit you put it through this past weekend before you inevitably fuck it up again next weekend.
How, you ask? Follow the advice you found on the internet, obviously. Here are 7 ways to detox after all the burgers you ate and shots you took this July 4th.
1. Drink A Fuckton Of Water
Research shows that hangovers are caused at least in part by dehydration. While the very thought of chugging anything may make you want to vom right now, start sipping on some water ASAP.

2. Replenish Your Electrolytes
Again, you're probably super dehydrated right now, which means you need to replenish all the body salts you lost while participating in the great American tradition of getting blackout. Sports drinks and salty soups like miso soup are good sources of electrolytes, plus they make you look like you just did something athletic.

3. Eat A Banana
Apparently potassium is good for counterbalancing sodium, so it can reduce all that water making you swell to three times your size. If you don't like bananas for whatever reason (I get it—you can't transport them anywhere without them turning to mush, you can't eat them in public for fear that some perv will get the wrong idea), snack on other potassium-rich foods like sweet potatoes, yogurt, clams, etc. (That last one was a test—send me the names of anyone who can stomach clams when they're hungover and I'm calling the police on them.)

4. Go For A Walk
Studies have shown that going for a walk after eating helps lower your blood sugar and get your digestive system moving faster. I'm assuming you've already digested all the beer from yesterday, but go for a walk just in case—your body can use all the help it can get. It also puts you in a better mood, so you might manage to make it through the day without stabbing someone (Debra in accounting) in the eye with a ballpoint pen.

5. Make Some Asparagus
Asparagus is also known to help your hangover go away faster by up-regulating cell metabolisms. In other words, it helps you metabolize alcohol faster. Who knew?

6. Go For A Starbucks Run
Caffeine has been shown to reduce headaches caused by hangovers, so indulge in your Starbucks addiction today, assuming you haven't already. Just make sure to go back to #1 and drink water afterward, because caffeine causes dehydration.

7. Skip The Soda
Carbonated drinks have bubbles in them. Bubbles contain air. Gas and bloating are caused by air in your digestive system. You do the math—stay far, far away from carbonated stuff today, unless you want to continue looking and feeling like the angry marshmallow man from Ghostbusters.

A Definitive Ranking Of The Betchiest LaCroix Flavors
In the past few years, LaCroix has gone from something I'd only vaguely heard of before to literally taking over the world. Betches have ridded their fridges of Diet Cokes (JK not really) and flavorless flat water (God forbid) and replaced them with brightly colored cans of effervescent deliciousness. The good news? All LaCroix is pretty fucking betchy. They're calorie-, sugar-, gluten-, sodium-, anything bad for you-free so they're not going to make you fat like other sodas. They make amazing mixers. And who doesn't love bubbles? The bad news is that all flavors are NOT created equal. But that's what you have us for.
So we bring you: a definitive ranking of the betchiest LaCroix. Two things before diving into this: 1) There are a million fucking flavors so they're not ALL on here. 2) If you disagree with our ranking, that's fine. If it really upsets you, however, you need to relax and either pretend this list never happened, or make a life change and send us a box of LaCroix as a thank you. Preferably option 2.
10. Cran-Raspberry
Does anyone even drink this? Out of all of the flavors, this one is the fakest tasting and it's just not good. If you go to someone's house and they offer you a LaCroix then whip out this bad boy, it's time to go home and reevaluate the friendship.

9. Peach Pear
It's not necessarily bad—if I'm being perfectly honest, I think it's pretty good. I'm a Southern betch though, so anything peach is my shit. It's just that it tastes SO MUCH. It's like a transition drug for people trying to break into the world of sparkling water except they just can't give up their sugary soda ways. I feel like Peach Pear people probs keep a secret stash of Mountain Dew in case of emergencies.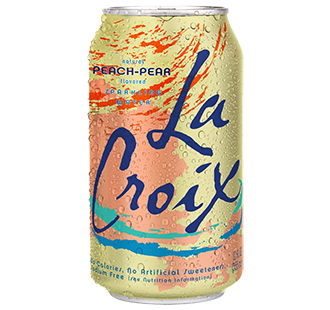 8. Coconut
The problem here is the way it smells. I literally crack open a can and start gagging because it's like cheap tanning oil and when I think about drinking it, I want to vomit. The only excuse for drinking this one is that it's a skinny option for a tropical mixer, but like, can't you just use coconut rum?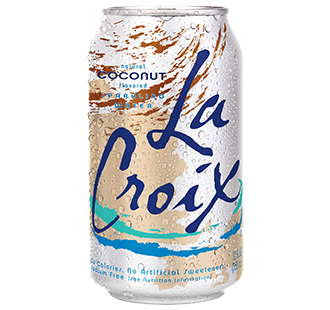 7. Pure
The OG LaCroix is a little boring because it has no flavor whatsoever, but I can definitely appreciate people who are hardcore enough to drink plain sparkling water. Best part about this one is you can throw it in any drink you want and it won't fuck up the taste, just make it a little bubbly.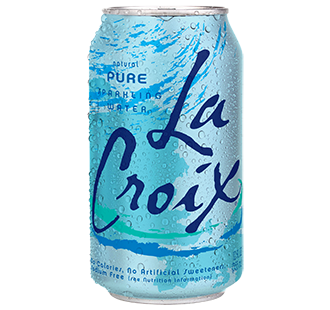 6. Piña Fraise
Ah. The first one from LaCroix's Cúrate (it's pronounced coo-rah-tay, btw). I feel like some people are gonna hate on these and be Team Original, but idc because they're amazing. This one mixes pineapple and strawberry so it's a little on the sweet side for my taste, but it has a good bit of flavor without fucking punching you in the face. It says "I'm not quite a LaCroix pro, but I'm not a lame AF newb either."

5. Melón Pomelo
If you couldn't tell by the name, this is another of the Cúrate variety. It breaks into the top five because of its uncommon mix of fruits that actually works and isn't totally nasty (looking at you, Cran-Raspberry). It's like a mixologist handmade your sparkling water for you. I mean, who knew cantaloupe and grapefruit combined could be so damn tasty?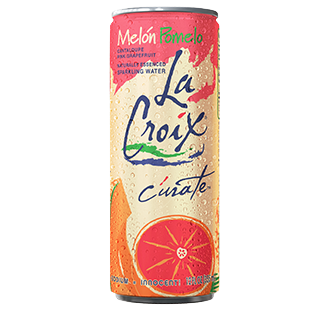 4. Cerise Limón
This one is literally like a calorie-free cherry limeade from Sonic. Well not quite, but close. The subtle flavors are usually the betchiest, but because it's all tart and no sweet, it doesn't taste as fake as some of the other flavor-heavy options. A vodka soda with a cerise limón instead of standard club is never a bad idea. But you can just say cherry lime so you don't sound like an asshole who's trying to speak Spanish.

3. Lemon/Lime
These two are tied because they're pretty much the fucking same. They're basically only liked by LaCroix snobs because they kind of taste like a fountain Sprite when it's running low on syrup. Tbh, these two are okay, but not my faves. The only reason they're up this high is because they're awesome mixers and go with pretty much any kind of alcohol.

2. Múre Pepino
Surprise! It's another member of the Cúrate fam and it is fucking incredible. The mix of blackberry and cucumber is like something you'd get at the spa. It's so damn refreshing and it's relatively unknown so you look betchy AF and slightly hipster, but not overtly, so when people go in your fridge and stumble across the lavender and lime cans. If you like crafty cocktails with herbs and shit, make this your new go-to.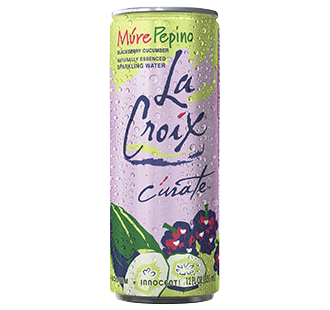 1. Pamplemousse
This should come as a surprise to no one. Pamplemousse (grapefruit, if you speak English) is an OG LaCroix and has managed to stay the betchiest. It has a little more taste than lime and lemon, but it's still super light and exclusive to veteran LaCroix drinkers. It's also one of the bubbliest which is always a good thing. Plus, the name is fancy AF. Long live the pamplemousse.