5 Signs It's Time To Dump A Friend
It's said that friends are the family we choose, and I couldn't agree more. My girlfriends are some of the most cherished people in my life, and there's no one else in the world I'd rather talk sh*t have several glasses of chardonnay with than them. But is it realistic to expect that all friendships will last forever? I'd argue no, especially now that the average life expectancy is in the 70s instead of, say, 35. While no one wants to dump a friend, there are certain signs that indicate your friendship may not be long for this world. Here's how to tell it's time to break up with your BFF.
1. The Dynamic Has Become Toxic

You've likely chosen your friends because they make your life better in some way. (At least, I hope so.) While it's natural to fight occasionally, if every interaction is fraught, this is a good indication that the friendship may not be worth maintaining. Your friends should lift you up and be your biggest supporters. If instead, your friendship is making you feel worse about yourself, whether as a result of jealousy, competition, pettiness, passive aggression or some other form of negativity, it might be time to move on.
How To Handle: Think about whether the friendship can be saved by addressing the problem head-on with a direct and honest conversation. If it can't, the friend in question won't cop to her behavior, or you simply don't want to bother anymore, it's time to cut the cord.
2. You're The Only One Giving 

Friendship should be a two-way street. Of course, at certain times, one party may be giving more than the other, but neither party should be expending all of the effort on a consistent basis. While a friend who dominates the conversation with their drama might be exciting in high school or college, the novelty wears off once you enter the real world. If your friend only seems to contact you when they need something, but isn't there for you when you need support, it's time for you to sashay away.
How To Handle: This type of friend usually lacks the self-awareness to change their ways. If you want to get off the roller coaster, a slow fade is usually the best approach.
3. The Connection Feels Forced

Because life circumstances constantly change, certain friendships that emerged at one particular point in your life might not go the distance. These divergences become more apparent in your twenties and beyond as priorities start to shift. While it was easy to bond with Janine when you were downing Natty Lights during sorority pledging, it might be harder to relate when you're climbing the ladder at work and navigating the veritable cesspool that is the New York dating scene while she's preparing to pop out baby number three. History is great, but it shouldn't be the only thing keeping you together. If every conversation feels like work to try to find some common ground, it may be time to put your energy elsewhere.
How To Handle: Chances are good that if you're feeling a lack of connection, your friend is feeling similarly. In that case, you may not need to do much to create distance. If neither party wants to put in the work to keep the relationship going, it will likely dissolve over time.
4. They're Constantly Bailing On Plans

We all have moments where we just don't feel like socializing with sentient beings other than our dogs something unexpected arises and we can no longer stick to plans we previously scheduled. However, if your friend is regularly bailing on plans with little to no notice or explanation, this is likely a sign that something is off with the friendship. It's also highly disrespectful of your time. I knew I had to consciously uncouple from a friendship when the other party thought it was acceptable to cancel plans without excuse when I was already in a cab en route to meet her.
How To Handle: Unless you're willing to write this person off immediately (same), this warrants a direct conversation. Be honest about how your friend's actions are affecting you. If she is able to own her behavior, there may be hope. If not, it's time to bid her adieu.
5. You're Not Eager To See Them

Your time is precious, especially as you get older and are juggling different priorities. It's important, then, that this time is spent with people who are adding value to your life and who you genuinely enjoy seeing. If a friend reaches out to make plans and you feel a sense of dread rather than excitement, this may be an indication that the friendship has run its course. Think about whether your reaction is stemming from something temporary, like a friend who is negative because they are going through a hard time, or something more permanent, like a friend who simply no longer shares the same values. If it's the latter, it may be time to phase out the friendship.
How To Handle: This one is tough. Ideally, the hope is that with enough excuses, this friend will get the hint that you no longer want to invest in the friendship and the problem will solve itself. If, however, this friend won't let you off the hook so easily, you can let them know that your priorities have changed and you no longer feel as close as you once did. It's uncomfortable, but sometimes it's best to simply rip off the Band-Aid.
Ultimately, it's up to you and the friend in question to determine whether the friendship is salvageable. The idea is to assess whether or not both parties can or want to invest in the relationship and to act accordingly. If the answer is to move on from the friendship, there's nothing wrong with that. Honor your feelings and do what makes you happy. I know I didn't cover every sign, so share your stories in the comments!
Images: Korney Violin / Unsplash; Giphy (5)
5 Signs You Have A Toxic Boss & How To Handle It
With the amount of time we spend at work each day, it's no wonder that a boss can make or break the experience. It's been said that people leave bosses rather than jobs, and the statistics back this up. According to a recent study, 60% of employees surveyed left or were considering leaving a job because of their direct supervisor. While it's rare to have a perfectly ideal manager, there are certain characteristics that may indicate you are dealing with a truly toxic boss  . As someone who has had experience with more than one veritable nightmare of a human being challenging boss, I can personally attest to how all-consuming such a negative experience can be. Because I'm such a selfless person, I've come up with a list of common toxic boss traits as well as strategies to survive these monsters while deciding on next steps.
Sign #1: The Work Environment Palpably Shifts

Before your new boss, work was a sort of bearable pleasant place to be. But now the environment has changed sharply and suddenly. The way this change takes effect can differ, ranging from more overt behavior like yelling and disparaging employees, to more subtle behavior like an intensity that causes the whole department to feel stressed where they once felt comfortable and at ease. The key is that the environment has changed for the negative.
Sign #2: Micromanaging Becomes The Rule
This one can be infuriating. Despite all of your efforts to date, your boss can't help but insert themself into tasks that you're more than capable of completing and feels compelled to tell you how to do them. No matter how glowing your track record, a micromanager won't be able to rise above their own insecurity and trust you to do your job, because they need to feel like they aren't an insecure shell of a person important and call the shots.
Sign #3: Admitting They're Wrong Is An Allergy

A toxic boss is incapable of acknowledging they are a human being who, like the rest of us, makes mistakes. Instead, he or she will gloss over their own errors, despite practically foaming at the mouth when it's time to point out yours. The rules don't seem to apply to them and they present themselves as almighty and infallible. In other words, they're really fun at parties.
Sign #4: They Only Look Out for Number One
Instead of cultivating a respectful and mutually beneficial relationship with those who report to them, toxic bosses are only interested in making themselves look good. You only exist as an extension of them, and they treat you like a minion rather than a colleague. They're only interested in having you validate their existence rather than help you with your career. Hierarchy is very important to this kind of boss and they won't let you forget it. Some may even go so far as to take credit for your work.
Sign #5: Resistance Is Futile
A good boss can take constructive feedback and internalize it. A toxic boss is incapable of doing this. No matter how articulately you express yourself, any criticism or pushback, however valid, is viewed as an attack and this kind of boss can't hear it. In fact, when you do try and share a differing view, they may punish you later in an attempt to reassert their power. Reasoning with this type of boss is about as fruitful as reasoning with a toddler. Now, let's get on to some useful strategies for dealing with these toxic bosses.
Strategy #1: Attempt An Honest Conversation
Admittedly, this might not be possible with certain bosses, especially those who shut down in the face of feedback. But if your boss has a glimmer of humanity, it might be worth trying to suss out the root of the disconnect, if only to bolster your argument later that you tried everything in your power to address the issue professionally and without outside intervention. It may even take several conversations, but if you can get an open dialogue going and your boss is willing to try to improve the relationship, it can pay dividends down the road.
Strategy #2: Mind The Patterns & Play The Game

After enough frustrating interactions, you will likely be able to see patterns in the way your boss likes things done or reacts to certain behaviors. For example, if you're dealing with a typical narcissist, you can make them feel needed and validated and, therefore, less threatened by you, allowing you more space to do your job. It can be a tough pill to swallow at first, especially if you're anything like me and hate being superficial with people. But think of it as something you are doing for yourself and your own well-being, rather than for your boss.
Strategy #3. Seek Out A Support Network
Unless you're dealing with a true psychopath, there's a good chance you are not the sole target of your boss' treacherous behavior. Don't be afraid to confide in coworkers that you trust and rally around your colleagues when things are difficult. The camaraderie reminds you that you are not alone, making you less likely to spiral into a dark place. This can even be an opportunity to bond with coworkers you weren't as close with before the toxic boss. Nothing unites people more than a common enemy and you may even be able to find some humor in your boss' fugly haircut the situation as a means of relief.
Strategy #4: Go Outside Of Your Department

If the previous methods aren't working or are simply impossible, it's time to look to outside resources for support. In most cases, this will be the company's HR department. While very few HR departments operate swiftly and effectively, the company should be aware and on notice of what is going on with your boss so it can be dealt with appropriately. It's also good to have a record in the event you are terminated and believe it was retaliatory. If your company doesn't have an HR department, confide in a colleague you trust who is at a comparable or higher level than your boss. He or she may have some insight or can serve as an ally later on if needed.
Strategy #5: Start Looking Elsewhere
A toxic boss can wreak havoc on your mental health, and no job is worth paying that price. If the situation is untenable, leaving may be the only option. Of course, most of us are not Kylie Jenner and can't afford to just up and quit our jobs. Put a plan in place that allows you to work toward leaving as soon as it's feasible—start looking at other opportunities and networking, set a reasonable deadline, and see what other levers you may be able to pull in the meantime. If the situation is really dire and you have to get out, assess your finances to see if you can rely on savings for a while and/or talk to your parents, partner, or other loved ones to see if some interim financial support is possible while you look for a new job.
If you're currently saddled with a toxic boss, you're far from alone. Know your value, never waver from it and don't allow an insecure and likely deeply unhappy person to make you feel less than capable. At the very least, navigating this situation will teach you some valuable lessons about how to be a leader and show you what you should not do when you are a manager. Because evil comes in many forms, I know I didn't touch on every toxic trait and coping strategy. Share your horror stories and solutions in the comments!
Images: Shutterstock; Giphy (5); whenshappyhr (3) / Instagram
5 Types Of IG Posts That Tell You A Couple Is About To Break Up
Here's to annoying couples: may we know them, may we judge them, may we actively avoid them. Unfortunately, the latter is nearly impossible in our culture of oversharing. The good news is that the most flagrant offenders probably won't be blowing up your feed for too much longer. Read on for the telltale posts that indicate there is trouble in paradise.
1. The -Month "Anniversary"
I feel the need to start this section with a brief etymology lesson. The word "anniversary" comes from the Latin adjective anniversarius, which means "returning yearly," as well as the Latin noun annus, which means "year." So it always baffles me when I see couples commemorating their "3 month anniversary!!!" on social media. While it's severely premature cute that you're celebrating your relationship's survival over the course of a fiscal quarter, it makes absolutely no sense. What's more, it reeks of insecurity. How dicey are things that you feel the need to prove the legitimacy of your relationship with a fake anniversary?

2. Gratuitous Tributes
These eyesores come in many forms, the most common being a weekly #WCW or #MCM post. Don't get me wrong. I love love and think it should be celebrated, but it feels more authentic when it happens organically in the context of an actual milestone, like a birthday or a (real!) anniversary. We should appreciate our partners, but must this appreciation be constantly performed on a public forum on a weekly basis? These posts are where the cracks (say crack again) really begin to show in a relationship. They come across as reactionary, like the poster is trying to make up for something he or she did wrong, leaving the sentiment reading more like a coded mea culpa instead of the undying declaration of love it claims to be. Why should Chad send flowers to his girlfriend after she catches him texting bitches when he can overcompensate by firing off a #WCW thirst trap on the 'gram and call it a day?
3. Incessant Vacation Pics
I will confess that I am guilty of posting way more than I normally do when I am on vacation. But I do try to space out these posts and be cognizant of the fact that while I'm posting basic shots of my third pasta lunch in a row, my followers are toiling away at their work desks, secretly hoping that my Aperol Spritz goes down the wrong pipe. Couples on the brink of a breakup, however, don't seem to have this sort of self-awareness. Instead, they assault your feed with daily posts and endless selfies from their romantic seaside dinner in Santorini (btw, it's kinda hard to see the scenery in your selfies, Susan) to make up for the fact that they spent the majority of said dinner arguing about when Matt is finally going to propose. The frequency of these posts is the big tell: the more they are posting, the more they are trying to convince their followers and themselves that EVERYTHING IS FINE! The reality, though, looks something more like this:

4. PDA Overload
Beware of the PDA pictures, my friends, for these are the death knell for many a relationship. Kissing pictures are generally tough. I'm willing to overlook them, say, on one's wedding day, but anything else feels voyeuristic and leaves me with a lot of questions, the most important being: Who TF is taking these pictures?! The more performative the pose (looking at you, dips), the less likely the couple is to stay together. Case in point: I watched an acquaintance post a monthly kissing pic with her boyfriend for several months, only for this gentleman to disappear in the night from her feed just three months later.
5. Inspirational Quotes
Call the coroner and prepare the morgue, because this relationship is deceased. There is no clearer sign that a relationship is on the outs than when one party begins posting inspirational quotes, especially when those quotes are passive-aggressive digs at the other person. My personal favorite is, "Never Let Anyone Be Your Priority If You Are Only Their Option." In other words, Chad graduated from texting bitches to actually f*cking at least one of those bitches and YA GIRL IS PISSED.
Actual footage of me reading these kinds of posts:

As sure as the Kardashian-Jenners will find a way to remain relevant, annoying couples will continue to torture us with their undying proclamations of love on social media. I only ask that these couples be consistent in their oversharing. If they're going to be this extra when things are going up in flames well, then the least they can do is spill the tea on the circumstances surrounding the breakup. Don't leave us hanging, it's rude. In these dark times, a fire selfie with the full breakdown of how Angela caught Todd in bed with her barre instructor is the kind of post the people need.
Images: Austin Loveing / Unsplash; Giphy (5)
5 Signs You May Be In An Emotionally Abusive Relationship
Emotional abuse can be tricky to detect. While it may be easy to pick up on patterns in other people's relationships, especially now when it is on such flagrant display on shows like The Bachelorette and Vanderpump Rules, I've learned from experience that it can be harder to recognize in the context of your own relationship. This is because emotional abuse can take many forms and, unlike sexual or physical abuse, is more insidious in the way it manifests itself. So how can you tell whether you are in an emotionally abusive relationship? Below are five potential signs that something may not be right.
1. You Can't Be Yourself

The best relationships are those in which you can be completely and authentically you. At the risk of sounding corny, a good partner will love you because of your flaws, not in spite of them. If instead you find yourself constantly striving to live up to your partner's conception of the perfect person, and exhausting yourself in the process, this may be an indication that your relationship is emotionally abusive. Ask yourself why you feel this need to be perfect. It's possible that you have been so conditioned to viewing yourself as "less than" that you've internalized your partner's criticisms to the point that you are turning on yourself.
2. Your Friends And Family Aren't Fans
While this one in and of itself is not determinative, it is usually a pretty good indicator of a larger issue. Our family and friends generally are the people that love us most in the world and want what is best for us. So it stands to reason that if your significant other was treating you like the queen (or king) that you are, your loved ones would be on board with this person. If, on the contrary, you are getting the vibe that your friends and family do not like or want to be around your significant other, it may be a sign that something is not right with your relationship. Be doubly concerned if your partner is discouraging you from seeing your family and friends. Many abusers seek to isolate their victims from their loved ones so that the victims are more dependent and easier to control.
3. You Never Feel Good Enough

At its core, a healthy relationship is supposed to make you feel like your best self. An emotionally abusive relationship, however, has the opposite effect, leaving you feeling like you can never measure up. Maybe your partner constantly tells you that you need to lose weight, or that he or she would love you if you were just a little more ________. The key is that your partner's love and affection are conditional and contingent, rather than unconditional. As a result, you may find yourself internalizing these critiques to the point where you start believing you will never be good enough. The sad truth is that with an emotionally abusive partner, you never will be, because keeping you feeling small and defeated is what an abuser thrives on.
4. You're Always The One Apologizing
Despite my protestations to the contrary to my husband, I know that I am far from perfect. None of us are, and it's important to own our actions and behavior when we are in the wrong. An emotional abuser, like a narcissist, is unable and unwilling do so, and if you're with this kind of person, chances are you have found yourself apologizing, even when you don't believe you've done anything wrong, for the sake of keeping the peace. Many emotional abusers will completely shut down in the face of a conflict and withhold love and affection in an effort to punish the victim. While conflicts and fights are totally normal in a relationship, alienation and abandonment are not.
5. You Feel Unhappy Most Of The Time

This one is more of a gut check. No relationship is all unicorns and rainbows, despite what Instagram would have us believe. Undoubtedly, in any relationship you will find yourself going through challenging times. It's a problem, though, when your unhappiness is stemming from the dynamic of the relationship itself, rather than external factors. A partner should provide a sense of stability during difficult periods. An emotionally abusive relationship, however, can leave you feeling more alone than if you were single. If you are feeling this way a majority of the time, you may need to look at the relationship with a more critical eye.
Of course, this list is not exhaustive and there may be other more overt or subtle signs that you are in a toxic and potentially emotionally abusive relationship. However, if you are experiencing one or more of the above signs for an extended period of time, it may be worth seeking professional help (which you can do here and here). It can be hard to see emotional abuse for what it is when you are in it, but I can promise you that when you get to the other side, you'll be thanking yourself.
If you think you may be in an abusive relationship, talk to someone you trust and/or visit loveisrespect.org.
Images: Sasha Freemind / Unsplash
4 Warning Signs You Should Not Move In With Your Boyfriend
When I first started giving dating advice, I was in a new relationship and truly thought I was the sh*t. I was confidently calling out red flags and commenting "DUMP HIM HONEY!!!" on every r/relationships thread I could find. If everyone else's boyfriends weren't as good as mine, I figured, they shouldn't settle for less. Two years later, I still kind of feel that way—but I've also come to understand a whole new world of relationship problems (especially once you move in together) that I'd been too quick to dismiss as dealbreakers before.
Mostly, this is due to the fact that I've been living with my boyfriend for nine months, a development that often leads to fights I couldn't have imagined myself having two years ago. Last week alone, I fought with my boyfriend about both our WiFi password and how we store our towels. It's nuts. We're also closer than ever (thanks for asking), and I can honestly say I have a better understanding of what it takes to make a relationship work long-term. So basically, this is all to say: now that my advice is even more flawless than it was before, here's a rundown of the warning signs you shouldn't ignore if you're thinking about moving in together.
He Doesn't Remember Things You Tell Him
This is the number one most important thing in a roommate. They need to be conscientious and reliable—if you ask them to take care of something in the apartment, they have to remember it. For the sake of your sanity, they also have to remember it without you reminding them 6-8 more times. If your boyfriend is the kind of guy who conveniently "forgets" every time you ask him to do something more than five seconds into the future, or every time you have a conversation about behavior of his that bothers you, he is going to be a sh*tty roommate. Frankly, it sounds like he's a sh*tty boyfriend too. But this is a trait that could be a mild annoyance in a boyfriend, but it becomes a major, non-negotiable issue when you're sharing a living space.
He Doesn't Like Your Friends
He doesn't have to be best friends with your friends—sadly, that only seems to happen on Vanderpump Rules. But if he's said to your face that he doesn't like your friends, acts unpleasant around them, or discourages you from hanging out with them, those are all major red flags. It's fine for him to have an opinion (kind of), but he shouldn't think that opinion entitles him to exert control over your social life. For one, he shouldn't be rude enough to insult people you like, but the key issue here is that he should not be showing classic signs of manipulation, and testing the limits of how much you'll cut out your friends to preserve the relationship. You cannot move in with a guy like that, or his efforts to isolate you will only scale up. Honestly, just break up now if you are seeing those signs.
You Can't Pee In Front Of Him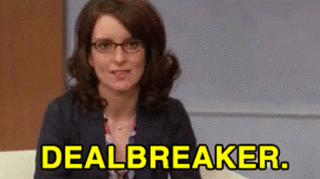 I want to clarify that it's perfectly okay, even 10 years into your relationship, to be the kind of person who always prefers a closed bathroom door. I am largely in that school of thought myself. What's a dealbreaker, in this case, is if you felt you couldn't pee in front of your boyfriend, even in some sort of fictional scenario where you're trapped in the woods and waiting for a circling bear to leave. If the idea of your boyfriend seeing or hearing you pee makes your skin crawl, or makes you genuinely worry about how it would affect the state of the relationship, please don't move in together. Certainly, don't move in together in NYC, where the average square footage of available real estate will ensure that your boyfriend hears you pee every single day. But even if you're rich (or Midwestern), know that moving in with someone will erase some boundaries you have now. You will have less privacy than ever before, and feel incredibly naked and incredibly seen by your boyfriend.
So, if he's a guy who has some weird obsession with "keeping the mystery alive," or would otherwise make you feel uncomfortable for doing something human in front of him—don't do it. You will do something human, embarrassing, and never-before-seen in your relationship within the first month of living together. If you know your relationship won't survive it, that's your answer.
He Refuses To Talk About Money
Yes, this is on every list about moving in together, but that's because it is the most important. To be clear, I don't care whether your boyfriend has been paying for your entire lifestyle and is offering to do the same with an apartment—that's equally, if not more of, a red flag as a guy who doesn't pay for anything. If they're not willing to openly discuss their financial situation, and set clear expectations for what each of you will contribute going forward, you cannot move in with them. In the case of the guy paying for everything, you could suddenly find yourself homeless. In the case of the guy paying for nothing, you could suddenly find yourself with a squatter who refuses to leave your apartment even when you break up with him. And either situation will be a lot harder to get out of if you don't have it in writing somewhere (even iMessage) what the guidelines of your living arrangement are.
That's it from me! Please comment with your worst moving-in-with-a-boyfriend stories below.
Images: Shutterstock; @betches, @uuppod / Instagram; Giphy (1)