The Betches' Bachelorette Guide To Aspen
Planning sucks, and bachelorette parties are a ton of work. So we're taking all the guesswork out of planning a bachelorette party by breaking down top bachelorette destinations. Our guides will tell you where to stay, eat, party, how to get around, and give you a sample itinerary that you can follow. You're welcome.
If you've been following our @betchesbrides insta and our brand new @betchestravel insta, you probably noticed that we were recently in Aspen for my bachelorette. And since *a lot of you have been asking* for one, here is our itinerary and recommendations.

Getting There
Many cities have direct flights to Aspen, but New York isn't one of them. Even if you're flying direct, delays and full-on cancellations are extremely common at the Aspen airport. Something about the weather and the smallness of the airport, which is the size of like, one floor of a Cheesecake Factory. One solution is to fly through or to Denver or Grand Junction, where if your flight is canceled you can at least drive the last four or two hours (respectively) to Aspen.
Once you finally get to Aspen, however, travel is the opposite experience, aka very convenient. The airport is only 15 minutes from the town and it's extremely easy to get around. Many of the hotels have shuttles that will take you around town, and almost everything is within a 10-minute walk anyway. If you can't get an Uber, there's also a free ride service called Downtowner that will drive you anywhere in Aspen.
We flew out from New York early Friday morning and were in Aspen by noon. We stayed at the W Hotel, which could not have been more perfect for a bachelorette. Not only were they extremely accommodating and helpful, but many of the rooms were set up as 4-queen bunk beds and so could fit 8 people, which made the overall cost of the hotel lower than it would have been. It's also a prime spot for an extremely fun après-ski, which was perfect for a group like ours (likes to have easy access to our beds at all times).
Day 1, Arrival Day

Settle in at the W before going to explore town. Aspen has a ton of great shopping, but the highlight is Kemo Sabe, a western style store where you can get customized hats, cowboy boots, jewelry, and unique clothing. Everything in the store is a splurge, but remember all that money you saved by sharing a hotel room with seven other people?
Stock up on non-sketchy vape pens at a dispensary and grab lunch and drinks at The Little Nell; at either Ajax Tavern, in the lobby, or Chair 9. We went to Chair 9, which became a rager with a DJ after 4pm.
Continue the après next door on the rooftop at the W, which has a bar, heated pool, jacuzzi, and fire pits with blankets for when it gets dark and cold out. Also an insane view of Aspen Moutain, which is basically right next to the roof. Or, you can nap before dinner, up to you.
Dinner at Kenichi: If you want to book the private room for a large group there is a minimum of $1200, so we didn't book it, but they ended up seating us there anyway. They let you plug in your own music and the door closes completely, so you can be as loud and obnoxious as your bachelorette party's hearts desire. Make sure to order the penis dessert which is weirdly anatomically accurate.
Club at Bootsy Bellows: pretty much your classic clurb moment. Other club spots are Escobar and Belly Up, which has live music (check the sched).
Day 2, Rage Day

Wake up probably hungover and head to Spring Café to revive yourself with healthy-ish food that still satisfies the hangover.
Work out at O2, which offers low impact classes like heated power yoga, pilates with a reformer, etc. It's also a casually amazing shopping spot.
Après-ski at the Snow Lodge, a pop-up venue brought to you by the Surf Lodge in Montauk. Overall, it's very similar to the Surf Lodge, with a dining room indoors and a party spot outdoors. You have to email them to make a specific reservation for après-ski (separate from a dining room reservation). The deck is pretty big, they feature DJs and other performers, the food is great, and it's literally next to the Aspen Mountain Gondola. Keep in mind that, unless they have the tent up, it can get pretty cold, but there are space heaters and blankets, and they'll let you move your table inside if you ask.

Nap or continue après-ski at the W, either indoors in the living room or outdoors in the jacuzzi on the roof. If you can make it out any longer, dinner at Acquolina is the perfect place to drunk eat pasta before bed.
Day 3, Ski Day

Breakfast at Poppycock's for classic diner food before a ski day. Your hotel most likely has a shuttle to take you to the mountain if you need it. Here's the deal with the mountains:
Buttermilk Mountain: easiest mountain, perfect for beginners. Even the blues are relatively easy and might be similar to greens on other mountains. Only a 10-minute drive from Aspen town.
Aspen Highlands: The most difficult mountain, also about 10 minutes away from Aspen town. If you're good enough to ski the Highlands, definitely hit up the Cloud Nine Alpine Bistro for a wild après ~experience~. Picture champagne fights, champagne guns, exactly what you want to get all over your ski clothes that you never actually wash. The only drawback is that you have to ski down after, which might be risky if you're drunk and not a great skier. There are also snow cats that can take people down, but they're honestly not 100% reliable to be available when you need them. There are two seatings per day, 11:30am and 2pm, and obviously you want the 2pm but these reservations go quickly, especially on weekends. Reservations open 30 days in advance on Resy so be sure to get on that sh*t asap.
Aspen Mountain: Also referred to as Ajax, it's the most conveniently located (right in the center of town, and several hotels are ski-in, ski-out).
Snowmass: not a bad mountain for beginners, and it's 20 minutes away from Aspen town.

Après-ski at the St. Regis for a more relaxed, cozy vibe in a gorgeous hotel. Literally smells like money. They also have a daily champagne sabering tradition at 4:45 every day, and they'll serve champagne to whoever shows up in the courtyard to watch.
Dinner at Campo de Fiori. Another Italian staple of Aspen, more pasta. Ask to do the shotski at the end.
Day 4, The Accidental Day

Travel home OR if your flight gets canceled and rescheduled for the next day like ours did, use Chase points to book a last-minute stay at the St. Regis and make it a spa day. Try out all the pools and the oxygen bar before getting one of the GMOAT (greatest massages of all time).
Dinner at Clark's Oyster Bar or Matsuhisa, two other must-tries in Aspen.
Overall, a trip to Aspen is fun, cold, and fairly expensive. It's super easy to get around, which gives it a more relaxed vibe than you might assume considering the typical clientele. Plus, it's winter, so you don't have to worry about being in a bathing suit after several consecutive nights of wild bachelorette drinking, making Aspen an obvious spot for the bride who loves mountains, marijuana, and prefers to be in bed by 10.
This Story About A Fake Socialite Who Scammed All Of New York Is Wild
Fans of Gossip Girl and/or The Bling Ring, you are in luck. Over the past few months, the story of the first big "scammin' for the 'Gram" con artist has come out, and it is wild. I'm already excited for the movie. Here's the story. On the surface, Anna Delvey (born Sorokin, age 27) is basically everyone you follow on Instagram. She was rich, she always dressed in designer clothes, and she frequented restaurants whose entrées cost more than your rent. She also happened to be a massive fucking fraud (allegedly), and is currently in jail on charges of alleged grand larceny and theft of services. So, how did this complete rando casually adopt the lifestyle of a Kardashian? (No, this is not a how-to guide. Note the part where she's in jail.) Let's take a look. The Cut did an amazing job reporting on it, and you should definitely read the complete story, but if you don't have time to read it all right now but don't want to sound stupid at happy hour when literally everyone is talking about it, here's our shorter breakdown for you to read first.
What Did Anna Delvey Do?
What's sad/brilliant is how fucking easy it all sounds. Anna shows up with her "ambiguously accented" English, giant Céline sunnies, and a seemingly endless supply of cash. Naturally, people fall all over themselves to befriend this assumed trust fund baby. They spend a few months enjoying extravagant gifts, dinners, and weekend getaways—until Anna's credit card "stops working," and someone needs to cover the bill.
In total, Anna allegedly scammed an estimated $275,000, including at least $50,000 in unpaid NYC hotel fees alone. Am I appalled for the individuals Delvey ripped off? Absolutely. Am I the tiniest bit impressed at her innate gift for spending money like a billionaire? Um, yeah. The list of Delvey's purchases—not including the thousands on airfare, hotels, and decadent vacations—covers a $3,500 private jet rental, multiple Tesla rentals, $4,500 personal training sessions, Gucci sandals, Alexander Wang leggings, Supreme hoodies, $800 highlights, $400 eyelash extensions, cryotherapy, multiple iPhones, and a case of 1975 Dom Perignon. Wait, is this my Pinterest page or someone's rap sheet? V confusing.
Actual footage of Delvey walking through her hotel lobby: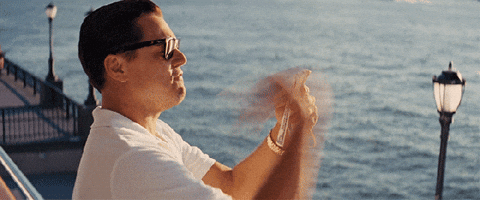 So, Who TF Was This Girl?
As for the origin story of Anna Delvey, we know she grew up in Russia, went to school in Germany/London, and then got an internship in Paris at Purple magazine. As I assume happens to most people who intern at fashion magazines in Paris, this is where Anna took a turn into becoming a horrible person. The next few years of her life are hazy, but basically she emerges into New York's social scene. By 2013, she was a Fashion Week regular, attended "all the best parties," hosted celebrity dinners with random guests like Macaulay Culkin and Martin Shkreli, and was, as one acquaintance put it, part of "the 200 or so people you see everywhere." Delvey was reportedly not, as you might expect, "superhot…or super-charming; she wasn't even very nice." All that mattered was that she was in the right places, wearing the right clothes, and appearing to spend the right amount of money.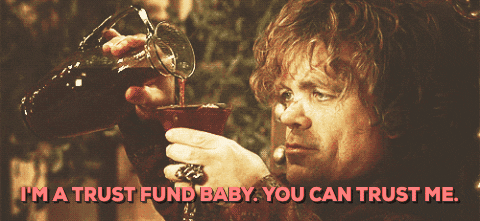 Why Did No One Stop Her?
The big question, obviously, is how she kept the alleged scam up so long. At the rate she was burning money, the fact that she didn't have the capital to back it up definitely should have come up sooner. And the reason it didn't is definitely not because she had an airtight story or was particularly good at lying. To begin with, this girl was claiming to be a German heiress without really speaking German. As this Independent article points out (a little too gleefully IMO—we get it, Americans are dumb), "a quick quiz in German could have cleared it all up very speedily." But honestly, no one who was around Delvey had any interest in finding out if her story was fake—people just wanted her to keep buying shit, trusting that the payment would eventually come through.
As for how she covered it when payment didn't come through—which was often—Delvey allegedly claimed unsuccessful wire transfers from a (nonexistent) trust fund in Germany. She also reportedly fabricated a financial adviser named Peter W. Hennecke who corresponded on her behalf when she attempted to get a loan of $25 to $35 million from various banks. The phone number associated with Hennecke was found to be a burner from a supermarket, his email was an AOL account, and when people started asking questions, Delvey literally pretended Hennecke had died. I cannot make this up. Ultimately, her debts caught up to her, and she was arrested outside rehab facility Passages in Malibu. How very Lohan of her.

What's She Doing Now?
As mentioned, Delvey is currently in jail, a turn of events she's taken surprisingly well. "People seem to think it's horrible," Delvey says about literal prison, "but I see it as like, this sociological experiment." Many quotes from Delvey's time in jail give me pause, like when she marvels over her cellmates' accounts of identity theft ("I didn't realize it was so easy"), and the tidbit that "the murderers were the most interesting to her."
Essentially, this girl is troubled—a fact equally on display in her still-existing Instagram account, which features terrible selfies interspersed with pictures of literally blank white space. Also, most of the comments on these pictures are from clearly fake accounts, with 5-10 posting the same comment verbatim within minutes. This is not the Instagram account of someone who is okay. If there's a lesson to learn here, it's that owning designer athleisure and keeping a stack of $100 bills handy is a great way to convince people you have a trust fund. Seriously though, it's an extreme example of how the Instagram existence we crave is more often than not an illusion, specifically designed to blind people with displays of money while obscuring the reality underneath. Maybe if we were less desperate to make our lives LOOK wealthy and fabulous, we wouldn't be so eager to believe someone like Delvey, who displayed more than a few red flags. And maybe we could stop breeding criminals whose primary goal is to spend more money on bottle service and sweatpants from Supreme. Just a thought.
Images: Giphy (5)