4 Brands We're Applauding For Not Retouching Their Ads
Because I am supremely lazy, get department store-induced migraines, and am under the age of 35, most of my shopping takes place online. I'm currently in hot pursuit of a wedding guest dress that says, "This is a fancy designer, but it was on sale" so I headed to the one place for this kind of lewk, Revolve, and let me just say, I'm disappointed. Either they have an incredible model scouter that has somehow managed to find all alien-women crossovers who have four-foot long legs and normal-sized torsos, or the brand's photo team retouches the sh*t out of the models' bodies. I'm no Photoshop expert, so the fact that even I noticed something was wrong is a serious problem. From a consumer standpoint, I am not tempted to buy a dress that, according to the photo online, will only flatter someone who does not have a ribcage.
I absolutely stan brands that are proud to show their clothes, makeup, accessories, etc. on models who look like real people. Beyond just showing size diversity, I love a brand that chooses to not erase stuff like scars, freckles, cellulite and a bunch of other sh*t photo editors consider unsightly in a picture. Clap once if you're more down to buy something if it's shown on a model who looks like you…but, like, really pretty because they're still models. Since major beauty and fashion brands don't do this often enough, I want to commend a few who don't retouch their models to the point where they are unrecognizable.
Fenty
This list is in no particular order, except for this first item because Rihanna is obviously the most amazing fashion designer/beauty guru/musical genius/God that ever walked the Earth and deserves to be first in everything. Riri showcases overwhelmingly diverse gorgeousness from Paloma Elsesser to Camila Costa to Slick Woods. I mean, all I can say is hell f*cking yes! I already knew Ri is a boss who does whatever the f*ck she wants, but what made me feel like this article needed to be written was an ad for her jewelry featuring a very untouched Aweng Chuol. The South Sudanese model is the definition of glowing. Like, what highlighter is she using? She has a few subtle facial scars, but so does everyone! I have one from the chicken pox under one of my eyes and, guess what, no one cares. Scars aren't offensive and shouldn't be edited out of anything—especially a beauty shot, which is a term I learned from ANTM. Thank you, Tyra. At the end of the day, Rihanna has the right idea here: she designs her makeup, jewelry, and clothing lines for all women to wear and feel hot in. We applaud you, Rihanna!
Dove
I obviously couldn't write an article about brands that celebrate real people without mentioning the OG. Dove boarded the body positive train way back in 2004, you guys. "As a beauty brand, Dove has always celebrated real women and their beauty. We believe the Mark will help women identify reality in what can be a confusing, digital world and relieve some of the pressure to look a certain way," Amy Stepanian, Dove's Marketing Director said of the brand's No Digital Distortion Mark campaign. It'd be cool if there was no need for a campaign like this, but we live in a superficial world run by superficial people, so we'll have to take what we can get for now. To me, Dove is the epitome of realness and, although their ads can be a little aggressive with shoving their agenda down our eye sockets every chance they get, I love what the brand stands for. They're like the opposite of Abercrombie's former CEO, who didn't believe that larger people are capable of being the "cool kids." Gag. Correct me if I'm wrong, but any full-grown adult using the phrase "cool kids" in complete seriousness is still bitter about not being invited to parties in high school. Anyway, cheers to Dove for not being like this. Now everyone go buy some soap!
Aerie
TBH I haven't stepped foot in American Eagle since 2007, but I have ordered a few Aerie bathing suits and pajama bottoms online. The only reason I did such a thing was because I could get a sense of how the pieces fit because they are shown on everyday body types. The only evidence of Photoshop may be adding a cloud or two to their beach pics, but it looks like the models bodies are left intact. The fact that there's like a bikini body ideal out there in the first place is gross, and brands like Aerie are thankfully shutting it down. Like, want a bikini body? Put on a bikini. Boom, done.
Aerie has been promoting body positivity sans photo editing for a while now—since 2014, actually. Yes, their creative teams edit the photos to give them a more editorial look, but they generally leave the models alone. When the brand first stopped editing women's bodies five years ago, Aerie's sales skyrocketed almost 30%. Wait, so you're saying clothing that real women buy sells better when shown on real women? Color me shooketh! Well done, Aerie. We need more brands like this to show us the way when it comes to knowing your audience.
ASOS
As far as I'm concerned, ASOS can literally do no wrong at this point. I liked the brand before I learned about their editing policy, and now I am addicted. They stopped airbrushing back in 2017 with its ASOS Face + Body launch, which was a rebranding done right, if you ask me. In fact, if you're a big ASOS fan, you know that they reject the word "beauty" because it's too subjective and broad. Check out their IG for a refreshing celebration of their values, which we all need to adopt. I'm sure some of y'all are wondering why I chose the pic I did to represent the absence of Photoshop, as this model clearly never had an awkward phase and it shows. The reason I chose it because she's clearly stunning and has gorgeous skin, but you can see her pores! Unlike most severe closeups beauty brands use to highlight whatever overpriced cream they're trying to sell by trying to convince us that it erases pores, ASOS left this girl's pores alone. And guess what? She's still really f*cking pretty and I would gladly trade skin with her. Regardless of if you buy a beauty product or not, you should be happy to have the skin you're in—even though it has pores. Everyone has them, people. Literally everyone. If you see someone who doesn't have them, get them help ASAP because something is wrong. 
Images: Matthew T Rader / Unsplash; asos_faceandbody, aerie, dove, awengchuol / Instagram
The Best Lingerie For Your Body Type
Lingerie is low-key one of the best inventions of all time. It's like, these fun little pieces of underwear you can wear under your regular, everyday clothes without anyone knowing that you're actually living out your goddess/stripper/girl from a rap music video/whatever you want to call your personal sex fantasy goals while just walking around in society. Or, you can wear it without anything over it to seduce someone. OR you can even just wear it while you watch The Office alone in your living room with a tub of cookie dough while your roommates aren't home. That's the beauty of lingerie. You can do whatever the fuck you want with it. Here are a few ways to step up your lingerie game depending on your body type.
If You're Really Busty…
Strappy little bralettes definitely aren't going anywhere anytime soon, which kind of sucks if your boobs weigh more than a rice cake. It can be really difficult to find interesting bras for big boobs, but ASOS Curve has a few expertly engineered styles, so you can rock that trend without slicing your shoulder in half.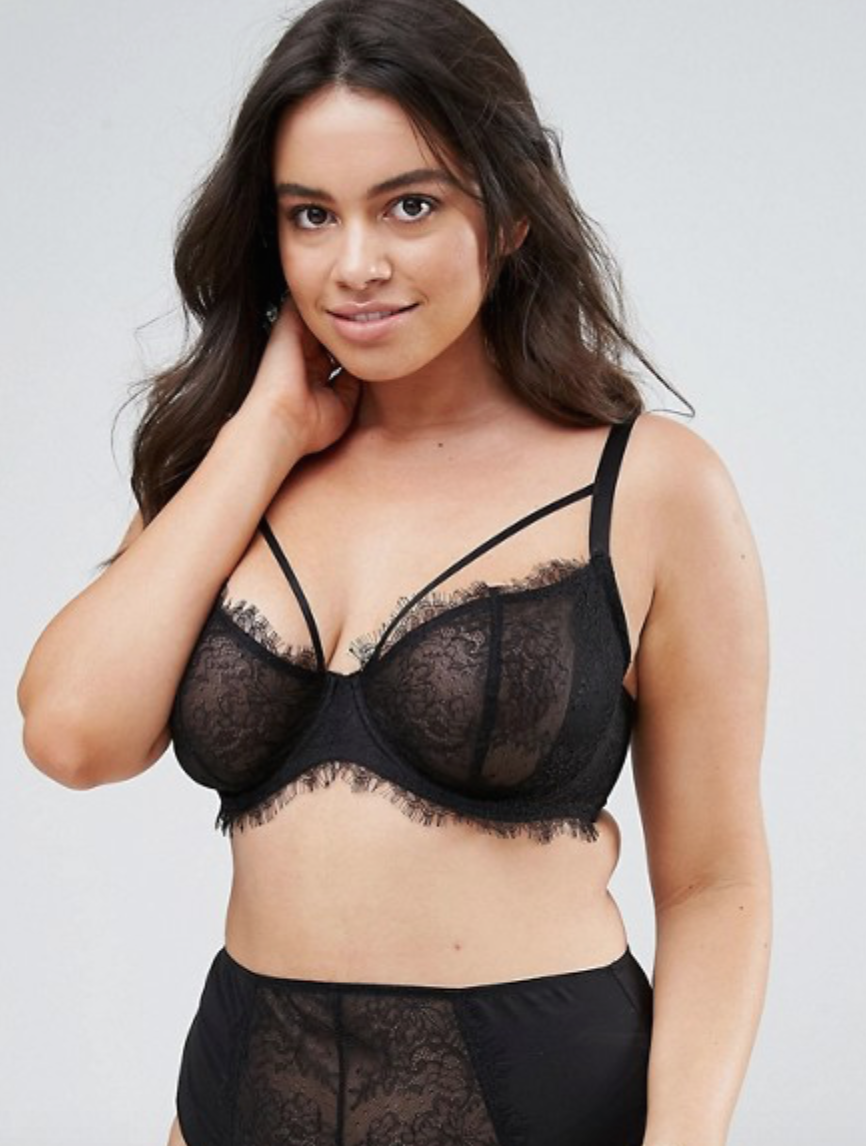 ASOS Curve Eyelash Underwire Bra
If You Want To Look A Little Slimmer…
When bodysuits and one pieces first became popular again, we were all like, "Holy shit, yes, this means we can go back to eating bread!" Then, we actually started trying that shit on and realized they have the potential to be as unflattering as your middle school field hockey warm-ups. Look for bodysuits that create subtle optical illusions, like this one that will make you look slimmer because the lace panel stretches around to the front, creating a false silhouette that is smaller than your natural waist.

If You Actually Kind Of Hate Lingerie In General…
Lingerie doesn't necessarily have to be little lacey pieces of string, so if that doesn't sound like something you want to spend your money on, there are tons of other options. Just seek out styles that are typically flattering on everyone, but in new materials. For example, literally everyone in the world looks good in a sports bra. It's just like, a thing. This grey velvet bralette is basically the sports bra you try to sneak under all of your clothes, when you know nobody's going to see it, except you'll actually want to show it off because it's really cute.

Out From Under Catalina Velvet Bralette
If You're A Proud Member Of The Itty Titty Committee…
Like I already said, strappy, delicate bralettes are literally everywhere these days, and chicks with small boobs are lucky AF, because they look good in all of them. However, if you want to pull some tricky shit to make your boobs look a little bigger, you might want to get creative. Skip heavily padded pushups with a ton of underwire, because they're super uncomfortable and the scam will be totally obvious once you take it off. Instead, opt for a high neck bralette contraption thing that has so much going on that it's just like, "Yeah, there are definitely some boobs in that mix, right?"

If You Have A Little Booty…
If I could live in a different decade, I would pick literally any era where little butts were a thing that people got excited about. Since I don't have a time machine or butt implants, I've settled for buying underwear that makes it look like I have a butt. These are my favorite things ever, because they have a wide waistband to make your stomach look flatter and ruching on the back to make your butt look fatter. They're literally amazing and I swear by them forever.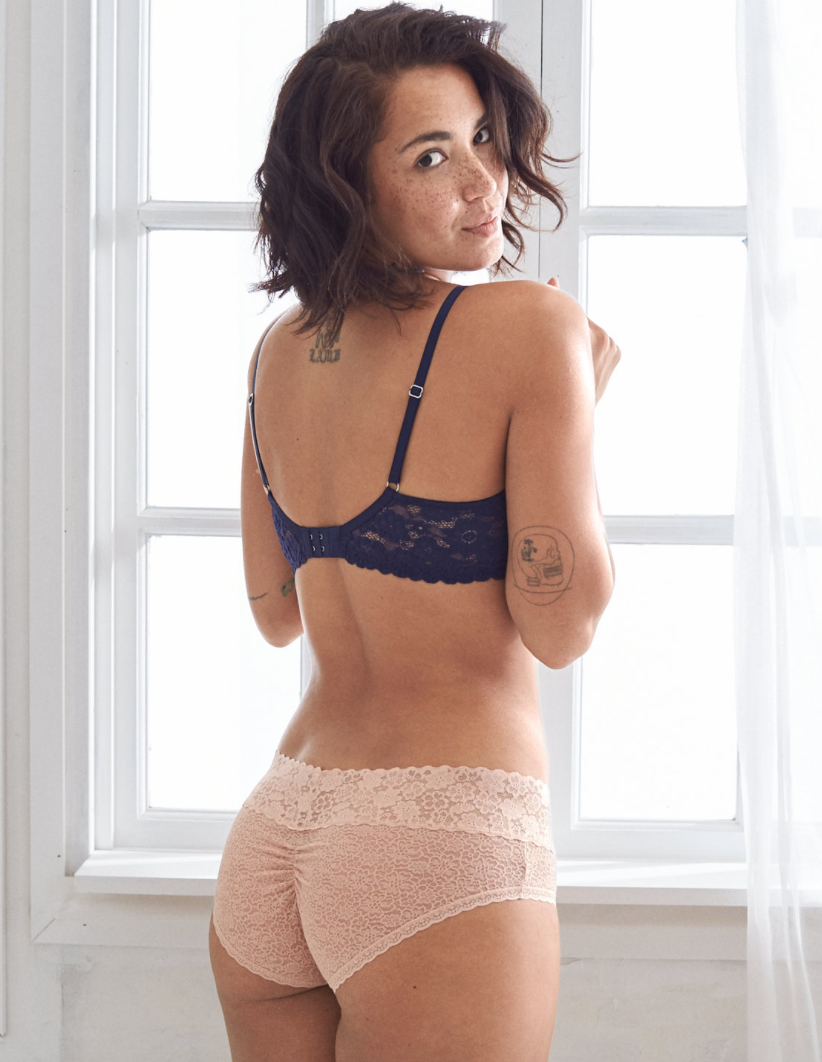 5 Strapless Bras That Won't Fall Off Throughout The Day
I not only hate bras more than the average woman, but I especially loathe strapless bras. I mean, I think I speak for everyone here when I say they don't actually do anything for a barely-there chest other than cover your nipples (if that). Like, hello, just because you're strapless doesn't mean I can't have some motherfucking support and perkiness to fool everyone into thinking I'm two cup sizes bigger than I actually am. THEN, when I actually find a strapless bra I can tolerate, it stretches out after two minutes of wear and literally falls down to my hips. Now, before you blast me with feminist "free the nipple" comments—because yes, I know, it's 2017 and we don't actually have to wear bras to begin with—some of us (hi) aren't cool with letting the nip hang out during adult-like such as my job, so therefore, a strapless bra becomes a necessity. Also, you can't just wear a normal bra with straps under an off-the-shoulder-top. Otherwise:

For the cooler temps and halter top weather to come, here are the best strapless bras that won't fail you for once.
This is a non-bullshit bra from a non-bullshit company. From women who truly understand how annoying and ridiculously expensive bra shopping can be, Harper Wilde has created bras that fit our needs without the bullshit of lace, frills, and sharp sequins. The everyday strapless, The Flex, comes in neutral shades to layer underneath the most delicate tops. It features a no-slip seam, because bras are not belts, and has light padding to keep you lifted all day long.

This is basically a bandeau and bra rolled into one. It's super lightweight and comfortable, so honestly, you may even forget you're wearing it. The shades, nude or black, are each perfect for layering under light blouses. It comes with a secure underwire as well as molded cups and removable padding. Bless.

There's a reason why this bra is rated number one and known as one of the best strapless bras known to woman. It's actually a multi-way bra, which if you've ever even stepped foot into Victoria's Secret, you'd know that it comes with two straps, but both can be converted to fit whatever style top you're wearing. Life-changing, I know. This bra is ultra light, seamless, and created to provide the most natural look from office #mood to happy hour shenanigans.

Speaking of Victoria's Secret, our fave underwear store also makes a great multi-way bra. The fully adjustable removable straps can be worn five different ways for the utmost comfort and support, regardless of the bodysuit or shoulder coverage your outfit provides (or doesn't). It comes with a memory fit (designed for your tatas only) and lightly lined cups for max support. It comes in a shit ton of colors, including this pretty lace you can def get away with wearing as a bandeau.

The contouring bra provides extra comfort and support for the most natural-looking, perky twins you could ever ask for. The "age-defying" bra assures your boobs will never sag for as long as you wear it. The seamless appearance eliminates under-shirt bulging and awk gaping between your skin and the bra itself. It stays put all day and will *finally* be the answer to all your strapless bra prayers.