What To Drink On New Year's Eve So You Don't Get A Hangover
No matter how often we drink throughout the year, there's nothing worse than a New Year's hangover. Everyone knows NYE is literally an invitation to black out, forget about all the mistakes you've made in the past 365 days, and maybe hook up with one more rando before your resolutions come into the picture. It's the last hurrah of the year, and if you don't wake up with mascara on your pillowcase and a colossal headache, you probably didn't do it right. Although the New Year's day sunglasses and Advil combo is inevitable, we're here to discuss what types of alcohol are the worst for your hangover, and which are *slightly* better for you. In order from the worst to the best options, here's what you should (and shouldn't) be drinking:
5. Champagne & Tropical Drinks
If you want to play it safe on NYE, avoid bubbles and sugar. Champagne might be a New Year's staple, but the combination of its bubbly texture and its added sugar is a recipe for an awful hangover, and it's honestly not worth it. Like, you could be having stronger drinks that won't screw you over in the morning, so just stay away—and if you must, stick with the driest (i.e., with the least added sugar) bubbly you can find. Tropical drinks are also a no-go. Aside from the fact that the mix of sugar and alcohol makes your hangover so much worse, it's also just weird to be drinking some 14-year-old's drink on NYE when your friends are taking shots. Put down the Piña Colada. It's embarrassing.
4. Rum & Bourbon
People think rum wouldn't give them such bad hangovers, but that's only if you stick with the clear stuff, and then only if you don't mix it with sugary bullshit—and have you ever heard of a rum drink that didn't sound like it belonged on a Carnival cruise to Havana (ooh na na)? And as for dark rum, just, no. In fact, people say you should avoid dark alcohols in general. Bourbon is in the same category, but like, unless you're an 80-year-old man holding a cigar and a newspaper, we're assuming you're not drinking bourbon on New Year's. Either way, avoid both of these drinks and you'll be fine the next morning. I mean, not fine, but better.

3. Beer
Beer isn't great for your hangover because of its bubbles and carbs. But then again it doesn't have that much alcohol in it, so if you're actually hungover after only drinking beer, you need to get out more. Unless you literally have your head over a keg stand the whole night (or weigh like 100 pounds), you're going to have to put in some work to get sufficiently wasted. Beer is a safe bet on New Year's just like white wine is a safe bet on Spring break. You'll feel fine, but like, at what cost?
2. Vodka/Tequila/Gin
If you want to keep things simple, stick with the basics and you can't go wrong. Any clear alcohol is going to be better for you in terms of a hangover. A lot of people say tequila makes you less hungover than vodka, but it probably depends on the person. We're not saying that you won't get hungover by pounding tequila shots all night, but if you're avoiding syrups and other additives in your drinks, you'll be better off in the morning. Stick with clear shots and chase with a lime or lemon slice. Nothing with sugar, because that obviously defeats the purpose.

1. Sake
If you're out with friends for sushi before you go out for the night, sake is actually a solid option for getting tipsy without too many repercussions. Apparently sake doesn't lower your body temperature like wine or beer, and the ions in the water actually give you energy instead of making you crash. It's kind of like mixing your alcohol with a sports drink that revitalizes your body and gives you energy. It's also a great addition to your spicy tuna roll, so just do it.
4 Face Masks You Can Make With Alcohol For Clear Skin
While we regret many decisions from the night before and we swear it off every time we're hugging the toilet the next day, betches love alcohol. We've loved it since we first discovered our parents' liquor stash and once we discovered what a funnel could do to a sorority girl, well, it was just downhill from there. Before the hangover, though, a bottle several glasses of wine make us feel relaxed, (overly) confident, and definitely way funnier than we are. I know, like, binge drinking is sooo bad for you blah blah blah. I know what alcoholism is, I'm not an idiot. We've heard it all, including how much havoc it wreaks on our skin. And yet, that still doesn't stop us from bar hopping every weekend. WELL, joke's on you MOM. I actually found out the only things that keep us sane our fave alcohols can do wonders for our faces. Because we're honestly the epitome of lazy and have a slight drinking problem, here's a few DIY facial masks you can make with your beloved alcohol—that is, provided you can part with it.
1. Bubbly Rosé Facial
This is really not that surprising. Apparently, wine facials are very much a thing and I'm upset that I have shitty friends no one ever told me about them. According to boring people, red wine in moderation (whatever the fuck that means) is like, good for your heart and shit. Therefore, wine = me living forever at the rate I'm going. When applied directly onto your face, rosé also removes excess oil and restores skin discoloration. Mix a tablespoon of plain yogurt (Yoplait won't work), two tablespoons of raw honey (so not the bear shit), and a tablespoon of rosé. Stir it all up and lather on your face for like, 10 minutes before rinsing. Friday night plans? I think yes.

2. Vodka Toner
Um, forget a vodka tonic. It's all about the vodka toner from now on. Tell your therapist that vodka isn't all bad for you, SO THERE. For skin care, it's a great makeup remover (though you should probs keep that shit away from your eyes) and it tightens your pores. All you really need is distilled water and good ol' Tito's. Always keep it to a 1:3 ratio of vodka to water and use a cotton ball to apply to desired areas. If you really feel like being extra, add a little olive oil and rosemary for max results.

3. Malibu Facial
Ah, Malibu. The most basic liquor of them all. Oddly enough, this clear rum offers some pretty damn good benefits for our face. There are a couple of ways to use this. If you're prone to ashy skin, mix some rum and cream together for a crazy good moisturizer. Might smell weird, but also might smell like pineapples. For dreadful areas on your face like your T-zone, mix a combo of Malibu, honey, and olive oil for super soft clear skin that smells like Jamaica and piña coladas. YUM. Rinse off after like, 10 minutes, though.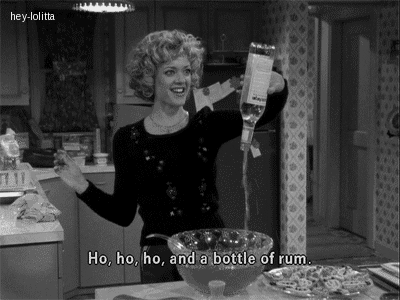 4. Your Dad's Chest Hair Jack Daniel's Facial
If you insist that your love for whiskey is like no other, I'm going to assume you probably wear John Deere and say shit like "I'm not like other girls." For the rest of us, your dad's and your boyfriend's favorite liquor can actually be put to good use when they're not sipping it. If you can snag some, mix two tablespoons of whiskey, a tablespoon of lemon juice and honey, teaspoon of milk, and one egg. OK this isn't the best smelling or sounding combo ever, but your reward is bright, hydrated, firm, wrinkle-free skin, so don't complain. Oh, and no, Fireball will not work so do not even think about it.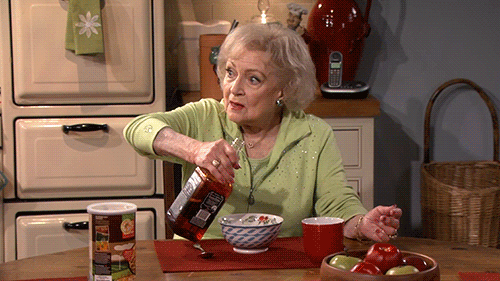 9 Ways To Prevent A Hangover So You Might Actually Get Sh*t Done This Weekend
Ever since someone (probably a dude) figured out that drinking fermented yeast makes you feel funny, humanity has been on a noble quest to figure out how to prevent a hangover. Nerds and people who don't understand the concept of "fun" will tell you that the easiest way to avoid a miserable morning-after is to drink less. Since the very idea of not getting wasted every weekend is unfathomable, the only proper response to this is to point and laugh.
But there's only so much coconut water and aspirin a betch can take without going crazy, so it's in your best interest to try to mitigate a hangover before you go out. If you take the following precautions, you might spend only three hours in bed tomorrow morning instead of the usual six. Best of luck, comrades.
1. Alternate Shots & Water
Most betches understand the science of hangovers better than anything they learned in biology class, but in case you missed it, the headache is mostly the result of dehydration. Alternate a shot of alcohol with at least a little water, and you might wake up tomorrow feeling merely gummy instead of like a desiccated corpse. Yes, you'll be in and out of the bathroom all night, but suck it up and take some drunk selfies while you're there.
2. Go Easy On Bubbly
According to a decent amount of research, fizzy alcohol gets you drunk faster because carbon dioxide or something. You obviously know your limits, but know that you'll get lit way too quickly if you accept that offer to do a keg stand with Champagne.

3. Eat Dinner (A Real One)
Eating a legit dinner before you go out seems counterintuitive to me. Why would you eat a bunch of food when it'll just soak up the alcohol and make it harder to get drunk? Plus, even clear liquors have calories, so you'll just feel fat. Research shows that food slows the absorption of alcohol, so it's true that you won't get drunk as quickly as you would if you skipped dinner.
But getting drunk slower also means you won't get wasted and puke in someone's trashcan at the pregame—save that for when you're rolling up to the club, where it's totally acceptable to boot and rally (as long as you do so discretely). In the morning, you'll hate yourself less because you didn't go full-on blackout, and you won't wake up starving to death. It's a win-win.
4. Stock Up On Juice
Alcohol causes wacky blood sugar levels, so keep some juice in the fridge to help it even out in the morning. IMO, you're totally justified in claiming you're going on a cleanse this weekend.

5. Stick To Light Liquors
Hangover researchers (aka heroes of the modern age) think that these things called congeners make hangovers worse, and they're found in dark alcohols like red wine and whiskey. Good thing vodka sodas are already a betchy classic.
6. Take A Vitamin
According to Harvard's School of Public Health, which probably knows what it's talking about, alcohol depletes your body of important stuff like vitamins. After work on Friday, run to the store for those Flintstone gummies everyone loves.

7. Get Sleep The Night Before
Half of what makes hangovers so terrible is the sheer exhaustion. Getting legit sleep after a night of drinking is pretty much impossible, but you can at least get enough sleep the night before or nap before going out. Who doesn't enjoy an excuse to sleep more?
8. Make Brunch Plans
Above all else, make sure you have plans for brunch the next morning. After a few mimosas, you won't even feel the hangover anymore.
What Your Favorite Kind Of Liquor Says About You
As we all know, what you order at the bar can say a lot about who you are as a person. Wine drinkers are classy, vodka soda people are probably counting calories, and if you order a Long Island Iced Tea you're def looking to hide from a troubled past. These are just like, the facts when it comes to cocktail preference, but what about the liquor that goes into those cocktails? We all know at least one WGG who won't shut the fuck up about whiskey, so obviously the liquor you choose to drink says a lot about your personality (in the case of the whiskey chick, that you're annoying AF). While you already know that the giant frozen marg you just ordered is signaling to all the world that you are extra, what does your home liquor cabinet say about you, other than that you're a low-key alcoholic who needs to have access to intoxicating beverages at all times. Sure, you can judge someone by their cocktail order, but why not take the judgment all the way to the liquor that goes into the cocktail—or more accurately, the liquor that is poured directly into your mouth via shot glass? Please enjoy responsibly.
Tequila
With Cinco de Mayo rapidly approaching, all the betches are going to be asking for tequila. It's versatile in the fact you can take it as a shot or put it in a margarita, and, well, that's pretty much it. Tequila is great for holidays, spring break, and nights you feel like blacking out and losing friendships. We've all been there. But if you're the girl who orders tequila on the regular, you're probably the biggest hot mess in your friend group who gives the least amount of shits about earning that title. There's a reason "Tequila Makes Her Clothes Fall Off" is a thing. Your friends might talk some shit about how they're "concerned for your health," but that's probably just because they're jealous AF that you can push all your inhibitions aside and have a good time. Even if it often ends with you waking up in a jail cell.

Vodka
Some might say you're basic for ordering the same type of shot since high school, but those people can go fuck themselves. As we previously mentioned, vodka sodas are the healthiest least terrible mixed drink you can order as far as calories go. And if taking vodka shots is your chosen way to pregame, it's probably because you're efficient and you know what gets the job done. You're looking to get the most amount of drunk while taking in the least amount of calories, and we respect the hell out of that. Ordering vodka doesn't make you basic, it makes you classic. Classic vs. basic is like the difference between Audrey Hepburn and the girl that only posts selfies with the puppy Snapchat filter.
Rum
Ordering rum on vacation is one thing, making it a habit is another. Let's face it, if you need your liquor to be super sweet just so you can choke it down, you're probably a little immature. It's like people who take their coffee with so much milk and sugar it looks like a hot chocolate. Not to say you have to order scotch to be taken seriously, but no one thinks the girl drinking straight Malibu at the party is about to graduate law school or become a CPA. Like, sure, I'll order a rum and coke so I can sing R. Kelly's "Ignition Remix" in my head while feeling like I'm giving myself diabetes, but that's a "It's summer and I just got a text back" thing, not an every day thing.

Whiskey
We've said it once, and we'll say it again—the girl ordering whiskey at the bar is 20 times more likely to say she prefers to hang out with guys because they're less drama. Like fuck off, seriously. You're trying to prove that you're tough enough to chill with the bros like a bro, but also DTF because, obviously, playing lawn darts for six hours was a ploy to make out with your partner. The exception to this rule, of course, is if you're from the South. Then it's perfectly acceptable to down Jack Daniels because it's part of your culture. I'm pretty sure they put that shit in baby bottles down there. Otherwise, you're just signaling to everyone that you're afraid of female friendships, desperate, and all these calories will go straight to your thighs.
Gin
We've all read that study by now that says a person who likes gin is probably a sociopath—it has something to do with people who like bitter flavors being crazy because bitter taste is a sign of poison in nature. Anyway, I'm not going to go as far as to say you're a total psycho, but choosing gin at the bar probably means you're a little insecure. You don't want to go for vodka because it will make you seem basic, yet anything else will make you seem like you don't care about calories. As Ron Swanson says, "Clear liquor is for rich women on diets." So, you, basically.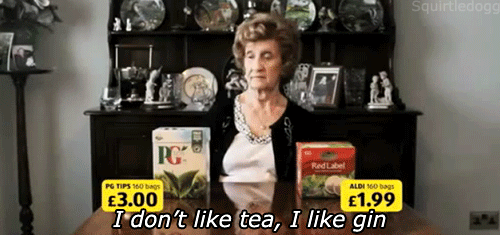 Scotch
The girl who orders scotch isn't actually a girl at all. She's a 70-year-old man who has somehow taken over the body of a young woman. Did you need a scotch to help bring out the flavor of your imported Cuban cigar? C'mon. Get out of my face with that shit. Scotch is only for people who have somehow severely damaged their tastebuds—I'm assuming in some freak World War II accident.
Bourbon
You're probably a bit of a hipster, because bourbon is the new craft beer. You heard it here first, folks. Similar to whiskey, you're probably trying a little to hard to seem casual if you have to order bourbon. Like, I get the appeal. Bourbon has to be made in Kentucky so it's a little more exclusive than plain old whiskey. Plus, if you're real fancy, you can claim that you can tell the difference between bourbon and whiskey, even though everyone around you knows you're full of shit. The Kentucky Derby is Saturday so if you don't know how to feel pretentious while getting wasted yet, Saturday is your chance to try it. Wait, Cinco de Mayo is Friday and The Derby is Saturday? Fuck. Prepare your liver!
Top 5 Vodka & Food Pairings For When Wine Just Doesn't Cut It
Bikini season is coming. And while going sober is believed to be one of the best ways possible to lose three pounds, giving up alcohol isn't really an option for us, for obvious reasons. In order to maintain both your bikini body and your drinking habits, you're going to need to pick the lowest calorie drink possible and, subsequently, pair it with some delicious AND low-cal treats to avoid the alcohol-fueled pizza fest that often accompanies a night out at the bar. That brings us to vodka. Occupying its own space on the betch pyramid of much beloved foods (alongside avocado toast, hummus, and grapefruit), vodka is one of the lowest calorie liquors you can chug drink, and it pairs well with seltzer, so you don't get (as) fat. So, naturally, we paired our beloved liquor, vodka, with the best snacks to keep you fit until summer. TLDR; anything smoked, pickled, or otherwise "preserved" works super well.
1. Vodka and Caviar
Vodka is Russian AF, as is caviar, so this is a natural pairing. Caviar is also super chic, low in calories, and can be served plain (no work for you) or on a tiny and adorable piece of toast. Serve up your vodka super chilled with a little bowl of caviar and toasts, and you'll be the richest-looking bitch around. As for advice on how to earn enough money to afford caviar, when you figure it out, please let us know.

2. Pickles and Vodka
I mean, if you have pickles skewered in your Bloody Mary, are you that surprised that they go well with an ice cold shot of vodka? The sour and salty notes pair well with super smooth Polish or Russian vodka—just make sure they're super cold, like your heart, or else you'll get a strange aftertaste. And nobody likes that shit. If you DO decide to pair vodka with pickles, however, be aware that there is a 100% chance you will feel like Snooki. 

3.  Smoked Salmon
Praise Adonai, smoked salmon makes the list. Is there a betchier hors d'oeuvre than smoked and thinly sliced smoked salmon—king of fish—served with a bit of sour cream and capers? Um, no. If you're one of the Chosen people (or if you live in NYC) you've been eating lox on your bagels with shmear every morning for years. What a fabulous surprise to know that a shot of vodka would be a perfect pairing with your breakfast of champions.

4. Steak
As we've learned from Queen Anna Wintour, steak is betchy AND not horrible for you (hello—no carbs and ALL the protein). Lucky for us, it also pairs perfectly with ice cold vodka. So grab an 8 oz., sear it, and serve rare for a dinner, lunch, or snack all of your man friends will be proud of.

5. Ricotta, Goat Cheese, or Dill Cheeses
Lucky for you, some cheeses do pair well with vodka. But beware, betch—cheeses are NOT bikini bod friendly. So, nibble your cheese and take your shot for an afternoon snack, but don't fucking overdo it. 

The Betches' Guide To Keeping A New Year's Resolution
The new year is well under way and I bet—like, I'd literally bet $1 million on it—that you've already broken at least one of your New Year's resolutions. You've probably been grumpy and had a bun in your hair on your way to work since you got back, and I highly doubt you've seen the inside of the gym more than once in the past 11 days. Plus, like, we all know you haven't cooked a meal since before December started. But no worries betch, I feel you. I'm here to make you feel a tiny bit better about what a failure you are. Here's how to keep a new year's resolution like a betch.
Instead of resolving to go to the gym every day…Resolve to walk home from work three times a week (weather permitting). This way you get some exercise and it's fucking cheaper than the $100 a month Equinox charges you. Going to the gym is great, but when you set a goal and are too lazy to actually go do it, you feel shitty about yourself and end up binge drinking wine/eating everything in sight, claiming that you'll be better tomorrow. You won't. Just accept that this is who you are.

Instead of resolving to stop drinking…Resolve to only drink on the weekends. You have a full-time job/are a full-time student and as stressful as doing work is, alcohol has a shit ton of calories that you literally just don't need. However, it's unreasonable to think that at this young age you're going to stop drinking altogether. Unwind on the weekends like you're supposed to and your tolerance will go down, you'll need less to feel drunk, and the amount of calories you're consuming won't be as steep. You can stop drinking when you're dead.
Instead of resolving to eat clean…Resolve to stop eating pasta more than once a week. Carbs, as amazing as they are, are fucking terrible for you. But, again, you're young; just stop boiling pasta every night for dinner because it's easy and buy a fucking bag of lettuce every once in awhile. You can cave when you're PMSing but only then because honestly, there are other things to eat in your cabinet whether you'd like to admit that or not. Just like, watch out for expiration dates because we know you haven't looked in your pantry since you moved in and your mom took you to Trader Joe's to stock up on healthy options.

In conclusion, stop resolving to change every single thing about yourself and just accept that you hate the elliptical and you love vodka sodas and carbs. Just like, stop loving these things every single day and you'll automatically be better than you are. May the rest of 2017 be in your favor.