Watch Kirstjen Nielsen Get Booed Out Of A Mexican Restaurant
On this week's episode of Game of Thrones White Houses, the Secretary of Homeland Security got the Cersei Lannister treatment and was booed while trying to enjoy her marg. Her and some colleagues thought after a tough week of immigration policy what's better than enjoying the cuisine of those you don't want to stay in America! Not pretentious at all. She pretended like nothing was happening and ignored the protestors who went on for more than 10 minutes. Meanwhile expecting a largely hispanic waitstaff to make her some guac and not thinking about the fact that some of them may know people effected by the policy she is carrying out. Besides her being part of the Trump Administration, the reason for her being booed was because she stood in favor of the separation of families at the boarder. How a woman stood for this I will never understand.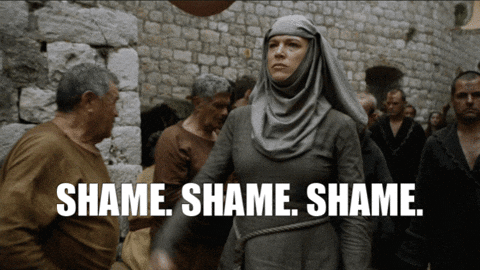 Who TF Is Kristjen Nielson?
Kris "with a J" Nielson has been around since Bush Dub's administration. Nielsen is was the Principal Deputy White House Chief of Staff to President Donald Trump and before that the chief of staff to John F. Kelly during his term as Secretary of Homeland Security. The on December 5, 2017, the v republican Senate confirmed her as the Secretary of Homeland Security, and was sworn in the next day. The reason you are just hearing about who TF she is, has to do with the the zero tolerance immigration policy… and some of these tweets. Trump must be hosting weekly twitter workshops, most likely called "The Art of the Tweet."
I will work tirelessly until our broken immigration system is fixed, our borders are secure and families can stay together.

— Sec. Kirstjen Nielsen (@SecNielsen) June 20, 2018
Okay So Show Me The Video
Okay okay, we'll show you the goods. TBH I can't wait for technology to get to a place where you can get a full body tattoo of a video, because as soon as that happens I'll be getting this permanently inked onto my back:
Part one of a video of @mdc_dsa @DC_IWW and others shouting DHS Secretary Nielsen out of a restaurant. She doesn't need to be kidnapping #immigrantchildren to deserve this treatment. Don't give the regime a moment of rest. #KeepFamilesTogether pic.twitter.com/B3RfraOk1E

— Smash Racism DC (@SmashRacismDC) June 20, 2018
If you want to know who to thank for this precious gift of a protest, it's the Metro DC branch of the DSA – aka the Democratic Socialists of America, and the DC branch of the Industrial Workers of the World (IWW). Leftists truly have no chill, and I mean that in the absolute best way possible.
WTF Is Happening With Family Separation Now?
On Wednesday, Trump signed yet another executive order, which kept the zero tolerance policies in place but directs families to be jailed together, rather than separately. Yay?
You can read our full breakdown of the executive order and what it means here.
Find out how to help migrant children and their families here.
Heads up, you need to keep up with the news. It's not cute anymore. That's why we've created a 5x weekly newsletter called The 'Sup that will explain all the news of the week in a hilarious af way. Because if we weren't laughing, we'd be crying. Sign up for The 'Sup now!
Meet The Justin Timberlake Protégés Who Are About To Be Your New Obsession
If you haven't heard of The Shadowboxers yet, you will very soon. And I don't mean because I literally just told you about them—I mean because this R&B band is on the rise. The Shadowboxers are a Nashville-based band made up of Adam Hoffman, Matt Lipkins, and Scott Tyler, and trust me when I say they're going to be huge. They just released their new single, "Hot Damn", and they're already backed by Justin Timberlake. Yes, that Justin Timberlake—they're signed to his artist development company, Villa 40. Needless to say, they're kind of a big deal.
Here's their story: Adam and Matt met at Emory University in Atlanta and started making music in 2008, and soon after Scott joined the group. They were later joined by Carlos Enamorado on the bass and Cole McSween on the drums. After graduation, they moved from Atlanta to Nashville, like ya do when you're trying to make music. They got discovered on YouTube (how millennial of them) after they posted a cover of Justin Timberlake's "Pusher Love Girl" and it got re-tweeted by JT himself. And the rest, as they say, is history.
The Shadowboxers stopped by Betches HQ when they were in New York to chat with us about their story and perform a few of their acoustic hits. Check out the video below to meet your new obsession and find out how Justin Timberlake slid in their DMs:
Follow The Shadowboxers on Instagram, and listen to them on Spotify!
Everything You Need To Know About Libras In Honor Of Their Birthday Month
Congratulations, Libra! It's your birthday month, which means we're taking a little time out of the day to celebrate all the things that make you, you—aka the arbitrary placement of the stars and planets as they correspond to the date and time of your birth. Make sure you take some time this month to do all of your favorite things, such as avoiding conflict at all costs, juggling multiple active group chats (how you do this I'll never know), and taking 10 years to figure out what you're going to order at brunch. Your sign is represented by the scales of justice, which is why you're the go-to person for settling any disputes within your friend group. This can be exhausting (How many times can you tell Bestie #1 that it was kind of fucked up for her to hook up with Bestie #2's ex, even if they were at Coachella?), but you low-key love the work. If you're on the market for a b-day hookup (Aren't we all?), set your sights on a wealthy 6 ft-or-above bro born under the signs of Gemini, Leo, Sagittarius. Be sure to avoid fuckboys from Cancer and Capricorn like the fucking plague. Or don't. It's your birthday month. You're allowed to fuck make mistakes.
For more videos, subscribe to our Youtube channel and follow @betchflix on Instagram!
Conor Maynard & Cash Cash Talk About Love, Heartbreak, And Fuckboys
We sat down with Conor Maynard and Cash Cash (Alex Makhlouf, JP Makhlouf, and Sam Frisch—you may remember them from our interview) to talk about their latest music fuckboys. In all seriousness, their latest collaboration for the song "All My Love" is an EDM anthem for heartbreak. The British singer (#thataccentthough) and the American DJs may or may not be fuckboys single (watch to find out), but these good-looking bros sure do know how to make a great song. Conor is all over the most questionable platform for making money YouTube and that crumpet can sing—you have to see his sing-off with The Vamps. And Cash Cash's single "How To Love" from last year is still a jam; I def Snapchatted the shit out of their set at EZoo last year. I'm not sure if I would go to them for relationship advice, though, because I may end up sliding into DMs and never stopping. #cantstopwontstop. Watch the video below to find out if these boys can heal your heartbreak (or cause it):
The music video was just released for the new single last week, and it is exactly how friends should cheer up a broken-hearted betch (foooood and cute boys, but mostly food). Watch here:
For more videos, subscribe to The Betches Youtube channel and follow @betchflix on Instagram!
The Guy Who Played Aaron Samuels Roasted Lindsay Lohan In The Most Hilarious Way
Jonathan Bennett aka Aaron Samuels recently got interviewed after a Mean Girls screening (These exist? Why am I not attending regularly?) to discuss the possibility of a sequel and talk shit about a bunch of celebrities. TooFab presented him with a Burn Book featuring some of his Mean Girls co-stars, pop singers, etc. and asked him to "burn" the celebrity whose picture they showed. We learned a few things from this whole debacle, namely that Jonathan Bennett is the worst at talking shit except when it comes to Lindsay Lohan, in which case he's an absolute savage.
Rachel McAdams was up first and Jonathan's "burn" was that she has the "softest lips" he's ever kissed and is the "most beautiful person ever." I get that it's pretty hard to find a flaw in Rachel McAdams but come on, that's pathetic even if she was half a virgin when she met him. Jonathan then proceeded to nice talk Lacey Chabert, who he said is like a sister, and Amanda Seyfried, who he called "one of the sweetest people ever." Then it got to Lindsay and everything fell apart in the most amazing way possible.
It all started with the interviewer showing Jonathan her picture and him responding with the sentence, "That's not Lindsay." To be clear, this wasn't some sketchy paparazzi photo, it was a standard headshot of her smiling, meaning he straight-up forgot what her face looked like. This is obviously priceless for several reasons, but to be fair he's probably not the first person to selectively forget an experience with LiLo at this point.

To make matters worse even better, he then holds the picture closer to his face, pretends to recognize her and follows this with a "Linds, lookin' good! Lindsay, looking really good." He delivers this with enough condescension to clearly mean, "Wow, you don't look nearly as strung out as I remember!" He finally throws in a "Really coming together Linds," which is probably the most brutal part of the entire thing. What's "really coming together," her looking semi-normal in a picture? True though. Regina would be so proud.
Watch the whole video below if you like, care.
If Real Life Dates Were Like Dates On 'The Bachelor'
There is one unspoken rule about watching The Bachelor that every good member of Bach nation must adhere to: Nobody talks about how unrealistic it is. It's a silent pact among Bachelor, Bachelorette, and BiP watchers that we're all just not going to talk about how none of this stuff makes any sense. Like, here we are all watching The Bachelorette finale and shading Peter for not wanting to get engaged when in fact his stance would be 100% reasonable in any other situation. And let's not even get started on what a real human woman would do if a guy suggested parasailing or whatever the fuck for their first date. Like, maybe we can just go to a bar and save the zero gravity plane ride for after we've been dating for a while and I know what your dick is like? Thanks. And sure, in the back of our minds we all know that at least half these people are only in it for the Fit Tea endorsements, but it's something about The Bachelor's constant sexy lighting and use of mood music that makes us forget that literally none of this would fly in real life.
But like, what would happen if a guy acted like The Bachelor IRL? Check out this video to find out:
The Types Of Girls You Always See On 'The Bachelor'
Sadly, this season of The Bachelorette is coming to a close. We all learned a lot, mostly about implicit racial biases and what cheek implants look like, but that's still a lot. Soon, we'll know who Rachel has chosen *cough* BRYAN *cough* and we'll be ready to move onto the next phase of The Bachelor franchise aka Bachelor In Paradise aka the best of all Bachelor Nation shows. Now that the scandal is behind them (is it??? idk), BiP will finally be able to focus on the beloved personalities that make them shitloads of money America has grown to love. Anyone who is a long time Bachelor fan knows the general categories that every person who agrees to fall in love on television and propose to a relative stranger falls into. There are the openly crazy ones, the subtly crazy ones, the ones who you really don't feel like are crazy but then again they're on The Bachelor so something must be wrong with them, and the dental hygienists. Season after season we inevitably are tricked into caring about these gorgeous idiots and their love lives, so much so that suddenly it's the "Men Tell All" and you're literally crying over Dean and his adorable camo suit jacket, a phrase you'd never thought you'd say.
Lucky for us, we here at Betches got a sneak peek at some of the incredible personalities we're likely to see on the forthcoming season of The Bachelor, and we're ready to share them with you. Check out our video below.
What It's Really Like To Work In An Office All Summer
It's summer. You wake up in the morning and smoke weed immediately check your weather app to see it's going to be a very casual 95 degrees. Dope. You put on your shortest lil booty shorts and your cutest tank and head off to work – the office manager can deal with your violations of the dress code later. On your way in you snag the iciest ice coffee, snap a few selfies in the amazing natural light of summer, and wonder if your walk from the train to the office constitutes tanning. Then, disaster strikes. As soon as you step foot into your office building, you suddenly feel like you've gone from desert Sahara to Arctic tundra, and you have literally nothing to keep you warm except to heat off your laptop. You run upstairs to your office and immediately dig through your stash of coats, scarves, hats, and mittens. In a matter of seconds, you've gone from summer chic to full Eskimo, and you'll remain that way for the next 6 hours. When it's time for lunch, you'll have to take off your many, many layers just to make the trek to your favorite salad bar, and be ready to see your breath again as soon as you step back into the office. Why is every office building like this? Who keeps turning the AC to frozen? Is that permafrost on your desk?
We DK. But if you're familiar with this feeling, we do know that you're going to love our latest video. Check it out below: