Khloé Kardashian's 'Revenge Body' Trainer's 5 Moves For Toned Abs & Glutes
I don't know about you, but my favorite moment in television history was when Bella Hadid strutted past The Weeknd on stage during the Victoria's Secret Fashion Show, looking hot as hell, while he just stood there looking mad regretful. Honestly, I would do just about anything for that kind of high, because I can't imagine that anything feels quite as good as reminding a guy who didn't want to be with you just how hot you are. If you are feeling a little meh and want to change that, getting in shape is a good way to start. To quote the great Elle Woods, "exercise gives you endorphins; endorphins make you happy…" The rest isn't really relevant to my point, so I'll just stop there. So if any of this sounds appealing to you, you'll love what's to come!  Trainer to the stars Autumn Calabrese—you probably know her from Khloé Kardashian's Revenge Body—created a special ab and glute workout just for Betches readers! What's more, Khloé's revenge-seekers aren't the only people Calabrese has whipped into shape. She used to be Kendall Jenner's personal trainer, too. Tbh, this workout is not for the meek. It's hard af, but so is life, so get to work.
Weighted Side Bend
This one is pretty straightforward, so I won't spend too much time explaining it, but I will take a second to tell you why it's amazing. Ok, so you know how Jennifer Grey in Dirty Dancing has those really subtle yet very enviable ab dimples on either side of her torso? That's probably because she was doing weighted side planks all damn day! 
Even though it does a lot, the actual movements aren't super challenging. To start, grab a weight that feels heavy, but not so heavy that you might drop it. Stand with your feet parallel and about hips-width apart. Place the hand that isn't holding the weight behind your head like you would for crunches, and then, without breaking your posture, lean sideways toward whichever side the weight is on. So your upper body bends sideways at the waist and your lower body doesn't move at all. Calabrese says, "I love this move for sculpting the obliques. Perform two sets of 15-20 reps on each side." You'll def feel this one the next day. 
Dumbbell Hip Hinge
Or as I like to call it, the weighted bend-and-snap. Grab two weights and stand with your feet hip-distance apart. Hold the weights in front of your body (as opposed to down at your sides) with the backs of your hands facing forward. Now, without curving your back, slowly bend your body forward at the waist. Your legs should also bend as your upper body hinges forward about 45 degrees. Then, snap back up. Don't lift slowly; you want that part to be pretty fast. Calabrese says, "This move is great for lifting your butt. It works the hamstrings and the gluteus maximus. To build your butt, you need to lift heavy, so pick a weight that allows you to perform 10-12 reps where you can't do any more with proper form by rep 12." And then you will probably keel over and need a nap, but you'll get results. 
Single Leg Tap Back
Hearing the phrase "tap back" is giving me major SoulCycle PTSD, but I'll pull it together. Doing single leg tap backs every day will give you a Kardashian butt…in that it will be round and shapely, not full of silicone. For this one, start with your feet touching and a weight in one hand. Just for simplicity's sake, let's say the weight is in your right hand. Bend your left leg and step your right foot all the way back so that your toes are touching the ground. It's kind of like you're in a modified runner's lunge. Now, the hard part! Without sacrificing your flat back, lift your right leg up slowly so that it's at the same height as your hips. Do not, I repeat, do not let your upper body dip down. Keeping that weighted balance is what strengthens your butt and will ultimately make it look like a peach emoji. Calabrese says, "This move is great for working the gluteus maximus and helping lift the butt. It's also going to help you build your backside. You want to pick a weight that allows you to perform 10-12 reps and  you'll want to do three to four sets of the move." Ugh, ok fine. 
Plank Triple Knee Tuck
Luckily, there are no weights involved in this ab exercise, so if your hands were starting to develop calluses, congrats, you're done with the weighted portion of the program. You do, however, need two gliders, which are cheap af on Amazon. To start, get in plank position with your arms extended, and place the gliders under your toes. Then, glide your knee to the opposite elbow and then extend back to plank position. You're going to alternate each knee and do both knees toward their same-side elbows at the same time. This kind of looks like the position you do in leapfrog right before you leap. Good visual, or did I just make that more confusing? You decide. Calabrese says, "This move works the whole body with a strong emphasis on the core. It will help tone your obliques as well as your lower abs." I like the sound of that. 
Glute Bridge With Knee Opener
Get a mat for this one if you don't want a bruised tailbone. Lay on your back with your knees bent and feet together on the floor. Cool, you're done! Kidding. Place a resistance band around both legs right above the knee, slowly lift your hips up and then spread your knees, but keep your feet together. Move your knees back together and then slowly lower your hips. This may sound easy because you're lying down, but don't be fooled. Your butt will feel like it's falling off the next day. Calabrese says, "This move is great for shaping and toning the sides of the glutes or the gluteus medius.  You want to use a heavy resistance loop for this. Perform two sets of 15-20 reps." 
I did this on a Sunday morning and seriously considered working from home the next day so that I could take an ice bath every few hours. It hurt so good. I fully trust Autumn Calabrese because I've seen her magic unfold on Revenge Body, so if you need an at-home workout that will actually challenge you, you're welcome. 
Images: Courtesy of Per Bernal, Autumn Calabrese (5)
4 Brands We're Applauding For Not Retouching Their Ads
Because I am supremely lazy, get department store-induced migraines, and am under the age of 35, most of my shopping takes place online. I'm currently in hot pursuit of a wedding guest dress that says, "This is a fancy designer, but it was on sale" so I headed to the one place for this kind of lewk, Revolve, and let me just say, I'm disappointed. Either they have an incredible model scouter that has somehow managed to find all alien-women crossovers who have four-foot long legs and normal-sized torsos, or the brand's photo team retouches the sh*t out of the models' bodies. I'm no Photoshop expert, so the fact that even I noticed something was wrong is a serious problem. From a consumer standpoint, I am not tempted to buy a dress that, according to the photo online, will only flatter someone who does not have a ribcage.
I absolutely stan brands that are proud to show their clothes, makeup, accessories, etc. on models who look like real people. Beyond just showing size diversity, I love a brand that chooses to not erase stuff like scars, freckles, cellulite and a bunch of other sh*t photo editors consider unsightly in a picture. Clap once if you're more down to buy something if it's shown on a model who looks like you…but, like, really pretty because they're still models. Since major beauty and fashion brands don't do this often enough, I want to commend a few who don't retouch their models to the point where they are unrecognizable.
Fenty
This list is in no particular order, except for this first item because Rihanna is obviously the most amazing fashion designer/beauty guru/musical genius/God that ever walked the Earth and deserves to be first in everything. Riri showcases overwhelmingly diverse gorgeousness from Paloma Elsesser to Camila Costa to Slick Woods. I mean, all I can say is hell f*cking yes! I already knew Ri is a boss who does whatever the f*ck she wants, but what made me feel like this article needed to be written was an ad for her jewelry featuring a very untouched Aweng Chuol. The South Sudanese model is the definition of glowing. Like, what highlighter is she using? She has a few subtle facial scars, but so does everyone! I have one from the chicken pox under one of my eyes and, guess what, no one cares. Scars aren't offensive and shouldn't be edited out of anything—especially a beauty shot, which is a term I learned from ANTM. Thank you, Tyra. At the end of the day, Rihanna has the right idea here: she designs her makeup, jewelry, and clothing lines for all women to wear and feel hot in. We applaud you, Rihanna!
Dove
I obviously couldn't write an article about brands that celebrate real people without mentioning the OG. Dove boarded the body positive train way back in 2004, you guys. "As a beauty brand, Dove has always celebrated real women and their beauty. We believe the Mark will help women identify reality in what can be a confusing, digital world and relieve some of the pressure to look a certain way," Amy Stepanian, Dove's Marketing Director said of the brand's No Digital Distortion Mark campaign. It'd be cool if there was no need for a campaign like this, but we live in a superficial world run by superficial people, so we'll have to take what we can get for now. To me, Dove is the epitome of realness and, although their ads can be a little aggressive with shoving their agenda down our eye sockets every chance they get, I love what the brand stands for. They're like the opposite of Abercrombie's former CEO, who didn't believe that larger people are capable of being the "cool kids." Gag. Correct me if I'm wrong, but any full-grown adult using the phrase "cool kids" in complete seriousness is still bitter about not being invited to parties in high school. Anyway, cheers to Dove for not being like this. Now everyone go buy some soap!
Aerie
TBH I haven't stepped foot in American Eagle since 2007, but I have ordered a few Aerie bathing suits and pajama bottoms online. The only reason I did such a thing was because I could get a sense of how the pieces fit because they are shown on everyday body types. The only evidence of Photoshop may be adding a cloud or two to their beach pics, but it looks like the models bodies are left intact. The fact that there's like a bikini body ideal out there in the first place is gross, and brands like Aerie are thankfully shutting it down. Like, want a bikini body? Put on a bikini. Boom, done.
Aerie has been promoting body positivity sans photo editing for a while now—since 2014, actually. Yes, their creative teams edit the photos to give them a more editorial look, but they generally leave the models alone. When the brand first stopped editing women's bodies five years ago, Aerie's sales skyrocketed almost 30%. Wait, so you're saying clothing that real women buy sells better when shown on real women? Color me shooketh! Well done, Aerie. We need more brands like this to show us the way when it comes to knowing your audience.
ASOS
As far as I'm concerned, ASOS can literally do no wrong at this point. I liked the brand before I learned about their editing policy, and now I am addicted. They stopped airbrushing back in 2017 with its ASOS Face + Body launch, which was a rebranding done right, if you ask me. In fact, if you're a big ASOS fan, you know that they reject the word "beauty" because it's too subjective and broad. Check out their IG for a refreshing celebration of their values, which we all need to adopt. I'm sure some of y'all are wondering why I chose the pic I did to represent the absence of Photoshop, as this model clearly never had an awkward phase and it shows. The reason I chose it because she's clearly stunning and has gorgeous skin, but you can see her pores! Unlike most severe closeups beauty brands use to highlight whatever overpriced cream they're trying to sell by trying to convince us that it erases pores, ASOS left this girl's pores alone. And guess what? She's still really f*cking pretty and I would gladly trade skin with her. Regardless of if you buy a beauty product or not, you should be happy to have the skin you're in—even though it has pores. Everyone has them, people. Literally everyone. If you see someone who doesn't have them, get them help ASAP because something is wrong. 
Images: Matthew T Rader / Unsplash; asos_faceandbody, aerie, dove, awengchuol / Instagram
The Victoria's Secret Fashion Show Might Be Canceled This Year
Well ladies, hang up your wings, because apparently the Victoria's Secret Fashion Show is not happening this year. That's right, Kendall Jenner and her crew of insanely attractive friends will have to find something else to do this fall. Sad! The news of the fashion show's cancelation comes from Shanina Shaik, who has walked in the show several times. While it hasn't been confirmed yet, if Shanina is correct, this will be the first time in over 20 years that the angels won't be walking the runway.
Shanina Shaik shared the news when speaking to The Daily Telegraph, an Australian publication. She said, "It's something I'm not used to because every year around this time I'm training like an Angel." It's important to note that while Shanina Shaik has walked in the runway show five times over the past decade, she's never technically been one of the official Victoria's Secret Angels. I believe that Shanina probably knows what she's talking about, it seems very random that she's the one to be breaking this news. Victoria's Secret still hasn't commented, so like, was Shanina supposed to bring this up?
Shanina Shaik also told The Daily Telegraph that Victoria's Secret is "trying to work on branding and new ways to do the show." That's probably a good thing, considering that the brand has come under a lot of fire in recent years for its refusal to include diverse body types or trans women in the show. Last November, VS President Edward Razek told Vogue in an interview that he didn't feel transgender models belonged in the show "because the show is a fantasy. It's a 42-minute entertainment special. That's what it is." Razek was rightly blasted by basically everyone for these comments, and he backtracked, issuing a statement that VS "would absolutely cast a transgender model for the show." Sure, Jan.
All of the internet @ Edward Razek:

Shanina Shaik's statement about the cancelation isn't the first news of changes to the Victoria's Secret Fashion Show in 2019. In May, Les Wexner, the CEO of L Brands (VS' parent company), sent a memo announcing that the show wouldn't be broadcast on network television for the first time since 2ooo. While Wexner claimed in the memo that he no longer felt that network TV was the "right fit" for the Victoria's Secret Fashion Show, I have a feeling it wasn't fully his choice. Ratings have not been great for the show in recent years, and last year's show was the lowest-rated ever. The show moved from CBS to ABC last year for the first time since 2001, and I'm sure ABC wasn't impressed with how it performed.
So, are we sad about the loss of the Victoria's Secret Fashion Show? Back when I was in college, all my friends would make a drinking game for the show, and watch together in a dorm room. Good times. Since then, I've started to care less and less about the fashion show, but I won't lie, I've always kind of loved the idea of the Victoria's Secret Angels. The outfits are exciting and over-the-top, and there have been some great performances at the show over the years.
But in 2019, the lack of diversity, especially in body types, really doesn't cut it anymore. If anything, I hope they take this year off to regroup, and then the Victoria's Secret Fashion Show can come back better than ever, as a true celebration of what makes all women sexy. No shade to Adriana Lima and co., but VS has to evolve to stay relevant. It's not just a matter of hiring one plus-size model, but rather rethinking the entire approach to what makes a Victoria's Secret Angel.
Whether or not the Victoria's Secret Fashion Show happens again in the future, it's probably for the best that they're taking this year off. What are your thoughts about the future of the VS Fashion Show? Are you happy? Will you miss the fantasy bra (hi, this is me)? Let me know in the comments!
Images: Shutterstock; shaninamshaik / Instagram; Giphy
2018 Victoria's Secret Fashion Show Recap: I Can't Believe I Stayed Up For This
Sunday, December 2 was the biggest night of the year for body insecurity—I mean, since Thanksgiving (but maybe that's just my family)—because we were all treated to the 2018 Victoria's Secret Fashion Show. I'd like to open with a few remarks. First of all, a big F*CK YOU to ABC and Victoria's Secret, above all, for making this sh*t start at 10pm on a Sunday night when I should be lying awake, crippled by anxiety about going back to work tomorrow asleep. Second of all, for making this sh*t exist in the first place. It's 2018, we're body positive now, sitting on my couch at 10pm watching tiny women who all somehow look alike prance down a runway while last year's pop stars serenade them is not my idea of a good time. Like, didn't Miss America even get rid of the bathing suit portion of their competition? It's time to mix it up.
Fortunately, I have a few ideas for how the Victoria's Secret Fashion Show can be upgraded. Throw the Nathan's Hot Dog Eating Contest in with this b*tch. Maybe add a talent portion (because I can assure you, walking in a straight line and blowing the occasional kiss does not count as a talent—if it did, I would be far more successful than I am today). Maybe a couch-to-runway portion, where models eat half a Domino's pizza and then model lingerie? Give the people what they want!
In any case, regressive or not, I reluctantly tuned into the 2018 Victoria's Secret Fashion Show. I missed the first performance due to connectivity issues, but tuned in to watch The Chainsmokers (aka the hot one pretending to play the guitar) and Kelsea Ballerini. I still have not figured out who Kelsea Ballerini is, to be honest. Is she from The Voice? Is she like, the Rita Ora of country music? Sure, I could Google it, but then who would be there in the comments to smugly correct me? She and The Chainsmokers (the other one was relegated to the back, my mistake, but he was there) perform some song I've never heard of.
Candice Swanepoel gets ready to walk down the runway. This is my favorite part—the soundbites of the underpaid PAs screaming "Go, Candice" to signal her trip down a flat strip of floor, as if she's about to perform brain surgery and not just put one foot in front of the other. One of the Angels literally crosses herself backstage. I mean, I know someone did fall last year, but still, I can assure you, it is not that deep.
The theme to this line appears to be "random corsets". It's kind of like Candy Land mixed with Valentine's Day? I'm sure that's precisely what went on during the brainstorming meeting. Some models are wearing tiny sunglasses as if this weren't filmed in November. The stage does look really cool, though.
We come back from the commercial break to a montage of Adriana Lima's career as a Victoria's Secret Angel. Lest we forget, Adriana is hanging up her wings after tonight. And when I decide to stop wearing lingerie in front of other people, they call it "letting yourself go". This montage, though, is excellent. We move through Adriana's awkward years—which, to be clear, are still better than any of us look on our best day—up until today. The most interesting part of this retrospective, I think, is the unintentional journey through women's beauty standards. Initially, we see a stick-thin Adriana with arms that are smaller than my wrists, to now, where she appears to have been granted the ability to consume full-fat milk. Progress!
Adriana walks the runway in this gorgeous bejeweled hybrid between a bra and a shirt. How can I cop this bra for New Years Eve? Asking for myself. Adriana is crying, and I guess that's how I'd feel on my last day of work too.

Immediately after this, Halsey performs, looking like a sexy white walker. (I don't watch Game of Thrones, so you can let me know in the comments if that reference was accurate.) She's got like, feathery eyebrows, I guess because if they didn't put something stupid on Halsey's face she'd look like an Angel and they wouldn't want anyone to feel threatened. Halsey killed it, and I have nothing further to say on the matter.
This section is very "literal angel"—lots of white, lots of feathers. I guess it could also be winter. Whatever. One shining moment was getting to see Winnie Harlow walk down the runway, because it is about as far as VS will push the boundaries of what's considered conventional beauty tonight.
Next, Bella Hadid walks down the runway and we cut to The Weeknd, clapping in the audience. I just want a guy to look at me with the mixture of admiration and bashfulness with which Abel looks at Bella, but I guess in order to achieve that I'd have to work out for hours every day and get some light plastic surgery… or so society would like me to believe! 
We come back from commercial to footage of the models finding out they're making the Victoria's Secret Fashion Show. It's kind of like watching a bunch of marriage proposals: a lot of screaming, crying, and tearful calls to loved ones.
Thank you, I'll be here all week.
When we return to the show, it's Bebe Rexha's performance, and she's wearing what is like, top half trench coat and bottom half ballerina outfit. It's hot pink and garish. There are matching thigh-highs and a giant bow in the back. I imagine her conversation with her stylist went like this:
Stylist: How do you wanna look for the 2018 Victoria's Secret Fashion Show?
Bebe: Pink Panther, but make it sexy.
Stylist: Gotchu fam.
My favorite part of Bebe's performance is the models who are half dancing down this runway (which, when your job is to walk, feels like cheating but ok), singing along to this song. How much do you think Bebe's people had to pay them to pretend like they knew the words? Seriously, gun to your head, could any of you name a single Bebe Rexha song? And not like, a G-Eazy song where she's featured on the hook—one of her own songs. I'll wait.
The clothes being featured are the PINK line, and I didn't even have to look at the garments closely to tell you that. I can tell that by the sheer amount of inappropriate sequins. What is this, 2000? Because that's the last time I thought wearing a sequined striped referee top was a good idea.

After Bebe Rexha, it's Shawn Mendes' turn to perform, and this was a smart move on the part of the talent bookers for this show, seeing as being serenaded by Shawn Mendes is the only thing in this entire hour-long special that's actually motivating me to purchase more underwear. 
My favorite moment is when Gigi Hadid walks by, wearing a parachute strapped to her back. I get it, because I'm also thinking about jumping out the nearest window watching this. 

Our regularly scheduled programming is interrupted by a Bachelor promo in which Colton holds a bunch of golden retriever puppies, who look like they would rather be anywhere else in the world than in his arms. I'm sure, come January, many of the women competing on the show will be able to relate. 
Before we return to the show, we get a video of all the models' fitness goals. Martha Hunt attempts to be relatable by saying her goal is to do 10 squats without breaking form (she has Scoliosis, so I guess this is actually difficult for her… fine). My fitness goals are to be able to eat whatever I want and not gain weight, so like, same thing.
After that, Rita Ora performs!! She's wearing so much gold jewelry, it puts the Migos to shame. I don't actually have anything bad to say about Rita; she can clearly sing and she looks good. As Behati Prinsloo walks by, they pan to Adam Levine, who is screaming after her. Once again, if my man isn't going to show this type of loyalty, I don't want him.
The theme of this collection is "we just realized people are pretending to like Rock 'n Roll as a trend now". Legit one of these shirts is cut up the sides and held together with safety pins, like I used to do for free with shirts I got at bar mitzvahs. And, literally the last look of this collection is straight out of Mugatu's derelicte campaign.

I'm sorry, is that a trash bag?? With spray paint?? Oh wait, I get it: this entire show is one giant walk-off.
What I hope is the last performance of the evening is by "British rock band, The Struts." And they need to qualify that because otherwise none of us would know who tf that is. Kendall Jenner finally gets her big moment in the sun—and that pun was intended since the theme to this collection is astrology. "What VS Bra Should You Wear According To Your Horoscope"—new article coming soon to Betches.
I have to pause for a moment here, because I've got to wonder why the rock band didn't sing during the rock themed collection. I sincerely hope that, after reading this article, somebody will reach out to me to curate next year's show. I've got good ideas! In any case, the one other positive moment from the show is what is sure to be the abundance of Kris Jenner memes. Behold, my blurry af screenshot of Kris Jenner filming Kendall walking down the runway:

First "thank u, next" and now this. What did we do to deserve this good fortune?? Additionally, I think Kris Jenner should just walk around with a camcorder at all times now.
And we've made it to the finale without incident. SNOOZE. Overall, I am disappointed nobody ate sh*t on the runway. One Kris Jenner meme does not a fashion show make. On the upside, I've been so distracted by how lame this show has been to even feel bad about my body. So there's that!
Images: Getty Images (4); ABC
Victoria's Secret Proves Once Again That It's Too Problematic To Function
Oh perf, it's time to talk sh*t about Victoria's Secret! I've been waiting for this day since the time a woman doing measurements at the Victoria's Secret at my local mall told me they didn't carry my size, essentially implying that I should try Sears. K, b*tch. Anyway, rumor has it that Jan Singer, the company's CEO, will be stepping down. This comes shortly after the company ran into some controversy during the annual fashion show. Coincidence? Lol, no.
As we all know, Victoria's Secret hosts a televised show every year, and it's essentially forty minutes of impossibly hot women strutting down the runway in underwear. Or as I like to call it, reason number 55679 to hate myself. Victoria's Secret isn't exactly known for celebrating all body types, and this year chief marketing officer Ed Razek made that explicitly clear in an interview with Vogue. "We attempted to do a television special for plus-sizes . No one had any interest in it, still don't, "said Razek. Big words for a guy working for a company that has seen a 38% decrease in shares this year. Brands like Rihanna's Savage X Fenty and models like Ashley Graham have shown us that women are excited about and turning to a more inclusive fashion world. Can you imagine…women not wanting to be held to a ridiculous beauty standard and instead wanting to see their body types being celebrated and catered to? Wild.
Don't worry, Razek didn't stop there. He decided to lean in and say even more offensive things. Maybe he should work for the White House? Seems like he'd fit right in. "Shouldn't you have transsexuals in the show? No. No, I don't think we should. Well, why not? Because the show is a fantasy. It's a 42-minute entertainment special. That's what it is," said Razek. So essentially he implied that transgender models shouldn't be included in the show because that would take away from the fantasy and entertainment elements. I'll be the one to say it, sounds like this guy should eat a d*ck.
Razek later made a bullsh*t apology on Twitter because those are the rules of being a dickwad in 2018. But apparently it wasn't enough to convince Singer to stick around and clean up the mess he made.
Heads up, you need to keep up with the news. It's not cute anymore. That's why we've created a 5x weekly newsletter called The 'Sup that will explain all the news of the week in a hilarious af way. Because if we weren't laughing, we'd be crying. Sign up for The 'Sup now!
The 2018 Victoria's Secret Fashion Show Performers Are Kind Of A Let-Down
It's finally November, which means we're rapidly approaching one of the year's most important events: the Victoria's Secret Fashion Show. The VS show is always a great opportunity for drinking games and binge eating, and we're starting to get a pretty good idea of what this year's event will look like. We have the list of which models will be walking in the show, and now we also know the list of 2018 Victoria's Secret Fashion Show performers. Read on to find out which musical artists will be performing on the runway.
In the past, the performers have included major stars like Taylor Swift, Rihanna, and Lady Gaga, among others. They've set a high bar for the talent level in the past, and I've gotta be honest, this year's lineup is a little disappointing. It seems like they went for quantity over quality, because there are seven musical acts performing: Shawn Mendes, The Chainsmokers, Halsey, Rita Ora, Bebe Rexha, Kelsea Ballerini, and The Struts. Let's unpack, shall we?

Okay, so I'm assuming some of these people will be performing with each other rather than solo, because otherwise this sh*t is going to be seven hours long. Shawn Mendes will probably get to perform by himself, because he's super famous and cute and talented, and it's what he deserves. Sure, all of the six-foot-tall models will make him look like a literal child, but I'm okay with it.
I've gotta be honest, the trio of Halsey, Rita Ora, and Bebe Rexha seems a little repetitive. I like all three of them, but to have them all performing at the same event doesn't really seem necessary. Maybe Halsey will do "Closer" with The Chainsmokers? Ah 2016, it was a simpler time. The notable connection between Bebe and Rita is that they're both Albanian, which they love to talk about. Maybe they'll come out in Albanian flag costumes and perform together? Probs not, but I'm sure the creative geniuses at Victoria's Secret will come up with something equally entertaining. Or maybe not. I have little faith.

The duo of The Struts and Kelsea Ballerini are definitely the bottom of the barrel here, and I'm kind of confused why they're even on the list. Kelsea is a cute country singer, so I guess they're going for that demographic, but if this means we're getting a hoedown themed segment in the fashion show, I'm officially done with everything. For the love of god, do not put Adriana Lima in a cowboy hat, I forbid it. The Struts are a random British rock band, and it's unclear if anyone cares. That's all.
As for the models walking in the show, there are lots of them, and most really don't matter. Kendall Jenner and Gigi Hadid are on the list, as well as long-time favorites like Adriana Lima, Behati Prinsloo, Candice Swanepoel, and Lily Aldridge. Also returning is Devon Windsor, who recently made headlines when she compared the struggles of being blonde to what black people go through. Great!
The 2018 Victoria's Secret Fashion Show airs on December 2, so we're only a month away! Start working on your fashion show bod—just kidding, it's far too late.
Images: Giphy (2)
Everything We Know About The 2018 Victoria's Secret Fashion Show
Well, friends, since Halloween is basically tomorrow in three weeks, we honestly can't deny the fact that hibernation month will soon be upon us. I'm talking about November, obviously. It's a time when it really begins to feel like fall—not this humid, muggy, 80 degree sh*t—so we can bury ourselves in chunky sweaters and comfy leggings, sweat-free. It's also that time of year when we shamelessly eat our weight in food because like, Thanksgiving, and well, the Victoria's Secret Fashion Show. *Stares at the Ben & Jerry carton in my freezer.* Both of these events make me want to consume enough calories to feed a small town, but the VSFS is one that I really look forward to for other reasons, tbh. I just can't resist the insane angel wings, bejeweled lingerie, and seeing my fave supermodels all in one place. We've still got ways to go, but this year's show is already one of the most discussed, highly anticipated ones yet. Let's begin, shall we? Here is everything we know about the 2018 Victoria's Secret Fashion Show.
Where Will It Be Held?
For starters, it will be held in New York City again, guys. FINALLY. After two whole long years, the show is coming back to America, but a specific venue hasn't been announced, though.
Who's Set To Perform This Year?
Tbh, this has yet to be confirmed. I've done extensive sleuthing and honestly, I couldn't find any talk about predictions. However, if any of the previous years are an indication of how it'll go, expect him/her/they will be a big deal.
Which Models Are Walking And Which Aren't?
I'm just going to start off by saying Kendall, Bella, and Gigi have neither confirmed or denied whether or not they'll be walking in the 2018 Victoria's Secret Fashion Show. It's still totally up in the air, despite them all being familiar faces. On the bright side, there will be a ton more familiar faces and even some new ones. Those walking include Adriana Lima, Candice Swanepoel, Jasmine Tookes, Behati Prinsloo, Barbara Palvin, Winnie Harlow, and like, a dozen more. Those we probs won't be seeing at the moment are Lily Aldridge (she's pregnant, so fine) and Alessandra Ambrosio (retired last year and they made a huge deal about it—GOD, do you even go here??).
Will There Be A Designer Collaboration?
Yaaas, betch. Like last year's Balmain capsule collaboration, the lingerie house will officially be collaborating with Mary Katrantzou for 2018. Not much is known about the collection, but the pieces will apparently be able to be worn as both undergarments and clothing. They're expected to be full of bold, lively colors and patterns probably a lot like this one. Either way, can't freakin' wait.
When Exactly Is The Fashion Show Expected To Premiere?
*Sigh.* No date or time has been announced yet, but definitely plan on keeping your calendars open from late November to early December to stick with when shows have run in the past.
Photo: Kris Atomic / Unsplash; Instagram
A Victoria's Secret Model Is Being Dragged For Comparing Diversity To Highlights
Just when you thought fashion week couldn't get any more ridiculous, Victoria's Secret model Devon Windsor thought she could spice things up on behalf of all white women with fake blonde hair. On last Thursday's episode of E!'s New York Fashion Week docu-series, Model Squad, Windsor grew flustered when a conversation between models turned to diversity in the industry. In classic "ignored white girl at the party" style, Windsor was desperate to share her own struggles, adding that it isn't easy being blonde, because she has to "get a highlight every month." Damn, Devon.
The conversation, which was primarily between Windsor and Chinese-American model, Ping Hue, got heated when Hue told Windsor that it was "super hard to relate to" them in regards to discrimination. Windsor defended her own experience as a tortured natural brunette, adding "I literally went through hell," because she lived in "different countries every other month" for two years. Windsor clearly missed the memo that traveling Europe is supposed to be fun, explaining that this was a difficult time for her because she couldn't speak Italian or "Paris," and I guess had no interest in trying?
Then, as all blondes do when we're feeling attacked, she reminded everyone that she was blonde. "You know how hard it is to be blonde?" she asked, "I have to get a highlight every month!" Clearly she felt like her problems weren't being validated, but even if we break down this theory, highlighting hair every month to make it blonde means she isn't blonde, which means her blondness is a choice and discrimination based on race in one's field is not a choice. So…?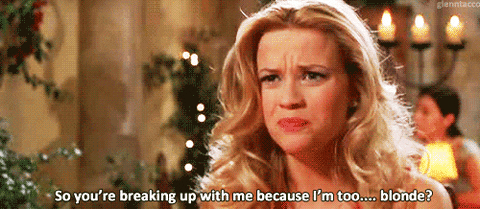 Windsor has since issued an apology via twitter, hopefully after she calmed down with a dose of Chardonnay and some basic human empathy. She tried to pass off her highlight trauma as a joke, writing, "If a peer of mine wanted to discuss such a serious subject about the struggles we face, I would never follow it with a joke." 
— devon windsor (@devwindsor) September 9, 2018
She also expressed that she has great respect for "all of those breaking barriers and working to forge a new and more inclusive community both in and outside of the modeling industry" whether they are women overcoming racism in the workplace or women sitting in a chair for an hour once a month while someone applies bleach to their hair.
You can check out the clip for yourself here:
Heads up, you need to keep up with the news. It's not cute anymore. That's why we've created a 5x weekly newsletter called The 'Sup that will explain all the news of the week in a hilarious af way. Because if we weren't laughing, we'd be crying. Sign up for The 'Sup now!