I Found A Vibrator That Will Replace Your Boyfriend
So I'm a normal human being, which means I love having orgasms. But finding decent men to fuck has forever been an endeavor. For years I've lowered my standards and did the nasty with guys who lacked personality, wore salmon colored pants, or even liked Coldplay, all because I thought my number was too low (now it's definitely not).
Recently I was like, STFU Carly—my name's Carly—you don't like going home with strangers and you actually hate when the morning sun reveals things on his nightstand you can't unsee (a utility sized ketchup bottle, VHS porno, ticket stubs to Coldplay). So I stopped lowering my standards at dive bars that wreaked of low self-esteem and fuckboys, and started staying in. I've never been one to take matters into my own hands (or fingers, rather)—I'm an old fashioned rub-my-clit-on-a-pillow kind of betch. But I decided to go on my own sex journey and fill my vagina with electronics. It is the digital age, after all.
I started with a vibrator I actually owned. Something I bought on a "me" day but never used. I grabbed B Swish Bwild Classic Vibrator out of my receipt drawer. Yes, I keep my receipts because I'm a grown-ass woman who's scared of the government. I bought it in pink because I'm a fucking princess. It's smooth and slutty, it's cheap—just like me.

Admittedly what caught my attention first was the price. I didn't know if I would ever actually use it but, at around $36 (or like, two green juices) the risk seemed worth the reward. The reward being a sweet orgasm by myself where I can take one night off from touching, smelling, and licking a dick. It's not called a blow job for nothing. I need two weeks vacay.
My vagina is actually extremely sensitive to the cold, so I wrapped it in a blanket to warm it up. Did I want to hump this blanket? Sure. But I resisted. I don't always need to masturbate as if there was a power outage. It was time to put something that resembled an electric toothbrush in me.
At first I was like "am I doing this right?" But it took about as long as Zayn's solo career to understand why this is a thing. It felt goooooood and I wasn't preoccupied by how much I would regret this in the morning. I take a long time to really imagine an entire fantasy, so thank god for the five fucking fantastic vibration settings. Not one second of boredom.
Batteries are included and with a total use time of three hours, I immediately cancelled drinks that night. It was hard to skip the vodka, but I wanted to be filled with something else (I already own a shit ton of vodka, anyway). Oh yeah, the Bwild is waterproof, which is perfect because I love long showers. And also sometimes cry when I orgasm.
I feel like I made a friend. As I write this, my Bwild is on the couch next to me begging me to play. Actually, um, I should go. I have to wash dishes. Yeah, that's it. I know we had plans to hang tonight, but I'm gonna have to cancel those.
I give the B Swish Bwild Classic 10 O's out of 10 O's.
Betches may receive a portion of revenue if you click a link in this article and buy a product or service. The links are independently placed and do not influence editorial content.
12 Vibrators For Under $50 For When Your Fuckboy Is Acting Up
Here's your obvious statement of the day: Sex ed is truly lacking in America. On top of all the abstinence-only nonsense, they totally fail to mention that hello, sex toys are life-changingly awesome. Using a vibrator is, like, one of the rules of feminism, but unless the Republicans' plans for healthcare are way more progressive than anticipated, our solo sex lives are entirely self-funded. In other words, most of us are stuck searching for vibrators under $50 every time our old ones give out, because who the fuck can drop $15,000 on a gold-plated sex toy? Aside from Gwyneth Paltrow, obvs. And maybe Corinne Olympios.
Anyway, those of us who aren't world famous and don't have a platinum vagine can't afford that shit. Here are 12 vibrators for under $50.

If you're a little intimidated by vibrators or just prefer simple controls, Babeland's Laya vibe is one of their bestsellers. It's small enough to pack in a bag, battery-powered, and the only control is basically a volume button for vibration intensity. Whether the simplicity is a good or bad thing is up to you.
2. INTIMINA Kiri Personal Massager, $29.95

If the ins and outs of the sex toy industry isn't really your thing, all you need to know is that Intimina is one of the best-regarded brands out there. Half of their stuff is wayyy out of any reasonable human being's budget, but if you're dying to try out one of their products, the Kiri personal massager is actually pretty affordable. Like most less expensive vibes, though, the Kiri is battery-powered, which means you'll have to factor in the cost of batteries long-term and they'll probably die at the exact moment when you need them the most.

And here's another affordable option from Intimina. It's got six settings and 16 different speeds, and it's waterproof. Which like, shouldn't all vibrators be…? Ok, I'll see myself out.

This vibe from GESS is fairly typical, with different intensities and patterns—unlike your fuckboy who seems to think you'll orgasm from him thrusting with the force and velocity of a jackhammer. What makes this vibrator interesting, though, is that it warms up to just above body temperature, so you don't have to feel like you're getting a pap smear at the gynecologist while you wait for it to heat up.

If you can get past the fact that this sounds like it was named by a divorcée looking to "get her groove back," it'll be worth it because the Toyfriend vibrators are some of the best-known in the sex toy industry. If you have the money, they have a bunch of newer-generation stuff for a little under $100, but most of their original series created back in 2009 goes for under $50 these days. Time for a NSFW #TBT? 

This silicone vibrator is meant for your clit and your G-spot, and you'll never have to worry about it texting you back so it's automatically better than any guy. It's less than $20 and it's one of the best-selling vibrators on Amazon—so again, unlike that guy you met on Tinder whose job is "CEO at self-employed," it's a real winner.

Linglong's G-spot vibrator has a bunch of settings, but the most important feature is that it's rechargeable, which means you won't have to fork over the money for batteries every few months and do that awkward thing where the cashier at CVS asks you why you come in to buy batteries so often. (Not to mention the possibility of it giving out in the middle and giving you the lady version of blue balls. Blue ovaries? Blue-terus?) That's pretty rare for cheaper vibrators TBH.

AS YOU CAN SEE, this is NOT for the faint of heart. Personally, I find the sheer amount of features on this vibrator mildly terrifying. Why are there beads? What's with the artistically-placed veins?? What's that thing coming out of the side? But it's perfect for anyone who's a fan of rabbit vibes—which you've probably heard of from Sex and the City or some shit, mainly because it's one of the most affordable.

Do I typically want anything referred to as an egg anywhere near my vagine? No, but Odeco's bullet vibrator is rechargeable over USB ports and remote-controlled within a 30-foot range. Considering it's (technically) less than $40, that's a pretty insane deal.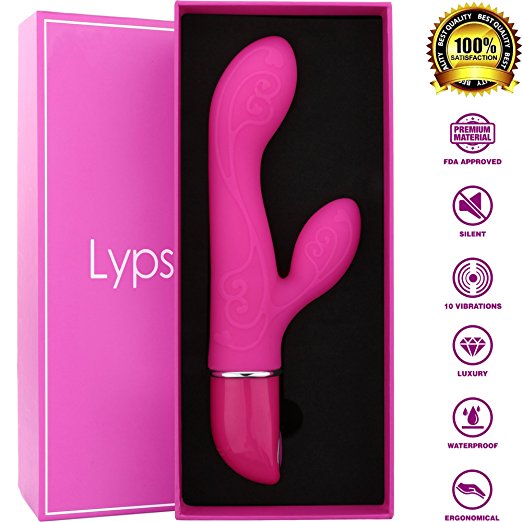 The Holly is super cheap for a G-spot/clit vibrator. There are 10 speeds, and it gets 4.5 stars on Amazon—I'm not sure what kind of person leaves reviews of sex toys online, but whatever, I'm glad they want to.

This vibe also functions as a small dildo (about 5 inches—hopefully not the size you're accustomed to) and has a bunch of good reviews, so you're already getting your money's worth. But compulsive online shoppers, beware, because some deals are too good to resist: It also comes with a free mini bullet vibrator.

For people who travel a bunch, this mini vibrator from Ann Summers can fit in your purse and costs less than $15, which is basically the cost of something from Chipotle from before all that e. coli business. Plus it comes in rose gold, in case you want your vibrator to look dated within a year or two. Or if you like your sex toys to be Instagrammable, I guess.