Kristin Cavallari Finally Gave Us Details About Her And Jay Cutler's Divorce
Remember way back in April, when days of quarantine were still filled with random activities, and the biggest story in the news was Kristin Cavallari and Jay Cutler's shocking divorce? Well, here we are five months later, still in quarantine, and still talking about Kristin Cavallari. What a f*cking year. Back in April, we didn't get much information about the split, other than their initial Instagram posts, and some messy legal details that were seemingly resolved pretty quickly. This was all just weeks after the fam returned from their never-ending trip to the Bahamas, so the whole timeline was very confusing. But his week, Kristin spoke to People, and while she was mostly there to promote her new cookbook (random, but sure), thankfully she also spilled some much-needed info on WTF happened between her and Jay.
Unsurprisingly, she says that the split "didn't happen overnight," despite whatever happy façade fans saw. She continued, saying "We tried really, really hard for years and years," and that the split "was the hardest decision I've ever made." I think most of us assumed their divorce wasn't just a split-second decision, because that's not how divorces tend to work, but Kristin and Jay were definitely a couple that managed to keep most of their drama private, despite the fact that they did a reality show together for three seasons.
Speaking about the public perception of her marriage, Kristin told People, "I always thought it was interesting when people would refer to us as 'couple goals.' I was like, if you guys only knew." Maybe I'm in the minority here, but from watching Very Cavallari, it never actually seemed like things were that perfect in Kristin and Jay's relationship. They weren't having huge fights or anything, but Jay never seemed that thrilled to be there, and Kristin was almost constantly annoyed with him. Kristin admitted that things were not going well during filming for the show's third and final season, but that "we definitely kept a lot of stuff private. Producers saw stuff, but they didn't put it in the show—which is good, because I don't want my kids to ever ."
When asked about the actual reasons that led to the breakdown of her marriage, Kristin kept things pretty vague. And by that, I mean that she definitely did NOT reference the cheating rumors that have persisted about Jay Cutler since before the split was even announced. Instead, she painted a broad picture, saying, "Every relationship has their stuff. I met Jay when I was 23. I was a baby. Jay and I had so much love for each other, but we grew up. When you work at something for so many years and nothing's changing, I think you have to just make a decision. We all want to be happy." Amen, sister… but what about the cheating rumors?
But rumors aside, it sounds like Kristin and Jay are in a pretty good place now. After those initial legal issues immediately following their split, they came to a co-parenting agreement, and Kristin was able to buy her new house in Nashville. She shared that "I still care so much about and talk to him almost every day. We have three kids together. He's going to be in my life forever."
She may be stuck with Jay, but she seems happy with her decision to leave reality TV in the past—for now, at least. When she began Very Cavallari three years ago, the focus was mainly on her business, but the spotlight shifted to her personal life in more recent seasons. She says that she's "relieved" the show isn't coming back, because "I just knew I was going to have to talk about everything, and I didn't want to. Thinking about filming was giving me anxiety." Kristin maintains that her current focus is on what's best for her three kids, and that's "Probably not doing a reality show, having to talk about divorcing their dad." Fair enough. Honestly, Very Cavallari was not that entertaining to begin with, so I'm happy to find something else to watch.
Along with the cheating rumors, I'm also a little disappointed that Kristin didn't address that photo she posted with Stephen Colletti this summer. Like, I know in my heart that they're not back together, but I still need to hear it directly from her. Kristin says that she's "really excited about the future all around," but who's to say that future can't include a fling with her old flame? For now, I will continue to hold out hope, because it's really all I have left at this point.
Don't miss out on any pop culture or entertainment news. Subscribe to our weekly newsletter here.
Images: Timothy Hiatt/Getty Images
Are Kristin Cavallari And Stephen Colletti Back Together? We Investigate
Welcome, friends, to the first in what I hope will be a recurring column in which I investigate whether recent celebrity news is real or a PR stunt. Now, you might be asking yourself what gives me the right to judge the intimate details of a complete stranger's life and decide for myself if their most recent headline-making dalliance is real or something cooked up by their publicist? Well, I have been recapping The Bachelor for the last five seasons and seeing as how that show is a modern-day Ringling Brothers Circus that specializes in creating Kris Jenner-worthy storylines for the sake of our Monday night entertainment, I'd say that's all the certification I need. Mmkay?
Moving on. Today I thought we'd focus on a headline that is dominating entertainment news feeds as well as five of my personal group chats. I'm, of course, talking about the selfie seen 'round the world of Kristin Cavallari and her ex-Laguna Beach lover Stephen Colletti. Last night Kristin shared a selfie on Instagram of her SITTING ON HER EX'S LAP for the entire world to see with the caption "2004 or 2020?!" Subtle, Kristin, veeery subtle. 
As you'll recall, in March, Kristin and Jay Cutler announced that they were getting a divorce after 10 years of marriage. Soon after their very chill, very "we love co-parenting" divorce Instagram announcement, headlines started popping up accusing Jay of some alleged "misconduct." There were cheating rumors, rumors that Jay was holding the family's bank account hostage so Kristin couldn't find another house to live in, and other wild accusations. In May they finally reached a joint custody agreement and have been laying relatively low ever since. 
Which brings us to Tuesday night and the Instagram that launched 1,000 ships speculations. Are Kristin and Stephen back together? How long have they been talking? Will she plan a vacation to Cabo for old time's sake and, more importantly, will Stephen get drunk and call Kristin a slut for dancing on the bar? 

Ah, young love! So cute! So healthy!
These are the questions that keep me up at night. But is this for real or is this a mere PR stunt? Well, let's take a look at the evidence.
From the outside (and probably all sides, tbh) this looks very much like a PR stunt. As we've mentioned, Kristin's marriage is over. For those of you who watched Very Cavallari (guilty), you know that her marriage was arguably the most interesting thing about the show. What we used to love about Kristin during her Laguna Beach era (her mean girl antics, outrageous love triangles, and ability to make choppy bobs look chic) have been completely abandoned on Very Cavallari in favor of interviews about her pilates schedule, b-roll of her pretending to cook family meals, and modeling microscopic jewelry for her Instagram followers. Jay carries the show with his bare minimum personality while Kristin maintains the stage presence of a Cobb salad.
Speaking of Very Cavallari, in May Kristin announced that we wouldn't be getting another season of the hit E! show and was instead focusing on this "new chapter" in her life. Booooo. I'm assuming this next chapter is going to focus on growing her jewelry "empire" which consists of mid-level expensive midi rings and layering necklaces. Let's be honest here folks, the girl could really use a PR boost.
And she's not the only one whose publicist is probably thirsty for more media coverage. According to Stephen Colletti's IMDb page, his last television appearance was on a show called Everyone Is Doing Great about washed-up heartthrob actors "struggling to reclaim their previous level of success and relevance", and the pilot appears to have been filmed in his basement during quarantine. Brb just going to copy and paste that entire entry to share with Merriam Webster in case they're looking for a sentence to illustrate the definition of "rock bottom." 
Now, I can already hear some of you coming for me in the comments section with "bUt WhAt iF tHeY'rE jUsT fRiEnDs??" and, yes, they could just be friends! In fact, sources tell TMZ that the two have remained "good friends" since their break-up many eons ago, and that's why they were seen together Tuesday night. Good friends that in the last 16 years have never posted or spoken about each other unless they're in the midst of promoting their latest book or a trailer for the upcoming season of their show.
Final verdict: this is 100% a PR stunt. This wasn't a nostalgic get-together with old friends or—and I hate to break my eighth grade heart—an epic Laguna Beach romantic reunion. If anything, it was a casual dinner and drinks situation that maybeee ended in a hookup on Stephen's futon couch that triples as a bed and dining room table (IDK, I just feel like he has one of those), and Stephen pretending they'll "totally do this again sometime" as he responds to a random's DM on Instagram. Good luck, kids! Ever happiness to you both!
Images: @kristincavallari /Instagram (3); SheKnows.com (1); Giphy (1)
UPDATED: The New Details About Kristin Cavallari & Jay Cutler's Divorce Are Messy AF
UPDATE: As this week has gone on, there have been about a million anonymous sources popping up, claiming to have some insider info about Kristin Cavallari and Jay Cutler's divorce. It's hard to know which of these stories are true, but now we finally have a concrete look at some of the alleged "misconduct" that Kristin included in her filings. According to new documents obtained by Us Weekly, Kristin is accusing Jay of withholding money from her, and the situation sounds pretty rough.
According to the court papers, things weren't good in their marriage for a while, and Kristin started looking for her own house way back in November 2019. She even had a house under contract at one point, until Jay "informed her that his attorney was going to stop her from purchasing the house she wanted" and that the attorney "was going to tell their business manager to not release the funds" for her to buy the house. Yikes.
For a normal couple, buying a second house would be a huge financial strain, but considering that Kristin and Jay have an estimated net worth of over $60 million, this feels a little petty. In addition, an Us Weekly source says that Kristin "always knew that Jay was trying to keep some of his money from her," and the house situation was just the proof that she needed. If their marriage was already on the rocks, this kind of situation definitely wouldn't have helped things.
Fast forward to April, after they got back from their extended Bahamas trip, and the money disagreements continued between the couple. As they decided to separate, the documents show that Jay offered Kristin an initial settlement amount. Kristin's filing says that she "refused to accept the settlement," finding it "unfavorable," because she has made "significant financial contributions to the marital estate." We don't know any specifics about the amounts here, but obviously Kristin has her own money on top of whatever Jay made playing football. No one is broke here, and any settlement should reflect that.
Kristin also alleges that Jay filed divorce papers as quickly as possible "as a way of punishing her" for turning down the settlement offer. Of course, Kristin's filing is only one side of the story, but if she's telling the truth, there was definitely some financial manipulation happening here. I'm sure we'll get more details and context in the weeks and months to come, but there was clearly more going on in this marriage than we ever knew about.
ORIGINAL ARTICLE: Let's face it: most divorces are messy. While not every marriage ends with a dramatic scandal or betrayal, most people don't wake up and decide to get divorced just because they're bored. When Kristin Cavallari announced on Sunday that she and Jay Cutler were splitting after 1o years together, the tone was positive—a little too positive. She wrote that their relationship had reached a "loving conclusion", and that she and Jay have "nothing but love and respect for one another." That's all well and good, but of course, we wanted to know what really happened here. If things were really so loving, would they be filing divorce papers?
Well, that "loving conclusion" didn't last long. On Monday morning, less than a day after Kristin Cavallari's divorce announcement, Kristin filed legal papers that suggest there's a lot more to this story than her initial claim of "two people growing apart." Color me shocked. Kristin's filing, obtained by TMZ, is in response to Jay's original divorce filing, and it's clear that they are not on the same page when it comes to any of the details surrounding their split. 
In her legal filing, Kristin Cavallari accuses Jay Cutler of misconduct, stating that he "is guilty of such inappropriate marital conduct as renders further cohabitation unsafe and improper." There have been some cheating rumors surrounding Jay Cutler in the past, but "unsafe and improper"? That sounds serious. Her filing also claims that "any misconduct alleged or implied against in the complaint for divorce" was only a result of Jay's original misconduct… but Jay didn't make any misconduct allegations in the divorce filing. I'm not a lawyer, but something's not adding up here, and I want answers.
Unfortunately, the consequences of divorce are often harshest on young children, and it looks like Cavallari and Cutler are gearing up for a custody battle. While Cutler is seeking joint custody of their three children, Cavallari wants primary custody, with Cutler only having visitation rights. Both Kristin Cavallari and Jay Cutler are claiming that they have been the "available at-home parent and primary caretaker" during their marriage, and since two people can't be the primary caretaker, I have a feeling this is going to get messy.
While the new filings bring up a lot of questions, and not too many answers, we are getting a clearer picture of the timeline here. In Jay Cutler's divorce filing, he listed a separation date of April 21st. That was just last week, but this is another spot where Kristin disagrees. In her filing, the separation date is listed as April 7th—the day after the family returned from their month-long Bahamas vacation-turned-quarantine. I really need to know what the hell went down on that trip, because it sounds like it was far from paradise.
Images: Dfree / Shutterstock.com
Kristin Cavallari and Jay Cutler Are Getting A Divorce
While we were all mixing our quarantinis, cleaning our apartments, or just generally lazing about this rainy Sunday, Kristin Cavallari took to Instagram to announce that she and Jay Cutler are getting a divorce. To be perfectly clear, I haven't thought about Kristin Cavallari since approximately 2009, but I still didn't see this one coming. I've honestly been waiting for more celebrities to announce divorces once the effects of being quarantined together started kicking in, but I still wouldn't have predicted that Kristin Cavallari and Jay Cutler would be the first ones to bite the dust. They have been together for 10 years and have three children together, Camden, 7, Jaxon, 5, and Saylor, 4.
In an Instagram post that depicts the now-exes with their backs to the camera, Kristin wrote, "With great sadness, after 10 years together we have come to a loving conclusion to get a divorce." She added, "This is just the situation of two people growing apart," and if you ask me, the whole announcement smacks of "conscious uncoupling." Still, it's better than a Notes App screenshot.
News of Kristin Cavallari and Jay Cutler's divorce comes just a few weeks after the couple returned to Nashville after being "stuck" in the Bahamas on vacation with Kristin's friend and hairstylist, Justin Anderson. On March 15, the group traveled to the Bahamas (despite there being a confirmed case of coronavirus in the Bahamas that same day). In the days that followed, they would complain about being "stuck" on the island despite there being no travel restrictions at the time; later, on March 24, they would remain on the island even after the U.S. Embassy urged travelers to return home. After catching some flak online for remaining on vacation while almost everyone around the world was staying home in an effort to flatten the curve, they all returned home on April 6.
In light of recent events, this trip to the Bahamas is raising even more eyebrows. Was it a last-ditch attempt to save their marriage? Were they trying to escape more than the reality of coronavirus? Or was being stuck on an island together the straw that broke the camel's back? God knows I've returned from a family vacation wanting a hell of a lot more than a legal separation. With Kristin asking "everyone to respect our privacy", we'll probably never know. But I'm predicting that this won't be the first seemingly solid celebrity marriage to crumble under quarantine, and we're going to be seeing a lot more of this verbiage the longer we're stuck inside.
Images: Timothy Hiatt/Getty Images; kristincavallari / Instagram
Kristin Cavallari Is Disgracing The Good Name Of 'The Hills'
In case you thought Botched was the most cringeworthy show on E! right now, Kristin Cavallari's new show, Very Cavallari, is premiering this summer, and it literally makes Lauren Conrad's Teen Vogue internship look real. Let's discuss. 
Look, don't get me wrong. I'm not one of those people who turns on Real Housewives on a JetBlue flight and pretends to suffer through an episode of reality TV. I love reality TV. I can explain the Kardashian family tree better than my own, and I still hesitate before making plans on Monday nights even after Bachelor season is over. I just genuinely think Very Cavallari is gonna suck.
I mean, let's talk about the promo. We see a few shots of Kristin being a *regular person* who lives a normal married life in Nashville, and we're supposed to be impressed that she's building her own "lifestyle brand" while being a cool mom. Yawn. That just described the daily goings-on of pretty much every mom on Instagram with more than 300 followers.
Kristin starts the trailer by saying, "It has been SEVEN YEARS since I've stopped shooting The Hills."
Umm, yeah, and there's a reason it stopped airing. We were team Lauren back then, and we don't give a shit about your fake drama anymore. Like, Kristin heroically returning to reality TV is the equivalent to me going back to the nail salon after I screwed up my manicure because it wasn't dry yet. No one asked for this revisit. Also, there's a reason shows like The Hills don't exist anymore. The characters are dated. Like, I used to think Lauren was the most relatable person on the show, but nowadays I relate much closer to Spencer's batshit breakdowns and financially irresponsible crystal collection. Just saying.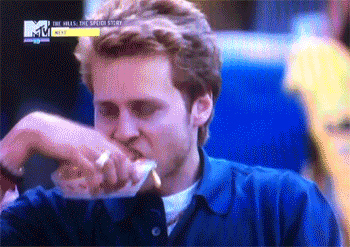 Then Kristin starts spewing random shit about her "business team", like, "I have the craziest staff. Of course there's gonna be drama. Of course there's gonna be hookups…. It's gonna be a wild ride."
First of all, "of course there's gonna be hookups"? What kind of workplace environment are you in? It sounds like a sexual harassment lawsuit waiting to happen. And I'm sorry, what is this show even about?! So far it sounds like one of those shows where a secret HR rep is watching a corporate disaster from some hidden camera in a nearby van and has to step in when Kristin hooks up with an intern or shows up to Casual Friday in a bikini. I actually think I'd watch that, though.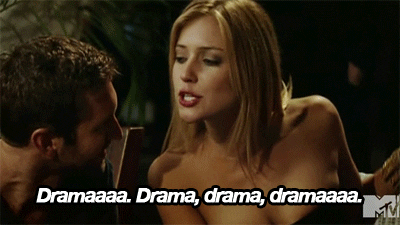 The drama on this show makes the plot lines on Laguna Beach seem plausible. Unless you give Brody Jenner at least one guest appearance, I'm sticking with the Jersey Shore reboot for now. But like, on the bright side, I guess we've finally solved the debate over how Cavallari is pronounced. VERY helpful, Kristin.
Images: E! News (1), Giphy (4)