Mercury Retrograde Isn't The Only Retrograde You Should Worry About
What looks and sounds like Mercury retrograde, but brings more drama and promises to solely wreak havoc in your closest relationships? Venus retrograde! That's right, Venus, the planet of love, affection, harmony and values, stations retrograde on December 19 and will task us with sorting through unaddressed issues in our partnerships. This particular Venus retrograde happens to take place in serious-as-all-hell Capricorn, and the retrograde period lasts until January 29, 2022. During this retrograde cycle, Venus will make an intense contact with Pluto, a planet that represents destruction, death, the taboo, transformation, and rebirth. If it sounds intense af, that's because there really isn't an easy way to sugarcoat this celestial meetup–it will pack a punch.
It's important to remember that retrograde periods really aren't meant to instill fear or ruin our holiday season with a text from an ex, they offer us a chance to work through past issues, realign, and move forward with a more sustainable approach. Venus will meet with Pluto on December 25 (happy holidays, right?) and again on March 1. When these two planets align, themes of jealousy, manipulation, power struggles, and obsession bubble to the surface. Still stalking your ex with your finsta account? It's time to quit it. Let's take a look at how Venus retrograde will affect your zodiac sign.
Aries

Are you tired of feeling like others are meddling in your relationship? Venus retrograde is activating a part of your chart that asks you to think deeper about how you are perceived by others and how you want to be perceived. You may feel pressure from people who are constantly offering their, ahem, "insight" and "advice" about your relationship. It's time to break free of any people-pleasing patterns and release the need for approval from others.
Taurus

Learning from one another is one of the greatest gifts of partnership. Your Venus retrograde is more of a mental journey. Have you been standing a little too firmly in your beliefs and resisting other's perspectives? You may find that it's time to release the need to control conversations and let go of your dogmatic nature. Or perhaps it's your partner who needs to be right all the time. Allowing for some humility and an open mind to learn from one another will make for a more solid foundation. 
Gemini

You like to keep it light and let most of your painful issues marinate under the rug. This Venus retrograde, if you've been avoiding intimacy and letting someone in, it's time to make an uncomfortable change. Sharing your past trauma within a trusted partner where you feel safe is necessary for your growth. It can't all be about Real Housewives of Beverley Hills this or Selling Sunset that. The more you avoid plunging into the depths of your psyche and past, the more it will harm your closest relationships.
Cancer

There's no way around it—shit's hitting the fan and your exes are knocking at your proverbial door, sliding into your literal DMs. This Venus retrograde lights up the area of your chart that represents committed partnerships. People from your past may resurface for a final showdown or "closure" conversation. If you're in a healthy and steady relationship, this could also be a period where your partner may be experiencing a challenging situation and need a little more of your time and support.
Leo

How has your work been affecting your romantic connections? This Venus retrograde reminds you to consider your values when it comes to work/life balance. If you've been focusing too much on work and neglecting quality time with your partner or romantic interest, you're overdue for a reset. It's time to consider how you spend your time and how that affects your closest relationships. It's not all about you, Leo!
Virgo

Calling all situationships! If you've found yourself really connecting with someone but are craving some labels, this could be the time when you can't keep it to yourself any more. It's time to establish are we or aren't we? How does this connection serve you and how does it harm you? This is a time where lovers from the past may also show up to make this emotionally heightened time that much more messy.
Libra

Are you ready for the next step? You may be considering moving in with your partner or bringing them home for the holidays to meet some family. This Venus retrograde will have you contemplating the pros and cons of these decisions. Is this someone with long-term potential or are they just another tryst passing on by? Don't be afraid to ask yourself the tough questions before agreeing to take any next steps. It's likely there are some issues to be sorted through first.
Scorpio

Communication, or the lack of communication, takes center stage for you this Venus retrograde. What are you not saying that you deserve to speak up about? How does the way you communicate affect your partner? Communication styles vary, and it's important to consider how you and your partner's styles differ. Finding a healthy medium and confronting how certain words or tones actually hurt our feelings are all important conversations to have in a healthy partnership.
Sagittarius

Our values make up who we are, and you are one zodiac sign that wears them on your sleeve. This Venus retrograde asks you to take a closer look at your values and compare them to either your partner, or someone you're dating or hoping to date in the future. What qualities really matter to you in partnership? What can you let go and what are your dealbreakers? If you've been avoiding an awkward conversation about something that really matters to you, it's time to bring it up. No more Miss Cool Girl.
Capricorn

This is your cosmic reset—it's time to move forward in a new capacity. This Venus retrograde is happening in your sign, tasking you with shedding layers of yourself from the past that no longer serve you. How do you want to live? What are your priorities? How do you want others to see you? How do you want to spend your time? This season is all about reconnecting with yourself. You are the priority right now in all of your relationships. Make sure you're standing up for your needs.
Aquarius

What are some limiting beliefs and self-destructive behaviors that have been sabotaging your love life? (Yes, getting drunk and texting your ex counts.) This Venus retrograde is here to ask you to hold yourself accountable. Well, well, well, if it isn't the consequences of your own actions. What can you release in order to let go of patterns that only cause pain over and over again? It's time to plunge into your subconscious and do the hard work that you've been avoiding. Your partner and/or future relationships will be grateful for this increased self-awareness. 
Pisces

You have a large network of people who love you, like, a lot. Venus retrograde focuses on the area of your chart that holds friendships and networking. You may find that you meet a future lover through a friend, or perhaps you've been friendzoning someone with quality potential for fear of how effortless that relationship could be. Reinvest in your friendships and ask yourself if you're feeling aligned within those relationships, as well.
Images: Gary Radler Photography / Stocksy.com; Giphy (12)
You're In A Glass Case Of Emotion: Weekend Horoscopes For October 19-21
This weekend the Moon moves into Pisces, meaning you're getting in touch with your emotions. How you truly feel will start bubbling up and you won't really be able to control it. Is that a good thing? TBD. It may be getting colder outside, but your frigid heart seems to be melting a little. Don't worry, there's probably another deep freeze on the horizon. Here are your weekend horoscopes for October 19-21.
Aries
Mercury is in your House of Secrets this weekend, meaning some sh*t is going to go down and you're going to have to make the decision on whether to tell or not. Weigh your options. What is there to gain by spilling the tea? Is the gossip really that good, or are you just being petty? Would someone be mad if they found out you knew and didn't tell them? IDK. I'm just glad I'm not in your shoes this weekend.
Taurus
You ambition is aroused and it could put you at odds with a friend. Your no-holds-barred desire to hook up with that guy you've been crushing on could make your friends mad because you're, like, not paying enough attention to them or ditching them at the bar or something. Here's the deal: they'll get over it. You're rarely totally selfish. You just do you this weekend.

Gemini
The Moon in Pisces combined with Venus in retrograde (still) means you might be given a second chance by people who wrote you off too quickly in the past. So, yeah, we're weeks away from Halloween, but my money is on the fact you'll be seeing some ghosts in the near future, if you know what I mean. Proceed with caution or things could get extra spooky.
Cancer
The Mercury-Neptune alignment is pushing you to dream big! Go ahead, make a Pinterest board for the wedding between you and the guy you just matched with on Hinge. Plan a dream vacation you can take if only you can save, like, 50 percent of your salary. The world is your oyster. Girl, there's no harm in making extravagant plans. Maybe just keep them on the DL, though, so you you don't look like a total crazy person.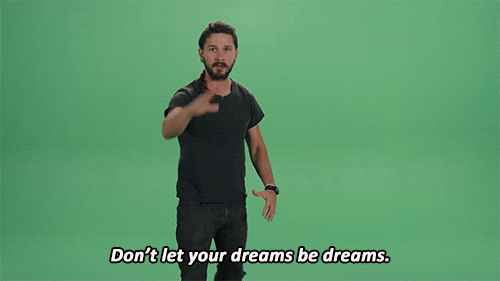 Leo
You'll have to be content with small concessions rather than expecting someone to get totally on board with your ideas and plans this weekend. That means if you pick the pregame location, you can let someone else pick the Sunday brunch spot. As a Leo, we get that you aren't totally used to not getting your way. Trust me, this is a weekend to let the little things go, even if it means you don't get your favorite frittata.
Virgo
The relationship between the Moon and Virgo this weekend could make you question your romantic future. You used to think you were on the same path as your significant other, but now you have a hunch they're wanting to take their future in a different direction. If you're single, make sure the vibe you're putting out matches what you really want. Don't say you're down to be casual if you're not. Likewise, don't DTR with someone you're not that into. No reason to gain 180 pounds of dead weight just because it's cuffing season.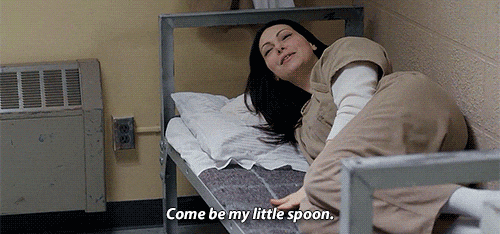 Libra
Your intuition is spot-on this weekend, especially when it comes to a matter of work or money. Think your boyfriend is secretly in a mountain of debt? You should ask before you, like, agree to marry him or something. Think your favorite coworker is on the fast-track to getting fired? You might want to send a quick text telling her you think you boss is starting to notice how she's late, like, literally every day and is never on task. Good looking out.
Scorpio
The Pisces Moon will fill your head with all sorts of good ideas this weekend. I mean, at least all your sober ideas will be good. Jury's still out on if your drunk planning is as solid. Write sh*t down as it comes to you. If you do this, you could be the next Elon Musk—a super ingenious inventor or entrepreneur who also happens to smoke a little. Actually, that totally sounds like your calling. Sagittarius
Don't give up on your dreams just because someone challenges your ideas this weekend. When some rando tells you that you're a bad feminist for wanting a husband and kids, you can tell her where to shove it. Feminism opens the doors for women to make their own decisions, Katie. God.  That's just like, one example, but you know what you believe. Don't be afraid to dig your heels in and stand up for yourself. You sure as hell know what you're talking about.
Capricorn
The Pisces moon lights your communal and experimental eleventh house this weekend. You'll be energized by meeting new people and trying new things. Your friends will probably wonder what the hell you're on, because getting you out of your comfort zone is not always easy. It's okay to step away from your normal Capricorn nature of sticking to the rules and maintaining order. Sometimes the best thing for you is to let things get a little messy.


Aquarius
The power of Jupiter on Sunday will push you to spit out what you've been meaning to say. The Moon in Pisces to start the weekend will allow you to go about your normal routine without thinking too much about it, but by the time Jupiter has its way, you won't be able to keep quiet any longer. Be direct and to the point. Just make sure you aren't flinging accusations. Guilty until proven innocent is how the US criminal justice system actually works, not how you should treat your friends and family.
Pisces
With the Moon in Pisces this weekend, self-care is a necessity. Sure, things are super busy for you right now, so finding some "me time" might not be easy. It's, like, really imperative you take some time for yourself before next week or else you're in for a case of the Extreme Mondays. Have a bath. Drink some tea. Do a face mask. Hell, even drinking a whole glass of water for once could re-hydrate your soul. Hey, it couldn't hurt.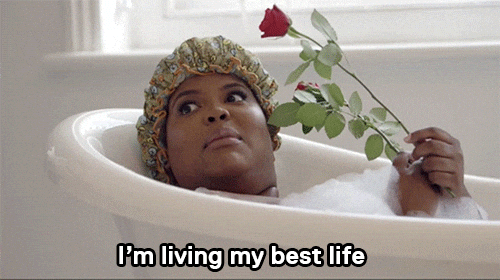 Images: Giphy (6)