An Inside Look At Joe Jonas & Sophie Turner's Wedding
I really never anticipated that I would be thinking about the Jonas Brothers this much in 2019, but life is crazy sometimes. Obviously, everyone was losing their minds when they released their comeback single "Sucker," but things aren't slowing down. Just in the past 24 hours, they announced their first tour in nearly a decade, performed at the Billboard Music Awards, and had a wedding. That's right, Joe Jonas and Sophie Turner tied the knot last night in Las Vegas, after attending the BBMAs together. We've got the Game of Thrones predictions on lock this season, but this was one plot twist we definitely didn't see coming.
Joe Jonas and Sophie Turner have been together since late 2016, and they first announced their engagement in October of 2017. That's a pretty long engagement, but we had no idea when the wedding was coming. This honestly makes sense, because Sophie Turner seems like one of the chillest people in Hollywood. She's quickly become one of my favorite people, thanks to her DGAF attitude on social media, and this legendary chug seen around the world:
Sansa can hang. The details of Sophie and Joe's low-key Vegas wedding are pretty amazing, especially considering this is less than six months after Joe's brother Nick Jonas married Priyanka Chopra in one of the most extra weddings the world has ever seen. But to each their own, and Joe Jonas and Sophie Turner just wanted a Vegas wedding officiated by an Elvis impersonator. Works for me. There definitely wasn't a People exclusive for this wedding, but luckily Instagram still gave us a closer look at this sacred occasion. Specifically, Diplo documented much of the evening on his IG Story, before he left for his DJ set at a club. Diplo, an ultimate icon.
Looks like Sophie Turner and Joe Jonas are getting married!! pic.twitter.com/zSW17g5cHC

— Myeisha Essex (@MyeishaEssex) May 2, 2019
At the ceremony, country duo Dan + Shay performed an acoustic version of their song "Speechless," because casual. I would've preferred an acoustic rendition of "Tequila," but for some reason no one consulted me on the music choice. Rude. In the video, you can see Sophie and Joe exchange Ring Pops, and honestly this is the kind of beautiful wedding tradition I'm here for. Who needs diamonds when you can have delicious candy?
It's unclear if Joe Jonas and Sophie Turner will have any kind of a bigger wedding celebration, but this intimate, random ceremony feels pretty appropriate for such a fun couple. At the very least, I hope they have time for a kickass honeymoon before Joe gets busy with tour rehearsals. Wherever they go, I just hope that Sophie doesn't forget to post hilarious Instagram stories while they're there. Her stories are basically the only thing getting me through at this point, so I need this. Sansa Stark might not be one of the G0T characters with big d*ck energy, but Sophie definitely does.
Sadly, this means that all three of the Jonas Brothers are officially off the market, closing an important (imaginary) chapter of my life that started when I was in middle school. Kevin, Joe, Nick, I'll always love you guys. Well, Kevin not so much, but it felt rude to leave him out. Now, if you want to bag a Jonas brother, your only hope is 18-year-old Frankie, also known as the Bonus Jonas. Ew. Congrats to Joe Jonas and Sophie Turner, I feel like a proud parent.
Images: @betches, @sophiet / Instagram; @MyeishaEssex / Twitter
This Guy Who Scammed His Friends & Family Out Of $750K Is The New Billy McFarland
It's almost Super Bowl Sunday, and we all know what that means. For most of America, it's time to throw on your favorite jersey, scream at your TV, and eat your body weight in wings for a few hours. For Georgia businessman Ketan Shah, however, it's time to pull off a months-long Super Bowl scam, hustling friends and family out of $750K for Super Bowl tickets, and then skipping town. (Hmm, what's that? A well-to-do businessman taking money from people who trust him for an experience he can't deliver? Where on earth have we heard that before?)

According to WSBTV2 in Atlanta, Shah owns a digital printing shop and "sits on numerous community boards" in Gwinnett County. He had a "squeaky-clean" business reputation—as all victims of this alleged scam point out—and was generally a well-regarded, active member of the community. Back in November, Shah began collecting payments from these community members, promising them "one hundred level seating," "access to the concierge lounge and a few pre-parties," and in one case, "a chance to host an arena Super Bowl event." Mutual friends and acquaintances started sending Shah down payments, and Shah's own mother gave him $36,0000. When the time came to deliver on his promises, the victims claim Shah disappeared.
Now, at this point in a normal internet scam, McFarland Shah could've just gone dark: stopped responding to emails, blocked all calls, and done his best to make himself untraceable. But since he was literally stealing from friends and family, Shah took it a step further and just f*cking took off, leaving his poor wife, Bhavi, to deal with the consequences. (A woman cleaning up the mess a man created? Where have we heard THAT before?) According to Bhavi Shah, she had no idea her husband was selling Super Bowl tickets. As another fun surprise, Bhavi also discovered after her husband's disappearance that he had taken out a half-million dollar loan against the business. Wait—you're telling me this guy is both financially troubled AND a terrible husband? Color me shocked.
View this post on Instagram
Currently, Bhavi maintains that she has no idea where her husband is, adding that he's been "roaming all over the town." Ketan Shah's family suspects he went to Vegas "as part of a midlife crisis," but it's unclear whether he's there now. Gwinnett County investigators have said "they want to hear his side of the story," adding that "it's a very odd situation that you would take people this close to you and scam this kind of money." I mean, maybe in 2015 it was an unusual situation, but I'd say it's a growingly popular move nowadays, when 90% of old high school classmates reaching out to you via Facebook are trying to involve you in some kind of pyramid scheme.
Whenever Shah chooses to reappear, the police department seems to have plenty to go on to charge him. His victims have gone to numerous police departments, as well as the FBI, with even Shah's mother reporting her $36,000 loss to the police. (She didn't press charges—or anyway, didn't press charges YET. I'm holding out hope.) In the meantime, his friends and family will be left wondering whether any American businessmen can still be trusted (no). And hopefully, asking themselves why they were ever willing to spend upwards of $20,000 to attend a sporting event. As we dive into this Super Bowl Sunday, let's all be grateful for not having sons who rob us, and remember to do your research when putting down money for something that sounds too good to be true. In 2019, it probably is.
View this post on Instagram
Images: tenor; Giphy; girlwithnojob, sodawaterpls / Instagram
Who Had A Worse Birthday: Stassi Or Ariana? A Timeline
This article required a lot of deep-diving into old Vanderpump Rules (ya welcome). So before I get into the issue at hand, I need to vent a few things. Wow, it's weird seeing Kristen and Tom together. Katie, how did you ever justify that hair? And present-day Jax looks like someone who ate season 1 Jax. I am shooketh. What a journey it's been. On the topic of aging, it's the most contentious happiest time of the year! Sunday, June 24, is the birthday of both Ariana and Stassi. Historically, this is when they evenly divide their mutual acquaintances and compete over who can throw a better party. In honor of these two fab ladies, let's take a look at who did it better over the years. Happy birthday, and try to play nice this year!
Seasons 1-3
Tricks, no significant Ariana yet. Seasons 1-2, she's not yet (openly) with Sandoval, so we're not allowed to fully care about her. Or see her birthday parties. And season 3 has no Stassi. For a quick recap of Stassi's birthdays: season 1 is Vegas with horrible ex-boyfriends Jax and Frank; season 2 is Cabo and everyone hates Scheana. Also, the description of Stassi as Malibu Barbie in these seasons is hauntingly accurate. Moving on!

Season 4
Still no Stassi (sad), but Ariana does a great job stepping in as the resident birthday bitch. Weirdly, Peter decides to be her competition on this and throws a guys-only trip to Vegas. For, as Ariana puts it, "the day after fucking birthday." Obviously, this launches an all-out war between the men and women of SUR. Katie tries and fails to assert any control over Schwartz, yet again. Ariana gets deep and talks about the loss of her father, but Sandoval's brain is chanting "bulldozers" too loud for him to give a shit. In a move that ultimately surprises no one, every single guy who is invited goes, even as their girlfriends beg them otherwise. The girls stay home and make out with each other. The win goes to first-time player Peter, who as punishment is never allowed to celebrate his birthday on camera again.
Ariana does throw a party, and it's interesting. It's "kid themed," which means they all dress like slutty versions of 6-year-olds and jump on giant trampolines. The fake sumo wrestling and bounce houses I could do without. But the pool floats, tequila, and option of pouring a bucket of cold water on Sandoval's head make it way better than any party I've thrown.

Season 5
This year is more of a contest of who's having a worse time. Stassi takes Katie, Kristen, and Scheana to Montauk so that Bravo can kick off Summer House. Kyle does a bad job hitting on Stassi and Stassi does an even worse job handling it. Scheana and Kristen bitch about not liking seafood. Katie takes too many shots and no one wants to deal with it. The house is nice and all, but ultimately they're getting drunk in a kitchen with East Coasters they don't know.
Ariana, on the other hand, has a NASCAR birthday weekend in Sonoma. For the producers' enjoyment reasons unknown, this involves packing Jax, Brittany, Sandoval, Schwartz, and Ariana into an RV. Jax bullies the shit out of Brittany, Ariana teaches Brittany what "misogynistic" means. Someone clogs the toilet. It is, quite literally, a shitty time. Which birthday party is better depends on what's important to you: not being bored to death, or having access to a real shower. I know my preference.

Season 6
Finally, we get to Season 6. As I'm sure you all remember, Ariana throws a Kings and Queens themed birthday party. Stassi also throws a party, and the theme is murder. Ariana's birthday is great opportunity to mix lingerie with fur. Stassi's is an opportunity to let Katie paint your face and watch her take ass shots. Stassi's freaking out because she's hopped up on tequila and Adderall and invited her shithead of a boyfriend Patrick. She leaves Katie and Kristen with a bill for over a thousand dollars, which they do not take well. Ariana's party involves fewer breakdowns, but a lot more of Scheana's exposed skin. Again, it's a pick your poison situation.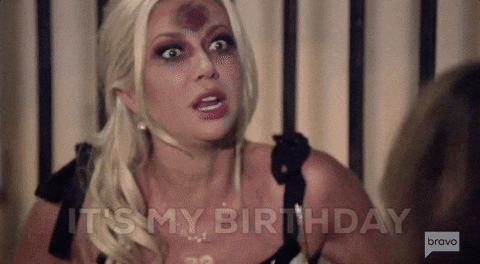 All told, I'd have to say Ariana's parties are better if you're into elaborate themes and dressing up. The one year Stassi tried to do that was…weird. But historically, Stassi nails the whole luxury trip/drunk by the pool type of birthday, which is my personal preference. It's a shame that most of them came with a side of Stassi screaming incoherently, but you win some, you lose some. Happy birthday again to Ariana and Stassi, and can't wait to see what they dream up next.
Images: Giphy (4)
I Guess It's Time To Talk About Tom Schwartz's Drinking
For the past few weeks, one question has started to haunt me as I watch Vanderpump Rules. No, not "why am I still watching this drivel" (though that's a close second). Instead, I'm increasingly concerned about Tom Schwartz and his drinking. Don't get me wrong—I understand that this cast is pretty much contractually obligated to get shitfaced on camera. And I also know that drunken live footage is universally unflattering, and that's why I don't let my friends post Insta stories anymore. But even so, Schwartz has been toeing the line between occasionally sloppy party boy and straight-up hard to watch. I did a little digging to see how worried we should be about Schwartz's drinking.
Part 1: A Brief History of Schwartz's Drinking
TBH my memories of early Schwartz are as follows: dry spell, panic attack, afraid of commitment. So let's skip ahead to last season, for which Schwartz was problematically drunk roughly 90% of the time. Notable drunk moments include Schwartz screaming at Katie and calling her a bitch on their pre-wedding Vegas trip, vowing not to go through with the wedding, and then waking up as though everything was completely fine. Also, let's not forget how so many of these drunken pre-wedding fights began. Schwartz cheated on Katie with a girl in Vegas (a VPR rite of passage, I guess). You can take a guess as to whether alcohol was involved there too. Overall, Schwartz came into season 6 with a definite reputation as a heavy drinker. But for obvious reasons, the viewer's focus was less on his drinking and more on why TF the wedding wasn't cancelled.

Part 2: Tom "I Have No Recollection Of That" Schwartz
From episode 2 of this season, we were seeing a whole new side to drunk Schwartz. Namely, we see Schwartz doing what you do every Friday night and calling up his bestie Jax and sobbing about how he has no idea what he's doing in life. Relatable? Yes. But also a conversation that makes you hope Schwartz is getting a redemption arc this season, starting by sobering up. We get the opposite.
Starting in episode 4, drunk Schwartz drama starts to really heat up. Lala shares with the group that (married) Schwartz made out with her friend a few weeks ago. Schwartz doesn't remember this, but doesn't really claim it didn't happen, either. He seems to find this a sufficient explanation to his wife. Even more troublingly, when Katie responds to the incident with reasonable rules like "stop taking shots" and "this is the last time you're using 'I have no recollection' as an excuse," he acts like she's putting him on house arrest. Uh, no. Even if you weren't making out with random girls when you got blackout, that's still a perfectly reasonable request. In true Schwartz form, FYI, he chases with conversation with a round of absinthe shots.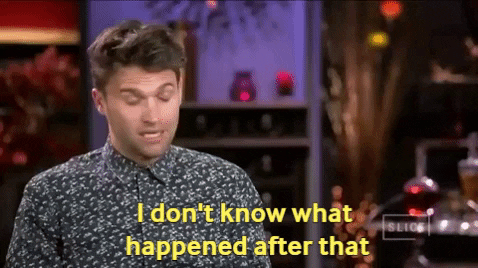 Part 3: Less Cheating, More Drinking
I'll spare you the details of every time we see too-drunk Schwartz fucking up, but here are the highlights. Katie continues to plead with him about his drinking. Schwartz continues to tell her to fuck off and refer to their marriage as a prison sentence. Gradually, the marriage dynamic improves, but the drinking doesn't. One night, he gets so wasted he can't make it home. Another, he's drinking straight from the bottle at 3am the night before an important TomTom meeting. (He of course shows up late and reeking of alcohol and possibly tweaked out on coke.) In Mexico, Schwartz reaches the height of sad-drunk aesthetic. He's mainlining tequila, he wanders into a different resort, he nearly pukes in a golf cart, and he tries to get Kristen and James  to ride bikes with him at 7am. If that isn't the saddest lost-drunk-boy thing you've ever heard, IDK what is.
*rare footage of Scheana making a good point*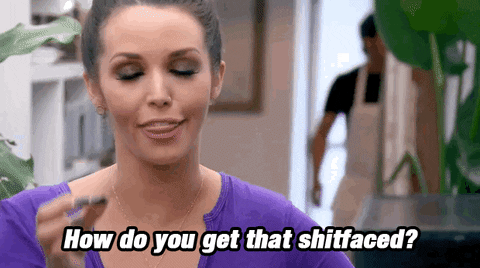 Part 4: Comments From The 'VPR' Cast
The couple spoke to US Weekly back in January, when Lala first aired the rumors of Schwartz's post-marriage makeout. When asked directly whether he has a drinking problem, Schwartz vehemently denied it. (The direct quote here is "I don't have a drinking problem, I'm not in denial or anything." Which like…no one had asked whether you were in denial, but now that you mention it…)
He goes on to admit that he has "a tendency to push to the extreme" and that he's "got to chill with the shots."  Katie, while standing 100% behind her husband in a way that's somewhere between heartwarming and enabling, chimes in with her very real concerns here too. "I don't want to have to worry about his safety," she says, adding that it's "really serious if you're black-out drunk and know what has happened."
Admittedly, most of my weekends could be classified as "really serious" by that measure. But Katie, in pointing out her genuine fear for his safety, is pointing to something a little darker. In Mexico, Schwartz slurs reassurance over and over that he's fine. Katie no longer even tries to make him a presentable companion, or bothers getting annoyed. "You didn't know where you were," she tells him. "That's not fine." And when you're speaking to your 35-year-old husband, that's absolutely correct.
*Schwartz, nodding thoughtfully*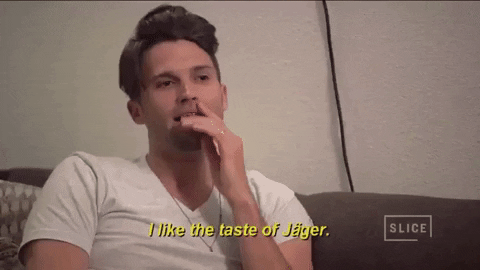 Before I wrap this up, I do want to mention that I think Katie's been an absolute angel this season. And if Schwartz is struggling with his drinking as much as it appears, I'm truly sorry for them both. Ever since Schwartz was weeping in the corner of Jeremy's birthday party, I've had a nagging fear that seems to keep coming true every episode. Even though Schwartz seems at the point with his drinking where he can tell that it's making him unhappy, and even actively tries to stop (like in Vegas), he doesn't seem to be able to. I hope he's faring better in his off-camera time, and I hope that Lisa maybe stations him somewhere other than the bar for his work at TomTom.
Images: Giphy (4)
The 7 Most Cliché Spring Break Destinations
After the literal shit show that has been 2017, the countdown to spring break is pretty much the only thing keeping me somewhat sane this winter. I mean, after following the summer's Rob and Chyna drama, keeping up with Miley's non-stoner revival, and dealing with the news that every man on TV is a sexual predator, it's been a hard year, and no amount of tequila shots or Kylie Lip Kits can get me through this time quite like spring break can. Picking a destination is so much more complicated than a JetBlue flight and a cheap Airbnb, so we thought we'd help you out. Here's where all your sorority sisters will probs be headed this year, so we came up with a few important points to consider before you book.
1. Cancun
Let's start with Cancun because it's basically the OG spring break destination. Betches have been flocking to Cancun for spring break since the concept first existed, and it's not because of our soft spot for guac (although it low-key makes for a good chaser). Cancun is the best place to go because it was literally built as a spring break city. Every hotel is on the beach, and they all have all-inclusive packages. The beach can get pretty ratchet during the day, but if you drink enough, you definitely won't care. Going downtown at night is the best part, because the clubs are huge and you can definitely get a great Instagram of you looking hot on an elevated surface.
2. Miami
Going to Miami for spring break is a little less ratchet than Mexico, but it's also amazing if you don't mind the fact that every girl looks like Sofia Vergara and every guy is an entitled douche who knows too much about house music. Keep in mind that Miami is a legit city where shit like Art Basel takes place so the night scene is a little more exclusive, but then again the slimy LIV bouncers don't seem to have a problem letting a hot group of college-aged girls in. You'll probably get a sick tan, see Jonathan Cheban in the Fountainebleau lobby, and avoid PV's food poisoning, which is always a plus.

3. Vegas
We've always loved Vegas, but then again we've been completely blackout every time we've gone, so we can't really remember deets. Anyway, if you're looking for a Hangover-esque trip minus Ed Helms and his missing teeth, Vegas is one of the only places to find it. It's basically Disney World for reckless adults and reckless pseudo-adults like you. Vegas is seriously a free-for-all, which means no one gives a shit if you're on molly in the hotel lobby or flirting with guys at the casino to get them to buy you a table at the club later on. Works every time.
4. Punta Cana & Puerto Vallarta
I know these are two different places, but let's group them together because they're basically the same vibe when it comes to spring break. PC and PV are both places betches go if you're looking to black out in the cheapest way on the prettiest beach. They always have group rates and all-expenses-paid hotel deals, so it's an ideal place if you're going with a huge group and can't separate from your 34 closest Tri Delt sisters. You'll probably be hungover on the beach at 8am, but then again you'll be surrounded by hundreds of other 21-year-olds in the same boat, so it's cool.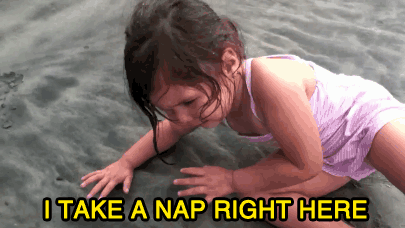 5. Bahamas Cruise
A cruise is a solid spring break option because of the open bar and the included meals, and even better if there's a casino or clubs on board too. Keep in mind that not all cruises are created equal, though, so don't just book a ticket to any cheap deal you find online that promises an "unforgettable week" with "no passport required." Like, are you trying to get killed? Also remember you'll prob end up vomiting over the side of the ship after one too many mojitos at the deck party, but then again I guess you'd be doing that anywhere. Just make sure that if you're going to puke, it's from alcohol and not Norovirus.
6. Myrtle Beach & Palm Springs
Depending on if you're an East Coast or West Coast betch, Myrtle Beach and Palm Springs are two classic spring break destinations, and they're both resort towns, which means you'll be blacking out with people who have been raging since Fourth of July. You'll probably end up drinking on the beach during the day and pregaming at Señor Frogs before you go out at night. I mean, the nightlife scene is kinda trashy, but then again you're in college, the flights are cheaper than the ones to Cabo, and you probably won't die from bootleg liquor.

7. Daytona Beach
If you've never heard of Daytona Beach, it's because it's basically Miami's younger cousin who shops at Forever21 and rages like she's on Jersey Shore season 3. Daytona Beach is only an option if you're literally broke and don't care about appearances, but you'll definitely feel the difference unless you're literally on too many drugs to care that you're partying on a dirty beach with 45-year olds. I mean, the city is known for their NASCAR race track and their Motorsports Hall of Fame, so don't expect a luxury spring break. But then again if you're 22 and all you care about is taking shots of Smirnoff near a body of water, go for it. Just avoid the geotags. They're not doing anything for you.
If You're A F*cking Weirdo, You Can Now Get Married At Taco Bell
The world is a fucking weird place. Someone at Taco Bell corporate has decided it would be a great idea for tourists to get married in its flagship Las Vegas restaurant, because nothing screams romance like a bouquet of hot sauce and a gordita crunch after a night of Molly.
Seriously, though. The Taco Bell in Las Vegas will start charging drunk assholes $600 to get married in its classy establishment. Worried about getting married with cashiers and coked-out bros around? Don't be. The "cantina" variation of this Taco Bell naturally comes with a chapel enclosed in its hallowed walls, and even an officiant standing by to make all of your drunk decisions are permanent in the eyes of the law. Just what we've always wanted.

The $600 ceremony includes a Taco Bell garter, bow tie, sauce packet bouquet, "Just Married" T-shirts and Taco Bell-branded Champagne flutes. It gets better! The lucky couple will also be treated to a 12-pack of tacos as their first married meal, with a decadent dessert of the classic Cinnabon Delights Wedding Cake.
If you're ready to sign the dotted line ASAP, slow your fucking roll. Not only is this disgusting wedding package not available until summer 2017, you're also an idiot. Reevaluate your life decisions, and maybe consider getting married anywhere in the fucking world except Taco Bell. And then thank us later.