These Celebs Had The Most Extra Valentine's Day
If you're in a relationship, Valentine's Day is really the one day of the year when you have a free pass to be obnoxious on social media. As a single person, it's fun to complain about everyone posting their flowers and chocolate, but I get it. But while you were posting a throwback photo of you and your SO with a cheesy caption, some of our favorite celebrities were out here getting truly wild yesterday. Here's a rundown of some of the most extra celebrity posts this Valentine's Day, and most of them are exactly who you'd expect.
Kylie Jenner
Less than one week after Stormi World broke the internet, Kylie Jenner is back with another over-the-top holiday display. Travis Scott is currently away on tour, but that didn't stop him from arranging a series of heart-shaped rose arches that probably cost more than I make in a year. Actually, I wouldn't be surprised if Kylie coordinated these herself, because she seems like the kind of woman who would want to be in control of her Valentine's Day. It's unclear if there was a gift or something waiting at the end of the display, but it was probably something else I can't afford.
Randall Emmett
If the name "Randall Emmett" still doesn't ring a bell for you, he's Lala Kent's fiancé, thus he's better known as "Rand" or just "My Man." As we know, Lala is currently filming a new movie, and she got surprised on the set with a very large vase of flowers. Like, she's sitting in the courtroom set in costume in full WWII Germany-era clothing, and they bring the flowers in. I guess this is romantic, but I'm pretty sure you'd get fired for pulling this sh*t if your man wasn't the one financing the movie.
Ashley Iaconetti
We can always count on BachelorNation's most annoying couple to bless us with dumb content. Earlier this week, we learned that Jared and Ashley are writing a children's book (yikes), and if Ashley's V-day caption is any indication, we're in for a real treat. While posting the sappiest photo of her and her fiancé, she writes a nice caption about how if you're a lonely loser, you should still have hope! Thanks so much Ashley, your support really means the world. Can't wait to preorder the book!
Kim Kardashian
Considering that Kanye West rented out an entire baseball stadium to propose to Kim Kardashian,  it makes sense that he goes way too far for Valentine's Day. First of all, if I went anywhere near that room, there is a 100% chance that I would accidentally shatter all those vases. Cute gesture, but I'm f*cking clumsy. Also, where is all of their furniture? Did Kanye have a moving company take away all the furniture just for the afternoon? Also, Kim K loooooves Kenny G, and I can't think of anything that turns me on less.
NO BIG DEAL KENNY G IN MY LIVING ROOM!!! Happy Valentines Day ??? pic.twitter.com/A1GD0UlEwu

— Kim Kardashian West (@KimKardashian) February 14, 2019
Katy Perry
There's nothing more eye roll-inducing than a Valentine's Day engagement, and it's no big surprise that it came from Katy Perry and Orlando Bloom. They've been together for a long time (not counting the period when they were broken up), so it makes sense for them to finally be engaged. I'm not so sure how I feel about that ring (actually, I'm sure, it looks like a Ring Pop), but I'm definitely not feeling this weird closeup angle or Orlando's greasy-looking hair. Whatever, I'm happy for them I guess.
Images: @kyliejenner / Instagram; @randallemmettfilms / Instagram; @ashley_iaconetti / Instagram; @kimkardashian / Twitter; @katyperry / Instagram
7 Self-Care Splurges For Valentine's Day
If you're more likely to be celebrating Single's Awareness Day this February 14 than you are gushy, mushy, Valentine's Day, it's time to treat yo'self. Whether you choose to sit around in a face mask and eat chocolates or hibernate under a weighted blanket and sniff candles, we're here for you being your best and most single self. After all, the only person who can take care of your lonely ass is you. So, in the interest of treating ourselves, we present a round-up of self-care splurges we're 100% in favor if you blowing your paycheck on. Sure, you could spend your money on the half-off Valentine's Day candy on February 15, or you could spend it on some self-care that will actually help you and make you not feel like garbage the next day. Totally your call, though!
A Weighted Blanket
A lot has been said recently about weighted blankets and their ability to curb anxiety. What better time to test that theory out than Valentine's Day when you're single and your mom just reminded you that she isn't getting any younger and why can't you just give her the grandkids she so desperately wants?? Anyway, the Comfitude weighted blanket comes in heavy to soul-crushing (in a good way, not the actual terms) and several trendy colors (see: 50 shades of grey). I hung out under one while writing this list and, let me tell you, I feel smothered in a cuddly, warm way.

Comfitude Velvet Weighted Blanket in Grey
A Good Body Scrub
If you're trying to scrub away the stench of failure Valentine's Day and couples sh*t, the Sheamoisture Manuka Honey & Mafura Oil Intensive Hydration Hand & Body Scrub is amazing. It replenishes necessary oils (and love) to your sad dry winter skin while exfoliating. Plus, it's made with certified organic and anti-inflammatory ingredients to help soothe your body. Praise be. 

SheaMoisture Manuka Honey & Mafura Oil Intensive Hydration Hand & Body Scrub
Chocolate
I'm not even sorry. If you want to sit around and shove amazingly delicious artisan chocolate into your mouth come Valentine's Day, you do you. Luckily, you don't have to resort to trekking to your local Walgreens and buying yourself a big ugly red cardboard heart. Dandelion Chocolate, Dick Taylor Chocolate, Maverick Chocolate, French Broad Chocolate, Raaka, and Ritual Chocolate all create delicious, incredible, bean-to-bar chocolate that you can feel good about indulging in. They also all ship said goodies, so there's no excuse not to order some.

French Broad Chocolate Signature Collection
An Adult Candle
I know that perusing the $5 deals on the outer rims of Target is appealing, but in the interest of adulthood and treating yourself to something really nice, it's time to invest in a good candle. We love NEST Fragrances because they're clean, they smell like what they're supposed to smell like, and they're just expensive enough for me to feel fancy when I light one.

Amazon NEST Fragrances Votive Candle
Fancy New Clothes
You know when you find an online boutique and you're all, this sh*t gets me? That's me and Sezane. All of the clothes are beautiful, and although they can be a bit pricy, they come packaged in the cutest, prettiest, most amazing boxes complete with stickers and postcards and a little linen bag.  I highly recommend any and all of the dresses; just be sure you get your measurements right, as those European sizes can be a bit tricky.
A Pamper Box From Winston Flowers
Drop major dollas on yourself because you f*cking deserve it. The Spa Indulgence box from Winston Flowers includes Formulary 55 bath bar in sweet pea and clover, paired with a rosehip and clay facial mask. There's also an exfoliating Sasawashi towel, plus a skin brightening citrus and lavender body polish and a smoothing monoi and jasmine body cream by Birchrose. But wait, there's more. They've also included Bee Raw's white peony tea and orange blossom honey which you can drink in the natural clay mug from Pigeon Toe Ceramics. It all comes in a gorgeous crate that's likely going to be reused as decor in your apartment (not mad about it). There's even an air plant for you to kill, and a hand-poured Winston Flowers soy candle.


Winston Flowers Spa Indulgence package
A Comfy Pillow
I'm not going to ignore the need for throw pillows and general coziness when self-care is the topic. Seriously, upping your comfort game with cute pillows, blankets, and soft sh*t can do wonders for your mental state. The Betches Gangsta Napper pillow is honestly one of my favs, since it's super cute, super soft, and goes nicely with my decor.

Shop Betches Gangsta Napper Throw Pillow
Images: Roberto Nickson / Unsplash; Comfitude; French Broad Chocolate; Amazon; Sezane; Winston Flowers; Shop Betches
Betches may receive a portion of revenue if you click a link and purchase a product or service. The links are independently placed and do not influence editorial content
8 Foods You Should Never Order On A Date
If you're heading out for a nice dinner with your sort-of-bae-but-doesn't-know-he's-my-bae-yet this Valentine's Day, or you're going on a first date with a guy your friends found from you on Ship, there are a few things to avoid. Sorry, but "be yourself" really only applies to displaying accurate and recent photos on your dating app profile. Otherwise, dating is a delicate dance where you try to put your best face forward even though you blacked out the night before and are struggling to keep your eyes open—metaphorically speaking of course. So, like I said, there are things you're going to want to steer clear of on a date. First, don't bring up anything you're likely to fight about (politics, religion, watching The Bachelor on Mondays). Second, there are certain foods not to eat on a date. I don't even mean like, "if I order a burger instead of a salad he'll think I actually eat to subsist and I can't have that"—f*ck that. It's 2019, live your truth. I just mean you might want to avoid some foods that may cause bad breath and/or ruin your outfit.
To save you the work of actually reading through the menu and weighing your options, here's our list of foods not to eat on a date.
1. Ribs
Nothing says "do me" quite like watching your date shove the roasted and sauced bone of a dead animal into their mouth hole. (I know, I'm really fun at parties.) The fact is, there's no graceful way to eat ribs. Your makeup will be ruined. Your hands will smell like barbecue sauce (not always bad, but, in this case, not amazing). You may end up wearing a bib and getting grease in your hair. Additionally, if you try to be cute and use a fork and knife, you'll just look like a maniac. There really is just no winning.

2. Pho
Pho can seem like a great idea for a date. It's inexpensive, it's super delicious, and it's amazing to eat when the weather decides to sabotage your life by not being inexplicably warm in the dead of winter. However, trying to navigate a bowl of broth, torn herbs, meat stacks, and long noodles with chopsticks is pretty difficult if you aren't into the idea of splashing yourself directly in the eyes. How's it gonna look when you ask him how his giant project at work is going while you fumble to hang on to one godforsaken noodle? If you think you'll be smart and use a fork and spoon to navigate this Vietnamese delicacy, good luck. It's still a mess. Plus, there's the inevitable slurping sounds you'll be making, which are most likely not cute.
3. Wedge Salads
Sawing through a dinosaur-sized hunk of iceberg (the worst of all lettuces) is gonna do nothing but frustrate you. First of all, there's no dainty way to eat a wedge salad, what with the bacon flying everywhere, the blue cheese crumbles crumbling down into your crotch (oh no), and the tasteless, water-filled leaves doing nothing for your date but letting him watch you chew. If you're going to order a salad, just be a normal person and order the kind that comes with the leaves separated. Or you could order something with substance and stop lying to yourself. Either way!
4. Spaghetti
Remember how cute it was when Lady and the Tramp shared that spaghetti then kissed and wandered around without leashes? You'll never be that cute and you'll never adorably eat spaghetti. You may think you've got it down to a fine art until a rogue noodle jumps up, splashes your nose, and leaves red sauce all over your face and new low-cut dress. The same goes for fettuccine, tagliatelle, or any other long noodle. Opt for more manageable noodles, like penne or bowties.

5. Kimchi
Hey! Make out with me after I eat this bowl of fermented cabbage dotted with hot chilies and vinegar! Hard pass. Definitely eat this, though, if you're looking to ward off would-be Valentine's Day assailants.
6. Corn
Corn likes to hang out in your teeth, gums, beard, and cleavage. If you're going to eat corn, do it the American way: on the cob and at 4th of July barbecues only. That's it. Corn is never appropriate for a date. It's also kind of random, I feel like. What kind of establishment are you patronizing that is serving corn on the cob? I can only think of two options: a steak house and KFC, both equally inappropriate for a first date.

7. Garlic
Garlic may be an aphrodisiac, but unless you and your date are both eating a metric ton of it, it's not gonna do sh*t, so don't be that person. It'll not only stick up your breath, it'll seep through your pores, into your clothes, and wiggle its way out of your very being over the next day or two.
8. Anything Using Raw Onion
I'd venture to say that nothing, nothing, NOTHING smells worse than someone who's just eaten a sandwich full of raw red onion. Not to mention, if you even came within an inch of touching the onion, that smell is going to linger on your fingers for the next 40 days and 40 nights. It's a no from me. And it's gonna be a big no from your date.

As a wise random person I follow on Twitter once said, dating is figuring out more information about a person until you realize you don't like them anymore. So don't do yourself a disservice by ordering one of these foods not to eat on a date and putting your date off forever—just wait for your personality to do that! Kidding. Sort of.
Images: Giphy (4)
We Asked Straight Men What They Really Want For Valentine's Day
Oh god. Oh no. It's here. Cthulhu Valentine's Day has arisen from its syrup-coated Hallmark basement lair to once again assault our eyeballs with pink and red flowers, crappy candy, balloons, and mass-produced stuffed animals painstakingly stitched together by child slaves. This day of sappy Instagram captions, overcrowded restaurants, lackluster sex, and general disappointment is almost upon us. If you, like many halves of whole couples, are, for some reason, looking forward to the idea of this made-up holiday, congratulations and good luck. Shopping for men during Valentine's Day is about as easy as pretending to be excited about anything after age 30. I'm not bitter, you're bitter. "How am I supposed to figure out what he wants for Valentine's Day??!" – Things I scream into the ear of my closest CVS employee. And I wonder why I am not welcome back on the premises.
Anyway, I once again annoyed my father, brother, and husband for information about what they'd really like come Valentine's Day morning. If you didn't read my Christmas gift roundup and aren't aware, here's the breakdown:
Kyle, my husband, is a 35-year-old hipster construction superintendent (don't ask) who enjoys sudoku, beard grooming, and flannel. Geoff, my brother, is a 26-year-old director for a large poultry corporation, owns an OCD Border Collie that knows math, and was recently forced to watch The Bachelor for the first time (Madison, you're my fav of Geoff's girlfriends so far). My dad, Fran, is a retired 60-something who lives on a lake, is a long suffering Jets fan, was born and bred in New Jersey, and looks like a better-groomed version of Anthony Bordain, RIP.
Let's dive in.
A Nice Watch
"For when I don't want to check my phone, but I'll probably check my phone anyway." Geoff and Dad are all about getting watches they won't use, so if you're really into the idea of widening their jewelry collection, go for it. Note: You don't have to go out and buy a Rolex. Kyle's favorite watch is his Tense, which is made from wood he thought was neat.

Beer
"Craft brewskis so I can keep Saturdays for the boys," says Geoff. Such a Geoff response. To be fair, beer is always a safe bet, especially if you're trying to be cute, ironic, and not spend a sh*tload of money. Grab a growler of his favorite IPA or whatever from that local brewery where you can't tell if the bartenders are hipsters or Civil War soldiers on leave. He'll love it.
Nerdy Chocolate
"If it's gonna be candy, something better than that sh*tty Russell Stover in the large red heart box," says Kyle. This could have to do with my job at French Broad Chocolate, a bean-to-bar spot in Asheville that churns out amazing truffles. Kyle frequently insists I bring home free chocolate, which no, get your own. But there are lots of amazing "nerdy" chocolate bars and truffles to be found on the great internet. Dandelion Chocolate, Maverick Chocolate Co., and Raaka Chocolate are all bean-to-bar, too (meaning they responsibly source and aren't using child or slave labor to make their sweets) and have created award-winning bars and bonbons. So, if he's a hipster and into candy, this checks the box.

Maverick 65% espresso dark chocolate
Meats
There's some truth to the whole Steak and a BJ Day trope. Buy a man a really good steak and cook it for him. He will be forever grateful. "How about something weird, like an elk or bison steak I can grill. Do bisons make steaks?" Oh, Dad, no. But he has a point. You can go the usual steak route or you can get something interesting. Either way, it will appeal to his man-sense to kill and eat something.
Interesting Underwear
…for you. If you're looking for something for yourself in the way of a nice new bra and panty set, you can buy it guilt-free and then go the extra mile by cooking dinner in it for Valentine's Day. "Yeah, I thought marriage would be more lingerie, less socks with holes in them. TV misled me," Kyle declares. He's kidding, calm down. Considering he has three sisters, he knew EXACTLY what he was getting into.

Literally Nothing
"I don't want anything. I just want to watch Game of Thrones until the new season." Alright, Geoff. Dad said the same thing. "Leave me alone. This is a dumb holiday that I always get in trouble for." Hey men, buy some flowers and it'll be alright. But for the men in your life, it sounds like nothing actually is an option. And no, they aren't trying to trap us.
A Nice Dinner Out
"I just want to be fancy and feel fancy" says Geoff. He's not wrong, either. Kyle and Fran agreed that a nice dinner out seems a perfect fit for Valentine's Day. So call and make reservations now, because everyone and their mom (and mom's live-in friend, Rosco) are making rezzys for Vday.
Images: Maverick Chocolate; Tense; Giphy
Alcoholic Blondies: A Recipe And A Memoir
It's Singles Awareness Day (vom), and what better way to celebrate than with a dessert-alcohol hybrid? We adapted this recipe by a) making it less fucking work and b) making it slightly more alcoholic.
Also, brownies always have all the fun, and the idea of more chocolate right after Valentine's Day was making us vom. So, we opted for blondies—our favorite butter and sugar combo. Just add whiskey for a super awesome evening date with some sweatpants and hard alcohol.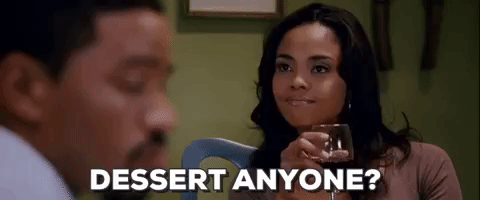 Ingredients
2 sticks of butter, room temperature — YES REALLY OMFG.
1½ cups dark brown sugar
½ cup granulated sugar
2 eggs
1/3 cup of Larceny or Maker's Mark whiskey — PLZ don't use Jack Daniels because ew, you guys
2 tsps. vanilla
1 ½ cups all-purpose flour
½ teaspoon salt
¾ cup candied nuts — we used candied walnuts which we found at a fancy store
Preheat the oven to 350 degrees and while that shit heats, spray an 8×8 pan with Pam. 
Grab a skillet and add the butter, stirring constantly—i.e. try not to be distracted—over medium heat or until it sorta browns and smells nutty. Take off the heat and let cool a bit.
In a giant bowl, cream the butter and sugars together until light and fluffy, then add the eggs, whiskey, and vanilla and mix.
In a totally different bowl, mix together the flour and salt, then slowly pour that shit into the butter and sugar mixture. You want this shit to come together, but like, don't overmix it. Kinda like your love life. Anyway, fold in the candied nuts and pour the batter into your greased baking pan.
Bake for about 25-30 minutes, or until a knife inserted toward the center comes out clean. Let this shit sit for a bit and think about what's it's going to do to you, then transfer to a wire rack to continue cooling.
Feel free to pour on a little extra whiskey because like who the fuck cares, honestly. Cut or eat with a spoon out of the pan. We aren't judging
How To Be Single On Valentine's Day Without Killing Anybody
It's Taco Tuesday—I mean, Valentine's Day—and while your only valentines are your mom and Team Snapchat, there are a bunch of happy people around you who can't stop reminding you that they're in fulfilling relationships. Barf. So what's a single betch to do on Valentine's Day? Do you organize Galentine's Day for you and your besties? How about buy yourself 16 pints of Ben & Jerry's and cry yourself to sleep? Take a fire Snapchat selfie and caption it "Happy Singles Awareness Day"? NO. Do none of those things, floser.
Remember that Valentine's Day is just another fucking day of the year, and tomorrow you won't have to worry about it for 364 more days, so don't do anything embarrassing that's going to cause you to do damage control tomorrow. Being single on Valentine's Day isn't embarrassing; drunk texting your ex and having to apologize the next day certainly is. So we've compiled a handy video on how to celebrate Valentine's Day when you're single without losing your dignity. You're so lucky to have us. 
For more love advice buy our book, I Had A Nice Time And Other Lies: How To Find Love And Sh*t Like That.
10 Things To Avoid On Valentine's Day If You're Single
Valentine's Day aka Singles Awareness Day is here, and if you're feeling anxiety over having to watch couples kiss while getting your latte in the morning, we've got you covered. If watching disgusting displays of love isn't your thing, because honestly whose is it really, just avoid doing any of the following this today and you'll be good.
1. Going To A Speakeasy

Any bar that is remotely classy or cute is not where you want to be on Valentine's Day. Basically if the bartender calls him/herself a mixologist—or worse, artist—you should avoid it at all costs. Go drink somewhere as unimpressive as possible.
2. Ice Skating Or A Wintery Romantic Activity

Sorry, but who goes ice skating on a Tuesday evening anyway? You probably won't have much problem avoiding this, but stay away from any activity that could be a date from an Archie comic.
3. Going Out To Dinner Literally Anywhere

If you go out to eat anywhere but your mom's house, you're literally going to be miserable and surrounded by couples. Yes, even Chipotle, because even fuckboys gotta celebrate Valentine's Day.
4. Looking At Your Ex's Social Media

This isn't 50 Shades of Grey, there's no need to torture yourself. Put down the Instagram and make yourself a cocktail (not alone, though—we'll get to that in a sec).
5. Going To See 50 Shades Darker

Speaking of 50 Shades, stay away from the movie theater altogether on Valentine's Day. Especially this movie glorifying an abusive relationship. You might start missing the fuckboys of your past and forget they were literally the worst.
6. Going To The Mall

You might think the mall is a safe space where you can retail therapy your way to peace, but you are wrong. The mall is the worst place to be on Valentine's Day because every store will find a way to promote the shit out of the holiday to get you to buy stuff. Even a shoe store is going to find a way to make their sneakers about love.
7. Swiping On Dating Apps

It's like how getting a match at 2am lets you know the person is shady AF: If you match with a bro on Tinder on Valentine's Day, you'll just look like you were swiping through your heartbreak…because you are. Answering messages on Valentine's Day is probably fine, but avoid swiping for new matches or you'll just look thirsty AF.
8. Going Through Your Old Relationship Photos And Wondering What You Did Wrong

When a relationship ends, it means you dodged a bullet, almost every time. It's easy to look at old photos and think you had things better, but the truth is if it ended it was never going to last to begin with. Logic. Plus, your ex probably sucked, which is why he's your ex.
9. Drinking By Yourself

You might think it's cute to pour yourself a glass of Chardonnay and watch 13 Going on 30 in the fuzzy socks your mom sent in your Valentine's Day care package, but three glasses in you're just going to realize you made a terrible mistake. If you're going to drink, drink with friends. That way, it's not technically considered alcoholism.
10. Getting A Present For Your Casual Hookup

Valentine's Day is for couples that have exhausted all their excitement and need a lame holiday to pretend they're still in love. If you're just falling in love or dating someone casually, put the candy hearts down. There's no reason you can't go on a date or hook up on Valentine's Day, but don't spend a dime on someone that isn't going to take you as a plus one to their best friend's wedding. 
The 10 Corniest Things You'll See On Social Media This Valentine's Day
Brace yourself, betches, because Valentine's Day is coming up and with it the most annoying social media posts since the #100HappyDays challenge. There's nothing worse than couples posting about their love, especially because we all know the more relationship photos you see someone post, the shittier their relationship actually is. To prep you for the flurry of #bae posts, here's our list of the corniest shit you'll see on social media this Feb 14th. Sorry, but your love is not original.
1. Candlelit Dinner For Two On Instagram

Oh wow, so your Valentine's Day plans consisted of reenacting every 90's pop song about love? I mean, if you're going to do this we won't judge (that's a lie), but posting it on Insta like we're supposed to swoon over your relationship is corny as hell. #Boring #YouBarelyTried #HalfOfYourDinnerWasSpentThinkingOfaGoodHashtag
2. A Super Long Post On Facebook About Your #Bae Detailing All The Times He's "Been There" For You

It usually starts something like "Okay, normally I don't post things like this, but I want to talk about someone truly special to me." And then it goes on, and on, and on… If you read the subtext in here there's usually a fuck you to an ex masqueraded as a "I thought I could never love again, but he showed me that there ARE good guys out there". Too bad I don't have someone special to hold my hair back while I vomit.
3. Going To See Some Hard-To-Get-Into Show Or Concert

Posting a photo from the front row at Hamilton with your boo. Wow, how lucky of you to find someone who enjoys the same things as you, and by same things we mean one of the most popular shows ever. Now, if you were both enjoying a Guy Fieri restaurant together, we'd be surprised, because we don't know anybody who likes that.
4. Posting A "Dear _____" On His Wall Like You're Talking Only to Him.

Unless the person you're dating is only accessible via Facebook wall, which um, we hate to break it to you but you're probably not even really dating, then any "Dear ___" post is so obviously there for your friends to read it that it's thirsty AF. If you really wanted to let him know how you feel, you'd probably tell him in person, or text, or I mean, even email is more private than a Facebook post. Much like public Facebook eulogies to your late Grandpa, this type of post is best expressed in private.
5. Posting A Galentine's Girls Pic

We get it, you're an independent woman and you don't need a bro. Here's a tip, the louder you say "I'm fine" the less people will believe you. Plenty of betches are single and killin' it, but dragging your girls night out through the social media sphere for your exes to see is sadder than that Sarah McLaughlin commercial with the puppies.
6. A Photo Of Something "Artistic", Like You Two Holding Hands

A post of hands touching, or just your knees, or something equally nauseating belongs in a sixth grader's Tumblr and nowhere else.
7. Baby Photos Of Each Other

When a couple posts baby photos of each other, what they're really saying is, "I'm having sex with this person who used to be this baby." It's deeply uncomfortable for everyone else on social media. We get that you think they're adorable and maybe you're even trying to not-so-subtly hint at getting married and having babies together one day, but ugh. Please don't make us think of you two babies making out.
8. A Clearly Staged Photo Of Two People Making Out Or Looking Into Each Other's Eyes

Unless you're Beyoncé with a camera crew following you around to document your life for your fans, there's no way that photo of you two looking deep into each other's eyes was candid. When has anyone ever stopped in the middle of a truly intimate moment and thought, "WAIT, we need to get this on camera!" Never, that's the answer.
9. Song Lyrics Coupled With Anything.

Are you "drunk in love" or is this "hands down the best night I can ever remember"? Your love is so original you needed to appropriate a pop song to describe it to others on your social media feed. This is the definition of corny.
10. Telling Social Media You Love Each Other Before Telling Each Other

If the first time you're saying "I love you" to each other is for likes, that's corny. What's that wedding going to look like? Live streamed on Facebook?