Brittany Doesn't Need Our Sympathy On 'Vanderpump Rules'
Ever since Brittany first appeared on season 4 of Vanderpump Rules, she's been a fan favorite. With her Southern roots and bubbly personality, she's served as the perfect foil to her now-husband Jax, SUR's resident sociopath and life-ruiner. Remarkably, up until her text exchange with Katie in this week's episode, she's managed to escape the wrath of every female cast member on the show, a near-impossible feat given that these women change alliances more frequently than they change faces. Kristen can barely go an episode without referring to Brittany as "my precious Brittany," and the rest of the ladies regard her as if she's the Southern reincarnation of Mother Teresa. It was easy to root for Brittany after Jax's cheating scandal with Faith. But now, as we watch Brittany misdirect her anger at Katie and Sandoval despite Jax's increasingly erratic behavior, it's time we dispose of the narrative that she's naive and needs our help.
She Moved Cross-Country To Live With Jax After Knowing Him Two Months
Fans of the show remember vividly Brittany's move from Kentucky to L.A. after meeting Jax in a bar in Las Vegas. "The very first night he met me he told me wanted me to move to L.A. I, of course, didn't believe it," Brittany said on E!'s Daily Pop. "Two months later, I moved to L.A." Brittany has maintained that she did not watch Vanderpump Rules before appearing on the show.

I'm going to have to call B.S. on this. On the one hand, it's semi-believable, because I'd like to think that no sane woman who'd seen the show would ever agree to move in with a man who can't get through an episode of said show without lying, cheating, eating pasta drinking excessively, and/or screaming at a friend or co-worker. On the other hand, what reasonably intelligent millennial woman wouldn't do some healthy online stalking before packing up her belongings and driving across the country to move into a studio apartment with our generation's Dirty John? She knew what she was getting herself into.
She Actively Tried To Get On The Show
In an interview with Vogue, Brittany said, "I never wanted to be on TV. I never wanted to be an actor or an actress." Britt, please. Even if we believe that she never watched the show before moving to L.A., her behavior upon arrival is, at best, a bit sketchy. She had barely unpacked her bags before rolling up to SUR in a questionable romper for a job interview with LVP. A couple of things about this don't add up. First, who would want to work with their boyfriend after already having to spend the rest of their day in a 500-square-foot apartment with him and his creepy foot fetish? This is either the most codependent relationship on TV or she isn't being 100% transparent about her motivations.
Second, and most importantly, the restaurant in question is the setting for one of the most popular reality shows on television. If she really didn't want to be on TV, she could've applied to one of the other thousands of restaurants in L.A. that doesn't have a TV crew present for months out of the year. In my light Googling painstaking research for this article, I also came across Brittany's page on Model Mayhem, which says she's been a member since August 10, 2010, well before she found herself on our TV screens. In her bio, Brittany says she is looking to "expand my oppurtunities " and is "willing & ready to travel."

I can believe that Brittany never sought out to be a professional actress, but for her to imply she didn't want fame after moving to L.A. to be with a guy she knew for five minutes who just so happens to star on a reality TV show is fake news. One need only look at her Instagram to see that she's adjusting quite comfortably to a life of paid endorsements and sponsorships. There's no shame in this at all, but I'd have more respect for her if she were honest about her ambitions. Instead, she acts as if her newfound opportunities just happened with no effort on her part, which is about as believable as her increasingly thick accent that, of late, is reaching Sofia Vergara levels of exaggeration.
She Stayed With Jax After He Humiliated Her On National Television Multiple Times
At the beginning of season 5, Jax announces that he walked in on Brittany and Kristen hooking up. Given Jax's never-ending trail of lies track record, it's unclear whether this did, in fact, happen. Both Brittany and Kristen, Jax's strongest competitor for Most Honest Cast Member, denied it. Whether or not they hooked up is beside the point. What matters is that Jax, Brittany's then-boyfriend, thought it was appropriate to talk about her sex life on national television without her permission. It'd be one thing if he was genuinely hurt or considered it cheating, but he seemed completely dead inside unbothered by the idea. Instead, he put it out there to the world without the least bit of consideration for Brittany, who comes from a conservative community. If such callous behavior by Jax wasn't immediate grounds for a breakup, it was at the very least a huge red flag.
Me to Brittany the past four seasons:

Of course, we can't bring up the topic of humiliation without mentioning the season 6 revelation that Jax cheated on Brittany with co-worker Faith mere feet away from a sleeping 95-year old woman. As if that weren't horrific enough, we later learned that Faith had secretly recorded a conversation with Jax where he said some seriously f*cked up things about Brittany. This would be the death knell for just about any other relationship, but after about a month of being "broken up," the two got back together. THEN, Jax pulls the ultimate douche move and breaks up Brittany mere weeks after putting her through hell. It's no wonder she wanted him to RAWT there, but it's mind-boggling that she would take him back after this.
Jax Hasn't Changed And She Still Married Him
From pretty much the moment she arrived in Los Angeles, Brittany has been subjected to some downright awful treatment by Jax. Over the past several seasons he bought her breast implants and demanded she make them bigger than she wanted, criticized her weight multiple times (even going so far as to suggest her weight contributed to his cheating), expected that she make him sandwiches, and gaslit her at every turn. When we dig beneath the surface excitement of the engagement and wedding, their relationship is so dark that it's often difficult to watch. Brittany is very likely the victim of some emotional abuse by Jax. But after all this time and with the benefit of having his mistakes documented on TV to learn from, his behavior largely remains the same, and is arguably worse.
He dismissed her concerns when they went to therapy, told her own family that he comes first, and this season lied to her face about his trip to the strip club during their joint bachelor/bachelorette trip, where he said on camera that he was going to leave Brittany for one of the strippers. But when anyone so much as hints that Jax is a less than honorable guy, she becomes defensive and/or hysterical and doesn't want to hear it. This season, she distracted herself with wedding planning, as if a televised ceremony is going to solve all of their relationship issues. I can't totally blame her; it's easier to throw yourself into something superficial rather than deal with the darkest recesses of your psyche. And there are many reasons women in emotionally abusive relationships stay, whether it's diminished self-worth, isolation, or believing that the abuser can change. We'll probably never know exactly what's driving Brittany, and she may not even know herself, but after several seasons of watching back her husband's misdeeds and contending with the opinions of viewers, there's no doubt that she knew who she was marrying.
I happen to enjoy Brittany on the show and genuinely believe that she's a nice person in real life. But we've got to stop buying into this idea that she's this babe in the woods who needs our help. It would not only be a mistake, but a severe underestimation to view her this way. She's an adult woman making a conscious decision to not only continue in an unhealthy relationship, but broadcast it on national television and benefit from it financially. Whether or not it's the true love remains to be seen. But just in case it's not, I'll be here waiting with my popcorn for their future appearance on Marriage Boot Camp: Reality Stars.
Images: Giphy (4)
8 'Vanderpump Rules' Moments That Aren't Talked About Enough
As a self-confessed Bravoholic, I revel in the happenings on our favorite Bravo shows, whether it's the idiocy of Puppygate in last season's Real Housewives of Beverly Hills or the garbage men that run rampant on every season of Southern Charm. And while I know a mother isn't supposed to reveal her favorite child, I must confess that Vanderpump Rules is my personal jewel in the crown. From the moment it premiered seven years ago, the show has given us more drama than any scripted series ever could and a cast of beautiful surgically-enhanced train wrecks you can't tear your eyes away from. In honor of the premiere of Vanderpump Rules season 8, I've rounded up the most under-appreciated moments of the series.
 8. Scheana's Crop Top Wedding Dress

Ms. Scheana Marie Jancan Shay is known for her many misguided choices. These usually involve men who are unavailable, either because they're married or vying for camera time simply not that into her. However, the most embarrassing thing she's ever done on the show was wear a crop top wedding gown in season 3. I'd describe it for you, but I'll leave it to Stassi, who summed it up better than I ever could:

7. Story Time With Lala

Lala Kent is nothing if not an enigma. One minute, she's masquerading as the show's feminist hero, and the next she is completely unaware of what cis privilege means. In a scene from season 4 that is not discussed nearly enough, she beautifully showcases this when talking about the book she's currently reading: "I was given a book called Fountainhead, which is by Ayn Rand. It's a philosophical book and it's about architecture and architects." Sounds like the book report of a 9-year-old who didn't read the book and put the movie on in the background while texting, but sure. I'll leave it at that, because I don't want to "get popped."
6. Ariana, Feminist Hero

Season 7 was a breakout season for Ariana, not only because she showed us she's more intelligent than her fellow SURvers by leaps and bounds, but also because she's been open and honest about her sexuality and stood up for her trans castmate, Billie Lee. I especially appreciated her candor on being reluctant to get married and have children despite constant questions and pressure from the other cast members, including her own boyfriend: "Before I would even be comfortable considering the idea of having kids, I would need to check off all the places I wanna go in the world, which is kind of all of them. And I would also just like, I don't know, want to?" Sorry Lala, but this is actually what a feminist looks like.
5. The Number One Guy In This Group

There's never been anyone on television quite like Jason Michael Cauchi Jax Taylor. In season 4 he proved that his words could be just as unpredictable as his behavior during a conversation with Schwartz and Sandoval about Schwartz and Katie's dysfunctional relationship. Schwartz gets up to take a break from the drama, and Jax utters the following to Sandoval in a glorious coke-induced rage: "Dude, stop acting like you're the number one f*cking guy in this group, man. I'm the number one guy in this group!" The seriousness with which he delivers this absurd proclamation, with not even an iota of irony, is nothing short of magical.
4. James Kennedy's Impersonations

Love him or hate him, James has delivered some of the best lines on this show ("PUMP-TINI!" "It's not about the pasta!"). But less acknowledged and equally hysterical are his impressions of his fellow castmates. His impersonation of Stassi on the ground, literally "crawling back from New York" on the season 5 reunion was so hilarious that even Stassi couldn't help but laugh. My personal favorite, however, is his reenactments of both Brittany and Jax reacting to the revelation of the infamous Jax-Faith recording. His "WHHHYYY?!?" is enough to convince me that he should star in the next reboot of A Streetcar Named Desire. Don't @ me.
3. Sandoval's Dramatic Drag Show

Joint bachelor/bachelorette parties are rarely a good idea, especially when the couple in question transforms into the worst versions of themselves after a couple shots of tequila. That said, we're forever indebted to Katie and Schwartz for giving us what is perhaps Sandoval's most melodramatic moment on this show, which is saying something. The image of him dressed in drag like a bootleg Sia and referring to his best friend as a "battered wife!" will forever be etched in the darkest recesses of my brain. The juxtaposition of his insane getup and the earnestness of his message is more than any of us deserve. We really are living in the golden age of television.
2. Jax and Faith's Captive Audience
When it came out that Jax cheated on Brittany with Faith, the rest of the cast was downright shocked. Maybe it was because they collectively bought into the storyline genuinely believed that Jax was a changed man (LOL). However, not one person brought up the most horrifying detail of the encounter: that this all went down while Faith was inexplicably charged with the live-in care for a 95-year-old woman. Umm, WTF?! I can't even begin to fathom how Faith was approved for this gig in the first place. We can only hope the poor woman was hopped up on one of her prescriptions and slept through this heinous encounter.
Actual footage of me watching this episode:

1. The Montages
The Vanderpump Rules editors (and Bravo editors in general) are the true unsung heroes of the show. They're our Greek chorus, always ready to point out the cast's lack of self-awareness, whether it's a montage of every moment Sandoval got emotional during the entire run of the series, Kristen's seasonal psychotic breaks, or the 48 tequila shots Schwartz took in Mexico leading him to wander off to a completely different hotel. Editors, we thank you for your service.
Of course, there are far too many gems that could've been included, but I have a day job and some semblance of a life. What underrated Vanderpump Rules moments did I miss (other than "Suck a dick," "I am the devil, and don't you forget it" and "I don't know what I've done to you, but I'll take a Pinot Grigio"—none of those are underrated). Let me know in the comments!
Images: Tommy Garcia/Bravo; Giphy (4); Tenor (2); Adderall and Compliments (2); badgalriri / Instagram
Our Favorite 'Bachelor' & 'VPR' Rejects Are Getting Their Own Show
In case you haven't been giving MTV the credit they've been due, know that while we've been out here getting our kicks by stalking the men from The Bachelorette, MTV has been doing the lord's work by reuniting reality TV's greatest shit shows for our viewing pleasure. Bless you. That's right, from the people who gave us Jersey Shore and Are You The One? we now have: Ex on the Beach, and it's about to be the most lit thing on television this spring.
We don't much about the show, except that it's going to bring together some of our favorite human trash bags from shows like The Bachelor/Bachelorette/Bachelor in Paradise, Are You the One?, AND Vanderpump Rules for a "social experiment", as in how-far-can-you-trace-a-single-strand-of-an-STD-in-one-sample-group kind of social experiment.  
The premise behind the show is as such: MTV will bring the former reality stars (I'm using the term "stars" here loosely) along with a few other "non-quasi-celeb singles" to Hawaii for what they think is just a regular reality dating show. After what, I can only assume, will be a night of MTV producers slipping roofies into every drink they can find and encouraging these emotionally stunted circus animals to "follow their hearts", they'll bring in… wait for it… THEIR EXES. Can you imagine?? Just as one of these losers starts to fall for someone think that they've found somebody to poke a hole in their condom with, MTV throws a literal grenade (and I do mean grenade—I've seen the people these shit shows have dated) into their plans. I'm giddy with joy at the prospect.
Entertainment Weekly released the cast list earlier this week, and it is spectacular.  So let's take a second to analyze the cast all of the people who are willing to dishonor their families for the fifth time.
The 'Ex On The Beach' Stars
Jasmine Goode — Bachelor in Paradise
Chase McNary — The Bachelorette
Paul Calafiore — Big Brother
Faith Stowers — Vanderpump Rules
Cory Wharton — The Challenge
Angela Babicz – Bad Girls Club
Taylor Selfridge — Are You the One?
Shanley McIntee – Are You the One?
Derrick Henry – Are You the One?
Cameron Kolbo – Are You the One?
Joe Torgerson – Are You the One?
Alicia Wright – Are You the One?
Andre Siemers – Are You the One?
The 'Ex On The Beach' Randos
Tor'i Brooks
Victoria Alario
Chris Pearson
Marcus Rosenzweig
Marco Delvecchio
Skyler Mikkelson
Lexi Marsella
June Robinson
Luis Rivera
Haley Read
Chelsko Thompson
My immediate reaction reading this list:

And also:

Now, on to analyzing this cast list. First of all, Chase, you are way too fucking good for this shit. Who convinced you that any show with an AYTO cast member would actually help your career? Seriously, who did this to you? Like, is he still salty about not being asked to Paradise?  Because, Chase, this is no way to get Chris Harrison's attention!
Tbh Jasmine fits right in with this bunch, I'm only surprised that she didn't show up on one of these shows sooner. She is the same girl that introduced "light choking" to a Bachelor rose ceremony, so I knew her future would be bright.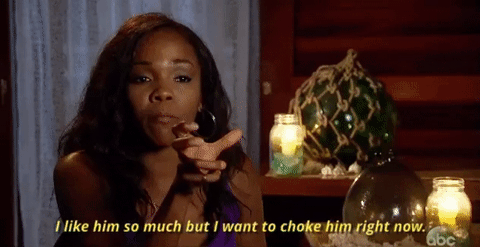 Also, Cory, why am I seeing your name here? Was it not enough to spread your seed to Kailah, Aneesa, Alicia, Cheyenne, and the many more you I can't remember? Can penises get tired? Because yours certainly should be. Why don't you take a pass on this one and take care of that illegitimate child of yours, mmkay?
It looks like the usual AYTO suspects will also all be present, though why MTV decided to forgo reaching out to Prosper and Asaf (lol remember when he thought black was an eye color??) is beyond me. MTV, you can't deny star power like that!
Oh, and the best part? Ex on the Beach will be hosted by a one Romeo Miller, aka Lil' Romeo. Yes, that's right. Lil' Romeo is still alive, going by his given name, and hosting this dumpster fire of a reality show. Between him hosting Ex on the Beach and Ludacris hosting the Fear Factor revival, MTV has really cornered the market on has-been rappers of our youth. Blessings.
The release day for what could either be the most glorious display of drama and drunken antics to ever grace our TV screens or the actual apocalypse is Thursday, April 19th at 9pm ET, so set your fucking calendars now, because shit is about to go down.
Images: Courtesy of MTV; Giphy (3)
Jennifer Lawrence And Lala Kent Are Feuding, And It's Dramatic
It's International Women's Day, which means it's the perfect time for celebrating great women, fighting the patriarchy, and calling each other cunts on national TV. This week, Jennifer Lawrence and Lala Kent are feuding, and it's one of the best new celebrity feuds in a while. I honestly never thought I would be talking about these two in the same sentence, but anything can happen in the messy dumpster fire that is 2018.
It all started when J-Law appeared on Watch What Happens Live and talked shit with Andy Cohen about everything from the Real Housewives to the Kardashians. In case you weren't aware, Jen is a huge fan of reality TV, and she especially loves all things Bravo. So basically I'm Jennifer Lawrence. As the discussion shifted into Vanderpump Rules territory (was this interview specifically planned for me?), Andy asked Jen about her thoughts on our fave feminist reality star Lala Kent. Jennifer criticized Lala for her apparent personality shifts over the past couple seasons, doing a pretty spot-on impression of Lala in the process.
She says, "I'm sorry, but in the season before, we see Lala trying so hard to be nice, and then she's like crying to her mom, and then she's like a total bitch. And then she's trying like really, really hard to be nice, and then she comes back this season and she's like, 'Hi, honey. Hi, sweetie.'"
Okay, yes. None of this is false. But then Jennifer just had to cross the line, saying "bitch, you's a cunt." Oops. Much like my addiction to literally every Bravo show, that shit escalated quickly. Jennifer probably thinks it makes her look cool and edgy to drop the c-word, but it's really just unnecessary in this context.

Andy seemed unfazed by Jen's choice of words, which makes sense because Andy Cohen is here for the drama and nothing else. Lala, however, wasn't so cool with being called a cunt. Imagine that! She tweeted her reaction, before later deleting the tweets because we can't have nice things:
"Did Jennifer Lawrence really call me a 'c*nt' on @bravowwhl? Annnnnd talk about my mama? Bitch, you better pray I don't see you in the streets. You're one of the highest paid actresses on the planet … you claim you are pro-women and you call another woman a cunt? You're gross."
Following the epic tweet-and-delete, Lala went on the SiriusXM show Reality Checked to discuss her, um, feelings toward Jennifer. She said that she used to be a big fan of hers, and just expected a little more out of such an acclaimed actress. She also came up with a sick burn which she probably only spent like two hours coming up with: "Congratulations on two bombed movies in a row." Hear that sound? It's Jennifer Lawrence's Oscar shattering into a million pieces. RIP to her career, seriously Lala ended that shit.
And because Lala is a good reality TV star, she made sure to own her own drama just a little bit: "You know, let's leave the trash to people like me who do reality TV. Don't try to steal my thunder, girlfriend!" Say what you want about Lala, but at least she's sort of self-aware.

And to Jennifer Lawrence, we love you, but come on. Your whole thing of being a chill girl who says whatever you're thinking is fun sometimes, but you should really know better than to call someone you don't even know a cunt on TV. Also, you're literally an Academy Award winner, you don't need to act like you're on the same level as Lala. Can't we all just get watch Bravo and get along?
Images: Giphy (3)
The 'Vanderpump Rules' & 'Summer House' Casts Are Besties
I've said it before, I'll say it again: Vanderpump Rules is one of the greatest shows of our time. I know pretentious af TV watchers will be like, "No way. What about Downton Abbey and Breaking Bad and Veep?" STFU, no one cares about your fancy shows. Sure, this season of VPR has been a little lame because Stassi's lost her betchy edge and I literally couldn't give two fucks about who Lala is sleeping with, but whatever, shit's still fire. Because once a week isn't enough, Summer House premieres Jan 16. It seems like it's pretty much VPR but in Montauk. How can we tell? Because the assholes that are the cast of Vanderpump Rules spent New Year's in Cabo with two of the Summer Housers. Obvi.

Summer House's Ashley and Lauren Wirkus, aka the Wirkus twins, are apparently friends with Stassi. I mean it makes sense because they're all blonde and probs a little mean. They made an appearance in an earlier VPR episode where they met Stassi for lunch at SUR and Queen Lisa dragged Stas, lol. And the whole Summer House crew is going to show up for Stassi's bday in Montauk next week. What a strange coincidence.

Now about this whole New Year's vacay to Mexico thing.

Here's my question: Does Stassi really fucking hate LA or just hanging with the SURvers or what? Because she randomly became BFFs with Naomie and Craig on Southern Charm this summer and now she's all up in Summer House. I mean, what's next? Married to Medicine? Lol now that I'd watch.