The Products To Help You Get & Maintain A Platinum Vagine
Sponsored by Queen V
Having a squeaky clean and healthy vag is like, part of the rules of feminism, and thanks to feminism, we can freely and happily find a ton of products that'll help keep things so fresh and so clean down there. If you don't have time this weekend to head to your local Walmart and load up your basket with stuff labeled with "V," don't sweat it.
All you need now is the 411 on what products go together. If you're not sure what products to use and which ones work well together, we have you covered, so read on.
Queen V is solving our problems once again and hooking betches up everywhere with not only online ordering, but also adorable bundles of happiness aimed at making your vagine platinum so you can ride that surfbort.
Surfbort.
Anyway, yes, you can find any and all Queen V products at your local Walmart, but if you whip out your phone now and head to queenvlife.com, you can pick up some amazing bundles SUCH AS:

This is the kit aimed at starting your poontang love journey, and we're here for it. This pH-balanced starter kit includes a spritzer (honestly, who doesn't wanna spritz their V?), probiotic, cleansing bar, and body wash — all of which are good for you and created with pronounceable things like aloe, rose water, and chamomile. It's like a high-end spa treatment for your lady parts!

Duh. Try out Queen V's top four best selling products to help keep your vagine sparklin'. This bundle includes an aloe-based spray, a probiotic (which can keep yeast at bay), wipes designed with coconut oil and vitamin E perfect for your puss, and three all-natural bath bombs to help keep things feelin' fine.

Keep your poonaner happy when you're traveling around the world or like, having an impromptu slumber party with that Tinder bae. This bundle comes with three compact products perfect for freshening up, regardless of where you are. It includes a lube that's actually not going to give you an infection, the spritzer so you can feel v nice, and the UTMI probiotic.

Say BYE FELICIA to itchy infections, cramps, and other not chill things that can happen when you're the proud owner of a puss. This bundle helps keep things healthy in your pants and includes the Eraser — a homeopathic alternative to the creams and eggs you've been stuffing in your snatch to battle yeast infections, the UTMI probiotic, and the Bombshell bath bombs.

If clean is what you need, this is the bundle for you. Also, jazz snaps for the play on Queen B, but like, it's Queen V, and now, like, Clean V … anyone? Whatever. This bundle includes one of my faves — the Make It Reign cleanser (no parabens, fam), the rosewater-infused V Bar, Swipe Right Wipes, and The Eraser.

If, like, you need to be fresh, clean, and flirty for yourself or like, guests, buy this bundle. You know what we mean. Grab this kit so you can try out the P.S. I Lube You aloe-based lube, Pop The Bubbly — an awesome pH-balanced soak to make you feel soft and ladylike, Spray Bay Bay moisturizing spray, and our old friend, Bombshell bath bombs.
So, whatever, order a bunch of bundles from your phone and don't deal with the potential judgmental eyes of the old lady cashier at Walmart. Although, if you want your beau to pick up a nice Queen V cleansing bar on his way home, that remains a great option for cementing your dominant status over him. By the way, all of these adorbs bundles come in super cute tote bags.

OH, and all shipping over $35 is FREE!
Images: Queen V (7); Giphy
How To Make Your Vagine Platinum
Just when I wanted to trade in watching The Bachelor for watching paint dry, Corinne Olympios, nap queen and personal hero of mine, said this: "My heart is gold, but my vagine is platinum." And sorority girls all over America got out their bedazzlers and went to town on making matching T-shirts because #feminism. Seriously, I saw like like 4 of those in the crowd during The Women Tell All.
Catch up on the best Women Tell All recap you'll ever read here!
First of all, can we all slow clap for this girl? Because she has more confidence in one hair extension than any fuckboy who messages "send nudes" at 12pm on a Tuesday, and that is fucking empowering.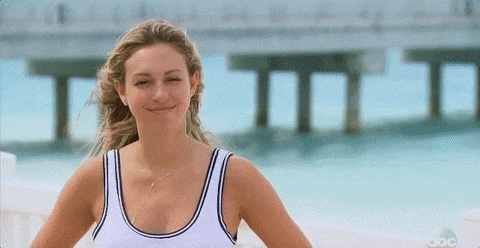 Second of all, WTF is a platinum vagine and like, should I be concerned that mine might be sterling? Is it literally platinum? Did her father buy her a golden vagina the same way he bought her a multi-million dollar company and Nick's $3,000 kept man uniform? Or is there some sort of groundbreaking beauty regimen involved here that may or may not also be the secret ingredient to Raquel's cheese pasta? These are the questions that keep me up late at night when I should be wondering about the state of our world or, like, really doing anything else with my life.
Thank god the internet is shameless because we now have the answer. In a statement to Entertainment Weekly, Corinne said this: "I'm lasered. It's like, small and cute. There's no weird things going on down there." So… it's just lasered? Groundbreaking. Honestly I expected more from the girl who sprayed her tits with whipped cream on national television, but I guess we all have to realize one day that our hero is just some rich girl chugging Champagne in Miami. Sighs.

But in case you don't want to drop a cool $250-$500 dollars to look like a 12-year-old beauty queen downstairs (because that's how much lasering your vag costs), there are actually other beauty regimens you can invest in. For example, if you're more low-maintenance and natural a Nice Girl, your go-to vagine product is going to be Fur Oil, i.e. the product Emma Watson just announced she uses, and which we conveniently endorsed in our 2016 Holiday Gift Guide.

Aside from the name making me want to vomit a little it's actually a good AF product. Made with grape seed, jojoba, tea tree, and clary sage seed oils, this brand is all about making your pubic hair soft and manageable. It's also antiseptic and antimicrobial, and it works to prevent ingrown hairs. Praise. The downside is one teeny, tiny vial of this vagina oil costs $39 and is more than I'm willing to spend on most bottles of wine. Plus side? It's literally made for Disney princesses so maybe some birds and shit will come sing to you and your platinum vagine.
Or if you're feeling rich AF and want to treat yourself like a Kardashian, then you can make you and your vagine an appointment for a vajacial aka facials for your vagina. Seriously, Khloé Kardashian spends a fuck ton on of money on these. As if I needed one more reason to unfollow these bitches on Snapchat. But I won't because I Keep Up hate myself. Vajacials include exfoliation, toning, and some sort of a "face" mask for your vagina. And you can expect to drop $75 on the appointment. Jesus. Here I am worrying about the extra two dollars I'm spending to make the minimum on my Seamless order and there are people out there spending more money on their vaginas than the cost of a high-priced escort.
So do what you will with these beauty recommendations. In the end, your vagine is as platinum as you think it is and how you take care of it should be solely for you and your comfort level. Not the crying douche-canoe in a sexless turtleneck that you're dating.