The Products To Help You Get & Maintain A Platinum Vagine
Sponsored by Queen V
Having a squeaky clean and healthy vag is like, part of the rules of feminism, and thanks to feminism, we can freely and happily find a ton of products that'll help keep things so fresh and so clean down there. If you don't have time this weekend to head to your local Walmart and load up your basket with stuff labeled with "V," don't sweat it.
All you need now is the 411 on what products go together. If you're not sure what products to use and which ones work well together, we have you covered, so read on.
Queen V is solving our problems once again and hooking betches up everywhere with not only online ordering, but also adorable bundles of happiness aimed at making your vagine platinum so you can ride that surfbort.
Surfbort.
Anyway, yes, you can find any and all Queen V products at your local Walmart, but if you whip out your phone now and head to queenvlife.com, you can pick up some amazing bundles SUCH AS:

This is the kit aimed at starting your poontang love journey, and we're here for it. This pH-balanced starter kit includes a spritzer (honestly, who doesn't wanna spritz their V?), probiotic, cleansing bar, and body wash — all of which are good for you and created with pronounceable things like aloe, rose water, and chamomile. It's like a high-end spa treatment for your lady parts!

Duh. Try out Queen V's top four best selling products to help keep your vagine sparklin'. This bundle includes an aloe-based spray, a probiotic (which can keep yeast at bay), wipes designed with coconut oil and vitamin E perfect for your puss, and three all-natural bath bombs to help keep things feelin' fine.

Keep your poonaner happy when you're traveling around the world or like, having an impromptu slumber party with that Tinder bae. This bundle comes with three compact products perfect for freshening up, regardless of where you are. It includes a lube that's actually not going to give you an infection, the spritzer so you can feel v nice, and the UTMI probiotic.

Say BYE FELICIA to itchy infections, cramps, and other not chill things that can happen when you're the proud owner of a puss. This bundle helps keep things healthy in your pants and includes the Eraser — a homeopathic alternative to the creams and eggs you've been stuffing in your snatch to battle yeast infections, the UTMI probiotic, and the Bombshell bath bombs.

If clean is what you need, this is the bundle for you. Also, jazz snaps for the play on Queen B, but like, it's Queen V, and now, like, Clean V … anyone? Whatever. This bundle includes one of my faves — the Make It Reign cleanser (no parabens, fam), the rosewater-infused V Bar, Swipe Right Wipes, and The Eraser.

If, like, you need to be fresh, clean, and flirty for yourself or like, guests, buy this bundle. You know what we mean. Grab this kit so you can try out the P.S. I Lube You aloe-based lube, Pop The Bubbly — an awesome pH-balanced soak to make you feel soft and ladylike, Spray Bay Bay moisturizing spray, and our old friend, Bombshell bath bombs.
So, whatever, order a bunch of bundles from your phone and don't deal with the potential judgmental eyes of the old lady cashier at Walmart. Although, if you want your beau to pick up a nice Queen V cleansing bar on his way home, that remains a great option for cementing your dominant status over him. By the way, all of these adorbs bundles come in super cute tote bags.

OH, and all shipping over $35 is FREE!
Images: Queen V (7); Giphy
6 Places To Have Sex This Summer That Won't Get Sand In Your Vag
Summertimmmme, and the girls are easy… that's how that goes, right? For real though, I'm not sure what it is about summer that makes me want to dry hump on every possible outdoor surface, but I can't help it. Maybe it's because I'm too fucking lazy sweaty to do anything that constitutes as real exercise, or maybe it's because the vacation mentality of traveling to an unknown location and not running into every toolbag from college at the bar arouses me. Idk. Most of our sexual summer fantasies date all the way back to the fuckboy era of Danny Zuko when he sang about devirginizing poor Sandy with entire summer of boring missionary sex on the beach. Yeah, real fucking original, guys. Taking your sex life outside the bedroom and onto sandy shores may 'stimulate your senses' or whatever, but it'll also stimulate mad frizz hair. Also chafing hurts like a bitch and it's just not cute. I'm not saying you need to aim as high as like, the fucking Grand Canyon, but here are 6 other places to do the deed this summer that won't have you peeing out sand three weeks later.
On A Hike
Let's get one thing straight: Betches are nature girls by heart. Meaning that we can make any Northface product look decent with the right makeover, and we always know that under-tree lighting is bad for our complexion. We're also natural-born sexual deviants, so honestly, having sex in the woods is not rocket science. Rabbits fornicate like… well, rabbits, and they're the dumbest fucking creatures, so you should have no problem getting away with this. So, ok I already know what you're thinking. Exercise = sweat, but don't worry. We don't mean you should actually hike. We mean you should Instagram hike, which just means walking until you find an ideal location and stopping immediately. Just be sure to remove as little clothing as possible. If you get caught you can always the "Omg I swear I felt a bug crawl in there" excuse.

At The Park
If forest fornication isn't exactly your thing, try your local park. It's more human-friendly and you won't have to question whether or not his sack just rubbed against poison oak. Parks are also equipped with more than enough props to spruce up your sex life. Benches and slides and swings, oh my! My only suggestion would be to at least keep it in your pants til sundown, because hi, respect the children. Now that I think about it, also make sure to clean up after yourself. This is not a fucking Holiday Inn.

On A Balcony
If he lives in the city (or god forbid his parents' home) and he uses the balcony as a place to kick it with his boys after poker night and not for a breezy bang, he's gay doing it wrong. What better summer soundtrack than incessant sirens and road rage to get your blood boiling on a warm summer night? Really though, the balcony is like the best of both worlds because it's public without being public property. And if it really sucks that bad, you still have a whole mess of safer options to choose from inside. Sort of like my lineup of Bumble rejects.

In A Car
Before you start bitching about my unoriginality with this one, sit down and hear me out. It's called a convertible. The late Rose once told Jack Dawson to "take her to the stars" just before partaking in crammed love-making in a dusty old car, but you're so much better than that. Nothing says romance like copping a feel under your mini-skirt while pretending like you actually care where the Big Dipper is. A convertible is a nice touch to car sex because you have so much more room for activity, and can experiment with more positions without pulling a seatbelt buckle out of your ass every 5 min.

On A Canoe
On second thought, this is a fucking terrible idea. Don't do this.

On A Boat
Unlike making one sudden movement on a canoe and ending up drenched (not the good kind) from head to toe, rent a boat to take out on the lake or harbor. It's much more secluded and thankfully, you have the motion of the ocean to guide you. Just make sure you're with someone you actually want to have sex with because if it sucks, you're stuck pretending to enjoy his company because it's like, frowned upon to throw his ass overboard or whatever.

On A Golf Course
Guys are genetically programmed to at least pretend like they like playing golf without falling asleep, and fucking duh on the sex part, so sex on a golf course is like a guaranteed hole in one (so much pun intended). A golf course is the perfect place to fork it out because, for one, they're never lit at night, and also Bingo ends around 7 at the country club, so your chances of getting caught are slim to none. Plus, have you ever tried out running a golf cart? It's easier than my best friend on spring break. Security can suck it.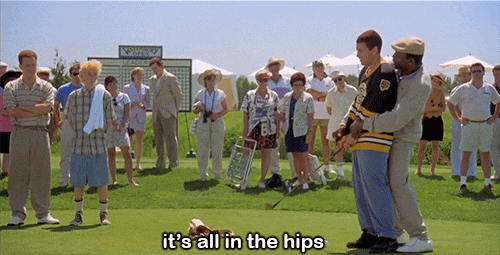 8 Vagina Myths You Should Stop Believing, Like, Yesterday
Maybe betches were just genetically dispositioned to think that the world is out to get us (whatever, it is), or maybe it's just the given nature of the modern-day fuckboy, but we need to stop treating our vaginas like they just liked an Instagram picture of some thot. More times than not, we become personally victimized by our vaginas, when we feel the slightest itch or smell the slightest smell because of what most bullshit fake news has been pumped in our minds, and there's really nothing that screams "trust issues" like hearing that vaginas are just inner-penises or that it's possible for your precious pussay to come bearing a set of teeth, like it's a fucking Venus fly trap or something.
Anyway, I cannot believe I'm about to type such a quote, and I'm not even drunk yet, but as the great Corinne Olympios once said, "My heart is gold, but my vagine is platinum." So leave the lack of faith to your boyfriend and stop believing these dumb fucking myths you heard about your fine china. It deserves better than that.

1. A Lot Of Sex Makes Your Vagina "Loose"
Throwing a hot dog down a hallway, feeding a tic-tac to a whale, dropping a pencil down a mineshaft—yeah, men think they're so fucking funny. We've heard the slut-shaming nicknames before, more commonly given to that one hoe in A-Chi-O way back when. But in reality, joke's on us because that bitch is living her best life with a tight-ass vajayjay. Unlike men, vaginas don't let us down. They are biologically resilient, just like our livers after a night of binge drinking, so the idea that a vagina becomes stretched out like a broken slinky after having too much sex is stupid. Not only does it expand to accommodate size, which is why I'm never having kids it also snaps back to its OG form shortly after sex or childbirth, unless you're popping out an entire litter. A girl who may seem more 'loose' is actually just more aroused because the vagina also does this cool thing where it always comes (no pun intended) fully prepared. Moral of the story: always do your kegels.

2. You Can Lose A Tampon Inside Of Your Vagina
If you tried to tell me that you've never had a minor panic attack after going fishing through your cave of wonders for a tampon, then you're really fucking lucky, but mostly you're just a liar. Thankfully, given the anatomy of the vagina, you've only got a few inches until you hit the cervix barrier. Idk why the hell it feels like it's 6 feet deep at times, but Google couldn't answer that for me, so. The good news is, there's an actual 0% chance your tamp will be floating around in your stomach by lunch time.

3. Douching Is Good For You
Remember when douching was like god's gift to a squeaky clean vagine? Yeah, me either. It sucked then, and it sucks now. Idk who in their right mind still does this, but apparently douching can fuck up the balance of good and bad bacteria even more than that floral Summer's Eve shit I still buy. So more than likely, that lavender vanilla vagine scent you're going for will quickly turn to rotten fish in no time due to the good bacteria being flushed by your nasty box mop. Also, there's a reason we call idiot men 'douchebags', fucking duh.

4. Finding Your G-Spot Is Key To Mind-Numbing Orgasms
K, calm the fuck down, Carrie Bradshaw. First off, if you still haven't had a G-spot orgasm, that sucks for you it's probably too late to start. Second, all these scientific idiots can't seem to make up their damn mind about whether or not a G-spot actually exists, so no need to flip out. Save yourself some hard-earned dollars and cancel your Amazon order of unnecessary g-spot toys, and maybe invest in something like a solid vibrator, or idk, a new partner. Because as some old random explorer once said, "It's not about the destination, it's about how much fun you have on the journey getting there."

5. The Vagina Is The Same As A Penis, Just Tucked Inside
I honestly can't believe I'm including this one on this list, but then again, an orange potato is running our country so here we are. I don't care how comparable the clitoris is to the tip of a penis, if you were to reach up in there and pull a vagina out of the body, a fucking shaft will not magically appear, and if it does, we've got bigger problems here.
So yes, your clitoris actually does have similar qualities to a penis (nerve endings, sole purpose, swells when aroused, sensitive AF, blah blah blah), but all that junk on the inside of your body? Nope, not the same. Next.

6. Men Prefer Your Vagina To Be Bare-Shaven
Idk why women have been trained to believe that all men prefer vaginas to look as bald as my Ralph's rotisserie chicken, but that's not a thing. Guys don't want to be reminded of their 10-year-old sister when fucking some girl from a bar. American Apparel did a great job in breaking the mold when they debuted mannequins with giant pube 'fros, but then again, American Apparel went out of business prob due to the heinous bush gardens on full display, so JK on that. In some random survey I found, 38% of men prefer a woman to groom but to at least have something down there, and only 9% of fuckboys have actually ended a date because of a women's grooming habits (lol ok). So really what I'm getting at is that if Cameron Diaz is an advocate for freeing the pubes, then you don't need to resemble a raw cutlet to get some.
Whatever, I'm still not cancelling my wax apt.
7. All Labia Look The Same
Note to anyone who's ever taken a hand mirror to their lady bits, vaginas ain't always pretty. When exploring your feminine fortress, it's normal to come across flaps and traps you may think aren't normal sized or shaped, but unless you're starring in the next Lawrence of a Labia film, you'll never have a "designer vagina". To help this case further, some pervert artist even sculpted a bunch of vulvas out of clay to show that no two vaginas look the same. I'll let you look that one up.
8. If It Doesn't Smell Like Roses, Houston, We Have A Problem
It's time you start giving your muff a little more credit. I already told you that your vag won't let you down, and I meant it. It may contain more bacteria than anywhere else in your body, but it's also a self-cleansing organ and handles pH like a fucking boss. A little bit of odor is normal, and can also change depending on your menstrual cycle, change of diet, choice of activity… basically any time. In other words, maybe don't hit up SoulCycle on day two of your period to avoid smelling like your dog's canned dinner, you know? But if you're really feeling like your stench trench is totally out of whack, idk maybe hit up your OBGYN, but whatever you do, don't you fucking dare pay a visit to WebMD, because you will have chlamydia. And die.

How To Make Your Vagine Platinum
Just when I wanted to trade in watching The Bachelor for watching paint dry, Corinne Olympios, nap queen and personal hero of mine, said this: "My heart is gold, but my vagine is platinum." And sorority girls all over America got out their bedazzlers and went to town on making matching T-shirts because #feminism. Seriously, I saw like like 4 of those in the crowd during The Women Tell All.
Catch up on the best Women Tell All recap you'll ever read here!
First of all, can we all slow clap for this girl? Because she has more confidence in one hair extension than any fuckboy who messages "send nudes" at 12pm on a Tuesday, and that is fucking empowering.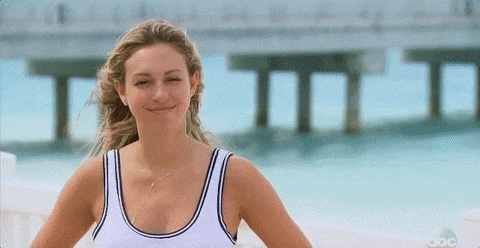 Second of all, WTF is a platinum vagine and like, should I be concerned that mine might be sterling? Is it literally platinum? Did her father buy her a golden vagina the same way he bought her a multi-million dollar company and Nick's $3,000 kept man uniform? Or is there some sort of groundbreaking beauty regimen involved here that may or may not also be the secret ingredient to Raquel's cheese pasta? These are the questions that keep me up late at night when I should be wondering about the state of our world or, like, really doing anything else with my life.
Thank god the internet is shameless because we now have the answer. In a statement to Entertainment Weekly, Corinne said this: "I'm lasered. It's like, small and cute. There's no weird things going on down there." So… it's just lasered? Groundbreaking. Honestly I expected more from the girl who sprayed her tits with whipped cream on national television, but I guess we all have to realize one day that our hero is just some rich girl chugging Champagne in Miami. Sighs.

But in case you don't want to drop a cool $250-$500 dollars to look like a 12-year-old beauty queen downstairs (because that's how much lasering your vag costs), there are actually other beauty regimens you can invest in. For example, if you're more low-maintenance and natural a Nice Girl, your go-to vagine product is going to be Fur Oil, i.e. the product Emma Watson just announced she uses, and which we conveniently endorsed in our 2016 Holiday Gift Guide.

Aside from the name making me want to vomit a little it's actually a good AF product. Made with grape seed, jojoba, tea tree, and clary sage seed oils, this brand is all about making your pubic hair soft and manageable. It's also antiseptic and antimicrobial, and it works to prevent ingrown hairs. Praise. The downside is one teeny, tiny vial of this vagina oil costs $39 and is more than I'm willing to spend on most bottles of wine. Plus side? It's literally made for Disney princesses so maybe some birds and shit will come sing to you and your platinum vagine.
Or if you're feeling rich AF and want to treat yourself like a Kardashian, then you can make you and your vagine an appointment for a vajacial aka facials for your vagina. Seriously, Khloé Kardashian spends a fuck ton on of money on these. As if I needed one more reason to unfollow these bitches on Snapchat. But I won't because I Keep Up hate myself. Vajacials include exfoliation, toning, and some sort of a "face" mask for your vagina. And you can expect to drop $75 on the appointment. Jesus. Here I am worrying about the extra two dollars I'm spending to make the minimum on my Seamless order and there are people out there spending more money on their vaginas than the cost of a high-priced escort.
So do what you will with these beauty recommendations. In the end, your vagine is as platinum as you think it is and how you take care of it should be solely for you and your comfort level. Not the crying douche-canoe in a sexless turtleneck that you're dating.