What Is Labiaplasty, And Why Are Women Getting It?
I've got a fine relationship with my vagina. To be honest, before this article I had not given it much thought. It's there, it does what it needs to do, and I carry on with my life. But for some women, how their vulva looks and feels causes them major stress. That's where labiaplasty comes in. For some people, when they hear about a labiaplasty, they think (logically) "okay, yeah, plastic surgery for your labia." For others, when they hear it, their first reaction is "WTF." But whether you've heard about a labiaplasty before or not, I'm sure you have some questions and probably some misconceptions that I plan to debunk. But let's get one thing straight: labiaplasty is NOT a millennial-geared surgery to promote altering your body for purely aesthetic reasons to look like a Victoria's Secret Model or porn star. It can be done for aesthetic purposes, but there are also legit medical reasons for this.
I Spoke To An Expert
For this taboo and rarely-spoken-about topic, I called in the big guns, Dr. Lara Devgan. She is ranked as the #1 female cosmetic surgeon in New York on Rate MDs, and tbh, that's good enough for me. But, according to her website, she is also a "board-certified, Yale-educated, Johns Hopkins Medical School-instructed, and Columbia/ New York Presbyterian Hospital-trained plastic & reconstructive surgeon." Dr. Devgan is everything my Jewish parents wished I'd grown up to be, but here I am, writing about vaginas on the internet. Sorry, mom and dad. Did I mention she's Kim K's plastic surgeon?
WTF Is Labiaplasty?
Dr. Devgan explains labiaplasty as "cosmetic rejuvenation of the female genitalia." Put simply (thanks Google), a labiaplasty is "plastic surgery performed to alter the appearance of the labia, typically the labia minora, or to construct labia." So at this point in your life, if you don't know the difference between your labia minora and labia majora, we've got an issue. Go back to health class, then come back to this article. Just kidding! I'll tell you. The labia minora are the inner lips, and the majora are the outer lips.
Why Would Someone Do This?
Dr. Devgan explains that this surgery is performed for functional and/or cosmetic reasons. Many women who opt for this surgery are either unhappy and self-conscious about how their genitals look or they experience friction or discomfort from exercise, clothing, or sex. Furthermore, the excess tissue that may hang below the rest of the vulva can mess with the vagina's normal flora and cause frequent yeast infections. Dr. Devgan says that this is one of the fastest growing plastic surgery procedures in the US and one of the more common surgeries she performs.
How Does The Surgery Work?
Because every woman is different, it really depends on the individual needs of the patient. Dr. Devgan explains that "the exact maneuvers we do in surgery depends on a woman and her unique anatomic characteristics and concerns." However, most surgery is performed under local anesthetic (you are awake and your vajayjay is just numbed) and takes about 30 to 45 minutes. For some in-depth diagrams to explain the surgery, check out Dr. Devgan's website.

The Recovery Time
Labiaplasty tends to be minimally painful—think less than painful than watching Colton confess his love for Cassie and her leave. But don't worry, the doc still gives her patients pain meds just in case. Dr. Devgan says that most of her patients take 4 to 7 days off work, although she has had women go back to work the next day. She recommends taking the first 3 days to ice the area with pelvic elevation. Dr. Devgan recommends no sex, tampons, or strenuous activities for at least 6 weeks. The scars are v minimal and usually disappear to be almost invisible, to the point where your gyno or SO won't notice them.
How Will It Impact Your Life
For women who have lived their lives feeling self-conscious of how they look, it can be a life-changing surgery. Dr. Devgan says, "patient satisfaction for this procedure is extremely high." For Dr. Devgan, it is "one of the most gratifying procedures" and she commonly hears, "wow, I should have done this sooner" from her patients. Patients can wear jeans and won't be uncomfortable or feel that they constantly need to re-adjust themselves. They can wear bathing suits without feeling embarrassed that someone can see their labia. Dr. Devgan explains that it will not interfere with giving birth vaginally in the future, with orgasms, arousal, or using the restroom. But it can make sex more comfortable and enjoyable.

The Bottom Line
As Dr. Devgan said, a labiaplasty is not a "sexy surgery" nor is it a "porn surgery." In fact, a small study published in 2016 found that women who had undergone labiaplasty were just as likely to have done so for improved appearance and sexual performance as they were for "practical" reasons, like physical discomfort. (But honestly, who's to say that wanting to feel more secure about your appearance isn't practical?) This surgery might seem weird to talk about, but it shouldn't be. Let's be real, if men had a similar issue, it would not be such a taboo topic. Dr. Devgan says, "if some meaningful percentage of the male population had an issue where skin on their testicles was impeding on their abilities to conduct their normal lives, it would be a front and center topic that was totally acceptable and totally covered." The bottom line is, if you're considering getting labiaplasty, you shouldn't be ashamed to talk about it with a trusted surgeon. And if you're perfectly happy with your lady parts and don't want to change it, that's great too.
For any further questions, Dr. Devgan's website provides a ton of information and before and after pictures (which are honestly so impressive). And you can follow her on Instagram at @laradevganmd.
Images: Andre Maliik / Unsplash; laradevganmd / Instagram; Giphy (2)
The Products To Help You Get & Maintain A Platinum Vagine
Sponsored by Queen V
Having a squeaky clean and healthy vag is like, part of the rules of feminism, and thanks to feminism, we can freely and happily find a ton of products that'll help keep things so fresh and so clean down there. If you don't have time this weekend to head to your local Walmart and load up your basket with stuff labeled with "V," don't sweat it.
All you need now is the 411 on what products go together. If you're not sure what products to use and which ones work well together, we have you covered, so read on.
Queen V is solving our problems once again and hooking betches up everywhere with not only online ordering, but also adorable bundles of happiness aimed at making your vagine platinum so you can ride that surfbort.
Surfbort.
Anyway, yes, you can find any and all Queen V products at your local Walmart, but if you whip out your phone now and head to queenvlife.com, you can pick up some amazing bundles SUCH AS:

This is the kit aimed at starting your poontang love journey, and we're here for it. This pH-balanced starter kit includes a spritzer (honestly, who doesn't wanna spritz their V?), probiotic, cleansing bar, and body wash — all of which are good for you and created with pronounceable things like aloe, rose water, and chamomile. It's like a high-end spa treatment for your lady parts!

Duh. Try out Queen V's top four best selling products to help keep your vagine sparklin'. This bundle includes an aloe-based spray, a probiotic (which can keep yeast at bay), wipes designed with coconut oil and vitamin E perfect for your puss, and three all-natural bath bombs to help keep things feelin' fine.

Keep your poonaner happy when you're traveling around the world or like, having an impromptu slumber party with that Tinder bae. This bundle comes with three compact products perfect for freshening up, regardless of where you are. It includes a lube that's actually not going to give you an infection, the spritzer so you can feel v nice, and the UTMI probiotic.

Say BYE FELICIA to itchy infections, cramps, and other not chill things that can happen when you're the proud owner of a puss. This bundle helps keep things healthy in your pants and includes the Eraser — a homeopathic alternative to the creams and eggs you've been stuffing in your snatch to battle yeast infections, the UTMI probiotic, and the Bombshell bath bombs.

If clean is what you need, this is the bundle for you. Also, jazz snaps for the play on Queen B, but like, it's Queen V, and now, like, Clean V … anyone? Whatever. This bundle includes one of my faves — the Make It Reign cleanser (no parabens, fam), the rosewater-infused V Bar, Swipe Right Wipes, and The Eraser.

If, like, you need to be fresh, clean, and flirty for yourself or like, guests, buy this bundle. You know what we mean. Grab this kit so you can try out the P.S. I Lube You aloe-based lube, Pop The Bubbly — an awesome pH-balanced soak to make you feel soft and ladylike, Spray Bay Bay moisturizing spray, and our old friend, Bombshell bath bombs.
So, whatever, order a bunch of bundles from your phone and don't deal with the potential judgmental eyes of the old lady cashier at Walmart. Although, if you want your beau to pick up a nice Queen V cleansing bar on his way home, that remains a great option for cementing your dominant status over him. By the way, all of these adorbs bundles come in super cute tote bags.

OH, and all shipping over $35 is FREE!
Images: Queen V (7); Giphy
5 Vagina Products You Absolutely Do Not Need
What would the patriarchy do if women stopped being self-conscious about everything on our bodies? How would they have the power to fuck our world up so badly if we weren't so distracted by thigh gaps and having platinum vagines? Well, listen the fuck up. Although men cower in fear at the mere mention of the word VAGINA, our vaginas are fine the way they are and we need to stop buying things that are actually harming us instead of fixing imaginary problems. Here are a bunch of things that do more harm than good that you should never, ever use.
1. Douches
This has been a longstanding issue, but despite those commercials with women running on the beach, feeling elated and joyful about their super clean vaginas, your vag is self-cleaning. You do not—and should not—ever, ever, ever need to douche. If you have some funky smells or changes down there, see a doctor. Douching does not clean your vagina, and it fucks up the pH levels, causing a normally acidic environment to neutralize, and that leaves you vulnerable to all kinds of other health issues. Leave your vagina alone. It isn't supposed to smell like flowers or pine or a new car.

2. Glitter
Speaking of making your vagina prettier, do not, and I mean DO NOT, ever put glitter anywhere near your vagina. Why do people even do this? It doesn't even make it look better; I mean now it's a meat taco that has glitter stuck in it. Beautiful. Glitter is actually tiny shards of finely cut glass, btw. Don't put it in your eyes or your sensitive bits. Also, how would you ever get glitter out of you? I once spilled glitter on my living room rug five years ago and I swear to God, I still, still find bits of it every now and then. And I vacuum that rug constantly!
Like imagine this happening inside of your body:

3. Flavored/Scented Lube
I understand the appeal of this more. Like okay, your sex life is boring, let's mix it up, but putting artificial scents in your most sensitive parts can trigger an allergic reaction or cause a rash. Do you want a rashy vagina? Because I assure you, your partner will be way more horrified by that than disappointed that you don't taste like kiwi lime. Also, make sure you check the ingredients of all the products you use, I mean in general, but especially down there. Some flavoring/scents can lead to infection down the road.

4. Pube Oil
While there are some oils safe to use down there, like Vitamin E or coconut oil, pube oils are not those. If you don't know what this is, that's fine, because I didn't either. I did laser hair removal when it was trendy so this is brand new information for me. Pube oil was recently made popular because some people no longer think it's cute to look like a 9-year-old girl and/or dolphin (dammit) and are growing out their pubes. Pubic oil is supposed to soften said hair and prevent ingrowns, and chic af people like Emma Watson use it. However, you don't need it. Pubic hair is supposed to protect your vagina and decrease friction, so oiling it down completely ruins its purpose. Plus, it opens you up for fun infections or irritation because your vagina doesn't like weird shit in it. Unfortunately, my baby dolphin vagina doesn't have protection now anyway, so I guess I'm just fucked then.
5. Pearls
Vagina detox pearls claim to resolve yeast infections and make your vagina sparkle. They don't warn you against picking the crusty bits because you'll have horrible discharge for several days. Fun! However, did we not discuss that your vagina should not sparkle? It also shouldn't be crusty. If you have a yeast infection, for the love of God, GO TO A REAL FUCKING DOCTOR. The pearls ruin all the pH levels in your vag, plus they can cause infections (thus the fun discharge) due to fucking up the good bacteria that keep your lady bits feeling good. Don't do this. Whoever invented this should burn in hell. Leave your poor vag alone.
Me to you rn if you happened to name your vagina Britney:

Images: Giphy (3)
How To Increase Your Vagina Confidence From The Inside Out
Sponsored by Queen V
I'm sure I'm not alone when I say I've often thought life would be easier without a vagina. I know I'm supposed to embrace it and take pride in my womanhood and blah blah but come TF on. The only times I'm really paying attention down there are when it's busy ruining my favorite underwear with a surprise period or surprise infection, or busy ruining my sex life by suddenly being bone dry. It's not exactly the perfect recipe for a loving relationship with my platinum vagine. (I kid. I'd probably give it like a bronze.)
Luckily, sexy new company Queen V is here to solve all my problems. A group of like-minded women got together and decided they were sick of out-of-touch dudes manufacturing bogus vaginal products (same). Instead, they thought the women of today deserved cute, affordable, and genuinely effective vaginal products. (Groundbreaking, right? Sadly, it really is.) Here are the products you're about to be obsessed with. You and your "Queen V"—as founder Lauren Steinberg refers to it, a term I fully intend to steal—can thank me later.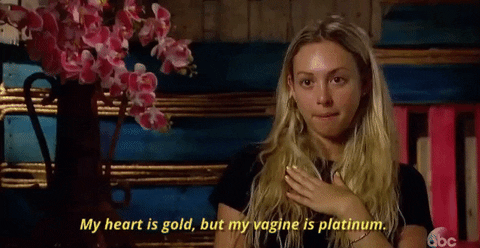 Make It Reign/V Bar
You know how gynecologists are always telling you not to douche up there? How your vagina is "self-cleaning" and body wash will just fuck up the pH? Well, while the pH stuff is spot on, I've never loved the alternative of "just throw a little water on it and hope for the best." Enter Queen V, with not one, but TWO cleansers I am allowed to use for my whole entire body! With V Bar or Make It Reign (moment of credit for the cute-ass names), you can actually clean yourself without worrying about accidentally giving yourself BV. And they say women's lib is a myth. As an added bonus, they're made with yummy ingredients like rosewater, aloe, green tea, mango, and chamomile. So you can still smell like you paid an extra $10 for a marked-up "women's soap"—when you could actually buy both for a total of $9. Score.

DD Probiotic
Honestly, if you're not taking some kind of probiotic right now, it's time to move into 2018. We already discussed how good they are to beat bloat—but did you know they can also help prevent yeast infections? Queen V's Daily Dose Probiotic has all the same digestive health properties, but is specially formulated to keep your yeast/bacteria levels where they should be. It also includes turmeric, which has amazing anti-inflammatory properties in addition to helping skin conditions like acne, eczema, or psoriasis. Basically, this shit will keep you 100 from head to toe. Buy ASAP.

The Eraser
Speaking of yeast infections—is there anything that makes you hate your vag more? Sure, there's the excruciating pain of UTIs. (And should that problem arise, Queen V's UTMI supplement is formulated with cranberry to promote urinary tract health.) But at least most UTIs can be treated with an antibiotic that's meant to work within 24 hours. With yeast, you're basically told to handle it on your own for the coming week, and shove a bunch of chemical goop up there whenever it gets unmanageably itchy. (So like, every second of every day until it's gone. Seriously, I don't know why I even buy cute underwear anymore.) Enter The Eraser: a boric acid suppository for soothing yeast symptoms. It's basically a less-scary and longer-lasting alternative to the creams that promise to remove all feeling from the area and wear off 20 minutes later. (Neither of which is an ideal outcome). With The Eraser, you get relief without the mess, and without the ingredients you can't pronounce.

P.S. I Lube You
Finally, we've arrived at my favorite of the bunch. As my local Rite Aid can attest from watching me crouch for 45 minutes in the "family planning" aisle, lube options often really, really suck. Also, as my local Rite Aid can hopefully NOT attest, lubes can often seriously fuck up your vagina. (Anyone think they'd test the ingredients more if lube went inside men? Yeah, me too.) Anyway, all the more reason to buy lube made BY women, FOR women. P.S. I Lube You (another adorable name, minus the images it conjures up of a sobbing Hilary Swank) is an aloe-based lubricant that does more than make sex better. (Though honestly, that's enough for me.) It actually protects and hydrates you down there—which, given my obsession with moisturizing, was incentive enough for me to double my order. Oh, and it's organic. Gwyneth would so approve.

If nothing in this list spoke to you, you should absolutely check out their full list of products here. Whether you're looking to #maintainyourv, #enjoyyourv (hint: this is the section with lube in it—also a nice bubble bath), or #healyourv, Queen V has you covered. Now that Queen V has pointed out that men really shouldn't be selling you vaginal products (and are in fact getting it wrong a lot of the time), I'm not sure I can ever go back. These products are available at Walmart across the country, affordable AF, and come in way cuter packaging than vaginal products have any right to—without the insulting "pink tax" connotations. It's basically the Glossier of vaginas, and I for one am obsessed.
Images: Giphy (1); Instagram (4)
8 Vagina Myths You Should Stop Believing, Like, Yesterday
Maybe betches were just genetically dispositioned to think that the world is out to get us (whatever, it is), or maybe it's just the given nature of the modern-day fuckboy, but we need to stop treating our vaginas like they just liked an Instagram picture of some thot. More times than not, we become personally victimized by our vaginas, when we feel the slightest itch or smell the slightest smell because of what most bullshit fake news has been pumped in our minds, and there's really nothing that screams "trust issues" like hearing that vaginas are just inner-penises or that it's possible for your precious pussay to come bearing a set of teeth, like it's a fucking Venus fly trap or something.
Anyway, I cannot believe I'm about to type such a quote, and I'm not even drunk yet, but as the great Corinne Olympios once said, "My heart is gold, but my vagine is platinum." So leave the lack of faith to your boyfriend and stop believing these dumb fucking myths you heard about your fine china. It deserves better than that.

1. A Lot Of Sex Makes Your Vagina "Loose"
Throwing a hot dog down a hallway, feeding a tic-tac to a whale, dropping a pencil down a mineshaft—yeah, men think they're so fucking funny. We've heard the slut-shaming nicknames before, more commonly given to that one hoe in A-Chi-O way back when. But in reality, joke's on us because that bitch is living her best life with a tight-ass vajayjay. Unlike men, vaginas don't let us down. They are biologically resilient, just like our livers after a night of binge drinking, so the idea that a vagina becomes stretched out like a broken slinky after having too much sex is stupid. Not only does it expand to accommodate size, which is why I'm never having kids it also snaps back to its OG form shortly after sex or childbirth, unless you're popping out an entire litter. A girl who may seem more 'loose' is actually just more aroused because the vagina also does this cool thing where it always comes (no pun intended) fully prepared. Moral of the story: always do your kegels.

2. You Can Lose A Tampon Inside Of Your Vagina
If you tried to tell me that you've never had a minor panic attack after going fishing through your cave of wonders for a tampon, then you're really fucking lucky, but mostly you're just a liar. Thankfully, given the anatomy of the vagina, you've only got a few inches until you hit the cervix barrier. Idk why the hell it feels like it's 6 feet deep at times, but Google couldn't answer that for me, so. The good news is, there's an actual 0% chance your tamp will be floating around in your stomach by lunch time.

3. Douching Is Good For You
Remember when douching was like god's gift to a squeaky clean vagine? Yeah, me either. It sucked then, and it sucks now. Idk who in their right mind still does this, but apparently douching can fuck up the balance of good and bad bacteria even more than that floral Summer's Eve shit I still buy. So more than likely, that lavender vanilla vagine scent you're going for will quickly turn to rotten fish in no time due to the good bacteria being flushed by your nasty box mop. Also, there's a reason we call idiot men 'douchebags', fucking duh.

4. Finding Your G-Spot Is Key To Mind-Numbing Orgasms
K, calm the fuck down, Carrie Bradshaw. First off, if you still haven't had a G-spot orgasm, that sucks for you it's probably too late to start. Second, all these scientific idiots can't seem to make up their damn mind about whether or not a G-spot actually exists, so no need to flip out. Save yourself some hard-earned dollars and cancel your Amazon order of unnecessary g-spot toys, and maybe invest in something like a solid vibrator, or idk, a new partner. Because as some old random explorer once said, "It's not about the destination, it's about how much fun you have on the journey getting there."

5. The Vagina Is The Same As A Penis, Just Tucked Inside
I honestly can't believe I'm including this one on this list, but then again, an orange potato is running our country so here we are. I don't care how comparable the clitoris is to the tip of a penis, if you were to reach up in there and pull a vagina out of the body, a fucking shaft will not magically appear, and if it does, we've got bigger problems here.
So yes, your clitoris actually does have similar qualities to a penis (nerve endings, sole purpose, swells when aroused, sensitive AF, blah blah blah), but all that junk on the inside of your body? Nope, not the same. Next.

6. Men Prefer Your Vagina To Be Bare-Shaven
Idk why women have been trained to believe that all men prefer vaginas to look as bald as my Ralph's rotisserie chicken, but that's not a thing. Guys don't want to be reminded of their 10-year-old sister when fucking some girl from a bar. American Apparel did a great job in breaking the mold when they debuted mannequins with giant pube 'fros, but then again, American Apparel went out of business prob due to the heinous bush gardens on full display, so JK on that. In some random survey I found, 38% of men prefer a woman to groom but to at least have something down there, and only 9% of fuckboys have actually ended a date because of a women's grooming habits (lol ok). So really what I'm getting at is that if Cameron Diaz is an advocate for freeing the pubes, then you don't need to resemble a raw cutlet to get some.
Whatever, I'm still not cancelling my wax apt.
7. All Labia Look The Same
Note to anyone who's ever taken a hand mirror to their lady bits, vaginas ain't always pretty. When exploring your feminine fortress, it's normal to come across flaps and traps you may think aren't normal sized or shaped, but unless you're starring in the next Lawrence of a Labia film, you'll never have a "designer vagina". To help this case further, some pervert artist even sculpted a bunch of vulvas out of clay to show that no two vaginas look the same. I'll let you look that one up.
8. If It Doesn't Smell Like Roses, Houston, We Have A Problem
It's time you start giving your muff a little more credit. I already told you that your vag won't let you down, and I meant it. It may contain more bacteria than anywhere else in your body, but it's also a self-cleansing organ and handles pH like a fucking boss. A little bit of odor is normal, and can also change depending on your menstrual cycle, change of diet, choice of activity… basically any time. In other words, maybe don't hit up SoulCycle on day two of your period to avoid smelling like your dog's canned dinner, you know? But if you're really feeling like your stench trench is totally out of whack, idk maybe hit up your OBGYN, but whatever you do, don't you fucking dare pay a visit to WebMD, because you will have chlamydia. And die.

Gwyneth Paltrow Advocates Putting Rocks Up Your Vagina
Because life is essentially a cornucopia of objects we contemplate sticking into our holes, Gwyneth Paltrow's latest wackadoo vagina treatment is… rocks. Specifically "jade eggs," which are like normal egg-shaped rocks, only these cost $66 and are sold out.
"Jade eggs can help cultivate sexual energy, increase orgasm, balance the cycle, stimulate key reflexology around vaginal walls, tighten and tone, prevent uterine prolapse, increase control of the whole perineum and bladder, develop and clear chi pathways in the body, intensify feminine energy, and invigorate our life force. To name a few!"
Those are the alleged benefits according to someone named Shiva Rose, who Goop describes as a "guru/healer/inspiration/friend" in a wholly unnecessary Q&A. That's an awfully long way to say "unemployed hippie," but what do I know?
There's apparently a lot of "ancient Chinese wisdom" behind these vagina rocks which, newsflash, is the easiest way to tell when someone's entirely full of shit. The ancient Chinese knew fuck-all about medicine. If sticking needles in your skin or doing that weird "cupping" thing were so good for you, people back then probably would have had an average life expectancy north of 30. Also, this Shiva Rose woman has a pretty "rosy" view of being a concubine:
"My imagination goes a little nuts, imagining these concubines in ancient Chinese temples, secretly running the country through the jade eggs! It's funny, that the eggs started as a way to please the emperors and they turned out to be so empowering for any woman who used them—kept them feeling and looking youthful, connected them to their inner power."
Haha, yep, those ladies were super empowered and were really running things, and in no way were slightly more dignified sex slaves! I've seen Marco Polo on Netflix; I know how this shit worked.
As I mentioned, because people are gullible idiots, both the Jade Egg ($66) and the Rose Quartz Egg (a steal at $55) are sold out. If you want a beefy, strong vagina, kegel exercises are free. And if you want something inside you while you strengthen your ladyparts, might I recommend a penis, or literally anything that is not a rock?

Word on the street is that if you combine the rocks with Gwyneth's earlier vaj-steaming treatments, your vagina develops superpowers and becomes a portal to a parallel dimension where Kim Kardashian manages an Arby's.
Head Pro honestly doesn't care what you put in your vagina because he is very pro-choice (that's what that means, right?). He can be reached at [email protected].