What Do Guys Think Of Pubic Hair? I Grew A Bush To Find Out
Everything about the 90's is coming back right now: Choker necklaces. Jean skirts. John Stamos. People are essentially dressing like Bruno Mars, but unironically. Also, the bush is maybe coming back in style? No, not the George W. kind. (I'm talking about pubic hair.) In the 70's and 80's, it was all about the apple bottoms jeans and cooch with the fur. In the 90's, women would trim and clip-clip-hooray. By the early 2000's it was the landing strip, which also served as an arrow saying "come on down!" in a Bob Barker voice.
Then the dot com boomed happened, and porn was no longer something men stumbled upon by finding an old Playboy magazine with the pages stuck together. Millennial men learned how to have sex from Kim Kardashian and Ray J, which actually explains a lot now that I think about it.
It's estimated that around 25% of all internet searches are for porn. Why is this relevant? Because of the rapid rise of internet porn, directors started having their talent shave everything down to baby smoothness. It started out as a visibility issue, because if you remember the late 90s and early 2000s, online video wasn't exactly HD. But with bald bits, audiences could clearly see every salacious angle.

So boys grew up jacking it to fully exposed clitorises (yet can never seem to find them). Eventually, they went from Boyz to Men and grew up expecting women to mimic their porny counterparts. We fucking did it for some reason, and didn't question how weird it was—like Snoop Dogg and Martha Stewart's friendship.
Anyway, six weeks ago I put down the razor, saved the bikini wax money, and grew out a bush. Note to all bushy betches looking to try this at home: it takes well over a month to really get the bird's nest aesthetic, or at least it did for me.
Next came the highly scientific experiment: What would guys think of my bush? I've gone through wintertime dick cleanses where my leg hair was long enough to donate to Locks of Love, but this was the first time I had really had left my grass uncut in a decade. My semi-slutty sorority days are long gone, so it's not like Chad from Sig Ep (who has Pornhub as his homepage) is going to give a shit. The guys I'm dating are in their late twenties and early thirties. I learned they like their woman to look like just that—a woman.
No guys said anything about my furry wonder down under while we were fooling around, but I brought it up during pillow talk. You know, romance. I was slightly nervous before the big bush debut, but I also knew no man was going to be super into me and suddenly change his mind and decline his exclusive invite to club shrub.

The first time was late at night and the lights were mostly off, so the big reveal wasn't that dramatic. I'm sure he felt a difference, but he was a happy camper. The next time, the guy started fingering me with my jeans still on and tried to be sexy and said, "oh, you have hair down there. I'm low-key into that." One guy actually said he liked it better than fully shaved, because the resulting stumble is apparently unpleasant when he's down there doing the Lord's work.
The verdict is in: one dude said he was a little surprised but definitely happy with it, one dude thought it made me super cool and confident, and one dude might have a fetish he's not owning up to. They all kept calling though.
Verdict: I suggest experimenting with hair down there as much as you did with purple eyeshadow in the seventh grade.
8 Vagina Myths You Should Stop Believing, Like, Yesterday
Maybe betches were just genetically dispositioned to think that the world is out to get us (whatever, it is), or maybe it's just the given nature of the modern-day fuckboy, but we need to stop treating our vaginas like they just liked an Instagram picture of some thot. More times than not, we become personally victimized by our vaginas, when we feel the slightest itch or smell the slightest smell because of what most bullshit fake news has been pumped in our minds, and there's really nothing that screams "trust issues" like hearing that vaginas are just inner-penises or that it's possible for your precious pussay to come bearing a set of teeth, like it's a fucking Venus fly trap or something.
Anyway, I cannot believe I'm about to type such a quote, and I'm not even drunk yet, but as the great Corinne Olympios once said, "My heart is gold, but my vagine is platinum." So leave the lack of faith to your boyfriend and stop believing these dumb fucking myths you heard about your fine china. It deserves better than that.

1. A Lot Of Sex Makes Your Vagina "Loose"
Throwing a hot dog down a hallway, feeding a tic-tac to a whale, dropping a pencil down a mineshaft—yeah, men think they're so fucking funny. We've heard the slut-shaming nicknames before, more commonly given to that one hoe in A-Chi-O way back when. But in reality, joke's on us because that bitch is living her best life with a tight-ass vajayjay. Unlike men, vaginas don't let us down. They are biologically resilient, just like our livers after a night of binge drinking, so the idea that a vagina becomes stretched out like a broken slinky after having too much sex is stupid. Not only does it expand to accommodate size, which is why I'm never having kids it also snaps back to its OG form shortly after sex or childbirth, unless you're popping out an entire litter. A girl who may seem more 'loose' is actually just more aroused because the vagina also does this cool thing where it always comes (no pun intended) fully prepared. Moral of the story: always do your kegels.

2. You Can Lose A Tampon Inside Of Your Vagina
If you tried to tell me that you've never had a minor panic attack after going fishing through your cave of wonders for a tampon, then you're really fucking lucky, but mostly you're just a liar. Thankfully, given the anatomy of the vagina, you've only got a few inches until you hit the cervix barrier. Idk why the hell it feels like it's 6 feet deep at times, but Google couldn't answer that for me, so. The good news is, there's an actual 0% chance your tamp will be floating around in your stomach by lunch time.

3. Douching Is Good For You
Remember when douching was like god's gift to a squeaky clean vagine? Yeah, me either. It sucked then, and it sucks now. Idk who in their right mind still does this, but apparently douching can fuck up the balance of good and bad bacteria even more than that floral Summer's Eve shit I still buy. So more than likely, that lavender vanilla vagine scent you're going for will quickly turn to rotten fish in no time due to the good bacteria being flushed by your nasty box mop. Also, there's a reason we call idiot men 'douchebags', fucking duh.

4. Finding Your G-Spot Is Key To Mind-Numbing Orgasms
K, calm the fuck down, Carrie Bradshaw. First off, if you still haven't had a G-spot orgasm, that sucks for you it's probably too late to start. Second, all these scientific idiots can't seem to make up their damn mind about whether or not a G-spot actually exists, so no need to flip out. Save yourself some hard-earned dollars and cancel your Amazon order of unnecessary g-spot toys, and maybe invest in something like a solid vibrator, or idk, a new partner. Because as some old random explorer once said, "It's not about the destination, it's about how much fun you have on the journey getting there."

5. The Vagina Is The Same As A Penis, Just Tucked Inside
I honestly can't believe I'm including this one on this list, but then again, an orange potato is running our country so here we are. I don't care how comparable the clitoris is to the tip of a penis, if you were to reach up in there and pull a vagina out of the body, a fucking shaft will not magically appear, and if it does, we've got bigger problems here.
So yes, your clitoris actually does have similar qualities to a penis (nerve endings, sole purpose, swells when aroused, sensitive AF, blah blah blah), but all that junk on the inside of your body? Nope, not the same. Next.

6. Men Prefer Your Vagina To Be Bare-Shaven
Idk why women have been trained to believe that all men prefer vaginas to look as bald as my Ralph's rotisserie chicken, but that's not a thing. Guys don't want to be reminded of their 10-year-old sister when fucking some girl from a bar. American Apparel did a great job in breaking the mold when they debuted mannequins with giant pube 'fros, but then again, American Apparel went out of business prob due to the heinous bush gardens on full display, so JK on that. In some random survey I found, 38% of men prefer a woman to groom but to at least have something down there, and only 9% of fuckboys have actually ended a date because of a women's grooming habits (lol ok). So really what I'm getting at is that if Cameron Diaz is an advocate for freeing the pubes, then you don't need to resemble a raw cutlet to get some.
Whatever, I'm still not cancelling my wax apt.
7. All Labia Look The Same
Note to anyone who's ever taken a hand mirror to their lady bits, vaginas ain't always pretty. When exploring your feminine fortress, it's normal to come across flaps and traps you may think aren't normal sized or shaped, but unless you're starring in the next Lawrence of a Labia film, you'll never have a "designer vagina". To help this case further, some pervert artist even sculpted a bunch of vulvas out of clay to show that no two vaginas look the same. I'll let you look that one up.
8. If It Doesn't Smell Like Roses, Houston, We Have A Problem
It's time you start giving your muff a little more credit. I already told you that your vag won't let you down, and I meant it. It may contain more bacteria than anywhere else in your body, but it's also a self-cleansing organ and handles pH like a fucking boss. A little bit of odor is normal, and can also change depending on your menstrual cycle, change of diet, choice of activity… basically any time. In other words, maybe don't hit up SoulCycle on day two of your period to avoid smelling like your dog's canned dinner, you know? But if you're really feeling like your stench trench is totally out of whack, idk maybe hit up your OBGYN, but whatever you do, don't you fucking dare pay a visit to WebMD, because you will have chlamydia. And die.

How To Make Your Vagine Platinum
Just when I wanted to trade in watching The Bachelor for watching paint dry, Corinne Olympios, nap queen and personal hero of mine, said this: "My heart is gold, but my vagine is platinum." And sorority girls all over America got out their bedazzlers and went to town on making matching T-shirts because #feminism. Seriously, I saw like like 4 of those in the crowd during The Women Tell All.
Catch up on the best Women Tell All recap you'll ever read here!
First of all, can we all slow clap for this girl? Because she has more confidence in one hair extension than any fuckboy who messages "send nudes" at 12pm on a Tuesday, and that is fucking empowering.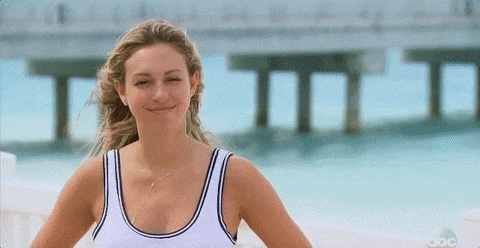 Second of all, WTF is a platinum vagine and like, should I be concerned that mine might be sterling? Is it literally platinum? Did her father buy her a golden vagina the same way he bought her a multi-million dollar company and Nick's $3,000 kept man uniform? Or is there some sort of groundbreaking beauty regimen involved here that may or may not also be the secret ingredient to Raquel's cheese pasta? These are the questions that keep me up late at night when I should be wondering about the state of our world or, like, really doing anything else with my life.
Thank god the internet is shameless because we now have the answer. In a statement to Entertainment Weekly, Corinne said this: "I'm lasered. It's like, small and cute. There's no weird things going on down there." So… it's just lasered? Groundbreaking. Honestly I expected more from the girl who sprayed her tits with whipped cream on national television, but I guess we all have to realize one day that our hero is just some rich girl chugging Champagne in Miami. Sighs.

But in case you don't want to drop a cool $250-$500 dollars to look like a 12-year-old beauty queen downstairs (because that's how much lasering your vag costs), there are actually other beauty regimens you can invest in. For example, if you're more low-maintenance and natural a Nice Girl, your go-to vagine product is going to be Fur Oil, i.e. the product Emma Watson just announced she uses, and which we conveniently endorsed in our 2016 Holiday Gift Guide.

Aside from the name making me want to vomit a little it's actually a good AF product. Made with grape seed, jojoba, tea tree, and clary sage seed oils, this brand is all about making your pubic hair soft and manageable. It's also antiseptic and antimicrobial, and it works to prevent ingrown hairs. Praise. The downside is one teeny, tiny vial of this vagina oil costs $39 and is more than I'm willing to spend on most bottles of wine. Plus side? It's literally made for Disney princesses so maybe some birds and shit will come sing to you and your platinum vagine.
Or if you're feeling rich AF and want to treat yourself like a Kardashian, then you can make you and your vagine an appointment for a vajacial aka facials for your vagina. Seriously, Khloé Kardashian spends a fuck ton on of money on these. As if I needed one more reason to unfollow these bitches on Snapchat. But I won't because I Keep Up hate myself. Vajacials include exfoliation, toning, and some sort of a "face" mask for your vagina. And you can expect to drop $75 on the appointment. Jesus. Here I am worrying about the extra two dollars I'm spending to make the minimum on my Seamless order and there are people out there spending more money on their vaginas than the cost of a high-priced escort.
So do what you will with these beauty recommendations. In the end, your vagine is as platinum as you think it is and how you take care of it should be solely for you and your comfort level. Not the crying douche-canoe in a sexless turtleneck that you're dating.