The Best Early Prime Day Home Deals To Shop Right Now
Betches may receive a portion of revenue if you click a link and purchase a product or service. The links are independently placed and do not influence editorial content.
Mark your calendars: Prime Day is officially one week away. It feels like Christmas morning, only it's mid-July and I'm buying my own presents. I'd personally like to thank Amazon for allowing me to purchase the things needed to keep my abode humble while convincing my husband we're saving money since everything's on sale. 
Most of the discounts that start on July 12th are still being kept under wraps, but we're not gatekeeping all our favorites that you can shop early. Here's a roundup of all the best home deals so you won't actually break the bank when decking your halls.

Adjustable Portable 8 Position Lap Top Desk

Mind Reader
So you've finally decided to upgrade your space after 2+ years of WFH? It's time to stop working from bed, and this is the perfect portable laptop desk to make any space work-friendly. Goodbye, tech neck.

48-Foot LED Outdoor String Lights

Amazon Basics
While not everyone can vacation in Italy this summer, you can bring the Amalfi ambiance to your backyard by dining al fresco under these outdoor string lights.

Waterproof Portable Bluetooth Speaker

JBL
From the beach to your backyard, keep the summer concert series going just about anywhere with this waterproof portable speaker.
Nothing screams "adult" quite like buying yourself a vacuum. Don't worry though, you don't have to actually clean—this Roomba will do the dirty work for you.

Queen-Sized Sleep Element Mattress

Casper
You know how we mentioned adulting with the vacuum? Well, it's time to buy a new mattress too. The one you took from your childhood bedroom just won't cut it anymore.

100% Cotton Terry Bathrobe

Pinzon
Imagine being able to feel like you're at a five-star hotel while lounging around in your new bathrobe sipping on an oat milk iced latte every morning. You're welcome.
Great news—gone are the days of having to get up from the couch to see who's at the front door. The Ring Video Doorbell not only makes you feel safer, but also lets you keep an eye out for all your incoming Amazon packages.
You can blend way more than just smoothies with this Vitamix. Can't you just picture piña coladas by the pool?

7 Piece Barware Essentials Set

Viski
Speaking of piña coladas… Get classy with your cocktails this summer. This set has everything you need to make it shaken or stirred. 

Pre-Seasoned Cast Iron Skillet Set

Utopia
The seasoning process of skillets always seemed so complicated to me. Thankfully, these come pre-seasoned so you are one step closer to that perfect cast-iron cookie recipe.
I know it's all "hot girl summer" and "hot girl walks," but let's not forget to stay cool with a good indoor fan.

Wrist & Ankle Weights

Bala Bangles
Update your at-home workout with these aesthetically pleasing wrist & ankle weights. They're so cute you might even want to leave the house with them on.
Image: NICK FANCHER / Deathtothestockphoto.com
4 Frightening Realities Of Living With Your SO
Before I moved in with my boyfriend, I interrogated everyone I knew who lived with their partner. I'd read plenty of horror stories about couples breaking up after living together too soon. They were all frustratingly vague about how and why exactly things went wrong. My friends, sadly, were similarly unhelpful. "It's just different" was the most common offering, with "the first month was the worst" being a close second. Six weeks into living with my boyfriend, I'd agree that both those things are true. But because I'm paid to write this not a terrible friend, I'll actually explain why. Here's what to actually expect when you move in with a partner.
1. Laundry Will Kind Of Rule Your Life
This aspect of living together is particularly true if you live in NYC and the closest laundry to you is a laundromat that only takes quarters. Totally random example, NBD. But, even if you have a washing machine in the comfort of your home, or go full bougie and get it picked up, there's just going to be a lot more dirty clothing existing in your home. Especially if your partner plays sports and/or is a guy and therefore inexplicably goes through six T-shirts a day. Either way, I miss only thinking about laundry every few weeks. And of course not having anyone judge me when I used my laundry bin as a "backup tees" drawer.
2. Food Is Now A Shared Entity
If you're not already, I highly recommend listening to every episode of the Diet Starts Tomorrow podcast. They spend one episode talking about how hard it is to control your eating in a relationship. I loved it so much that I made my boyfriend listen to it. In the year and a half we dated before moving in together, I'd complained plenty about his constant desire to post up at beer gardens, or his tendency to make the whole box of pasta whenever we cooked. Now that we live together, I deal with all those struggles, plus the fact that he fills our kitchen with chips, Gatorade, and sugary cereals. Not to mention that he buys everything in bulk as though we are a family of seven.
Clearly, many of these problems exist because he also does most of the grocery shopping. I should be more grateful. But I have a late-night snacking problem, so I am instead furious that I now have such binge-able food on hand at all times. Anyway, whatever your weird food needs are (and you def have some), prepare to spend a lot of time arguing about what groceries you actually need. And/or screaming at your partner when you come home hangry at 10pm and the only food available is a microwavable corn dog.
Me to my boyfriend: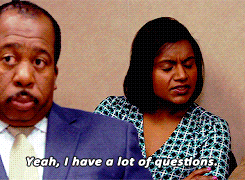 3. "Clean" Means Different Things To Different People
I'm very lucky with my boyfriend—for many reasons, but in this context, I mean because he's relatively neat. He does the dishes, he vacuums occasionally, he's kind of a freak when it comes to crumbs, you get the idea. HOWEVER. Things that I never realized are very, very important to me—like wiping down the bathroom sink/mirror, or having a designated place for shoes—won't even occur to him. This leads to a lot of arguments where I become convinced that he's actively trying to piss me off. And he has literally no idea what I'm talking about. Or where he tells me he cleaned the apartment and I come home and think he's joking. Basically, you're going to need to sit down a few weeks in and tell each other plainly what's important to you in terms of maintenance.
4. You're Probably Grosser Than You Realized
It's not like my boyfriend and I went from seeing each other once a week to living together. But I do think I underestimated how much I used my time in my own apartment to do all the weird stuff I don't think about. Like eating a block of cheese in bed, trying to get a good view of what feels like back-ne in my bathroom mirror, trying on 16 different shirts and flinging every reject on the same chair. All of these activities are made way less fun by being in a room with anyone else. And they're made UNBEARABLE if that other person starts commenting on it, which they definitely will. You are now doing it in a space that they equally live in.
Ultimately, this isn't the worst thing in the world and will actually probably curb some bad habits. But I def had a few moments of deep shame on this road. Like when my boyfriend came storming out of the bedroom demanding to know why there was almond butter on his pillowcase.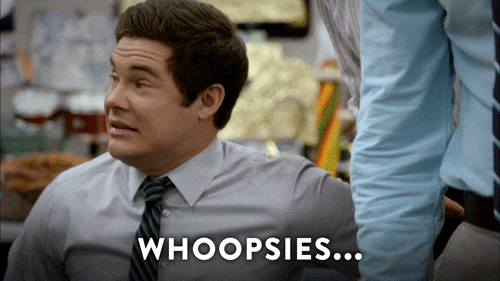 All in all, the biggest thing I've noticed about living with my boyfriend is space, plain and simple. Even with roommates, there's always a spot that's yours alone. Not having that is more of a shift than I expected. There are lots of fun parts too, like the fact that you can be naked all the time, pay way less rent, and just feel smug and happy every time you can reference OUR apartment. So as long as you're willing to have a few screaming fights, a few cool-down conversations, and a few ugh-compromises, I wholeheartedly recommend it. If you try to treat the living arrangement like one of you is renting a room and the other one owns it, I guarantee that won't work out.
Images: bigkidproblems / Instagram; Giphy (2); Unsplash/Jeremy Banks