10 Tie-Dye Pieces You Can Actually Buy Now
Truth be told, (which is what I thought #tbt stood for back when Instagram first became a thing) I did not fully understand this revived obsession with tie-dye. Like overalls, I kind of thought tie-dye was a thing of the 90s that should have stayed there, especially since my only experience with it was in 2004 at a summer camp literally I tried to escape from. However, upon doing some research for the purpose of this article, I've found a few tie-dye pieces I would definitely wear and I can happily admit that I no longer hate the trend. In fact, I want all of the pieces I found and maybe thanks to unemployment money, I can get them!
If you no longer associate tie-dye with hippies and children and want to expand your style horizons, these are the seven pieces you'd love. But act fast, because just like loungewear, tie-dye is selling out at the speed of light.

I actually own this sweatshirt and it's one of my favorite things in my dresser. Yes, I paid nearly $150 for a f*cking sweatshirt. Judge me. Here's the thing, though: you know how your grandmother's front lawn always had those low-growing plants with inexplicably soft fuzzy greenish gray leaves? That's literally what Splendid loungewear feels like. It's like a kitten's ear. It truly makes no sense to me, but I'm not going to question it. This sweatshirt in particular is in muted enough colors that you can definitely wear it out and not feel ridiculous . I'd pair it with a pair of white boyfriend jeans and silver ballet flats.

Need a casual shirt for lounging around? Something you could do your light walk around the block in? Boom, and this color combo is on sale right now. What more could you want?

On the model, this dress kind of looks like something Serena van der Woodsen would wear to sleep, but I would most definitely wear this out. I would wear it with a pair of Greek-looking sandals that you tie around your ankles. The dress is kind of quiet, so pairing it with something with a little more personality would really tie (dye lol) the whole thing together.

Are swimsuits canceled this year? I have no f*cking idea, but I'm being hopeful anyway. This one piece is business in the front, party in the back with a low back and cheeky cut on the bottom. I feel like you could get away with wearing this to your family pool party and a day club (remember day clubs?) equally.

I feel like you can't name a pair of tie dye joggers "Out From Under Jenny" and give zero context in the product description, but okay Urban Outfitters. Tbh, I haven't stepped into an UO since I was in high school, but their loungewear has been on point as of late. I am very particular about joggers because I don't like when they're too baggy or too fitted, and these are right in the middle. They're also made of a a fleecey type of cotton, so they're definitely very cozy.

Shopbop calls this a PJ set, I call it a working from home outfit. This lightweight jersey set has a cute pastel color scheme and tie details on the side, which basically makes it formalwear if you ask me.

If you want to jump on the tie dye bandwagon, but don't want to wear it on your person, consider a super-cute and extremely durable cosmetic bag. It's got a zip closure and a few extra pockets so you can stash your random Chapsticks or whatever, and it's lined.

I'm a huge fan of Onzie's leggings, sports bras, and activewear in general, so these leggings will be perfect for my socially distant runs. (JK, it's more like a jog, if you're very loose with your definition of "jog".) Anyway, they're high rise and high performance, so you can actually do a legit workout in them.

From a distance, these leggings look more like marble than tie dye, which I'm not mad about. I like that the pattern and colors are subtle enough that you're not out and about silently screaming for people to look at you. These are another item I'd happily wear out. I'd throw on a white tee and an oversized denim jacket and call it a day.

Ugh, this bodysuit is so perfectly summery that it's making me kind of sad. I might just get this to wear it around my house underneath some jean shorts while gazing longingly out my window and pretending I'm on a rooftop.
Images: Splendid (2); Nordstrom (2); Bloomingdale's; Urban Outfitters; Shopbop (2); Target; Verishop (2) 
Betches may receive a portion of revenue if you click a link and purchase a product or service. The links are independently placed and do not influence editorial content.
5 Labor Day Weekend Sales You Don't Want To Miss
Labor Day Weekend kicks off today, and my wish for you is two-fold: I hope today is not only the first day of your long weekend, but that it's also pay day. I'm not saying that just because you're going to need that direct deposit to fund your weekend of binge drinking spiked seltzers, but also because you're going to need sufficient funds to take advantage of all the incredible Labor Day Weekend sales, most of which have already started. LDW is the last big weekend for summer sales, and there are some good ones you don't want to miss out on. Here are the best Labor Day Weekend sales to blow your hard-earned paycheck on.
1. Urban Outfitters: Extra 40% Off Sale (No Code Necessary)

UO Zella Ruched Tie-Shoulder Tank Top ($59 $20.99)

Capulet UO Exclusive Elodie Smocked Square Neck Midi Dress ($239 $59.99)

Urban Renewal Remnants Blown Out Gingham Tiered Dress ($69 $17.99)

DL1961 Hepburn High-Rise Wide Leg Jean ($199 $65.99)

The East Order Janie Embroidered Peplum Top ($139 $47.99)
To celebrate this LDW, Urban Outfitters is doing an ADDITIONAL 40% off sale, which is amazing. You can get incredible pieces at even more incredible prices, like the above pair of light wash DL1961 jeans which are normally $199 and are now $65.99. That's a deal you can't argue with, especially for a high quality pair of super cute jeans. I mean, you're basically saving money by buying them.
2. Reformation: Up To 70% Off Sale (No Code Necessary)


Julia High Cigarette Jean ($128 $64)



If you're like me and are obsessed with Reformation, but don't have the finances to support your obsession, I have good news. Reformation is having their summer sale right now, with their sale assortment all currently up to 70% off. You can definitely snag some great deals and, considering Reformation rarely ever has sales, I'd say go all in. The "add to cart" button just became your new best friend (and your wallet's greatest enemy).
3. South Moon Under: Additional 50% Off Final Sale (No Code Necessary)

Juniper Blu Open Knit Pullover ($74 $22.48)

Winston White Ruched Front Cutout Mini Dress ($136 $42.48)

Minkpink Chambray Ruff Stuff Romper ($89 $19.98)

Fate by LFD Tie Dye Destroyed Sweater ($88 $27.48)

Show Me Your MuMu Ruthie Ruffle Dress ($154 $49.98)
If you're a proud member of #BachelorNation, then you know that Show Me Your MuMu is a go-to brand for many of the women of The Bachelor franchise. And, if you've ever looked up their stuff, then you know it's not exactly easy on the wallet. But don't get discouraged, because right now South Moon Under has a bunch of Show Me Your MuMu pieces on sale with an ADDITIONAL 50% off! Even if you're not an aspiring #BachelorNation influencer, I guarantee you'll love their clothes, plus all the other incredible pieces you can purchase at 50% off right now.
4. Anthropologie: Additional 50% Off Sale (No Code Necessary)

Pilcro High-Rise Flare Jeans ($150 $44.98)


Demeter Tiered Midi Dress ($160 $49.98)

Marta Puff-Sleeved Blouse ($98 $29.98)

Mackenzie Striped Wide-Leg Pants ($130 $34.98)
Another can't-miss sale is Anthropologie's holiday weekend sale, where they're doing an additional 50% off sale prices. If you're in need of workwear pieces, then now is definitely the time to shop. Of course, they have really great weekend-worthy pieces as well, and now with the sale you can actually afford this stuff instead of just choosing from what's left in the sad, picked-over sale room.
5. Forever21: Additional 60% Off Sale (Code: ADD2CART)

Satin Cami & Skirt Set ($38 $13.68)

Buckle Strap Bodycon Dress ($22.90 $8.00)

Jaguar Print Bodysuit ($22.90 $8.24)

Off-the-Shoulder Top ($35 $11.20)

Belted Surplice Cami Romper ($35 $12.60)
For all the "babes on a budget" (aka my fellow broke-ass bitches), brace yourselves, because Forever 21 is doing an ADDITIONAL 60% off sale. Like, you can probably get 1,579 things for a total of $100 right now. Yes, that was an exaggeration and, realistically, you might only get one wear out of each piece. But then again, who the f*ck cares when your top only costs $5 anyway? Plus, in today's Instagram-obsessed world, you tend to really only wear your clothes a few times, so it honestly works out fine.
Friendly reminder from yours truly that Labor Day Weekend sales are the last big holiday sale we have until Black Friday. That being said, please join me in doing the financially responsible thing of maxing out all my credit cards this weekend and then rebuilding my available balance so I can blow it all again come November.
Images: @max_libertine / Unsplash; Urban Outfitters (5), Reformation (5), South Moon Under (5), Anthropologie (5), Forever 21 (5)
Betches may receive a portion of revenue if you click a link and purchase a product or service. The links are independently placed and do not influence editorial content.
The Best Lingerie For Your Body Type
Lingerie is low-key one of the best inventions of all time. It's like, these fun little pieces of underwear you can wear under your regular, everyday clothes without anyone knowing that you're actually living out your goddess/stripper/girl from a rap music video/whatever you want to call your personal sex fantasy goals while just walking around in society. Or, you can wear it without anything over it to seduce someone. OR you can even just wear it while you watch The Office alone in your living room with a tub of cookie dough while your roommates aren't home. That's the beauty of lingerie. You can do whatever the fuck you want with it. Here are a few ways to step up your lingerie game depending on your body type.
If You're Really Busty…
Strappy little bralettes definitely aren't going anywhere anytime soon, which kind of sucks if your boobs weigh more than a rice cake. It can be really difficult to find interesting bras for big boobs, but ASOS Curve has a few expertly engineered styles, so you can rock that trend without slicing your shoulder in half.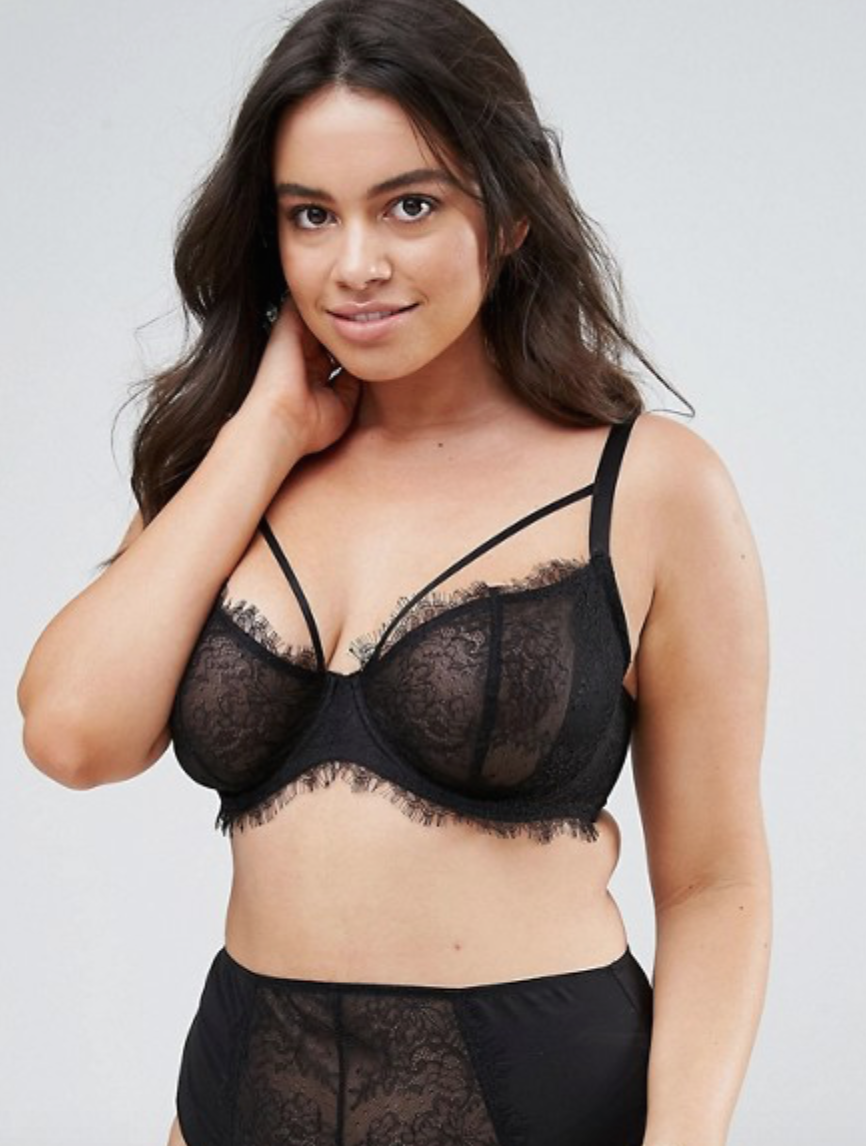 ASOS Curve Eyelash Underwire Bra
If You Want To Look A Little Slimmer…
When bodysuits and one pieces first became popular again, we were all like, "Holy shit, yes, this means we can go back to eating bread!" Then, we actually started trying that shit on and realized they have the potential to be as unflattering as your middle school field hockey warm-ups. Look for bodysuits that create subtle optical illusions, like this one that will make you look slimmer because the lace panel stretches around to the front, creating a false silhouette that is smaller than your natural waist.

If You Actually Kind Of Hate Lingerie In General…
Lingerie doesn't necessarily have to be little lacey pieces of string, so if that doesn't sound like something you want to spend your money on, there are tons of other options. Just seek out styles that are typically flattering on everyone, but in new materials. For example, literally everyone in the world looks good in a sports bra. It's just like, a thing. This grey velvet bralette is basically the sports bra you try to sneak under all of your clothes, when you know nobody's going to see it, except you'll actually want to show it off because it's really cute.

Out From Under Catalina Velvet Bralette
If You're A Proud Member Of The Itty Titty Committee…
Like I already said, strappy, delicate bralettes are literally everywhere these days, and chicks with small boobs are lucky AF, because they look good in all of them. However, if you want to pull some tricky shit to make your boobs look a little bigger, you might want to get creative. Skip heavily padded pushups with a ton of underwire, because they're super uncomfortable and the scam will be totally obvious once you take it off. Instead, opt for a high neck bralette contraption thing that has so much going on that it's just like, "Yeah, there are definitely some boobs in that mix, right?"

If You Have A Little Booty…
If I could live in a different decade, I would pick literally any era where little butts were a thing that people got excited about. Since I don't have a time machine or butt implants, I've settled for buying underwear that makes it look like I have a butt. These are my favorite things ever, because they have a wide waistband to make your stomach look flatter and ruching on the back to make your butt look fatter. They're literally amazing and I swear by them forever.