All The Makeup You Need To Grab During Ulta's 21 Days Of Beauty Sale
What a time to be fucking alive. This winter has basically kicked my ass with the amount of insane snowstorms we've had to endure. I've honestly never been so ready to bask in any temperature above 60 degrees and ditch my hibernation clothing for shit that screams "sun's out, bottles out." St. Patrick's Day was clearly a preview of the shit show I'll be this spring. With the official start of spring happening in literally two days (halle-fucking-lujah), what better time to not only clean out your closet, but update your vanity with some of the best makeup and skincare products 2018 has blessed us with so far? Ulta's 21 Days of Beauty sale has a way of coming in at the best time. Until April 7th, one of our favorite beauty brands will be up to 50 percent off every day for an obvious 21 days. Fucking duh. From Clinique to Smashbox, here's what to come this week to get your cart started.
Monday, March 19
IT Cosmetics is seriously amazing. If you've never used any of the products, let me tell you why you should stock up during the 21 Days of Beauty sale. This finishing powder is the perfect last step to your daily makeup routine as a setting powder or quick touch-up if you're feeling greasy af. It comes in a translucent shade so it works wonders on everyone to reduce pore size and signs of turning ancient, and leaves your face looking like that of a porcelain doll.

Bye Bye Pores Pressed Anti-Aging Powder
Tuesday, March 20
Regardless of your skin type, Clinique probably has products that will make it look perfect. Whether you're oily, dry, or something in between, Clinique offers a 3-step facial cleansing kit to brighten dark spots, provide hydration, and reduce annoying breakouts. So for like, half the price during 21 Days of Beauty, you'd be missing out big time if you didn't take advantage of this.

Clinique 3-Step Introduction Kit For Oilier Skin (Type 3)
Wednesday, March 21
I speak from first-hand experience when I say this Smashbox primer is a fucking miracle worker. If you're looking for a primer that works without making your foundation look cakey, this will be your best friend. The primer absorbs into your skin immediately, so you can start applying foundation right away. It doesn't leave any shine or grimy residue, so you can even use it as a setting spray once you're finished.

Smashbox Photo Finish Primer Water
Thursday, March 22
As we prep for warmer weather, we'll soon turn away from makeup that could melt off your face, like matte lipsticks. Your summer lip go-to will be a creamy lip gloss that isn't something out of the 90's, but still provides full coverage, color, and shine for an added pop to your thotty weekend outfit.

Friday, March 23
The next best thing after a face mask is a face peel—that's just like, the rules of feminism. For something that doesn't rip your skin off, these Exuciance peels still removes nasty-ass shit immediately, so you'll want to stock the fuck up. This six-week supply comes with 25 peels that can be used anywhere, from your face to your neck to your back (to your pus—no, nvm, please do NOT use it there). Anyway, this Exuviance peel helps remove dead skin and wrinkles, and it brightens dark spots. Peel off after just 10 minutes and voilà, bitches.

Exuviance Performance Peel AP25
Saturday, March 24
I run out of makeup wipes like there's no fucking tomorrow. It's becoming a pain in the ass, since I'm too fucking lazy to walk down the street and too lazy to go grocery shopping for a DIY remover, so you can see the dilemma I'm in. For shit that actually lasts and works better than your average Neutrogena brand, Philosophy created makeup removing cloths that feel soft af and take off the most stubborn mascaras with a single swipe. And since you can order them online during the 21 Days of Beauty sale, you don't have to walk down the street or even leave your house.

Philosophy Purity Made Simple One-Step Facial Cleansing Cloths
Sunday, March 25
Nothing ruins a day's worth of expensive makeup like having an oily T-zone by noon. Talk about a buzzkill. Whether you're using as a finishing powder or simply touching up while on your lunch break, this sheer powder from Mally Beauty reduces oily spots and fine lines, and leaves your face looking matte and smooth as can be. It stays on from morning to night without making you break out the next day, and even comes with a sponge that looks like a BeautyBlender on crack. Bless.

Mally Beauty Poreless Face Defender
Images: Hanna / Unsplash; Ulta (7)
Betches may receive a portion of revenue if you click a link in this article and buy a product or service. The links are independently placed and do not influence editorial content.
Ulta's Love Your Skin Sale Starts Today & Here's What To Buy
In a time when it feels like New York may truly freeze over, taking care of our prizeworthy skin is crucial. Frigid temperatures literally destroy everything we care about by punishing us with dry af skin, ashy hands, and pasty-looking faces. With this comes the real struggle of figuring out wtf to buy, and deciding whether or not the expensive shit really works—because if it doesn't, well, FML and fuck my bank account. Fortunately for us, Ulta is a godsend and is rewarding us with their Love Your Skin sale. I know, it sounds fucking amazing already. From now until the 27th, must-have skincare products from some of our favorite brands will be up to 50% off. Each day brings something different to the table, so start setting alarms on your phone now. Here's all of the worthy shit to buy for this week.
Monday, January 8th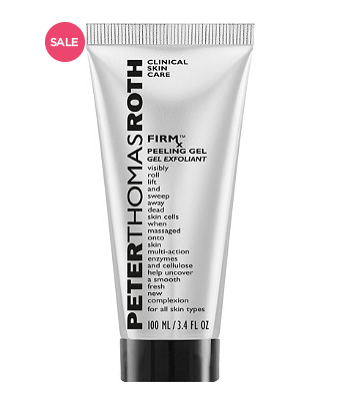 Please raise your hand if your skin was personally victimized by this weekend's insane Bomb Cyclone. *Raises both hands* To help get rid of flaky dull skin, this gel literally rolls off dead skin (ew) to reveal brighter, hydrated, smoother-looking skin. It's full of a bunch of fruity goodness so def it's non-drying and non-irritating.
Tuesday, January 9th

This makeup remover is honestly so good, it wipes away even the most stubborn waterproof mascaras. The bi-phase formula (see: lipid and water) not only removes all makeup, but conditions and refreshes the eye area as well—all without leaving your face feeling greasy and gross.
Wednesday, January 10th

In case you don't know, there isn't much coconut oil *can't* do. Honestly, I'm upset I waited so long to try it, but it has seriously like, improved my quality of life. It helps heal hair, skin, and anything else worth stressing over. This moisturizing coconut oil is just one of many from Organic to Green that you can find at 50% off this week. The refreshing formula is non-greasy, v gentle, and non-comedogenic, so it will help dry winter skin without making you break out. Bless.
Thursday, January 11th

Uh, when aren't we stressing over corpse-looking eye bags, rude wrinkles, and any visible signs of aging? Never. This super intensive hydrating cream is designed to infuse your skin with a shit ton of necessary moisture while getting rid of any lines or wrinkles while you sleep. You'll wake up to soft, glowing, wrinkle-free skin first thing in the morning. Better than coffee? No, but it comes close.
Friday, January 12th

Let's just say there's a reason why everyone and their mother owns one of these. This small compact cleansing system can be used both at home, or on-to-go if your face really just can't wait. The electronic facial cleanser does a hell of a lot better job than your hands do at washing your face. It removes all makeup, exfoliates dry patches, absorbs oiliness, and reduces breakouts. You'll honestly wonder what the hell you were doing with your life after buying one of these. You're so welcome.
---
Betches may receive a portion of revenue if you click a link in this article and buy a product or service. The links are independently placed and do not influence editorial content.
Ulta's 21 Days Of Beauty Sale Has Half Off Your Fave Makeup So It's Basically Free
The second half of 2017 is already looking better than the past few weekends months that have made my life a living hell, but what else is new it's fine I'm fine. Maybe 2018 will be my year, I say knowing it's not true because I literally say this every fucking year. Honestly speaking, I think things are only looking up because end-of-summer sales have been fucking great. I literally bought a skirt and shirt for $6 the other day so, life is good. Like, retail therapy really works wonders *angrily glares at my therapist*. Prime example: Sephora's Weekly Wow has done my card dirty treated me v well, but its competitor Ulta is about to be even better. Sunday kicked off the first day of Ulta's 21 Days of Beauty event, which discounts beauty necessities up to 50% off *everyday* for an obvious 21 days. So, basically, you can get everything you've ever wanted from your favorite brands at half off all the way until September 23rd. You guessed it, we're fucked. So on that note, here's a preview of week's goods to get you psyched everyday for the rest of the week month.
Tuesday, September 5th:
If Google didn't exist, I would've never graduated college would have no idea Jennifer Aniston and Heidi Klum are both in their 40s. That's in part due to my inability to correctly guesstimate anything ever, but also because Aniston and Klum both use this amazing cleansing gel. This exfoliating cleanser is full of fruity stuff that unclogs yo' nasty pores and removes dead skin cells that are the bane of my existence cause breakouts so you have younger-looking, refreshed skin for all your future Instas.

This primer is everything you need to brighten and tighten your skin (without looking like you got botox) for Snapchat filter-looking skin. Like, you just know how on-point those filters make you look, hence why all your selfies have fucking puppy ears. If you think this primer sounds amazing, all of the PÜR primers are half off too, so the more, the better your nudes selfies look.

Kind of like a lip primer, kind of like Chapstick 2.0, this colored lip oil gives you ultimate Kylie lips with just a simple swipe (and no injections). It's packed with oils like coconut, green tea, and cloudberry (WTF is a cloudberry, LMK), for a conditioned duck face-ready pout. These come in shades of pinks, reds, and bold darks for wearing underneath your fave lipstick or to wear alone because we're lazy af.

Wednesday, September 6th:
Nothing makes me spend more money happier than a 2-in-1 product. It's like a freebie, but better. This exclusive double-ended lipstick features a smooth matte lipstick in vibrant shades with an accompanying hydrating lip gloss for a quick touch-up. It's "travel-friendly" which basically means you can throw it in your purse before heading out to sweaty nightclubs.

Thursday, September 7th:
If you can master perfectly winged eyeliner, you can literally get away with murder do anything. This liquid eyeliner is an essential for drawing a wing so sharp, you can cut a bitch. It's basically a marker made for your eyes so if you still fuck up, it's your own damn fault. They're waterproof and come in a bunch of bright colors—that is, if you feel like having yellow eyes or something equally weird that's basically any color other than black.

Friday, September 8th:
If you love the way you glow after getting lucky with your Bumble boy or you need to pull a Kristen Wiig before your booty call awakens, you need to buy this gorg palette.

The trio comes with silk-powdered bronze, highlighter, and blush for a v sexual radiant contour. Choose from any of the versatile shades, regardless of your skin tone, for the most #flawless sculpting look you've ever achieved. Now, you can schedule your next dick appointment without spending an hour on your contour beforehand. So blessed.