The Cringiest Celebrity TikToks Of 2020
If 2020 is remembered for one thing, it will be how TikTok truly blew up and finally became impossible to ignore (trust me, I tried). Okay, obviously some other important stuff happened this year, but for today's purposes, let's just focus on TikTok. While a lot of Gen-Z kids and ~content creators~ were already on the app before this year, the pandemic activated something inside the rest of us, and normal people and celebrities alike flooded onto TikTok like never before.
Some celebs are unexpectedly good at TikTok (Jason Derulo's special effects are continually impressive), but many others have struggled to master the format. Each week for several months, I've been cataloging some of the most cringeworthy celebrity TikToks, and now that this bizarre year is drawing to a close, it's time to look back on some of my (least) favorites of 2020.
Dr. Phil
I don't want to be too negative here, so I'll start by saying that at least Dr. Phil's TikTok account isn't boring. He's out here doing the most, giving psychology tips, chugging cranberry juice, and dancing in a Grandpa Joe costume. I don't particularly like any of it, but at least he's trying. But this video of him imploring his followers to stop calling him "daddy" is straight-up bone chilling. Never has it EVER occurred to me to call him that, and it concerns me that enough people have for him to address the issue. Guys, PLEASE don't.
Tyra Banks
Tyra had kind of a random resurgence in popularity this year, as people spent their quarantine reliving all the wild old seasons of America's Next Top Model, and she landed a new gig hosting Dancing With The Stars. Her hosting work on TV has always had a slight unhinged energy to it, and her presence on TikTok is really no different. This TikTok—one of several she filmed in a row, judging from the repeated outfit—features her acting like she's in some kind of horror movie, and screaming random words in her sentences. Okay, now I actually think a Tyra Banks horror movie could be kind of amazing.
Jonathan Cheban
If you follow my weekly list, you'll know that Foodgod brought a lot of cringe this year, but most of his videos are of him shoveling nasty food into his mouth like a hungry animal. Those are upsetting, but in the spirit of keeping things interesting, I'm highlighting this truly bizarre video of him riding off into the sky on a stationary bike. As he calls into the distance "FG phone home," I can't help but ask myself, what the f*ck is happening here? Where did this concept come from? Did he pay someone to edit this? I need ANSWERS.
Hannah Godwin
Many of the videos on this list have more of a visual cringe factor, but this one just makes me sad, and a little concerned. Bachelor alum Hannah Godwin has a question: if every single person in the world comes from a pregnant woman, why don't we see more pregnant women walking around? She's right that there are seven billion people on the earth, but she seems to miss the concept that those people have been born over the past like, 100 years. I know time isn't real or whatever, but it's not that complicated.
KJ Apa
I've never watched Riverdale, so I honestly have no real opinion of KJ Apa, but his content on TikTok gives off very strange vibes. For much of the year, he's been quarantined up in Vancouver with his cast and crew, and things have gotten a little weird. In this video that I think about way too much, he dips his hair into a cup of tea, and then lets the tea drip onto his tongue. I don't need to explain why this is gross, but it's also just… not something that people do. Idk, I'm uncomfortable.
Barbara Corcoran
Barbara Corcoran is easily my favorite investor on Shark Tank (I met her once, and she was lovely), but when it comes to her TikTok, I'm out. In this video, which is inexplicably set to Justin Bieber's "Lonely", she actually looks like a middle school boy wearing a too-big backpack. Something is off from the beginning, but when the imaginary POV in her Shark Tank scenario says they're going with Mark's offer, she makes a choking motion as if she's being yanked off the screen, and the look in her eyes is low-key terrifying. Like, Barbara, are you okay?? Blink twice if you're okay.
Sheri Easterling
Congratulations, you've reached the "WAP" dance part of the list. This trend was fun at first, and some of the videos are super impressive, but unsurprisingly, famous people had to go and ruin it for everyone else. Addison Rae was one of the breakout TikTok stars of this year, and her rendition of the dance is like, flawless, but her mom Sheri really missed the mark. The original TikTok was deleted after Addison got mad about it, but thankfully it's been preserved on YouTube.
Jack Black
I couldn't limit myself to just one "WAP" video, and my other winner is Jack Black's attempt. I hadn't really thought about Jack Black in a while, but boy, is his TikTok a trip. I respect Jack Black's right to do whatever he wants with his Speedo and garden hose, but maybe we don't need to see the footage. And besides, the choreography clearly needs some more work.
Peter Weber
Isn't it wild that Peter's season of The Bachelor was less than a year ago? His season ended on a low note, with back-to-back breakups with Hannah Ann and Madison, but ultimately he ended with his fourth runner-up, Kelley. I could have included one of Pilot Pete's sappy videos dedicated to his and Kelley's relationship, but if I'm honest with myself, the video of his that made me cringe the most was his thirsty AF mom Barb doing this twist on the "Savage" trend. I don't like that this sound implies moms and wives *can't* be savages, and Pete's dad saying this to Barb feels icky. Barb, stick to what you do best: crying about how much you love Hannah Ann.
Images: Ovidiu Hrubaru / Shutterstock.com; drphil, tyrabanks, foodgod, hannahg11, kjapac, barbara.corcoran, jackblack, pilot_pete / TikTok; TOP5 / YouTube
6 'America's Next Top Model' Moments That Were Seriously F*cked Up
Over the past few years, we've come to terms with the fact that some of our favorite throwback TV shows haven't aged super well. Shows like Sex and the City and Friends made lots of jokes that definitely wouldn't fly today, in addition to lacking any kind of meaningful diversity. Obviously, the world is a different place than it was in the 90s and early 2000s, and hopefully we've all learned some important lessons. But even knowing what we know now, can we talk about how America's Next Top Model was actually insane?
ANTM first premiered in 2003, and experienced its greatest popularity in the mid-2000s. Each week, Tyra Banks and her judges put a group of aspiring models through the ringer, with dramatic makeovers, ridiculously themed photo shoots, and brutal critiques in front of the panel. There are literally too many cringeworthy Tyra moments to count, but these are some of the ones that I still can't believe nobody called out back then.
Dani's Tooth Gap
Why was this allowed to air wtf Tyra banks is going to straight hell pic.twitter.com/xtiWl3srKJ

— Aisha Oladapo (@OladapoAisha) May 5, 2020
When it came to makeovers, Tyra was constantly telling the contestants that they needed to be edgier to succeed in the modeling world, but that apparently didn't extend to the gap between Cycle 6 contestant Dani's front teeth. In this clip, Tyra tells Dani that her gap is "not marketable," which is pretty hilarious, considering I can name three famous models with tooth gaps off the top of my head. Dani actually ended up winning this cycle, and a few seasons later, Tyra made another contestant WIDEN HER TOOTH GAP to stand out more. How was this even allowed to happen? If I were Dani and I saw that I would probably flip a table.
Switching Ethnicities
For this Cycle 4 photo shoot, the contestants recreated the iconic "Got Milk?" ad campaign. Cute concept! But things quickly went off the rails when it was revealed that the ladies would be "switching ethnicities" for their pictures. Y I K E S. Literally every single assignment was problematic, but the worst was Noelle (a white woman), who was assigned "a traditional African woman with a head wrap and everything." Oh. My. God. The resulting photos ranged from blackface, to brownface, to just bizarre, and it's crazy that this was allowed to happen, even in 2005.
More Blackface
Apparently by 2007, blackface still wasn't a problem as far as ANTM was concerned. In Cycle 8, Natasha really got into character as a "hip-hop man," complete with gold chains, fake grills… and an uncomfortable amount of bronzer. Natasha is Russian, and white was can be, so hearing her say "what it do shawty" in an Iggy Azalea-esque twang is really sending me over the edge. On the show, she was praised for her dedication, and no one brought up the fact that they were literally having her do blackface.
The Homeless Photoshoot
One of the most ridiculous photoshoots in ANTM history was in Cycle 10, when the contestants had to pretend to be homeless. I just… yeah. In her promo shot, Tyra held a sign that said "will pose for change," which I don't even want to get into. The photos look like they were taken on the set of Little Shop of Horrors, and the worst part? They got actual homeless people to pose as extras in the background. Seriously, who thought this was okay?
Pressuring A Sexual Assault Survivor
In Cycle 15, the contestants were shooting a commercial, in which they were supposed to kiss a guy. This was a problem for Kayla, who revealed for the first time that she struggled being intimate with men because she had been sexually assaulted as a child. But instead of being understanding and reworking the commercial, Mr. Jay guilted her into going through with the kiss, and then applauded her for "pushing aside" her painful memories. Classy.
The Hat Apology
In this episode in cycle 3, the contestants had to choose a hat to model at panel, and the judges criticized Yaya's choice of a cowgirl hat over an African kente cloth hat, with one judge calling her "half-African, half-cowgirl." Another judge complained about her "intensity to prove her African-ness," which she called "overbearing". I am actually yelling (to nobody, because my roommate isn't listening, but still). Yaya explained that she chose the cowgirl hat because the other hat was "cheap" and not "authentic." Later, Tyra asked her to apologize to the hat for insulting it. Hmm, I wonder if the judges ever apologized for their comments about her ethnicity?
I'd like to think that none of these moments would happen in 2020, but honestly, I'm not so sure. There are tons of problematic ANTM moments over the years, and that's not even getting into Tyra's deranged talk show. If you want to relive alllll the wild ANTM moments while you're stuck in quarantine, there are 22 full seasons on Hulu right now, so go crazy.
Images: DFree / Shutterstock.com; OladapoAisha / Twitter; NextTopModel, Khris Fowler (2), antmranking, Michael Frechen / YouTube
Tyra Banks Is Starring In The 'Life Size' Sequel, But Where TF Is Lindsay Lohan?
Well, just when you thought the early 2000s renaissance had reached its peak, Tyra Banks confirmed today that in addition to returning as host of America's Next Top Model, she will be reprising her iconic role as 'Eve' in the Life Size sequel. Guess she's also found herself longing for the Bush era. Or she needs money. Either way, we all win.
The fIlm, which I imagine will sweep next year's Oscars, was greenlit by Freeform, Disney's red-headed stepchild, and will apparently run as part of their "25 Days of Christmas" programming month.
The movie will star Tyra (duh), who is also executive producer ($$$) but apparently nobody has reached out to Lindsay Lohan to reprise her role as Casey, which is a goddamn tragedy. Why wouldn't Disney want Lindsay involved in their wholesome Christmas project? I literally can't think of a single reason. Not one.
Life Size 2 will apparently focus on a "grown up" Eve who is "magically awoken to help a young woman learn to live and love again," so like…this time the doll comes to life and helps a grown woman? Why tf would a grown woman keep a doll around for this long? My mom threw all that shit away as soon as I got boobs. And it's…Christmas? Why? Also, what does a "grown up" Eve mean? Does it mean she's learned how to type on a computer?
For those of you who need a refresher, Life Size was the heartwarming tale of a little girl named Casey (aka Lindsay Lohan 100 mental breakdowns ago) who goes to a local bookstore to buy a book on magic so that she can bring her dead mom back to life, like ya do. Sadly, Casey fucks up the spell and brings her knock-off Barbie Doll, Eve, to life instead. Eve is beautiful, but also a fucking idiot, and the two teach each other lessons about how to be confident and never giving up and shit.
Eve is sad to learn that as a doll, she's not doing too great, and the fake Mattel company that makes her, Marathon, might discontinue her because girls don't like dolls anymore. God damn you, feminism! At the end of the movie, just when you think Eve is going to stay human and get with Casey's dad, Eve fully 180s and performs a reverse spell on herself so that she can turn back into a doll.
The movie is amazing for many reasons, most of which are Tyra Banks. Here is a literal quote from the Wikipedia summary of the movie, just to jog your memory about some of it's most iconic scenes:
"Over the next few days, Eve buys clothes at the local shopping mall, uses her police training to stop a truck that almost runs Casey over, smells and eats for the first time, tries to do secretarial work, sings her theme song, and almost sets the Stuarts' kitchen on fire. She also helps Casey cope with the loss of her mother."
Incredible. The movie also features some amazing 2000s era computer work, like this very reputable looking website Lindsay Lohan uses to learn about resurrecting the dead: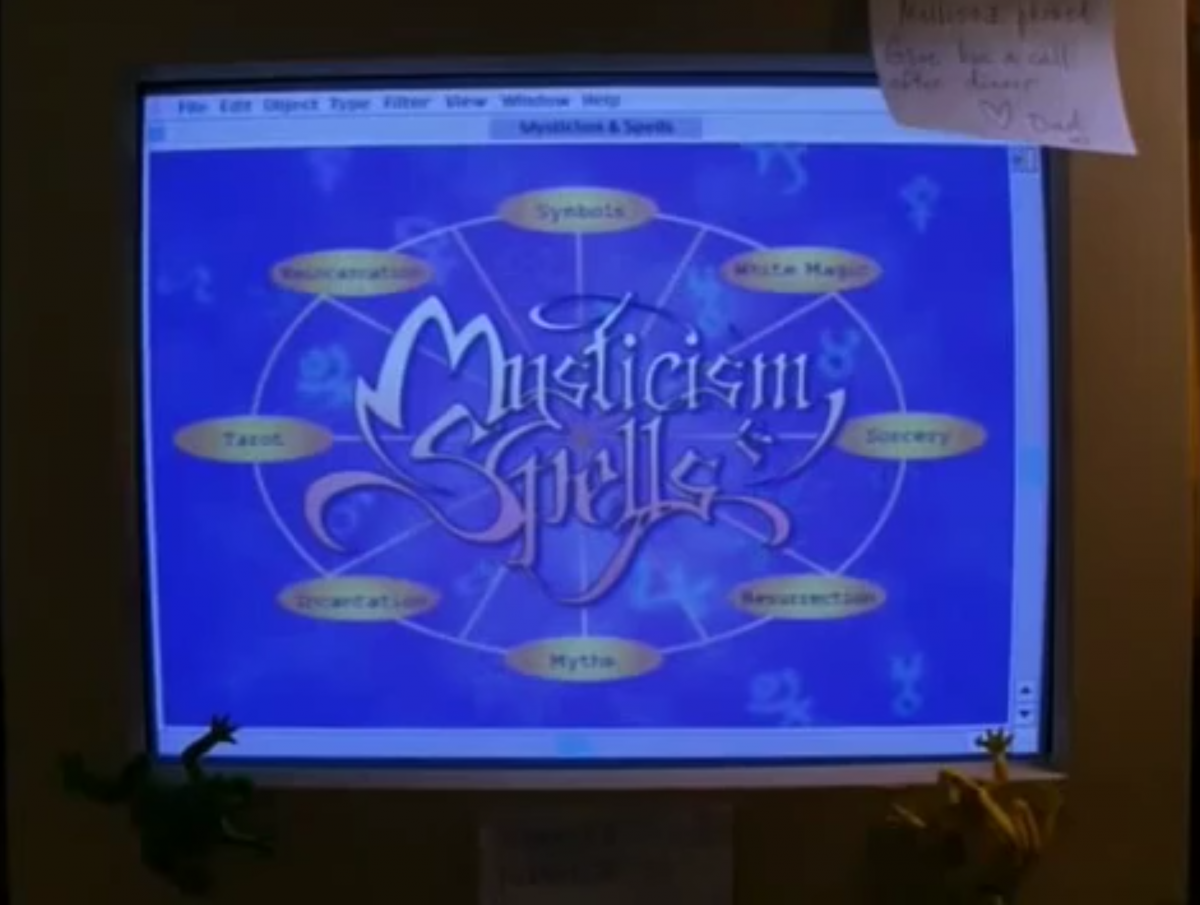 TBH, there's a lot of potential here for the Life Size sequel, but only if they do it right. I think I speak for everyone when i say that LiLo's involvement is crucial here. I mean, who could use the help of a doll role model come to life than Lindsay? Maybe Eve could help Lindsay reintegrate into normal society, first by helping her re-learn how to talk without a fake accent, and getting to the bottom of her whole "converting to Islam" thing. The movie could end with Tyra turning back into a doll, as Lindsay checks herself into a rehab facility in Malibu.
Oh, and like, it's Christmas or whatever.