21 Bachelorette Decorations That Aren't Just Penises
Well, ladies… it's here. Bachelorette season is officially upon us. And, I don't know about you but the "pin the dick on the dude" theme is really getting old. Listen, I'm all for helping your girl sow her wild oats one last weekend before the wedding, but let's put a pause on the penises, ok? Let's be a little more mature and do a grown up theme… Like dressing as if we were in 3rd grade again. (Everyone loves a 90's theme.)
But if you're going sans-penis, what are we decorating with? That's where we come in. Because let's be honest…you've got a lot of sh*t on your plate already. Whether it's deciding who gets which room in the Airbnb or forcing different friend groups to get along, one thing you shouldn't have to worry about are the details of decor. Which is exactly why I planned it all for you. You're welcome in advance. 
Betches may receive a portion of revenue if you click a link and purchase a product or service. The links are independently placed and do not influence editorial content.
LAST DISCO
Let's be real, not a single one of you was even alive during the disco era. But honestly, who cares? If it means that the only type of balls that will be at the party are disco, I'm in. And, one thing I can pretty much guarantee is that none of you will be Stayin' Alive with the hangover you're sure to have on day two.
Disco Ball Headband And Veil

Every bride wants to be the center of attention, so this headband will ensure she shines brighter than anyone else.
Shop it: xo, Fetti Disco Ball Headband + Veil, $9.99, Amazon
Last Disco Foil Balloons

Is it even a themed party if you don't have balloons that literally spell out the theme?
Shop it: xo, Fetti Last Disco Foil Balloons, $11.99, Amazon
Disco Ball Foil Curtain

More is more when it comes to disco decor.
Shop it: xo, Fetti Disco Ball Foil Curtain, $15.99, Amazon
Stayin' Alive Hangover Kit

I think this is self explanatory—help the group come back to life after a long night out.
Shop it: Stayin Alive Hangover Kit, $2.65, Etsy
Y2K
A bachelorette party already feels like one giant sleepover, so why not just embrace it? Just go to your parents house, dig through your childhood closet, and I'm sure you'll find A) a Juicy tracksuit, B) PINK sweatpants, C) your collection of hit clips or, D) all of the above. All that's missing is some blow-up furniture and a few feather boas. 
Y2K Icons Party Banner

If Paris Hilton was pictured wearing and/or using it in 2005, it belongs on this banner and at your bach.
Shop it: Y2K Icons Party Banner, $3.69, Etsy
Bride Bucket Hat

Shade the bride from the sun while bringing back the best trend of the early '00s.
Shop it: Bride Bucket Hat, $34, Shop Betches
Checkered Drink Pouches

It's giving Limited Too graphic t-shirts and I'm absolutely here for it.
Shop it: xo, Fetti Checkered Drink Pouches, $9.99, Amazon
Iridescent Fringe Foil Curtain

So insta may not have existed back then, but this photo backdrop would've looked just as good on a disposable camera as it will on your phone.
Shop it: xo, Fetti Decorations Iridescent Fringe Foil Curtain, $12.99, Amazon
NO THEME
Okay, hear me out. What if you went to a bach and the theme was simply…. Bachelorette Party? Let the bride be a bridezilla and wear white for 4 solid days straight, drink water that she desperately needs at the end of the night from one of those bride straws, and mourn celebrate her last few months/weeks of being unwed. Can't go wrong with a classic. 
Pearl White Hair Bow

It'll match every single one of the 30 white outfits she brought on the 3 day trip.
Shop it: xo, Fetti Pearl White Hair Bow, $12.99, Amazon
Bride To Be Sash

It's not a classic bach without a sash.
Shop it: xo, Fetti Rhinestone Bride To Be Sash, $8.99, Amazon
Bride And Diamond Ring Straw Set

How will you know who's the bride and who's not if you don't have specific straws that say it??
Shop it: xo, Fetti Pink Bride + Diamond Ring Straw Set, $14.99, Amazon
Bride Balloon

I don't need to spell it out for you, but she's getting f*cking married and wants everyone to know.
Shop it: xo, Fetti white Jumbo Bride Balloons, $19.99, Amazon
Rose Gold Foil Curtain

You're going to need some color so the Bride Balloons don't blend in with the stark white walls of the Airbnb.
Shop it: KatchOn Rose Gold Fringe Curtain Backdrop, $10.97, Amazon
LAST RODEO
If you're not scream-singing Shania Twain at the top of your lungs by the end of the night, did you really even go to a western-themed bachelor party? Give the girls what they want! And by that I mean a reason to wear the cowboy boots they bought last year that are sitting in the back of their closet… 
Bride Cowgirl Hat

Every bride wants a hat with a veil ever since the '98 version of The Parent Trap. IYKYK.
Shop it: xo, Fetti Bride Cowgirl Hat, $29.99, Amazon
Let's Go Girls Glitter Banner

Man, I feel like a woman.
Shop it: xo, Fetti Let's Go Girls Glitter Banner in Silver, $10.99, Amazon
Cowgirl Boot Shot Glasses

The phrase "boot and rally," has truly taken on a new meaning at bachelorette parties.
Shop it: Cowgirl Boot Shot Glasses, $2.99, Etsy
Cow Print Balloons

These are just so f*cking cute, I can't.
Shop it: Cow Print Balloons, $6.99, Amazon
RIP TO YOUR SINGLE LIFE
I may or may not have binged one too many true-crime podcasts before writing this but if I could re-do my own bachelorette, you better believe this would have been the theme. Dressing in all black makes packing so simple. And TBH the vibe is giving Kourt & Travis Barker and I'm here for it.
RIP Single Life Glitter Banner

The whole group will literally be dead when they see this.
Shop it: xo, Fetti RIP Single Life Glitter Banner, $10.99, Amazon
Silver Fringe Backdrop

This metallic curtain is probably the closest you'll get to the pearly gates on any bachelorette.
Shop it: KatchOn Silver Fringe Backdrop, $10.97, Amazon
Black Balloon Arch Kit

Decor to perfectly match the entire bridal party's wardrobe.
Shop it: NISOCY Black Latex Balloon Arch Kit, $10.99, Amazon
Mrs White Rhinestone And Satin Gloves

Any reason to wear formal gloves feels like a good one.
Shop it: xo, Fetti Bachelorette Mrs Opera Gloves, $9.99, Amazon
Feature Image Credit: Koolshooters on Pexels
The 7 Types Of Girls In Every Bridal Party
If you're getting married or have already put that nail in the coffin tied the knot, you likely had bridesmaids. I had nine. That's beside the point. Every bride has a unique personality and, therefore, very unique bridesmaids to help out on her special day. Regardless, though, you cannot deny that your bridesmaids or bachelorette attendees fell into these categories. Was Stacy the party animal you lost in Nashville during the bachelorette? Was Lindsey the thirst trap social media stalker who put up WAY too many pictures of you before the rehearsal dinner? Did Jessica just get high and act super chill no matter what you told her to do? Read on to figure out which bridal party archetype you and your besties are.
1. The Social Media Guru
She made a Snapchat filter for your bachelorette, wedding, shower, and everything in between. She has shared no less than five social media posts the day before each large event featuring a picture of herself and the bride with a paragraph about friendship. She almost tripped and fell into an open manhole because she was checking you into a restaurant on FourSquare. She has more pics of your wedding than your photographer.

2. The Control Freak
This could be the bride, but there's at least one in every group. She made a fucking Google map of your stops on the bachelorette trip. She's got reservations at at least three restaurants/bars each night in case one doesn't pan out. She's got transportation covered. She's slightly manic but you're going to be organized, goddamnit. She has sent out no less than three emails covering the event at hand, ensuring everyone has a) paid for their stay, b) has the T-shirts she ordered, and c) knows how to get to the hotel. She had her bridesmaid's dress the day after she found out about your engagement.
3. The Outsider
Who even is she? You definitely went to school with her or knew her at some point in your life, and, yeah, she's fun, but she's clearly is not part of the new dynamic. She clings to the bride, afraid of interacting with the others. She laughs at everyone's jokes, even though half of them, like, aren't funny. She's desperate for attention in a cute way. We still love her.

4. The Party Animal
Once you unleash her, she cannot be tamed. She's making friends at the bar, on the sidewalk, at the club, in the Uber while telling stories about her house/dog/favorite restaurant/former relationships. She's the one searching for a strip club (or stripper pole) at 2am or trying to climb on a table at the piano bar to flash strangers. She's a champ. She's ordering shots you don't want and harassing anyone who says they're tired before 4am. She can shotgun a beer, get lost in a foreign city, find her way back, and be ready for more. She's an unstoppable—and franky, terrifying—force.
5. The Mom
She's literally the one holding the bride's hair back while she's vomming during the bachelorette (thanks, Beth). She can be counted on to have fun, get drunk, but still be so goddamn responsible that everyone gets home/back to the hotel without dying. She somehow has tissues and/or plastic bags for clean-ups (shit happens) and never really yells or gets upset. She's just disappointed. But she's a cool mom.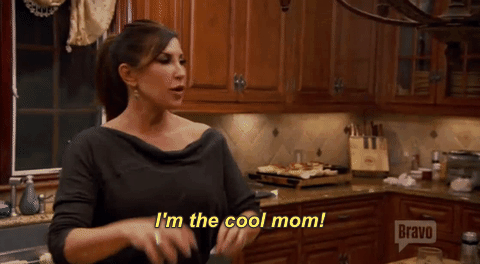 6. The Literal Mom
She either just got married and/or just had a baby, and clearly that's the focus. She doesn't come to any of the events but somehow gets her shit together for the wedding day. She tells you that "it'll go so fast" and to hold on to special moments while figuring out a breast pump. She was a regular on Tinder and at drunk brunch, but now she's a stay-at-home-mom who makes color-coded grocery lists and reads about the benefits of raw diets for newborns.
7. The Chill One
No matter what you've thrown at her, she rolls with it. You definitely switched the hairstyles for your bridesmaids four times, insisted they buy Miu Miu nude heels, and changed up dresses last minute and she's cool with it. She's come to every event, not made a giant deal about it, and … is she high? Yah, she's just really high.

Need hashtags, Snapchat filters, and matching tees for your bridal party? Click here!