8 Things Nobody Tells You About Being A Bridesmaid
Yayyyyy your bestie is totally getting married. It's time for you to suck it up, throw on a questionable dress, wake up at 4am to have someone jam bobby pins into your scalp, and take part in several different bridal things that will all blur together by the time the bride and groom run through that sparkler line. Supporting the bride as a bridesmaid is like, one of the rules of feminism. But there are several unknowns and, frankly, scary aspects to being a bridesmaid that you may not know about. Here are a few things nobody tells you about being a bridesmaid.
1. You'll See The Bride Naked
I know my bridesmaids watched me pass out on a floor, get up, barf (while giving a thumbs up), then proceed to shed all my clothing. Get ready to shower the bride—like, literally give her a shower—after she spills a drink on herself or gets little too sloppy. Maybe she'll try on her lingerie in front of you all. Who knows. Just remember: pics or it didn't happen.
2. You'll Never Wear That Dress Again
I don't care what the bride tells you. "Oh you can totally cut this into a cute tea-length cocktail dress." I could, but I won't. Tell me when chiffon goes with anything. Tell me. Just buy it and accept that this will hang in your closet until you choose to donate or burn it.

3. Prepare To Fight
It could be a passive-aggressive tiff or a full-on drunk screaming match that gets you kicked out of the dueling piano bar. It'll be entertaining if you aren't involved. If you are involved, though, take it from me—hair pulling works really well when you're trying to make a point. You heard it here first. Don't @ me.
4. The Bride Will Go Crazy
Yep. She'll either be crying because daddy won't let her have an open bar or because Aunt Zelda isn't coming or because she can't lose those last three pounds. Or she'll scream at you because you wore ivory to her shower. Maybe she'll demand you pay $800 for the shoes she needs you to wear. It doesn't matter. At some point, the wedding demons will overcome her, and she will lash out at you and everyone she loves. Don't make her madder, fam.

5. You'll Help The Bride Pee
Wedding dresses are a b*tch to potty in. You'll need to hold it up for her while she yanks her Spanx down and hover-pees during the wedding. You're there to be a supportive friend.
6. You'll Never Talk To Half These Girls Again
Like, no, you aren't REALLY besties with the groom-to-be's cousin or the bride's roommate from college. You just have to pretend to be for the year leading up to the wedding. You'll see each other hammered; you may spoon while you're drunk. You may even talk about how you're sooooo glad you're finally meeting and you're totally gonna hang out this summer. You won't. You're forever bound by this f*cking wedding and the ugly dresses you're all sporting, though, so that's something.
7. It's Your Duty To Party
I don't care if you boofed all the drugs and got too f*cked up during the rehearsal dinner to party during the wedding. It's your job as a bridesmaid to dance, make all the other guests dance, take shots, and assure the bride and groom that this is LITERALLY THE BEST WEDDING EVER. Leaving early is not an option. Suck it up, buttercup.

8. Saying No Is OK
Like, if the bride is asking you to buy a $1,000 dress or demanding you come to her bachelorette party in Mexico or that you buy her a $200 massage a day before the wedding, don't feel like you have to just cause you signed up to be a bridesmaid. I mean, try not to be the b*tch that's saying no to everything ("I can't wear these shoes cause they don't match my complexion" is different than "I really don't want to cut my hair into a pixie cut so that you're the only one with long hair"), but if you feel like the bride is completely out of control, it's okay to check her.
Images: Andre Hunter, Unsplash; Giphy (4)
Bridesmaid Dresses You Should Never Make Your Friends Wear
Being a bridesmaid means you're the bride's bitch for whatever amount of time transpires between the cutesy package with pics of you two, a wine glass, and the "will you be my bridesmaid" note (covered in v tasteful gold glitter) to the bitter end when she and her now-forever dude run through a parade of sparklers. If you're the bride, have mercy. If I've agreed to be in your wedding, I pretty much have to do whatever you want and not question it. That includes wearing some travesty of a bridesmaid dress if you insist I do so. So what if I look terrible in tangerine—it's YOUR special day, and I am but a minion. The least you can do is absolutely not put me in any dress that makes me feel fat, fugly, and poor.
Love your bridesmaids? Don't put them in any bridesmaid dress that checks these boxes:
It's Fucking Yellow Or Bright Green
Cool colors are safe. Some warm colors, like reds and burnt oranges, can pass. But for the sake of this article, approximately 1% of people look good in yellow or lime fucking green. The rest of us look like washed-out, pale mole people who have only glimpsed the sun this one time. Go for a different bold color.
It Has Ruffles
A few ruffles on a bridesmaid dress are okay. Ruffles like the kind that make you look like an Elizabethan courtesan are not. They're itchy, they're going to get covered in makeup if they're close enough to the bridesmaid's face, and they're just not cute on anyone.
It Has A Plunging Neckline
Sure, Susannah will look great in the deep V, thanks to her size A titties and 110 lb 5'9" frame (lucky bitch). But Fiona and Beatrice are going to look like 10-pound sausages stuffed into five-pound bags with the girls spilling out for all the see. Don't want a potential spectacle on your wedding day? Go for a sweetheart neckline—it looks good on everyone.
It's White
Ain't nobody got time for look good in white. Plus, as the bride, do you really want to blend in and have people guess which one is the bride in all the pictures from your super special day? HELL NO.
It Has Long Sleeves
Want to suffocate a bridesmaid? Put her in long sleeves during your September wedding which, amazingly, was a balmy 85 degrees instead of the assumed 70. Watch her pass out during hour three of picture taking. Become entranced by her pit stains.
It Includes Cowboy Boots
NOPE. I'm sorry, but nothing looks tackier than having your bridesmaids lined up in a chiffon-ish bridesmaid dress punctuated by a disgusting pair of cowboy boots. They're not trendy—they're trashy. And they will literally detract all gazes from your flowing ivory or white (whatever) gown to their boxy, shitty, leathery existence. Keep the boots where they belong—at country concerts and NASCAR outings. Oh, and I'm not even making a category for camo dresses. If that's what you want, you go right ahead and put your girls in camo. While you're at it, better take out a second insurance policy on your double-wide, cause chances are you pushed one maid too fucking far.
It Costs More Than $500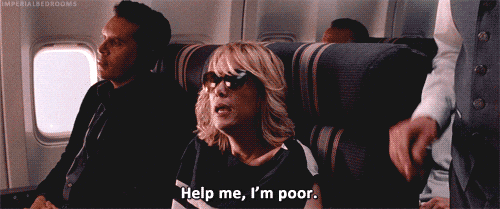 Trust me—your bridesmaids are already broke from your bachelorette party, shower, engagement party, spa days, wedding gifts, etc. Adding on a $500 bridesmaid dress that they'll never wear again is fucking rude. The average/acceptable price is between $200-400. Keep in mind they'll definitely need alterations, too, so chill TF out.
Images:  Zoriana Stakhniv / Unsplash; Giphy (2) 
The 7 Types Of Girls In Every Bridal Party
If you're getting married or have already put that nail in the coffin tied the knot, you likely had bridesmaids. I had nine. That's beside the point. Every bride has a unique personality and, therefore, very unique bridesmaids to help out on her special day. Regardless, though, you cannot deny that your bridesmaids or bachelorette attendees fell into these categories. Was Stacy the party animal you lost in Nashville during the bachelorette? Was Lindsey the thirst trap social media stalker who put up WAY too many pictures of you before the rehearsal dinner? Did Jessica just get high and act super chill no matter what you told her to do? Read on to figure out which bridal party archetype you and your besties are.
1. The Social Media Guru
She made a Snapchat filter for your bachelorette, wedding, shower, and everything in between. She has shared no less than five social media posts the day before each large event featuring a picture of herself and the bride with a paragraph about friendship. She almost tripped and fell into an open manhole because she was checking you into a restaurant on FourSquare. She has more pics of your wedding than your photographer.

2. The Control Freak
This could be the bride, but there's at least one in every group. She made a fucking Google map of your stops on the bachelorette trip. She's got reservations at at least three restaurants/bars each night in case one doesn't pan out. She's got transportation covered. She's slightly manic but you're going to be organized, goddamnit. She has sent out no less than three emails covering the event at hand, ensuring everyone has a) paid for their stay, b) has the T-shirts she ordered, and c) knows how to get to the hotel. She had her bridesmaid's dress the day after she found out about your engagement.
3. The Outsider
Who even is she? You definitely went to school with her or knew her at some point in your life, and, yeah, she's fun, but she's clearly is not part of the new dynamic. She clings to the bride, afraid of interacting with the others. She laughs at everyone's jokes, even though half of them, like, aren't funny. She's desperate for attention in a cute way. We still love her.

4. The Party Animal
Once you unleash her, she cannot be tamed. She's making friends at the bar, on the sidewalk, at the club, in the Uber while telling stories about her house/dog/favorite restaurant/former relationships. She's the one searching for a strip club (or stripper pole) at 2am or trying to climb on a table at the piano bar to flash strangers. She's a champ. She's ordering shots you don't want and harassing anyone who says they're tired before 4am. She can shotgun a beer, get lost in a foreign city, find her way back, and be ready for more. She's an unstoppable—and franky, terrifying—force.
5. The Mom
She's literally the one holding the bride's hair back while she's vomming during the bachelorette (thanks, Beth). She can be counted on to have fun, get drunk, but still be so goddamn responsible that everyone gets home/back to the hotel without dying. She somehow has tissues and/or plastic bags for clean-ups (shit happens) and never really yells or gets upset. She's just disappointed. But she's a cool mom.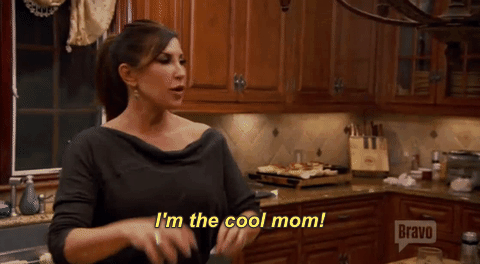 6. The Literal Mom
She either just got married and/or just had a baby, and clearly that's the focus. She doesn't come to any of the events but somehow gets her shit together for the wedding day. She tells you that "it'll go so fast" and to hold on to special moments while figuring out a breast pump. She was a regular on Tinder and at drunk brunch, but now she's a stay-at-home-mom who makes color-coded grocery lists and reads about the benefits of raw diets for newborns.
7. The Chill One
No matter what you've thrown at her, she rolls with it. You definitely switched the hairstyles for your bridesmaids four times, insisted they buy Miu Miu nude heels, and changed up dresses last minute and she's cool with it. She's come to every event, not made a giant deal about it, and … is she high? Yah, she's just really high.

Need hashtags, Snapchat filters, and matching tees for your bridal party? Click here!