What's 'Sex And The City' Without The Woman Who Brought All The Sex?
And just like that, another TV show reboot that we probably don't need is announced. On Sunday, Sarah Jessica Parker, Cynthia Nixon, and Kristin Davis graced our Instagram feeds with a short trailer alluding to the fact that the iconic 1998 show, Sex and the City, was coming back to life. I was fully prepared to leave this franchise behind me after their failed attempt at a third movie, but this revival has left me quite intrigued. As I watched the And Just Like That teaser three different times on each of the stars' accounts, I (say it with me now) couldn't help but wonder, where was Kim Cattrall? Surely, we couldn't have Sex and the City without the woman who brought all the sex?!
As bummed as I am, it shouldn't be a surprise that Samantha Jones would not return in a SATC reboot. Kim Cattrall mentioned in several interviews that she would not partake in another iteration of the iconic show. I mean, who can blame her? The off-screen drama with SJP and other members of the cast was even more dramatic than the scripted fights they got into. (In 2018, following the passing of Cattrall's brother, she dragged SJP on Instagram, writing, "You are not my family. You are not my friend. So I'm writing to tell you one last time to stop exploiting our tragedy in order to restore your 'nice girl' persona.") Kim perfectly put it when she said, I don't want to be in a situation for even an hour where I'm not enjoying myself."
Since we won't get an appearance from Samantha Jones, I'm having trouble figuring out who is going to bring all the entertainment, iconic one-liners, and even an ounce of flavor that this show lacked from its cis, hetero, all-white cast. (Though perhaps HBO will take this moment to shake up said cis, hetero, all-white cast.) Who will be the voice of reason when Carrie is full of sh*t? Who's going to remind Charlotte that she shouldn't be so uptight and stuck in her ways? Is there going to be a fourth character who is equally as successful and ambitious as Miranda, but not an absolute buzzkill? 
If the show "must go on", then I suppose all we have left is to reminisce on the hilarious and completely out-of-pocket moments that Samantha Jones brought to our televisions for six seasons and two feature films. Join me as I pour one out for the unapologetic, pleasure-chasing publicist, and look back at some of her best moments.
Season 1, Episode 1 "Sex and the City"

From the very first episode, Samantha was serving realness to her delusional dater friends. I actually love that the pilot is basically about Carrie deciding to live the way Samantha has always been living and turning this into a revelation all about herself. Kind of telling, if you ask me…
Season 1, Episode 10 "The Baby Shower"

Another moment where Samantha was anything but subtle! While there is absolutely no shame in those who choose to be mothers, it was hilarious (and empowering) to see her not fall to the pressures of society and live exactly the way she wanted. Tbh, I might throw an "I don't have a baby" shower for the gifts — and the Instagrams.
Season 2, Episode 6 "The Cheating Curve"

Okay so this was definitely one of the more problematic episodes. When Charlotte decides to hang out with lesbians because she got cheated on, Carrie gets back with Big, and the whole gang debates the definition of cheating. Even with her dumb views about what constitutes infidelity, Samantha manages to give this nugget of, dare I say, good advice, that is eerily reminiscent of what my therapist has been trying to tell me for years. Who knew I could have just watched Sex and the City and saved myself the copay.
Season 2, Episode 7 "Chicken Dance"

In this episode, Samantha realizes the guy she just slept with, she'd actually already slept with 15 years prior, and it feels like a bleak look into my future. Also, they all attend a wedding where Carrie is reading a poem, which is where Samantha delivers this one-liner that my mid-20s self can relate to all too well. Ok, who am I kidding, this quote is timeless regardless of my age.
Season 4, Episode 10 "Belles of the Balls"


I'm sorry, but does she or does she not spit the absolute truth? One thing about Samantha was that she played like a man living in a man's world (again, as discussed vis-à-vis the pilot episode and overall premise of the show), and did it well.
Season 5, Episode 4 "Cover Girl"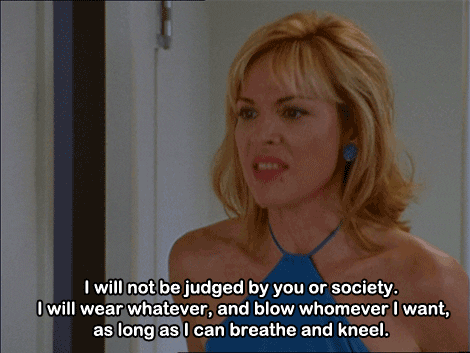 And just like that, we go from profound commentary on sexist double standards to a sexually explicit quote. Gotta love the woman's range. Even from her own best friends, Samantha had to defend herself from being slut-shamed, much like in this episode when Carrie judged her hooking up with a delivery guy. First of all, I would love to see that high-and-mighty attitude amidst the pandemic, when the delivery guy is the only person of the opposite sex with whom I regularly interact. Tbh if any of my friends did this, I'd be applauding them for (hopefully) getting a friends and family discount on Seamless.
Season 5, Episode 6 "Critical Condition"

Kind of conceited to think that any given person in New York City knows who you are, but I'll give her this one. I'll surely miss how unapologetic Samantha is, and how she does and says whatever she wants without worrying about how others will react.
Season 6, Episode 2 "Great Sexpectations"


Where would we be without that one friend who gives top-tier sex advice? Definitely not having as much sex as Samantha was, that's for sure. Thank God Carrie, Miranda and Charlotte had Samantha to remind them to not just have more sex, but good sex. Not sure they ever truly took her advice, anyway.
Images: HBO; Giphy
5 Plot Points From 'The Flight Attendant' That Still Don't Make Sense
HBO, the unspoken hero of late 2020, knew that in order to survive the remainder of the year, we needed the most binge-worthy content, which they delivered in the form of a number series (The Undoing, anyone?). Aside from that and Murder on Middle Beach, one of their heavy hitters that got me through the year was The Flight Attendant starring Kaley Cuoco. It's about a flight attendant (Cuoco) who wakes up after a layover in Bangkok to find a dead man next to her… and no idea of wtf happened the night before.
Contrary to popular opinion (aka that of my close friends) I wasn't a huge fan of The Flight Attendant right off the bat. The flashbacks, though obviously the main plot of the show, irked me, and 99% of the time I wanted to shake Cassie for her irrationally bad decision making. I later realized that is literally the entire point of the show, but until I got there, I was not a fan.
Disclaimer: Spoilers ahead, so here is your chance to exit this piece while you can.
It wasn't until Max got hit by a car that I started REALLY getting into The Flight Attendant. I was on the edge of my couch waiting to see how it all ended, and while the episodes leading into the finale were fun and exciting, the finale not only fell a bit flat for me, but also left me confused. Here are 5 things I'm still questioning days later.
1. All Things Megan

Megan's character is a tricky one. Presuming you've watched the show if you've made it here, you know that Megan is Cassie's coworker, self-proclaimed best friend, and… a spy stealing corporate secrets and intel from her husband and his job for the North Korean government. This plotline seemed juicy and fun, and I was excited to see how it tied into Cassie's disastrous situation, because I ASSUMED it would. But you know what they say about assuming things…
Turns out Megan's subplot was just that: a mostly unrelated subplot. There was no exciting twist that she was secretly working for (or stealing from) the Sokolov family. No finding out that this project is all a figment of her imagination and she's actually losing it. No nothing. Just a train ride to nowhere, kind of like this plot point.
While the writers did throw in the ~twist~ of Shane working undercover for the CIA to keep tabs on Megan it didn't really matter? Because he drunkenly reveals his true identity to Cassie (???) after saving her life (???) and doesn't catch Megan. Shane tops it off by letting Cassie know the CIA wants to hire her (which is normal for someone who wakes up next to a dead body, lies to the government about it, is on the verge of liver failure, and only makes it out alive by continuing to fail upwards). I really needed more from this mess.
2. The Injuries
Now I don't know about you, but my understanding when it comes to being shot or brutally stabbed is that one doesn't typically walk away and carry on with their day. Apparently this rule does not apply to most of the characters in The Flight Attendant, and while I understand that TV magic is a thing, I can only suspend my disbelief so far.
For starters, Miranda. We first see Miranda get shot in the leg in a parking garage. Ouch. Luckily, Miranda has superpowers and is able to ignore her injury, kill Victor, and drive off to the airport. I literally can't function when I stub my toe, but ok. Miranda's superpowers continue after arriving in Rome (after figuring out a way to get on the plane despite the airport staff fully noticing she was shot and trying to stop her). After Cassie arrives in her hotel room, she faces a not-so-fun surprise when she finds Felix and Miranda hiding in her shower. Miranda looks dead in the tub, but, she's not. In fact, she finds a way to escape yet again! Miranda has an almost-happy ending, escaping with the Sokolov money and even sending Cassie a departure gift of Alex's book. Nobody is looking for her and she's not wanted for murder (until season two, that is). All around, super realistic!
Next up in the injury department, we have Joe Goldberg from You Felix/Buckley. This man survives quite the takedown in the Rome hotel room. Cassie first slashes his leg with a knife and then follows up by shooting him in what appears to be the upper leg/hip area. To finish the job (or so we think), Shane busts down the double-locked door and shoots Felix right in the chest. He's somehow not dead, though. Buckley gives them a wave on his stretcher ride out and Shane remarks "son of a b*tch is lucky you only hit him in the leg," which is confusing, because Shane just shot him in the chest (stomach?) five minutes ago.
Finally, Enrico. I'll keep this one short and sweet. He takes a nasty stab wound to the stomach, gets KOed via Felix's knee, and then survives. I'm not saying you can't survive the above injuries, but, what? Max's car accident was slightly unrealistic (really, he's on a morphine drip after getting hit by a car and has no visible bruises or scratches?) but at least they put him in a hospital bed.
3. The Realization that Cassie is in Love with Alex

Now, I'm not here to tell you that you can't fall in love with someone after a one night stand. People on The Bachelor fall in love after a lot less. That being said, I needed more of a reason for Cassie to feel so attached to Alex after one drunken night that she doesn't even remember. In the book (yes, of course it's based on a book), Cassie is pregnant with Alex's child, which makes things a bit more complicated, but also a lot more understandable. When I was watching the show, I needed more of an explanation, because her coming to terms that she was in love with a figment of her imagination never quite added up. You can blame it on her past trauma, her drinking, her desire to break the habit of reckless behavior, but there was never a clear-cut explanation here and that is what I need from a finale—answers.
4. The Uneventful Ending of Hammond and White
First of all, if you're reading this wondering who Hammond and White are, you're not alone. While I was super familiar with the two FBI agents on the case, I genuinely had NO idea their names were Kim Hammond and Van White. But hey, the more you know. Anyway, aside from the obvious lesson learned (douchebag male agent thinks he's right because of white male privilege and belittles Black female agent, only to be proven wrong in the long run), these two don't serve a huge purpose in the end. After being cleared of Alex's murder, Cassie arrives back in the states and goes to lunch with Annie like nothing ever happened. The show glazes over the aftermath of Cassie's wild night (like the fact that she still woke up next to a dead body and lied to the FBI, the fact that she was a murder suspect and needed to be formally cleared, the fact that she witnessed like… five stabbings and shootings in an hour) and we never get to see her final interaction with Hammond and White. Given that their entire purpose was to find her and prove whether or not she was innocent, it felt like a missing piece to the puzzle skipping over the final details.
5. Stalker Felix

There's a lot to unpack when it comes to the Felix/Buckley saga, but there were still some things that simply did not add up to me. In the finale we find out Felix was stalking Cassie, following her around the world using her license as a way of tracking her (?) He half professes his love to her, half wants to kill her to complete the job Victor assigned him, and it's a bit of a confusing mess. Despite having like 100 chances to kill Cassie, he did not follow through—but he still stalked her like prey during their non-intimate moments.
My confusion stems from Cassie's first time meeting Alex. Felix is on the flight (because he's hired by Victor to kill Alex and get the money) but then tells Cassie that he was stalking her. So which one is it. Both? That is too messy. And then Cassie and Alex, his two prey, just happened to end up having a one night stand? That's convenient. Maybe I'm not picking up what the writers were putting down, but I'm deeming this plot point a miss.
All that being said, I did enjoy the show. It was fun, different, and I thought Kaley Cuoco was perfect for the role. I just have two final questions. One, how did Cassie not even flinch when taking shots of that cheap-ass airplane vodka? Two, how did Cassie escape the scene of her father's deadly drunk driving accident with no one questioning the fact that a drunk little girl, covered in cuts and blood, who was related to the drunk driver, was at the scene of the accident? Hopefully these questions get answered in season 2, which let's be real, I'll still be watching—confused or not.
Images: Colin Hutton (2), Karolina Wojtasik, Phil Caruso
The Definitive Ranking Of 'Normal People' Characters
I, like many others this week, spent six hours binge watching the entire season of Hulu's "Normal People". It honestly took me on an unexpected emotional roller coaster. The story of two young people in love, but also in denial. I've never been so frustrated in my life. Like JUST DATE AND BE HAPPY. Ya know??? I cried, I gasped, and I even screamed "OMG THEY'RE SHOWING HIS DICK". So yeah, if you haven't seen it yet, I highly recommend!
It's almost difficult to rank these characters, because they are all so sh*tty at one point or another, but that's what makes it fun I suppose. Here's my ranking of the characters from worst to best.
10. Jamie (THE Absolute Worst)

I debated the worst character for a moment, because there are a few options here. Quite honestly, if you've watched this show, you know that just about every single character is the worst in one way or another. But, after some glasses of wine and deep thinking, I settled on Jamie. Jamie is a rich, smart, prissy boy. But, not the kind of rich that makes him attractive. The kind of rich where he complains that they're drinking Champagne from the wrong glass (maybe he should befriend Dorit Kemsley). He was cast perfectly, because he's tiny and dweeby, which makes it that much more irritating when he's rude and plays the tough guy act. Without giving away too much detail, Jamie is insecure, manipulative, and a loser. In other words: the worst.
9. Denise (Also Basically the Worst)

Denise was also in the running for the worst, but her evil antics seem to stem from somewhere, so she landed at number nine. Denise remains mysterious, but they do not shy away from showing how awful she is during her few moments of fame. She's widowed, which gives her an excuse for being closed off. But, she's still a mom, and it's actually sad to watch how she treats Marianne. I get the wannabe Devil Wears Prada vibes from her, but without the valid excuse to do so. By the end of this show, you essentially want her to get hit by a bus, so, I'll leave it at that.
8. Alan (Again, Also the Worst)

Alan. If you're like, "who tf is Alan", he's Marianne's brother. I clarify this only because I didn't remember his name either, but loathed him as a human. Alan is the conceited red head that everyone hates. He's also born rich, but is dumb, so he doesn't have the perks of coasting through school like his peers. Every time he pops on screen, I cringe, because I know he's here to make us miserable and he succeeds at doing so 10/10 times.
7. Rob, Eric, and Rachel (Different, But The Same)

I'm grouping this trio as one ranking, because they are three versions of the same human. Boring, angry, popular kid who bullies you because they have a crush on you type. They're the kids who peak in high school, and then go on to be the weird, single, 38-year-olds sliding in your DMs with some pyramid scheme BS. Obviously, the plot twist with Rob is quite jarring (no spoilers here), but it still doesn't take away from his slimy personality. It just makes him slimy with some deeper issues than we realized.
6. Helen (Blah)
Helen is kind of boring, but kind of important. I honestly feel bad for her, being the rebound is never fun. She handles it with poise, at first, and I can't decide if it's because she is clueless, or because she wants to be the cool girlfriend. Either way, Connell is always like "I LOVE HELEN" while jerking off to Marianne, so thats where she stands. All I've got to say is, Helen never had a chance.
5. Marianne (Damaged Goods)

It was hard for me to find a place for Marianne. On one hand she is a broken soul, but on the other hand, she's kind of annoying. Like, why must you make so many average situations so miserable? That said, we see a lot of growth in Marianne throughout the show. In episode one, she's a virgin, and by episode 12 we've seen her naked banging multiple guys about 25 times. Most of us call that one semester of college. Hats off to Daisy Edgar-Jones, though. She was very convincing, and very brave. If someone asked me to go on TV at age 22 and show my ~everything~ it would be a hard pass.
4. Peggy (Also Blah)
Peggy felt so irrelevant to me, until I realized she was essentially in every episode. I am not ranking Peggy number four because she's fun. I'm not even ranking Peggy number four because I like her. But, she is simply not as evil as all of her predecessors. She doesn't start drama, she's a ride-or-die friend, and she's a hoe but makes it normal. She's the type of friend that you only bring to a party if you're okay with her sleeping with more than one of your friends (at the same time). But, she keeps it real, and most of the characters in this show lack that quality. So, cheers to Peggy.
3. Connell (My New Crush)

CONNELL. I have so much to say about this boy (man?) For starters, I've never questioned myself more when watching a show. Connell is not traditionally hot, yet so sexy. But, he's portrayed as a high schooler for two episodes, so am I going to jail for thinking that? I googled and he's 24 IRL, which is still too young, but less repulsive. There are so many layers to Connell, and I'm pretty sure every viewer wants to peel them back. He's the token good guy who is peer pressured into being a dick because his friends think it's cool. I feel like he never REALLY grows out of that, but by the end we're all so blinded by love that it doesn't really matter.
2. Karen (DUNF)
Karen is an underlying hero throughout this show, despite the fact that she doesn't make a ton of appearances. Karen is the the designated ugly nice friend, and we love Karen. I feel like her character was handed to us simply so that we are not emotionally distraught every time Marianne gets bullied, and it works. I think the irony of this is that her name is Karen. We all know that Karens typically ask for the manager to complain, but this Karen asks for the manager to compliment an employee's hard work. Love that for her.
1. Lorraine (Queen!)

Lorraine is a sweet angel on earth, and a saving grace to this show. I mean, obviously I enjoy the evil characters, but we needed Lorraine to balance things out. She is the light, and the rest of Ireland is the dark in this case. Lorraine looks like she is 30, but her son is 20, so that is unique. She is just all around a nice gal, and proves that you don't need to be rich to be happy (don't tell the Kardashians that). By the end, you want Connell and Marianne to work out, simply so Marianne can call Lorraine mom. Lorraine FTW!
If you haven't watched this show, please do. This is not an ad, but as someone who has watched more hours of TV during quarantine than in my entire life combined, this show has stuck out to me more than most. Be prepared for an emotional roller coaster, and to lust after Connell. Let me know if you agree with my rankings, and slide into my DMs if you want to argue. There will be no bashing of Lorraine, and no complimenting of Alan, but everything else is fair game.
Images: Courtesy of Hulu
The Best TV Shows & Movies Coming To Netflix In November 2018
Well, we basically made it to November. It's a lovely month for curling up with your cuffed bae and never leaving your couch. Or, if you're like me, curling up with yourself and hiding out from your family during Thanksgiving dinner. So what better to do with your time cuddled up from the family cold than watch everything on the internet. Here are the best TV shows and movies coming to Netflix this November.
Nov 1: 'Sex and the City: The Movie'
Carrie Bradshaw is one of the most iconic figures in the history of delusional dating, so this movie is an absolute must-watch (if you haven't already memorized the entire script). Our gal Carrie is getting married to Mr. Big, but he's a f*ckboy and goes AWOL on their wedding day *pretends to be shocked*. In an attempt to get Carrie out of her depression, the girls all take Carrie's would-have-been honeymoon to Mexico. Charlotte sh*ts her pants, Miranda has make-up sex, and Samantha is drunk so this movie is basically art.

Nov 1: 'Good Will Hunting'
Matt Damon is vulnerable, smart, and sexy (that's more than I can say about any men in my life) in Good Will Hunting. Originally released in 1997, Damon's character, Will Hunting, is a bad boy-turned-math-prodigy in need of big-time therapy in order to keep him out of jail. After bulldozing through a bunch of bad therapists, he meets Dr. Sean Maguire, played by Robin Williams (tears). The two obvs bond and hit it off. I won't spoil anything, but this movie changed my best friend's life, so if that's not a recommendation worth taking, IDK what is. Bring a box of tissues and get ready to ugly cry.
Nov 1: 'Sixteen Candles'
There's no coming-of-age story better than this. If this wasn't the movie that turned you into a woman, you're probably too young to be reading this site. Anyway, the plot goes as follows. It's Sam Baker's 16th birthday and legit everyone forgot. Her sister is getting married the next day, so like, that's important, but c'mon she's 16! Things are no better at school, and a sex quiz gets mixed up into the hands of Sam's crush à la To All The Boys I've Loved Before. The movie ends with the most iconic scene in cinematic history—Sam's first kiss over her 16th birthday cake. But who is it with? Watch and find out.

Nov 1: 'Bring It On: In It To Win It'
The third installment in the Bring It On collection is one of the many nostalgic movies coming to Netflix this November. Still not as good as the first, this movie follows Brooke and Carson, rival cheer captains, as they battle it out at Cheer Camp. Also, the Spirit Stick is BACK, BETCHES. Carson's a dumbass and gets lured by a hot male cheerleader, Penn, to ride a rollercoaster and make out, inevitably leaving the Spirit Stick unattended. It gets stolen and the two squads blame each other and get into a Westside Story style cheer fight. They get busted by the cops and have to combine squads, naming themselves The East-West Side Shets, which is the biggest crime of this whole movie.
Nov 16: 'The Princess Switch'
Think Monte Carlo meets Princess Protection Program meets High School Musical—but like, if all of those were somehow a Christmas movie too. Vanessa Hudgens stars as her own twin, in a very Lindsay Lohan move. One Vanessa is a princess who's sick of her crown, and the other is a baker from Chicago. The two are pissed with their current lives so with the help of ~Santa~ they switch places. This movie basically sounds like a holiday-themed version of all of Netflix's rom-coms (sans Noah Centineo). So that obviously means I'm going to watch it the second it comes out.
Nov 2: 'House of Cards' Season 6
This should be interesting. House of Cards is back for its sixth and final season. The series almost collapsed because Kevin Spacey is basically the worst human ever, but luckily, Robin Wright is here to save the day (and the show) by taking on her role as the first female President of The United States. She's low-key super into murder, though (relatable), and is absolutely ruthless, so it should be interesting to see how she decides to dispose of her husband, because you know she will. Also, can someone tell me WTF Doug is going to do?

Nov 4: 'Patriot Act with Hasan Minhaj'
Hasan Minhaj is the first ever Indian-American host of a weekly comedy show, and he's awesome. His politically slanted show covers both evergreen and topical news, ranging from historical events in American politics to current issues, like Jamal Khashoggi's murder. Minhaj also makes sure to bring stories that you won't usually get to hear to light, such as the ongoing crisis in Yemen or the current ruling Saudi family. His dark humor and quick wit are sure to keep you entertained and informed (and it doesn't hurt that he looks like a Ken doll). The show airs every Sunday, so it's the perfect cure for your Sunday scaries.
Nov 9: 'Super Drags'
This is the show you've all been waiting for: drag superheroes. Three gay co-workers are department store employees by day, and crime-fighting Queens by night. Of course, the cast is stacked with the voices of ah-mazing Queens Trixie Mattel, Ginger Minj, Shangela, and William Belli. This show, originally from Brazil, is supposed to have a comic-book feel to it with a raunchy edge. It may be animated, but it's certainly not for your Saturday morning cartoon (is that still a thing or do kids just, like, Snapchat now?). How could you not want to watch a show where they say stuff like "twerk away the shade"?   

Nov 9: 'Westside'
Just when you thought reality TV couldn't get any better, here comes your next obsession. Westside follows the lives of nine musicians trying to make it in Hollywood. What's unique about the show is that it's not poorly lit and filmed with an iPhone. Netflix legit put effort into making this show both entertaining and aesthetically pleasing to watch. But don't worry, you'll still get your offside commentary and classic sh*t talking. It also features fully produced music videos (done by the cast) and original songs. I'm feeling like this is going to be a beautiful cross between Real Housewives of Beverly Hills and Glee. Stay tuned.     
Nov 16: 'Narcos: Mexico'
Obviously, you're addicted to true crime (and have probably binged our entire new podcast series) so Narcos's latest installment will have you questioning everything you thought you knew about drugs *takes bong hit*. This companion series takes you inside the history of the illegal drug trade in Mexico (so it's like, educational). It follows the Guadalajara Cartel during the 1980s and its leaders. Thrown into the mix is Kiki Camarena, a DEA agent who makes his family move from California to Guadalajara. And you were mad about your dad moving the family from New York to Ohio. Kiki gets way too caught up in the Cartel's sh*t, so bad things happen (shocker). It's based on a true story, so don't Google and spoil it.

Images: Marvin Meyer/Unsplash; Giphy (5)
Is Penn Badgley's New Show Problematic?
I started watching Lifetime's YOU for the same reason I assume everyone did. As a self-loathing 24 year-old with an English degree an ex-Gossip Girl addict, I missed watching Penn Badgley condescend to women about literature on my TV. And YOU does serve up plenty of that—but it also serves up a narrative that walks through very dangerous territory. As the show follows the story of one guy's growing obsession with a girl, it has the potential to fall on the side of harmless, bingeworthy pop-horror—or on the side of sexist, hurtful garbage. Here's why I'm a little worried it'll be the latter.
For those who don't know, Lifetime's YOU is about a crazed stalker/bookstore owner named Joe (Badgley) who becomes obsessed with an MFA student/generally insufferable "poet" named Beck. (Guinevere Beck in full, just to give you a sense of the writing we're working with here). The show is (mostly) narrated from Joe's point of view, a device that's apparently carried over from the source material. We hear as Joe decides to indulge his obsession: following her, breaking into her apartment, stealing her phone. We hear the judgments he makes as he examines her life: her friends are shallow and stupid; her choices in men are hopelessly misguided; and above all, she needs to be rescued from her own worst impulses. Rescued, of course, by Joe.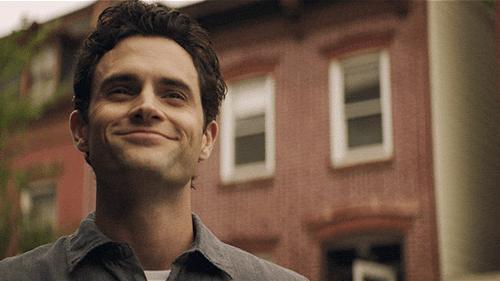 The decision to have us hear Joe's thoughts is useful, to an extent. We hear the jumps in his logic early on ("I should Google her" becomes "I should masturbate outside her window" very swiftly), establishing firmly that he is disturbed and we should treat him as such. But hearing his thoughts also creates an instinctive desire to understand him, as you experience the story through his eyes. And given that the show's view of Beck does very little to contradict his impressions—her friends are portrayed as rich, unsupportive airheads, and her pseudo-boyfriend is a celiac entrepreneur with a trust fund. To an extent, YOU tells us that Joe is right, and Beck does need to be saved from these monsters.
Of course, you could argue that the story is simply uninteresting if Beck is an unflawed character. But in the first four episodes (SPOILERS), we see Joe save Beck's life, help her work through deep-seated issues with her father, and re-invigorate her confidence as a writer. Yes, we also see him murder a man in a bookstore basement, but YOU does everything short of casting Donald Trump to ensure that we want that man dead anyway. For every act or thought that could only belong to a complete maniac, Joe is somehow given an equal and opposite opportunity to prove himself as Best Boyfriend Ever. And between that dangerous balancing act and the flashbacks to (what I assume is) Joe's abusive father, I'm getting a little concerned about the picture YOU is painting.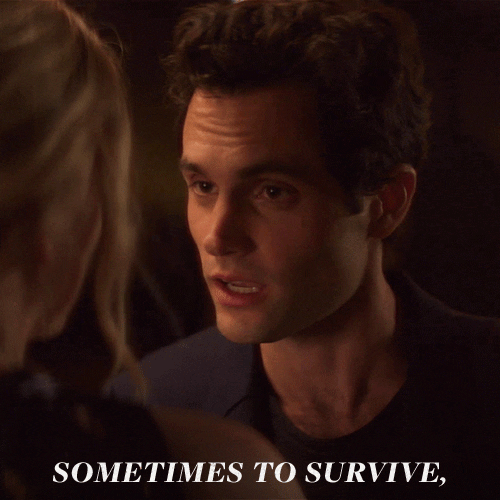 Ultimately, the question of how much we want Joe's character humanized is key. The more we watch Joe have a positive impact on Beck's life, or hear Joe's opinions and agree with them, or are shown flashbacks intended to make us feel sympathy for Joe, the more we're distanced from his active decision to prey on a strange woman. Every time Beck's friends are mocked or demonized for questioning her choice in Joe (ostensibly, because he makes no money), it complicates the narrative of "man terrorizes woman." In an odd way, the story instead becomes "Joe is so great for Beck—if only he weren't also a terrorizing psycho!" It suggests, in turn, that Beck would be better off if someone like Joe came into her life. Just a version without childhood trauma that causes him to stalk and kill people.
But I never sought out this show in hopes of watching a woman get saved by a man. I came hoping to watch a terrible man behave terribly, and eventually be punished for it. I came for the kind of justice that's rare as ever in our current world, where a bad man is outed and punished appropriately. Instead, I'm getting the same of what we see in the news, or what's been written in every book with a male author since the dawn of time. A man did a bad thing—but it's complicated, and he had a bad childhood, and we shouldn't be so quick to judge, and hey, she's not perfect either!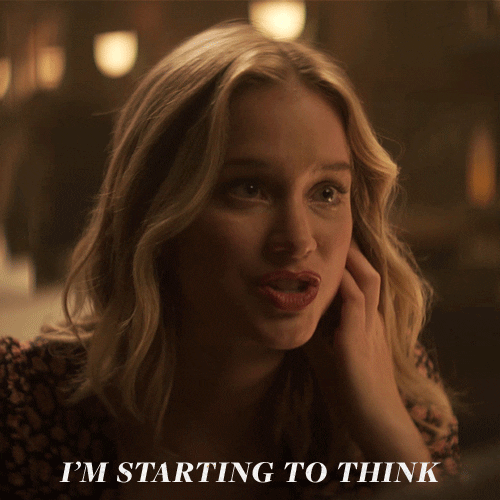 Like I said, I understand the need to have "complicated" characters on both sides for the overall non-awfulness of the story. But when you're showing Beck swiping indiscriminately on Tinder and Joe driving around a corpse in his trunk in the same episode—and implying that judgment is equally deserved for both—I'm going to lose a little patience. Explore Beck's character all you want, but portray Joe the stalker as the monster he is, and not as a morally comparable puzzle we should all be eager to solve.
Images: Lifetime; Giphy (3)
Archie From 'Riverdale', KJ Apa, Was Involved In Late-Night Car Crash
It's been a rough fucking couple of days for me personally Riverdale fans, because it's just been reported that Riverdale star KJ Apa was in a late-night car crash last week. KJ plays Archie Andrews, aka the only ginger you'd gladly be a side piece for. The Hollywood Reporter broke the story that KJ was driving himself home—a 45 minute commute—after a 16+ hour work day when he fell asleep at the wheel. Typical fucking Archie.
Here's what we know: Initial reports claimed the crash happened sometime after midnight and KJ was taken to a local hospital for observation before being discharged without any serious injuries. And like, THANK GOD for that. Can you imagine if his face had been damaged? Or those abs?? I'm not saying this kid doesn't have talent, because he absolutely does, but let's just say acting and singing ain't one of them.
Though Archie KJ came out of the accident unscathed, his car is apparently all sorts of fucked up. The passenger side was completely destroyed after hitting a light pole. What's more is that supposedly KJ's BFF and costar Cole Sprouse (Jughead Jones) had "planned to be in the car as well that night but changed plans at the last minute."
Hold up, WHAT. JUGHEAD COULD HAVE BEEN IN THE CAR??

This shit just got way too real for me. I may need a moment to collect myself, my thoughts, and try to come to terms with a world that might have been robbed of this perfect face:

K, moment's over. The accident has caused literal rioting on the set of Riverdale, because they, like me, realize that is was only Archie's car that got hurt this time. But what if next time it was Cheryl? Or Veronica? OR JUGHEAD? Nah, they can't take that chance, they've got to start standing up for their rights and shit. Respect.
Apparently, the show routinely runs shoots that last until the early morning hours, and the cast and crew are not provided transportation to and from the set, which, like, wtf? What kind of shoddy establishment is The CW running over in Canada, that they can't even get the stars of their own damn show an Uber? You have enough production value to pull off turning an entire cast into redheads but you can't get your actors a safe ride home?
After the story broke yesterday The CW released this statement last night regarding the accident, and it is FULL of shade:
"The safety of the cast and crew on all of our productions is of paramount importance to the Studio. Productions adhere to the Screen Actors Guild–mandated turnaround time of 12 hours from wrap time to next day call time for cast members. In accordance with industry standard policy, if any cast or crew member feels tired or unsafe at any time after working, the Studio will provide a taxi, a driver or a hotel room upon request. This is communicated to all cast and crew, both in writing and verbally, at the beginning of production and is reiterated continuously throughout the duration of production."
Wooowww. I have not seen that much passive-aggression since this morning, when my boss emailed me to "remind me" about our department meeting. But there's more! The CW released a second statement, which is somehow even pettier:
"First and foremost, we are extremely grateful that KJ Apa was uninjured during his recent accident."
Lol you know when a formal statement basically begins with "first of all, bitch…", this shit is about to get juicy AF.

"Secondarily, we want to specifically address the characterization that conditions on the set of Riverdale are of concern. We have a large cast of series regulars, and our actors do not work every day. On the day of the accident, KJ worked 14.2 hours. The previous day he worked 2.5 hours, and the day before that he worked 7.7 hours. KJ has repeatedly been informed about making production aware if he is tired or feels unsafe, and if so, either a ride or hotel room will be provided for him. The accident occurred last Thursday. Additionally, it is untrue that KJ was taken to the hospital. He was treated by first responders on the scene and released by them. We also sent a doctor to his home later that same day for a follow-up to confirm his well-being."
Damn, they just dragged the shit out of KJ Apa. Like, way to kick someone when they're down the star of a highly publicized television show.
Honestly though, CW, you need to get your shit together and take care of those 20 year olds who are living better lives than me your actors, otherwise:

…and it will be in the form of a very nasty tweet from me. My wrath knows no bounds.
All I can say is, I'm v glad my favorite hot ginger is okay. Also, I think I can speak for all of us when I say, thank god it was only Archie in the car. I legit cannot even consider the prospect of one hair on Cole Sprouse's perfect head being injured. Feel better, KJ!
Our Prayers Have Been Answered: 'Big Little Lies' Season 2 May Happen After All
Caution: spoilers ahead.
The season finale of Big Little Lies left us all with endless questions. What's going to happen to Celeste and her kids? Will Madeline leave Ed? Is someone going to jail? Is it possible for a man to look like Alexander Skarsgard and not be absolute garbage? Most importantly, will there be a season two?
Because the show was adapted from a book, we thought we knew the answer to that last question: no. The novel ends with Perry's death and some other bits of character development like Bonnie's backstory, but that seems to be about it. Devastating right? Like almost as tragic as naming your daughter Amabella.

But wait! It turns out that people were so obsessed with watching the sordid and tortured lives of these rich white women (who would have guessed?) that the HBO producers and original writer, Liane Moriarty, are considering continuing the story beyond the ending of the book. There's plenty of material to work with there, but just in case Moriarty is out of ideas we've brainstormed a few new plot lines to explore.

Will Celeste ever get closure? Considering the fact that her horrifically abusive/criminally attractive husband just got murdered by a 90 lb. yogi, it seems like that therapist would play a much bigger role in season two. Is her son doomed to the same violent fate as his father?
Wow about the fact that we went a whole season and never addressed that Ed spent most of his free time eye-fucking his teenage step daughter. I'd love some development there, HBO.
Will Chloe achieve her dreams of owning a record label before she graduates first grade? I'd put money on it.

Probably most pressing: at what point will every husband in this show just stop being the fucking worst? How many of them have to die at Montessori school events before they get the hint that they are on thin ice? In fact, can a plague just hit Monterrey that kills every single man except Ziggy? Imagine how exciting the next charity gala would be if we didn't have to pretend to enjoy a bunch of shitty Elvis costumes.

Once the show starts racking in Emmy's and Golden Globes, a season two seems inevitable. At least we'll get to watch Alexander Skarsgard on award show red carpets before he hides away in Sweden, waiting for the next casting call for a Nordic God who mistreats women.
'American Horror Story' Was Renewed For 2 More Seasons
If your idea of a good time is watching Lady Gaga play herself with a bad accent and/or listening to people murder each other creatively while you cover your eyes, you're in luck. American Horror Story was renewed for two more seasons, which is surprising to exactly no one because as fucked up as AHS always winds up being, it's also the shit. Plus, the ratings are through the roof every season so it's not like it was in danger of getting cancelled.

ICYMI, everyone lost their shit last year when the show's creator, Ryan Murphy, dangled the possibility of a Murder House/Coven crossover season. Well, it turns out he's a fucking tease (and actors' schedules are apparently hard to work around). There aren't any plans for the crossover to happen in 2017, so we still have to wait to watch Jessica Lange and Connie Britton try to out-weird each other on the same screen again.

On the other hand, we're still getting two new seasons of bizarre shit. Also, more shirtless Evan Peters. I guess we can deal.