Khloé, If You're Reading This, He's Not Worth It
I've been losing track of time a lot lately, mostly due to the fact that the last year has felt like an extended sabbatical from regular life. But when I saw that Tristan Thompson was in the news for allegedly cheating on Khloé Kardashian, I really needed to take a good, hard look at a calendar. Had I taken one too many melatonin tablets and woken up in 2019? Or 2018? Nope, it's May 2021, and we are once again discussing Tristan's questionable choices.
Unlike Tristan's past cheating scandals, where he's been caught red-handed with another woman, the current situation has been sort of a slow, messy burn. The woman at the center of it all is Sydney Chase, a 23-year-old who is—prepare to be shocked—an Instagram model. In a recent interview on the No Jumper podcast, and again on her TikTok account, Chase claimed that she had an intimate relationship with Tristan after meeting him in November of 2020. According to Chase, Tristan told her he was single, and they "hung out multiple times," including going out in public together. Chase claims that when she found out he was actually in a relationship with Khloé, she "cut it off" with him. On the podcast, she was also asked about Tristan's ~equipment~, and she responded "he has a peek-a-boo dick, but baby, it was good." Aaaaand we're officially in TMI territory.
If any of that is true, it's not good, but the actual cheating is really just the tip of the iceberg, somehow. Last month, in an Instagram live video with her friends, Sydney Chase shared several additional things that Tristan said to her during their relationship, and it's all bleak. On the live, she said that Tristan asked her to send nudes, reading a message that said, "Yes baby I like that. I want to see what they look like. I'm curious." Curious is a polite word for horny, I guess.
Chase also shared that Tristan told her she looked like Jordan Craig, the mother of his first child, and that Khloé is "not his type." According to Chase, after she learned about his relationship and broke things off with him, he called her and said, "you're what I like," which is a major yikes. If Khloé is, in fact, not Tristan's "type," why is her putting her through all of this mess? Why did he date her in the first place? Think of how much nonsense we could have avoided over the years if Tristan politely ended things with Khloé after like, three dates. Instead, it seems like Khloé is on a permanent emotional rollercoaster over a man who has never given her the level of respect that anyone deserves in a relationship.
Getting back to Sydney Chase for a minute, she's been adamant that none of this is really her problem. On her Instagram live, she said, "I ain't sign nothing, you did what you did, that's on you." She has a point—if Tristan insists on doing this type of sh*t, he should really either make people sign NDAs, or maybe just choose women who aren't actively trying to get famous online? Chase also added, "Tristan banged me, I did not bang him." I'm not really sure that's like, a scientific distinction, but I guess I get the vibe of what she means. If she really believed that he was single, and he was the one actively pursuing her, you really can't blame her for being down.
In the two weeks since Sydney Chase initially spoke about Tristan in the podcast interview, things have obviously escalated. Chase stated in her TikTok video that Tristan contacted her when he heard about the podcast, in the hopes that he could kill the story before it gained publicity. Obviously, that didn't happen, and Khloé reportedly found out about Chase's story along with the rest of the tabloid-reading public. Since then, Khloé has done her classic routine of posting subtweet-y quotes on her Instagram story, but she also went straight to the source of the rumors.
Over the weekend, Sydney Chase posted a screenshot showing DMs she received from Khloé Kardashian. She covered the contents of the main message, but made sure not to blur out the message where Khloé asked her to keep their conversation private. Oops! Apparently Khloé forgot that she was dealing with someone who makes a living off of whatever clout she can get, so tbh she's lucky that Sydney even covered part of the DMs.
Sure, Sydney has been messy by putting all of this information out in the open, but when it comes down to it, she's just living her life. Realistically, any hot woman that comes into contact with Tristan Thompson could find themselves in this position, so good for her scoring some Instagram followers, and likely #spon opportunities out of this.
View this post on Instagram
But when it comes to Khloé, this f*cking sucks. We all remember the fallout surrounding the Jordyn Woods controversy, and when Khloé finally decided to give Tristan another chance, it felt like things might actually be different. On this season of KUWTK, they've had mature conversations about having another child together, and it seemed like they had turned a corner, not just in their romantic relationship together, but as mature adults who wanted to build a life and family together. But that foundation doesn't seem so stable when any 23-year-old with lip fillers and a big ass can cause Tristan to forget everything he's supposed to be doing. Once and for all, it's time for Khloé to choose herself, and leave Tristan behind.
Images: Jerritt Clark/Getty Images for Klutch Sports Group; sydneychasexo / TikTok; theshaderoom / Instagram
6 Celebrity Couples We're Shocked Made It Through The Year
Every year, people say "this is the year of devastating celebrity breakups!" Look, we're all really sad that Jenna Dewan and Channing Tatum didn't work out, but 2018 was surprisingly a year of toxic couples staying together (???). Pete and Ariana obviously didn't make it, but things have been weirdly stable other than that. For what it's worth, when these couples actually break up, the fallout and drama will probably be incredible to watch. But for now, here are some of the most shocking celebrity couples that made it through 2018 (relatively) unscathed.
1. Tristan Thompson And Khloé Kardashian
Okay, this is an obvious one, because Tristan cheated on Khloé while she was pregnant. I'm sure that her family is trying to save face right now by pretending to get along with him, but it was obvious in recent KUWTK episodes that they despise him. I get that he's 6'10", makes really cute babies, is 6'10", is extremely good looking, and is 6'10" (I'm terrified), but let's not forget that Tristan cheated on Khloé while she was LITERALLY carrying his child.
He's also been caught since the cheating scandal getting way too flirty with other chicks in public. I get that Khloé wants to try and work things out for the sake of True, but how can Tristan even look that adorable, mushy little baby in the eyes when her name is a reminder that honesty and loyalty clearly isn't his forte? Also, never forget that Khloé and Tristan did that cringeworthy maternity photo shoot. Obviously, I blame him instead of her for that fiasco, because did I mention that Tristan cheated on Khloé when she was pregnant?
2. Scott Disick And Sofia Richie
When Kourtney and Younes broke up, Sofia was in need of, like, a Pez dispenser full of Xanax. I love Sofia, but even after all this time, I can't shake the feeling that Scott is only dating her to piss Kourtney off. Here's what I'm thinking: Justin Bieber was Kourtney's rebound after dumping Scott, and Sofia is Justin's ex. What stings even more is that Sofia is Nicole Richie's little sister, and Nicole and Kourtney basically grew up together. It was also recently discussed on KUWTK that Scott and Kourtney both want another baby. Someone even suggested that they just have another one together. Stranger things have happened.
Let's not forget that Scott refuses to throw Sofia a follow on Instagram, and barely features her on his feed. Meanwhile, he's in every other picture she posts and even had his face as her phone case at one point. This is not the sign of a balanced relationship. He's also literally been photographed borderline cheating on her. I honestly think at this point he's just staying with her to prove to Kourtney that he was dating Sofia out of love and not spite. Maybe Scott and Kourtney will get back together eventually, or maybe they won't, but you'll never convince me that they're not both thinking about it.
3. Justin Bieber And Hailey Baldwin
Did anyone see these two actually making it to the altar? No. Did everyone see them making it to a New York courthouse? Yes, but only in the sense of Justin getting into some legal drama and Hailey serving as a witness. None of us expected them to go their for their marriage license, because we all thought this engagement was a complete joke. Sources close to them justified the engagement by saying she had made him happy for the last three weeks of dating, so they decided to get engaged. They also said he was planning on proposing to her for weeks. How can you be with someone for three weeks and plan on proposing to them for weeks? The math just doesn't make sense!
Fans try to justify it by saying "they got back together" but um, not really. In the past, they were casually dating and hooking up from time to time, but nothing official. Selena was the one who Justin wrote all those songs about and kept pursuing. He even convinced her to break up with The Weeknd. Yet Hailey's The One? A part of me will always believe that Justin and Selena belong together. Sorry Hailey, but Justin can only keep up these thirsty Instagram comments for so long.
4. Emily Ratajkowski And Sebastian Bear-McClard
How is this marriage still a thing? He was her rebound after a three-year relationship. They knew each other for, like, five seconds before getting engaged. Sebastian even proposed with a ring that he made out of a paper clip. They also made it on our trashiest weddings list because they deprived us all of seeing Emily go all-out-influencer for her wedding. Also, it would've been dope to see Emily play the field for a while. In terms of her charisma and disposition, she seems like she has major Rihanna vibes. She's a bad b*tch, and it's a shame we didn't get to see her single phase.
5. Jax Taylor And Brittany Cartwright
All right, allow me to paint you a picture of an actual adult male: he has had numerous affairs with women besides his significant other, an affair with a porn star, adamantly lied about said affair with this porn star at the expense of others, has a sh*tty fake tan, and is a reality star. I'm talking about Jax Taylor. This guy is clearly never going to be monogamous. Whenever I tell someone that I write about Vanderpump Rules, eight times out of ten they will tell me that they know someone that's hooked up with Jax. That's not a great track record, I gotta say. Brittany seems sweet, and I just don't want her to get hurt by Jax more than she already has. Whatever, it's her life, but he's a 39-year-old man, and it seems unlikely that he's going to change his ways at this point.
6. Mod Sun And Bella Thorne
In a lot of ways, Mod Sun and Bella Thorne are perfect for each other. They're obnoxious, questionably talented, and a lot of people find them nauseating. But they're like the Chad Kroeger and Avril Lavigne of America. They're totally a perfect match because they're the only people on the planet who could tolerate each other. Bella Thorne is what would've happened had I never stopped my "double vodka Red Bulls and whipped cream flavored vodka, make out with five guys in one night, scream-sing all the words to "Caribou Lou" by Tech N9ne" phase. But unlike me, Bella still has time to grow out of her questionable phase considering she's barely legal.
Mod Sun, on the other hand, is 31. He's a full adult. His tattoo situation makes him look like the doodles of a 7th-grader, if that kid also spent his time shoplifting from Hot Topic and doing whippits. And did I mention they named their dog Tampon? Is it supposed to be ironic that the most unhygienic couple on the planet named their dog after a feminine hygiene product? Or are they just trying to be obnoxious? Who's to say? Either way, I have a lot of questions here.
But congrats to all these happy couples for making it through the dumpster fire that was 2018! Can't wait to see who will break up and who will get prematurely engaged next year.
Images: @khloekardashian / Instagram; @sofiarichie / Instagram; @commentsbycelebs / Instagram; @emrata / Instagram; @brittany / Instagram; @bellathorne / Instagram
The Most Dramatic Celebrity Scandals Of 2018
Celebrity scandals are what I live for. Okay, that is a slight exaggeration. But I love the thrill of knowing a new piece of gossip that lowers the level of perfection my fav celebrities have and makes them seem more human. 2017 was a pretty good year for celebrity scandals, but the celebrity scandals of 2018 did not disappoint. From feuds with the President to cheating scandals, 2018 was a dramatic AF year. Personally, I'm just glad it's almost over. Then again, I said that about 2017, and 2018 turned out to be a way worse year. Well, whatever. I guess I have no way of knowing. Anyway, in no particular order, here were the biggest celebrity scandals of 2018.
1. Stormy Daniels Vs. Donald Trump
The year started off with a BANG. On January 12, the Wall Street Journal disclosed that Trump's lawyer paid Stormy $130,000 of hush money a month before the 2016 elections. After this was publicized, it snowballed into a major scandal, as it always does when Trump is involved. In October, Stormy appeared on Jimmy Kimmel Live and disclosed some juicy gossip. If you want to know what the President's penis looks like, I highly recommend watching it (if you haven't already), or you can read this article where we broke it down. Or—and this is what I recommend—you could do neither and live your life in a relative state of bliss, never knowing the details of our president's penis.

2. Tristan Thompson Cheatin
In April, a day before Khloé Kardashian gave birth to their daughter True, TMZ released videos of Tristan cheating on Koko. There had been rumors in the past of Tristan cheating, but it takes a real a**hole to cheat on his girlfriend WHILE SHE IS IN LABOR. While the couple has stayed rather hush-hush about the major scandal, Kim Kardashian (thank god) couldn't keep her opinions to herself. She said, "I hate him. Sorry not sorry." You bet I'm watching this season of KUWTK to see all the drama unfold.
3. Allison Mack Sex Trafficking Scandal
WTF. Former Smallville actress Allison Mack was charged with sex trafficking, sex trafficking conspiracy, and forced labor conspiracy for her involvement with the organization NXIVM. Women were recruited to join the alleged sex cult that was branded as "a female mentorship group that addressed their weaknesses." Well, that's one way to put it. She is currently out on a $5 million bond and under house arrest in her parents' California home. And my parents wouldn't even let me come home if I got a public urination ticket.
Every family has their fair share of drama when it comes time for a wedding. But Meghan and Harry's wedding had a unique set of dramatic events. First, Meghan's half-sister, Samantha Markle, started commenting on multiple "mistakes" she believes Meghan has been making. Rightfully so, Meghan decided the only family members to be invited to her wedding would be her father and mother. But wait, there's more (obvs). After news broke that Meghan's father staged photos for the paparazzi to take of him and earned some money, he decided he would not be attending the wedding "because he was getting heart surgery that same day". I guess becoming a princess really isn't as glamorous as I thought.
5. Kylie Jenner's Secret Pregnancy 
This list wouldn't be complete without the most ULTIMATE secret celebrity pregnancy of all time. Although rumors started circulating in September 2017, Kylie's pregnancy was not *officially* revealed until the birth of her daughter, Stormi, in February through an incredible video. But that didn't stop fans from coming up with the most absurd theories for her pregnancy, including that she was Kim's surrogate or her baby daddy was actually her bodyguard. Nonetheless, this was one of the biggest celebrity scandals of the year.

6. Nicki Minaj and Cardi B… Still
The drama between Cardi B and Nicki Minaj has been brewing since early 2017, but the real tea spilled at the Harper's Bazaar ICONS party on September 7, 2018. A physical fight broke out at New York Fashion Week, where Cardi threw her heel at Nicki, but ended up with a bruise on her own face. Like, LMK how that happens. The feud is never-ending. It even led Cardi to post some nasty words about Nicki on Instagram. The timeline of their fight is too exhausting to even think about so read all the details here.

Twitter tends to be the source of many large scandals these days, and TBH, I'm not mad about it. But the glory of the internet is that even though something may be deleted, we can always find it. On May 28th, Roseanne took to Twitter to address Valerie Jarett, Barack Obama's adviser, and wrote "Muslim brotherhood & planet of the apes had a baby = vj." ABC worked fast and canceled her show revival immediately and released a statement explaining that her views do not align with theirs. She then got dropped by her talent agent and Roseanne reruns were no longer showed on Viacom channels. What did Roseanne have to say about this? She blames the tweets on the Ambien she had taken. Which literally nobody believed, and even the creators of Ambien clarified is not a real side effect.
People of all races, religions and nationalities work at Sanofi every day to improve the lives of people around the world. While all pharmaceutical treatments have side effects, racism is not a known side effect of any Sanofi medication.

— Sanofi US (@SanofiUS) May 30, 2018

When you get burned by a pharmaceutical company, take every seat.
Images: Giphy (2); @iamcardib / Instagram ; SanofiUS / Twitter
Are Khloé Kardashian And Tristan Thompson Still Together? We Investigate
For those of you who Keep Up on a regular basis, you know it's a full-time f*cking job. Not only do you have to tune in on Sundays, but also every other day of the week. You need to deep dives into their social media so you can figure out WTF is happening. It's exhausting but someone's got to be this committed to avoiding doing actual work do it. And nothing is more exhausting than trying to figure out if Khloé Kardashian and Tristan Thompson are still together.
Last spring, Tristan proved that men are unfit to live in society and should be caged at all times when he cheated on Khloé while she was NINE MONTHS PREGNANT by motorboating a bunch of randos he met at a club. As if little baby True didn't have enough issues to bring up with her future therapist, now she can add "daddy issues" to the long list. Since then Khloé has been v v quiet about WTF is going on between her and Tristan despite the fact that I am heavily invested in their relationship and need answers immediately.
KHLOÉ: *chooses to keep very personal issues of her private life private*
ME: 

Sources say the couple has been on "rocky terms" ever since the scandal broke but, like, what does that even mean? Like, how rocky is it? Is it like they're in couples therapy but Tristan still sleeps on the couch kind of rocky? Or more like he's allowed to breathe near baby True but only during supervised visits? WHAT IS THE TRUTH? And with the cheating episode airing on KUWTK this Sunday (!!!) it's important that we have answers now more than ever. I'm not trying to get hurt again, ya know? Let's take a look at the evidence, shall we?
1. Her Instagrams
Tristan has been suspiciously missing from Khloé's IG for MONTHS now. If there's a stronger indicator for a relationship falling apart than that, I don't know it what is. Since the cheating scandal, her feed has been a constant stream of baby photos and thirst traps. I guess motherhood only changes you so much. Tristan did make a quick appearance in August when Khloé posted about her weekend getaway to Mexico but, like, at the very back of the photo reel and their bodies weren't even touching. If there's one thing I know about the Kardashians it's how much they looove to flaunt their asses and significant others, so the fact that his face is buried so far back in her IG that even I have a hard time tracking it down means it's not looking great for T.  
2. The Bali Vacation
This year the Kardashians pregamed Halloween with a casual vacation to Bali. I do something similar except replace "vacation to Bali" with googling vacations I can't afford, stuffing my face with discount candy to numb the pain, then saying "f*ck it" and incorporating Target's last-season swimwear into a slutty costume so I can get some sort of use out of that purchase. Self-care is so important, isn't it ladies?
So, the Kardashians pregamed in Bali and even let the father of the year alcoholic and self-proclaimed sex addict Scott Disick come. You know who wasn't invited? Tristan Thompson. Some might say this is because Tristan is training in Cleveland. I say it's because Kris Jenner threatened to throw him overboard. Khloé also posted a super cute photo of her and True with the caption "blah blah blah Thankful for the memories baby True and I are creating" (I paraphrase). Does that now low-key feel like a dig at Tristan? She might as well have said "thankful for making memories with baby True AND NO ONE ELSE." Khloé, I'm picking up what you're putting down.
3. The Cleveland Move
Perhaps the most damning piece of evidence: Khloé has yet to move back to Cleveland. Apparently Khloé was supposed to join her baby daddy last month when he moved back to Cleveland for basketball season, but instead is living her best Calabasas life. According to sources she's not making any moves rn and is "just going to sit back and assess the situation very closely" aka she's making damn sure there's no more late night motorboating going on before she moves her entire life to middle America.
That said, she did attend one of his games earlier this week. Some people are saying this is proof that their relationship is back on track, but I have trust issues am not buying it. This feels less like a loving partner's show of support and more like Khloé flew two thousand miles to make sure her man wasn't eye-f*cking any cheerleaders. Just saying.
4. Halloween
Finally, my investigation brings us to yesterday. Halloween. While her sisters were testing Instagram's nudity policy one lingerie photoshoot at a time, Khloé was posting a sh*t ton of photos of baby True looking adorable AF. Once again, Tristan was suspiciously missing from every photo. But while he was absent from her feed, she showed up on his IG story with this painful looking photo:
Is it just me or does Khloé look f*cking miserable? Or at least like she's exhausted from putting up with all his bullsh*t? GIRL, YOU AND ME BOTH. (I mean actually, this looks like one of the Wayans brothers disguised as Khloé Kardashian, but barring that theory, she looks like she's screaming internally.)
So there you have it. The (not at all solid and based solely on rumors and Instagram captions) facts. THE DEFENSE RESTS. TBH I think Khloé and Tristan are still together, but only for True. Or so Khloé's rabid followers (hi) don't set fire to Tristan and everything he loves.  
Images: Giphy (1); @khloekardashian /Instagram (1); @kimkardashinan /Instagram (1)
Tristan Thompson Says Having True 'Changed' Him & I'm Not Buying It
According to Cosmo, Tristan Thompson, of Yeah-I-Cheat-On-My-Pregnant-Girlfriend fame, has finally said something regarding his new role as a father in the Kardashian circus.
While chatting with the podcast Road Trippin (which I've literally never heard of), Tristan said that the birth of True has totally changed him. Yawn.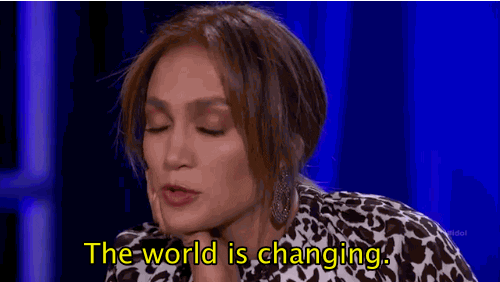 "Baby True is eating, sleeping, and shitting. That's all they do. I think with a girl, you're so much more emotionally like … With a boy, it's just like 'Hey man. You'll be alright, man. Stop crying,' But with True, it's like, 'True, it's gonna be OK. You know, we're right here. Daddy's here to feed you. It's me! Look, yeah!' It's way different, but it's fun, though … It changes you."

ALRIGHT, FIRST OF ALL—I just find it so funny how watching the woman you supposedly love go through pregnancy did nothing to change you, but now having a screaming child has. Additionally, Tristan confirmed he wants MORE children, which, wow, what a great idea considering a) you've barely proven yourself with this one and b) I guess we never discovered who you'd be having more children with. I worry that mean will leave a trail of baby mamas that he cheats on when they're nine months pregnant with his next baby mama in his wake. It won't be pretty, but in a way, the repetition of the pattern may bring comfort to some.
Anybody else also find it weird that he didn't mention Khloé even once in that snippet? "Daddy is here to feed you." Yah, well, pretty sure mommy is, too.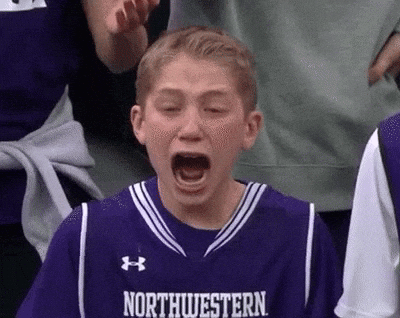 On top of this steaming pile of BS declaration of a truly changed man, Khloé has thrown her hat into all this and declared she's fallen in love with Tristan all over again. YIKES. According to an E! News report (should I put report in quotes … cause… lol), Khloe says she can't imagine being a single mom and "giving up her dream life with Tristan." REALLY? WHAT PLANET DO THESE PEOPLE LIVE ON? So I guess the dream life is popping out a kid while knowing that the father of said kid is out gallivanting with numerous women and doing all the cool shit outlined in 50 cent's classic song "In Da Club." Sounds amazing, lemme get in on that. Apparently, once she decided to take him back, Tristan has been proving himself to show how changed he is.
Let's take bets on how long this whole thing lasts—while Tristan has proven to be a triflin' ass ho, Khloé's decision-making skills seem a little off. I'm betting that by January 2020, this shit has run its course. You heard it here first.
Images: Giphy (3)
I Wish Khloé And Tristan Weren't Back Together, But It Looks Like They Are
It's been a few weeks since the news of Tristan Thompson cheating on Khloé Kardashian broke, and I've thought about it a lot. Mostly I've hoped that Khloé locked him in a dungeon and was only letting him out for basketball games, but Khloé and Tristan were spotted together over the weekend, which means everything in this world is still wrong. Khloé, honey, I know you love him or whatever, but this man is a grade-A asshole! Why are you not on the first private jet back to Calabasas?? Everything about the saga of Khloé and Tristan is depressing, but let's go over the newest developments.
Last week, there were reports from some lovely anonymous sources that Khloé is "leaning on Kourtney" to get through this tough time. KoKo responded in a cryptic/joking way, but it was the first time she had actually broken her silence. Now, she's not saying anything, but she's making it pretty clear that she's still with Tristan. On Friday, Khloé and Tristan were spotted together at a restaurant in Cleveland. In a grainy paparazzi photo that was clearly taken from 300 feet away with a fucking telescope, Khloé wears giant sunglasses while looking like she just ate an entire lemon, and Tristan just stares at his phone. WHY YOU STILL TEXTIN' BITCHES, TRISTAN?
They were at a restaurant called TownHall that has a Paleo Night every Wednesday, so at least we know Khloé is still in charge of picking where they go to eat. Is it technically a revenge body if you're still dating the man you need revenge on? I can't decide. Also, whose arm is that across the table from Tristan and Khloé?? Is it a body guard to make sure Khloé doesn't poison Tristan's food? I need answers. Unfortunately, we didn't get any more information about Khloé and Tristan from their awkward-looking dinner, but then Khloé made another appearance at the Cleveland Cavaliers game on Saturday night. I have mixed feelings about this.

So I understand that basketball is, like, really important to Tristan, and he's in the middle of the playoffs right now. It's nice of Khloé to go and support him, but also what the fuck has he done to earn her support at this time? Also, the entire cheating incident went down when he was traveling for a basketball game! Khloé should fucking hate basketball at this point! Maybe she's really just at the game to keep an eye on him and make sure he doesn't get too friendly with any of the cheerleaders. From the pictures, I can't tell how big of a purse she was carrying, but it must have been big enough to fit Tristan's balls inside.
So it seems like Khloé and Tristan are pretty committed to making it work at the moment, and I guess I can't really blame them. Khloé has wanted a baby for a long time, and it's obviously a huge life decision to break up with the father of your child. That being said, get your shit together Khloé. This man is a proven douchebag, and if there's anyone who has the resources to make it work as a single mom, it's Khloé fucking Kardashian. You know Kris Jenner is basically doing nothing and would love nothing more than to raise another child.
Images: @enews / Instagram; Giphy