Can We Leave The Engagement Jean Jackets In 2020?
There are a few things in life I know to be certain: death, taxes, and that every Sunday, without fail, my Instagram feed will be flooded with pictures of newly engaged girls in jean jackets.
But this isn't your typical jean jacket. It's a ~cool~ jean jacket: usually the classic, slightly ripped blue style, but embroidered with "Mrs. ," and embellished with a handful of fake pearls. You know, for good measure.
Some visual aid in case you're living under a rock and have no idea what I'm talking about.
It's not exactly a new trend—if anything, it's actually turning into somewhat of a rite of passage for the newly engaged. But betches truly love this almost as much as they love their Stephanie Gottlieb engagement rings.
Here's how it goes down: A friend of the bride-to-be will secure the goods ahead of the big day. You can definitely get a custom one on Etsy, but everyone knows the best ones come from word-of-mouth designer referrals. What, did you think the soon-to-be-fiancé wasn't texting 20 of his girlfriend's closest friends to make sure they were on standby for the engagement party? I mean, someone's gotta make sure she has her nails done.
Once they've had a minute to process that yes, this is actually happening, the future bride will take approximately 342 pictures highlighting the back of the jacket and the new rock on her finger. Her friends will all likely post similar variations of the exact same photo on their Stories, tag each other, rinse, and repeat. Bonus points if it's a boomerang, although truth be told, I thought we left boomerangs at Loopy Doopy in 2016. But I digress.
And look, I'm not trying to completely call out the jackets. If anything, I'm actually pretty fascinated by them—to say nothing of the fact that we've been noticing this trend since *checks notes* June 2017. It's unclear when and where the trend originated from, but what I do know is that if whoever started it got a dollar for every time a bride-to-be wore one of the jackets in question, they could pay for a wedding at The Plaza without a second thought.
Ultimately, it's your party and you can cry or wear the same jean jacket everyone else does if you want to. All I'm asking for is just, like, a *hint* more creativity and originality. I'm certainly not trying to be the voice of my generation here, but maybe, just maybe, it's time we switch it up a little bit. There's a list of things we're leaving behind in the pandemic—hello, sourdough bread—and I don't know about you, but I think the jacket should be on it.
I also hate to be the bearer of bad news, but it's only a matter of time before The Engagement Jean Jacket™ falls into the cheugy category. And while we're certainly not going to start taking fashion advice from the generation that ate Tide Pods, I think we owe it to ourselves to not look like every cookie-cutter bride on social media, don't you? Our skinny jeans and Chevron prints are typing…
Here's my proposal, no pun intended: Let's try out a bomber jacket, or a crewneck sweatshirt, or even a puffer jacket by the time it's too cold out to feel your face again. Y2K fashion is also obviously making a major comeback, so imagine getting your future last name embroidered on a Juicy Couture tracksuit instead. Pretty sure you could break the internet with that one, although whether that's for a good or bad reason is up for debate.
If you love the jacket, though, you have this random stranger on the internet's blessing to go full-speed ahead with it. It's cute and probably pretty practical, even though you'll wear it approximately one time. Just don't come crying to me when all of your engagement photos look identical to all the other girls who read this website.
Images: Hollyedwards7 / Shutterstock.com
Why Are Tiny Sunglasses Everywhere All Of A Sudden?
Is anyone actually surprised that it was America's own future presidential candidate, Kanye West, who first declared oversized sunglasses out, and tiny sunglasses in? According to an episode of KUWTK that aired earlier this year, Kim says that Kanye emailed her and told her that her signature oversize Kim K sunnies were out, and that tiny sunglasses were the new "it girl" accessory. And well,  as I sit here shopping for my own pair of Matrix-esque sunnies, I definitely can't say Kanye was wrong. In fact, it kind of makes you wonder: which came first, the chicken or the egg? Did tiny sunnies only become a trend because the Kardashians and Jenners wore them? Or were they already becoming a trend so the Kardashians and Jenners wore them? Real brain teaser, I know.
Just look to any of your fav '90s Blockbusters (ugh, Blockbuster R.I.P) and you'll quickly see exactly where and how the tiny sunglasses trend first originated. Our young adolescent selves first saw them in movies like The Matrix, Cruel Intentions and, probably the most iconic of them all, Billboard muther fuckin' Dad. Like, have the Olsens ALWAYS been this cool? Fuck Kanye, I'm starting a campaign for those two to be president and VP.

So then what sparked the current revival of miniscule sunnies, which seem to be plaguing Urban Outfitters and Barneys alike, today? This '90s trend was re-ignited by none other than Demna Gvasalia, Balenciaga's creative director, who presented a style of tiny shades during his Spring/Summer 2017 show, and then further promoted the trend during his Fall 2017 show.
Of course, it should come as no surprise then that "it girls" such as Rihanna, Bella Hadid, Selena Gomez, and Kendall Jenner all started wearing this trend last May. Yes, as in a full year ago. But, with all things fashion, this trend only recently trickled down to the masses and into your local mall, where you can now get your own pair for only $14 from Icing or wherever. I mean, at this point there's no need to go blow money on a designer version of these trendy shades—you're already too late to the trend, so investing in a nice pair would just be stupid. Like, by now the Kardashians are probs already back in their oversize shades with their oversize salads in their oversize clear bowls.
But, since I'm going to safely assume you're not a celeb since you're even reading this article (and if you are, then show me some love and hit this article with a retweet) then you might as well bandwagon onto the trend and get yourself a pair of these Insta-worthy sunnies. Pro tip: Wear them on the bridge of your nose to look effortlessly cool, and not like a try-hard, fashion inept loser. Like, don't try to actually wear them as a means of UV protection. They're a useless, yet stylish accessory.
Here are a few cheap styles of tiny sunglasses to shop, all inspired by the celebs who made them cool for you to wear in the first place.
1. Cat Eye
This cat eye version of tiny sunnies is definitely my personal fav. This style is easily the most universally flattering and least ridiculous looking. These similar-looking versions won't break the bank.

From left: Free People sneak peek sunglasses; ASOS small cat eye fashion glasses; Urban Outfitters essential slim cat eye sunglasses.
2. Rectangle
The rectangle style seems to be the go-to choice for the Kardashians and Jenners. This is the style that most resembles those iconic shades from the Matrix. Tiny rectangle shades are definitely the most edgy, and really give off a cool and mysterious vibe.

From left: Quay Australia strange love; Urban Outfitters vintage Jesse slim rectangle sunglasses; Urban Outfitters vintage clueless square sunglasses.
3. Circle/Oval
This style of tiny shades is pretty much owned by Bella Hadid. Like, if Bella isn't in the most miniature circle shades you've ever seen then you should definitely assume something is wrong. Maybe he ditched her weird ass for Selena again. I know I would.

From left: Free People '90s kid oval sunnies; Quay Australia purple honey; Urban Outfitters slim oval metal sunglasses.
Betches may receive a portion of revenue if you click a link in this article and buy a product or service. The links are independently placed and do not influence editorial content.
I Ate Like Gwyneth Paltrow For A Day And I'm Still Hungry
People give Gwyneth Paltrow a hard time for her alternative wellness methods and her super organic diet, but she's obviously doing something right. Like, this woman is literally the face of all things healthy, and she looks better in her mid-forties than I do in my early twenties. I mean, Gwyneth has admitted she'd "rather die" than let her kid eat Cup-a-Soup. Those words straight-up came out of her mouth. It seems extra, but let's not forget that kid's name is Apple. But is Gwyneth Paltrow's diet realistic for the normal person? I decided to find out firsthand.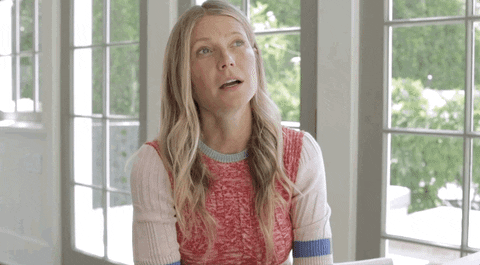 The Experiment
For this experiment, I decided to eat like Gwyneth for a day. Well, I actually considered doing a full week, but by the end one day one, I was over it and was severely craving a piece of milk chocolate. But more on that later.
I studied up on Gwyneth's wellness company, Goop, and I even bought one of Gwyneth's cookbooks, filled with some of her go-to recipes. I also read about her tragic dietary restrictions, but more on that later, too. I stocked my fridge with organic veggies and farm-raised fish, and lived a day according to Gwyneth Paltrow's diet. Here's how it went:
Breakfast
The first thing you should know is that I cheated before 9am. I'm sorry, but I just really needed a coffee. Because of her food sensitivities, Gwyneth tries to stay away from all caffeine, alcohol, dairy, gluten, corn, nightshade vegetables, soy, sugar, shellfish, white rice, and eggs. So, basically everything sold in a grocery store. I told myself I'd stick to Gwyneth's rules all day, but caffeine would be my one cheat. I feel bad about it, but it was one cup. Let's move on.

Gwyneth says she starts every day with a green juice that she makes from scratch at home. She calls it "The Best Green Juice" and it consists of kale, apple, lemon, mint, and ginger. I personally don't own a juicer, but I conveniently live down the street from Pressed Juicery, so I bought a bottled green juice with those ingredients. For $6.50 it wasn't bad, but it also wasn't good.

Aside from her green juice and some supplements, Gwyneth doesn't eat a real breakfast. This was sad for me to learn because as I mentioned in my Intermittent Fasting experiment article, I love breakfast. Gwyneth snacks occasionally, which was good news for me because I was still starving after the juice. She likes to eat raw almonds soaked in water, since apparently regular dry almonds are hard to digest. I ate my wet almonds while my tummy rumbled. It was a sad morning.
Lunch
Finally, lunch. Gwyneth likes to eat a "low-carb lunch," and it's usually a salad. I wasn't mad about this because salad is my preferred lunch anyway. In fact, Sweetgreen recently sent me a branded SG hat and a pin for spending so much money at their establishment. You're welcome, Sweetgreen.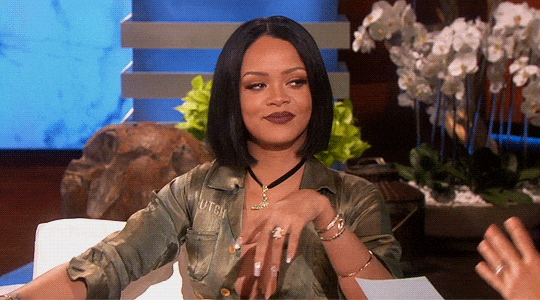 So anyway, knowing I would cook something from Gwyneth's cookbook for dinner, I decided to pick up a salad for lunch and make it as Gwyneth-esque as possible. I chose a custom salad with kale, romaine, butternut squash, quinoa, apples, carrots, and broccoli. I went with just olive oil and a lemon squeeze for the dressing, and obviously no bread, because *low-carb.*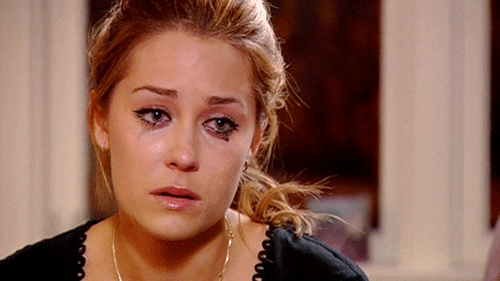 Snack
The salad was good, but I got hungry again couple hours later. I started browsing through the Goop website to see if I could find a snack Gwyneth would approve of. I was craving something sweet, so a post about sweet potatoes caught my eye. I love sweet potatoes, so if Gwyneth snacks on sweet potatoes, it was happening.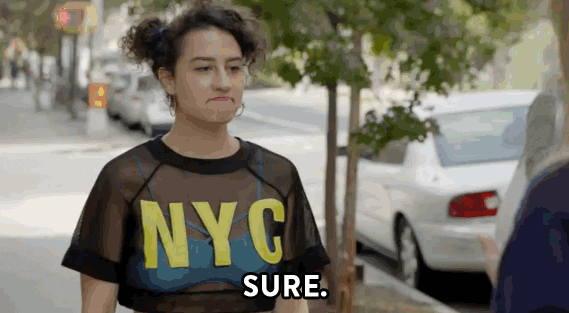 I sliced a Japanese sweet potato, which are the ones that are purple on the outside and white on the inside (game-changer, by the way), and I popped it in the oven at 400 degrees. It sat in the oven for 35 minutes, and I ate it in three minutes. I immediately regretted not making more.
Dinner
By dinnertime, I was frankly quite tired of this lifestyle. I'm usually a healthy eater, but even some of my fav daily staples like eggs and Greek yogurt weren't allowed because of Gwyneth's food sensitivities. I did some more stalking on Gwyneth's daily routine, and it turns out she doesn't actually follow this diet all the time. Although her doctor tells her what to eat and what not to eat, she lets herself have red wine and carbs when she wants. She even Instagrammed a picture recently of some cheesy pasta dish that looked bomb (but that I'm not completely convinced she actually ate). But most of the time, it's lean proteins and veggies and wet almonds.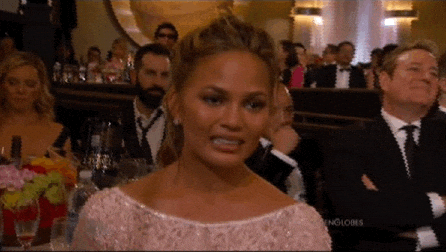 For my dinner, I decided to find a simple fish recipe in her the cookbook, It's All Easy. Turns out it's not actually A easy. I flipped through the book and looked for a recipe that involved the least amount of prep time and the least amount of ingredients. Call me an over-achiever.
I settled on the Nicoise Petrale Sole, which sounds super fancy and complicated, but it's really just a white fish prepared with capers, cherry tomatoes, olives, basil, white wine, olive oil, and some salt and pepper. I let it bake in the oven at 400 degrees for about 12 minutes, and then enjoyed my dinner. It was actually really good. Usually I'd roast some veggies on the side, but apparently Gwyneth doesn't eat "nightshade vegetables" and I didn't feel like exploring the depths of Google to find out what would be allowed and what wouldn't.
I had an apple with almond butter for dessert and started daydreaming about the Venti cold brew and bowl of oatmeal I would inhale the next morning. Sorry Gwyneth.

The Takeaway
Gwyneth is obviously killing it, and if this lifestyle is the reason for her insane bod and glowing skin, there's obviously something to it. But I think it's also important to keep in mind that Gwyneth drops a ton of time and money on fitness trainers, massage therapists, acupuncturists, estheticians, and other professionals. Although I enjoyed everything I ate (excluding the wet almonds), I was still pretty hungry after each meal, and all I wanted was an afternoon iced coffee. It's obviously not the diet for me, but some of her recipes look amazing and I'm down to try a few others. But like, only the easy ones. Don't push it.
Images: Giphy (8)
Tips For Pulling Off The Leopard Trend Without Looking Like A 'Jersey Shore' Reject
Leopard print gets a bad name. Sure, it's the unofficial uniform of drunk bitches at bachelorette parties in Myrtle Beach, but it's also an iconic print that can be pulled off by basically anyone. Whether you're preppy enough to have a boat named after you or some crazy punk chick with like, five nose piercings, there is truly a leopard print for everyone. Here are a few guidelines for pulling off leopard print without looking like a total Jersey Shore reject. Or you can just ignore these tips and hit up the clearance rack at your local Forever 21 to celebrate the return of America's favorite least favorite reality show. It's up to you.
1. Stick To Classic Silhouettes
Obviously, your leopard print dress is going to look like total trash if it's a stretchy bodycon with side cutouts. Opt for a more versatile design, like a classic shirt dress. Pieces like this are great for anyone who is adult enough to have a real job, but still hasn't mastered the art of having separate wardrobes for work and play. If you're totally in a bind and need to wear this to the office, nobody's ever going to know that you last wore it with ankle strap heels and an exposed leather bralette.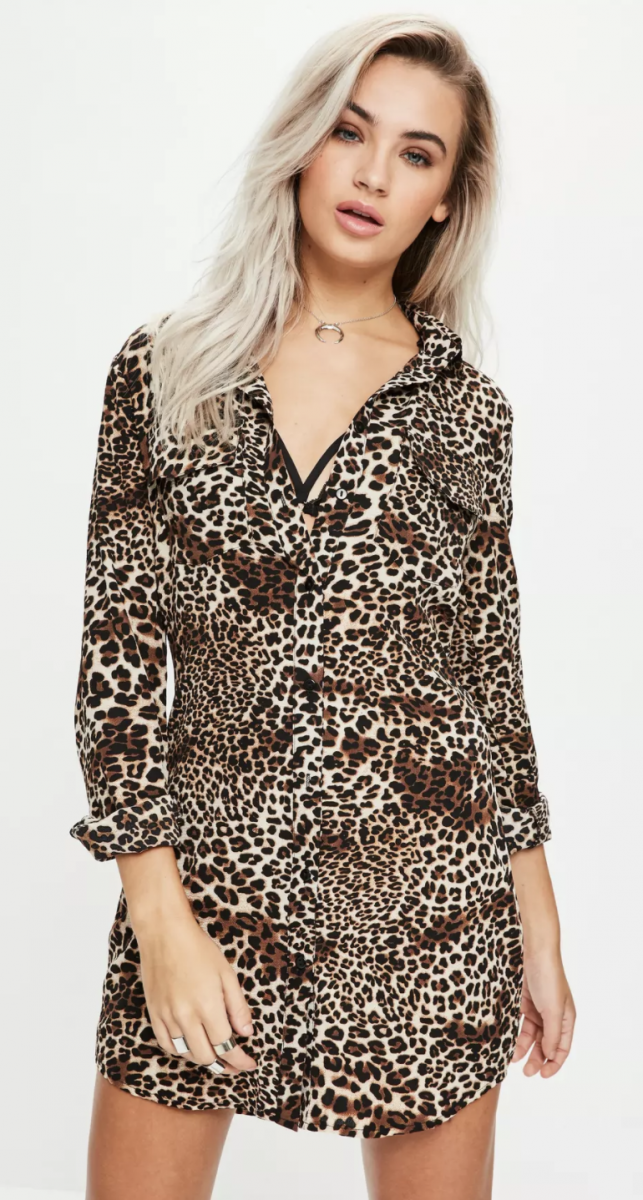 Missguided Brown Leopard Print Long Sleeve Shirt Dress
2. Keep It Casual
There's no safer bet than a comfy cotton T-shirt. So unless you're wearing a pink sequin Victoria's Secret Bombshell bra underneath and it's somehow showing through, you should be good with this one.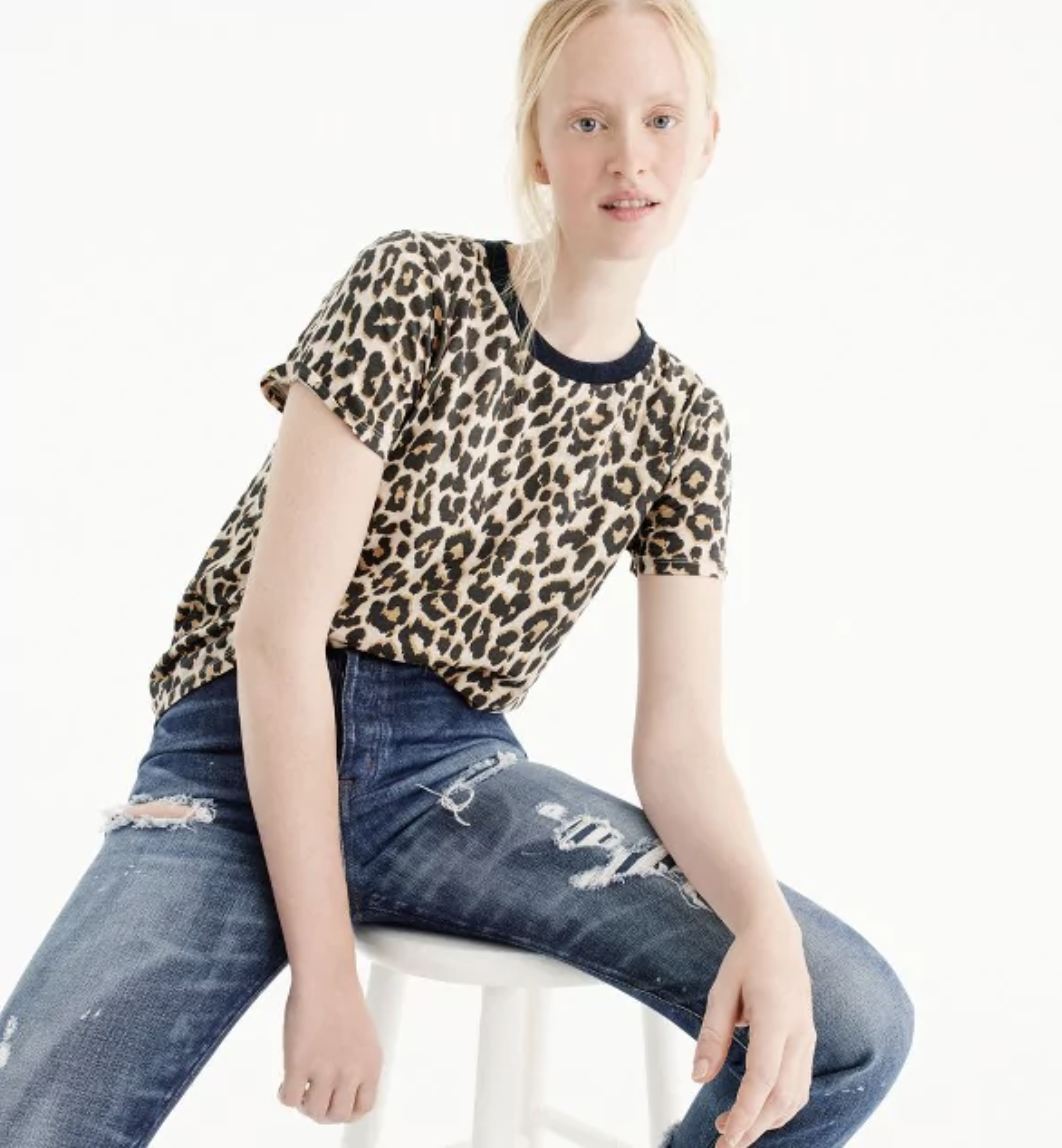 3. Choose Abstract Prints
Leopard print doesn't necessarily have to be straight out of the safari. Playing around with abstract prints and colors that don't actually appear in nature can be a great way to subtly incorporate leopard into your wardrobe. From a distance, you can barely tell these jeggings are even leopard print. (Just like, don't go all Lisa Frank on us.)

Gap Mid Rise Leopard Print Ankle Jeggings
4. Tread Carefully With Footwear
Leopard print shoes are either a perfect staple or something you should never, ever wear. There's pretty much no in-between. It's definitely in your best interest to stay away from anything that could be categorized as clubwear, like platform stilettos or thigh high boots. However, leopard print shoes are tricky, because sometimes just the material or color of the print can make them a total miss. When in doubt, just ask yourself if the shoes you're about to purchase feel like an homage to anything from the Snooki Shop. If not, you're golden.

Sam Edelman Taye Leopard-Print Calf Hair Ankle Booties
5. Try Not To Look Like A Stuffed Animal
Leopard print coats are probably always going to be a thing, so it's a good idea to invest in one. Just make sure it's not like, too fluffy, or else it's going to look you skinned the stuffed animals from your childhood.

ASOS Faux Fur Coat in Leopard Print
6 Leather Jackets You Need To Get Through Fall
It's getting to be that time of year where we all hesitate just before running out the door to hit up the bar. We have to think, "Wait, is it like, cold out? Should I bring a jacket?" which only brings about an internal debate contemplating whether it's really worth bringing a jacket the club. If you aren't drunk enough to have your alcohol blanket on, your sorry ass is going to regret not bringing a jacket when you see how long the line is to get in. New flash, people. There's a v under-appreciated solution: the leather jacket. Leather jackets amp up your outfit, allow you to skip coat check, and aren't seriously annoying to keep on all night if you're too lazy to hold it. Regardless of the color, style, or fit, any basic leather jacket is hands down, the best investment you'll ever make for your wardrobe. In case you lost yours from last year, here are this season's hottest leather jackets you'll most def wear more than your fave leggings.
If you're new to the leather jacket game, you can try something a bit smaller that's simpler and more feminine than anything that screams "biker gang." This cropped moto jacket comes just above your waist, providing a totally flattering cut of your bod without weighing you down. The embellished studs give off sexy, edgy vibes and just enough flair where people know not to look you right in the eyes. Unless they're buying you a drink, of course.

I, for one, am all about a good leather jacket, but not one that feels cheap af or akin to shitty plastic. A good leather jacket feels like high-quality leather (real or fake, you hardly know the difference, tbh) and also feels good enough to wear for long hours. This fitted jacket never fails to make you look three pounds skinnier, and it's lined with soft leather that probs feels like your comfiest hoodie.

We hardly ever stray from black unless it's really fucking cute, so trust me when I say this jacket is worth consideration. It's basically a well-known fact that Merlot is the official unofficial shade of fall, so you can never really have too much of it. The maroon still goes with 90% of your closet and gives just the right pop of color to a lame outfit.

Embroidery is all the rage rn, so, if you can get a style with a funky pattern, more to you and your street cred. The flirty floral embroidery is perfect for getting through fall, winter tundras, and even prepping for the next spring to come because like, flowers for spring? Fucking duh. I promise although it's black leather, the red flowers won't make anyone question whether you're 1) a motorcyclist or 2) have "I love mom" tattooed somewhere on your arm. The statement jacket is way too Kendall Jenner for that.

This full-length leather jacket is clearly the quite opposite of the "Talk to me again and I'll kick your ass" look we're constantly aiming for, but the millennial pink shade still totally softens your outfit and livens up the bland colors you're probs wearing for the next six months. Since it practically screams spring, you'll have your first spring jacket ready to wear come March. Bless.

It might be hard to keep this one clean, so try to only opt for a white or super light shade if it's for a v special occasion. Or like, if it's an exclusive venue where you can't make a fool out yourself, aka drunkenly spill your vodka cranberry on your new jacket. The pale gray is v ideal for throwing over any old T-shirt or party-ready blouse. Although light in color, it's way more low-key than a black moto jacket if you're aiming for something a little more subtle than obnoxious biker vibes.

A Strongly Worded Letter To Bros With Fidget Spinners
Dear Adult Children,
In the last couple months, we've noticed a startling trend starting to develop among your species. We've stood in public places where people are supposed to be having fun and watched grown men playing with fidget spinners. Fucking seriously? A fidget spinner? The last time we got that attached to a toy (besides our vibrator) was probably our American Girl Dolls in like fourth grade, and even then, deep down we knew we were too cool to be toting that shit around in public 24/7.
It's unclear why fidget spinners needed to exist in the first place, but I guess they're pretty harmless if you're under the age of 13. Whatever, flick that stupid little thing around on your thumb all you want, but if you're old enough to drive a car you need to get a fucking life and throw that thing in the nearest trash can. Or recycling bin? Idk, save the manatees. Whatever. Get rid of it. Do not pass Go, do not collect $200. It's embarrassing.

You really need something to do with your hands? We have some ideas. How about picking up your phone and responding to our fucking texts? Sorry, but you don't get to be bored while you're in the midst of ghosting us. After responding to our texts, how about you pick up a good book, or do a puzzle, or literally absolutely anything but mindlessly twirling a shitty little piece of plastic.
We get it, you like to keep up with the trends. So do we. Our favorite trend is wearing all black, and we've been doing it since forever. But our second favorite trend is harshly judging bros for acting like children, and fidget spinners are honestly making it too easy. If you're going to have a major flaw, at least make it something interesting, like a foot fetish or that you have a pet iguana. Then we can never text you after the first date and actually have a good story to tell our friends, rather than having to explain that you were more into playing with a child's toy than picking up the check.

So the next time you're going to a bar, or a restaurant, or literally anywhere that you will be seen by other humans, we better not see you playing with a god damn fidget spinner. It's lame, it's boring, and you can do better. Well, maybe you can't, but it's not our problem.
Sincerely,
The Betches
Denim Essentials You Need In Your Closet Right Now
By now, it's as clear as day that this denim craze has really taken off. Everywhere I look, I see another article of clothing made out of denim—I'm just waiting to see denim underwear at this point. Apparently it's socially acceptable to wear denim on denim, and then with some more denim. Who knew Britney and JT were such trendsetters? I mean, for fuck's sake, every store has its own Denim Shop. The versatile material is emerging left and right in an assortment of colors and a variety of styles ranging from dresses to vests to overalls (because again, if it was cool in the 90s, it's cool again).
This summer is all about dressing like you could be on the cover of Vogue just by wearing a distressed oversized sweater and some ragged denim shorts. With Bonnaroo this weekend, festival season is officially fully in swing. Perfect for any summer music festival or a night full of bar hopping, here are 7 denim pieces you should definitely strut (or stumble) in during summer nights.
1. A Cool AF Denim Jacket
I recently just found two denim jackets in my closet that I haven't worn since middle school. Guess what? They still fit. And guess what else? I'm still going to fucking wear them. I guess that's a perk of being 5'3" forever. This Shop Betches x Unemployed Denim Custom Vintage Denim Jacket is basically your new replacement for the stupid black leather jacket you wear all the time. Each vintage jacket is unique so two are never the same. Feel free to customize it with whatever embroidered message or patches you'd like to make it all about you.

2. Denim Shorts
I know you have denim shorts because like, no fucking shit. Add a raw, destroyed style like PRPS Goods & Co AMX Short to your collection to really bring out your IDGAF attitude. Dress them down for running errands or dress them up with a silk tank and a pair of Jeffrey Campbell booties.

3. Denim Overalls
Fashion trends are getting weirder by the day. First we're back to wearing onesies, now overalls? Why is dressing like a toddler a thing right now? Someone please LMK. However, I have to say Kendall Jenner knows how to rock them best—as usual. If you're into channeling your 8-year-old self, go for a light-washed cropped style like the Glamorous Dolores Park Light Wash Distressed Denim Overalls. When worn with your comfiest cropped T-shirt or lace bralette, you'll look both skinny and effortlessly chic, which obviously are the most important traits in life. Use it as your next outfit for brunch Sunday morning.

4. Denim Dress
A fitted dress like the Vatanika High Zip Slit Mini Dress is made to define and enhance (any existing) voluptuous curves. Gold full-length zippers accentuate the sides, adding some street flair, and its spaghetti straps keep it caj (cas, cas'? Asking for a friend). Whatever, I'm trying to say casual in the cool way. Throw a denim jacket over this and pair with your Vans to look trendy AF.

5. Denim Jeans
Since we all have at least one pair of denim jeans (that we never wear), the trend has escalated into being extra adding embroidery. Floral prints specifically add a feminine and flirty touch to any ordinary outfit. Find a fitted faded-wash style like these True Religion Halle Mid Rise Embroidered Skinny Jeans. Wear on those chilly summer nights with a cropped oversized sweater and block-heel sandals.

6. Denim Skirt
Here's some food for thought: Just buy a denim skirt, but with more denim on it such as this Topshop Colorblock Denim Miniskirt. Contrast with a light-colored blouse to keep it balanced. Pair with wedges for a bold, spirited look that tells people you're like, really into fashion or something.

7. Denim Shirt
Don't get it twisted, it's not the same as a denim jacket. Wear the Lovers + Friends Denim Shirt With Slogan Sleeve Detail alone over a pair of jeans or shorts for a casual, downtime look. Keep it open and wear your fave cami underneath, or keep it slightly unbuttoned because like, slutty duh.

What Your Tiny Tattoo Says About You & The Kind Of Self-Absorbed Asshole You Are
I have a lot of pastimes and most of them include me judging people from afar. But nothing brings me more joy than talking shit about people and their tiny—excuse me, micro—tattoos. It's the simple things, really. Remember when tramp stamps were all the rage? Yeah, those are so over, they're done, and tiny tattoos have become the new norm for those looking to express their latent daddy issues. (I say all of this like I don't have at least two Pinterest boards devoted to tiny tattoos and "cute" placements—I totally fucking do.) But whether you realize it or not, your tiny tattoo speaks VOLUMES about you and probably the life you lead on Instagram. So listen up, betches, because this is about to be a rude fucking awakening for some of you. Here's how much of a self-absorbed asshole you are based on your choice of tiny tattoo:
Something From Harry Potter
First of all, I would just like to say that Potterheads are the reason I drink. There's something unsettling about a bunch of twentysomething adults who throw whole costume parties with a theme that encourages you to dress up as an 11-year-old boy. Also, never, under any circumstances, mention around these people that you have either read Harry Potter/liked Harry Potter at one point in your life/have a vague thought about the movie adaptation, because they will take that shit and run with it. It's like you say one thing about Harry Potter and suddenly they want to challenge you to a verbal duel so they can prove that they know very creepy, minute details about a prepubescent fictional boy more about Harry Potter than you do. Like, no I do not know who the fuck Harry's apparition instructor was in his sixth year at Hogwarts, but I do know that I would like to be excluded from this narrative please. Thanks. Second of all, if you're getting a Harry Potter tattoo because Harry Potter is "your favorite book" that doesn't make you special. Like, you and every other virgin who can't drive self-proclaimed Hufflepuff in the world. Do us all a favor and leave your freak flag in the chat room at home where it belongs.

A Tiny Heart And/Or Other Tiny Object
This is the type of person who spends a lot of their time finding new ways to incorporate mason jars into their home décor. It's okay, we were all thinking it. I'm going to take a shot in the dark and guess that they're also the type of girl who loooveesss sushi and drinks wine according to the season (i.e. red in the fall/winter, white in the spring, rosé in the summer). Lol, you are so random. They probably thought that by getting a tattoo they could be the "edgy" girl in their sorority or that it would give them something to be coy about on a Bumble date, but honestly all it did was cement their place as the most basic bitch within a five mile radius. But, like, I'll give a slow clap to that because you should own your basicness. I'd say never change, but that's not really necessary because we all know they won't.

Cursive Script
Girls who proudly display cursive script tattoos are 100 percent the assholes I was talking about earlier. They definitely have a "thing" that they're into. Like fitness or travel or just generally being a self-absorbed asshole. That kind of thing. Getting a tattoo like this is the female equivalent of getting an "In God We Trust" tattoo, except instead of using a biblical verse to cover up that fact that he's a giant douchebag who says shit like "I don't believe in labels", girls use it to cover up the fact that they're low-key slutty. Like, tattooing the daily affirmation "you are so much more" on your body sort of loses its meaning when it's placed directly beneath your nipple. You know? Like v important style icons Selena Gomez and Miley Cyrus, they probably also got their cursive script tattoo after a stint in rehab for "exhaustion". Good thing your boob hides that spelling error, though! Blessings.

Travel Coordinates
Travel coordinates on someone's body are like the permanent version of a Facebook vacation photo album, except you don't have the option to unsubscribe from their tattoo because it's literally on their body. And believe me, these bitches will talk about their trips every chance they fucking get. At the 9am department meeting where people have no business speaking words to me, period. In the elevator on my way to one hour of approved freedom lunch. Or at happy hour, which is most offensive to me because that is my safe place and you're ruining it by telling me the one time you did a wine tour in a foreign country. Groundbreaking. Like, just because you've been to Australia and seen a kangaroo does not make you a fucking world traveler. Like, oh did you have an awesome time? Did you drink awesome shooters and listen to awesome music, and then just sit around and soak up each other's awesomeness? Yeah, no one gives a shit.

Also, if I see one more Instagram selfie of a strategically posed thot "candidly" gazing up at a waterfall in a thong bikini with the caption "wanderlusting", I will lose my goddamn mind. Seriously, these girls are the fucking worst. Not only are they the type of girls who 100 percent have travel coordinates tattooed on their ribs and/or wrist and/or hipbone but they also take themselves and their lavish vacations wayyy too seriously. Like, I get it, you want me to think you're "roughing it" in Thailand rn, being one with the people and rejecting consumerism and blah, blah, blah. But let's be real, you didn't go to Thailand to bring safe drinking water to people living in poverty, you went there to do a casual amount of drugs and take fire selfies at the Full Moon Party. Come on.
A Matching BFF Tattoo
You and your friend must think a lot of your friendship if you're willing to permanently mar tattoo your body with matching heartbeat tattoos (v original, girls, btw). Much like many facets of my life, I blame Pretty Little Liars for this—Marlene King, where is my evil twin to blame shit on every time I fuck something up?—because even though the Liars all got matching tattoos, that does not mean you and your bestie should get matching tattoos. The difference between you and the cast of PLL (aside from their fame, money and issues with anorexia) is that they have the money to get said tattoo surgically removed should they find out that their BFF cut off all of her hair when they got back to school in the fall and got totally weird and I guess now she's on crack. So, like, really know the person before you get a life-long connection to them seared on your body. Ya know, just food for thot.

^Or just somebody you share half a yin and yang tattoo with