Is The Elliptical Worth It? An Investigation
If you go to the gym with any regularity (ok, stop bragging), you likely have a love-hate relationship with the elliptical. On the one hand, it's literally the easiest machine there. On the other hand, you kind of feel like a fake piece of sh*t because pop culture consistently references the elliptical as a non-workout. But as we've learned in 2019, the workout you're seeing all over Instagram is not necessarily the right one for you—and types of cardio you'd written off as a waste of time could actually be valuable (hello, walking on the treadmill!). So, is the elliptical actually worth it? Here are the results of my investigation.
Sidenote: Women of Twitter, please stop bragging about using the squat rack over the elliptical. You are giving the worst men in the world so much ammunition. Just use whatever machines make you happy.
I'm literally the only girl who uses the squat rack at snap… And the only one who isn't always on a freaking elliptical.

— Bailey Bowlin (@baileybowlin) April 30, 2013
If you're a girl and go to the squat rack instead of the elliptical you become 100x more attractive

— Nick Marquart (@NickMarquart) June 22, 2014
The Elliptical Feels Easier, But It's Not
The short answer is yes, the elliptical is worth it! Don't believe me? Good, I'm not a licensed professional! Y'all are learning. ISSA-certified fitness nutrition specialist and trainer Adam Rosante weighed in on this for Cosmo, and his ~professional~ opinion is that "all movement is good movement." The myth that elliptical machines are somehow worse for you than other cardio, he says, comes from the fact that it puts less pressure on your joints than running outside or using a treadmill. So the workout may feel less intense, but it's not—provided, of course, that you're putting in a good amount of effort.
Science Says It's As Good As A Treadmill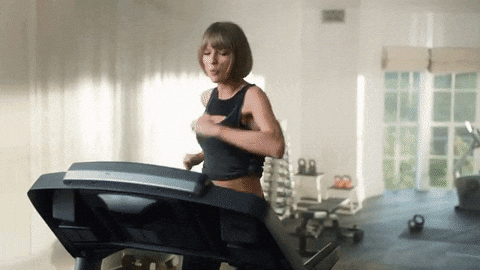 A 2010 study in The Journal of Strength & Conditioning Research (sounds like a great read) tested a group of people's oxygen consumption, energy expenditure, and heart rate while performing 15-minute exercise tests on a treadmill and elliptical. The study found that there was no difference in oxygen consumption or energy expenditure for treadmill vs. elliptical, and that heart rates were slightly higher across the board on the elliptical. The study concluded that for "cross training or noncompetition-specific exercise an elliptical device is an acceptable alternative to a treadmill." I'd pretty confidently describe all my exercising as noncompetition-specific, so I personally find this to be great news.
This Doctor Says It's Better Than A Treadmill
Next up, board-certified sports medicine specialist Dr. Edward Laskowski weighs in. He confirms that you can get an "effective aerobic workout" from either a treadmill or an elliptical machine, and suggests you let your personal fitness goals dictate which one you choose. For example, if you're training for a race, you will probably want to stick to running-based cardio. If you're not a masochist, though, the elliptical offers several distinct advantages. As Adam Rosante pointed out, it puts less pressure on your joints—which means it's a good choice if you suffer from pain in your knees, hips, or back. Your elliptical workout can also be customized to work different parts of your body, Dr. Laskowski points out: pedaling in reverse will activate your calves and hamstrings, while using the handles will activate your upper body.
Basically: on both machines you're getting out what you put in, but if you're not a professional runner and actually looking for a full-body workout (hello), the elliptical could be a good choice. Or, y'know, this:
Like just about any other exercise known to man, how you complete the exercise is the important thing. And when it comes to the elliptical, that means making sure your form is correct, adding an appropriate amount of resistance, and working in some interval training. The treadmill can also be totally useless if you don't push yourself on it—so can the rower, the squat rack, and even that $40 SoulCycle class. TBH, I think the elliptical has largely gotten such a bad rap due to the self-fulfilling prophecy: you don't think it's a hard workout, so you don't try hard on it. So tomorrow, I invite you to stride into the gym and go absolutely apesh*t on the nearest elliptical. If you still don't think it's an effective cardio workout, then I give you permission to sound off below.
Images: Giphy (1); @dylanhafer / Instagram; @NickMarquart, @baileybowlin / Twitter
I Did A Class At Mile High Run Club To See If I'd Hate Running Less
I'm down to try any type of workout, but I've never gotten into running. I mean, you'd probably think otherwise if you saw my collection of Nikes, but they're strictly for show. I'll say yes to Pilates, spin, weightlifting, yoga, you name it—but when it comes to going on a simple run around the block, it's a no from me. So, when I heard about Mile High Run Club, where you run on a treadmill next to 20+ other chicks in matching Fitbits, I was like, this probably won't be my thing, but let's give it a try anyway. Here's how it went.
The Class
Mile High offers different types of classes depending on what type of run you're looking for, so I had to decide which one would suit me best. There's a "High 45" where you're running for 45 minutes straight, a "Dirty 30" where you're doing the same thing for 30 minutes, a "Distance" class that sounds like I'd rather die, and finally, a "Dash 28," where you spend 28 minutes running and then about 10 minutes doing some kettlebell work. 28 minutes is, like, one episode of The Office, so that seemed like the obvious option for me. I booked a treadmill at the back of the room, closed my computer, and said a quick prayer.

The Studio
I went to Mile High's Noho location on a Sunday morning, and I immediately noted how cute the studio was. It kind of looks like SoulCycle, but with more purple lighting and less candles. Oh, and lots of treadmills. I think they use the same ones at Barry's Bootcamp, so right away I had a feeling of PTSD as soon as I stepped onto the thing. The instructor, Sam or Scott or something, seemed decently nice and explained how the class would go down. As you'd expect in any $34 boutique fitness class, everyone was wearing the same pair of Lulu's, including me. Oops.
My Experience
Once the class started, I was pretty surprised with myself. Like, not to brag, but I was totally keeping up with the speeds and I even adjusted my treadmill's incline a few numbers higher than the instructor told us. (Honestly, that part was an accident, but whatever.) By the end of our third sprint, I was like, "Wow, that class went by so fast." Then I looked up at the clock and it had only been 12 minutes. Fuck.
The rest of the run went downhill from there, but obviously only metaphorically because the instructor wouldn't give it a rest with these goddamn inclines. It probably wouldn't be hard for you if you run regularly, but I haven't stepped on a treadmill in like, six months, and plus I really had to pee from the giant cold brew I chugged before the class. Rookie mistake.
The one thing about running on a treadmill is that you need to be somewhat distracted the whole time to forget you're running on a treadmill. I have to say, the instructor did a good job with that part. Even though I was nauseous and exhausted the entire time, his playlist was solid and he talked us through the running, giving us cues on form and little bursts of inspiration to keep going. I mean, it wasn't like preachy "give to this workout what you want to give to the universe" bullshit, but it was enough to keep going without falling over.
So, after what seemed like a full day, we were allowed to power off our treadmills and were told to grab a kettlebell for the strength portion of the class. I took one of the heavier kettlebells compared to what other people were taking, but I just wanted to feel good about myself after the shit show that was the running part of Mile High Run Club. I was happy I took the heavy weight, because this part of the class ended up being pretty damn easy. I mean, it was 10 minutes. That's usually how long it takes me to put my hair in a ponytail before the workout. We did some renegade rows, squats, and a couple ab exercises, and then the class was over.

The Takeaway
The bottom line with Mile High is if you're into running, you'll like it. The instructors seem super knowledgeable, and the class is structured really well. I appreciated the pretty locker room and the music choices, so points for that. With that being said, if you already hate running, it might not suddenly make you do a 180. So while I might not be signing up for a marathon anytime soon, there's a good chance you'll love Mile High. You might even make a friend in the locker room that you can run your next half marathon with. Enjoy each other. Call me when you're finished running and want brunch.
Images: Justyn Warner, Unsplash; Giphy (4)
Science Says You Only Have To Run 5 Minutes A Day To Be Healthy, So You Really Have No Excuse
We all know summer is getting closer and the words "summer body" make you want to stay indoors in your 5-year-old XXL Kappa Gamma T-shirt, but it's time to get your ass up and go on a run. Most betches don't have the time or the patience to commit to a long workout, and according to this new bomb study, you don't have to. That's because, despite what your annoying friend who's training for a marathon will tell you, you only need to run five minutes a day to live longer. That's right, you literally have no excuse for the lazy denegerate lifestyle you're currently living.

This study, which was recently published in Progress in Cardiovascular Disease, basically compared the health of people who ran versus people like me who are allergic to exercise don't run. Unfortunately for everyone who's sick of hearing their smug friend talk about their "runner's high" (STFU Caroline, you ran two and a half miles, it doesn't work like that) researchers found that runners live three more years on average than non-runners. They also found that running lowers your risk of premature death by 40 percent, but I'm going off context and assuming they mean death from things like heart attack and stroke and not, say, liver failure caused by your five-nights-a-week going out habit. So like, just because you ran a mile today does not make you immortal (ahem, Caroline).
But the good news is you can start getting all the fun health benefits of running without becoming super annoying spending hours at your local track. That's because the researchers calculated that running just two hours a week can add about three years to your life span. For those of you who aren't good at basic division, that amounts to just over 17 minutes a day—in other words, totally doable. But for the extremely lazy among us, you can still get some of those longevity benefits by running just five minutes a day. Yep, five fucking minutes. For less than the amount of time you spend stalking your ex on Instagram, you could be extending your life.

And in case you thought this study couldn't reaffirm your lifestyle choices anymore, just wait. While your exercise-addicted friend might think the more she runs, the healthier she'll be, the researchers found that the limit does actually exist. More specifically, your health benefits will plateau if you run more than four hours a week. They didn't explicitly say this, but clearly the takeaway here is that you should never run more than 35 minutes per day because it's basically pointless and you could get the same health benefits while expending less effort. Thanks, Science!
So the overall takeaway of this study is that you can't use the "I'm sooo busy" excuse to avoid exercise anymore and it's time to get off your ass—you know, that thing you've been sitting on for the past six months?
The Best Workouts If You Only Have 15, 30, & 45 Minutes At The Gym
Working out is such a dilemma. On the one hand, betches need to work out to counteract our weekly blackouts and keep up our naturally fast metabolisms, but on the other hand, who seriously has the time? I mean, if you wake up on a Sunday and spend three hours at the gym while I'm dragging my ass to brunch in last night's makeup, I salute you, but I also fucking hate you. Betches don't always have over an hour to work out, so we've planned out the most efficient ways to spend your time at the gym when you're in a rush. Whether you have 15 minutes or 45 minutes, you can def get in a legit workout without cancelling all your plans for the day. Here's the plan:
If You Only Have 15 Minutes Or Less
First of all, never judge the betch who only spends 15 minutes at the gym. This extremely limiting time crunch usually means she either has much more important shit to do, or literally has only 15 minutes to spare before work and has a Cinderella-esque transformation in the Equinox locker room before heading to her job at some waspy law firm. This betch means business, and she'll be finished working out by the time you found the best selfie lighting in the weight room.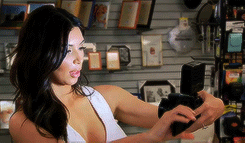 If you only have about 15 minutes, the key is sticking to floor work and ditching any machines. Honestly, you'll waste a good ten minutes by the time you choose a treadmill that's comfortably far enough from other people but close enough to the TV. Lay out a mat and work HARD (we know) for fifteen minutes straight without any breaks, choosing compound movements that incorporate strength work while getting your heart rate up. We know you just read that sentence three times to figure out WTF we mean, so some good moves include burpees, jumping lunges, jump squats, mountain climbers, and plank jacks. Try to pick a few moves and do each one for about 45 seconds each, then repeat as many times as possible until you have to bounce/collapse. Stretch in the shower.
If You Only Have 25-30 Minutes
If you have less than half an hour to spare at the gym, it's time to get your ass to work. Half an hour might seem like a solid amount of time to get in a workout, but time flies when you're fixing your ponytail for 20 minutes in the mirror while laying out your towel like you're on Miami Beach. You can get in a good workout in less than 30 minutes, but don't fuck around.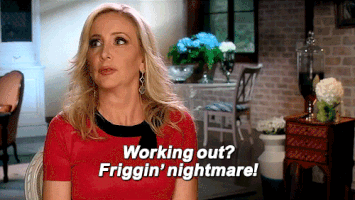 The most efficient way to spend 25-30 minutes at the gym is to break it up 50/50 into cardio and strength. First, pick a cardio machine that you're ready to kill it on for 12-15 minutes. Elliptical or treadmill are ideal if you're basic AF and have a playlist ready. The erg rowing machine is more intense because it works your whole body. Stairmaster wins if you hate yourself. After going moderately hard for half your workout, make your way onto the floor for some strength work. Try to isolate one area of your body per day to get the most out of your gym time. For example, spend one day doing lower-body moves (like squats and lunges), and another day doing upper body (like bicep curls, tricep extensions, and planks), rather than being that dumb girl who does 10 crunches, three squats and a push-up and wonders why she's still flabby.
If You Only Have 40-45 Minutes
If you have up to 45 minutes to spend at the gym, you can def get in a quality full-body workout, but you have to make sure you go in with some sort of plan. Don't be that girl who walks on the treadmill for 45 minutes while refreshing Snapchat stories. She can brag all day that she spent her morning at the gym, but she prob burned like 30 calories total and we're still talking about her, so she's literally wasted everyone's time.

Spend your first 5-10 minutes warming up your muscles and getting your heart rate up. Think light bodyweight exercises, like jumping jacks, air squats, high knees, and push-ups. Oh, and get off your knees. Then, move onto some real strength work, because news flash: if you're not lifting yet, you're doing it wrong. A super efficient way to create a little circuit for yourself is through an AMRAP, which means "as many rounds as possible." The idea is to pick a few moves that involve dumbbells or kettlebells, set a 15-20 minute timer for yourself, and complete those moves as many times as possible until the timer goes off. Then, move onto some HIIT work, whether you're into burpees and plyometric moves on the floor, or 20-second inclined sprints on the treadmill. Either way, you should be sweating your ass off (and cursing loudly) after about 10 minutes, so you can spend the last couple minutes stretching the muscles you just abused. You're welcome.