9 Packing Tips To Help You Fit More Sh*t Into Your Suitcase
The worst part of traveling is perhaps the stress of waiting to pack until the night before you leave, then not being able to fit all the unnecessary sh*t you (don't) need into your mom's old broken suitcase. You know the one. Because why spend $100 on a bigger suitcase when you can just optimize the space within the rickety carry-on your entire family has been using for decades for free?? If this behavior doesn't apply to you, then maybe you're not on a budget, or maybe you're rich and can buy fancy new luggage. But I'm willing to bet $3 (all I got, sorry) that I'm not the only traveler who does this. If you're anything like me, then you need these helpful packing hacks from travel experts that make organizing your belongings before and during vacay a hell of a lot easier.
1. Bring Fewer Clothes
I know what you're thinking: DUH. But listen. It's normal to want to pack 11 shirts, 4 pairs of shorts, 2 pairs of pants, and a pair of heels just in case you need any of it on a weekend trip… but hot take: YOU'LL NEVER NEED IT. In the wise words of Greg, 26, who frequently travels between Boston and New York for school and work, "why not just shove less in your suitcase and be happy??" Some people (read: me) are hoarders and over-packers and don't know how to do that, Greg. THAT'S why. 
As much as I hate to admit it, and I don't even know if it's humanly possible, two more travel pros confirm this is a solid suggestion. "I only bring two pairs of jeans or pants for every week I'm away. I use the extra space to pack one pajama or lounge outfit which makes any place feel like home, whether they have a plush bathrobe for me or not," says comedian Sofiya Alexandra, who travels around the world as the co-host of global culture, dating, and sexuality podcast Private Parts Unknown. "We have to bring podcast gear when we travel, which really limits my suitcase space, so I tetris that sh*t in like nobody's business," adds Alexandra's show co-host Courtney Kocak. "Then I focus on bringing super functional clothes—a pair or two of jeans, a pair of yoga pants, and a handful of tops that can be re-worn and layered a bunch of different ways." Sigh. Mix-matching and re-wearing a few pieces of clothing during your travels might be the move.
2. Don't Fold Your Clothes

I, a wild woman traveling to four different states this upcoming month (yes, I'm already tired), am a firm believer in rolling all your clothes instead of folding them. Don't ask me how, but I swear it helps to create more space in your suitcase. Rolling your clothes also reduces the number of wrinkles in them when you're finally ready to whip 'em out at your final destination. Win-win. Because who the hell knows how to use the iron in the hotel room closet?
3. Use All The (Secret) Available Space

No matter what size bag you use, there's always a liiiitttle bit of space left. So find it and fill it! "We often pack things that are awkwardly shaped but don't always take advantage of the space in or around those objects," says Amanda, travel blogger at A Dangerous Business Travel Blog. For example, use the space inside boots or sneakers to store socks or accessories that would have otherwise been taking up space in the main part of your suitcase. "And if you're going to pack a hat that can't be folded, turn it upside down, and fold/roll some of your items inside it," she adds. "This helps save space in your bag AND helps your hat keep its shape!" Genius.
4. Bring Travel-Size Essentials

I don't know who needs to hear this, but don't pack your full-size toiletries. Save space by stocking up on adorable travel-sized essentials. Just don't buy the shampoo, conditioner, and body wash, because Alexandra has a better idea: "I bring travel-sized toothpaste but refill travel-sized bottles of shampoo, conditioner, and body wash. I take the hotel ones and donate them to homeless shelters when I return," she says. A true hero. Follow suit. Or you can go the bougie route like Kocak: "I usually treat myself to a pre-trip blowout and I use the hotel or communal Airbnb body wash (don't judge me), so I don't have to bring any of those toiletries." As previously discussed, I've literally been using my mom's broken suitcase for decades, so I'm not judging anyone for anything.
5. Use Packing Cubes To Organize Your Bag

Okay, so I've never used packing cubes before but so. many. people. swear by them. "They're great. They're just different sized zipper compartment square thingies," says Sam, 27, who travels to Europe with her man on the reg thanks to their company's generous vacation day policy. Apparently, packing cubes compartmentalize your suitcase and help you organize your belongings so they're not a totally chaotic mess like mine. They're cheap too—like $20 on Amazon. "Those clothing bags you can vacuum seal shut save a ton of room, too," adds Alex, a random dude who apparently travels a lot (into my Instagram DMs). 
6. Leave All Your Electronics Home
Got flagged by security at the airport and thought it was for my vibrator in my bag and started apologizing but it was just my Nintendo switch so now a Chicago TSA knows I masturbate and that I have my nipples pierced, Merry Christmas pic.twitter.com/W0Llfj1NiO

— 1984's George Whorewell (@EwdatsGROSS) December 20, 2019
Fun fact: You don't need to bring your iPad, iPhone, laptop, camera, Nintendo Switch, and whatever the hell else people use these days on your vacation. Courtnie Nichols, certified travel agent and CEO of TravelBash, a modern travel boutique for curated trips and luxury getaways, suggests being selective with your electronics to save space. Keep your 47 different devices at home where there's no risk of them getting damaged, stolen, or lost. Unless you're on a work trip and need all your equipment, she says you really just need to bring your phone, which is literally a camera, internet browser, computer, gaming system, and phone (duh) all in one that can fit in your back pocket.
7. Use A Lingerie Organizer
I love all the lingerie stores in JFK because it implies a lot of people have been having emergency/last minute booty call situations that they find out about at the airport

— a.b. (@AlannaBennett) July 18, 2018
Even if you're not bringing ~fancy lingerie~ on your trip, a lingerie organizer can help to contain your underwear, socks, and other little things that usually fall into the abyss of your suitcase in one neat place. "I'll usually just pack that with undergarments and swimsuits and throw it on top of my other stuff for easy access," says Dakota Nowicki, founder of Wander Beyond Her, a travel organization that hosts retreats designed to get people out of their comfort zones and into nature. "It keeps all my bras and undies together and has a sealed pouch for dirty stuff. It was a bomb investment."
8. Wear Your Bulkiest Items On The Plane
Women who wear heels to the airport:
First of all, HOW??

— Betches (@betchesluvthis) May 8, 2018
Instead of taking up a ton of room in your suitcase with your jacket, hoodie, and boots, just wear them all on the plane. It's probably going to be cold up there, so you'll wanna cozy up anyway. Alexandra suggests wearing sneakers on the plane for comfort, then using them as your "walking-around shoes," and packing a pair of booties for cold weather or sandals/flats for hot weather as your "anything-else shoes." Oh, and she says, "if you don't fly in yoga pants, you're a crazy person." Agreed.
9. Take Advantage Of That Free Carry-On "Personal Item"

Did you know that all passengers get to bring another little bag on the plane for free? Yup. Take full advantage. "I always have the following in my personal item under the seat: phone charger, tiny hand sanitizer, earplugs, an eye mask for great plane sleep, Advil, mini-mouthwash, book, water bottle, and salve for lips, cuticles, scrapes, and inside your nose, if it gets dry," says Alexandra. "My favorite packing hack is using a backpack as my personal item and putting my purse inside that, along with everything I might need on the plane (computer, book, etc.)," Kocak adds. #bagception "Plus, I'm ALWAYS cold, so I usually hang on to the airplane blanket from my first flight and stuff it into my backpack for the rest of the trip. It never fails to come in handy, and when I get home, it goes into my dog's crate as a fresh puppy blanket. Everybody wins!" Yep, we've definitely got two travel pros over here. Take notes, friends! 
If you have any pro-suitcase packing hacks, drop 'em below. Because I need them. And if anyone says "stop being cheap and just buy a bigger suitcase/check your luggage!" I will find you and personally show you the current balance in my bank account that proves that's not an option unless you wanna Venmo me (@morgan-mandriota please). Thanks in advance.
Images: Pexels, GIPHY (4), Instagram @betchestravel, Twitter @betchesluvthis, @alannabennett, @EwdatsGROSS
The Best Tricks To Get Cheap Flights To Almost Anywhere
Along with people not understanding the difference between prosecco and champagne (Google it) or knowing the importance of a hostess gift, overpaying for plane tickets is right up there in our top three biggest pet peeves. Don't judge us—nobody ever said pet peeves were supposed to be rational. There have been countless times that we've had to hold ourselves back, whether in the office, out to dinner, or on the bus after hearing someone proclaim "I just scored the BEST deal to London! $800 each! Can you believe it!?" We realize it's probably not a social norm to unleash a slew of travel and flight savings tips on a complete stranger. Luckily for us, if you clicked on this post, you're probably somewhat interested in hearing a few of these tips, and we are SO excited to share them with you. 
For those who missed our latest Betches post where we busted 5 of the most common finance myths, we're Lauren and Kelda, millennial sisters (and avocado toast lovers) living in Seattle, WA. Together we run Hello HENRYs, a blog on all things personal finance and travel. Why should you trust our travel tips? While we aren't travel agents, interns for Rick Steves, or anything of that nature, we do travel often and do so at killer prices. Between the two of us, we average nine countries and countless states each year, while still working full-time jobs with limited vacation days just like you. We haven't spent more than $500 to go to Europe in years and cover over half of our trips with miles and points alone. How do we do it? Here are six of our best tips for making your dream trips happen on a dime.
Be Flexible Around Location
We get it. Sometimes flexibility is just not an option. However, 9 times out of 10, there is some element of flexibility to a trip and, if you truly want to find the best flight deals, you need to be open to it. Below are a few examples on ways to be flexible when it comes to location in particular.
Don't Be Tied Down To An End Destination
The world is a huge place and, while we've been lucky enough to travel to many amazing places, there are tons of places that we have yet to go and all of them sound pretty appealing. Frankly, at this age, most people haven't been everywhere yet, and simply just being more open to the exact location can help so much. Say you know you want to travel to Europe, but are open to exact cities, and want to go during a set time frame. Simply enter your starting destination, the continent or region you're hoping to visit and the date range. Google Flights will pull up a map displaying the cheapest flight to each city within the region for the dates selected.

In this specific example, you can see that you could fly to London for just $406. If you simply just want to go to a region, an interactive map like this is a great way to find the cheapest destinations. 
Be Open-Minded About How You Get To Your End Destination
Let's say you are 100% sold on traveling to a specific country in Europe. Maybe visiting Greece, Croatia, or any of the typically more expensive flight destinations. Chances are you'll have a stop or connection on the way to these top beach destinations anyway. Use a map like this to find the cheapest nonstop flight into Europe and then book a cheap flight from there on RyanAir, EasyJet or any of the low cost European carriers. This is how we traveled to the Greek Islands during peak travel time (July) of last year for a fraction of the cost. 
Think Outside of the Box When It Comes to Exact Point of Entry
Most major cities have more than one airport, but most have one that is the primary or most highly trafficked airport. If you're tied to a specific city or country, be sure to research all of the airport options. London, for example, has four airports. Paris has three. When booking flights to other countries, be sure to play around with airport options. Some are obviously more conveniently located to the city than others, but, when the cost difference is sizable, we'll spend an extra 30 minutes on public transportation to get there. The same goes for departure airport when we're coming from the US. We live in Seattle and have two local airports. While one doesn't operate flights outside of North America, we still always check prices. If it connects us to a domestic international airport at a major cost savings, we are willing to take the extra flight. 
Be Flexible Around Dates
Sometimes the exact location is inflexible. Maybe you're visiting a specific city for a friend's wedding or exploring Maui has been a lifelong bucket list item and you aren't willing to sacrifice the specific Hawaiian island. In this case, try to be flexible with dates whenever possible. There is often more wiggle room than you think.
Two years ago, Lauren was heading to Las Vegas with a group of girlfriends for a birthday weekend. The location was a non-negotiable for the birthday girl and, at first glance, you would think the dates would be too. I mean, duh, you can't change the day you were born. However, when they played around with dates, they found it was actually cheaper to fly in Thursday after work, instead of Friday morning as planned, even with the additional night of hotel costs factored in. Nobody needed to take more vacation days, plus they woke up rested and ready to go Friday morning, while saving money on their trip. So many wins. 
Another example and amazing way to use Google Flights is to search for a specific length of time at any date in the upcoming year to an exact location. Let's say that you know you want to go to Hawaii sometime this year for a one week vacation, but are open to when exactly you take the trip. Simply enter the departure and arrival airport, the length of time for the vacation and the window of time that you are open to waiting.  

This is how Kelda scored $200 round trip flights to Kauai for September of last year. She entered that she wanted to visit some time in the next six months and found a deal for the very next week! 
You'd be surprised what a huge difference moving your trip up or down by just a day or two can make, also. Google Flights highlights the best deals in Green to help you easily plan your travel or vacation window. In the example below, for round trip flights to Barcelona, leaving on October 12th vs. October 13th is an almost $200 fare difference!

Set Trip Alerts
Whether your upcoming vacation is non-negotiable, such as for an interview or wedding, or if it's totally flexible, such as just wanting to go home and visit your mom sometime in the next year, we set alerts for every single trip we have in mind and receive email notice or notifications on our phone when prices are particularly low. Our favorite ways to do this are through Google Flights and Hopper. We use both platforms because not all airlines pay to be included in both algorithms. For example, we love Hopper, but Delta is not included as one of their tracked airlines at this time. Because we live in a Delta hub (Seattle), we definitely want to track those flights as well, so we also set alerts on Google Flights. 
In addition, Scott's Cheap Flights is one of our favorite services for scoring insane flight deals. It's simply an email subscription with both free and premium options that alerts you when an airline has a mistake fare—often lasting just a few hours to a day. At this time, Scott's Cheap Flights only tracks mistake fares for international trips, but we have booked many a trip through their email list. At times for trips we knew we wanted to take, like last year when Lauren needed to fly to Thailand for a friend's wedding, but also for trips that we didn't necessarily have planned, but the deal was too good to pass up. Hello, $400 RT to Curaçao.
my only hobby is sending my friends cheap flights to their city with the 👀 emoji and then forgetting to ever text them back

— dirt prince (@pant_leg) December 10, 2019
Along with this, after we get an alert on a super low price, whether that's through Google Flights or Hopper, we always do one last check on Southwest if our flight is domestic. We rarely fly this airline and it isn't included in any algorithms at this time, but every now and then, it ends up offering a cheaper price. This doesn't happen too often, but we still always take the time to check before booking.
Use Points and Miles Wisely
First, it's important to understand the difference between points and miles, as many people use these terms interchangeably. 
Miles are tied to a specific airline or airline alliance and are earned primarily through actual flights taken with the airline or spending on an airline specific credit card, such as the Amex Gold Delta Skymiles Card. Miles are not transferable outside of the airline alliance.
Points are earned through third party credit cards tied to banks, such as the Chase Sapphire card (our personal fave). Long story short, points essentially equate to cash, but, if you have picked a good card, can also be transferred to miles, giving you much more flexibility. Why does this matter? Sometimes flights can show vastly different fares depending on if you're paying with cash or using miles. Last month, we went to LA and flights were showing $400 in cash, but only 12,000 miles. Pretty big difference. Sometimes, it can be the other way around and the price in miles is vastly more. Having points gives you the flexibility to redeem for the cheapest fare possible. 
Okay, now that we have that out of the way. Two major tips here.
Never Leave Miles On The Table
For the most part, everyone has one or two airlines that they fly most frequently, often dependent on whichever airlines have hubs in their city. For us, that's Alaska and Delta. Most people have frequent flyer numbers for their primary airlines, but not for any others. We randomly fly American or United once, maybe twice a year, but still always collect frequent flier miles for these trips and have been able to use the miles earned to redeem for free domestic flights, even though our travel with them is so infrequent. 
Similarly, if you're flying internationally on an airline that you don't expect to use often, if ever, always check their alliance and find the domestic airline partner. Enter the frequent flier number for the domestic airline partner to earn miles on your flight. Lauren flew Asiana Airlines to Thailand last year and found that they were partners with United. She entered her United number and, because of the long length of the trip, earned enough miles from that flight alone to redeem for a domestic flight to Denver last month. 
I deserve a vacation. I deserve I deserve.

— Kay (@KaylarWill) December 9, 2019
Lastly, many airlines offer partnerships to earn miles outside of actual flights taken or credit card spending. For example, Delta partners with Lyft to give you 1 air mile per dollar spent with Lyft and doubles the air miles if the Lyft is taken to or from an airport. There are countless similar offers out there and we recommend taking advantage of as many that make sense for you. 
Know The Value Of An Air Mile
Just because you have air miles to use doesn't always mean that it makes sense to use them. The Points Guy publishes a recap on current points and miles valuations each month. Let's say he values 1 American Airlines mile at 2 cents. You should, typically, only use miles to book when the cost to redeem miles is less than the cash value of a trip. Doing some quick math, if you're looking to book a trip that is quoted at $600, you should only use miles if the mile redemption is 30,000 miles or less. 
Obviously, we are finance gurus first, and if the $600 is going to cause some financial strain and taking the trip is non-negotiable, we always support redeeming the miles even if it ends up slightly below value, to prevent spending the cash. 
Don't Be A Diva
In pretty much all other areas of life, we can be a little bit high-maintenance, but when it comes to traveling, this is one area that we are willing to sacrifice comfort. If taking big trips often and at a low price is something that you really want to do, you have to be willing to go as basic as possible.
For example, this new evolution where an airline can charge you $50 just to pick a seat? Who cares? It may seem cheap AF, but we have never once paid for this option. Honestly, a majority of the time, if you book on the same reservation as your travel partner, the airline will end up seating you together anyway and, in the few cases that doesn't happen, you can try asking your seatmate to switch or the gate attendant to help reassign your seat. In the rare case that none of these things work, is it really that big of a deal to sit alone? We don't think so.
Done looking at Instagram until everyone is back from Capri, Greece, Lake Como, Africa, Israel, and wherever else their parents are paying for them to vacation

— Ashley Fern (@disco_infern0) July 3, 2019
Along those same lines, we never pay to check a bag or pay for a meal. Some of the best international flight deals come if you elect to carry on only. Doing so can sometimes save $100 a ticket. We've taken three week vacations with just a carry on. If we can do it, so can you. When it comes to the meal, who really likes airline food anyway? We'd rather pack our own snacks than pay up to $50 up front for a dry chicken breast.
Lastly, you will be fine in economy. Seriously. We've taken 19-hour flights in a middle seat in the last row of the plane. We aren't going to lie and say it was glamorous, but we can suck it up if it means saving hundreds, or sometimes thousands, of dollars on a flight. We'd rather use that money to upgrade our accommodations, cover a spa day, or just keep it in the bank. In some cases, there can be killer miles deals to be had by fluke for business or first class fares. In those cases, definitely go for it.
These aren't hard and fast rules that we think everyone needs to follow, but just tips that we follow to be able to travel as frequently as we do and at such low costs. If you'd rather take just one trip a year luxuriously, then by all means, you do you and we want to see the pics! 
Truly, helping people take the vacations of their dreams is one of our biggest passions in life, and these tips, while extensive, are just the tip of the iceberg when it comes to our approach to affordable travel. More resources, along with complete travel itineraries, individual consultations and trip planning sessions, can be found on our website www.hellohenrys.com.
Images: Gerrie van der Walt / Unsplash; Google Flights (3); pant_leg, kaylarwill; disco_infern0 / Twitter
7 Sneaky Ways Hotels Trick You Into Paying More During Your Stay
I recently spent the night at a bougie hotel in LA with gorgeous views of the Hollywood Hills and generously provided free snacks, condoms, lube, and alcohol in the room. "Wow, I finally made it," I thought to myself, followed by not-so-humble bragging about the fully stocked minibar on my Instagram story. I ate some of those snacks like the hungry HBIC I was… only to be slammed with a $76 bill on my credit card the next day (for Pringles, cashews, and some goddamn peach rings???). When I shared the devastating news that those snacks were NOT free with my Instagram followers, countless crying laughing emoji reactions flooded my DMs. I was repeatedly mocked and reminded how much of a naïve peasant I actually am for not knowing this "obvious" fact, which wasn't obvious because there were no price tags or menus in sight. FML. 
It turns out this isn't the only trick hotels have up their sleeves to con us into paying more. What popular and little-known schemes should we beware of? I asked frequent travelers and travel experts about other sneaky ways that hotels secretly run up our credit card bills by the end of our stay so I we can avoid falling for them next time around.
1. Half-Free Minibars With Motion Sensors

So yeah, the stuff in the fully loaded minibar in the hotel room isn't free. You pay for what you take. Great. I learned that lesson the hard way. Jennifer Melroy, lover of national parks and founder of travel blog National Park Obsessed, confirms I'm not an idiot and this is a common problem among travelers. "The sneakiest way I've seen hotels try to get guests to pay more is the half-free minibar. Select items from the mini-bar are free, but you have to carefully read the mini-bar price list to figure out which products are free and which ones are not." 
But wait, that's not even the worst part. Sometimes you'll wind up paying for what you DIDN'T take. "Many hotels use motion sensors in their minibars that will charge you if you so much as touch or slightly move an item," adds Mona Molayem, full-time millennial luxury travel blogger at MonaCorona.com. UNREAL. Good rule of thumb when it comes to hotel room minibars: Look but don't touch (unless you want to pay the price).
2. The "Complimentary" Breakfast Buffet

Hungover and hungry in the morning? You might want to walk a little bit further than downstairs for breakfast. Lisa Dorenfest, blogger at One Ocean At A Time, who spends a ton of time traveling both on land and by sea (hence the blog name), has seen that higher-end properties pull tricks like charging more for "breakfast included" rates than for paying the "no breakfast" rate. She explains, "My experience is that the smallish 3-star local hotels are less likely to take advantage of travelers. The rooms are clean, breakfast is included, the service is often superior, and the experience is, well, more local." All the more reason to shop local. Support the small business owners who run that diner up the road instead.
3. Hidden Wedding Preparation Fees
once you accept you're going to be bleeding money, the entire wedding process will start to get a litttttle bit easier

— betchesbrides (@betchesbrides) July 25, 2019
Congrats on getting hitched! To thank you for spending a huge chunk of cash in reserving a room block for you and your guests for your wedding, some hotels will tack on a bunch of hidden fees to your bill. HOW SWEET. "Couples are often unaware of site fees, catering charges, linen or furniture rental add-ons, lighting additions, etc.," says Lauren Grech, CEO and co-founder of worldwide event management and design firm LLG Events & LLG Agency. Grech adds that this especially happens to those who are planning a destination wedding, since they don't get to see the venue or meet all of their vendors in-person before the big day. Rude AF. Brides and grooms, beware.
4. Shuttles & Transportation Costs

One scheme that Tanner Callais, founder and editor of "everything cruising" website Cruzely.com, has noticed while traveling is that hotels will offer transportation packages that seem like a great deal… but they're actually a trap. "While many hotels offering these packages are right near cruise ports, we've seen instances where booking the package can cost considerably more than just taking an Uber or Lyft. So yes, you get a ride to the port, but it comes out much more expensive than if you just went on your own." I guess you really do pay for the luxury of convenience, even when it's disguised as being "included."
5. Stuffed Animals For The Kids

Okay, I don't really like kids, but even I can admit that this is cruel. "Family travel hotels put a stuffed animal on the bed so that when the kids walk in they assume that they are getting a new stuffed animal. The parent can either seem like the bad guy or pay $30 plus for a stuffed animal they didn't plan on," adds Melroy. Imagine being a kid and getting all excited that you got a brand new toy, then your parents don't spend $30, so you're left heartbroken AND toyless? Tragic.
6. Changing The Name On The Reservation

Okay, this one blew my mind. Ready for the worst sneaky fee yet? Shout-out to Mitch Glass for this pro tip. Glass is a travel blogger who runs the travel blog Project Untethered, and he also agrees that "hotels can be sneaky little money-sucks." (Money-suck might be my new fav insult.) STORY TIME. He recalls, "Recently, my mother-in-law got back from vacation and noticed a weird $200 hotel charge to her credit card. After some angry phone calls, she realized her husband originally made the reservation using his name—but he didn't actually go on the trip." What the hell?? "This, apparently, is not allowed. At checkout, the hotel charged a $200 'name change fee' to her card without notifying her. Long story short, be careful when booking for a friend or family member. They could get screwed." WILD. This hotel needs to be put on blast.
7. Using The Hotel Computer, Printer, Or Phones

International wifi and cell service sucks. Common knowledge. That's why hotels nicely provide tech for us to use when in need! JK. Using the computer, phones, and other machines aren't always free, either. Nope, you can actually be charged per minute, per piece of paper, or a flat rate fee. "While staying at a popular hotel once, I tried to use the computer in the business center to print my boarding pass for an upcoming flight. It cost me $10 to use the computer for 15 minutes, plus another $2 to print one piece of paper!" Molayem shares. To avoid these ridiculous charges, she recommends kindly asking the hotel front desk or concierge to schedule dinner reservations or print boarding passes for you for free instead of using the phone in your room or the business center. 
How To Dispute Unexpected Hotel Charges
So what do you do when these unexpected charges pop up? Even though you might want to call up the hotel and threaten the innocent customer service rep who answered the phone, that's not actually the best idea. According to Greg Ramey, co-founder and Chief Revenue Officer of group travel platform BACH, the key to fighting a surprise bill is to kill them… with kindness. "Politely ask the front desk for an understanding and, depending on the type of charge, there's a strong change they'll waive it for you." I took Ramey's advice and asked the manager of that hotel I stayed in to remove my $75 minibar charge and guess what?! He didn't. Maybe it'll work for you, though.
SMH. Dear hotels, on behalf of all of us here at Betches, STOP F*CKING CATFISHING US or else we'll drop names next time. Please. (Am I doing the kindness thing right?)
Images: Pixabay, GIPHY (5), Twitter @betchesbrides
9 Tips From Experts To Actually Get Over Jet Lag
Traveling is the best, but jet lag is the worst. Nothing screams "I need another vacation" quite like getting home from a refreshing trip and immediately feeling like you got hit by a bus. Post-vacation blues are real, but this article isn't about how to cope with hard-hitting reality kicking in after a week of ignoring work emails and drinking 47 piña coladas per day on the beach in Cabo. That sh*t goes without saying. We're covering how to deal with (and prevent!) sh*tty traveling side effects like dehydration, a lack of energy, existential dread, and the inability to sleep. Otherwise known as jet lag.
Going away soon and want to make the most out of your trip? Just got back from somewhere and wondering WTF you can do to stop feeling like a zombie? I spoke with a bunch of frequent travelers and travel experts who shared these nine tips, tricks, and products to help you adjust your circadian rhythm and start feeling normal again ASAP.
1. Drink Superfoods Like Ginger, Lemon, And Turmeric

"Every time I land after flying to the west coast or someplace with a higher altitude than New York, the first thing I do is take a ginger shot. It literally brings me to life, like I can feel it rejuvenating my body and giving me energy," says Dakota Nowicki, frequent flyer and founder of @wanderbeyondher, a worldwide community and Instagram account for women who love to travel and attend retreats. "Ginger helps to clear out your sinuses and boost your immunity, especially with all those germs on the plane," she explains. She also suggests adding turmeric and lemon to your ginger shot if you're feeling extra.
On the other hand, Lily Kunin, nutritional health coach and founder of Clean Food Dirty City and Clean Market, who offers plant-based recipes for healthy eating, travels, and beauty, says her go-to immunity-boosting recipe is a combo of apple cider vinegar and turmeric. "In a small saucepan, heat 2 cups of water to a boil with the turmeric, then reduce heat and simmer for 10 minutes. Turn off heat and add black pepper, ACV, and raw honey. Strain the turmeric out, pour into a mug, and enjoy!" Sounds weird AF, but I like earthy hipster drinks, so this is right up my alley.
2. Stay Hydrated

Hydration is KEY when it comes to recuperating from or preventing jet lag. According to Dr. Charles Brenner, the Chief Scientific Advisor for Tru Niagen, who discovered and patented a unique vitamin that regulates energy metabolism and promotes healthy aging, "There's low humidity in airplane cabins, which tends to dry us out, so drink plenty of water and try to minimize diuretic beverages." This can be super challenging, because we're typically offered lots of caffeine and alcohol when flying. Brenner suggests being mindful of consuming foods that strip away moisture from the body, like dried fruit, salted nuts, and the oh-so delicious crackers, chips, and processed foods with high sodium content that airlines graciously offer in-flight.
As the CEO of Mother Trucker Yoga, a mindfulness and movement expert, and a nationally recognized speaker who regularly travels for work, Hope Zvara's best travel hack to help fight jet lag and fatigue is drinking water. On the way to the airport, she drinks 8-10 ounces of water, no matter what time of day it is. Once she's through security, she fills her 20-ounce water bottle for the flight. After she lands? She drinks HALF her body weight in ounces of water EVERY SINGLE DAY. "Staying hydrated has played a huge role in how I feel post-flight. I also like to add things like lemon or lime to my water for a little extra boost of hydration and flavor." 
Sigh. I *hope* to someday drink as much water in a week as Zvara does in one day of traveling. 
3. Dose Up On Melatonin

Some people swear by melatonin and others have thrown it in the trash, but this safe, natural supplement can help stabilize your biorhythm, reset your sleep schedule, and knock you TF out in no time. 
Lia Garcia is a full-time travel blogger at Practical Wanderlust who flies around the world with her husband for a living (jealous). "If I'm arriving early in the morning, I'll sleep the entire time. I knock myself out with melatonin, cozy up in a blanket, and snooze so that I wake up refreshed(ish) and ready to explore," Garcia shares. "If I can nail that first night by falling asleep at just the right time and waking up at a reasonable hour, I can usually avoid jet lag altogether."
Dosing melatonin is the biggest jet lag help for Daniel Gillaspia, the founder and full-time traveler behind travel blog UponArriving, as well. Gillaspia is a nationally recognized expert in the travel field and has been featured in National Geographic, HuffPost, and other outlets for his work. "I recently finished up an around-the-world trip where my body didn't know what time zone it was in when I arrived home. As soon as I started taking 5mg of melatonin in the evening, my body started to respond and I could finally get to sleep on a regular schedule. I think melatonin is key to shaving a day or two off your jet lag recovery."
4. Sync Your Schedule With Local Time Zones

Whereas melatonin is life for some, others say it all has to do with timing. Bill Fish is a certified sleep science coach and the co-founder of Tuck, a company devoted to sharing evidence-based news and info that helps people sleep better, and he claims that changing your watch and computer to the local time of your destination can drastically combat jet lag. "When you arrive at your destination, go through your standard routine for that time of day. Don't arrive in a new city at 7pm and immediately get ready for bed. Have a meal and acclimate yourself with the new time, then go to bed at the normal hour you would in your home time zone." 
So is Fish saying that we shouldn't catch up on sleep and we should stay out and party all night once we land in Cancun to sync our schedule with the new timezone? Down. "While it may be difficult during the first day, the sooner you assimilate your body and brain to the new area of the world you're in, the better you'll feel for the rest of your trip." I'll take that as a yes.
If you need help tracking your daily activity on vacation or at home, fancy wearables with sleep tracking capabilities can offer insights into just how much REM sleep you're getting and how healthy you've really been. Especially when traveling to different time zones, wearing a device like a Fitbit can be your guide to getting your sleep and exercise routines back on track.
5. Manage Your Diet

Traveling can totally disrupt your digestive system and cause you to eat like sh*t or not want to eat at all. That's why making sure you're watching what you eat and drink is super important before, during, and after you travel.
"Eating a healthy diet while traveling can keep your digestive system working properly, which helps your body process the new time changes and effects of travel much easier," says Adam Kemp, a professional basketball player who regularly travels to 20+ European countries to play ball in the big leagues. He's not a vegan, but he says he's noticed that eating a plant-based diet significantly reduces his jet lag. "Whether it's through salads or smoothies or anything else, eating or drinking a lot of kale and spinach is always a go-to for me."
I can vouch for this based on my own experience. Sometimes drinking coffee spikes my anxiety and makes me sick on flights, so I'd rather find natural energy in other ways. Eating healthy snacks like Ritual Energy bars (that are equivalent to a cup of coffee) or taking probiotics (shout-out Culturelle) give me the boost I need to save my stomach on vacation and feel good enough to get through that dreaded first day back to work once I get home.
Sarah Marie Perkins, aka Ms. Colorado 2020, agrees. "I've found that bringing healthy snacks in my purse helps me fight airport junk food cravings. Easy snacks that don't need to be refrigerated like carrots, RX Bars, Barney Butter single packs, and nuts are some of my faves. Making sure I'm continuing to eat healthy helps me not feel so awful both on my trip and when I return home." On the other hand, Renee Belz, M.S. is a certified nutritional consultant and co-host of Biohacker Babes Podcast who fasts while she travels. "Food can be a great way to signal to your body what time of day it is, which is another reason why you shouldn't eat in the middle of the night. Fasting during the travel day can help reset your circadian rhythm."
6. Exercise

Okay, I know what you're thinking. "You want me to f*cking exercise when I'm jet lagged and barely even get to the gym when I don't go on vacation?" Uhhh…ya, bitch! Let's explain why.
People try to avoid working out when they're feeling jet-lagged because they think it'll make them even more tired, but that's actually not the case. Sam Williamson, who works as a marketing executive at WeSwap Travel Money, a pre-loaded travel card and currency exchange rate company, tells me, "Do some light exercise in the mornings. Going for a morning run outside is the best way to exercise as you'll also get some exposure to daylight, further helping you to regulate your body to your usual time zone." 
Kimberly Keller, best-selling author of two books, including one on healthy traveling called Ultimate Health On The Go, also suggests that exercising or walking right after you arrive somewhere helps the body's metabolism adjust easier to any time difference. 
7. Get A Massage

Okay, so I didn't convince you to exercise…what about a massage? TBH, that's more my style too. If you're too lazy to hop on a treadmill after your vacation, just lie down and let someone else move your body for you. Tons of spas offer unique jet lag massages for this exact reason.
Haven Spa in NYC offers a 90-minute Tourist Massage that's designed for travelers who sat on a plane locked in one sitting position for hours, walked way too many miles, stood in long airport lines, and carried around heavy backpacks or suitcases, etc. Professional massages like these focus on healing the parts of your body that ache the most post-vacay like your feet, legs, lower back, shoulders, neck, and head to help you feel refreshed in no time.
8. This "No Jet Lag" Supplement

Marisa DeSalvio is a travel agent, the CEO of DeSalvio Travel, and had traveled to 31 countries… and she's never had jet lag. Her secret? These homeopathic No Jet Lag Pills. And she's not the only one who recommended these pills to me. Courtnie Nichols, who is the CEO and Founder of TravelBash, a boutique travel company that offers awesome customized trip planning services, also suggested these pills to me that she claims "have no side effects and actually works." Full-time millennial luxury travel blogger Mona Molayem of @monacorona (whose job sounds like a damn dream) is another traveler who swears by this supplement. "It's a homeopathic blend of herbs that you take while flying to help you adjust to the new time zone." 
I mean, I'd literally never think to buy a pill called "No Jet Lag" off Amazon, but I guess it really works if these pros use it on the reg. 
9. Use Natural Face Masks, CBD Products, And Life Hacks

International model Angelina Galt finds that taking the natural route can help ward off nasty side effects whenever she travels overseas for photoshoots. "What I find helpful to fight off jet lag is taking homeopathic supplements a few days prior to the flight and throughout the days after the flight. After flights, especially long ones, I try to nourish my body with healthy foods and lots of rest. To look more refreshed, I'll double face mask, first with an exfoliating clay mask and then something soothing and moisturizing."
Travel and hospitality publicist Dani De la Osa is an avid airport dweller who believes one of the best ways to beat jet lag is to go all-natural as well. "If you need help falling asleep, valerian root, chamomile tea, and even Kava can be powerful relaxers." 
As y'all already know if you've read my other posts on CBD lube and CBD for skin care, I love me some natural feel-good products. CBD is awesome for spicing things up in the bedroom and managing pain, but it's also super helpful for recovering from jet lag. CBDfx and CBDistillery both make vegan hemp oil gummies that help me fall asleep at night and reduce anxiety, which are two common symptoms of jet lag. Good Day also makes a delicious CBD cold brew coffee to perk you up yet keep you chill once you get back to work after your trip ends.
And nothing screams "natural" louder than diving inward and practicing mindfulness, am I right?! Emmy Crouter, MSW, LSW is a Denver-based millennial psychotherapist who shared some really amazing therapy tips to help us recover from jet lag. She suggests setting yourself up for success before you even pack for your trip. "Coming back from vacation to a messy apartment, loose ends, and unfinished projects at work is the absolute worst. In the weeks leading up to a vacation, make a to-do list of the tasks you'd like to accomplish before you depart. When you return, anxiety will be mitigated." Well, that makes complete sense. And so does this: "Before you even touch your suitcase, clean your house, put away your laundry, and water your plants—whatever you need to do to set yourself up for a smooth return back to reality." 
Crouter continues, "Finding gratitude in the fact that you were able to take time away, that you experienced new people and places, and (hopefully) had a fabulous time can help ward off the post-vacay blues. Spending ten minutes journaling about the following questions can help put things into perspective while trying to keep your eyes open at work : What was amazing about my trip? What was the highlight? What was the hardest part? What did I miss about home? What am I looking forward to doing now that I am home?" 
Cheers to that. Happy and refreshing travels, my friends! Now excuse me while I go travel to Colorado to indulge in some legal CBD and therapy so I can run away from my responsibilities test out all of these jet lag recovery tips for myself.
IMAGES: Pexels, Giphy (7), Amazon
What Your Honeymoon Destination Says About You & The Kind Of Married Sex You'll Have
If you're over the age of 25, June means one of two things: either a) everyone you know and their fucking brother is getting married or b) you're getting married. There is no c. Those are the only two options. Luckily, as we get closer to July, all the wedding, love, marriage bullshit starts to slow down because it's so hot that getting married or doing anything that involves leaving the house sounds fucking miz. In place of the "forever wedding date" and "best day ever" Instagrams you'll start to see "baecation" and "never leaving" ones take their place. In other words, honeymoon season is upon us. That's why we're breaking down what your honeymoon destination says about you. So you can choose wisely or judge the shit out of your tacky miserable newlywed friends. Either way you win!
1. Mexico
Cancun? For your honeymoon? Groundbreaking. Mexico, for some reason I'll never understand, has become the most popular spot for newlyweds. Pretty much, if this is what you choose, you're cliché af. Your hubs probs booked this for you and freaked the fuck out when he found a place where all the food was included. Bless him and his cheap-ass heart. You'll enjoy yourself, but secretly you'll be thinking about how much more fun you had in Mexico during spring break sophomore year and how much better the sex was with Johnny the Sigma Chi than your new spouse. Bummer. Like your unoriginal honeymoon choice, you'll live a pretty basic life. In a few years, you'll move to the suburbs, pop out a few kids and live a completely boring life.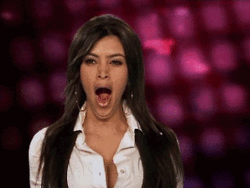 2. Europe
You're doing the honeymoon for the 'gram and everyone knows it. You care a lot what people think and want to come off as way more cultured and original than your other newlywed friends who are laying on a beach somewhere. Your best memories were probs from when you studied abroad in Europe and you coerced your fiancé into booking this trip instead of an all-inclusive somewhere because you wanted to make those same memories with him. Vom. Because you care so much about what people think, your marriage looks perfect to outsiders but behind closed doors some serious shit goes down. You'll pretend everything is okay until you catch him screwing his secretary and then you'll ditch his ass and take his money with you. Mazel!
3. Anywhere In The Continental U.S.
I mean, seriously? I know the Grand Canyon is pretty and Napa has some of the world's best wine, but live a little. You just tied yourself to one person and missionary sex for the rest of your life, the least you can do is leave the country. When you stay stateside, you make the Mexico crew look like true wanderlusters—that's how fucking lame you are. When people ask why you're not actually going somewhere, you'll act all holier than thou about "not needing a fancy trip because marrying your soulmate is celebration enough" but deep down you're already starting to panic about how uneventfully your life is panning out. I'm not saying anyone who has their honeymoon in the U.S. is destined to have a mid-life crisis where they freak out, fuck the hot new intern at their job, and have a messy divorce, but I'm also not not saying that.
4. French Polynesia
Tahiti, Bora Bora and the likes are reserved for the super wealthy romantic types. Sure, most honeymoons cost more than what a couple can afford, but it takes true money to be able to drop $20k on a week-long vacay. Like, I can't do that even if I wanted to. (Ok, you got me, I want to.) Your spouse is probably in finance or taking over the family business, while you have family money but managed to land a killer PR job right out of college. When you decide to have kids you'll hire at least three nannies and say it's because you're working parents, but really it's because you don't want to give up your luxurious lifestyle of traveling around the world and black tie galas.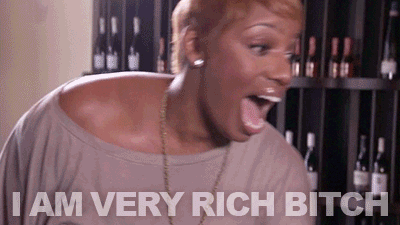 5. Caribbean
Anywhere in the Caribbean tends to be a popular choice when it comes to choosing the perfect spot for a honeymoon. There are different islands for different vibes: Jamaica and Puerto Rico for average peeps, St. Barts and Anguilla for the bougie betches, and a bunch of shit in the middle. If you go to the Caribbean after your wedding you're most likely the life of the party and everyone likes you. You're not as lame as the people going to Mexico but not as snobby the Bora Bora crew. You'll live in the city for a few years and then move to an up-and-coming suburb when you decide to start a fam. Your kids will probs be cool too and you'll grow old with your cool little family.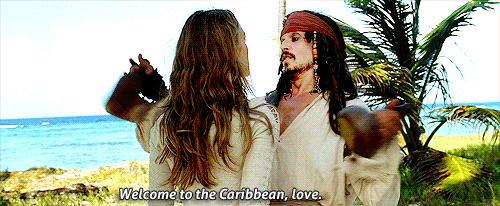 6. Asia
Like the newlyweds that go to Europe, you care what WAY too much people think and can't wait to post honeymoon pics of your Asian adventure on social media, but rather than being a sophisticated, Upper East side type, you're a hipster couple that composts all your waste and judges the shit out of people who think Starbucks is good coffee. In other words, your wedding had mason jars and burlap and you're kind of the worst. When you get home, you'll tell everyone that seeing the Tian Tan Buddha statue in Hong Kong was the most spiritual incredible moment of your life, but you actually liked riding elephants in Thailand better. In the future, you'll sell your apartment in the city to get a tiny cabin or an RV or some other hipster bullshit in the middle of nowhere. You'll go off the grid and no one will miss you. Oh, and you smoke a lot of weed.
7. Hawaii
Hawaii is for the couple who, despite being in their late 20s, is actually like fucking 40 years old at heart. If this is you, you stopped taking birth control on the wedding night and will probably get pregnant sometime during the trip because you're ready to be a mom like, yesterday. The wedding ceremony was in a church that you've been going to your whole life and there was a reception right after in a barn with only beer and wine. I'd bet your last name is Smith or Jones. In a few years, you'll become the president of the PTA and start a blog about motherhood called "Mom-Stop," a play on non-stop that no one will pick up on.
8. A Cruise
Are you fucking kidding me? A cruise? For your honeymoon? Gross. That's all.

What type of bridesmaid are you? Find out here!
United Airlines' Leggings Ban Isn't Even The Worst Thing They've Done Recently
As anyone with even a casual attachment to Twitter already knows, United Airlines got into deep shit this weekend after forcing two young girls, one of whom was only 10 years old, to change out of leggings before boarding the flight. The girls, who were flying on free employee passes, were deemed too slutty to board, as per United's dress code for pass riders. Predictably, feminist Twitter flipped the fuck out, as women everywhere were triggered into remembering the first of many times they were forced to change by school officials who decided their arms/legs/shoulders/clavicles/whatever were far too tempting for the impressionable men around them to concentrate on their important man-tasks. United's response was basically to throw two fingers in the air and tell the world that if 10-year-olds wanna ride fo' free, then those 10-year-olds need to step up their fashion game. A bold stance.
The passengers this morning were United pass riders who were not in compliance with our dress code policy for company benefit travel.

— United (@united) March 26, 2017
Now there is a debate here over whether or not the parents should have been more attentive to the dress code, and what United should or should not have done. A lot of frequent pass riders are saying this dress code is well known, and the girls should have known that such sinful, form-fitting attire would not be permitted. Others are appalled, not just at the fact that two children were slut shamed in front of an entire airplane, but also at the suggestion that anyone would wear anything other than leggings during air travel. You want me wearing pants? Like with a button and a zipper and shit? On a plane? Hard pass.
But like I said, that conversation is already happening all over Twitter. If you want to read about it, just check United's mentions and go to fucking town. It's all there. I'm not here to talk about that, and I'm certainly not here to get into the extremely divisive "are leggings pants?" debate. I don't need the death threats. What I am here to say is this:
United fucking sucks as an airline. And I know from experience. 
Over the new year I flew from D.C. to Wisconsin to Chicago to Denver, then from Denver to Chicago to NYC, all on United. It was a risk, but the prices were good and the times were right so I said what could go wrong? Everything, apparently. 
Being that I, like every modern woman, have an anxiety disorder, I don't like to check my bag. What if they lose all my shit? I need all my shit. My vibrator is in there. All my Christmas presents are in there. What kind of life would I lead without my vibrator and Christmas presents? I don't want to know. That's why my travel/baggage motto is always "Keep Calm and Carry On." The "calm" brought to you by Xanax. Ty.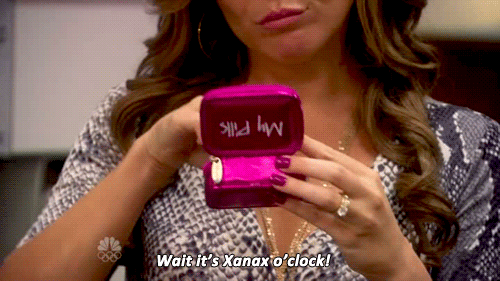 From Wisconsin to Denver, I volunteered to gate check my bag because the gate attendant was asking for volunteers and I'm a literally incredible person who was overtaken by the Christmas spirit. This detail would later be used against me, so fuck trying to be a nice person. Never again.
Cut to my return flight from Chicago to NYC. The flight is delayed two hours, which makes sense because it's snowing a lot. I'm not bothered. I'd eaten like, a large amount of edible chocolates plus the Xanax so as far as I was concerned Chicago's O'Hare airport was as comfortable as my own damn bed. I'm very chill.

Someone who is distinctly not very chill is our gate attendant. He is continually making announcements about how the plane is "being held in the terminal for no reason" and how the pilot "has no idea what he's doing." Not something that you want to hear about the person who is going to be behind the wheel of your sky-car, but again, I am heavily sedated and it would take nothing short of a terrorist attack to get me to feel anything but warm and slightly sleepy. Little did I know, the gate attendant would soon reveal himself to be my personal Osama Bin Laden.
Is that too extreme? Maybe. But I stand by it.
Finally, we are boarding. Things are going fine. I go up to get on the plane and come face to face with Angry Gate Attendant. He takes one look at me and yells "WELL I GUESS I HAVE TO CHECK YOUR ENORMOUS BAG."
I pause. Surely he's not talking about me? Me who has carried my bag on 4 out of 5 flights? Me who gate checked just recently out of the kindness of my own heart? Me who is existing in a bubble of chill vibes? No way. No fucking way.
So I say something to the effect of, "Oh really? I carried this on all my other flights."
Here's where being a good person comes to bite me in the ass. He snatches up the ticket that's still stuck to my bag from when I gate checked and says "Clearly you didn't!" and grabs my bag from me. He stands in between me and my vibrator.

I tell him again that yes I did carry on my bag previously, but it's fine, I'll gate check it, and I turn to leave. Next thing I know this dude is running after me, screaming "MA'AM! MA'AM!" he grabs the bag from me and drags me out to the line. He then tells me that I "appear to think in the wrong" and that if I want to get on the plane, I have to stand in front of the line and admit that he is "right in his assessment of the size of my bag."
Deadass. This dude wants me to declare him right and myself wrong, in public, before all of the people in boarding group 4, before I am allowed to board the plane. At this point, my Xanax and edibles combination is turning against me. I start crying immediately. Big, wet, "I'm fucked up on drugs" tears. Ya'll know what I'm talking about.

So, I mean, I do it. I announce to the airport that I am wrong about the size of my bag. That my bag is actually very large. Far too large to ever be allowed on a plane. I must have dreamed that I carried the bag on my other flights. In fact, I didn't dream it. I made it up. Purposely. To sabotage Chicago O'Hare airport and Angry Gate Attendant personally, because I'm jealous. I'm jealous of the airport. I'm jealous of Gate Hitler. I'm a jealous, messy bitch, and I'm deeply sorry.
As a result, my flight was less than ideal. We arrive in NYC at 2am and all I want to do is get my bag and GTFO. But my bag never comes.
For those of you who have never experienced the horror that is watching every single person on your flight pick up their bag until the carousel is empty and your life flashes before your eyes, you're lucky. It's like, getting your period when you weren't expecting to x1000 and all your Christmas presents are gone. The now drunken Xanax-and-edible tears start back up again, and do not stop until I am safely in my bed, again, sans vibrator.

My bag and I were eventually reunited 48 hours later, when a random man delivered them to my apartment at 2am. I didn't even get a free voucher or an apology or a separate bag with the gate attendant's head in it or anything. And before you ask, of course I sent a thousand angry DMs to United's customer service account. It's 2017. Getting pissed off at companies on Twitter is like, a human right. Whoever runs their account apologized for the gate attendant's behavior, but again, I've yet to receive an invitation to his funeral, so I am not satisfied. 

All this is to say, leggings or no leggings, United fucking sucks. Their gate attendants are mean, and they clearly have issues with normalizing their policies across airports. My athleisured ass will be flying Southwest from here on out. Or maybe Jetblue. Or even—dare I say—Virgin. That's right, I'd rather watch their truly insane in-flight safety video before every single one of my connecting flights than step foot on a United plane ever again. And that's really saying something, because this shit is pretty fucking extra: