3 Habits That Could Be Keeping You From Hitting Your Fitness Goals
Not to sound like a Baby Boomer or anything, but we totally live in a time of instant gratification. Whether it's a shirt you bought off Amazon, finding the love of your life, or seeing the results from a new diet and exercise routine, we all feel like we have to get the things we want immediately. But, just like you can't rush USPS (no matter how many angry phone calls you make), you can't rush your body. No matter what your fitness goals are, you're probably not going to see changes immediately. I know how frustrating it can be to not see changes right away when you've been putting in the work, hitting the gym, and eating right. But don't give up! Before you throw in the towel, let's investigate what could be hindering your progress.
1. You've Only Been Consistent For 2 Weeks
Changes don't happen overnight or even in two weeks, unfortunately. Give yourself a six to eight week timeline to realistically start seeing or feeling results. Like anything else in life, it takes time, and you need to work at it first to see change. Two weeks of consistency is still a milestone, though, and you should for sure reward yourself for that, but continue to stick to your routine. Give your body some time to adjust.
2. You're Not Sore Anymore
Really ask yourself if you're still going as hard in the gym as you did on day one, or if you're kind of just going through the motions now. To see results, and keep them coming, you have to constantly challenge your body. To change and progress your workouts, the key is to keep your body working as hard as it did when you were starting out. Progressions can include adding more weight, more reps, or more sets. They can also include advancing the movements, such as doing a full push-up instead of doing modified ones on your knees. This is where you're going to have to dig deep and find that motivation or try out a few sessions with a trainer.
3. Your Diet Isn't As Clean As You Think It Is
Okay, let's think about it. Let's say it's oatmeal for breakfast, a salad for lunch, and grilled chicken and veggies for dinner. Sounds great, but you might be overlooking a few things. Is there a ton of sugar on your oatmeal? Did the salad have croutons, cheese, and ranch dressing on it? Were there free mini muffins in the office, so you grabbed a few, or snacked on a few handfuls of chips throughout the day? It's nothing to be ashamed of, but it is something to be mindful of. Little things really do count, and most times we forget about small stuff like condiments, drinks, and bites we have throughout the day. If you're not seeing the results you want to see, look at things most of us consider negligible.
Most times people will stick to their diet and workouts for not even two weeks before they give up due to lack of results. Stick with it for a little longer! You don't quit your job two weeks in because you're not making six figures, right? I hope not. Keep pushing yourself in the gym and keep being mindful of what you're eating. You got this.
Images: @dietstartstomorrow/Instagram; Luis Quintero / Unsplash
How To Train For Your First Triathlon
Robert Jackson is an Ironman UK finisher and certified personal trainer based in Canary Wharf, London. He specialises in training time-poor office workers who want to get back in shape, and first time triathletes. Find out more at www.minimalfit.co.uk
So, you'd like to take on your first triathlon? You probably have lots of questions already, such as "how should I train for my first triathlon?", "Can I use a mountain bike?" and "what distance triathlon should I choose?" I'll be covering all that and much more in this helpful guide on how to train for your first triathlon. Before we get started, let's clarify a few key points…
What Does A Triathlon Involve?
As the name suggests, there are three (tri) parts to a triathlon, which are completed in this order: swimming, cycling, then running. There are four main race distances you can complete, which are Sprint, Olympic, Half, and Full. Full distance is also commonly referred to as an Ironman Triathlon.
How To Pick A Distance
It's good to set lofty goals, but only the brave or foolish would consider taking on a half or full distance triathlon for their first outing. Most people start with a sprint distance triathlon. In fact, some even start with a super-sprint, which is a newer addition to the scene to help accommodate first timers. I would personally recommend choosing either a super-sprint or a sprint distance, depending on your previous sporting experience.
The longer the distance, the more hours you need to spend training each week, and for more weeks leading up to your event. Because this post is aimed at first timers, I'll assume you're training for a sprint distance triathlon. A short answer is that you'll want a good 12 weeks to prepare. There will inevitably be days or weeks where you can't train because life gets in the way, so it's rare you'll actually be training for 12 solid weeks.

Let's break down each discipline and see what kind of sessions we need to do for each one to make good progress. For swimming, you would ideally do 3-4 sessions a week. Little and often is key in order to keep your "feel" for the water, so the sessions need not be long, maybe even just 15 minutes. For cycling, you'll want at least two sessions a week. 1 long ride, getting used to the distances and being comfortable on the bike, one interval session to improve your fitness, and, if possible, one hill sprint session to develop power. For running, again, at least two sessions a week following the same structure as cycling.
In total, that's at least seven sessions a week. No one said triathlon training was easy! You also need a rest day, so you have to fit seven sessions into six days. First, let's take a look at the first part of a triathlon, the swim.
Leg 1: Swimming
Swimming is the first stage of a triathlon. In most races, you will start in waves of different age groups which are separated by men and women. This is the case for most outdoor swim events, but for indoor (pool) swim events it will differ. Let's start by taking a look at the differences between them so you can choose what's best for you and your first event.
If you're confident in the water and can get some good practice in open water before your event, go for an open water one. If you're not a confident swimmer and are unlikely to join any courses or practice in open water, you're probably better off starting with a pool swim. It's entirely up to you, but I have seen many first timers have to get out of the water in open water events because they were not used to it and had not practiced.

Swimming in open water is incredibly intimidating just by itself. There are some key skills you need to master before you can swim in open water safely, effectively and efficiently, which include sighting, drafting (staying behind another swimmer), turning, wearing a wetsuit, and learning to be comfortable in cold and crowded water.
Because swimming is mostly about being comfortable in the water and being relaxed, the key part to all your swim sessions is about technique and being calm. There are a few different sessions you could do. One is a long steady swim, where you should aim to build up to swimming 1km in distance without stopping. Don't worry about how long it takes, just aim for the distance and remaining relaxed. Another is an interval session. Aim to swim four lengths at a time (assuming a 25m pool) then rest for 60 seconds. Repeat those intervals for up to 30 minutes in total. The last is a technique session. Spending time improving your technique will pay dividends, but since swim technique is complex, make sure to get help from a local triathlon club or swim coach.
Let's now transition into the second leg of the race, cycling.
Leg 2: Cycling
The cycling leg of nearly every triathlon is proportionally the longest part, which means that strong cyclists do quite well in triathlons unless they are terrible swimmers and runners. As a result, it pays to spend more time practicing cycling than any other area. For your first tri, there will be some key points to consider, so let's get stuck in with the first one…

If you don't have a road bike, don't worry, but make sure that the race you enter allows mountain bikes. This is important, because a lot of events will not allow them. If you're semi-serious about cycling or triathlon, a road bike is a must-have item. You don't have to spend thousands, but a half-decent one will make a world of difference. Regardless of your bike selection, you can still perform the same style of training to maximise your performance.
Without going into too much detail, there are three main types of session you want to perform. Longer, steady pace rides (to get used to the distance you need to ride), interval sessions (aimed to do a set amount of time at a speed faster than you can hold for your steady ride, with a set amount of lower speed riding), and hill repeats (designed to improve your leg strength, fitness and ability to tackle hills).
Leg 3: Running
OK, now we're onto the final leg of the race. The run. After swimming and cycling you are going to be tired, so this is where all your training sessions will help you. Let's start by looking at brick sessions, which are called as such because they're when you complete one exercise session after another.
A 'brick run' is where you run immediately after cycling, which is what you will do in the race. This is a very important technique to test out in training. If you have not done this before, it will be a shock. If you've pushed hard on the bike, your legs will be tired so when you start running they might cramp up. That's why we practice it in training first.

After one of your bike rides, come home and have everything ready to go out for a run. You can treat it like a practice transition two. Get off your bike and as quickly as you can get out running. You should aim to do at least one of these types of session a week so you know you can run straight off the bike without getting cramp.
There are also other run sessions you can complete. These are the same as the cycling sessions and for the same reasons as already mentioned, longer, steady pace runs, interval sessions, and hill repeats.
Images: Coen van den Broek / Unsplash; Giphy (4)
Breaking Down The Different Types Of Cardio & Which Is Right For You
Fitness is so subjective. It's a personal journey that looks different for everybody. As a professional, all I can do is put out the best information I can that is scientifically backed. If it's anecdotal then I will tell you straight-up that I haven't been able to find scientific evidence supporting or negating a theory or claim. Not all information I put out will always support everybody's fitness regimen. So many of my articles (including the most recent one on running) have a poppin-ass comments section because everyone has their own way of working out. I will always write the truth about what works for me from MY own experiences and also as a professional, from being a part of other people's journeys. What works for me and my clients will not always work for everyone. I think the discussions being had are fantastic, and this is the biggest sign that people are finding what works for them and staying true to their own path. If my writing gets you considering ways to be healthier or sparking health-related conversations then I have achieved my purpose. However, if this article, and any of my other articles do not resonate with you, it doesn't mean I am saying what you're doing is wrong. Follow what your body tells you, first and foremost and forever.
With that said, let's talk about cardio. There are two sides to every story, just like the story of your Tinder date's last relationship's demise (if he said "she was crazy" she probably wasn't, FYI, she probably just caught him cheating and left). When it comes to cardio, some people love it, some people hate it. I'll let you figure it out for yourself.
Cardio is any activity that elevates your heart rate. So anything from pacing anxiously after sending a bold text to running after your Uber after the club closes technically counts as cardio. But let's break it down further into different TYPES of cardio.
Low Intensity Steady State Cardio
If you guys go on a cardio machine such as the treadmill or the elliptical or whatever else, you might see this chart that correlates your age with your current heart rate and that determines what kind of zone you're in (there's "fat burn" and "cardiovascular" zone). For a long, long time, people thought that to burn fat and lose weight you have to your ass in the fat burn zone for hours. The fat burn zone is not tiring for the average population (if you're healthy and don't have any disorders). That's like a chill walk around the neighborhood. Boredom and stalker-ish tendencies aside, you can do that for hours, right? You're not going to be out of breath or anything. Low intensity steady state cardio is basically the kind of cardio that you can do without too much effort, for a long time. And yeah you're in the "fat burn" zone because most of the calories is coming from fat metabolism, but you're only burning like, 200 calories in an hour. When new information came out the inaccuracies about the "fat burn" zone and about the benefits of HIIT or high intensity interval training, everyone jumped the LISS ship and now it seems like the only people every chill walking on a treadmill in the gym are somebody's grandparents.

So is LISS a complete waste of time?
Not exactly, not even for fitness experts that train constantly. LISS is so damn chill that you don't need any time to recover from it after. You can actually use it TO recover after a day of lifting heavy or strenuous work. It will still increase your circulation and get you feeling active, but not completely drain your energy reserves. LISS is perfect for beginners. The main goal for anyone starting their fitness journey is to GET MOVING in any way, shape or form. It is also great for anyone easing their way back from an injury or illness. Personally, I use LISS as a way to wake my body up on certain days. I usually work out pretty much right after I wake up, and sometimes your girl is not trying to jump into anything crazy right away. I'm still trying to get my life together. So I'll jump on a treadmill first, and start walking. I'll check my emails, check IG and Twitter, ignore any "wyd?" texts I got while I was asleep and then put on Schitt's Creek on Netflix on my phone. I'll progressively pull up the incline (remember, I'm not a beginner, so if adding incline makes this no longer something you can do for a full hour, it's no longer LISS) throughout the cardio session. Afterwards, I'm awake, my blood is flowing, I'll be ready to move on with my workout or with my day, depending on the schedule. Now, not every day will be LISS, and it doesn't have to be. If you're someone that does HIIT a lot and love it, you don't have to ditch it completely. LISS is just another tool you can use on days where you need or want a more gentle approach. It's effective in a different way and you're certainly not going to be huffing and puffing, so you might not FEEL dead but it's effective all the same. You don't always have to feel dead after a workout to for it to be effective. 
High Intensity Interval Training
This baby came in hot. Barry's Bootcamp, SoulCycle, Rise Nation, etc. are all designed around HIIT training, it's a very lucrative cardio approach.
While LISS you can do the whole time with no breaks, with HIIT breaks are a crucial part of the whole training because otherwise you might die the body requires oxygen. When you're sprinting on a treadmill or a bike, your body is quickly running out of oxygen, turning the state of your cells acidic (all that carbon dioxide, honey!) which is why you're out of breath. The work phase of HIIT shouldn't last more than 90 seconds, mainly because you shouldn't be physically able to. While LISS uses fat as its primary means of energy, HIIT is considered to be so high intensity that we're working with depleting your carbohydrate stores because carbohydrates provide quicker energy. Now, this doesn't mean you won't lose fat with HIIT. In fact, you're working so hard you're probably burning equal the number amounts of an hour long LISS session in half the time with HIIT. There is also something called EPOC or excess post-exercise oxygen consumption. When trainers tell you to do HIIT because you're burning calories for hours after you're done training, this is what they're talking about. It's the body's way of restoring the oxygen levels back to normal, and it requires calories to do so. EPOC is only activated during intense exercise—the duration of exercise doesn't matter so this isn't something that can ever be achieved with LISS.

Do You Ever NEED To Do Cardio?
It's the 21st century, you don't ever NEED to do anything. But you probably should. If you're lifting weights and doing circuit/HIIT training, LISS could be a good recovery tool for you. It's also a good jumping off point for beginners, so if you're trying to get a friend or family member started on working out you can have them join you on your LISS day. It's also such a great multi-tasking tool. You can do so much sh*t in the time you're walking on the treadmill, guys—reply to emails, call your girls or your mom and catch up, read the news. You can't multi-task while doing HIIT unless you're open to seriously injuring yourself. HIIT is so killer, it's great for amping and switching up your workout routine so you can continue to progress. It can be incorporated into your resistance training routine so you can do a little two-in-one situation. In fact, many people do cardio and don't even realize they're doing cardio with HIIT (but more on that a little later).
I've found the best way for me to do cardio is to combine LISS and HIIT. I'll do LISS (which is pretty much the traditional cardio… walking on the treadmill, using the elliptical, etc.) then add some HIIT fundamentals into the weights portion. According to science (and my experiences), the best results in exercise come from a combination of cardio and resistance training. I mentioned before in an article that without cardio I looked "puffy" so I make it a point now to do cardio. Some people will say this is super misleading and weights don't make you puffy.

Hear me out.
At that time, I was lifting heavy and slow for muscle growth. When your muscles grow, it is holding onto more glycogen stores (because it knows it needs it for the work, our bodies are incredibly smart) which holds onto water (should I write about this little phenomenon? Lmk in the comments!). That's why I got that "puffy" look. I also wasn't losing fat at the same rate I was building muscle, so it was double the puff. If all you do is lift heavy weights and never do "cardio" in your whole life, and you're not "puffy", I'm willing to bet that you're doing some sort of HIIT in your workouts. You're doing 3 sets of 30 seconds of jump squats? Are you doing battle rope intervals? You're doing cardio, baby. Welcome to the club, so happy to have you. 
Images: Clem Onojeghuo / Unsplash; Giphy (3)
5 Diet & Exercise Mistakes Your Trainer Wishes You'd Stop Making
Nicole Nam has a Bachelors of Science in Public Health Nutrition Specialization and a Masters of Science in Kinesiology. She has a personal training certification from the American Council of Exercise, and has trained a variety of clients, including a contestant in this year's Miss Nevada competition. Follow her on Instagram here.
As a personal trainer, I see a lot of my clients struggle with information overload. So much contradicting information is thrown at you that you don't know wtf to believe. I always want my clients, and Betches readers, to approach every piece of information you read/hear/come across pertaining to fitness and wellness with a subjective mindset. No two bodies are the same—so what works for one person might not work for you for many reasons, whether it's biological makeup or cultural preferences. (Example: you won't find me on the keto diet—I'm Asian, I was raised on rice and noodles and carbs.) Fitness and achieving your dream body is about finding what works for you.
That said, I want to give you five general diet and exercise mistakes that I've seen hinder my clients' progress despite their age, their genetic makeup, and their lifestyle. Get ready for some harsh truths. Take from this article what you will, because maybe some of these mistakes are things you're doing and finding success with. If that's the case, IGNORE ME. Listen to your body first.
1. Doing Only Cardio, Or Only Weights
View this post on Instagram
A lot of my beginner clients were cardio addicts. They loved cardio because it's easy. It's one movement for an extended period of time—they don't have to mess with equipment, they don't have to come up with a routine, and they don't have to learn how to properly execute movements. But weights changed their lives. The thing is, cardio alone will not give you the muscle tone that you want. What it WILL do is make you lose weight. Whether that's good or bad is up to you. On the other hand, if you hop on social media you'll see fitness models praise the weights-only method. They don't do cardio, or they'll do 15 minutes max. They lift heavy weights only. From personal experience, doing weights ONLY (especially if you lift medium-heavy) can cause weight gain (due to increased muscle, but the same amount of fat) and a bulkier look. Again, whether that's good or bad is up to you. My clients want to lose fat and increase muscle simultaneously, so the best solution that I have found for myself AND my clients is to split it 50-50. If we have an hour to work, we do 30 minutes of cardio with 30 minutes of weights.
2. Not Drinking Water
Drink that sh*t. It helps your body to recover from physical activity, flushes out toxins, and it will also help you figure out REAL hunger—not hunger from thirst or hunger from boredom. Don't drink Vitamin Water, don't drink diet soda…WHY. Why do that to yourself? Your body doesn't need that. Your body needs clean, pure WATER.
3. Not Taking Days Off
How I work out:
-Run a mile or whatever
-Spend the next 2-3 days too sore to move
-Rest
-Repeat

— Betches (@betchesluvthis) February 11, 2019

Some of my clients are super ambitious and strong-willed, or they're working on a time crunch to be a certain size. They'll train a total of six days a week, and do the same body parts all six days a week. Then they'll complain to me about not seeing results. Well sweetie, that's because you've torn down your muscle fibers to shreds! You've not given the fibers time to repair themselves (which is where you see results). Regardless of their deadline, I require my clients to take two days off from training a week and take one day to do restorative low-impact exercises such as yoga or Pilates. The other four days, you have my permission to go balls to the walls with it.
4. Trying To Outrun A Bad Diet
I can't help you work off all the bullsh*t you eat if you're steadily eating bullsh*t. Just because we did a 90-minute session does not give you an excuse to eat whatever you want, especially if you're serious about your goals and ESPECIALLY if we're working with a four-week deadline for your wedding. Throw out all the crap in your house, and do not restock your cupboard with all that damn junk food just to torture yourself. What are you gonna do? Stare at it, until you give in and finally eat it anyway? That's not going to work. There's a reason they say "you can't outrun a bad diet".
The more you cook, the more you know what is going into your body. Try to find the joy in cooking, even if it's something that a 6-year-old could make like scrambled eggs. Keep eating out at restaurants to a minimum if you're trying to lose weight. That's because restaurants' main concerns are the taste of their food and their Yelp reviews—they could give a damn about your fitness goals. For example, restaurant scrambled eggs often have unnecessary sh*t like cream, cheese, or tons of butter that could turn your innocent scrambled eggs into a calorie bomb. Invest in a good nonstick pan, make your own scrambled eggs and spinach, and you've probably just cut the calories in half.
5. Not Taking Vitamins
When your body is deficient in a certain vitamin, it translates into a craving. Craving "fatty" foods like butter and cheese? Could be a lack of Omega-3's. Craving chocolate? Maybe your magnesium levels are low. Craving super salty or super sweet foods? A zinc supplement could help. Bottom line is, when your cells are hungry you will most likely be too. This is also the case for those that are cutting out whole food groups such as those on any low-carbohydrate or low-fat diets.
Now that you're aware of these common diet and exercise mistakes, you can stop falling into these traps and start achieving your fitness goals.
Images: betches (2), dietstartstomorrow, daddyissues_ / Instagram; betchesluvthis / Twitter
The Full-Body Workout You Can Do In A Corner Of The Gym
If you go to the gym right before 9am or right after 6pm, you know how annoying it can be to get around the place during workout rush hour. As much as we'd all love to work out in an empty gym with the whole place to ourselves, it's v unrealistic unless you're like, a psychotic morning person or like, super rich. Luckily for you, we've put together a workout can literally be done with one mat in a tiny corner of the gym, so you don't have to bother waiting for a machine to become available or for people to step away from the dumbbell racks. Here's a quick workout that will tone your whole body and burn a ton of calories while staying in one space the whole time.  
1. Walkout Push-Ups
The walkout push-up is a great warm-up move because it gets your lower and upper body working without diving right into a cardio or strength move. The idea here is to first warm up your hamstrings by starting in a standing position and folding your arms and head forward, and then get your upper body warmed up by crawling your hands out to a plank position. Once you're in your plank, perform one push-up (drop to your knees if you have to) and then crawl your hands back to your ankles to stand back up, engaging your core at the top each time. Start off slow, and then try to speed up on your last few reps. Do 10 of these in total.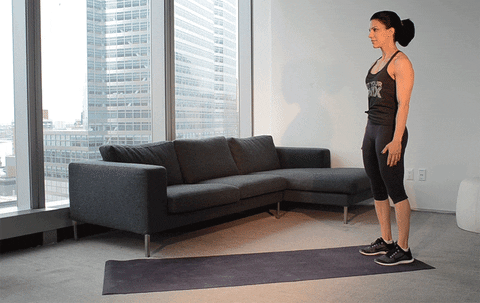 2. Glute Bridge To Oblique Reach
This is another lower and upper body movement, but this time you're working your butt and your obliques, aka your side abs and love handle region. Start by lying on your back with your knees bent and your feet on the ground. Then, extend one leg straight out and lift your hips into a bridge, squeezing your glutes and specifically feeling the burn on that same side. After the bridge, lower your hips back to the ground and reach your arms toward the straight leg while extending the leg upwards. Remember that you're crunching with your abs, so don't just use your arms to swing your body up. This combo is slightly complicated since it's technically two moves in one, so you can take your time on these until you get the hang of it. Do eight reps on each side.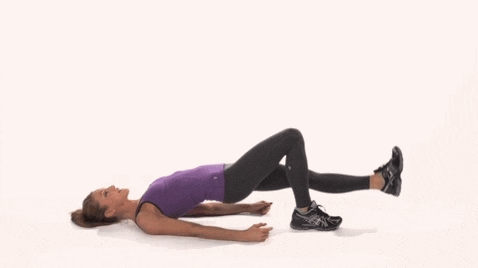 3. Tricep Extensions
You'll need a weight for tricep extensions, but it shouldn't be too hard to find because you can literally use whatever you want—a dumbbell, a weighted medicine ball, or a kettlebell. If you have a kettlebell available to you, you're gonna hold it by its horns (AKA the non-bell part) and lift it up over your head, keeping your elbows straight forward and your arms tight. Then, extend the bell toward the back of your neck, using your triceps to bring the weight up and down each time. If you feel like your elbows are widening out to the side, take a break and reposition yourself. The tricep muscles are really what give your arm that toned, sculpted look, so go heavy on these and take your time. Aim for 10-12 reps.

4. Deadlift To High Pull
The good news with this move is that you can use the same weight you were just using. Again, this is a combo move, so you're totally killing two birds with one stone by working your legs and your arms in one exercise. Place your kettlebell on the ground in front of you, and make sure it's between your legs, but like an inch or two forward. Then, bending your knees slightly, you're going to hinge your hips backward and lift the kettlebell keeping your arms straight, bringing it to your waist as you hinge the hips forward. That's the deadlift part. Then, you're gonna pull the kettlebell up to your chin, using your shoulders to row upright, with your elbows wide towards the sides. Once you complete one rep, bring the kettlebell down to the ground and do five more.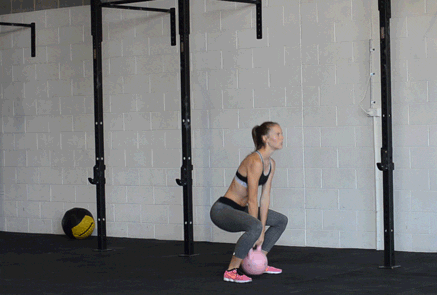 5. Squat Jumps
Now that we've done a bunch of strength work, it's time for some cardio. Your legs burn the most calories out of all the muscles in your body, so doing jumping exercises while combining squats or lunges is super effective. It's also really hard, so pace yourself. Start in a squat position, making sure your knees are behind your feet so you don't hurt yourself. Get super low, and then jump up explosively while straightening out your legs and arms. Aim for 20 reps here, but you might want to die by the time you get to 15. Try to fight through it.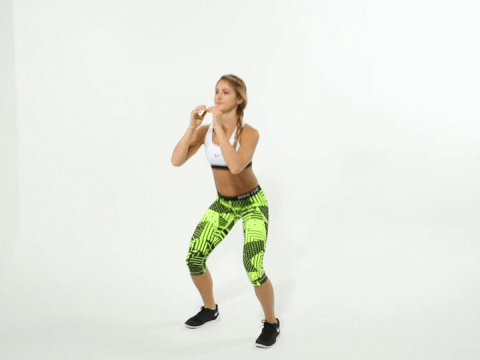 6. Burpees
Burpees are annoying and difficult, but there's a reason you see them in every fitness magazine and at every workout class—they WORK. Start by standing with your feet shoulder-width apart and your arms at your sides. Then, lower your body into a squat and place your hands on the floor in front of you, jumping your feet back so that you're in a plank position. Once your body is in a straight line, lower your chest to the floor and then bring it back up as quickly as you can. Then, jump your feet forward, outside of your hands, and jump up with your arms in the air. Do 8-10 of these, depending on your energy at this point in the workout. Also, keep in mind this is a full-body move, so make sure you follow the motions without just slamming your body down to the ground in the sloppiest way possible.

Images: Trust Tru Katsande; Unsplash, Giphy (5), Pinterest (1)