Celeb-Inspired Matching Sets That Are Perfect For The End Of Summer
Okay, so first let me start out by saying I am extremely lazy. The type of lazy where I won't even bother getting off the couch to get my remote and would rather just lay there bingeing Real Housewives episodes, even though I've seen them all 100 times. But I'm not complaining. Also, if someone asks me to go out after I've already gotten home, it's going to be a hard no from me. Because that also involves spending time picking out an outfit. So no, I think I'll pass. The good news is, the matching sets continue to be a trend, so that's like only having to pick one thing from your closet, so maybe I'll consider that. When the universe is against you and you are forced to socialize, matching sets are a good option to have in your closet. So here are my three celebrity-inspired sets that I have been wearing all summer.
Kylie Jenner
First off, Kylie Jenner. The new 20-year-old mom just got her pre-baby body back, and she certainly knows how to show it off. Even in the form of bathroom selfies. When she takes a picture in a bathroom it's cool, but when I do it it's trashy??? Life is unfair.
Kylie's tan set was my inspiration for this bright yellow set from Topshop. I've worn this about five times already this summer and it hasn't disappointed. It's great for a vacation and even better for rooftop Saturdays. If you're cool with looking like a sunflower, I recommend this set.

Topshop yellow hacked denim jacket; Topshop yellow denim skirt
Olivia Culpo
Next, is my favorite matching set and girl, gingham and Olivia Culpo. First off, congrats to her for getting back with Danny Amendola. I'm not upset about him not being single anymore or anything, I'll work through it.
Culpo is wearing a gingham pant and crop top set, and I found a very similar style but with a skort from Forever21. It's perfect for the picnics your boyfriend promises he's going to take you on but never does, so just wear this to a Sunday brunch with your friends. To complete the look, white heels or sneakers go perfectly with the outfit.

Forever 21 gingham crop cami & skort set
Madison Beer
Lastly, my inspiration for this look was Madison Beer. Now, it's not exactly what she is wearing, but her Clueless Cher Horowitz vibe really spoke to me.
I found this matching skirt and top at Zara which I've truly been living in. My co-workers probably think I got robbed and this skirt and top are all I have left. This look really is perfect for both work and post-work drinks you don't want to go to.

Zara tweed top; Zara tweed miniskirt
Images: Olivia Culpo/ Kylie Jenner/ Bamba Swim/Instagram (3); Maya Media (3)
Topshop Just Released The Ugliest Mom Jeans In The Universe
If ever there was a pair of jeans so hideous they make you question the existence of a loving god, it would be Topshop's new mom jeans. I've learned to tolerate your average high-waisted, light wash jeans out of sheer necessity because otherwise I would have clawed my eyes out a long time ago, and I don't want to mess up my nails like that. But this particular pair? Is an abomination.
Their name says it all—"Clear Panel Mom Jeans." I repeat. Clear. Panel. Mom. Jeans.

The most heinous part of this heinous article of clothing is clearly the plastic windows offering a peek at the wearer's kneecaps for some unfathomable reason. Are kneecaps supposed to be the new sexy body part? Because most people's are just kind of knobby.
But the madness doesn't stop there. The jeans are also acid wash—ugh—and super high-waisted—double ugh—and they're cropped to the exact length it takes to create the illusion of cankles.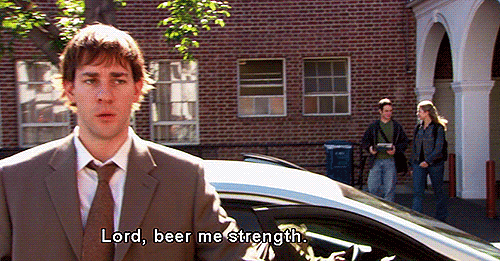 Oh, and they're $95, which makes sense considering only hipsters with a poor grasp of irony and the weight of a trust fund behind them would think about buying these. Needless to say, Twitter did what it does best and roundly mocked the jeans' very existence.



Between plastic mom jeans and all Lisa Frank everything, I have to say 2017 fashion is a huge disappointment so far. Excuse me while I slip into a pair of my own mom jeans and take away its TV privileges for a week.