3 Signs You Need A New Workout Routine
When you're already going to the trouble of working out, it can feel like unfathomable betrayal to hear that you should, in fact, be doing a completely different workout. Or at least, that's the logic I once used to justify doing nothing but yoga for six months, while slowly ceasing to fit into my pants. As someone who really wants to be fit but is decidedly not an athlete, I've spent a of time and energy on different gyms, classes, and even trainers and physical therapists over the years, trying to find the perfect workout that would turn me into a *fit person* once and for all. As all those professionals have explained to me repeatedly, not all workouts are created equal. What's more, switching up your workout routine has consistently proven to show better results. So, while I reluctantly follow this advice myself, here are my past trainers', physical therapists, and preferred internet authority's tips for knowing when it's time for a new workout routine.
1. You're Not Getting Sore Anymore
Sorry! But also, not really because you should know this. If a workout stops making you sore, it's not a sign that you have ascended to a new level of athleticism in which your muscles are no longer capable of strain. It does probably mean that you have strengthened the specific muscles involved in this particular workout (congrats!). But if you don't up the difficulty of the workout, or switch out the muscles you're working on, you won't keep seeing results. At best, you'll maintain the very specific strength you've gained. But even that isn't a guarantee, since you're continuing to do a workout that was appropriate (and difficult!) for you in a less fit state. Trainer Faheem Mujahid explains it as your body realizing "it doesn't need to expend as much energy anymore:" meaning you burn fewer calories, get less tired, and are less likely to feel sore. Time to level up, b*tch!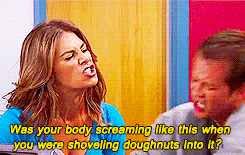 2. You're Getting *Too* Sore
The flip side of the whole soreness thing is that you have to be careful not to overdo it. There's a difference between it hurting when you laugh the day after an ab routine and needing to strap on a knee brace every time you leave the gym. Fitness instructor Trish DaCosta puts it plainly: "A reoccurring injury or too many injuries is often a sign we're doing too much of an exercise program." Pulled muscles, joint pain, or persistent aches are clear signs that your body needs a break. Injuries aside, extreme soreness—or persistent soreness in only a few, select places—also mean you should switch out your routine, or at least add some variety. Trainer Jessica Thiefels stresses the importance of making sure your body feels "balanced in strength," and adds that "working the same muscles, time and time again" is a bad idea. Muscles need rest periods in order to get stronger; so you're really just robbing yourself of #gainz if every day is focused on the same body part.
Obvs, if you're repeating the same workout over and over it's because you like it, and I get that it's tough to motivate yourself to make the switch. I once spent two weeks obsessed with barre and loving my life. Then I promptly re-pulled an old thigh injury, and my physical therapist at the time told me that barre was "the worst thing" I could do for my body.  The fact that I had just purchased both a "barre so hard" tank and a month-long barre studio membership apparently meant nothing to her. As much as I was dying to be a fancy barre girl, I had to accept that my body just wasn't built to benefit most from that particular workout.
Me to my useless barre studio membership: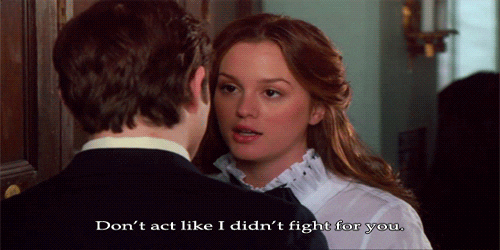 3. You're Not Getting The Results You Want
So, this goes back to my whole "only doing yoga" period in time—despite feeling like I was gaining weight, or at least sort of…spreading out. Before my yoga phase, I'd been getting most of my workouts in at the gym, where I lifted weights and ran intervals on the treadmill. Then, I moved to NYC and decided a gym was a luxury I could no longer afford. Even though I'd read countless times that yoga is not the most effective calorie-torching workout out there (particularly not when done for 15 minutes at a time in one's living room), I hated the idea that completing any workout wasn't enough for my stupid body. I felt more flexible and balanced for sure—but I felt like I was losing muscle, and my clothes weren't fitting as well.
The point here? Don't be like me! Yes, some exercise is better than no exercise at all. But that doesn't mean you can go on a jog and expect your triceps to be more defined after. DaCosta notes the importance of seeing "continued progress" from your workouts, which could come in any of the following forms: "more muscle definition, decreased body fat, more energy, stronger lifts, faster recovery times, weight loss, faster pace, etc." While yoga was pushing me on some of those fronts, it wasn't satisfying others. For a fully varied workout routine that pushes you on all these fronts, Mujahid recommends trying for a mix of "cardiovascular, strength, agility and flexibility sessions," making sure you're "hitting every muscle group" in a week's worth of workouts.
If that sounds totally unattainable to you (same girl), take some comfort in knowing a lot of these categories overlap. For example, a HIIT workout could be your lower body workout, and combines a cardiovascular and strength workout. Then you could work your upper body with yoga on alternate days, which would count as your agility and flexibility sessions. Throw in an ab day and you're done for the week. (And if that sounds like a month's worth of workouts to you, once again I say SAME GIRL. I'm just the messenger for what the pros are recommending.)
Me during my yoga phase:*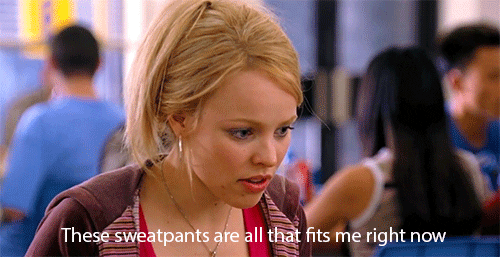 *To be clear, yoga absolutely can and does help people with all kinds of body goals. But my refusal to do any other workout meant I really hit a wall.
This article is not meant to shame anyone out of the workout routine that they're doing. Everyone who has broken a sweat (on purpose) in the past week: I am proud of you. But I also know firsthand how frustrating it can be to feel like you're making a huge effort and not getting anything for it. If anything, this article will hopefully inspire you to make a change and find the workout that leaves you sore, satisfied, and not feeling like you need a wheelchair. Everyone's body is different, and once you find the (healthily varied & not at all overwhelming) routine that works for you, working out will feel 1000% more worth it. I promise.
Images: Giphy (3); Pexels / bruce mars
The Full-Body Workout You Can Do In A Corner Of The Gym
If you go to the gym right before 9am or right after 6pm, you know how annoying it can be to get around the place during workout rush hour. As much as we'd all love to work out in an empty gym with the whole place to ourselves, it's v unrealistic unless you're like, a psychotic morning person or like, super rich. Luckily for you, we've put together a workout can literally be done with one mat in a tiny corner of the gym, so you don't have to bother waiting for a machine to become available or for people to step away from the dumbbell racks. Here's a quick workout that will tone your whole body and burn a ton of calories while staying in one space the whole time.  
1. Walkout Push-Ups
The walkout push-up is a great warm-up move because it gets your lower and upper body working without diving right into a cardio or strength move. The idea here is to first warm up your hamstrings by starting in a standing position and folding your arms and head forward, and then get your upper body warmed up by crawling your hands out to a plank position. Once you're in your plank, perform one push-up (drop to your knees if you have to) and then crawl your hands back to your ankles to stand back up, engaging your core at the top each time. Start off slow, and then try to speed up on your last few reps. Do 10 of these in total.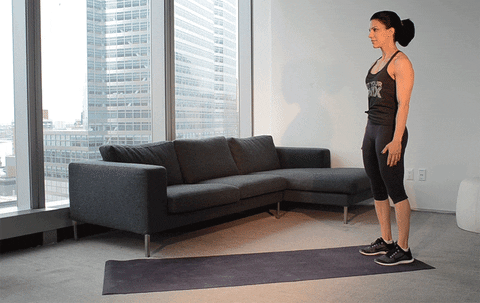 2. Glute Bridge To Oblique Reach
This is another lower and upper body movement, but this time you're working your butt and your obliques, aka your side abs and love handle region. Start by lying on your back with your knees bent and your feet on the ground. Then, extend one leg straight out and lift your hips into a bridge, squeezing your glutes and specifically feeling the burn on that same side. After the bridge, lower your hips back to the ground and reach your arms toward the straight leg while extending the leg upwards. Remember that you're crunching with your abs, so don't just use your arms to swing your body up. This combo is slightly complicated since it's technically two moves in one, so you can take your time on these until you get the hang of it. Do eight reps on each side.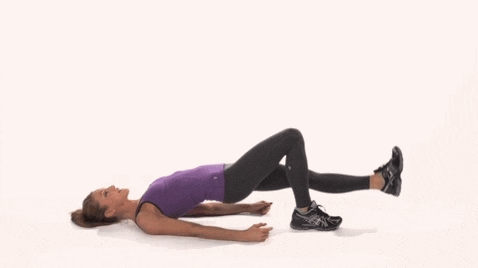 3. Tricep Extensions
You'll need a weight for tricep extensions, but it shouldn't be too hard to find because you can literally use whatever you want—a dumbbell, a weighted medicine ball, or a kettlebell. If you have a kettlebell available to you, you're gonna hold it by its horns (AKA the non-bell part) and lift it up over your head, keeping your elbows straight forward and your arms tight. Then, extend the bell toward the back of your neck, using your triceps to bring the weight up and down each time. If you feel like your elbows are widening out to the side, take a break and reposition yourself. The tricep muscles are really what give your arm that toned, sculpted look, so go heavy on these and take your time. Aim for 10-12 reps.

4. Deadlift To High Pull
The good news with this move is that you can use the same weight you were just using. Again, this is a combo move, so you're totally killing two birds with one stone by working your legs and your arms in one exercise. Place your kettlebell on the ground in front of you, and make sure it's between your legs, but like an inch or two forward. Then, bending your knees slightly, you're going to hinge your hips backward and lift the kettlebell keeping your arms straight, bringing it to your waist as you hinge the hips forward. That's the deadlift part. Then, you're gonna pull the kettlebell up to your chin, using your shoulders to row upright, with your elbows wide towards the sides. Once you complete one rep, bring the kettlebell down to the ground and do five more.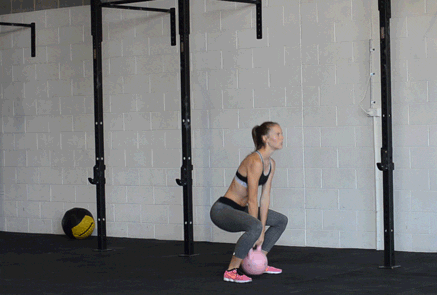 5. Squat Jumps
Now that we've done a bunch of strength work, it's time for some cardio. Your legs burn the most calories out of all the muscles in your body, so doing jumping exercises while combining squats or lunges is super effective. It's also really hard, so pace yourself. Start in a squat position, making sure your knees are behind your feet so you don't hurt yourself. Get super low, and then jump up explosively while straightening out your legs and arms. Aim for 20 reps here, but you might want to die by the time you get to 15. Try to fight through it.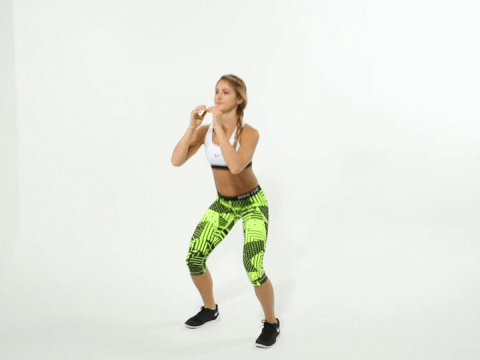 6. Burpees
Burpees are annoying and difficult, but there's a reason you see them in every fitness magazine and at every workout class—they WORK. Start by standing with your feet shoulder-width apart and your arms at your sides. Then, lower your body into a squat and place your hands on the floor in front of you, jumping your feet back so that you're in a plank position. Once your body is in a straight line, lower your chest to the floor and then bring it back up as quickly as you can. Then, jump your feet forward, outside of your hands, and jump up with your arms in the air. Do 8-10 of these, depending on your energy at this point in the workout. Also, keep in mind this is a full-body move, so make sure you follow the motions without just slamming your body down to the ground in the sloppiest way possible.

Images: Trust Tru Katsande; Unsplash, Giphy (5), Pinterest (1)
The 6 Muscle Groups You're Neglecting & The Best Exercises For Them
91 percent of Americans give up on their New Year's resolutions, and I'm guessing they just got bored on the treadmill and decided to call it a day. Working out is boring, obviously. Every online fitness article shows us the same squat challenges and stupid 10-minute ab routines, but like, how many times can we keep working the same muscles? It's repetitive and annoying, and it's time we start working the muscles that we're not always told to care about on Instagram. Before you dismiss these muscle groups because you're "scared of machines" or "don't wanna get bulky," listen to why you should definitely pay attention to them. I mean, you can do burpees and sit-ups forever, but don't complain when you completely plateau and start Googling Gigi Hadid's workout routine. Here's a breakdown of the muscles you should stop neglecting, and what exercises you should start doing for each one.
1. Deltoids
What Are They?
Your deltoid muscles are basically your shoulder muscles, and there are different parts to the muscle, but the two you should care about are the front delts and the lateral delts. You might be scared that by working your shoulder muscles you'll bulk up like a football player, but realistically, that's not gonna happen unless you're literally lifting your bodyweight and consuming a shit ton of protein. Toning your shoulder muscles will make your whole arm look more defined and just so much better, and the most ideal way is to work the front of the muscle and the side of it in one workout to tone every angle.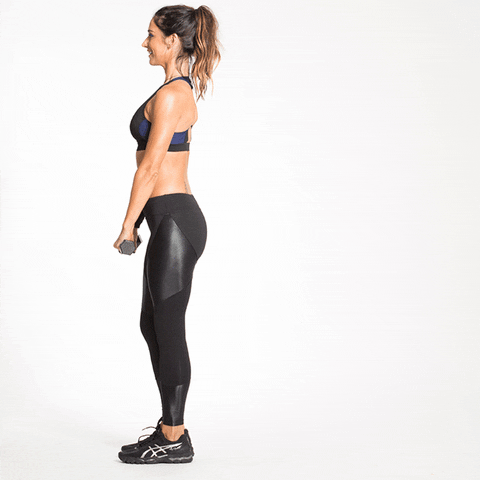 What Exercise Should I Do?
The Lateral Raise to Front Raise. Choose two dumbbells that are lighter than what you'd usually pick up. Your shoulder muscles are strong, but the side and front parts of the muscle can usually only handle very light weight, so think anywhere between three and eight pounds—maybe 10 if you do these regularly. Standing up while holding a dumbbell in each hand and your elbows slightly bent, raise the weights directly in front of you, bringing them to shoulder height with your arms extended. Then, lower them back down, and raise them again, this time laterally to the sides of your body. It should reach shoulder height again, but they're raised out to the sides instead of in front of you. You can even add in a lunge if you want to make this a total body move. Aim for 10 reps total, then rest for a minute and do another 10.
2. Lat Muscles
What are they?
The biggest muscle in your back is called the Latissimus Dorsi, and it basically gives your whole torso its shape. It's technically the muscle that makes up your upper back, which you've probably never even thought about.  When you  work your upper back, you're strengthening the muscles all around your core and back, which will actually help your back get stronger, your posture get better, and your waist look smaller. You've neglected this muscle till now, but it's never too late to start sculpting a sexy back.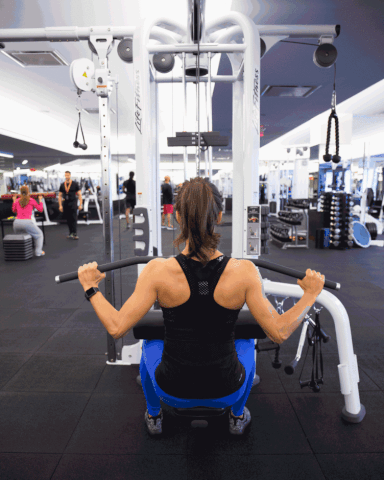 What Exercise Should I Do?
Lat Pulldowns. Find the lat pull-down bar at your gym. You've probably passed this in fear a million times, but it's really not that scary, so it's time to use it. Start by choosing a light weight, and then add weight as you get the hang of it. The idea is to put your hands on both sides of the pull-down bar, sit down on the seat facing the machine, and pull the bar down, squeezing the muscles under your armpits and around your upper back to bring the weights down. If you feel like you're using your shoulders too much, think about keeping your shoulders as far away from your ears as possible. You're using your arms, but the strength should be coming from your back, so it's super important to think about the muscle here.
3. Lower Ab Muscles
What are they?
If you spend your time in the gym doing planks, crunches, and twists, you're doing really good work for the top of your abs and your obliques, but most people tend to neglect the lower muscles in their abs because they're the hardest to hit. Most people's bodies tend to store fat in this region, so it can be hard to picture what I'm even talking about, but think about that V-shape at the bottom of Zac Efron's abs. Those are the lower abs.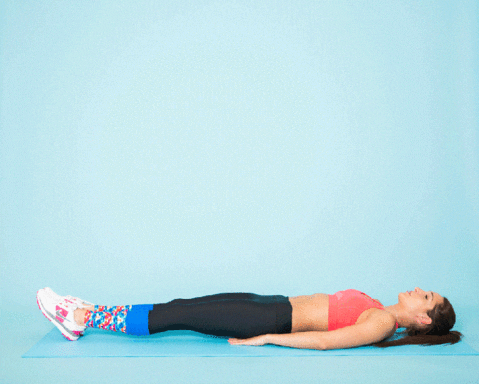 What Exercise Should I Do?
Lying Leg Raises. Start by lying on your back with your hands under your low back/the top of your butt. This will help protect your lower back from getting injured. Then, lift your legs off the ground, keeping them as straight as possible as you bring them up to 90 degrees. Then, SLOWLY lower them back down to the ground. These are meant to be done slowly and carefully, so if you find yourself kicking around and screwing up your form, slow the hell down. Also, a lot of people tend to hold their breath when doing this exercise, but don't. Inhale as you lift your legs up, and exhale as you lower. Your breathing makes a huge difference here, so don't forget about that part.
4. Hamstrings
What are they?
Your hamstring muscles are located on the back of your legs, right under your butt and above your knees. People neglect their hamstrings because we're so into squats and booty donkey kicks, but by strengthening your hamstrings, you'll actually help tone your butt at the same time. Plus, if you're into spinning, you'll get SO much better at it by strengthening your hamstrings. Like, your FlyWheel score will literally double.
What Exercise Should I Do?
Swiss Ball Hamstring Curls. This exercise is based on using a swiss ball or stability ball, but if your gym doesn't have one, this can also work using TRX bands or the rowing machine. Begin on the floor by lying on your back with your feet up on top of the ball. You want your ankles to be on top of the ball when your legs are fully extended. Raise your hips off the ground, keeping your weight in your shoulders and your feet. Then, flex your knees, pulling the ball inward toward your body while squeezing the backs of your legs. Once the ball is "curled" inward, straighten out your legs again, rolling it outwards. Do 10 reps, then take a quick break and do another 10.
5. Inner Core Muscles
What are they?
Let's clear something up.  There's a difference between your ab muscles and your core muscles. You can do a thousand unweighted sit-ups everyday, but that doesn't necessarily mean you're strengthening your core. Your pelvic floor, for example, is part of your inner core, and it's important to strengthen these inner muscles—not only to make us better at planking, but also to pretend our internal organs and actually have better control over our bladder. Most women don't even know about these muscles, but they're super important, especially if you plan on giving birth at some point in your life.
What Exercise Should I Do?
Oppose Arm and Leg Raises. Aside from your gyno-prescribed kegels, it's important to work on core stability to work these inner muscles, and working opposite sides of your body at once is the best way to challenge your core. Starting on your hands and knees, lift your right arm out in front of you and your left leg out behind you. Hold for five seconds, and then return to starting position, preparing to do the same on the other side. Try doing five reps on each side and remember to keep your core tight the entire time.
6. Back Extensor Muscles
What are they?
These muscles make up your lower back, and if you're used to doing ab workouts, squats, deadlifts, or even spinning, you've probably had some pain in your lower back at one point or another. This is because these muscles are easily injured if you don't warm up before exercising. Your extensor muscles are connected to your spine and to your glute muscles, and you'll find that once you get stronger in your lower back region, picking things up and other regular activities will actually get easier.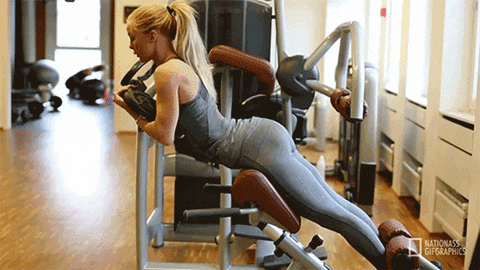 What Exercise Should I Do?
Hyperextensions. Most gyms have a specific bench that these are performed on, but any regular bench will do the trick if you're limited. Lie down with your stomach on the bench and your head facing the floor. If you're on the hyperextension bench, put your feet under the ankle pads. With your body straight, put your arms behind your head or crossed on your chest and bend slowly forward at the waist while keeping your back flat. Then, slowly raise your torso back to your starting position, and remember not to round your spine or swing your torso. If you're advanced, hold a weighted plate at your chest for extra resistance. Either way, remember to go slow and take your time on your way down and up. 
Images:  Geert Pieters / Unsplash. Giphy (5)
The 8 Ab Exercises To Get Rid Of Your Love Handles Once And For All
We've already established that getting rock hard abs comes down to diet and discipline, but some toning exercises will def help when it comes to getting rid of your love handles and defining your tummy area. Most people think the only ways to tone your abs are by doing a million crunches and holding a plank for as long as possible, but those exercises don't hit your obliques—the side edges of your abs that give you that amazing slimming shape when you're wearing a crop top. Don't lie. You know you want those side lines. Here are 8 exercises that will help you get them:
1. Russian Twists
Sorry, the Russian Twist isn't the name of some cocktail with four shots of Smirnoff and a gross amount of syrup. It's actually a killer ab exercise, and if you do it right, your obliques should be sore as fuck tomorrow. You'll need some sort of weight, kettlebell, or ball for this, but don't go crazy on the weight. Start by lying down on the floor and placing your feet out in front of you, raised a few inches above the ground. Your knees should be slightly bent and your torso should be elevated off the group, making a V-shape with your thighs. Holding the weight with both hands, move it from one side of you to the other, tapping the ground on your right and left sides each time. Do at least 10 reps on each side.

2. Side Planks
Side planks are a static move, so it might look easy because you're staying still, but try to hold for 30 seconds to a minute on each side and you'll shut up about how easy it looks. Turn onto your right side with your legs extended and your feet and hips resting on the ground and stacked on top of each other. You'll want your right elbow directly under your shoulder to hold up your torso and to protect your shoulder joint. Hold for as long as you can, then switch to the left side. Repeat 2-3 times on each side.

3. Bicycle Crunches
People usually miss the point with bicycle crunches because they're doing them so fast that they're not actually activating the ab muscles at all. This isn't a spin class, so take your fucking time with these. Lying flat on the floor with your lower back against the ground, put your hands behind your head and lift your left shoulder off the ground while bringing your right knee to touch that left elbow. Then, do the same on the other side. Repeat for at least 45 seconds, and make sure you're not pulling on your neck. You really should be thinking of reaching your shoulder to your knee and less about the elbow to the knee.

4. Wood Choppers
Just when you thought shit was getting easier, we're making you chop wood. Okay, not really, but this exercise makes you look like a wood chopper so let's go with it. You're gonna need a kettlebell or weighted ball again here, so choose something around 10-20 pounds. Standing with your feet shoulder width apart, hold the ball at one hip and explosively carry it over your opposite shoulder, completely twisting your core as you move. Do ten reps on the right side, then the same on the left. The key here is to keep your hips square but twist your torso. Also, try not to throw the ball behind you and hit some guy in the head. It's not cute.

5. Alternating Toe Touches
This move will burn pretty fast, but it's amazing for getting rid of love handles, so let's get it over with. The idea is similar to the bicycle crunch, but it's even slower and more controlled, so you're really activating each oblique. Lie on the floor with your legs out in front of you and your arms straight behind your head. Then, lift your right leg straight up in the air at the same time as your left arm, touching your left hand to your right foot (or knee if you can't make it that far.) Alternate sides for 20-30 reps.

6. Dumbbell Side Bends
This is the one move where you're gonna have to go pretty heavy in your weight choice if you want to see real results. Drop the 7.5lb dumbbell and grab something substantial (think 17-25 pounds). This is a sculpting move, so you're gonna hold the dumbbell in one hand and bend over sideways, getting the dumbbell to the height of your knees, then stand straight again. Go up and down on each side for about 20 reps to feel the burn.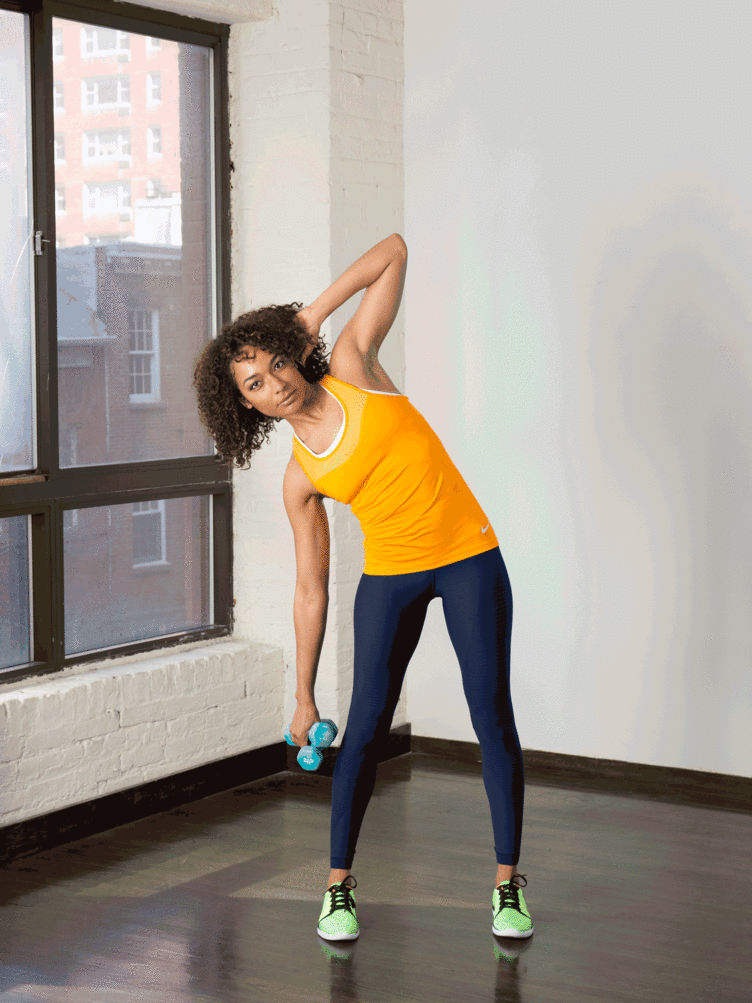 7. Sit Up With Side Twist
Sit ups are SO three years ago, but sit ups with a twist will literally carve lines in your abs, so we're all about them. Lying down with your back flat on the ground and your hands behind your head, bend your knees and keep your feet planted on the ground. If you have a friend around to hold down your feet, that shit is super helpful, but if not, that's fine too. In one controlled motion, bring your torso up off the floor so that your elbow is touching your knee as you twist with your waist toward one side. Then, slowly lower back down and keep going, alternating sides each time. Do 10-15 reps on each side.

8. Windshield Wipers
We're guessing you've never actually wiped off a windshield in your life so you might not even understand the mental image, but that's why we're explaining it to you. The idea here is to move your legs from one side of your body to the other while lying down, only using the twisting of your torso to do so. Bend your knees slightly and start in a fetal position with your legs to the right side of your body. Keeping your hands on the floor next to you, use your abs to twist your legs over to the other side of you, landing them on the floor next to you. Keep repeating for 45 seconds to a minute.

Read: How To Get Amazing Abs In Time For Summer
The Best Workouts If You Only Have 15, 30, & 45 Minutes At The Gym
Working out is such a dilemma. On the one hand, betches need to work out to counteract our weekly blackouts and keep up our naturally fast metabolisms, but on the other hand, who seriously has the time? I mean, if you wake up on a Sunday and spend three hours at the gym while I'm dragging my ass to brunch in last night's makeup, I salute you, but I also fucking hate you. Betches don't always have over an hour to work out, so we've planned out the most efficient ways to spend your time at the gym when you're in a rush. Whether you have 15 minutes or 45 minutes, you can def get in a legit workout without cancelling all your plans for the day. Here's the plan:
If You Only Have 15 Minutes Or Less
First of all, never judge the betch who only spends 15 minutes at the gym. This extremely limiting time crunch usually means she either has much more important shit to do, or literally has only 15 minutes to spare before work and has a Cinderella-esque transformation in the Equinox locker room before heading to her job at some waspy law firm. This betch means business, and she'll be finished working out by the time you found the best selfie lighting in the weight room.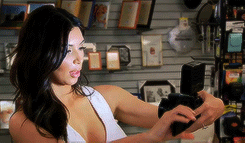 If you only have about 15 minutes, the key is sticking to floor work and ditching any machines. Honestly, you'll waste a good ten minutes by the time you choose a treadmill that's comfortably far enough from other people but close enough to the TV. Lay out a mat and work HARD (we know) for fifteen minutes straight without any breaks, choosing compound movements that incorporate strength work while getting your heart rate up. We know you just read that sentence three times to figure out WTF we mean, so some good moves include burpees, jumping lunges, jump squats, mountain climbers, and plank jacks. Try to pick a few moves and do each one for about 45 seconds each, then repeat as many times as possible until you have to bounce/collapse. Stretch in the shower.
If You Only Have 25-30 Minutes
If you have less than half an hour to spare at the gym, it's time to get your ass to work. Half an hour might seem like a solid amount of time to get in a workout, but time flies when you're fixing your ponytail for 20 minutes in the mirror while laying out your towel like you're on Miami Beach. You can get in a good workout in less than 30 minutes, but don't fuck around.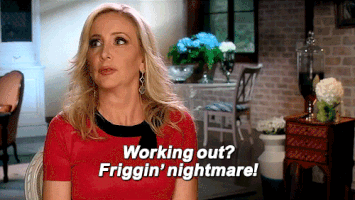 The most efficient way to spend 25-30 minutes at the gym is to break it up 50/50 into cardio and strength. First, pick a cardio machine that you're ready to kill it on for 12-15 minutes. Elliptical or treadmill are ideal if you're basic AF and have a playlist ready. The erg rowing machine is more intense because it works your whole body. Stairmaster wins if you hate yourself. After going moderately hard for half your workout, make your way onto the floor for some strength work. Try to isolate one area of your body per day to get the most out of your gym time. For example, spend one day doing lower-body moves (like squats and lunges), and another day doing upper body (like bicep curls, tricep extensions, and planks), rather than being that dumb girl who does 10 crunches, three squats and a push-up and wonders why she's still flabby.
If You Only Have 40-45 Minutes
If you have up to 45 minutes to spend at the gym, you can def get in a quality full-body workout, but you have to make sure you go in with some sort of plan. Don't be that girl who walks on the treadmill for 45 minutes while refreshing Snapchat stories. She can brag all day that she spent her morning at the gym, but she prob burned like 30 calories total and we're still talking about her, so she's literally wasted everyone's time.

Spend your first 5-10 minutes warming up your muscles and getting your heart rate up. Think light bodyweight exercises, like jumping jacks, air squats, high knees, and push-ups. Oh, and get off your knees. Then, move onto some real strength work, because news flash: if you're not lifting yet, you're doing it wrong. A super efficient way to create a little circuit for yourself is through an AMRAP, which means "as many rounds as possible." The idea is to pick a few moves that involve dumbbells or kettlebells, set a 15-20 minute timer for yourself, and complete those moves as many times as possible until the timer goes off. Then, move onto some HIIT work, whether you're into burpees and plyometric moves on the floor, or 20-second inclined sprints on the treadmill. Either way, you should be sweating your ass off (and cursing loudly) after about 10 minutes, so you can spend the last couple minutes stretching the muscles you just abused. You're welcome.