Sculpt Society Founder Megan Roup's 4 Moves To Tone Your Butt
It's finally come to the point where we can all agree it's time to switch out of the tie-dye sweatshirt that we haven't taken off all of quarantine (busted) and into the go-to workout outfit that might actually inspire movement, specifically, movement off the couch. If you're anything like me, you've been binge watching the first season of Too Hot To Handle, snacking on yesterday's banana bread, and telling yourself you'll work out when you know it's not gonna happen. In all honesty, a lot of the reason we aren't motivated to work out is because we simply don't know what to do. Thankfully, a lot of workout instructors are providing virtual classes that are easy to follow and help get you motivated. One of these instructors is Megan Roup, founder of The Sculpt Society, who's given Betches readers her top four simple exercises to tone your butt. The best part? All these exercises can be done on your living room floor. 
1. 90-Degree Angle Lift
On your elbow, cross your ankles and lift your leg to a 90-degree angle. Make sure your knee is behind your head and your abs are tight as you extend your leg up and down. You'll do 24 reps of this first combo.
2. 90-Degree Angle Pulses
This step is the same position as set #1 but you will leave your leg up as you pulse it in the 90-degree angle up and down. Squeeze your glute each time and make sure your core is tight. You'll do this for 24 reps as well.
3. Hydrant Extend Straight Back
For this exercise, you will extend your knee into your shoulder and push it back. By this step, you'll definitely be feeling the work in your glute. Do this for 24 reps.
4. Straight Leg Pulses
For this final move, you will hold your leg straight behind your head and make tiny movements up and down. Your leg doesn't have to be super high, just make sure to focus on squeezing your glutes and keeping your abs tight. Another 24 reps!
Megan suggests sequences these exercises together and repeating it 2-3 times through. Check out the video below to watch her demonstrate all the moves.
If you're in need of more at-home workouts during your quarantine, check out @meganroup and @thesculptsociety on Instagram for more tips. If you want to find out more about The Sculpt Society, download the app and enjoy a 14-day extended free trial. You'll find many at-home workouts to complete with not a lot of equipment and availability to do each exercise in a small space.
Images: Megan Roup; dietstartstomorrow / Instagram
The Best Exercises To Tone Every Part Of Your Body
Bikini szn is fast approaching, and you know what that means: Time to try on bathing suits, wonder what the hell happened to the ab crack you totally had last summer, remember that you spent the whole winter eating mozzarella sticks, and then look up where your gym is actually located so you can use that membership you forgot about once August hit. So I did some research and compiled a list of some of the best workouts to tone different parts of your body. Let this list guide you the next time you're too broke to pay for another SoulCycle class or you're feeling lost at the gym. Bonus, a lot of these exercises can be done from the comfort of your own home, and we all know not leaving your house always beats actually going outside.
Abs
For some people, having abs is way easier than others (thank you, genetics). I personally have abs, they just so happen to be hiding behind a layer of fat. But before you start doing a million crunches, there are a ton of ab exercises that are way better than traditional crunches. For instance, doing Pilates is a killer way to get abs. If you've never tried it, it's super hard but effective, since it incorporates a ton of ab-targeted exercises. The plank is another of the best workouts to tone your abs, but it can get boring. These exercises below are a little more complex than simple crunches or planks, yet still effective in toning your abs.
Double Dumbbell Drag: Start in a plank position with a dumbbell or kettlebell on the outside of your right arm. While engaging your core and ensuring you don't move your hips, take your left arm under your right and move the dumbbell/kettlebell to the outside of your left arm. Repeat with the right arm. Make sure to keep your wrist beneath your shoulders. Add a push-up if you're fancy.

Plank Hand Taps: If someone is hogging the dumbbells, this one is perfect for you. Start in a plank position and lift your left hand to tap your right shoulder. Repeat on the other side.

Alternating Toe Reach: Lie on your back with your legs straight on the ground and arms straight above your head. Raise your right hand to meet your left leg in the air above your body. Make sure to engage your abs with each move. Repeat with your left hand and right leg.

Arms
A fear of mine is to have the dreaded chicken wing arms, but toning your arms takes a lot of commitment. That means when I don't want to work out, I Google images of Michelle Obama's arms and that motivates me real quick. Here are some of the best arm toning exercises I found.
Upright Row: Stand straight with a dumbbell in each hand, in front of your legs. Raise your arms until they reach your chest, keeping the front of your hands straight in front of you. Lower your arms back down. Repeat.

Tricep Kickbacks: Stand with your legs hip-width apart and your upper body slightly leaning forward from your hips. With a dumbbell in each hand, bend your arm from your elbow towards your chest, then back behind you.

Dumbbell Punch: Standing hip-width apart and with a dumbbell in each hand, pretend you are punching your ex in the face, alternating between each hand.
Glutes
We all like nice butts, and we cannot lie, and sometimes traditional squats won't cut it. If you're tired of people telling you to do squats, here are some more interesting exercises.
Plie Squat: If you speak in ballet talk, start in second position with your feet turned out. If you don't, click here. Go into a plie (aka a squat). Keep your core engaged and each time you recover from the squat, squeeze your butt.

Split Squat Jump: Start with your feet together, and jump up, landing with your legs split in a plie squat until your thighs are parallel to the ground. Push up from the squat and jump your legs back together.

Fire Hydrant: Get on all fours, and lift your left leg up like you are a dog peeing on a fire hydrant. Keep your back flat by engaging your core. Do 15 reps and repeat on the right side.

Legs
If Beyoncé has taught me one thing, it's that toned legs make all the difference.
Reverse Lunge: Start with your legs together. Lift your right leg and bend into a lunge. Bring your feet back together. Repeat with your left leg.

Pistol Squat: Balance on your right leg with your left leg lifted just above the ground. With your arms straight in front of you, lower yourself to the ground and then back up. Repeat with your right leg extended in front of you.

Lateral (Band) Walk: Stand with your legs together. If you want extra resistance, place a resistance band around your knees. Open your right leg to be about hip-width apart and then bring your left leg to meet your right. Repeat starting with your left leg.

Back
Rocking a backless top and showcasing a toned af back would be amazing. Other than the fact that I always need to wear a bra (thanks DDD), my back isn't as toned, tanned, fit, and ready as I'd like it to be. Basically, I should take my own advice and do these workouts more often.
Reverse Fly: Leaning forward from your hips, place your arms straight below you with a dumbbell in each hand. Open your arms to each side, keeping them straight. Squeeze your shoulder blades and then release your arms back in front of you.

Forward Raise: Keeping your legs hip-width apart, back straight, and a dumbbell in each hand, extend your arms straight in front of you. Once they are in line with your shoulders, lower them back to your legs.

Lateral Raise: Repeat the above exercise, but instead of raising your arms in front of you, raise them to either side of you.

Chest
Some people believe working out your chest will give your boobs a perky boost. I've never stuck to an exercise long enough to see any results, but lmk in the comments if you have.
Medicine Ball Push-Up: Do a traditional push-up, but place a medicine ball under your right hand so your back is on a slant. Repeat with the medicine ball under your left hand.

Chest Fly: Lie on your back with your legs bent in an L shape. With a dumbbell in each hand, hold them straight above your chest toward the ceiling. Open your arms until your elbows hover over the ground, but keep your forearms towards the ceiling. Engage your abs to keep your legs supported.

Dumbbell Pullover: Lie on your back with your legs bent, like you are about to do a crunch. Hold a dumbbell in each hand. Raise your arms above your head towards the back of the room, then raise them towards the ceiling until they are directly over your shoulders. Repeat.

Images: Luis Quintero / Unsplash, Giphy (16), Tenor (1) Gfycat (1)
5 Free Fitness Apps You Can Do From Home
Sometimes there's not enough time, or motivation, in the day to get to the gym. And sometimes, we simply don't have the funds for a membership (or you'd rather spend what little money you have on food or alcohol…no judgment). But, thanks to the invention of the smartphone, you don't have to actually step foot in a gym to get your workout in. There are a lot of good fitness apps that require a paid subscription, but I'm going to go ahead and jump to the conclusion that if you don't want to spend $10 a month to go to Planet Fitness or wherever, you probably also don't want to spend money for an app, either. That's why I picked out my top five favorite free fitness apps to download and get sweating to. (I don't feel bad anymore about seeing 5 + hours at the end of the day on my screen time…I'm working out!) Grab your weights and your cutest pair of leggings, and let's get started.

This app offers categories of workouts for every muscle in your body, including abs, butt, back, shoulders, arms, and more. The exercises are mostly for your at-home gym sesh, but they do offer a few workout routines for during the day, like "deskercise", "chair exercises", and "office stretch"… but please, be low-key if you're doing them at work. What I love about this app is that they offer plenty of workouts that you can do in only seven minutes. These include 7M Butt, 7M Sweat, and 7M Beginner. I love these guides because I know I can get through seven minutes of work without the thought of "when is this overrrrr??" repeating in my head the entire workout. You can see your progress on a calendar based on your workout history and calories burned. Def recommend.


When setting up the app, it will ask you a few questions to help personalize your workouts. It asks for what you think your level is (beginner, intermediate, or pro) and how many sessions a week you want to work out (2, 3, or 4). It then asks you for your goal, whether that be to lose weight, stay fit, or gain muscle. This way, the experience will be tailored to you and your body. Fitness Challenge gives you an outline of your workout before starting, so you know what you're getting into before you begin. It tells you how much time the workout will last, what exactly you'll be doing, and how many times you're doing it. It comes with five categories to choose from: full body, sexy legs and butt, abs and flat tummy, bikini body, and skinny toned arms. Count me in.


If you're a yogi, this is the app for you, but in addition to yoga, Daily Yoga also incorporates other mainstream workouts. Once signed in, you choose your goal. This app's options are: start as beginner, stay healthy, lose weight, skill improvement, muscle tone, and stress relief. I LOVE how they named these goals. But Daily Yoga doesn't only provide workouts—it goes one step further, offering audio and music to guide you through your practices. They have guided meditations, mantras, mindfulness training, and more—all of which you can download straight to your phone. I recommend listening to the music before bed at night for a spa-like relaxation that'll put you into a deep sleep.


You can sign up for FitOn through FACEBOOK, which is great, because then you don't have to waste time plugging in personal info and can get moving instead. It does ask a few questions to personalize your experience, though, which I do appreciate. It first asks you about your goal. Are you using the app to lose weight? Reduce stress? For post-natal fitness? I like this app because it doesn't just give you three basic goal choices; it has a bunch more to offer. After that, it asks for your favorite types of workouts ranging from yoga, to HIIT, and dance. Then, you're in! If you aren't ready to work out right away, you can set reminders to do so later on, which I use way too frequently. It gives you a ton of choices, like which trainer you want to take, the target area you want to work on, and trending activities to start. FitOn even gives you a custom-made schedule. You can see all your upcoming workouts and the intensity of each. You can even invite your friends to share your progress, if you're competitive like that. There is also a section on advice from trainers, ranging from articles to videos that are informational and worth a watch.


If you aren't into high-intensity workouts or sweating too much, this app is perfect for you. It's all about walking, and only walking. Walking is the perfect way to burn off calories and reduce stress. I think walking is one of the most important workouts—especially walking outside. Obvs if it's crazy weather, just hop on the treadmill, NBD. The app goes by days, so they have a list of workouts designed for you each day to complete. You can walk for meditation, renewal, midlife women, stress, or for burning off the cheese pizza you had for dinner last night, which I like to do. (Okay, so that last option I made up.) All totally great. It also tracks your steps and calories burned, if you're over your iPhone health app after the latest update, which most of us are.
There are so many other free fitness apps you can check out, but these ones offer a good range of services that everyone can enjoy and are easy to use. These are the perfect start to get motivated and move throughout your week. You can use them in your living room, at your office, outside walking your pup, or even in class (def be cautious though…). Hope these apps help you and guide you to achieve your goals.
Images: Dane Wetton / Unsplash; Workout For Women; Fitness Challenge; Daily Yoga; FitOn; BetterMe: Walking
Do This 5-Minute Workout To Tone Your Arms Without Any Equipment
Summer is on the way, and if you've spent the past few months avoiding the gym or any kind of strenuous work (I feel this), then you might be not feeling in the right kind of shape to stunt on your ex this pool party season. But it's not too late to get fit (for summer, or in general). A lot of my clients come in wanting to work on their arms, so I'm here to show you an absolute KILLER arm workout circuit you can do right at home, with NO equipment necessary. Not even weights. Trust me, you won't need 'em. And, even better? All you need is FIVE minutes. If you're an overachiever, maybe like 15 minutes if you want to do this set a few times through. Set a timer on your phone, and just get to it. Like, you literally can't ask for an easier workout, so there are really no excuses.
Disclaimer: I've created this workout for use on myself and my clients under my supervision. Do not do these moves if you feel excessive strain or pain anywhere in your body.
Bend And Stretch (1 Minute)

Stand with your feet shoulder-width apart, arms out by your side, slightly bent at the elbows, with palms facing the ceiling.
Flip your arms so your palms now face the floor. Focus on LENGTHENING through your lats, shoulders, biceps, and triceps.
Return to starting position.
Shoulder Press To Lat Pull (1 Minute)

With your feet shoulder-width apart, stand with your palms facing out in front of you, bent at the elbows. Your elbows should be slightly behind your back.
Straighten your arms up above your head.
Return to starting position.
Straight Arm Chest Fly (1 Minute)

Standing with feet shoulder-width apart, stand with your arms in a T position with palms facing front. Slowly bring your palms together to touch in front of your chest, keeping arms extended.
Return to starting position.
Chest Fly (1 Minute)

Standing with your feet shoulder-width apart, hold your arms out like a goalpost (football, not soccer) by your head.
Bring the palms and inside of your elbows together, make sure you don't create a tent shape with your arms. You want to get the inner elbows close, not JUST the palms.
Return to starting position.
Deltoid Raise And Lengthen (1 Minute)

Standing with your feet shoulder-width apart, create a 90-degree angle with your arm with your palms facing each other (like you're about to do the robot).
Swing your arms up to shoulder height so the palms now face the floor.
Keeping the elevation, slide your arms out in front of you so they're straight.
Pull back in, return to starting position.
Try to do all 5 of these without resting, then take a minute to shake it off/stretch—and then repeat! Aim for 3 rounds. 
Images: Nicole Nam; Shutterstock
Skin Care Diaries: My Four-Step Routine For Highly Sensitive Skin
As you can probably tell from the title, this skin care diary entry will be less sexy than others we've published. Welcome to the world of sensitive skin. I graduated college a little over two years ago, and it's been an absolute whirlwind watching my skin and metabolism compete over who can deteriorate faster. I've never suffered from serious acne (*knocks on every piece of wood in the tri-state area*), but my post-grad skin has offered up plenty of dullness, dryness, and increasingly visible pores. I also developed what I refer to as "my problem cheek," and my dermatologist refers to as "rosacea." Basically, one stubborn patch on my face is perpetually red with some bumps—not quite pimples but just not smooth.
Before I finally caved and saw a dermatologist about it, I was convinced I had chronically dry skin and was layering on fancy oil-based serums and thick moisturizers every night. I genuinely believed that the more I spent on a skin care product, the better it was for me. But here's the honest, tragic truth about my (highly sensitive) skin. Just about anything I do to it beyond doctor-recommended cleanser, treatment, and moisturizer only makes it worse. As my dermatologist explained, the rosacea means that my skin barrier is damaged. So any products I'm applying don't actually soak in. They just settle in the top layer, creating that fun bumpy texture I was describing.
Long story short, many of the fun, bougie skin care products I'd love to try are off-limits to me. All those "intensely moisturizing" products I used to swear by? They make my oil-prone areas worse, and ultimately clog my pores. Any physical exfoliants just activate my redness-prone rosacea patches. And forget about face makeup. Any time I go for a full face of foundation, or—God forbid—highlighter, which I seem to be allergic to in every brand, I accept that my skin's overall appearance will take a hit for the next three days. So, I've worked very hard to assemble a routine that keeps my sensitive AF skin smooth, even, and pimple-free. If your skin is more dramatic about a change in routine than you are when asked to attend a 9am meeting, read on. Here are the products I've found really work.
My sensitive skin every time I try to introduce a new product: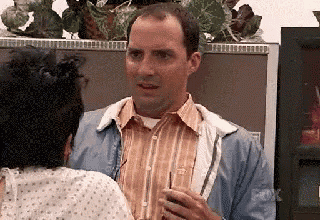 My Routine
Face Wash: I wash my face morning and night with CeraVe Hydrating Cleanser. My dermatologist recommended it, and it makes my face feel crazy soft. I'll double cleanse on days when I bothered to put on make-up, or if I skipped my routine the night before. And while I'm sure that a Clarisonic or the equivalent would make it even more effective, I frankly just do not have the time or patience to use one. Plus, I kind of hate reusable skin care accessories because I'm a germophobe and convinced they're growing bacteria. This is a problem I imagine could be alleviated by like, cleaning it, but once again I am lazy/perpetually short on time.
Toner: I follow (most) cleanses with Belif Witch Hazel Herbal Extract toner. In the words of my dermatologist, it's "not really doing anything," but she graciously invited me to finish the bottle I'd just purchased. Despite her (rude) commentary, I like the idea of an additional cleansing step while living in the cesspool of dirt known as New York City. Also, it smells refreshing and makes me feel fancy. As I mentioned before, most products that fit that description give me some kind of weird reaction, so I really appreciate the ones that don't.
Prescription: Once my doc determined that problem cheek = rosacea, I was given a prescription for an azelaic acid called Finacea Foam. It treats the redness and bumps caused by rosacea, and I use it twice a day after cleansing and before moisturizing. While it hasn't 100% cleared up the problem, I've gone from having bumps spread across both cheeks to one small patch (damn you, problem cheek!). The overall texture has also greatly improved, and what was once a weird blotchy redness now shows up as more of a flush after hot showers/working out. Highly recommend.
Spot Treatment: This is not dermatologist-approved behavior, but if I see a pimple coming on I'll dab some spot treatment with salicylic acid on the area before locking it all in with moisturizer. It's a little annoying because I have to wait for an additional layer to dry, but fully worth it if you can stop a burgeoning zit in its tracks. If I go a little too nuts and start using it daily I end up getting dry and triggering some redness, but in moderation I find this kind of product to work wonders. My two faves are Clean & Clear Advantage Acne Spot Treatment and Neutrogena Rapid Clear Acne Eliminating Spot Gel.
Sunscreen: I use EltaMD UV Clear Broad-Spectrum SPF 46 every morning, at my dear dermatologist's behest. Apparently rosacea can be triggered by sun exposure, so I guess this plays a role in calming it down. Honestly, I struggle to get excited about any product from which I don't see immediate effects, but I know it's good for me and I feel lightly smug for using it for that reason. Also, it sinks in quickly enough and replaces my moisturizer in the morning.
Moisturizer: I use CeraVe PM Facial Moisturizing Lotion every night and some mornings, depending on how dry my skin is feeling. I love it because it's lightweight, has the same silky feel as their cleanser, and doesn't sit on top of my skin like all those fancy jar moisturizers I was buying for years did. Does it make me feel rich and chic? No, but it also doesn't cost me $50 every six weeks, and my skin is way softer. I'll take it.
Serum: Eminence Facial Recovery Oil. My dermatologist all but begged me to throw this out (in her words, "I don't think more oil is what you need right now"). But I'll still dab a little on my forehead every now and then because I can't help myself. Nose, chin, and cheeks are off-limits for this riskier product, but I'll mix a little in with my moisturizer and apply to my forehead a few times a week. It smells amazing and my sister swears it's improved her fine lines.
Wednesday
Morning: Cleanser, toner, Finacea, sunscreen. I have a week-old pimple on my cheek, and last night I put on a bunch of spot treatment and extra Tretinoin on the area, plus Neosporin since I keep picking it open. (Don't @ me, it works.) The pimple is finally fading from view, but I see two to three more bumps lurking below the surface. Problem Cheek, will you ever set me free??? I've tried changing pillowcases, changing what side I sleep on, never holding my phone to that side of my face… nothing works. I take a few pictures in hopes of taking you on a visual journey, but I'm on week 7 of a 10-week shoot and the bags under my eyes/general lifeless demeanor are a little much to take.
Evening: Cleanser, Finacea, moisturizer. No spot cream or toner because I just worked 14 hours. Moisturizer I applied lying down maybe three seconds before passing out. I manage to apply more Neosporin to my cheek spot, though, because at this point I've been wrangling it for nearly 10 days and it's all I can think about. To anyone reading this: do not pick your face until it bleeds, no matter how fun and genuinely helpful it seems in the moment! I fall asleep praying it will heal overnight.
My poor, picked-at skin: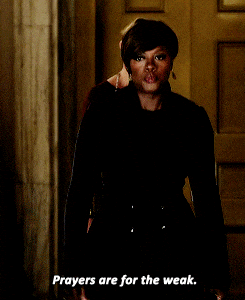 Thursday
Thursday morning I don't have to be at work until 9am. This would be better news if it didn't mean I'll be there until 11pm. However, the extra time in the morning means I can cleanse, tone, apply Finacea, and put on sunscreen all in the comfort of my home. I'm sad to admit I sometimes apply sunscreen on the subway, which I am aware makes me gross. I have a thing about layering products too quickly. I worry I'm just diluting one product with another if I don't give them time to dry. If I'm totally wrong on this, PLEASE call me out in the comments. I would love to stop putting on sunscreen with hands that just touched subway poles.
I'm not home until 11:40pm, as expected. As I dutifully cleanse, tone, Finacea, and moisturize, I realize something miraculous. Cheek pimple is, if not totally invisible, highly faded. Neosporin saves the day again. I stare at my nearly clear cheek and think about how I definitely would have skipped washing my face tonight if I weren't writing this diary. This makes me think I should start journaling my food, too. Then I eat four bite-size candy bars I stole from work and fall asleep.
Friday
Today is an exciting skincare day for you all! I'm working from home until 6:30, so I don't get out of bed until 11. I don't do anything to my face because I want to work out first, a dream it takes me two hours and 15 minutes of yoga to give up on. I wash my face in the shower, then put on Kiehl's Rare Earth Deep Pore Cleansing Masque. It's my go-to for all generalist, make-my-skin-look better needs. It's great for calming down redness and inflammation, improves overall tone, and just makes your skin look clear.
After, my skin is looking the best it has all week. The cheek pimple is totally gone, and those bumps I was complaining about on Wednesday seem to have died down too. I add toner, Finacea, and sunscreen. After sunscreen, I add my new favorite no-makeup makeup product: Smashbox Photo Finish Foundation Primer. This is the closest thing to foundation I can wear without triggering a breakout, and despite being sheer, I swear to God it visibly blurs away my flaws. Friday night, I cleanse/Finacea/maybe moisturize? I spent my evening getting high and watching Vanderpump Rules, so I honestly don't remember. I do remember eating a Twix bar at 1am and thinking the single greatest thing I could do for my health is cut down on sugar, so take that as you will.
Me: I should cut down on sugar!
Also me every time I go out: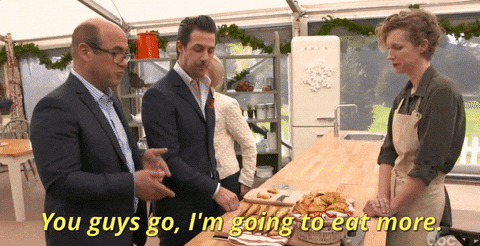 Saturday/Sunday
Saturday morning, I cleanse and tone, and get dressed in a rush waiting for toner to dry. Then I add Finacea and try to find my insurance card for a doctor's appointment for 10 minutes. Two hours later, I remember to moisturize—hope it still counts for something. No sunscreen today, oops. Saturday night I make a genuine attempt to go out. But I still end up asleep on the couch before midnight. At least I manage to wash my face before crashing. I tell myself I'll put on Finacea and moisturizer in bed. I don't.
Sunday morning I've slept for an annoyingly long time. I cleanse, tone, Finacea, and moisturize—no sunscreen. My skin's feeling dry since I fell asleep without moisturizing the night before, and I don't really plan on spending time outside anyway. I go to the movies, where I realize the junk food and half-hearted skin care Saturday has resulted in two new bumps rearing their heads on Problem Cheek. I tell myself I'll do a mask and spot treatments that night. Instead, I drink two margaritas at 5pm, and barely manage to cleanse/tone/Finacea/moisturize. I suck.
Monday
I wake up at 4:30am, regretting Sunday's margaritas with every bone in my body. I seriously consider quitting my job for five minutes, then get out of bed and cleanse, tone, Finacea, sunscreen. Monday night, I get home "early" (7pm), and treat myself to some salicylic acid spot treatment following my cleanse/Finacea/moisturizer routine. No toner because I'm already tired at the prospect of the spot treatment, but the bumps I saw at the movie theater Sunday don't seem to be going anywhere on their own.
Tuesday
Tuesday morning I cleanse, tone, Finacea, and liberally apply sunscreen to try and make up for the fact that I don't have time to apply moisturizer (and wait for it to dry). At work, I read a different skin care diary in which someone who clearly has more money and better skin than me also swears by salicylic acid for clearing breakouts. Even though the salicylic acid product is the only one in her routine I can remotely afford, I allow myself a brief moment of smugness. I also remind myself that fancy $100 skincare items have never done anything but made me break out.
Tuesday night, I cleanse/tone/Finacea, and add more spot gel (Clean & Clear) to those bumps on my cheek. I can't be sure if they're actually pimples or just rosacea bumps, but I feel hopeless if I can't even pretend I'm treating it. I tell myself I'll moisturize in bed, and as I'm sure you can guess, I do not. At 3am, I wake up, realize my mistake and moisturize. It's terrible.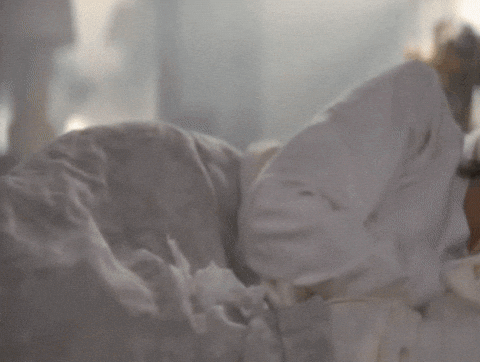 All in all, the moral of my not-so-exciting skin care routine is that I've (reluctantly) stopped chasing Instagram-perfect skin. And both my wallet and face are a lot happier for it. I don't use drugstore products because I'm low-maintenance and don't GAF. I use them because the alternative is spending $78 on a moisturizer that sits on top of my broken skin barrier and makes me break out. So if you have sensitive skin like me, remember that the #1 investment you can make is a dermatologist, and when you're rich, biannual microneedling and injections. Can't wait.
Images: Giphy (4)
The Treatments Behind Celebs' "Natural" Beauty That Nobody Talks About
In 2018, we've definitely noticed that the way we use makeup is changing (unicorn brows, anyone? JK, this trend made my eyes bleed). Specifically, we've seen a lot more honesty from celebs and normals alike about how much of a role makeup plays. Think: Kardashian-esque contouring, YouTube beauty tutorials, #nomakeup selfies. And often, it's been empowering to watch people openly celebrate both natural looks and the transformative power of makeup. But recently, the tone has shifted. While the idea was once more "everyone has flaws and that's ok," it's now about having such naturally perfect features that makeup would only detract from them. These treatments are typically semi-permanent (aka not a full nose job/brow lift—so '90s), always expensive, and basically give you an Insta-filtered face. Here are some of the semi-permanent treatments celebs are using to get that perfect "effortless" look.
Botox/Chemical Peels
I'm lumping these two together, not because they're all that similar, but just because these are the beauty treatments we've all known about and made fun of since the '90s. Both treatments have gotten a lot more sophisticated—so the Samantha Jones raw meat face doesn't happen after peels anymore, and people with Botox can (kind of) still raise their eyebrows—but they're still the basic anti-aging treatments we all know and wish we could afford love.
Microneedling
Microneedling is a procedure in which a tiny needle pokes holes all over your face. (If you've ever used a dermaroller, it's the expensive version of that.) This then promotes collagen production as your skin heals, which reduces the visibility of fine lines, wrinkles, pores, and acne scars. You know, all the things that make you look like a human, which is no longer desirable. Treatments cost up to $1,000, but then your skin is as good as Kourtney Kardashian's. (You didn't really think it was her diet that made her skin good, right?)
Injections
Injections is kind of a vague way of putting this, but that's because injections can do so many different things. You can use filler to fix bad under eyes, smooth out your jawline and cheeks, and really just smooth out any imperfections you're worried about. While I'm certain that most celebrities over a certain age have had some sort of filler put in, some of the most vocal users are the cast of Vanderpump Rules. In fact, Lala Kent and Tom Sandoval recently took a joint trip, where Lala got something called "Diamond Facial Sculpting." (Fillers, but fancy I guess?) Lala says Tom was there for "moral support," but I swear I saw him in a chair in the background of her IG story. Hard to believe Sandoval would willingly skip out on a beauty treatment.
Laser Treatment
No, I'm not talking about laser hair removal. (Though I'm certain that any celebrity who's ever worn a bikini has gotten that too.) I'm talking about lasers used as facial treatment, which, like fillers, come in many varieties and have many uses. Basically, lasers can be used to fade pigmentation (*glares at rosacea-ridden face*), even out texture and tone, and basically act as "permanent concealer." MUST BE NICE. Both Kim Kardashian and Jhené Aiko have recently raved about their laser treatments—and if they're not #skingoals, IDK who is.
Microblading
This one is along slightly different lines, because it's not about skincare. BUT, now that we are officially living in the Age of Eyebrows, it's pretty freakin' important. Microblading is getting semi-permanent tattoos draw onto your brows with teeny tiny strokes that resemble real hairs. This then gives you the appearance of naturally full brows for roughly two years. It also costs around $1,000 upfront, plus a mandatory touch-up two weeks later. So yeah, I'll be getting that when I'm 70 and win the lottery, and will be drawing on my brows each morning until then. Irritatingly, I cannot tell you that celebs like Cara DeLevingne have used this treatment. Instead, it's a whole bunch of awfuls including Bella Thorne and Lena Dunham. Microfeathering is another version of this treatment, which basically just fills in instead of drawing you a whole new brow.
Do I have anything against these treatments, beyond the fact that I can't afford them? Yeah, a little. I definitely have a problem with celebrities who pretend they haven't had ANYTHING done. I respect their privacy and all, but I'm a grown-ass woman and I find myself getting upset about my own visible pores. This isn't something that bothered me even two years ago. But now, every picture I see on Instagram features skin that doesn't look like skin. And just a few years of being bombarded with those images has been enough for me to think there's something wrong with my face because of it. Which is all to say, I'm truly worried for young kids who are growing up surrounded by that kind of illusion, and not being repeatedly and aggressively told that it is, in fact, an illusion.
Ultimately, I think it's probably positive that these treatments are public enough that I can even write this article. Yes, the treatments themselves are becoming more mainstream. But the information is available—if you look—about why exactly these celebs can post #nomakeup selfies that make me feel like a garbage rat. Now if you'll excuse me, I'm going to start a GoFundMe because all these procedures cost more than my rent.
Images: drjasondiamond, thelipking, lalakent, jheneaiko, microbladingla_juliafaria / Instagram
I Bought A $24 Dermaroller & Became Obsessed With The Results
As I've mentioned in previous articles, I'm not exactly a skin care expert. My dermatologist, who gently told me to throw out most face products I own earlier today, would agree on this. On the bright side, I have now sought professional advice and am here to share my experience/her wisdom. Today's topic is dermarolling: an at-home skincare treatment boasting celebrity users including Kim Kardashian, Jennifer Aniston, and Gwyneth Paltrow. (Yes, the one who stuffs jade eggs up her vagina. But her skin is glowing, no?) In my ongoing quest for flawless, "I can afford weekly facials" skin, I bought a $24 dermaroller two weeks ago. Here's what you should know before you buy.
What Is Dermarolling & What Does It Do?
If you've heard of microneedling, dermarolling is just the at-home version of that. Both treatments involve creating small punctures all over your face. This (in theory) enhances collagen and elastin production. As your skin heals, the collagen boost helps smooth out wrinkles/fine lines, firm up sagging skin, and improve overall texture/tone. Both treatments can also improve the appearance of acne scars, dark spots, and large pores. As a general rule, microneedling will be more effective than dermarolling for many reasons. It's kind of like the difference between doing a mask and getting a facial—the version performed by a professional with higher-tech tools is always going to come out better. Plus, microneedling tools can create deeper punctures than at-home dermarollers (for obvious reasons), so they naturally have a stronger effect. (Wondering why anyone would bother dermarolling? Because microneedling, like most things Gwyneth Paltrow supports, is prohibitively expensive, at $500-1,000 per session.)

Face Microneedle Dermal Roller System
How Do You Use It?
A dermaroller basically looks like a razor with a rolly head covered in needles on top. Before using it, it is VERY IMPORTANT that you disinfect it. Dermarolling with a dirty roller is literally injecting your skin with bacteria. (Sidenote: really love lecturing you all knowing full well that I "disinfected" my dermaroller with tequila. Whatever, at least I'm trying.)
To use it, you roll the needle-wheel (not the real name, do not refer to it as such) all over your face. One section at a time, roll five times in each direction (up/down/left/right) until you've covered the areas you want to treat. Redness is a known side effect, but I didn't notice much. Just like, the amount you'd expect for having rubbed needles all over your face. After dermarolling, your skin will be primed for absorbing hydrating products—so load up on your fave serum/moisturizer to finish.
Not quite my experience, but you get the idea: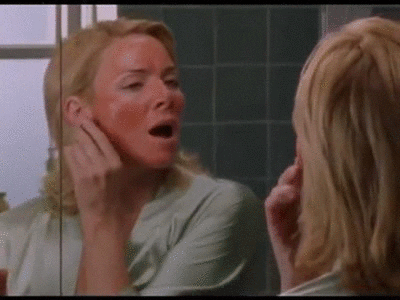 What Are The Effects Of Dermarolling?
The day after using this, I was the most annoying person on earth. I disappeared to my office bathroom maybe 60 times to take yet another "#nofilter" selfie. Even the most heinous of fluorescents couldn't dim my #glow, and I felt like there was a noticeable difference in some roughness/bumpiness that had been bothering me on my cheeks. While effects like taming discoloration require long-term, consistent use of dermarolling (and my day-after glow didn't really last), I definitely noticed a difference. Mostly, it was just a kind of shine/plumpness (I hate that word but I can't think of a better description), plus the glow I won't shut up about.
For reference, here was my scary face before dermarolling:

And here is my post-dermarolling glow:

Real results. Not FaceTune.
The Warnings
All that being said, dermarolling is not without its dangers. Common side effects can include infection, inflammation, breakouts, and damaged skin. Most experts say this can be avoided with proper cleaning and technique, but unless you're going to dermarolling seminars on the regular, chances are you could fuck up. A lot of these issues do stem from improper cleaning practice, so please buy proper cleaning solution and be rigorous about it. Or just like, replace your dermaroller fairly often—I know you spend more than $24 on less important shit.
When I asked my dermatologist about it, she didn't say dermarolling was bad, but she didn't say it was good either. Mostly, she thinks of it as a less effective version of microneedling, and cautioned that dermarolling on any existing inflammation or pimples was a surefire way to spread the irritation to the rest of your face. I also found out that those bumps/redness on my cheek are in fact my new, fun mild rosacea (getting older is great), so whatever improvement I noticed after dermarolling was almost certainly in my head. Whatever! At least I was glowy!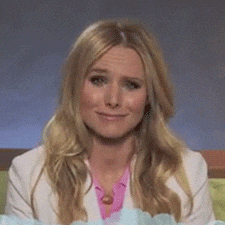 Is this a wholehearted recommendation for dermarolling? If you caught me the day after, it would have been. But after hearing my dermatologist's advice, I've sobered up on the idea of making this part of my routine. While I love buying trendy beauty products way more than as much as the next girl, sometimes less really is more—especially if you're not sure how your skin will react. A dermatologist, on the other hand, is always a good investment.
Images: Dermstore; Giphy (3); Chris Howard / Pexels