Here's How Much It Costs To Get A Video Shout-Out From Your Favorite Celebs
I'll admit it: I love a good, inane method of communication. (Poking on Facebook, pinging on Blackberry, you name it.) I also love seeing celebrities participate in dumb sh*t for a paycheck, which brings me to Cameo. Cameo is a service that allows you to send your friends messages in the form of a selfie video from a chosen celebrity. I'll explain this a few more ways until it settles into your brain. Say you're making happy hour plans. You could text your friend like a normal person—OR you could pay Kevin from The Office $145 to do it for you. (Oh yeah, celebrities on Cameo each have their own rate.) Naturally, I had to find out which celebrities actually signed up to become on-demand greeting cards—and the answers won't disappoint you. Here are the weirdest, most random celebrities on Cameo and available for hire.*
*I don't really do sports, so feel free to browse the athlete section on your own.
Ben Higgins ($50)
Oh Ben! I'd wondered where you went after Happily Ever After, but I didn't think you'd fallen so far. First of all, $50 is way too low for the most charming Bachelor in recent history, especially when you see that Nick Viall is on here for $75. I actually feel like Ben would be a good choice for an interaction you're a little nervous about, like telling your boyfriend that you adopted a dog while he was at work. Wouldn't it just be harder to get upset looking at his bashful, country-boy eyes? Or am I just another crazed Higgins fan, waiting for my chance to kneel at his feet on live TV? Time will tell.
Other Bachelor cast members: Ashley and Jared ($65), Robby Hayes ($50), Corinne Olympios ($40), Chris Harrison ($425)
James Kennedy ($100)
And now, the one that I am personally most likely to use. James has been deeply up against it this season of Vanderpump Rules, by which I mean he has faced some consequences for his actions. As a result, he has looked like a wounded dog with lifeless eyes in every scene for the past two weeks, and I can think of no one less equipped to be sending out cheerful videos for hire. For reference, you could have Scheana record the same message for $75, but at least James' version would be less likely to include an orgasm.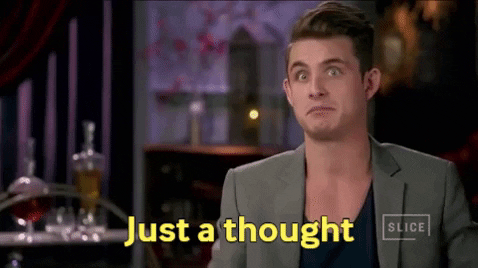 Billy Zane ($500)
With Billy Zane, we've moved out of what I'm calling the "small players" ($200 and under) and into the major leagues. For a cool $500, you can have the villain from Titanic wish your parents a happy anniversary. Or tell your boss you're taking the rest of the week off. I don't really understand how or why Billy Zane has become such a punch line in pop culture, but I do kind of feel like a video message from him could ruin my day. Sorry Billy, I'll always be Team Leo!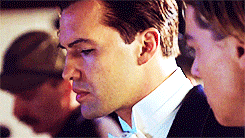 Stormy Daniels ($666)
Got any politically minded friends? Devoted readers of The 'Sup who regularly ruin brunch with depressing updates from the outside world? Show them that you're paying attention with a very current $666 video message from none other than Stormy Daniels. If nothing else, you'll be helping her pay off those legal fees.
Caitlin Jenner ($1,000)
Finally, if you're really looking for a splurge: Caitlin Jenner. As the most expensive option on this list, she is also one of the only two whose profession is listed as "Icon." (Most include titles like "TV Star" or "Reality Star," or the name of the series they're on). The other icon on this list is "George Jung aka 'Boston George,'" an American drug trafficker who was played by Johnny Depp in the movie Blow. A message from this famed criminal is only $65, so up to you which "icon" you'd like to go with. I'd also like to note that Caitlin Jenner is the only member of the Kardashian/Jenner clan on this site.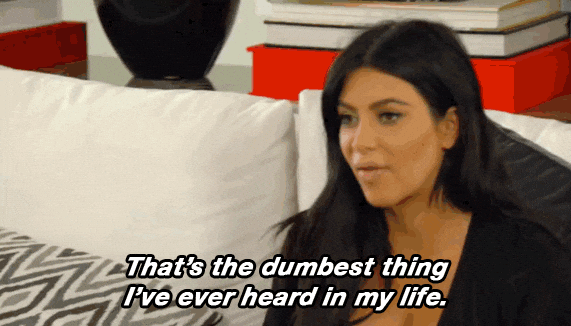 Other usual suspects are on this site—Bella Thorne ($110), Snooki ($300). What I've learned from this research is that I love listing celebrities' names with prices attached, and it is possible that reality TV pays less well than I thought. Hopefully these celebrities on Cameo have brightened your day as much as mine.
Images: Giphy (3)
Here Are The Best Movies And Shows Coming To Netflix In October & What's Leaving
Few things affect our social calendars quite like Netflix these days. Each month, new shows and movies come and go, and we're morally obligated to keep up with them, since we paid so much for our subscriptions still have access to our ex-boyfriend's former roommate's login info. We can't just not take advantage of all this amazing content another reason to cancel plans, so we've mapped out everything that's arriving (and leaving) next month, so you can schedule Netflix and chill the fuck out, accordingly.
First, what's leaving on October 1st, aka what you need to aggressively binge watch RN:
1. '30 Rock' Seasons 1 – 7
One of the greatest shows of all time. For those who haven't seen it, it's like Unbreakable Kimmy Schmidt, except funny.

2. 'Friday Night Lights' Seasons 1-5
Clear eyes, full five seasons in one day, can't lose.
3. 'Love Actually'
Obviously the best (Christmas) movie ever. This better be back before December, WTF?

4. 'One Tree Hill' Seasons 1-9
An angsty teen classic, mostly useful for deciding whether you're more into Nathan or Lucas on any particular day, depending on your mood.
5. 'Titanic'
In case you want to reserve three hours to weep sometime within the next week.

And now what's arriving in October, aka what you have to look forward to next month:
1. 'Blood Diamond'
Featuring Leo DiCaprio, this is a quality action flick that's fast-paced and based on events that happened IRL. It's about conflict diamonds in Sierra Leone (see also: "Diamonds From Sierra Leone" by Kanye West), so it's not exactly a comedy, but well worth a watch if you're down for something intense.

2. 'I Love You, Man'
Aside from the fact that Paul Rudd, in this movie and in perpetuity, is America's spirit animal, I Love You, Man is simply an all-around good time and perfect for any Netflix occasion. The duo of Rudd and Jason Segel is beautifully awkward and v enjoyable to watch, making this a crowd favorite among betches and bros alike.
3. 'Miss Congeniality' (1 & 2)
Sandra Bullock kicks ass in this movie as an FBI agent going undercover in a beauty pageant. It's kind of a staple of being a betch, so you def need to watch it if you haven't already. Like, if it weren't for Miss Rhode Island, how would we know that April 25th is the perfect date, because "it's not too hot, not too cold, all you need is a light jacket"?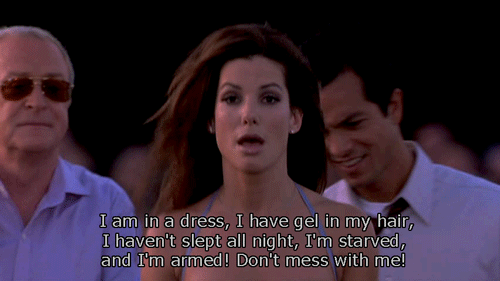 4. 'Made of Honor'
TBCH I've never seen this, but as a C-list rom-com featuring Patrick Dempsey, it feels like a movie I will soon be watching while extremely hungover on a rainy Sunday.
5. 'Stranger Things' Season 2
This is most definitely the highlight, in my professional opinion. It debuts on October 27, just in time for you to buy some discount Halloween candy (after you've already worn your slutty costume, obvi) and crush the entire season in one weekend. The '80s inspired thriller is gripping, funny, and heartwarming at the same time, and it's all anyone's going to be talking about at work. We are so ready to go back to the Upside Down and to witness more Winona Ryder going full cray.