A Definitive Ranking Of The Most Iconic Moms Of 'Real Housewives'
It's no secret from my many articles on the subject that I'm a Bravoholic with an affinity for all things Real Housewives. And while I didn't think my appreciation for these women could get any deeper, I've been especially thankful for them while battling bouts of boredom and anxiety in self-quarantine. In honor of Mother's Day this Sunday, it's only right that we pay tribute to the amazing women that not only gave life to our Housewives, but who have made a lasting impression in their own right while appearing onscreen.
10. Ms. Diane, 'Real Housewives of Atlanta'

Ms. Diane is an angel. She ranks this high on the list because she's one of the most normal and seemingly sane mothers this franchise has ever seen. Her calm demeanor and unwavering support of Porsha through everything from the divorce from Kordell to the infidelities of The Hot Dog King is truly heartwarming. Porsha is one of the few lucky ones.
9. Judy Stirling, 'Real Housewives of Orange County'

Lydia's mom, Judy, made an immediate impression when she breezed her way into the OC from what seemed like another planet entirely. She sprinkled fairy dust on her grown daughter, smoked a ton of pot, and even managed to get into it with Vicki's aggro son-in-law over having her feet on Vicki's couch. In short, she was a lot more interesting memorable than Lydia.
8. Dr. Deb, 'Real Housewives of Orange County'

Dr. Deb is what you would get if you swapped out Judy's weed for acid and proceeded to have a really bad trip at Burning Man. When she first appeared on the show, Dr. Deb intrigued viewers with her multicolored dreadlocks and general IDGAF attitude. She really got into the mix last season at "OC Fashion Week" (I refuse to believe that's a thing) by fighting with another attendant and allegedly using a racial slur. Clearly used to chaos, it's no wonder Braunwyn decided to have seven kids.
7. Ms. Dorothy, 'Real Housewives of Potomac'

Ms. Dorothy made an impression from the moment we met her in season 3. Between her monthly stays at the house she bought for with Candiace and Chris and her attempts to control every aspect of their wedding, this therapist seems to have a blind spot when it comes to respecting boundaries with her daughter. Last season she took this to another level by slapping Candiace upside the head with a purse. It be ya own mother.
6. Lois Rinna, 'Real Housewives of Beverly Hills'
 When we first met Lois, she charmed us with her happy-go-lucky attitude and positive energy. Little did we know that this ray of sunshine nearly died after surviving an attack by a literal serial killer. And not only did she survive that, she also managed to sit through dinner while Camille defended Brett Kavanaugh and served us some epic facial expressions like this in the process:

5. Marge Sr., 'Real Housewives of New Jersey'

As if Marge Jr. weren't enough of a gift to the show when she was cast in season 8, we got the added bonus of Marge Sr. Dating well into her seventies and even admitting that she's had sex in a cemetery, Marge Sr. is the Hungarian Samantha Jones. We have no choice but to stan.
4. Mama Elsa, 'Real Housewives of Miami'

Almost exactly one year ago, the world lost a legend. Mama Elsa was the indisputable star of the otherwise lackluster Real Housewives of Miami. With her strong Cuban accent, flair for drama, and witchy sensibilities, she stole every scene and gave us so many hilarious moments. The world was a wonder while she was here.
3. Dale Mercer, 'Real Housewives of New York'

Regardless of whether Tinsley decides to return to RHONY, her mother Dale would be a welcome addition to the show. She never misses an opportunity to shade her own daughter, whether it's pointing out to Tinsley that she's wearing shoes designed by Tinsley's ex-husband's new wife, or implying that her relationship with Scott is doomed. And, of course, we can never forget her indulging Tinsley's crazy and crying with her over Tinsley's frozen eggs "babies" while Tinsley tries on wedding dresses despite not actually being engaged.
2. Mama Dee, 'Real Housewives of Dallas'

Speaking of women that take pleasure in shading the hell out of their spawn, no one does it like Mama Dee. Watching D'Andra squirm while asking her mom for more money to let her take over the business and Dee revel in the power dynamic is truly captivating television. Is this a healthy mother-daughter dynamic? No, but I really don't give a dog's rip.
1. Mama Joyce, 'Real Housewives of Atlanta'
Love her or hate her, Mama Joyce is the G.O.A.T. of outrageous Real Housewives moms. She never misses an opportunity to harass her son-in-law, whether it's butchering the lyrics to "Ain't No Mountain High Enough" to make a threat, or recounting a childhood trauma about a lunchbox to allude to her distrust of him. The thirst doesn't stop there. She tried using a shoe as a weapon against Carmon during Kandi's wedding dress shopping trip, and put on an actual trench coat to dig up dirt on Phaedra, giving us this iconic moment:

She may be a monster hellbent on destroying anyone that gets too close to her daughter's money, but she's given us some incredible moments in the process.
Whether you love them or hate them, there's no denying that the moms on this list make for great TV. Which Real Housewives mom is your favorite? Let me know in the comments!
Images: Bravo (2); Tenor (5); Trash Talk TV; 1drdeb / Instagram; Giphy (2)
Why Tinsley Mortimer Has Stopped Filming 'RHONY'
The ladies of The Real Housewives of New York City are still filming for season 12, but there have already been some major developments. Of course, Bethenny Frankel sent shockwaves through the Bravosphere earlier this year when she announced she was leaving Bravo to pursue her own projects. We didn't quite know what to expect, but obviously the show must go on. Last month at BravoCon, streetwear designer Leah McSweeney was announced as the newest Housewife, triumphantly joining her new castmates onstage at Watch What Happens Live. But this week, we lost another beloved apple, when it was confirmed that Tinsley Mortimer is no longer filming for the upcoming season.
Earlier this fall, Tinsley got back together with her on-again-off-again boyfriend, Scott Kluth, causing speculation that she would leave RHONY. As you might remember, he biggest problem with Tinsley and Scott was always that he lived in Chicago, and she obviously needed to be in New York for her job. For a few weeks, there were rumors that she would get her own Real Housewives franchise in Chicago, but that proved to be false after Salt Lake City was announced as the new Housewives city.
Ultimately, Scott and Tinsley got engaged last month in Chicago, and that turned out to be the final nail in the RHONY coffin for her. She wasn't on the girls' recent trip to Mexico, and this week, Luann de Lesseps spilled the tea about Tinsley during one of her cabaret shows. When asked about Tinsley's mother, Dale, during the Q&A segment (yes, her cabaret show has a Q&A segment), she said "I think she's more upset that Tinsley's not filming anymore now that she's marrying Scott than Tinsley is."
Luann continued about Tinsley, saying "I wish her all the best. She seems very happy and I want her to be happy and get married. That's what she wants to do. She's very traditional. She wants to have a baby. It's time." This makes sense, considering we watched Tinsley freeze her eggs on the show, and she cried about her eggs as if they were already actual babies.
But there might be a bit more to the story, with another source telling People that Scott played a major role in her decision to leave the show: "Scott gave her an ultimatum: 'me or the show,' and she chose him. He loves the limelight, but hated the negative effect the show had on their relationship. And Tinsley, she's desperate to make the relationship work and was on the outs with the group as it was."
Okay, so a few things here. First, I'm never a fan of an ultimatum like this, and it feels kind of shady on Scott's part if this is really how it went down. I'm personally never a fan of ultimatums, because one person is usually going to end up unhappy. But whatever, not my relationship. It's also no secret that the show has messed with their relationship in the past, and some of their scenes from a couple seasons ago are truly tough to watch. I hope Tinsley really is happy with her decision, because obviously being wifed up in Chicago is going to be a lot different than getting sloppy drunk with the RHONY ladies.
But speaking of the RHONY ladies—what does this source mean when they say that Tinsley was "on the outs with the group"? This is a low-key juicy piece of information, and it makes me very excited to see what happens in the first part of season 12, before Tinsley leaves. She'll still be on the new season, at least for a while, and I hope her last episodes don't disappoint.
The Real Housewives Of New York Almost Died On A Cruise
If you've ever watched even one season of a Real Housewives show, you know that the most important element of the show is the group trip. Prepare yourself, because the Real Housewives of New York just took a cruise from hell. Over the years, the New York housewives have taken a wide variety of exotic trips, including St. John (aka Scary Island where Kelly lost her mind), Morocco (cue Luann saying "ya habibi" seven million times), and even the far-away land of Montana. But nothing could have prepared Luann, Ramona, Bethenny, and the gang for this trip to Colombia.
The ladies are currently filming for season 10, and they headed down to Cartagena, Colombia, presumably because one of them slept with someone who owns a fabulous vacation home there or some shit like that. There's always a connection. From there, they were supposed to spend the day on a luxury yacht. This is usually the part of the trip where nothing really goes wrong: Ramona has her Pinot Grigio, Luann pretends to be reading a book, and Sonja is tanning while ass naked. Yaaaaawn. But this time, the day on the yacht turned into the boat trip from hell, and we seriously can't wait to see it unfold on Bravo.

Let's just say, the boat wasn't as luxurious as it was supposed to be. Page Six reports that, to start with, "Once they were ushered on board, the boat couldn't even move. The anchor got stuck, so the crew had to saw the anchor off before they could sail anywhere." I'm already laughing my ass off from the thought of these women watching them saw off the anchor, and it gets so much better.
After leaving the dock, the engine on the boat reportedly caught fire, which like, isn't supposed to happen. There was apparently no fire extinguisher on board, and the crew didn't speak any English. Yikes. As if that wasn't enough, the seas were very rough, and "the seats and other things on board that weren't nailed down started flying about." OKAY. So just picture Luann the fucking Countess on a boat that is literally on fire and there are seat cushions just fucking pummeling her in the face. Darling, it's a nightmare.

According to the reports, the housewives were screaming, throwing up from seasickness, and genuinely convinced they were going to die like it was the fucking Titanic. Ladies and gentlemen, THIS is how you make reality TV. They were eventually rescued by a passing ship, but Bravo has reportedly offered the ladies counseling for their traumatic experience.
With this and Luann's wild Christmas in Palm Beach, the next season of Real Housewives of New York City is shaping up to be an absolute shit show. Thanks to our lord and savior Andy Cohen, we'll surely get to see the whole messy thing. Why do we love this shit so much?
Images: Bravo; Giphy (3)
Ramona Has The Receipts: 'Real Housewives Of New York' Reunion Part 3 Recap
Usually, I'm pretty bummed by the time the final episode of a Real Housewives of New York City reunion comes around, but this season, I'm so ready. These storylines kept my interest for as long as the Starbucks unicorn frappuccino did. (So, for less than 30 seconds.)
Anyway, the third episode of the reunion begins with a montage of the Housewives discussing dirty shit, but primarily butt sex. Apparently Tinsley's ex-husband, Topper, called her out for talking about his dick on television. Tough break.

Tinsley: I talk too much.
I hate when I find myself relating to Tinsley, but I definitely understand how she feels after watching a highlight reel of herself getting drunk and talking about stuff she should probably keep private.
This gross little montage was a pretty nice way to segue into a discussion about Ramona and Bethenny's feud, which began when Crazy Eyes asked B if her daughter, Brynn, knew about her being "naked in the press." Bravo gives us a little video of Bethenny and Ramona fighting, and then being naked and crying and making up in the pool. Don't you just love when reality television plot lines come full circle?

Then, since this feud was pretty much the only exciting thing to happen all season, they all have to spend for-fucking-ever pretending to care talking about it.
A viewer writes in to ask why Bethenny got so mad at Ramona's question instead of just answering it, to which she explains that she found Ramona's inquiry to be ill-intentioned and offensive. She also calls Ramona out for lying about the timeline of events to justify her nosiness, and Ramona pulls out receipts. This bitch loves pulling out receipts at reunions. Like, she's insane.
Ramona: I don't read the press. *Whips out iPhone* I asked my friend to Snapchat me the date and she said it was when she was in the Bahamas!

Um… Ramona… are those green text bubbles? And I don't think you're using Snapchat correctly, but whatever. The two keep bickering and if you're invested enough to actually continue to follow this back and forth, I'm not sure if I should applaud or pity you.
Ramona: I have been there for you for 10 years!
Bethenny: You brought me hummus when I was bleeding out. Thanks.
Finally, Andy starts asking some good questions, like whether Ramona was taking pills every time she was acting like an insane person. Obviously, Ramona says she was just drinking but nobody believes that. It's pretty much Housewives reunion law to lie about the substances you took during the season.
Next up, they talk about the fact that Sonja treated Tinsley like an intern all season. I'm just like, gonna skip over that because this entire reunion is just a shit ton of "I never said that" and "yes, you did!"

Thankfully, talking about Mexico brings some much needed entertainment to this overall boring as hell episode. I am proud to report that the footage of Luann falling down never, ever gets less hilarious. Somehow, not a single person puked while the Housewives were in Mexico, which is a fucking miracle. They literally just got up and rallied everyday like total champions. Well done, ladies.
Bethenny: Pros play hurt.
However, I'd be willing to bet that at least one viewer felt nauseous during the entire time that Sonja was naked and trying to attack everyone.
Speaking of feeling ill, everyone plays the rose and thorn game again, and Luann is all like, "I got married!! In case anyone forgot!!" which again, is so sad because like… she's really not married anymore.
Anyway, thank god this season's over and we're walking into the next one with a divorce in the cards. That's usually pretty promising.
Let The Roasting Begin: 'Real Housewives Of New York' Reunion Part 1 Recap
It's the first part of the Season 9 reunion of Real Housewives of New York City, and for those of you who don't watch Real Housewives religiously (how dare you), that means it's finally the episode where they all kind of have to admit the shit we've been saying about them all season. It's kind of a Bravo tradition that the first installment of a reunion is never the most exciting one, but everyone was super annoying this season, so there's sure to be tons of brutal callouts. Plus, the reunion is at the Angel Orensanz Foundation, which might be the sickest venue that a Housewives reunion has ever had. So like, if you get bored, just look at the nice décor. Idk.
Although reunions are generally a time in which the cast is supposed to show some level of remorse for an entire season's worth of heinous actions, I'd just like to point out that Tinsley is clearly rocking a "NO RAGRETS" attitude towards her constantly criticized horrible style. Homegirl's dressed like the damn teapot from Beauty and the Beast.

Ramona is the first one to take the hot seat. (Which, again, if you're new to Housewives reunions, isn't an actual seat. The couch seating plan is basically as carefully thought-out and rigid as the cafeteria layout in Mean Girls.) Although this betch is certifiably crazy, you have to admit that she looks totally incredible. *Lindsay Lohan voice* I mean, everybody looks great tonight. Look at Ramona Singer, that dress is amazing and those hair extensions must have cost thousands.

Anyway, Ramona's like, perfect proof that looks aren't everything, because her highlight reel is cringeworthy AF. She basically has to sit on a couch with six other women and watch video footage of them talking shit about her. Yikes. At least Ramona can agree that she was totally batshit all season, though.
Ramona: Seeing it on TV, it's like, holy shit, who is that woman?
Next Ramona addresses her plastic surgery history and talks about how she's had her eyelids done, laser sunspot treatment and a boob job. But like, there's got to be some drug that's only legal in the Southern Hemisphere, or something, because this chick does not look 60.
Ramona claims that she's definitely not as bad as she looked all season, but Bethenny is obviously here with some serious tea. She calls out Ramona for not acknowledging her assistant in an elevator the night before the reunion taping and before B can even finish detailing the run-in, Ramona's immediately like, "well, when you grow up abused!!" Bethenny goes off on her and I am thanking the Bravo gods that the peaceful makeup between these two didn't last. This shit is way more entertaining.
Ramona: Well, why didn't they say hi to me?
Bethenny: They were INTIMIDATED! You got your tits hanging out! Your crazy eyes! You're a horror show!

While Bethenny is on a roll of going off on people, Andy asks her if she'd ever be interested in opening a friendship with Jill Zarin. Skinny Girl is not fucking having it. She calls Andy out for asking her the same question literally every Watch What Happens Live, Hanukkah, birthday, anniversary, and reunion and he just like, switches questions.
Side note: Every single Housewife is in a relationship right now. So yes, girls, you, too can grow up to blackout on every possible occasion and still find love. Bless up.
Next up on the chopping board is Dorinda, who was totally my favorite this season. (I know that journalists are supposed to be like, objective or whatever, but if the New York Times is allowed to straight-up be like "Yo, FUCK Trump," then I think it's okay for me to say Dorinda is my favorite, right?)
I kind of forgot about the fact that a big chunk of Dorinda's storyline this season was focused on her feud with Sonja, because it was so effing boring. However, I'm pretty glad we got to see the "CLIP! CLIP! CLIP!" clip again, because it's definitely a phrase that is going to go down in Housewives history.

Dorinda tries to explain what that actually meant, but the truth is that it was basically just nonsensical, drunk word vomit.
Dorinda: I couldn't stop the verbal waterboarding.
Dorinda had some pretty legendary one-liners this season, including referring to Sonja's vagina as the Holland Tunnel. LOL. Sonja starts to try to defend her Holland Tunnel, but everyone cuts her off because we all know there's really no point in that.
A viewer sends in a question asking Dorinda if she finds it hypocritical that she always calls Sonja out for being drunk all of the time, even though she is usually so smashed herself that she needs subtitles. Dorinda's just like, "nah, I don't pretend that I don't love to drink, like Sonja does." And, THAT, my friends, is why she is my favorite Housewife this season.

The final Housewife to get roasted this episode is Luann, and I'm actually concerned that I might have pulled an extraocular muscle rolling my eyes during this part. She basically just goes on her typical marital bliss rant, which is just so sad to watch because we all know that she just recently announced that she's divorcing Tom.
Luann: Right now, I like being Luann D'Agostino
Literally everyone else: Um… right now? Not forever?
BTW, apparently Luann is wearing the dress from her wedding rehearsal dinner.
It's finally revealed that Sonja did in fact receive a save the date to Luann's wedding, but then she started talking shit in the press about good ol' Lu, and the former Countess held back the real wedding invitation. So, even though Sonja is totally nuts, she wasn't lying about the fact that she technically was invited to the wedding.
Andy: Has anyone heard anything about Luann and Tom since they got married?
Everyone goes silent. Lol, yikes.

Bethenny goes off on a tangent about how talking about Tom's "indiscretions" is basically as pointless as talking about Trump's tweets, which is a pretty valid point.
As far as the first part of reunions go, this one wasn't totally horrible, I guess.
Bethenny Is A Modern Day Gretchen Wieners: 'Real Housewives of New York' Recap
So, Real Housewives of New York City is still on a tequila binge in Tequila, Mexico and if you haven't watched this episode yet, I'd highly recommend it. It will definitely make you feel better about every questionable decision you've ever made.
Anyway, the episode starts out with everyone talking about their boobs, which then results in everyone being naked and running around.
Carole: I bare my boobs for art. The rest of the girls bare their boobs for tequila. PS, I have the best boobs of the group. They're real.

Ramona and Bethenny have a nice moment in the pool.
Ramona: I really like you
Bethenny: I'm a pretty cool person
Ramona: But I feel like you don't like me
Bethenny: Well, I don't like you right now
The conversation then turns back to the comments Ramona made about Bethenny being naked in the press and how that must have affected B's daughter, Brynn. I would just like to note that Bethenny is literally ass naked during this conversation.
On the other side of the pool, Dorinda is trying to get a pants-less Sonja dressed.
Dorinda: It's literally like trying to put a bikini on a piece of spaghetti.
Anyway, back to Bethenny and Ramona. They're literally screaming (slurring) and crying in the pool and there are little nude-colored pixel square censors over Bethenny's boobs. I actually feel like I'm watching two Sims fight right now. The conversation ends with them making up, but we all know they'll end up picking another fight soon.
Sonja's still super drunk and asks Bethenny if she'll have sex with her, but B isn't down.

Bethenny: I'm sorry. You're barking up the wrong vagina.
Bethenny is the first one at dinner again and she's pissed because she always shows up late to shit and is still somehow the first one there. SAME, B.
Obviously, everyone's been blacked out for a few days, so there are like, five separate arguments brewing. Dorinda starts yelling at Bethenny and so Bethenny and Tinsley start running around her and it's just a mess of slurring and dancing. It's truly beautiful.

Then, in the middle of Tinsley apologizing to Ramona (apparently this is just the episode where everyone's going to black out and apologize like a bunch of drunk girls in a club bathroom becoming best friends), the women start to hear fireworks and all immediately stop their conversations and run outside to stand under the fireworks and scream. However, during the fireworks, Dorinda is concerned because she cut her hand.
Dorinda: I cut my hand off.
Bethenny: Do not give me a psychoanalysis.
Dorinda: I gave you a psychoanalysis about your life?
Bethenny: I keep getting into fights with these wasted blondes. It's like, they have all this resentment about my success.
Me:

Is this just like, a giant war between blondes and brunettes? Isn't that what Gossip Girl was for? Didn't Serena and Blair teach us that party girl blondes and power-hungry brunettes all have their own great qualities and don't need to compete with one another? Like, hello, this is 2017! Women don't need to be competing with one another, they're supposed to be obsessed with each other and leave the fire emoji on each other's Instagram posts. Duh.

The next morning, the women are getting ready to go to yoga and Ramona decides to fill Luann in on all the ~dramz~ she missed.
Ramona: I had a great talk with Bethenny last night. We bared our souls (read: tits) to each other. It was good.
Luann: Until you screw it up again. *signature insane Luann laugh*
There's a lot of awkward tension between Dorinda and Bethenny. Dorinda basically doesn't think she needs to apologize for last night, because she was too blackout to remember. Instead of an apology, she's basically like "whatever, I was drunk." And instead of understanding the fact that sometimes when you drink tequila for multiple days straight, you say things you don't mean, Bethenny is super pissed.
Sonja's in a super good mood, which is making her really tired.
Sonja: I'm so exhausted from being happy!
Again, me:

Then Dorinda pulls Bethenny outside to apologize and Bethenny pulls off one of the greatest humble brags of all time. She starts crying and talking about how hard it is to be so successful because she doesn't want to sound like she's gloating all of the time. She's truly a modern day Gretchen Wieners.
Bethenny: I have an emotional hangover. I'm back to being the crier.
I am TOTALLY going to use that line sometime in the very near future.
Everyone is getting massages and relaxing and boating and shit-talking.
Tinsley is on a boat planning a party to say thank you, but also fuck you, to Sonja for letting her live with her for a few months.
Carole says that she's good at fishing even though she's not good at very many things. If anyone wants to take a quick back-read through some of my recaps from this season and fish out all of the times Carole bragged about being good at something outdoorsy, but then complained that she's not outdoorsy the next episode, please be my guest.
Surprise, surprise, Carole didn't catch a fish so they go grab one from a market to pretend that she did. They even take a picture with the fish to make it look like Carole caught it. Of course, Luann isn't buying it and assumes the captain caught it or something.

Finally, it's the last night and everyone's waiting for someone to fuck it all up.
Bethenny: I think to end this trip, somebody should be killed. It's weird if we all go home too happy. I need my frenemies back.
Now that's a woman that has her priorities straight!
For the last night, the women all go out to dinner and Tinsley is the drunkest one this time. It's basically just more drunk yelling.
Luann: Tinsley, you should stop saying the F word so much because we're at a restaurant.
Tinsley: Well, you say Palm Beach all of the time and it's actually West Palm, soo… it's West Palm, so whatever.
I can't tell if that's the best or worst comeback I've ever heard.
Anyway, next week is the season finale and I really hope they're not all too hungover to make it interesting.
Is Ramona The HBIC? 'Real Housewives Of New York' Recap
In case your Fourth of July bender has caused significant memory loss, I should probably remind you that this week's episode of Real Housewives of New York City is the second part of a group ski trip to Vermont. This one starts out the way all good Housewives episodes do…with a lot of complaining.
They're all bitching about the terrible conditions of East Coast skiing, because apparently Aspen is way better. I guess I never realized that the East Coast had bad skiing conditions because I've never blacked out in a ski lodge drinking gone skiing anywhere else. Whatever. Anyway, once everyone realizes Ramona has a hot instructor, the topic switches to bitching about Ramona.
Sonja: Fine. Ramona can hot dog down the mountain behind him, but he's not going to fuck her.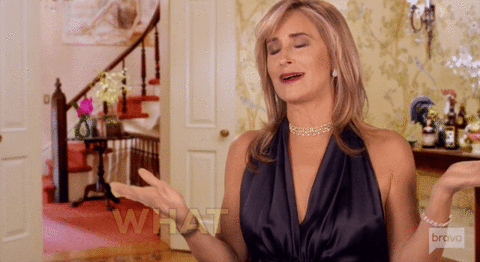 Fair, Sonja.
This week's episode also continues the mystery of whether or not Carole is truly an outdoorsy girl. It seems to kind of depend on whether or not she's around her 11-year-old boyfriend Adam, but I'll try to give her more credit than that because I like where her head's at this week as she stays in the ski lodge to drink with Dorinda.
Carole: I didn't come to ski. I didn't even bring ski pants. I prefer going to the ski lodge with my girlfriend and gossiping about my friends who are on the mountain.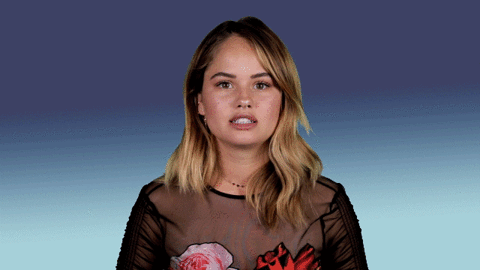 But yeah, being on the mountain looks about exactly as much fun as you'd expect hitting the slopes with Ramona and Luann would be. Luann won't stop talking about the fact that her life is "transitioning" now that she's married. Honestly, I don't think that word's gotten this much airtime since the I Am Cait series.
Obvi, Bethenny is snowboarding instead of skiing because she's like, way cooler than the other housewives. She has a Skinny Girl branded snowboard, which Luann takes a break from talking about her transitioning life to mention. Then, we get a nice little montage of all of the Skinny Girl shit that Bethenny has rolled up in over the years, like her Skinny Girl car. Honestly, if I was that skinny and made all of my money from betches who buy alcohol that I created because they want to be as skinny as me, I'd remind everyone of it constantly, too.
Back at the ski lodge, Dorinda and Carole are boozing it up when they see that news of Bethenny's insane ex-husband, Jason, has been published on Page Six. Basically, he's been charged with harassment and stalking because he is the absolute worst.
Ramona interrupts their gossip sesh by dragging her helpless, hot ski instructor into the ski lodge to pretty much be her slave. She introduces him as her "new very good friend," because she is literally the creepiest chick ever and is trying to make it seem like he's following her around all day for any reason besides the fact that she's paying him. Honestly, at the rate Ramona inappropriately preys on younger victims, she's right on track to be the next President of the United States.

Dorinda continues her reign as my favorite housewife as she tries to figure out why guys don't hit on her all of the time, but Ramona always seems to be surrounded. She decides it's because Ramona is a "coke head-y flirter," which is good news for Dorinda, who was always afraid that she was too ugly to get hit on. That's like, low-key devastating to hear, but we've all had the "OMG am I ugly?" scare at least once.

Anyway, while Ramona is acting creepy and rubbing her bare feet all over the ski lodge, Bethenny starts silently freaking out because she's getting Google alerts about her personal life. You gotta give this girl credit for being able to hold herself together so well in front of the cameras. Like, if someone abruptly ends a text message to me in a period I have to interrupt everyone's conversation to have a mini meltdown and figure out what that could mean.
Speaking of people handling things well…or not, Tinsley is mixing antidepressants with Tito's vodka, which Carole tried to tell her is a terrible idea. We haven't had a housewife release music out of pure boredom in a few years, so maybe it's time for Tins to come out with a rap song about pills and Tito's. IDK, just an idea.
The housewives return to the Lincoln Logs mansion that Bethenny rented, and Ramona has somehow convinced a bunch of random restaurant dudes to come cook for the crew.
Bethenny: Ramona is the HBIC. The head bitch in charge.
Like, one, thank you Bethenny for defining an acronym we are all very familiar with. Also, I'm going to disagree with you there. While she does certainly display some HBIC qualities, she's definitely not an approved HBIC. Sorry.
Speaking of, Ramona is trying to do Sonja's hair, because apparently they always need to have "similar hair." Remember Ramona's brutal ponytail from a few weeks ago? I can't believe Sonja's letting her touch her hair. It looks like shit.
Tinsley starts to talk about one of her passions, which is shopping. She's like, really good at finding deals, and typically only spends like $500 to $700 on an item.
Dorinda: It appears that Tinsley is a professional shopper and professional day drinker.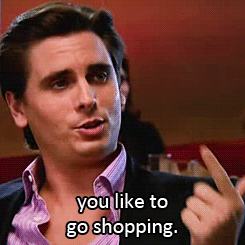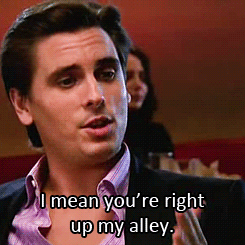 Goals.
Side note: I literally cannot stop looking at Sonja's fugly hair. It makes me feel better about every single bad hairstyle I've ever had in my entire life.
At dinner, all of them get totally hammered and start playing truth or dare. Of course, it starts off absolutely ridiculously and we learn a lot about everyone's sexual preferences. For example, Dorinda thinks anal is totally unacceptable and it makes Tinsley cry. Two things I never cared to know, ever.
Bethenny then dares Sonja to French kiss one of the chefs and gives some pretty specific instructions.
Bethenny: French kiss one of the chefs. You have to mean it. Put your back into it and your camel toe, as well.
Unfortunately, the chef was so not into it.
Then, as everyone's measuring dick size with cucumbers, Luann gets annoying. What a surprise!
Luann: I feel lucky right now to be married.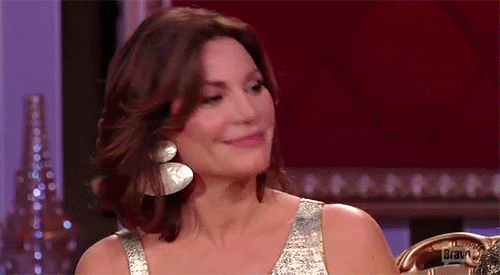 Dorinda: We get it! You're married! You love Tom! You love Palm Beach!!
And then the episode pretty much ends with Bethenny telling everyone to lay off Luann for being an annoying newlywed asshole, but also for Luann to stop being such an asshole, which is as close to a happy ending as any RHONY episode is going to get.
Dorinda Is Hands Down The Best Housewife: 'Real Housewives Of New York City' Recap
This week's episode of Real Housewives of New York City includes a ski trip to Vermont (are these bitches ever NOT on vacation?), but perhaps the trip that made them really feel out of their element was the one they took in the opening scene. Bethenny takes everyone to the Bronx for dinner at an Italian restaurant and immediately sets the tone for the episode.
Bethenny: I'll need two bottles. These girls can drink.
And then one second later…Dorinda shows up hungover.

Bethenny then starts ripping on everyone and their outfits, but mostly Tinsley, who doesn't know how to dress for anywhere besides brunch on the Upper East Side…in 2007. (Like, yeah, we all love Gossip Girl, but I'm shocked to see that she's still dressed like it.) To B's standards, the only one who was prepared for this lunch was hungover Dorinda.

The cast is planning a trip to Vermont, which obv leads to a conversation about how crazy Ramona is. This time, they get into an old issue about some Tipsy Girl alcohol being a ripoff of Bethenny's SkinnyGirl from like, forever ago.
Of course, the whole thing leads to a brawl in a public restaurant. Sonja keeps trying to pull up some screenshot receipts on her phone and Dorinda exhibits literally every emotion on the drunk girl spectrum.
Carole: I gotta be honest, I love it. When Dorinda is bad, she's so good.
Dorinda: Enough about going backwards! ASSWIPE.

Then, they all simmer down and some creepy old guy tells Carole that she looks like "Ivania" Trump. Lol, okay.
Tinsley goes to a therapist and talks about how much wine she has to drink to fall asleep, but definitely doesn't think she's at risk of alcoholism. She also has some interesting (read: boring) realizations about the type of men she's into.
Tinsley: The type of man that my father was is the type I am attracted to in men.
That's called daddy issues, Tinz. GROUNDBREAKING. Then, like any decent reality television therapy session, she then talks about how her trespassing charges have been dropped.

Then, the whole cast goes on a ski trip to Vermont, which is pretty exciting because everyone knows that all of the best Housewives drama happens on ski trips.
Bethenny actually invited Ramona. Because Ramona can't be cool and has to be like, all uncool, she texts Bethenny some long-winded crazy shit to apologize on her way up.
Dorinda forgets all of her luggage in New York because she was too hyped up from getting laid and wants to call an Uber pick it up for her. Sounds reasonable.
Carole: Dorinda is the gift that keeps on giving.
Agreed. Dorinda is totally the best one this season.

Ramona finally shows up and Bethenny is already pissed upon hearing her voice for the first time. She literally shows up being annoying.
Dorinda: Ramona, do you have camel toe?
Ramona: I was in the car for five hours. I'm lucky I can walk.
That's potentially the grossest line I've ever heard on Housewives…and I watch Jersey, too.
Ramona and Sonja then act like creepy little girls at summer camp and try to pick the best room together so they can snuggle. They basically end up pissing everyone off, because everything they do pisses everyone off anyway.
Then, Tinsley starts talking about how she's "boy crazy." Although her standards aren't like, super specific, they've definitely tightened up since the last episode.
Tinsley: Are you a man? Do you have a job? Are you older than me?
Quick, somebody call TLC because we've got a new set of standards to adhere to.
Everyone starts giving Tinsley unsolicited dating advice and she starts bitching about the fact that Sonja is so controlling of her. Bethenny's like, totally done hearing about this shit. Same tho.
Bethenny: Live with Sonja, follow her rules, or grow up and move out.
Tins then goes off about how she's still not over her abusive relationship, to which Bethenny is like "been there, done that." Tinsley tells Bethenny that she doesn't really understand, because her abusive relationship was made public and B's was not. As if Tinsley was at all relevant before this season and Bethenny isn't actually famous. Riiiiight.
Anyway, everyone better start freaking TF out in the first five minutes of the next episode or I'm so over it. Ski trips are supposed to be insane and I'm disappointed so far.