Easy BDSM Moves For Beginners
Whether you're single or attached, it's very likely that you're not having the hottest sex you could be. I totally get it—between  actual work and the very busy workout/eat out/blackout schedule of a successful young millennial, it's hard to put effort into yet another activity. But you need to be excited about sex to be having good sex. And IMO, if you're looking to upgrade your sex life, trying some BDSM-inspired moves is an awesome place to start. Here are the best BDSM-inspired moves for beginners.
Blindfolds
Blindfolds are a great choice for many reasons. First of all, you definitely already have something that could work as one. (If you don't, go buy 20 scarves and a sleep mask immediately. God.) Second: it's a small difference, but it changes how you feel—by a LOT. All sensations are heightened when you can't see, and the fact that you don't know what's coming gives you butterflies, like buying a pair of $400 boots, or non-jittery Adderall sending a risky text. The blindfolded party (preferably also restrained) will be forced to give up all control here. This makes playing with blindfolds a great time to experiment with teasing, light spanking, or anything else you would find too awkward with eye contact involved. But if the idea of butterflies sounds unpleasant to you, BDSM may not be for you. There's a difference between wanting to "switch things up" and being genuinely turned on by the power shifts/pain play involved in BDSM. There are plenty of other options if the latter isn't true for you.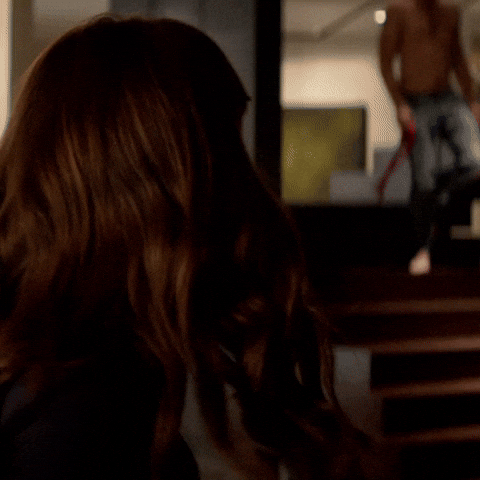 Bondage
As with blindfolds, you either have bondage materials in your home or you walk around all fall without accessories. Also, as with blindfolds, bondage is the kind of thing that heightens every sensation once it's in place. If you or your partner enjoys the idea of taking control but struggles to fully act on it in the moment, using either a blindfold or restraints are both great ways to get that final push to a dominant/submissive situation. And for shy beginners or those just starting out, it can be just the push you need to get over your awkwardness and go for it.
On a more practical level, you have some options when it comes to bondage. Usually, your first move will be making sure hands are restrained. You want it tight enough so they can't just wriggle loose, but not so tight it's cutting off their circulation. (Also, fashion a knot you know how to untie. *moment of silence for the articles of clothing I've had cut off me.*) You can also use lower body restraints, though that obviously requires a higher comfort level for both people.
Use Your Words
No, this is not another speech about how communication is key for a healthy sex life. (Though while we're on the subject…this is especially true with BDSM.) But in this case, I'm actually talking about incorporating some aspects of BDSM into how you talk to your partner. How you do this depends on which aspect of BDSM you're attracted to. If you're more submissive, you can experiment with calling your partner sir/madam/master (or incorporate a punishment if you slip up). This is especially hot if it's used while the submissive partner is blindfolded/restrained. You can also try incorporating begging, or adding some explicit descriptions of what you'd like to do—while holding back—to any teasing you're doing.
Another route you can try is using aggressive language (bitch/slut/whore/etc.) This can be exclusively in the bedroom, or how you turn your partner on when you're texting throughout the day. As with all things BDSM, it should take you out of your comfort zone, but in a way that makes you feel excited—not frightened or genuinely abused. (See all of 50 Shades for a thorough "what not to do.") And obvi, don't do anything you're uncomfortable with.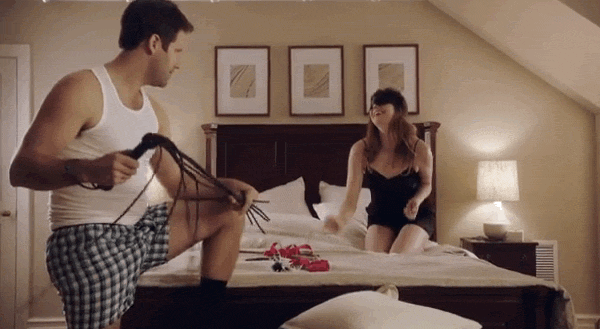 Largely in thanks to the aforementioned trilogy, BDSM has sadly been made synonymous with "hotter" sex in recent years. But BDSM doesn't feel hotter for everyone (for example, Anastasia Steele), and you should pay attention if it doesn't for you. If you want to push your boundaries or experiment with BDSM specifically, though, this list is a good start.
Giphy (4); lounisproduction / Pexels
The Betches Valentine's Day Gift Guide
Whether you're taken or #foreveralone, there's no ignoring Valentine's Day. Especially now that Kylie is launching an entire Lip Kit collection dedicated to it. If you're not treating your S.O., this is the perfect time to treat yo' self. I'm saving you the time and effort of where to look for a quick and easy VDay gift by laying it all out here, or you could just order Edible Arrangements like a fucking loser.

Created by a young betch, Cosa Cuffs are a new take on an old classic: the charm bracelet. The cuff is composed of 14K gold-plated brass and enamel. If you're like any normal person ever, you hate when your bracelets are loud as fuck and get in the way of everything. How am I supposed to casually play with my hair while my bangles are creating the soundtrack to a war movie? Cuffs stay right where they belong, and what's even more amazing is that they can be customized with "Jigs". "Jigs" are short for "thingamajigs" and they're these super chic and adorable magnetic charms you snap onto your cuff.  You can buy as many as you want and constantly interchange them depending on your mood, which we all know changes faster than an avocado goes bad. Speaking of avocado, that's one of the "Jigs", so yeah, this shit speaks to us. 
Cosa is offering a 20% discount code to betches only when you use (obvi) the code "betches"

This is a one-stop shop for both bros and betches to find the perfect gift. Seavees is king of the casual sneaker, and what says "I love you" better than a metallic slip-on? Actually though, if you're trying to prove to your S.O. that you're down to earth and shit, Seavees is partnered with 1% For The Planet and donates a percentage of every dollar spent on these sneaks to keeping California shores preserved. I know what you East Coast betches are thinking, California is fucked no matter what, but you can at least pretend to give a shit and look chic while doing it. I've honestly never seen so many perfect styles of a casual sneaker in one simple spot before, so fair warning, you may check out of there with like 5 pairs but whatevs. 

Idk about you, but I think shopping for ties is legit fun. Like, I wish it was an item of clothing I could shop for for myself. But since I'm not Avril Lavigne, I'll settle to shop for ties for my boyfriend. Johnnie-O ties are really nice to look at. They're like a West Coast Vineyard Vines but less obnoxious. If you want to play up your boy toy's wardrobe with something that he is guaranteed to like and wear, this is it.
Another guaranteed winner from Johnnie are his weekender bags/toiletry bag. I can already see myself gifting the Daytripper Carry All Bag and then stealing it back. Win, win. Also a great way to hint that you're in need of a vacation. 

If you couldn't tell, we're obsessed with Korean beauty & skincare. In our last gift guide, we mentioned our fav outlet for all things K Beauty, Soko Glam. They have a really exciting new addition to their site, Etude House. Etude House is a cult favorite Korean makeup brand that is specially curated by Soko Glam in the US! They're known for their viral makeup products that are innovative, fun, super easy to use and affordable. They have everything from brow tint gel to strawberry sponge hair curlers. It's all really damn cute and essential and if you want to feel like you're getting or giving a special gift from abroad, this is perfect. 

Our collection with JustFab just keeps getting fabber and fabber, tbh. They have two of the most perfect items right now that are super cute and keep within the theme of the holiday. Their Dage bag in oxblood is the perfect size, plus if you're lamenting instead of celebrating, oxblood is a pretty gory color name that is perfect to express how you feel. And then we have the adorable Bernadette slip-on loafers in blush. They're a boss-ass bitch's perfect accessory to an all-black outfit and are guaranteed to bring in the compliments at work (as if you need any more). 

Shop Betches has all new Valentine's Cards that you absolutely need. You're not going to find shit that speaks to you on this same level in the Hallmark section, so do your significant other/friends/fuckboy a favor and spill your heart out on one of these.