The Best & Worst 2000s Trends Making A Comeback
2020 fashion seems to be one big mashup of years past, and I mean, who can really blame us? This year is nightmare fuel, to put it nicely, and I for one am here for the return of most of the 2000s trends that have come creeping back into our lives. The 2000s were an easier time, you know? Where your biggest stress was which CD you were going to purchase from FYE (My Chemical Romance for me, always) or if the cute salesperson model in front of Abercrombie was going to notice you. Like I said, easier times.
So let me take you down memory lane, 2020 reboot style, with the best and worst 2000s trends to return this year.
The Best
Velour
I'm just going to start here with velour, because it feels really relevant to current times, and I am absolutely on board with this comeback. Obviously, we're in a time where comfy clothes have never been more relevant, and it feels like the perfect opportunity for velour tracksuits to be a thing again. If you haven't been on social media in the past few weeks, Kim Kardashian's SKIMS dropped a collaboration with the president of velour sets, none other than Paris Hilton. That's hot. I'm going to be honest, I bought a set myself after telling everyone around me how I couldn't wait for the affordable Target knock-off to launch. I simply had no self control, and I am not even sure why. Let us pray that $80 sweatpants are in fact worth it.

Juicy Couture's Limited-Edition 25th Anniversary Collection in partnership with New York City Alliance
On the topic of overpriced velour sets, we also have the comeback of the absolute OG velour sweatsuit brand, Juicy Couture. Personally, I am not ready to see "JUICY" slapped across the behind of my peers, but like, I'm still glad the brand is back and thriving. The brand is actually now celebrating its 25th year, to make you feel super f*cking old, and announced a bunch of new collabs, so it's going to feel like middle school all over again with everyone you know sporting a Juicy tracksuit. That being said, Juicy obviously has a place in the best comebacks category, because I dare not disrespect a brand that influenced a generation of fabulous middle schoolers.
Tie-Dye
View this post on Instagram
At this point, there's not much to say about tie-dye, except that it was the biggest trend of 2020. It was like a summer camp in every person on the planet's living room, tie-dying anything we could get our hands on. Eventually we all gave up and brands like BrownDyedGirl (who I found from Hannah B. Who even am I anymore?) came to our rescue bringing tie-dye sets to our doorsteps without the hassle of actually hand-dying pieces. I'm putting this in the best category for a few reasons. It hits all the Cs: cute, comfortable, cozy, casual, classic. If I'm being real, I'm not sure how long this trend will actually last, but for 2020 it has served its purpose.
Color-Tinted Sunglasses

Everyone who was someone rocked color-tinted sunglasses in the 2000s, and when they came back to life I was all in. Now, disclaimer, I literally look like Mrs. Potato Head in ALL sunglasses, but that simply did not stop me from hopping on the bandwagon. The pastel colors hit different and make me feel like a pop star. I shamelessly bought a pair from Vogue Eyewear (taking Watermelon Sugar to new levels here). I hope to see this trend live on for a few years, but if not, I'm glad it had its comeback moment.
Press-On Nails

I mean… come on. These things are so convenient. When I was younger I freakin' LOVED press-on nails and my mom thought I was pure trash. Now we've upgraded from the CVS claws to brands that actually are custom printed to fit your nail, and I really think this is the hack that we all need. I personally have been using ManiMe as my go-to, but there are multiple brands with similar concepts that are doing it right. This is great for my people who are feeling lazy, and also great for those not comfortable and ready to go back to a nail salon.
Glasses Chains
In 2020, glasses chains DID make a comeback, and it was a chic one at that. Early 2000s glasses chains were strictly for grandmothers who lost their reading glasses if they weren't literally tied around their neck, but 2020 glasses chains were a cute accessory just because. It also influenced a much bigger and more important trend, the mask chain. The first time I saw a mask chain was on Lara Eurdolian's Instagram (@prettyconnected), and then I blinked and everyone had one. They're convenient for the same reason a glasses chain would be, but also spruce up your mask in the most needed way. If you told me in January that this would be the best accessory of 2020 I'd laugh, but here we are… and that's on pandemic fashion.
Vests

ASOS Neon Rose relaxed sweater vest in marble knit
2000s vest fashion consisted of diamond checkered sweater vests that could only be rocked by Avril Lavigne. If said vests returned in the same style, this would be at the top of my "worst" list, but now they've come back in a cute and fun way, and I'm obsessed. The oversized sweater vest and button-up shirt dress combo is currently the vibe I'm enjoying, and if there wasn't a pandemic, you bet I'd be seeking fall activities weekly to rock this look. Instead, I'll be ordering this outfit and asking my mom to snap a pic of me in the yard, because that's 2020 in a nutshell.
Flavored Lip Balm

If you didn't have EVERY flavored Lip Smacker balm, were you even alive in the 2000s? I don't even recall if these actually hydrated your lips or just made them more chapped, but I do know that the sweeter the smell, the happier I was. While I would not opt for an actual Lip Smacker in 2020, I have noticed the rise of candy flavored lip products returning. My personal favorite is the Laneige Lip Mask, because it makes my lips feel super hydrated for long periods of time and the flavors are real good. Sweet Candy, Gummy Bear, and Vanilla are my top three, but really they're all delicious. As someone whose lips are literally always chapped (no amount of water can save me, I've tried), this is a trend I am here for today and every day.
Furry Sweaters

Tobi Dream of Me Fuzzy Lavender Sweater
#WinterIsComing and as someone who is ALWAYS cold, this is the type of sweater that never left my closet. That being said, I am well aware that a furry fluffy sweater hasn't always remained on trend, but this year, they're back. I picture a young Mary-Kate and/or Ashley rocking this with some pigtails, and that is the energy I am trying to bring back this winter. This sweater in particular is from Tobi (calling all my sorority girls), but it's safe to assume you can find this staple at any store.
G-Shock

Honorable Mention goes to G-Shock. I NEVER saw this comeback coming, but given the fact that these watches fashionable now must be acknowledged. What's next, Etnies?
The Worst
Visible G String
I don't think I have to go too deep into an explanation as to why this trend is falling under my worst comebacks. The first time this trend existed, I was seven years old, so I didn't really understand it. Now, I am 27 years old and still don't really understand it. The wedgie-but-make-it-fashion look is not for me, and while it might be done tastefully by Hailey Bieber and Kim Kardashian, it most certainly does not suit the average human.
Butterfly Clips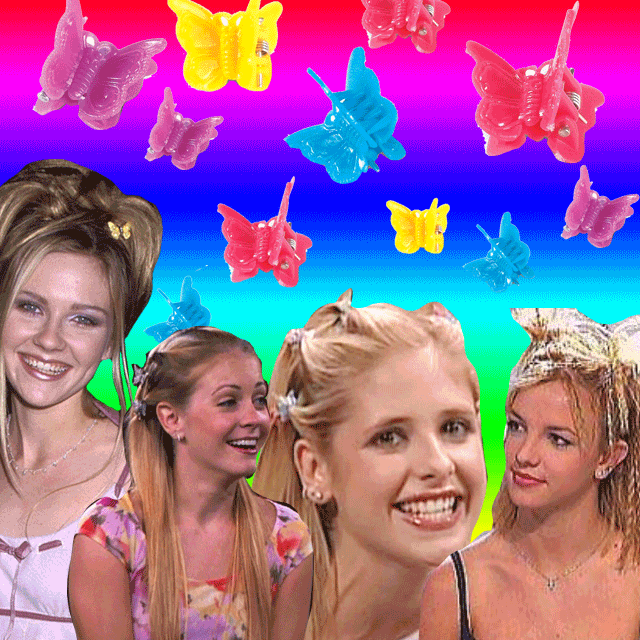 I'm kind of torn on this one, so don't hate me for putting it in the worst comeback category. That being said, I need to be a little realistic here. Butterfly clips were cute AF when we were young, but they were never practical. They never actually held my hair back (granted I have frizzy, curly hair that pre-heat iron days could literally not be tamed) but even worse, the fancy ones would get tangled and lost in my lion's mane and hurt. Now, seeing adults wear them in 2020, I am just wondering… why? Is it for the looks? Is it to test your detangling skills? Again, I see this trend fizzling out quickly, but if you can rock it and make them look as chic as above—all the power to you.
Low Rise Jeans
View this post on Instagram
Not much to say here. I thought low rise jeans were dead and gone, and I was happy about that. Low rise jeans flatter no one, and I thought we all accepted that we just don't need our jeans to expose our pubic bones? I'm just not here for it. So yeah, let's keep these bad boys in the past, please and thank you.
Money Piece
View this post on Instagram
So let me start this bit by saying I myself currently am rocking a money piece, and a thick one at that. But, I am well aware that this trend will be over in no time, and I'll look back and wonder wtf I was thinking. I have physical reactions to how strongly I dislike chunky highlights, so I assume my views will be similar in a few months. I do think they are cute and fun at the moment (when done correctly), but the upkeep sucks, and when the roots start creeping in it goes from funky to disaster real quick. Let's mark this under "worst comebacks that I am currently enjoying but can still acknowledge are the worst."
And there you have it sk8er bois and girls. 2020 has been a fun blast from the past (even the roaring 20s are making an appearance!!!) but the trends remain sharper than ever.
Betches may receive a portion of revenue if you click a link and purchase a product or service. The links are independently placed and do not influence editorial content. 
Images: Jun Sato/ WireImage; Provided by Tobi; GIPHY; SKIMS, Juicy Couture, BrownDyedGirl, DoYouLoveThe2000s, ManiMe.Co, PrettyConnected, TheFrankieShop, Laneige, G Shock, NewBalanceLifestyle, Bella Hadid, Brittany Xavier / Instagram
10 Tie-Dye Pieces You Can Actually Buy Now
Truth be told, (which is what I thought #tbt stood for back when Instagram first became a thing) I did not fully understand this revived obsession with tie-dye. Like overalls, I kind of thought tie-dye was a thing of the 90s that should have stayed there, especially since my only experience with it was in 2004 at a summer camp literally I tried to escape from. However, upon doing some research for the purpose of this article, I've found a few tie-dye pieces I would definitely wear and I can happily admit that I no longer hate the trend. In fact, I want all of the pieces I found and maybe thanks to unemployment money, I can get them!
If you no longer associate tie-dye with hippies and children and want to expand your style horizons, these are the seven pieces you'd love. But act fast, because just like loungewear, tie-dye is selling out at the speed of light.

I actually own this sweatshirt and it's one of my favorite things in my dresser. Yes, I paid nearly $150 for a f*cking sweatshirt. Judge me. Here's the thing, though: you know how your grandmother's front lawn always had those low-growing plants with inexplicably soft fuzzy greenish gray leaves? That's literally what Splendid loungewear feels like. It's like a kitten's ear. It truly makes no sense to me, but I'm not going to question it. This sweatshirt in particular is in muted enough colors that you can definitely wear it out and not feel ridiculous . I'd pair it with a pair of white boyfriend jeans and silver ballet flats.

Need a casual shirt for lounging around? Something you could do your light walk around the block in? Boom, and this color combo is on sale right now. What more could you want?

On the model, this dress kind of looks like something Serena van der Woodsen would wear to sleep, but I would most definitely wear this out. I would wear it with a pair of Greek-looking sandals that you tie around your ankles. The dress is kind of quiet, so pairing it with something with a little more personality would really tie (dye lol) the whole thing together.

Are swimsuits canceled this year? I have no f*cking idea, but I'm being hopeful anyway. This one piece is business in the front, party in the back with a low back and cheeky cut on the bottom. I feel like you could get away with wearing this to your family pool party and a day club (remember day clubs?) equally.

I feel like you can't name a pair of tie dye joggers "Out From Under Jenny" and give zero context in the product description, but okay Urban Outfitters. Tbh, I haven't stepped into an UO since I was in high school, but their loungewear has been on point as of late. I am very particular about joggers because I don't like when they're too baggy or too fitted, and these are right in the middle. They're also made of a a fleecey type of cotton, so they're definitely very cozy.

Shopbop calls this a PJ set, I call it a working from home outfit. This lightweight jersey set has a cute pastel color scheme and tie details on the side, which basically makes it formalwear if you ask me.

If you want to jump on the tie dye bandwagon, but don't want to wear it on your person, consider a super-cute and extremely durable cosmetic bag. It's got a zip closure and a few extra pockets so you can stash your random Chapsticks or whatever, and it's lined.

I'm a huge fan of Onzie's leggings, sports bras, and activewear in general, so these leggings will be perfect for my socially distant runs. (JK, it's more like a jog, if you're very loose with your definition of "jog".) Anyway, they're high rise and high performance, so you can actually do a legit workout in them.

From a distance, these leggings look more like marble than tie dye, which I'm not mad about. I like that the pattern and colors are subtle enough that you're not out and about silently screaming for people to look at you. These are another item I'd happily wear out. I'd throw on a white tee and an oversized denim jacket and call it a day.

Ugh, this bodysuit is so perfectly summery that it's making me kind of sad. I might just get this to wear it around my house underneath some jean shorts while gazing longingly out my window and pretending I'm on a rooftop.
Images: Splendid (2); Nordstrom (2); Bloomingdale's; Urban Outfitters; Shopbop (2); Target; Verishop (2) 
Betches may receive a portion of revenue if you click a link and purchase a product or service. The links are independently placed and do not influence editorial content.
11 Tie-Dye Pieces That Don't Look Like Something You Wore In Middle School
Once upon a time, tie-dye was reserved for hippies and, in my case, the cool girls at my private high school who could afford to shop at Lucky Brand. But just like chokers and tiny sunglasses, what was cool in the 90s/early 2000s is back once again to make us all look back on our pictures and think "why did we think that was cool?" But for now, tie-dye is cool, so embrace it. Of course, not all tie-dyes are created equal. And, let me tell you, there's a very fine line between your DIY tie-dye camp tee from the fifth grade and the fashionable tie-dye pieces from this article that you can shop right now. So, without further ado, here are 10 non-tacky tie-dye pieces to add to your closet ASAP.

Rule #1 of shopping for tie-dye is to find pieces that stick to a consistent color scheme. When the tie-dye gets too rainbow is when you start veering into tacky/middle schooler territory. This dress is subtly tie-dye with its neutral color scheme, giving it an elevated update to the trend.

This cropped sweatshirt is the perfect casual tie-dye piece to join the trend in an easy way. Wear it now with some low-rise boyfriend jeans or, when it finally gets warmer out, with a cute pair of denim shorts, and you're good to go.

The style and texture of this tank elevate it from your basic camisole. The cowl neck, neutral tones, and muted tie-dye make it the perfect stylish take on the trend.

For those extra intimidated by the tie-dye trend, this turtleneck is the ideal intro piece. It's so subtle that you really can't go wrong here.

Let me tell you, it's hard to find tie-dye jeans that don't look like they're a rollback special from Walmart. However, I've done the impossible and found an incredible pair for you. These reflect the trend in a unique and fashionable way without overdoing it.

This tee is fashion-girl cool without trying too hard. It's a great basic with its subtle tie-dye print in a contemporary color uncommon to the trend.

You can barely tell this top is tie-dye, which makes it the least tacky tie-dye top to ever exist. Remember, the more effortless = the less tacky. The puff sleeve adds stylish detail to an otherwise very casual tee.

These joggers are a go-to for anyone obsessed with comfort. They can easily be dressed up or down depending on where you plan to wear them. Get the whole sweatsuit for a trendy lounge outfit or pair the joggers with a bodysuit for a Kardashian athleisure vibe.

With its fashionable puff sleeve, this tie-dye tee is clearly superior to your average tie-dye tee. I'm obsessed with the stylish sleeve detail.

This is the kind of jumpsuit that you can literally live in because you get to be super comfortable while still looking stylish AF. The rainbow tie-dye is still pretty subtle and blends seamlessly, which prevents it from looking cheap.
11. Shop Betches Grow Up Sweatshirt

Okay, so you don't want to look like a middle schooler, but what's the point of tie-dye if you can't have a little fun with it? Our comfy AF hoodie is the exact mood when everyone in your life is rubbing you the wrong way with their bullsh*t. Whether you want to look cool on a flight, or your office is cold and you want to send a passive-aggressive message to your coworkers, you need this sweatshirt.
Tie-dye has become a huge trend across all retail categories, and it's here to stay, so you better get on board. Just one last reminder—keep it relatively muted to avoid looking like you toted something out of your 8th grade closet.
Images: Tyler McRobert / Unsplash; Resurrection; BFFS & BABES; Nordstrom (3); South Moon Under (2); Revolve (2); Planet Blue
Betches may receive a portion of revenue if you click a link and purchase a product or service. The links are independently placed and do not influence editorial content.
6 Hideous Trends That Are Making A Comeback In 2019
I have two passions: obsessing over high-end fashion and making fun of said high-end fashion. Lately, it seems as though fashion designers are becoming bored and unoriginal, just like Disney when they keep remaking every single one of their classics instead of coming up with a new story line. Look, I understand that fashion trends tend to come and go, with many being completely recycled. However, 2019 seems to be the one year that's receiving the sh*t end of the stick when it comes to throwback trends. New York Fashion Week is almost two weeks away, but we're getting some sneak peeks for what's to come from menswear and couture runways. From tie dye to cow print to cargo pants, here are the hideous throwback trends that are making a comeback this year.
1. Cargo Pants
When I think of cargo pants, I shudder at a time when we, as a society, thought they were ever moderately attractive. In 2019, these can now be modernized to look more feminine and chic with scrunched waists, hems, and sleek patterns, but come on. They're f*cking cargo pants with tacky, big-ass pockets that can't possibly be good or cute. Sure, you can fit your wallet, keys, phone, a granola bar, and first born child in them, but at what cost??
2. Tie-Dye
I swear I love Bey as much as the next person, but when she can't even convince me to wear an upcoming trend, it's not promising. Yes, I loved tie-dying my shirts and socks when I was like, 12 years old and in summer camp, but there's a reason I don't still wear the same sh*t I did when I was 12, and it's because most of that stuff was hideous. This year, expect to see the pattern on our favorite pieces such as puffers, rompers, palazzo pants, and crop tops. What's next, scrunching our hair with so much mousse and gel that you get stiff curls that wouldn't even move in 100mph winds? Because that's the last time wearing tie-dye was relevant.
3. Platform Shoes
Please, god, no. I'll literally do anything to keep these stashed away in the 2000s where they belong. I don't think I ever owned a platform sandal when it was acceptable, Lizzie McGuire fan or not. Even back then, I knew to always stay far away from these cringeworthy shoes. Like, just put on a pair of stacked heels like a goddamn adult. Be ready to embrace this year's next "ugly" shoe. In the very near future, our fave retailers will be selling them as huge sneakers or strappy slip-on sandals.
4. Big 80s Shoulders
This may look decent on Lady Gaga, but on anyone else, it could very well look like trash. The streets aren't a Michael Jackson music video waiting to happen—save that for Halloween. The ginormous shoulders will be featured on formal dresses, streamlined jackets, and especially business casual suits to wear to the office. Regardless, the shoulder pads may be a yes from my mom in the 80s, but they are a hard no from me.
5. Neon
From Kardashian swimsuits to fashion runways, pops of neon color are showing up everywhere. Whether it be skimpy triangle bikinis, workout leggings, or even mini dresses, I feel like you'd have to be a really bold, confident, and color-coordinated person to remotely pull this off for any occasion. If you're having the slightest doubt, I'd stay away to refrain from looking like a walking highlighter.
6. Cow Print
It's true. Animal print is here to stay, but instead of the cheetah and leopard pattern we've reluctantly grown to tolerate, the next big thing is looking a lot like a cow. Soon, we'll be seeing the pattern on heeled booties, designer handbags, and well, now, one-piece bathing suits. I'm baffled that anyone could honestly take this seriously. I can't even excuse Kylie Jenner. Maybe she was joking. Maybe this is for a western makeup collection. Here's to giving anyone the benefit of the doubt if they dare to wear the grotesque print.
Photo: Allyson Johnson / Unsplash; Instagram (6)