15 Holiday Episodes To Re-Watch From Your Favorite Iconic TV Shows
Every holiday movie has the same plot: girl unexpectedly meets boy, boy falls in love with girl, something tragic happens, boy and girl profess their feelings, they kiss passionately against the backdrop of a professionally decorated Christmas tree with fake snow falling around them. Yawn. 
Although I usually put up with that cookie-cutter plot every year, I decided to try something a bit different (and way more entertaining) this December: re-watching the holiday episodes from my favorite TV shows. 
Given that basically every holiday party is canceled, in-person shopping is hardly a thing, and the gyms are closed (although let's face it, I wouldn't be going even if they were open), I had all the time in the world to cuddle up with a weighted blanket and a (spiked) hot drink and laugh, cry, and feel all sorts of emotion while watching classic shows like Parks and Recreation, Gilmore Girls, and 30 Rock. 
As my wonderful gift to you, I've listed the best holiday episodes from all our favorite shows so that you too can fill your time this December with something other than watching people's annoying Instagram Stories and cringey attempts at creating Reels. Enjoy! 
'New Girl' – "LAXmas" Season 4 Episode 11

There is literally nothing more relatable in these COVID-19 times than having your holiday plans ruined, your vacation canceled, and you therefore not being able to post that thirst trap bikini pic in December. Call me a masochist, but that's why I loved re-watching this episode of New Girl. I got to commiserate, emphasize, and shout "HA! You got screwed too!" at the TV when Jess, Nick, Winston, and Schmidt's holiday flights were canceled. 
'30 Rock' – "Ludachristmas" Season 2 Episode 9

It's as if Tina Fey knew we needed something to prove that there are families out there more dysfunctional than our own when they created this episode. In the most hilarious way, we see the picture-perfect Lemon family break down after an outing with Jack and his mother, and the TGS crew have their party plans hijacked by Kenneth. Plus, I promise this is the exact Rockefeller-related holiday content you need to get that sad excuse for a tree they put up this year out of your mind.  
'The O.C.' – "The Best Chrismukkah Ever" Season 1 Episode 13

Confession time: I completely forgot about The O.C. until I Googled "shows like Gossip Girl" this summer… and then promptly re-binged it with no regrets. And one of the most entertaining, dramatic, and heartwarming episodes happens to be a holiday one, where Seth introduces Ryan to the wonders of Chrismukkah and struggles in a love triangle between himself, Anna, and Summer. I have to admit, seeing a love triangle that didn't involve me, my fridge, and Netflix was actually pretty refreshing. 
'Keeping Up With The Kardashians' – "Christmas Chaos" Season 16 Episode 9

Being invited to the Kardashians' annual Holiday Party is on my bucket list, Amazon wishlist, and in my letter to Santa every year. Is there anywhere else I can add it at this point? But while my invite is still lost in the mail, the next best thing is to watch the party unfold on TV. And I promise you, this is one of the most iconic holiday episodes ever. It's the one where Kim is literally quoted saying, "This is so inappropriate. It is so so much money for one night." Do I need to say more?
'The Office' – "A Benihana Christmas" Season 3 Episode 10 & 11

We've all been that psycho b*tch, but in this episode Michael takes crazy to a whole new level. How? By Photoshopping his face onto his girlfriend's ex-husband's body in one of their old family photos, and sending it out as his Christmas card. And, no spoilers, but this episode includes some major Pam vs. Angela drama and a classic Jim prank on Dwight that will make you forget about TikTok for, like, 20 minutes. 
'Gilmore Girls' – "Women of Questionable Morals" Season 5 Episode 11

Some things are just the f*cking worst until someone comes along and makes it special for you (like Valentine's Day, for a totally random example). And that's the case for Lorelai and her feelings toward snow in this episode, until Luke surprises her with a romantic snow-related gift that made even a Grinch like me say, "AWWWW!". Beyond the snow drama, this episode also features the cutest little stray dog that brings Emily and Richard together in a true holiday miracle kind of way. 
'Friends' – "The One with Phoebe's Dad" Season 2, Episode 9

You know that friend who waits until the last possible moment to buy their presents? Well, be prepared to watch Joey and Chandler do that exact thing… and be forced to buy their gifts at a place I only go into when I really need to pee during a road trip. And, as if that's not enough comedy, what screams tradition more than some classic Ross and Rachel drama? Be prepared to get your fill of it this episode. 
'Gossip Girl' – "Roman Holiday" Season 1 Episode 11

I've watched this episode about 14 times, so at this point let's just say it's a holiday tradition. I swear, no matter how many times you see Blair come up with a conniving plan to break up her Dad and his boyfriend, the story is guaranteed to transport you from your burrito-stained sweats and unmade bed to the Upper East side within moments. It's the exact escape you didn't even know you needed. 
'New Girl'  – "The 23rd" Season 1 Episode 9

Picture this: Schmidt shirtless, wearing just a Santa hat and Santa shorts. If that's not enough to convince you to re-watch this episode, keep in mind that the theme is how dealing with new relationships around the holidays is stressful AF (relatable, right?). Like any New Girl episode, this one will have you laughing at the lovable, entertaining, and slightly inappropriate trouble the crew gets themselves into at Schmidt's office party.
'Fuller House' – "Oh My Santa" Season 4 Episode 1

Even though the holidays may suck more than usual this year, just know that for the first and probably only time in your life, your holiday season is going better than Lori Loughlin's. And speaking of which, this episode of Fuller House is sure to bring a smile to your face, despite how cheesy the plot is. The most relatable part? Tommy throwing a tantrum in the mall. Been there, done that (and over much less, if I may add). 
'Parks and Recreation' – "Citizen Knope" Season 4 Episode 10

Are you one of those people who re-gifts an old box of chocolate or nauseating-smelling candle to your co-workers every year? If you said "yes", you seriously need to take notes during this episode. While Leslie is off work for two weeks, Ann rallies the Parks department to create a special holiday gift for Leslie. As cheesy as the gift is, it's actually pretty sweet (pun intended) and will probably make you feel as warm and fuzzy inside as the spiked eggnog you're sipping. 
'Ally McBeal' – "Silver Bells" Season 1 Episode 11

There's something about watching Ally McBeal that brings back all sorts of early '00s nostalgia. And this episode gives us just that against the backdrop of a hectic office during the holidays (TBT to offices), and plots about Ally being her usual badass self and the romantic troubles the couples in the office are facing. I won't reveal if there are any holiday miracles at the end of the episode, but I can safely say you'll be feeling emotions far from the disappointment Kyle Richards felt when she realized bangs just weren't her thing. 
'Modern Family' – "Undeck the Halls" Season 1 Episode 10

If you want to escape the stressful bullsh*t of your family's holiday Zoom call by finding another family going through equally dramatic times, look no further. In a mix of both hilarious and feel-good storylines, you'll get to emphasize with the Dunphy kids as their parents cancel Christmas until someone fesses up to ruining their sofa. Plus, you get to see what happens when Cam and Mitchell say something we've all thought at least once in our lives: "this mall Santa is just not jolly enough".
Cougar Town – "Cry To Me" Season 2 Episode 14

If you're the kind of person who gets pissed when people leave their holiday decor up way past December, this episode will make you feel more seen than ever. Now bear with me, because this episode is actually more about Valentine's Day than Christmas, but it still delivers an accurate depiction of how crazy people get around any holiday. 
'Brooklyn 99' – "The Pontiac Bandit Returns" Season 2 Episode 10

Amy's weird-yet-adorable admiration for Captain Holt is somehow one of the most entertaining things to watch (because who TF actually likes their boss?). And as odd as their relationship is, this episode delivers just the right amount of it, showing us Amy working hard (but hardly working on her actual work) to get around Holt's "no gift" policy. And, to quote the queen of the holidays, Dorinda Medley, we see Jake "make it nice" with his nemesis/best friend Doug Judy in order to gather intel for Rosa. 
Images: Netflix; Giphy (12)
How The Friends Would Quarantine
We've all got a lot of time on our hands right now to ponder life's greatest questions, like "how long can I go without washing my hair?" and "am I only going to hang out with people through Zoom for the rest of my life?" But there's one major question that's been on all of our minds: "how would the characters of Friends handle quarantine?" And as someone who started watching Friends at six years old (was I way too young to be watching it? Yes. Did it make me feel 1,000 times superior to all the other first-graders? Absolutely yes), I feel particularly qualified to carry out this task.
For the sake of a consistent timeline, we'll assume they go into quarantine sometime around season 6, after Monica and Chandler have moved in together and Ross is living in the apartment across the street from them, and we'll also assume that they've decided to all quarantine together. But also, if the timeline doesn't 100% line up let's just all try to remain calm. This is an imagining of a TV show that ended 16 years ago, so maybe just have a glass of wine and keep that in perspective.
Rachel Green

Rachel started dating a guy right before everyone went into quarantine and is freaking out that he hasn't called her yet. She insists on keeping the phone line open at all times in case he calls, and to distract herself she has started trying on all of her clothes and asking everyone what she should get rid of (correct answer: nothing, Rachel Green is a fashion icon). After realizing she has such great taste, she's decided she should start a fashion blog.
Phoebe Buffay

Phoebe has been reliably informed by her psychic that one of the Friends has coronavirus. In order to figure out who has it, she's trying to read everyone's auras because, according to her, that's as good as an actual test. She's also lighting an absurd amount of incense (it's "healing"), putting crystals in every room, and writing songs about literally everything everyone is doing, and it's driving them all absolutely insane.
Joey Tribbiani

Naturally, Joey is eating through all of the quarantine food like it's Thanksgiving dinner and he's got his eating pants on. And as we all know, Joey doesn't share food, so this is kind of a big problem. He's also always trying to break quarantine to go meet up with a girl, but because no one will let him, he's instead trying to flirt with girls he can see in the building across from them or on the street through the window. To no one's surprise, he's so successful he has a new girlfriend every week.
Ross Geller

Ross is the only one who didn't make it to Monica's apartment in time for quarantine, and as Monica's already got the place on full lockdown, she's refusing to let him in. Whenever he tries to call them, Rachel immediately hangs up the phone in case her date calls, so his only option is to try to communicate with them through their window.
Chandler Bing

Chandler only has two coping mechanisms: sarcasm and smoking. While his sarcasm is certainly no secret, the fact that he's started smoking again definitely is. He keeps making trips to the hallway and the balcony for a smoke break but is ultimately caught because like, the smell, duh. Could he be any more obvious?
Monica Geller

A global pandemic is Monica's worst nightmare because it's not something she has any control over. So obviously, she's making everyone to wash their hands every hour on the hour and trying to clean the apartment 24/7. The only problem? Joey got rid of most of their cleaning supplies to make room for more quarantine food, and she already ordered Amazon's entire stock of cleaning supplies. So instead, she's baking constantly to relieve stress. She started the banana bread trend.
Gunther

Devastated by the fact that he likely won't see Rachel again for months, he's started writing fan fiction about how she will eventually fall in love with him (as if he wasn't already doing that).
Janice

Janice decides to serenade her neighbors from her balcony and ends up having dozens of noise complaints filed against her because of her voice.
Images: Giphy; Paul Smith / Featureflash via Shutterstock.com
Britney And Justin Reconnected On Instagram, And We're Nostalgic AF
We're reaching the point of quarantine where normal rules just don't matter anymore. We're eating at random times, drinking at… all the times, and reaching out to people from our past just out of boredom. If you haven't texted a past hookup or ex during this pandemic, you're stronger than me, congratulations. Luckily, Britney Spears is taking my mind off of my ex, by very publicly talking about one of her own exes: Justin Timberlake.
On Wednesday, Britney Spears posted one of her now-signature videos on Instagram, featuring some frantic dance moves, choppy editing, and most importantly, ultra-low rise booty shorts. But what was notable about this video was that she's dancing to one of Justin Timberlake's songs, "Filthy." In her caption, she says that this is her "version of Snapchat or TikTok or whatever the cool thing you're supposed to do these days." God, I love her.
But then she really brings it home by addressing her song choice: "PS I know we had one of the world's biggest breakups 20 years ago …… but hey the man is a genius !!!! Great song JT". And, in that moment, my soul rose up to heaven. Britney's Instagram during quarantine has been messy in the most delightful way, and this is everything I could've asked for.
But then it got even better, because Justin Timberlake commented on the post. He kept it frustratingly simple, with just some emojis, but in these dark times, I will take what I get and I won't get upset. We know that Justin and Britney thought of each other yesterday, and for that I am thankful.
View this post on Instagram
Naturally, people were very excited by this interaction, and this post got sent in no less than three group chats I'm in. Britney's sister Jamie Lynn Spears also chimed in, commenting that "Blogs are already plotting their outrageous stories…. you keep having fun and looking cute tho!!" Okay, I don't know if I should feel attacked right now, but I will refrain from plotting any outrageous stories. And honestly, there's nothing going on here to even plot about. It's pretty obvious that Britney and Justin aren't close or anything—this isn't a Brad and Jen situation—but it's fun to see them shouting each other out.
Seeing Britney's post, and the ensuing comments, made me feel super nostalgic. Last week, we threw it back to 2006 to explain the iconic photos of Britney Spears with Lindsay Lohan and Paris Hilton, but Britney's relationship with Justin was a whole different era, and I f*cking miss it. Of course, we all remember the classic matching denim looks, but I feel like people forget how sh*tty Justin was to Britney after things ended.
In a Twitter thread from 2018 that's basically a goldmine of forgotten moments, @PallahAbdul walks us through two decades of reasons "why Justin Timberlake is trash." The thread isn't just about Britney, but their relationship is definitely a recurring theme. According to the thread, soon after Justin and Britney broke up in 2002, Justin began a pattern of portraying himself as the victim, and putting the blame on Britney for the relationship going wrong.
In this clip from a Barbara Walters interview, he says that he promised Britney he wouldn't say the exact reason for the split, but basically says yes when Barbara asks him if Britney cheated. Allegedly, they both cheated on each other, but Justin leaves that part out. Then, later in the segment, he sings a song called "Horrible Woman." Subtle!!
In his Barbara Walters interview he paints himself as a victim then goes on to sing a song about Britney called horrible woman pic.twitter.com/nngMVbN3oC

— Romeo Santos (@PallahAbdul) February 4, 2018
Soon after that, he released "Cry Me A River," which everyone has always assumed is a Britney diss track. While promoting the song, he continued to talk about Britney, and in this radio clip, he admits that he "f*cked Britney Spears." Considering that they both famously claimed to be virgins during their relationship, this feels like a pretty big betrayal of trust.
Here's another clip of him on the radio talking about sleeping with Britney pic.twitter.com/q8VulGYMFz

— Romeo Santos (@PallahAbdul) February 4, 2018
Fast forward a full decade, and Justin was still talking sh*t about Britney. In this video from 2013, he introduces a performance of "Cry Me A River" by vaguely talking about when you love someone, and they turn out to be "a bitch." Classy.
Before his album cycle in 2013, Justin predicably started bringing Britney up again. Before a performance of "cry me a river" he called her a bitch pic.twitter.com/CyEyaOqjWa

— Romeo Santos (@PallahAbdul) February 4, 2018
In the nearly two decades since the breakup, Britney has generally kept things more positive, and she even said in 2016 that she'd love to get in the studio and collaborate with Justin. That being said, she hasn't been above a shady comment or two, and in this video (that looks like it was shot in a bunker), she and K-Fed joke about how "Cry Me A River" is "pussy-fied."
Fun little bonus clip: Britney singing cry me a river and calling Justin a pussy pic.twitter.com/c47LTJv9lA
— Romeo Santos (@PallahAbdul) February 5, 2018
Honestly, I don't think these two will ever be friends, and I don't need them to be. Clearly, a lot of messiness went down in the past, and sometimes you're just not supposed to be friends with your ex. I'm happy that they can make playful comments on Instagram, but that's probably about as far as this will go. Actually, I really want Justin to post a video dancing to one of Britney's songs, but that doesn't seem realistic.
Images: Jeffrey Mayer/WireImage via Getty Images; commentsbycelebs / Instagram; pallahabdul / Twitter
What Would 'Friends' Be Like In 2019?
It's the 25th anniversary of everyone's favorite 90s sitcom featuring over-plucked eyebrows, ultra straight hair, and a Greenwich Village apartment we would all gladly sacrifice our most prized possessions to live in for just a few weeks. Friends has remained an iconic series since its premiere in 1994, and its 2004 final season that famously won the cast a shudder-inducing one million dollars per episode.  However, it's 2019 now. Even the most loyal of Friends fans sometimes use the 10 seasons as nostalgic background noise to fall asleep to after we've watched too many true crime shows and need the soothing trance of rhythmic studio audience laughter. When we're sick of rewatching The Office, Friends and all its mind-numbing Ross and Rachel "will they?/won't they?" drama is always there.
Still, Friends is very much a product of its time. It's nearly devoid of diversity, and the New York City it portrays is a fantasyland considering it was filmed in Los Angeles and it is repeatedly disrespectful to the harsh reality of NYC rent. We can forgive the starved eyebrows, but a world without being constantly attached to our phones? No dating apps? No Instagram? And why, for the love of Jennifer Aniston's legendary haircut, are they always hanging out at that coffee shop?
Here's the alternate NYC friendship fantasy timeline nobody asked for but we all need: Friends in 2019.

They all live together in a windowless Brooklyn basement.
In the original Friends, Rachel and Monica's Greenwich Village apartment with a gorgeous skylight, balcony, living room the size of a school gymnasium, and a kitchen so adorable it looks like it was designed by hipster Keebler elves is the main hangout spot. Joey and Chandler live across the hall in an apartment they also couldn't afford while Phoebe lives on 92nd St, and it's never fully explained how she is constantly commuting downtown to sit on a couch with a bunch of fellow beautiful people who don't understand her art. In 2019, though, they're all together in Brooklyn, baby! Monica and Rachel's rent-controlled dream is in Williamsburg, but it's a windowless basement they share with Chandler, Joey, Ross, Phoebe, and a few mice. Luxury!
Chandler works at a startup and is constantly bragging about unlimited cold brew on tap.
Chandler has a standing desk, a ping pong table and a fridge full of Kombucha at his office, and he needs everyone to know. The app Chandler works for is vaguely dating-related, but it's unclear what exactly he does there because he's much more interested in talking about "the perks." Despite his office's open floor plan and craft beer fridge, he and Monica (a food blogger) never make enough money to move out of the basement.
Rachel and Ross have an open relationship, but they can't agree on the terms.

Open relationships can get complicated for anyone, but for Ross and Rachel? What a mess. The entire "we were on a break" episode is a situation where Ross ends up getting emotionally attached to a woman from work that he and Rachel occasionally have threesomes with. Turns out, Rachel was also developing feelings for her and by the final season, their arguments about their influence on their baby daughter's gender identity send them to a few productive sessions of couple's therapy.
Every episode's main conflict is their crippling student loan debt.
Regardless of what happens, every episode of 2019 Friends ends with the realization that none of them will ever own property or live a live similar to the ones their parents led. The only one who successfully pays off her student debt is Rachel, but the rest of the group resents her because her wealthy family fronted most of the tab.
Phoebe's "Smelly Cat" goes viral on YouTube and it changes her forever.
Phoebe couldn't resist uploading "Smelly Cat" to her YouTube channel, and it becomes an overnight viral sensation. Phoebe is immediately recognized everywhere she goes and she decides to monetize the song's success with an America's Got Talent audition that unfortunately flops. Still, her Etsy shop for healing crystals is a success. 
Joey is a contestant on 'Bachelor in Paradise'.

This one is obvious, of course. Joey is made for Bachelor Nation and instantly becomes a fan favorite, working his way from The Bachelorette to Bachelor in Paradise to eventually becoming the Bachelor. Does he find a lasting love on the shows? Nope. But he does have a series of popular reaction gifs and makes a decent living from nightclub appearances. In the 2019 Friends 10th season, Joey returns to Bachelor Nation as the bartender on Bachelor in Paradise, but he gets kicked off for flirting with too many contestants. 
Rachel is an Instagram influencer.
In season one of the real Friends, Rachel's boss at Central Perk tells her she's a terrible waitress. Yet she's able to keep that job for years! How does she make any money when these people sit there for hours with a check of two coffees and one muffin? Rachel is fired from waitressing her third shift in 2019 Friends and turns to Instagram for money instead. With her family connections, a social media manager helps her build a brand that focuses mostly on "wellness," "positivity," and most importantly, being hot.
Joey's role as Doctor Drake Ramoray is the closest any of them ever get to health insurance.
In 2019, Joey does appear on a soap opera, but the majority of his acting gigs are in Bachelor Nation. Still, none of the friends have real health insurance because Chandler's startup purposefully hires people under 26 so they don't have to provide health coverage. Rachel receives free teeth whitening and dental care kits from her sponsored content posts, but otherwise the gang just uses WebMD and hopes for the best. 
That coffee shop is definitely a bar.
The most significant difference from the original is that the 2019 version of Friends replaces Central Perk coffee shop with a neighborhood dive bar. Considering 2019 coffee shops are filled with freelancers on laptops fighting over the table with the outlets, a coffee shop isn't a great setting for a sitcom. Also, it's forever unclear how that coffee shop stayed in business when they have a five person staff for a total of 10 customers and a very limited menu.
Eventually, NYC becomes too expensive for all of them.

The basement landlord finally discovers that Monica isn't an "87-year-old woman who doesn't know how to work a VCR" and the finale of 2019's Friends features our fearless crew at the bar, defeated. "Maybe Philly?" Ross suggests, but Rachel replies, "Perhaps Austin." It fades to black while an acoustic version of the beloved theme song plays.
Images: Giphy (4)
Was 'Friends' Really That Bad?
In preparation for its upcoming 25th anniversary, I have seen no less than 37 articles (the same article 37 times, really—same content, same gifs) that attempt to destroy America's sweetheart TV show, Friends. Here's the thing: it was the 90s. It is true that a lot of the jokes on Friends don't hold up in 2019. But you can say that about any show 30 years later, and I think even with its problems, Friends is still super relatable. Like, I can't wait to see how well 13 Reasons Why goes over in 30 years. Or Jersey Shore. For all that Friends has given us, it's just not that controversial. It's super weird to me that people think it is. Hey guys, maybe we should be reading the Betches Sup instead and focusing on actual problems, what do you think? Even with a few misplaced or not exactly nice jokes, Friends is still one of the best shows of our time and laid the groundwork for basically every twentysomething sitcom after it. In honor of Friends' 25th anniversary, I have broken down their most controversial-in-2019 storylines and why they're really not that big of a deal in the grand scheme of things.
High School Monica

This is by far the most upsetting Friends storyline to people in 2019. High School Monica was dorky, frumpy, and they call her fat, but she was actually not even plus-size. Yes, it was Courteney Cox in a fat suit, but they couldn't even find one above a size 10, which is pretty nuts when you consider this entire recurring joke essentially amounts to "lol Monica was fat!" That is bad and not funny, because being plus-size should not be worthy of derision. But fat-shaming aside, I actually love High School Monica and all the high school flashbacks. The jokes about high school Monica weren't only about her weight—she was a total loser and embarrassment irrespective of her weight, and that was the joke. She called her virginity her "flower" (and Rachel was right—if you call it that, NO ONE will want to take it!). Everyone had a dorky period growing up, so I still find this funny and relatable.
That said, her weight should not have factored into this characterization at all. I am totally against body-shaming and the fat jokes don't hold up well. It's sh*t like this that caused our Photoshop/Facetune epidemic all over Instagram. But really, women have also been called fat their entire lives regardless of size, so this to me is relatable too. I was called fat in the 8th grade—I was 5'8 and weighed 105 lbs. What girl wasn't called fat at some point by a pimply boy with braces who was a foot shorter than her? Is this really the worst of all insults? I get called a bitch on the daily and I don't even notice anymore. Point being, high school Monica is still funny, even though the fat jokes are not. Also? They equally make fun of Rachel's real nose, and I have yet to see any anti-nose-shaming articles. Being dorky and being made fun of for your teenage appearance is just part of growing up (unfortunately).
The Male Nanny

Ross is the worst. Everyone knows he's the worst. So when he met male nanny Sandy, he acted very in character, i.e., the worst. He assumed Sandy was gay (because… only gay men like babies, I guess?), and was irrationally angered by Sandy's sensitivity. Yes, these things are totally offensive and the poster for Toxic Masculinity. We agree on that for sure. But here's the thing: so did the rest of the characters. Everyone else loved Sandy and told Ross he was a dipsh*t he was for being so toxic and insecure. Unfortunately for Men, as a brand, this is how A LOT of men act, especially 20 years ago! I don't blame Friends for accurately depicting toxic men, I blame the men who behave this way to begin with. I actually think it's badass that Friends showed it and publicly said, "hey, this is not okay behavior. Don't be a Ross."
Barbies

Ross strikes again in the Barbie/GI Joe feud. Ross, POS father, King of Toxic Masculinity, basically throws a tantrum because his son wants to play with Barbies. People are offended that Friends showed this, but to me, this was exactly my dad, and many, many men of this generation. And I'm sure many men even in 2019. My dad was super offended by my mom buying me and my brother the same toys. He really got pissed when he came home to find my brother in a dress, my mom's heels, clip-on earrings and us calling him Emily. But like, why? They showed this very relatable issue accurately on Friends and everyone told Ross he was being a complete idiot about it. I wonder how many toxic men watched it and realized how stupid they were being? I think it's awesome that this was talked about, and again, Ross was called out for his backwards beliefs.
Ross In General

I'm realizing this should mostly be an article about how Ross is the worst, but here we are. Ross was the poster child for toxic masculinity and almost everything he did was offensive. Aside from the aforementioned nanny and Barbie issues, he also was sexist, shallow (Rachel DOES NOT have chubby ankles), super insecure (Mark), a cheater (A BREAK IS NOT A BREAKUP), controlling, paranoid, tried to f*ck his cousin (wait, what?), etc. etc. etc. Anyone who stans Ross has serious issues. However, while we can all agree his behavior was often terrible, it was just as equally called out. I'm not sure what show these other people are watching, but Ross gets away with none of this sh*tty behavior. Ross is essentially the Every Man Douchebag and they (Bethenny Frankel voice) MENTION IT ALL.
Monica's Hair

Yes, cornrows and braids are totally cultural appropriation. Yes, this is bad. I'm with you on this. But unlike every Kardashian, Monica doesn't just go around wearing her hair like this on the reg. This happened when they went to Barbados (I think?) and Monica's hair went crazy in the humidity. So essentially, this is every white girl who went on vacation in the 90s/2000s and got her hair braided on the beach along with a henna tattoo. This was what everyone did then. The trend is offensive for sure, but Friends hardly invented it. This was before white people gave a sh*t about cultural appropriation or even discussed it. Rather than canceling a whole show over one hairstyle, maybe we should be grateful we've moved into a better time where we do recognize this is not a good look. But yes, we can cancel this one episode.
Rachel Getting Off The Plane

We've discussed that Ross is the worst, but one of the worst things is that in spite of his issues, Rachel (SPOILERS AHEAD—I mean, the show came out 25 years ago, but okay, I'll still warn you) still abandons her dream job in Paris to stay with him. I'm still mad about this, btw. I don't think Ross and Rachel should have ended up together. But again, this is relatable. How many weddings have you been to where your amazing friend is marrying a repulsive, fratty, POS douchebag who makes her cry every time you go out? But at the wedding she's like, "we're best friends, he's going to be a great father", and you're like, "Huh, that's weird Karen, because last weekend you couldn't stop crying because you found cocaine in his pants pocket again." Sometimes our friends end up with douches. It blows, but it's a fact of life.
After 25 years, Friends is still one of the most relatable shows ever. They covered a lot of issues that were common both then and now. To be honest, I think a TV show where every character was nice, polite, PC, and always said the right thing would be boring af. Thank you for coming to my Ted Talk.
Are these the worst incidences of Friends? What other ones do you think didn't hold up well? Do you find Friends insanely offensive?
Images: Giphy (6)
5 Episodes Of 'Sex And The City' That Are Now Cringeworthy
We all love Sex and the City, or at the very least, love to hate Sex and the City. I mean, the better half of the twenty- and thirty-somethings in New York moved here because of the inspiration Carrie Bradshaw and her crew of Manolo Blahnik-clad misfits gave us. We've all sat around with our gals and gays deciding who's the Samantha (always the slutty one that has two glasses of Prosecco and starts announcing "I'm such a Samantha!") the Miranda (the smart one) the Carrie (me… I'm the Carrie, always) and finally the poor, sad soul that gets labeled the Charlotte. If you've ever worked serving tables and had someone order a hot water with lemon, you can blame Sex and the City. I always did. 

Here's the thing about shows from the past: they rarely stand up to today's standards of quality, comedy, and most importantly, political correctness or even personal morals. Sex and the City is no exception. Even when I watched the show in its entirety seven years ago, there were moments that made me wonder how they got away with some of the sh*t they did at the time. The show ran from 1998-2004, arguably a great time for television, but also a time before it was customary for us to question the things on TV that made us uncomfortable, offended, or simply confused. While there are many a "joke" that would now be considered to be um…in poor taste…these are five episodes that made me say "Uh…oh no, no, you can't say stuff like that anymore!"
5. Season 2, Episode 12 "La Douleur Exquise" – Stanford's Big Moment
It's supposed to be New York in the late 90s/early 2000s, and the LGBTQ+ representation is lacking. Carrie's gay BFF Stanford is the most visible gay character on the show, with a whopping 27 episodes out of the 94 that make up the series. 27 episodes sounds pretty good, until you watch them all and realize that most of the time Stanford is just dropping by to make a little quip, call himself a queeny bitch, and then sashay offscreen like me leaving a party the second the open bar ends.

In this particular episode, Big is out of town so Carrie has time to kill, so we're granted a little glimpse into Stanford's dating life. The scene is set: Carrie and Stanford chain-smoking cigarettes inside the apartment, tossing back pink cocktails and trading tea back and forth. (If you don't know what Tea is, it's like gossip—catch an episode of Rupaul's Drag Race every now and then.) Stanford takes a sip of his cosmo and reveals to Carrie that he's been dating—cyber dating, he says wearily. "I have cyber sex on the internet. My name is Rick9Plus. Rick9Plus, how sad is that. So, I've been chatting with this guy and now he wants to meet and I don't know if I should." Carrie, as any good friend should, asks what Stanford knows about him. "His name's BigTool4you. He seems hot, it's exciting, and I haven't good sex since before Cats was on Broadway." Well he seems hot and says he has a big dick, and in gay world that's like scoring a doctor who also has his law degree, an apartment in Paris, and family money out the ass! Only like…gay guys also want to score a doctor who has his law degree, an apartment in Paris, and family money out the ass, you know? Big dicks don't pay the college loans and credit card debt!

Now, do a lot of gay guys have anonymous sex on the internet? Yes. Of course they do. More than most straight people I know, my gay friends have sex a lot. I mean, I don't, because I'm riddled with anxiety and self-doubt, but my friends who are blessed with anxiety-free brains, or a good Xanax prescription, do. Here's the thing though, they don't only have anonymous sex. Growing up I didn't really know any gay people, like, at all, so the only gay men I was exposed to were the ones on TV having wild sex in dungeons, insulting everyone around them, generally being rude to each other, and never really having any kind of traditional life. Maybe Sex and the City should've reconstructed the way gay men were seen on screen, instead of reinforcing those pre-existing stereotypes. But maybe I'm just being a hysterical homo! You know us! Drama, drama, drama!
Stanford does end up meeting with "BigTool4U," very romantically at an underwear party at an after-hours club in Chelsea, and they share a very special moment where he touches the waistband on Stanford's tighty-whities. Ah, just like a modern day Gone With The Wind.  We never hear from "BigTool4U" again in any other episodes, and Stanford never mentions how their torrid love affair ended, but hey, they were only the most popular and talked-about TV show on HBO at the time, they must've just not had the budget to further invest in gay representation!

4. Season 3, Episode 5 "No Ifs, Ands Or Butts" – Samantha Tackles Racism (Not)
It's no secret that Sex and the City was completely lacking in diversity. Lacking in the sense that it didn't exist like, at all. Almost every single episode, one of the girls is dating or having sex with a guest star or two who's only there for one episode. During the entire series, the girls date three people of color. Maria, from the episode where Samantha "tries out" being a lesbian (lol), Dr. Robert Leeds, played by Blair Underwood, who is the go-to defense answer when someone comments on the lack of representation on the show, and then there's Chivon.

We're introduced to Chivon through his sister, Adeena, a restaurateur acquaintance of Samantha's who also happens to be a woman of color. Chivon and Samantha immediately click, and after a few jokes about how smooth and hot he is, sprinkled in with a couple of nuggets of information about how successful he is from Adeena, the girls start potentially the first dialogue about race on the show…and it's all bad. After Samantha insists she's not using "black talk," she's using "sex talk," Charlotte corrects her, "it's African-American talk," Samantha fires back with, "I don't see color, I see conquests," to which Carrie replies, "talk about affirmative action!" I mean… holy sh*t, what? At this point we're only five minutes into the episode. Buckle in kids, it's gonna be a real f*cked-up ride!

As the episode goes on, Samantha ends up dating Chivon, and here is where it gets interesting. When Adeena realizes that her friend Samantha is dating her brother, not only f*cking him, she is very unhappy. "I don't like you seeing my brother, I don't approve. I'm sure you're a very nice person but you're white, and I have a problem with my brother getting serious with a white woman. I'm never going to approve and my approval means a lot to my brother." Samantha is aghast at Adeena's response and immediately takes it to the girls, who begin discussing "his big black cock." Miranda slyly comments, "don't you mean big African-American cock?" SO MUCH IS HAPPENING HERE AND IT'S SO BAD. The first and only time we're going to discuss racism in the show is racism AGAINST Samantha!? No, God, please no.

When Samantha refuses to break up with Chivon and shows up to a club with him they bump into Adeena, where sh*t really hits the fan. She yells at Samantha that no matter how many "Jennifer Lopez dresses" she owns she'll never be with her brother. Samantha makes some comments that made me shrink into my couch, before she struts off, only to get her hair grabbed by Adeena, leading them into fist fighting in the club.

Again, this is one of the only woman of color to ever be on the show, certainly the only one with an actual story line, and she's portrayed as violent, closed-minded, and is literally called a loud-mouthed bitch by Carrie in the narration??? NO. NO, Sex and the City, just….no.
3. Season 4, Episode 11 "Coulda, Woulda, Shoulda" – Roosters & Transgendered People??
When this episode opened with crowing roosters waking up Carrie, I connected. I've literally lived in apartments in New York where my rich neighbors with too much money to burn owned chickens and roosters and kept them on their veranda. It's New York, people are insane. Just this week I saw a man walking down 6th Avenue with a snake wrapped around his neck and an old woman with a parrot on her shoulder shopping at Trader Joe's. Only Carrie doesn't just rant about how annoying the roosters are, but also how annoying a group of transgender sex workers that are supposed to work the street outside Samantha's meatpacking district apartment are! Oh, but also they're not described as transgender sex workers, we're introduced to them through Carrie's narration as follows: "There they were, Samantha's friendly neighborhood pre-op, transsexual hookers. Half-man, half-woman, totally annoying." Tasteful, Carr!

There's so much wrong with this. Imagine Zendaya on Euphoria referring to a group of people as transsexual hookers and it not immediately trending on Twitter. Remember, this is the level SATC was at at the time. The episode goes on with Samantha meeting the girls for breakfast the next morning, where she just digs her ignorant grave deeper. "I'm paying a fortune to live in a neighborhood that's trendy by day and tranny by night." Poor, sweet, dumb Charlotte is confused. "Tranny?" She asks. "Transsexuals. Chicks with dicks! Boobs on top, balls down below!?" Samantha answers. "I don't get the appeal there," Miranda comments before Samantha babbles some bulls*t about pseudo-straight guys from New Jersey and then they all laugh maniacally like Regina George bullying Katy Heron.

Transgender is defined as someone who identifies differently than their biological gender, while transsexual is someone who physically transitions from one gender to another. You know what they have in common? They don't like to be called f*cking trannies! Maybe if we weren't all growing up watching women who inspired a cosmo-and-scooped-out-bagel movement talk so negatively about a vulnerable minority community, we'd be ordering less hot waters with lemon and caring more about basic human rights?
Samantha decides to go down and make friends with the girls, all of whom are women of color, so…yeah, the only women of color in this episode are sex workers referred to as "tranny hookers." How many rounds of people did this script go through? A lot of people read those words and thought "yes! go for it!!" After Samantha "politely" asks them to quiet down, they agree to move down the block, only to be thanked by Carrie's pesky little narration: "Samantha always knew how to get her way with men, even if they were half women." Again, this isn't the craft services lunch of the day! These are words heard by millions of people tuning in each week, and for years after. Like, think about it a little!
In classic Sex and the City fashion, everything wraps up into a little messed-up bow when Samatha invites the transgender sex workers to a rooftop BBQ and Carrie says things like "I need to see you twirl, sista!" at the woman of color they've been talking sh*t about the entire episode, and they all snap their fingers at her joyously. Personally, I want to see this episode rebooted with these three fierce-ass transgender sex workers teaching Samantha and Carrie a thing or two about ignorance while wearing better shoes than them.

2. Season 3, Episode 4 "Boy Girl, Boy Girl…" – Bisexuality Apparently Doesn't Exist
People mostly remember this episode because it guest stars that guy I only know as Rachel's hot assistant Tag from Friends, and of course Alanis Morissette, but it's also the episode where Carrie discusses bisexuality and Miranda cries about being too masculine in her relationship, which is a whole different can of worms I can't even delve into.

Tag and Carrie go on a date to an ice skating rink (barf, literally never) while skating around and swigging Jim Beam from a flask, which I respect. Tag inexplicably calls Carrie "Carrigan" before listing all of his exes, ending with a guy named Mark. *Scandalous!* We immediately cut to the girls going in on their first serving of granola and berries of the day, and Carrie announces she's dating a bisexual. Samantha chimes in: "I'm a try sexual, I'll try anything once!" lol Samantha, l o l. Carrie reluctantly admits that yes, she does have a serious problem with his bisexuality, but he's just such a good kisser! "I'm not even sure bisexuality exists, I think it's just a layover on the way to gay town!"
Carrie, the authority on all things LGBTQ+, proclaims as a pride flag rises from the mist behind her. Charlotte, the resident conservative, makes her opinion known, "I'm very into labels, gay, straight, pick a side and stay there!" Miranda tosses in her two cents—"stop kissing him"—before they all scatter away to deal with their urgent $8,000/month apartments and Yves Saint Laurent bags. As Miranda leaves the screen, I wonder if Cynthia Nixon, real-life-out-lesbian-turned-politician, ever stopped for a second and was like, "wait you guys I have to tell you something!" Ah, the eighth world wonder.

At a fancy new club Carrie, makes her concerns known to Tag. "You're not gay?" she asks. *eyeroll* They end up in bed together, where Carrie starts throwing hypothetical situations at him: "So like..if there was a very beautiful girl on the street, and on the other side was a really good looking man…" He cuts her off and tells her it's not about sex, just about the person, before they have sex for hours. (Also like, sidenote: I  just want to remind you that he is very hot. This has nothing to do with what I'm talking about, but he is very hot.)
Eventually Carrie goes to a party with Tag and his friends, one of whom is Alanis Morissette, and describes the party as a "pupu plater of sexual orientation" before they all play spin the bottle like it's a cast party after a high school production of Anything Goes. Carrie spins the bottle and it lands on Alanis Morissette, and you oughta know it's going to be a messy situation. Isn't it ironic that Carrie kissing Alanis Morissette is what makes her run away from the party with one one hand in her pocket and the other smoking a cigarette, never t0 see Tag again? (Did you get all of those Alanis Morissette puns?? I deserve a f*cking Pulitzer.) There's literally no wrap up, Carrie just says "that was the last time I ever saw him, I took my old fart ass home." For the record, and I shouldn't even have to say this: bisexuality exists, Sex and the City doesn't know how to accurately portray any character that isn't an upper-class white woman, Tag is super hot, and Alanis Morissette's Jagged Little Pill album is still amazing.

 1. Season 3, Episode 2 "Politically Erect" – Voting is Stupid
Nobody is looking to Sex and the City for political guidance. If the show were to take place today I would be terrified to learn who each of the girls would've voted for in 2016, but let's face it, it would've probably been an overall disappointment. Speaking of disappointments, this episode starts with Carrie dating a hot silver fox who's running for comptroller. Naturally, she refuses to wear his pin out in the open, and instead hides its under a godawful flower pin. Carrie and the girls are all soon dining al fresco, discussing politics in fur coats. The conversation goes as follows:
Charlotte: I can't believe you're dating a politician, you're not even registered to vote!
Carrie: It's the undecideds they're really after.
Samantha: I totally get it, not only is he good looking, but he's got the power thing going for him. It's gotta be a turn-on.
Carrie: Oh yeah, I'm dating a potential comptroller, it's hot.
Charlotte: I want to help out with the campaign.
Miranda: Since when are you interested in politics?
Charlotte: Always. It's a really great way to meet men! And with Carrie by our side we can just get to meet the inner circle, and all the really interesting donors.
Miranda: By interesting men, she means single and rich.
Carrie: Guys, he's not running for President.
Samantha: Oh he should! I'd vote for him, he's really cute.
Miranda: So?
Samantha: I always vote for candidates according to their looks.
Carrie: I base my decision on the swimsuit competition.
Samantha: The country runs better with a good looking man in the White House!
The conversation goes on pretty much like that, Carrie saying one-off jokes while letting it be known that politics are stupid, Miranda making little remarks that remind us she's the smartest one of the group, but not smart enough to actually bring up the issue that Carrie's not registered to vote, Samantha talking about how hot JFK was, Charlotte discussing how she wants to date a hot politician—just the usual stuff! Carrie takes the girls to some political event and reminds them to vote for her politician boyfriend. Miranda asks why they're voting for him, and Carrie lists some bullsh*t reasons before giggling and saying "it's because I'm sleeping with him!" Samantha announces she doesn't believe in the Republican Party or the Democratic Party, she just believes in parties—just typical party convo. After more jokes about how he should be elected comptroller because he's hot, the whole politics storyline fizzles out. The comptroller-to-be asks Carrie to pee on him before breaking up with her because his campaign manager tells him dating a sex columnist is a bad look. Which is really the most believable thing about the episode.
Listen, I'm very aware that politics don't have to be a part of everything, but a little mention of how voting is important wouldn't have hurt anyone. If a show can inspire so many people to move to New York and convince their parents to pay for their overpriced apartments then it probably could've inspired some of those same people to vote, ya know?

Am I going to stop watching Sex and the City? Unfortunately, no. I'll probably make more comments on how f*cked up things are on the show, but I'll still sit there while the next episode auto-plays. There's nothing we can change about the media of the past, but at least now we can look at it with a different set of eyes. In 2019, I think we're all a little better at holding TV shows accountable. Also…just like…vote? 
Images: HBO (2); Giphy (14)
5 Weight Loss Products That Don't Work
Everyone wants a quick fix. In the age of instant gratification, the concept of waiting for results is lost on everyone. Smh. The diet industry knows this, and over the years, they have capitalized on consumers' lack of patience. Cue late-night infomercials and IG sponsored ads for the next big thing in weight loss. Spoiler alert: none of this sh*t actually works. Real results take time—we have been through this. I know you're better than that, but I also get the temptation. Like, even if something seems too good to be true, you might think to yourself that it can't hurt to try, right? Well, it might not hurt your body, but it will hurt your wallet. Here are five fitness products that promise a quick fix, but really do not work.
1. The Shake Weight

Oh, the infamous Shake Weight. Did you know that "you can get firm and fabulous arms and shoulders in just six minutes a day" with these? At least, that's what the manufacturers want you to believe. The Shake Weight comes in two versions, weighing two-and-a-half pounds and five pounds. That's very…minimal. But the creators of the Shake Weight claim the vibration creates isometric force on the muscles to hold steady, working the muscles more than regular concentric-eccentric movements. Seems scientific sounding and therefore legit, except for the fact that you can create your own isometric force during any exercise by holding the movement at the most force-generating part of the movement. So, by holding a bicep curl halfway for 10 seconds, holding the bottom of a squat, holding a V-sit for your abs, etc. That means you don't need a Shake Weight to do it. You can also work your muscles more by using dumbbells greater than 2.5 lbs, I'm just sayin'.
2. ThighMaster

Suzanne Somers is one entrepreneurial betch. I love and respect her hustle. This vintage little tool is like the at-home version of the hip adductor machines at the gym. For the goal of this product to be thinner thighs, it does make some sense kinesthetically for this movement and product to work. However, there is no way to spot reduce just one area of your body, so this product alone won't help you achieve thin thighs. There are also plenty of superior ways to work the thighs that don't require equipment, such as squats and lunges, as well as plyometric exercises. Plus, keep in mind that when it comes to any fat reduction, diet will always play a major role.
2. Ab Belt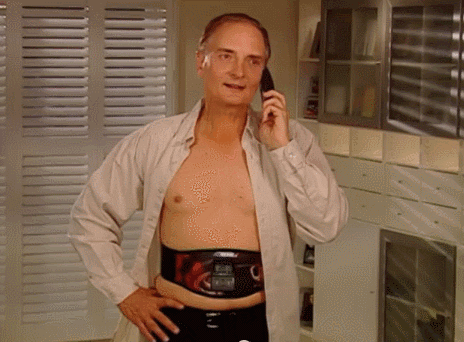 These belts send electronic stimulation to your abdominal muscles, so your muscles contract without you doing the work to contract it. As in, you don't even have to think of contracting your muscles. Who has the time and energy to consciously flex their muscles, right? But you want abs, though. Talk about lazy. Whether or not it works? Well, the Federal Trade Commission sued the makers of these belts in the early 2000s for making false claims, so that's that on that. Here's the real tea: if you can't even put in the effort to contract your own abs, then no product or person can help you. The end.
4. Weight Loss Gummies

So you've heard of the weight loss teas and lollipops that the Kardashian-Jenner clan have promoted. But now, there are also weight loss gummies for you, because diet pills are soooo 1999. This popular brand's gummies contain two steps, because that looks more legit. One gummy is basically caffeine from green coffee beans to give you energy, and the other one is supposedly an appetite suppressant made from garcina cambogia (a tamarind fruit extract). A one-month supply will cost you $49.90. Not only is packaging and marketing weight loss in a candy very ironic and a cheap juxtaposition, none of their claims have been evaluated by the FDA (no supplements on the market in USA are). These gummies could be, at best, ineffective and a waste of $49.90, or at worst, dangerous if you are allergic. On their website, they do not provide a full ingredients list for these gummies, so I would not be surprised if they contain very small amounts of these "active" ingredients. BTW, in 2014 the FTC sued a green coffee bean company for making false claims and false studies.
5. Slimming Creams/Masks

There are no products on Earth that, once applied directly onto the external surface of your body, can melt off fat, which is an internal cell INSIDE your body. Yes, because we have pores and glands on our skin, products do get absorbed. This is why it is important to use products that are clean and do not contain metals (such as aluminum in our deodorant). However, if we still haven't gotten aluminum poisoning after years of using our trusty Secret deodorant, there's no way a cream or mask can make us lose five inches in three weeks. Granted, supple and moisturized skin can appear tighter than dry, dehydrated skin (so don't skimp on your water), but if you ever see a cosmetic product claiming to "effectively burn fat," run from those scammers.
Hyped up fitness products come and go every year, but one thing has remained the same: the hunt for a magic weight loss solution. There is a reason why the diet industry is worth $72 BILLION. But just think—if weight loss was something you could purchase at a GNC, the nation as a whole would be a whole lot fitter and obesity would not as much of an issue. Not only is the hunt for overnight weight loss a waste of money, but it is also a waste of time. Can you imagine if instead, we spent that money on buying fresh produce, a gym membership, a piece of at-home gym equipment, or getting a session with a trainer to show us how to lift and work out properly? Something that breeds healthy habits and not false hope? Before you give this industry another dime, don't let the flashy commercials and edited transformation pictures fool you: there is no product that will give you maximum results for minimum effort. In fitness, just like in life, what you get is what you give.
Images: Giphy (4)
Kacey Musgraves Had Fans Share Their Cringey AIM Screen Names & We're Dead
I'd be lying to you if I said I didn't spend a solid four years of my preteen life sitting on my family's desktop computer waiting for my crush to sign on to AIM. I made sure my away message always said something cool like, "~*PaRtYiNg w/ mY gUrLz… HiT the CeLLie~*" even if it was 4pm on a Thursday and I didn't actually have a ~cellie~ for anyone to call. Not to mention I was 10 f*cking years old.
Even better than my desperate-for-attention away messages was my screen name: XxXDoLLFace017XxX. I don't know why the X's were necessary (why did we make our screen names sound like porn star names?) and I'm pretty sure over-plucked brows and braces would've been a better way to describe my face, but I digress. I clearly was just a delusional weirdo with way too much time on my hands and a slow AF dial-up modem. 
But I wasn't the only one.
Everybody's favorite country queen, Kasey Musgraves, has reminded me that I'm in good (albeit embarrassing) company when it comes to cringeworthy AIM screen names. The singer's Twitter page is funny as hell, and is essentially like an explosion of her beautiful yet random thoughts organized on one feed. So I wasn't exactly surprised when she asked the Twitterverse to reminisce about their AIM screen names, even though it most definitely opened up the door to my childhood anxiety. (Will send you the therapy bill laterz, Kace!)
At 2:22am on Monday, Kacey tweeted this, as you do when you can't sleep because you're deep in an anxiety spiral of all the embarrassing things you did as a kid:
what was your AIM name?

— K A C E Y M U S G R A V E S (@KaceyMusgraves) July 22, 2019
And just like that, thousands of tweets poured in filled with shame and regret. I'm going to round up some of the best/worst submissions because honestly I could use an ego boost after being forced to remember that I was XxXDoLLfAcE017XxX. 
hannahmontanarocz

— kyptain america (@WTFisup_kyle) July 22, 2019
When HannahMontanaRocks is already taken, you have to get creative.
Blingbling87431 pic.twitter.com/yF8JLGca0Y

— Bash ??‍♂️ (@setrocs929) July 22, 2019
If we're talking about a bedazzled flip phone, then yes, this one works. 
beachbabexo17

but really I was a 12 year old tall, pale, overweight average girl who wore a button up oxford shirt and skort everyday to a private episcopalian middle school and was obsessed with Harry Potter and watching the x-files ?

— ? (@iliketaffeta) July 22, 2019
I've never seen a beach babe who wore a skort. 
So I've always been a horrible speller. Wanted lilsweety6388, but silly me made it lilsweaty6388. cc: @dear_ashley88

— Julie (@Jules6388) July 22, 2019
How's it going today? Lil sweaty, how about you? (But also, this girl was lightyears ahead of the "it's called fashion sweaty, look it up" meme, so I respect it.)
HollabackGRL50 at 10 years old

— Alex Alley (@__JuicyA) July 22, 2019
Gwen would be so proud. 
CookDLover which was named after my cat Cookie Dough but my dad wanted me to change because he said it sounded too much like cock lover

— sweat daddy (@callmedgoodz) July 22, 2019
TBH, I think Dad was right about this one.
EmoKid9362

— ??️‍? (@scene_destroyer) July 22, 2019
Wait, but if you call yourself emo, doesn't that negate the emo? *stares out window in eyeliner* 
I remember going over to my ex house. Using her computer to send out resumes and her ID was something crazy like bigbootyrican! Spelling was a bit different and yes I was embarrassed! Lesson learned, never use someone computer to send messages out!

— Mind Games (@Mingomovement) July 22, 2019
Okay, but who the f*ck sends out resumes through AIM? 
magicstick715

I hate my gd middle school self

— Alex Smith ?? (@hiimalexsmith) July 22, 2019
As if any of us knew that the song was about a powerful dick. 
Nutsicle843 I'm beyond not proud

— Austin Goatchin ? EDCO (@gingerwomp) July 22, 2019
It's OK, we're all here to learn from our mistakes. 
Puffthedragon.

I didn't do drugs. I just liked puff the magic dragon. But suddenly I was known as the druggie at school. Which was a step up from loser so I took it.

— Alicia Reese (@Roxymoxi) July 22, 2019
I think we're all losers in this situation, actually.
Vuittonblonde11 and I didn't even own a Louis Vuitton :)))))

— audrionna hayes (@audriseyah) July 22, 2019
In her defense, TargetPurseBlonde doesn't have the same ring to it.
BadBoy4Ever9987

If that doesn't make you cringe then I'm not sure what will.

— Jabs (@Vanhelsingjr4) July 22, 2019
I wonder if he's still a bad boy to this day.
Omg mine was blinksync18 because I loved blink and *NSYNC lmao

— melaniemorgann (@melaniemorgann) July 22, 2019
When you can't choose between two names so you awkwardly force them together.
Hollisterprep292 ?

— RAE (@NicholleRae) July 22, 2019
*Buys one Hollister T-shirt. Immediately changes screen name.*
I'm a little mad that Kacey Musgraves didn't drop her own AIM name, but there responses are good enough. There are thousands more where these came from, and honestly, I'll probably spend all day on Twitter laughing at them. Good thing I don't have any work to get done or anything! Drop your AIM name in the comments so we can all be old together.
Images: Shutterstock; Kaceymusgraves, wtfisup_kyle, setrocs929, iliketaffeta, jules6388, __juicya, callmedgoodz, scene_destroyer, mingomovement, hiimalexsmith, gingerwomp, roxymoxi, audriseyah, vanhelsingjr4, melaniemorgann, nichollerae / Twitter