If Gen Z Is The 'Most Diverse Generation Ever', Why Are We Still Idolizing Skinny, Rich, White Women?
As demonstrated by the most recent skinny jeans and side parts scandal that rocked millennials everywhere, tying ourselves to shared generational labels is a pillar of meme culture — or broadly, today's culture. Generational stereotypes have fueled the formation of countless online communities, but they've also caused hot-blooded arguments across age lines. After Baby Boomers criticized Millennials for not buying houses, it sparked economic discourse around responsibility and capitalism, and the "OK Boomer" meme popularized during the 2020 election signified Gen Z refusing to feign respect for racist and misogynistic elders. To say the least, there is weight and substance behind these memed stereotypes.
As digital natives in a digital world, Gen Z's cultural influence is undeniable, but the one stereotype that overpowers the rest is that we are "diverse." A quick Google search will show you that Gen Z is labeled as the "most diverse generation in history" and that we "demand diversity in the workplace." However, of the top 100 creators on the social media platform most commonly associated with Gen Z, TikTok, the vast majority are white or white-passing. Charli D'Amelio and Addison Rae, the golden girls of Gen Z, are thin, upper-middle-class white women. Simply put, it ain't adding up: if we're so diverse, why aren't the people we idolize?
When Addison Rae appeared on The Tonight Show Starring Jimmy Fallon in March to perform multiple dances originally created by Black TikTokers, it sparked a conversation about white mediocrity. D'Amelio and Rae are certainly not as talented as Keara Wilson, who created the "Savage" dance that propelled Addison Rae to superstardom, or Jalaiah Harmon, the originator of the "Renegade" dance that did the same for Charli. But comparing talent isn't the problem: these women took Black choreography and used it for their own benefit, and were rewarded. Whether it's subconscious or not, the fame that we've given them is because they fit the mold of who women are supposed to want to be.
In the same way that millennials adore celebrities like Paris Hilton and Kim Kardashian, the supposedly diverse and inclusive Gen Z continues the cycle of rewarding attractive, rich, white women for existing. While society's cultural icons have evolved from supermodels (1990s) to celebrities (2000s) to reality stars (2010s), the skin color and proximity to wealth of our superstars has remained consistent. Despite their wealthy, white California childhood, the Kardashians adopted Black culture to differentiate themselves from the thin blonde stars popular in the 2000s. They injected their butts and lips to recreate features found naturally on Black women, appropriated Black hairstyles, almost exclusively dated Black men, and recreated age-old Black and Latina fashion trends. 
This look was, yes, a departure from parallel generational icons Paris Hilton and the Olsen Twins, but it wasn't new. Black women, who grew up wearing wigs and had naturally big lips, certainly aren't growing multimillion-follower fan bases or offered the cover of Vogue, but rather are discriminated against for living out their own culture while white women run through their trends faster than Fashion Nova can produce a rip-off. 
The Kardashians shared everything from their petty fights to brutal divorces, parental blowups, and personal anxieties on national television. But the "relatability" or "reality" they may have shown on TV does not a billion-dollar empire make: they wouldn't have had the lip kits, curvy shapewear, or half as much media coverage without appropriation.
TikTok was supposed to democratize the social media industry with an algorithm that let anyone get famous — or at least "TikTok famous." Instead, we've repeated the same process of propping up white women who manipulate Black culture to appeal to the masses, yet remain safe from systemic racism in their peach skin. As the biggest Gen Z idols in the world, Addison Rae and Charli D'Amelio pocket millions while the Black girls who created the dances, and the music they dance to, remain nameless or endure hate at an alarmingly higher rate. Black creators' followings remain significantly lower, and their sponsorship deals even sparser. Meanwhile, these white TikTok stars are hanging out with the Kardashians, with nary a Black woman in sight.
Would we still be idolizing these people, however, if corporations like NBC (the network that airs Jimmy Fallon's show) and TikTok itself weren't inching us in that direction? In March 2020, an internal memo was leaked revealing that TikTok's algorithm doesn't push darker, disabled, or "ugly" videos, making it significantly harder to "blow up" as a Black creator even if you have better content. Most of the companies giving out these sponsorship deals are run by majority-white Millennials or Baby Boomers who are inclined to stick with the already-advantaged white women that look like them or their children. 
We won't reach equality for these influencers until the most prominent corporations and influencers make a conscious effort to give Black creators the exposure their white counterparts get. Companies must do this through providing equally lucrative sponsorship opportunities, and the biggest celebrities must take responsibility for benefitting from the systems that allowed them to grow by offering slices of their fame to prop the culture originators up. 
Gen Z definitely cares about diversity, but the systems in place created by previous generations don't allow that to be reflected in our culture idols. If algorithms don't allow Black creators to make it on their own, it's up to influencers and social media users to make conscious choices to highlight and reward that talent, or we'll be watching history repeat itself for the next generation, too.
Image: Todd Williamson / E! Entertainment
Does Liking Vanilla Sex Make You Bad In Bed?
"It was fine, I just wish he choked me a little bit more, you know?"
These are words that come out of my best girlfriend's mouth and I try not to act absolutely horrified. It's a typical girl's night for my crew, so we're getting completely wrecked over $8 bottles of Trader Joe's wine and lamenting over the sh*tty men life has dealt us. My story for the evening was going to consist of "and then he refused to go down on me, can you believe it?!" I was going to be equal parts angry and indignant. There would be a lot of angry huffing and even more drinking. Or maybe I would talk about the guy I dated before this guy, whose idea of foreplay consisted of three minutes of finger banging and some closed-mouth kissing (ladies, there are so many good fish in the sea!!). Now, I'm rethinking those stories as my friends dive into their own light choking stories and I shrink further and further into my glass of wine. I was prepared to talk about sex, sure, especially bad sex—it is girl's night, after all. But I wasn't prepared to talk about kinky sex. And as I sit there listening to my closest friends mime choking hands and laugh into their wine glasses over the guys they've hooked up with who weren't into kink, I have to wonder: am I lame for liking vanilla sex?
Fun fact about me: I've never been choked in the bedroom! And if someone had asked me if I enjoyed "light choking" I would have told them that I'd like my sex life not to end up as a future plotline on Law & Order SVU. But prior to this girl's night conversation, I also wouldn't have considered myself much of a vanilla sex girl. I, mean, I've had sex in a public restroom before, so that has to count for something, right? Apparently not.
The word daddy has been so sexualized that my kids are gonna have to call me bruh or some shit

— Devon Daigle (@devondaigle9) March 23, 2019

The older I get, the more I hear my friends talk about incorporating some form of kink into their sex lives. Whether it's the light choking or using sex toys during intercourse or handcuffs—it's stuff that I used to consider extremely kinky, but is now becoming the norm. These are not things that I incorporate into my own sex life, nor do I have any desire to. I've been single for the better part of seven years, casually dating guys for no longer than a few months at a time. I did try and spice things up in my last serious relationship, but my boyfriend at the time seemed disinterested in my attempts. Then again, he was more interested in sleeping with any girl who had a pulse, so perhaps that was the bigger issue we should have focused on in our relationship. And they say true love is dead!!
So I stayed the vanilla course without even really knowing it. The spiciest I get these days is public sex, and even those encounters are few and far between the older I get. Is it so wrong that I like vanilla sex? As a single girl dating around, does that make me boring in bed? I've never felt insecure in the bedroom, but now I'm starting to wonder if I should.

I just want to be popular, okay!
On some level, it makes sense that women are trying to spice things up in their sex lives. We're living in a post-50 Shades of Grey world. Romance novel sales are skyrocketing these days. Women are no longer afraid to admit that not only do they want sex, but this is how they want it. More importantly, women are finally being heard in the world. Not just in regards to sex either. Women are demanding more from their circumstances: they want equal pay, political representation, safe work environments, rights to their own reproductive organs, representation in the media, accolades in their career fields, and now, their own sexual fantasies fulfilled.
But here's the thing: my sexual fantasies are completely different than that of my married friends or my engaged friends or my friends in serious, long-term monogamous relationships. For example, while my friend Lissa might be fantasizing about her fiancé putting a little extra pressure on her windpipes, mine are more about a guy texting me during daylight hours. (I know, that's f*cking wild!!)
For the most part, my friends see incorporating something different into the bedroom as a way to escape the mundane, to spice things up with their partner. The key word here being partner. There's a level of trust they're afforded to try these things out. They don't have to worry about being embarrassed or shut down, or hell, their own safety being put at risk. And I think that's what it comes down to here. It's not that I'm necessarily opposed to light choking or handcuffs or roleplaying or whatever else. I'm not anti-kink so much as pro-trust. My love life has been like one long Fyre Festival, so, you could say I'm a little low on trust when it comes to the opposite sex. I barely trust a guy to call me back, let alone play Russian Roulette with my airways.
Look, I'm not saying I won't ever try something a little crazy in the bedroom, but I know for me there needs to be a foundation of trust in place first. So, yeah, maybe I'm a little more vanilla at the moment, but I don't think that makes me lame or bad at sex. Bottom line: it's your sex life, and you should do whatever you feel most comfortable doing. If men can demand what they want out of the bedroom then so should we, no matter how "boring" it's perceived. And you can still have a fulfilling sex life, whether or not you incorporate kink. I'm not here to judge anyone's sexual preferences unless it's one of those furry fetishes, in which case, I'm sorry, but you were asking for that one. 
Images: Unsplash; Giphy; devondaigle9 / Twitter
I Went Off Birth Control For The First Time In 15 Years & Here's How It Felt
For most of us, birth control is a necessary evil. Like doing our taxes, or pretending to enjoy giving blow jobs (just me?). It's the thing we joke about when our alarm goes off during happy hour, the thing we bitch about when we're overly hormonal, or feel grateful for after a hookup goes awry. It's a thing we hate sometimes, but can't—or won't—live without it. And if you think I'm being overdramatic with that statement here are the receipts facts: according to recent studies, nearly two thirds of American women use contraceptives in some way, shape, or form. I should know because for the last 15 years I was one of these women.
If a friend told me they were goingn to go off birth control, I would act aghast. "You can't be serious. I don't know who I am without it," I'd joke. But it wasn't really a joke. I was 12 when I first started using birth control. I had a heavy period that would come every 10 days. I was bleeding more days out of the month than I wasn't. My doctor recommended me going on the pill to regulate my periods and my mom, who had nothing but good experiences with birth control, was all for me trying it out. Fifteen years later, I never looked back.
Being on the pill felt like an extension of myself, like an arm or the gel manis I can't live without. There was never a question of me not being on it. To be totally fair, I never seemed to have the issues most of my friends had with the pill. I didn't have crazy mood swings or weight gains. If anything, I felt like going off the pill would cause those kinds of side effects. My personality is already a fun mix of dark cynicism and the occasional rage blackout, I don't need to f*ck with my hormones on top of it.

But I did end up going off birth control. For me, the decision wasn't so much of a conscious choice as it was necessary to my finances at the time. When I was 26 I quit my job in the city to move back to my home state to be closer to friends and family. I quit without having another job lined up, which meant forgoing a monthly income—and health insurance. Being on my parents' insurance was out of the question because I'd just aged out before quitting my job. My only options were to pay out of pocket or look into COBRA, a new law that lets you stay on your previous employer's health insurance for up to 18 months after leaving your job, but it was going to cost me HUNDREDS of dollars a month. With no new income coming in and my bank account practically hemorrhaging money from my move across state lines, I chose to save money and forgo getting health insurance completely. Bye-bye, birth control.
At the time I thought I would find a new job in a few months and be back on birth control by Christmas. I was unemployed and living at home with my parents and, if my dating app matches were any indication, that wasn't a great look for picking up guys or having sex. I guess living off parental pity isn't as sexy as I thought it was? Who knew? So, I thought, if I wasn't having sex, then what was really the harm in going off it? Sure, there's the crazy mood swings that might manifest, but, as I was living at home, so only my family would have to endure those and they're genetically obligated to love me anyways. Right, mom?

So I decided to go off birth control with the sole intent of not making it a permanent situation. I don't know what I expected when I stopped taking the pill. The metaphorical floodgates to open and to start bleeding uncontrollably? I pictured my first period post-pill to look a lot like Carrie after they doused her in pig blood. That I'd bleed for an entire month and ruin every piece of underwear in my possession. I expected my acne to get worse, and to be rocking in a corner somewhere with all my ping-ponging emotions. But that's not what happened at all. In fact, after I went off the pill I didn't get my first period for 8 weeks, and when I did get my period it only lasted 4 days. I was shocked. The whole reason I went on birth control in the first place was because my periods were heavy and long. Post-pill, they were short and light. Manageable, even. Other than my cramps being a little worse than normal, my periods were a lot like the ones I had while on the pill. This doomsday mentality I'd crafted around being off the pill was just that: a mentality. It wasn't real. 
I thought being on birth control gave me a sense of safety—and it did, don't get me wrong—but being off the pill made me feel empowered in ways I didn't expect. For one, it helped with my anxiety. I used to obsessively try and plan out my periods by skipping pills in the pack so I wouldn't have my period on the weekend or on random days during the week if I had an important work meeting or something. If I wasn't planning out a period, then I was constantly trying to hound my pharmacist for my prescription. If the pharmacist couldn't refill my prescription on time and I couldn't start my new pack of pills within the first three days after my period, I would panic and have a breakdown. I can remember crying in my office because the pharmacist told me my insurance had changed last minute and I could only refill every 31 days, so I'd need to wait a few more days to pick up my prescription. Crying in my office! And not even over something reasonable like my office nemesis eating the last everything bagel in the break room.

Sure, I could have tried another form of birth control, one where I don't need to worry about monthly prescriptions or even getting a monthly period, but the pill was so ingrained in my life that I truly thought I couldn't function without it. I'd heard horror stories of friends getting the birth control implants in their arms and bleeding for weeks at a time, or having to fish an IUD out like an errant tampon. The pill worked for me. My periods were light and manageable. My skin was clear, my hormones weren't making me crazy (aside from what just comes naturally with my personality). Sure, it caused me stress and anxiety, but wasn't that worth it in the long run? And if I went off it or tried something new, who would I be then? I'd been on the pill for 15 years, over half my life, and I was terrified to make that change.
Then there's the sexual aspect to it. For my entire adult life I've been on the pill. I was a late bloomer so when I started having sex in college, I'd already been on the pill for six years. Six. Years. That's, like, almost the entire length of The Buffy The Vampire series (sorry #Spuffy fans, but I don't count the 6th season because it was trash!!).  My uterus was practically a cement fortress at that point, and boy did I love to test the limits of that fortress. I felt invincible because I didn't have to worry about getting pregnant, but at the same time I felt powerless. I was constantly having to fend off arguments from guys as to why I still wanted to use condoms, as if being on birth control gave them free reign over my body. There were times when I felt like I couldn't say no, like wanting to protect my body from diseases was too flimsy an excuse.
This is something I have to work on personally. I know this. Standing up for myself in my relationships with men, and also not choosing to date flaming piles of garbage masquerading as human men. But that doesn't change the pressure I felt during those instances. I felt like I was solely responsible for providing the contraceptives during sex because I'd been on the pill for so long. Once I went off the pill, I thought having sex without that added protection would be scarier, but it wasn't. I didn't feel like it was just me having to be responsible for safe sex anymore, I felt like I was in a partnership again.
Look, I'm absolutely not advocating that women go off birth control or refuse to use it. I'm advocating that everyone should do what's best for them. Women need birth control for more than just sex, and my experience is proof of that. But since I've been off the pill I've felt more at ease in my own body. I don't feel anxious about my period or refilling a prescription. I feel more confident in my sexual relationships. These were not the emotional or psychological reactions I expected to have when I stopped taking the pill. I fully expected to feel more anxious, more out of control, powerless. I didn't realize how much pressure this one, tiny thing had over my life until I was off it. And, to be fair, I got lucky—there are women who do experience side effects after stopping birth control, such as a heavier, irregular period; shedding hair; breakouts; and decreased libido, so just because I felt completely normal does not mean that you will too. Everyone is different, I'm just saying that for me, my choice to go off birth control did not have those drawbacks.
It's been seven months since I made the decision to go off birth control. I have a job and health insurance again, but I still don't know if I'll go back on the pill. Or if I ever will. After 15 years of taking a pill every damn day of my life, it's been nice to take a break, to not have to worry about medication. Will I feel differently in a few months? A few years? When hell freezes over and I finally get in a long-term, committed relationship with someone? Maybe. But for now, I'm not looking back.
Images: Giphy (3); Pixabay.com (1)
Is LinkedIn Creepy?
A friend recently brought to my attention that the popular job-seeking social media platform LinkedIn "might be creepy." "Why do you say that?" I asked her, genuinely curious, because as a creative, the only messages I receive on that site are from dudes telling me their wives love my Bachelor recaps and LinkedIn job recruiters letting me know that my degree in creative writing has qualified me for a job opening in janitorial services. While the latter makes me want to douse myself in lighter fluid and set myself on fire, and the former is a little weird but mostly flattering (fun fact: I need to be constantly praised, so, like, keep it up men), I wouldn't call either of those interactions "creepy." But it did get me thinking, is LinkedIn creepy? Was I missing something here? Are men, having been cancelled from every other app, now trying to make LinkedIn their final frontier? I've literally investigated claims for less. So, buckle up, betches, because I'm about to call men out on all their bullsh*t. Again.
As I mentioned, my friend, let's called her "Meg," originally brought this whole LinkedIn creepy scandal to my attention. Meg told me she was constantly being harassed by older men who would slide into her DMs ON A PROFESSIONAL JOB-SEEKING SITE to tell her she's pretty and ask her on dates. My immediate follow-up question was did she accidentally tap into her Hinge messages and not her LinkedIn messages? I just couldn't imagine a world where business betches like myself were having to virtually fend off men. 
MEG: LinkedIn is cancelled because men are trash.
ME TO THE MEN OF LINKEDIN:

After I spoke with Meg, I checked my recent requested connections. ALL of them were from men. The majority of them looked like they could be my dad's age or older, and almost none of them were in the same field as me or had any mutual connections with me. Again, it was strange, definitely suspect, but not outright damning.
So I started asking other women in my life about their experiences with LinkedIn. Women I worked with, women I'd lived with in New York City, women I'd gone to college with in North Carolina. Every single one of them could list an uncomfortable encounter. One friend told me she gets DMs at least once a week from strange men asking for her number or sending her messages in all emojis, which is fine if this is Instagram and you've posted a fire bikini selfie, but not on a goddamn job site!
I took to Google and found out that last year Buzzfeed published an entire article about women taking to Twitter to ask men to please stop treating LinkedIn like their own personal dating site. Welcome to 2018, ladies, where no place is safe anymore, especially not the workforce! God, I wish I was kidding.
If you have working eyes and ears then you know that over the last two years, the ladies of the #MeToo movement have been out here doing the lord's work and exposing (pun intended) every Tom, Dick, and Harry for being the disgusting scumbags they really are. They shed light on an issue which every woman with a pulse was already aware of: if you show up to work with breasts, then you're going to get hit on/be treated differently/have to fight off unwarranted touches/generally be made uncomfortable by men at some point in your career. But it's chill because that's professionalism, ladies, look it up!!

Obviously, these are not new issues. For as long as there have been women in the workforce, there has been sexism and sexual harassment, there has been women sacrificing their dignity and, in some instances, their safety for the sake of their careers. And GODDAMNIT it's got to stop. Women should be able to online shop on their phones, discreetly and under the table, during another useless department meeting without their bosses saying something inappropriate about their outfits. Women should be able to job search and network and see if their ex's new girlfriend has a better salary than them without being f*cking romantically propositioned in the process. This is 2018, for god's sake! Men, do better. 
So, in conclusion, men are still trash and apparently so is your favorite networking site. Stay vigilant, ladies.
For more important career advice, pre-order our third book, When's Happy Hour? here!
IMAGES: Giphy (2); @rawpixel /Unsplash (1)
This Psycho Internet Writer Is Jealous Of Her Fiancé's Prom Date
Well folks, it happened again. Some silly fool wrote a bad think piece (question: does it count as a "think piece" if no thought went into it?) and now it is the solemn duty of every breathing person to roast them. The think piece in question, entitled "You May Have Worn The Prom Dress With Him, But I Get To Wear The Wedding Dress" and written by blogger/living embodiment of the other woman in The Parent Trap Victoria Higgins, is about that age-old feeling of being such a nightmare as a person that you're legit mad at your fiancé for going to prom. We've all been there.
Let's break this down, stupid paragraph by stupid paragraph:
"High school seems like the best time of your life when you are in it. You think that all of your friends will be with you until the end, and that you will end up with whoever you are dating your senior year. For very few, that might just be the case. For all others, that is far from true."
So, from the very first sentence we know this article is going to be what we in the media biz call "a steaming pile of dog shit." Does high school seem like the best time when you are in it? I feel like the conventional wisdom on high school is that it seems like the worst time when you are in it, unless Victoria Higgins is one of the 1% of people who peaked in 10th grade. TBH, that seems very likely here.
"I wish I could say that I am sorry it didn't work out for you, but I can't. I can't because he is mine now, and I get to cherish him forever. You didn't do that right, and you were not meant to be together. You will find someone too, but I am happy that you were not the one for him."
Oh Lord, okay. So, first of all, what evidence do you have that this mysterious previous prom date gives all of two shits that you're marrying someone she danced to "Get Low" with four years ago? After reading this paragraph, I am 100% sure that the prom date in question dumped this guy for having a weird penis in 2013 and never interacted with him again until she liked his wedding announcement on Facebook, sending Victoria Higgins into the rage spiral that is this article. Convince me otherwise.
"I wish I could say that I am sorry it didn't work out for you, but I can't. I can't because he is mine now, and I get to cherish him forever. You didn't do that right, and you were not meant to be together. You will find someone too, but I am happy that you were not the one for him."
"He is mine now!" Victoria declared, stepping into a suit made of her fiancé's flesh, while Paramore's "Misery Business" blared in the background. "I will cherish him forever!" She shrieked, donning a cap made of his eyelashes. "I AM HAPPY!!!!!"
"Sometimes I have issues with jealousy…"
OKAY STOP. STOP RIGHT THERE. This right here should be the title of your article. In fact, it should be the entirety of your article. And instead of an article, it should just be a thought that you express to your therapist. End of notes.
"…I hate that you got all of the high school stuff with him. You got to go to games and support him. It kills me that I couldn't be there for him because I know I would have actually been there wholeheartedly. I would have done it out of love, not as a popularity appearance."


JK I have some more notes. So as far as I can tell, the bride-to-be is just mad that she didn't go to her fiancé's high school. That's literally just how most relationships work. "I didn't know you when you had acne and got boners from a light breeze, HOW WILL WE REAR A CHILD?"
Again, what evidence do we have that said prom date regrets her relationship with your fiancé at all? Did she go to his games as a "popularity appearance"? Maybe. She was in high school. High schoolers do all sorts of shit for popularity. Need I remind you that earlier this year they were literally eating TidePods for the 'Gram?
"I hate that you got to go to all of the school dances with him. He got to see you all dressed up and probably told you how great you looked. I'm sure you did look great. Prom dresses were always fun to pick out and so colorful. It was exciting to match colors with your date. I am sure you had fun choosing his matching tux to your dress."
So like, did Victoria Higgins go to prom? Has she ever dated anyone apart from her current fiancé? What does she think goes on at school dances that is so magical?
Victoria, darling, here's what probably went down between your boyfriend and this girl: She picked out whatever dress she wanted and then told his mom what color it was and his mom bought him a pocket square that matched, the two of them spent too much money on a party bus, took shots of Burnetts in the bathroom, danced to top 40s hits, fingered each other, and went home because one or both of them has strict parents. Is that really what you want? Is this the life you desire?
"I find myself getting jealous, but then I stop…"
Nope. No you don't. No evidence of stopping to be found.
"…I am getting to match his tux with our wedding colors. I got to go dress shopping in a sea of white, and he doesn't get to know one detail about that dress yet. He will get to see me walk down the aisle and then every day forever. I get to love him forever."
"I get to love him forever. Every day forever. Forever. Forever. Forever." — Victoria Higgins to her fiancé's lifeless corpse as she buries him under the floorboards.
"I try to not get jealous of all of the things you got with him…"
Try harder, honey.
"…because it is all in the past. You had your time, and now I get the wedding. You got to dress up in high school, but I get to dress up for my wedding with him. He may have put a corsage on your wrist, but he will be putting the wedding ring on my finger."
"I get the wedding." — BITCH NOBODY SAID THEY WANTED YOUR DAMN WEDDING. It's not "the" wedding. It's "a" wedding. Whoever this prom date is can also get married at any time, if she so chooses. Then she will have both worn a wedding dress *and* sloppily made out with your boyfriend to the latest Rihanna single until some nearby parent pulled them apart. She literally can have both. Unless you show up at her wedding and light her on fire, which I'm 90% sure you're already planning to do.

So, after reading whatever this is, I took a 10 minute detox and promptly got to Googling Victoria Higgins and, surprise surprise, this is not the first stupid thought she's had. In fact, she is an encyclopedia of bad takes and stupid thoughts.

Her other essays include titles such as, "A Thank You To The Girls Who Didn't Love Him Right", (are we sensing a pattern here?) and "To Those Who Think I Am Too Young For Marriage" (you are) and "Thank You To My Future In-Laws For Giving Me My Person" (tack "To Kill" on the end of that one and it'd be more accurate).

Vicky, if you're reading this, get thee to a therapist. Prom Date, if you're reading this, get thee to legal zoom and then get thee a restraining order. Fiancé, if you're reading this, TBH I'm just glad your future wife lets you have reading materials in the basement where she keeps you.

PSA: It's Weird For Your Mom To Be Your Best Friend

We here at Betches celebrate moms. Moms are great to talk shit with. They always take your side. And, most importantly, they gave us at least 50% of our current beauty. But just like all things that are great—like cheese and my regular coke binge—limits are key. It's great to be close with your mom, but you've got to have boundaries. Otherwise it's just plain weird. And that's why I'm here, to write a response piece to an article I read called "My Mom Is My Best Friend And That Is More Than Ok." I, a random Betches writer with literally no personal interest in the matter and who doesn't even know you, am here to tell you that no, it's not okay—it's fucking weird.

Literally the first words of this piece are "Thank you for being the Lorelai to my Rory," so I was already suppressing my gag reflex to begin with.

Things did not get any better for me when I came across passages like:
"Many people can see this as a bad thing or that it means that your mom is your only friend, but that is far from the truth."
Okay, I am down with the whole "mom as a friend" idea to an extent—which we'll get to later—but your ONLY friend? Honey, that is concerning. You need to have friends your own age, and you need to have friends that aren't basically required by virtue of being related to you/having housed you in their womb to be your friend.
Like, if your mom is your ONLY friend in the entire world it means either of a few scenarios are possible. 1) You just moved, which, okay we'll cut you some slack, Squid. 2) You can't relate to people your own age which indicates that you should stop watching Oxygen and go to a party or something. 3) You just suck as a person so nobody who doesn't have to be your friend will. Both the latter two options are troubling, to say the least. If you have ZERO friends other than the woman who carried you in her uterus for nine months, it's time to look at your life, look at your choices.

"I may have seemed unappreciative growing up, but truthfully I just did not appreciate you enough."
That … that is literally what unappreciative means.
"My mom is always the first person I call in the morning and the last person I call at night."
Oh, so you're one of THOSE. Look, I'm sorry, but between the time you called your mom at night, slept, and woke up, what could have possibly happened in your life that you need to fill your mom in on? Did you have a bad dream? Sorry, but seeing as you're not Martin Luther King Jr., literally nobody cares. Not even your mom. Yeah, I said it.
"She knows all there is to know about my life and I would not want it any other way."
See, this, this right here is the problem. Is it great if you're close to your mom? Yes. Sure. By all means, have a ball. Should your mom know ALL THERE IS TO KNOW about your life? Hell to the no! It's all about BOUNDARIES. Say it with me now. For instance, it's cool to tell your mom you went out on a date. It's even fine to tell her you met your date on Tinder. It's NOT cool to tell your mom you and said Tinder date met up in an Kroger parking lot and you sucked his dick in the backseat of his car. I'm using a completely random and made-up example for illustrative purposes, obviously.

See what I mean? If your mom really and truly knows every detail about your life it means there's something wrong with the both of you. Like, my parents love me and are interested in my life and all, but when they asked me what I was doing last Saturday night, they didn't really want to know what I was actually doing, which was mixing vodka and Adderall emotions at a lingerie party in Brooklyn. They just wanted to know that I was going out with some friends. Both statements are technically true, but only one allows me to keep my inheritance. Feel me?
In short, if your mom is really your best friend, it's fucking weird, and I don't think it means what you think it means. I tell my mom about 20% of what I tell my ACTUAL best friends (sorry, Mom). If you think of you and your mom like Rory and Lorelai Gilmore, there's probably something wrong. Then again, I never watched Gilmore Girls. 
Appropriately Distant Kisses,
The Betches
United Airlines' Leggings Ban Isn't Even The Worst Thing They've Done Recently
As anyone with even a casual attachment to Twitter already knows, United Airlines got into deep shit this weekend after forcing two young girls, one of whom was only 10 years old, to change out of leggings before boarding the flight. The girls, who were flying on free employee passes, were deemed too slutty to board, as per United's dress code for pass riders. Predictably, feminist Twitter flipped the fuck out, as women everywhere were triggered into remembering the first of many times they were forced to change by school officials who decided their arms/legs/shoulders/clavicles/whatever were far too tempting for the impressionable men around them to concentrate on their important man-tasks. United's response was basically to throw two fingers in the air and tell the world that if 10-year-olds wanna ride fo' free, then those 10-year-olds need to step up their fashion game. A bold stance.
The passengers this morning were United pass riders who were not in compliance with our dress code policy for company benefit travel.

— United (@united) March 26, 2017
Now there is a debate here over whether or not the parents should have been more attentive to the dress code, and what United should or should not have done. A lot of frequent pass riders are saying this dress code is well known, and the girls should have known that such sinful, form-fitting attire would not be permitted. Others are appalled, not just at the fact that two children were slut shamed in front of an entire airplane, but also at the suggestion that anyone would wear anything other than leggings during air travel. You want me wearing pants? Like with a button and a zipper and shit? On a plane? Hard pass.
But like I said, that conversation is already happening all over Twitter. If you want to read about it, just check United's mentions and go to fucking town. It's all there. I'm not here to talk about that, and I'm certainly not here to get into the extremely divisive "are leggings pants?" debate. I don't need the death threats. What I am here to say is this:
United fucking sucks as an airline. And I know from experience. 
Over the new year I flew from D.C. to Wisconsin to Chicago to Denver, then from Denver to Chicago to NYC, all on United. It was a risk, but the prices were good and the times were right so I said what could go wrong? Everything, apparently. 
Being that I, like every modern woman, have an anxiety disorder, I don't like to check my bag. What if they lose all my shit? I need all my shit. My vibrator is in there. All my Christmas presents are in there. What kind of life would I lead without my vibrator and Christmas presents? I don't want to know. That's why my travel/baggage motto is always "Keep Calm and Carry On." The "calm" brought to you by Xanax. Ty.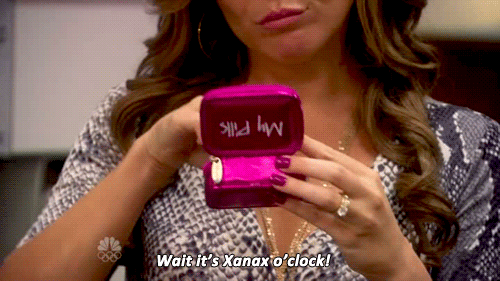 From Wisconsin to Denver, I volunteered to gate check my bag because the gate attendant was asking for volunteers and I'm a literally incredible person who was overtaken by the Christmas spirit. This detail would later be used against me, so fuck trying to be a nice person. Never again.
Cut to my return flight from Chicago to NYC. The flight is delayed two hours, which makes sense because it's snowing a lot. I'm not bothered. I'd eaten like, a large amount of edible chocolates plus the Xanax so as far as I was concerned Chicago's O'Hare airport was as comfortable as my own damn bed. I'm very chill.

Someone who is distinctly not very chill is our gate attendant. He is continually making announcements about how the plane is "being held in the terminal for no reason" and how the pilot "has no idea what he's doing." Not something that you want to hear about the person who is going to be behind the wheel of your sky-car, but again, I am heavily sedated and it would take nothing short of a terrorist attack to get me to feel anything but warm and slightly sleepy. Little did I know, the gate attendant would soon reveal himself to be my personal Osama Bin Laden.
Is that too extreme? Maybe. But I stand by it.
Finally, we are boarding. Things are going fine. I go up to get on the plane and come face to face with Angry Gate Attendant. He takes one look at me and yells "WELL I GUESS I HAVE TO CHECK YOUR ENORMOUS BAG."
I pause. Surely he's not talking about me? Me who has carried my bag on 4 out of 5 flights? Me who gate checked just recently out of the kindness of my own heart? Me who is existing in a bubble of chill vibes? No way. No fucking way.
So I say something to the effect of, "Oh really? I carried this on all my other flights."
Here's where being a good person comes to bite me in the ass. He snatches up the ticket that's still stuck to my bag from when I gate checked and says "Clearly you didn't!" and grabs my bag from me. He stands in between me and my vibrator.

I tell him again that yes I did carry on my bag previously, but it's fine, I'll gate check it, and I turn to leave. Next thing I know this dude is running after me, screaming "MA'AM! MA'AM!" he grabs the bag from me and drags me out to the line. He then tells me that I "appear to think in the wrong" and that if I want to get on the plane, I have to stand in front of the line and admit that he is "right in his assessment of the size of my bag."
Deadass. This dude wants me to declare him right and myself wrong, in public, before all of the people in boarding group 4, before I am allowed to board the plane. At this point, my Xanax and edibles combination is turning against me. I start crying immediately. Big, wet, "I'm fucked up on drugs" tears. Ya'll know what I'm talking about.

So, I mean, I do it. I announce to the airport that I am wrong about the size of my bag. That my bag is actually very large. Far too large to ever be allowed on a plane. I must have dreamed that I carried the bag on my other flights. In fact, I didn't dream it. I made it up. Purposely. To sabotage Chicago O'Hare airport and Angry Gate Attendant personally, because I'm jealous. I'm jealous of the airport. I'm jealous of Gate Hitler. I'm a jealous, messy bitch, and I'm deeply sorry.
As a result, my flight was less than ideal. We arrive in NYC at 2am and all I want to do is get my bag and GTFO. But my bag never comes.
For those of you who have never experienced the horror that is watching every single person on your flight pick up their bag until the carousel is empty and your life flashes before your eyes, you're lucky. It's like, getting your period when you weren't expecting to x1000 and all your Christmas presents are gone. The now drunken Xanax-and-edible tears start back up again, and do not stop until I am safely in my bed, again, sans vibrator.

My bag and I were eventually reunited 48 hours later, when a random man delivered them to my apartment at 2am. I didn't even get a free voucher or an apology or a separate bag with the gate attendant's head in it or anything. And before you ask, of course I sent a thousand angry DMs to United's customer service account. It's 2017. Getting pissed off at companies on Twitter is like, a human right. Whoever runs their account apologized for the gate attendant's behavior, but again, I've yet to receive an invitation to his funeral, so I am not satisfied. 

All this is to say, leggings or no leggings, United fucking sucks. Their gate attendants are mean, and they clearly have issues with normalizing their policies across airports. My athleisured ass will be flying Southwest from here on out. Or maybe Jetblue. Or even—dare I say—Virgin. That's right, I'd rather watch their truly insane in-flight safety video before every single one of my connecting flights than step foot on a United plane ever again. And that's really saying something, because this shit is pretty fucking extra: