UPDATED: This College Student Found A Strange Man Hiding In Her Closet
When I think of my college living arrangements, there are a few things I miss (not paying rent, being a 10-minute walk from everything I ever needed), and a few things I don't miss (campus security stealing my bong, mostly). Of course, some people have legitimately traumatic experiences with campus living, and I'm not even talking about getting stuck with a roommate who won't shower. Just this week, Maddie, a junior at University of North Carolina at Greensboro, found a random man hiding in her closet. I'm barely okay with watching fictional crime shows about break-ins, so I can't imagine how these girls are holding up. Here's what we know about this batsh*t crazy situation so far.
Before they actually discovered the man in their apartment, the girls had noticed a few small things. First, some of their clothes were missing—but given that they lived with several other girls and probably stole each other's sh*t all the time, I doubt this was that alarming. Next, they noticed "handprints on the bathroom wall." Again, not great—but not sure I'd immediately call the cops. I mean, we've all done weird things when drunk. Maddie (the one who actually found the man in her closet) told Fox 8 that they suspected a ghost. Yeah, that's the likely option. How good was this guy at hiding that they suspected a ghost before a human intruder? Or are they just obsessed with American Horror Story?
How they opted to handle the situation: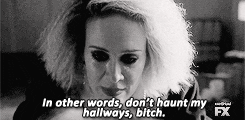 Obviously, it was decidedly not a ghost, which Maddie found out the hard way. She told the following to Fox 8: "I just hear rattling in my closet. It sounded like a raccoon in my closet." When Maddie goes on to ask "who's there," as all white people in horror movies do instead of just running away and calling the cops, the intruder answers, as though they're besties already, "me." A second later, he realizes Maddie has no idea who the f*ck he is and follows up with "oh, my name is Drew."
Umm, okay Drew. This girl might need a bit more of an introduction considered she just learned a stranger was hiding in her closet. You're not introducing yourself to her at a bar, for goodness sake!
At this point, Maddie might've still assumed it was a drunk, entitled frat kid who somehow wandered his way into her closet. But when she opened the door, she found Andrew Swofford, 30—decidedly not a college student, both wearing and holding a bag full of her clothing. Maddie, exhibiting a heroic level of calm, called her boyfriend to come over and stayed with Swofford in the mean time. I think I speak for all of us when I say, girl, WHAT?! You found out a man was in your closet and wearing your clothes and your first response was to stay there and chat?? Wow. And here we all are, tagging each other in memes about wanting to die—Maddie is really living that life.
UNCG student thought there was a ghost in her apartment, but it was a man living in her closet and wearing her clothes https://t.co/WR3EXmIuvW pic.twitter.com/7MkLFINJdD

— FOX8 WGHP (@myfox8) February 4, 2019

Maddie reports that Swofford "started to try on one of her hats," and went to the bathroom to look in the mirror. The tone seems absurdly friendly: "You're really pretty, can I give you a hug?" Swofford asks at one point. (Maddie assures Fox 8 he never touched her.)
Swofford, trying to Mean Girls his way out of this: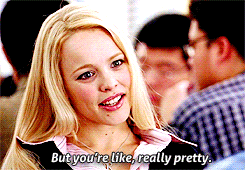 Swofford is now facing 14 felonies: identity theft, larceny, and possessing stolen goods, among others. In a shocking twist, Maddie revealed that their apartment has been broken into before. A few months back, the roommates found "two strange men in their living room." Maddie insists "their doors are always locked," and has no idea how this keeps happening. Well, I think there are two very easy and very likely theories as to why your apartment keeps getting broken into. Theory 1: the locks do not work! Change them. Theory 2: there are non-door points of entry that need to be sealed up. I would have also invested in an alarm system like, yesterday. I understand being new to the whole "living on your own" thing, but Jesus Christ. How many bed intruders does it take before you think "maybe I should do something about this"?
On a slightly more serious note, it sounds like Swofford may be in need of psychiatric help, and I hope he gets it. But for Maddie, who still appears to be sleeping in that apartment and complains that her room has a "bad vibe:" there is only one move when you find a man hiding in your closet, and it's to get the f*ck out.
Update: An earlier version of this article stated Swofford was living in the closet for an extended period of time. This is incorrect, and we have amended the article to reflect that.
If you're obsessed with true crime, listen to Not Another True Crime Podcast and follow it on Instagram.
Images: Giphy (2); myfox8 / Twitter; Lifetime
This Guy Who Scammed His Friends & Family Out Of $750K Is The New Billy McFarland
It's almost Super Bowl Sunday, and we all know what that means. For most of America, it's time to throw on your favorite jersey, scream at your TV, and eat your body weight in wings for a few hours. For Georgia businessman Ketan Shah, however, it's time to pull off a months-long Super Bowl scam, hustling friends and family out of $750K for Super Bowl tickets, and then skipping town. (Hmm, what's that? A well-to-do businessman taking money from people who trust him for an experience he can't deliver? Where on earth have we heard that before?)

According to WSBTV2 in Atlanta, Shah owns a digital printing shop and "sits on numerous community boards" in Gwinnett County. He had a "squeaky-clean" business reputation—as all victims of this alleged scam point out—and was generally a well-regarded, active member of the community. Back in November, Shah began collecting payments from these community members, promising them "one hundred level seating," "access to the concierge lounge and a few pre-parties," and in one case, "a chance to host an arena Super Bowl event." Mutual friends and acquaintances started sending Shah down payments, and Shah's own mother gave him $36,0000. When the time came to deliver on his promises, the victims claim Shah disappeared.
Now, at this point in a normal internet scam, McFarland Shah could've just gone dark: stopped responding to emails, blocked all calls, and done his best to make himself untraceable. But since he was literally stealing from friends and family, Shah took it a step further and just f*cking took off, leaving his poor wife, Bhavi, to deal with the consequences. (A woman cleaning up the mess a man created? Where have we heard THAT before?) According to Bhavi Shah, she had no idea her husband was selling Super Bowl tickets. As another fun surprise, Bhavi also discovered after her husband's disappearance that he had taken out a half-million dollar loan against the business. Wait—you're telling me this guy is both financially troubled AND a terrible husband? Color me shocked.
View this post on Instagram
Currently, Bhavi maintains that she has no idea where her husband is, adding that he's been "roaming all over the town." Ketan Shah's family suspects he went to Vegas "as part of a midlife crisis," but it's unclear whether he's there now. Gwinnett County investigators have said "they want to hear his side of the story," adding that "it's a very odd situation that you would take people this close to you and scam this kind of money." I mean, maybe in 2015 it was an unusual situation, but I'd say it's a growingly popular move nowadays, when 90% of old high school classmates reaching out to you via Facebook are trying to involve you in some kind of pyramid scheme.
Whenever Shah chooses to reappear, the police department seems to have plenty to go on to charge him. His victims have gone to numerous police departments, as well as the FBI, with even Shah's mother reporting her $36,000 loss to the police. (She didn't press charges—or anyway, didn't press charges YET. I'm holding out hope.) In the meantime, his friends and family will be left wondering whether any American businessmen can still be trusted (no). And hopefully, asking themselves why they were ever willing to spend upwards of $20,000 to attend a sporting event. As we dive into this Super Bowl Sunday, let's all be grateful for not having sons who rob us, and remember to do your research when putting down money for something that sounds too good to be true. In 2019, it probably is.
View this post on Instagram
Images: tenor; Giphy; girlwithnojob, sodawaterpls / Instagram
The Viral GoFundMe That Raised $400K For A Homeless Vet Was A Scam
Does everyone remember the homeless vet GoFundMe campaign from last year? Good, me neither. Usually, stories described as "heartwarming" don't appear in my feed because of who I am as a person. But the story that this campaign was actually allegedly run by three scammers who made up every detail, though? Yeah, you better believe I was the target audience for that kind of groundbreaking news.
As someone who is both financially and morally bankrupt, I can't help but love a good scamming story. This one has it all—the compassion of trifling fools charitable strangers, incriminating texts, and even the alleged scammers turning on each other. Read on for what Vice calls, "another example of how our world is a dark and depressing place," and what I'm calling a how-to guide for gaming the world of online fundraising. Just kidding! (Or am I?)
The Original GoFundMe
Back in September 2017, Kate McClure started a GoFundMe. Apparently, she'd gotten stranded in Philadelphia, and encountered a homeless veteran named Johnny Bobbitt. She claims that Bobbitt spent his last $20 to buy her gas. McClure and her boyfriend, Mark D'Amico, decided that "all Johnny one little break," and with that thought, they started a GoFundMe campaign.
Their initial goal was set at $10,000, but people are such suckers the story got so much media attention that they ended up raising over $400,000. Cute, right? Hah. This is America, people. You gotta know there's a twist coming. Especially with a hook as wholesome as a homeless vet GoFundMe page.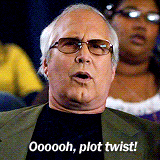 Johnny Bobbitt's Lawsuit
In August, the headlines about this started getting weird. Bobbitt, the vet they were allegedly raising money for, turned around and sued McClure and D'Amico. He alleged that they had taken over $200K for themselves. Bobbitt claimed that McClure had initially provided him with food, clothing, and cash. Yet the bulk of the money donated to the GoFundMe campaign never came his way. He was even back on the streets. Bobbitt then alleged that the couple was using those funds as a "personal piggy bank to fund a lifestyle that they could not otherwise afford." The fact that this is precisely how I used my parents' credit card in college is neither here nor there.
The couple responded to the lawsuit by claiming that they were withholding the remaining funds until Bobbitt—who struggles with drug addiction and has been in and out of rehab several times—got clean. They further claimed to have set up two trusts in Bobbitt's name, providing him a small salary, retirement funds, and investment funds to be overseen by a financial planner. D'Amico popped off even further, claiming he would rather "burn in front of him" than hand it over, given Bobbitt's situation. Way harsh, Tai.
He also apparently hoped to get a book deal out of this whole situation. He pitched the title "No Good Deed" for said memoir while the lawsuit was ongoing, to further the whole "white knight being victimized" thing he had going. Unsurprisingly, the trusts they claimed to have established for Bobbitt did not exist.
The Alleged Scam Revealed
Ultimately, Bobbitt's lawsuit had the exact opposite effect of what he hoped. Not only did news coverage do little beyond painting him as an erratic, ungrateful drug addict, but the subsequent investigation led to this week's revelation. The entire GoFundMe was allegedly an elaborate scam—and Bobbitt himself was in on it. Prosecutors say that "every shred" of the campaign was a lie. This includes the initial charming anecdote about Bobbitt spending his last $20.
Text message evidence between McClure and her friend proves that less than an hour after the campaign went live, McClure wrote, "Ok, so wait, the gas part is completely made up but the guy isn't. I had to make something up to make people feel bad." And that, my friends, is why I don't give to charity. I'M KIDDING. But always, stay on your toes—evil is real and walks among us.
For those of you saying: "But wait! Who cares if she made up a detail if the guy is real," I have some further bad news. This was not an innocent-white-lie-to-serve-a-greater-good kind of situation. McClure and D'Amico allegedly had no intention of using the money to help Bobbitt.
In fact, all of the money is now gone. And the couple spent most of it. Some of the purchases that ABC News lists include luxury handbags, a New Year's trip to Vegas, a BMW, and over $85,000 worth of ATM withdrawals "at or near casinos in Atlantic City, Philadelphia, and Las Vegas." Yeah, these are not people who started a homeless veteran GoFundMe page in good faith.
When the prosecutors confront them with this evidence: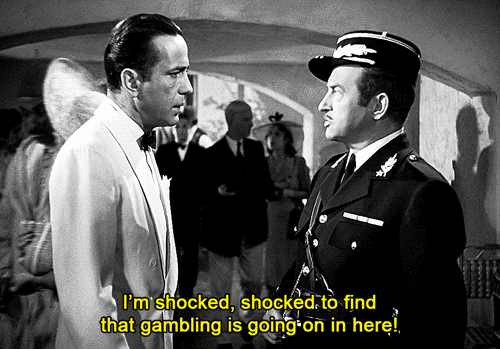 While Bobbitt's exact involvement in hatching the scheme is unclear, prosecutors have uncovered a Facebook post he made back in 2012. In this post, he tells a very similar story to the one shared on the GoFundMe page. A woman ran out of gas, he spent his last few dollars to help her, and so on. Interesting.
The Criminal Charges
Back in September, the Burlington County Prosecutor's office raided McClure and D'Amico's home. Many of their possessions (including the BMW) were seized. On Wednesday, McClure and D'Amico turned themselves in to prosecutors, they've since been released. Bobbitt was arrested later that night on charges of "being a fugitive from justice." All three are being charged with second-degree theft by deception, as well as conspiracy to commit theft by deception.
According to ABC News, the New Jersey couple is facing five to ten years in prison if convicted. Bobbitt, on the other hand, will be extradited to Burlington County to face his charges. And in a final poetic turn, the couple will appear in court on Christmas Eve.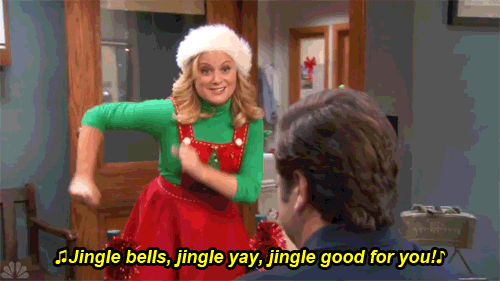 Others typically view scamming stories like this as a sign of humanity's decline. But I feel like I already knew that most people are self-serving assholes! So, it doesn't quite shake me to my core when I find out that one more person shamelessly stole for their own gain. Ultimately, it's nice to know that a charitably minded GoFundMe page could be effective. But that is, of course, if the story is aw-shucks enough to get its peddlers on Good Morning America (like these three were).
On the other hand, it's yet another reminder that the internet world is a shady place. It's all too easy to sell people on outright fabrications. I don't really have any advice on how to counter that. I just want to make sure we're all appropriately spooked about the state of the world. And with that, enjoy your weekend.
Are you obsessed with scams, cults, conspiracies, and true crime? Listen to Not Another True Crime Podcast! New episodes drop NOVEMBER 19TH!!
Images: Sharon McCutcheon/Unsplash; Giphy (4)
You Need To Read About The 'Vogue' Scammer Who Allegedly Stole $50K
Even though being at work today feels like coming in on a Saturday, I actually have some good news. We have a new addition to the summer of scamming: Yvonne Bannigan.  Accused of stealing over $50,000, the 25-year-old former Vogue staffer has confirmed what we all suspected. Low-level employees at fashion magazines are America's next criminal class not to be trusted. (Remember that Anna Delvey also started out at Purple.) Honestly, if The Devil Wears Prada was any indication, the world of fashion is a high-stress environment. I'm not surprised a few people snapped. And by snapped, I of course mean started rampantly using other people's money as their own. Let's dig in to this story.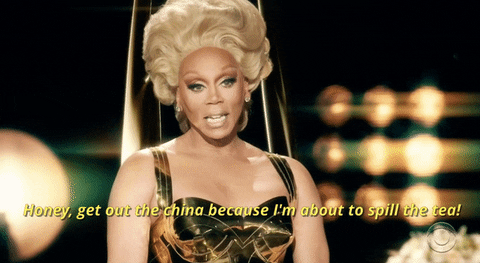 Yvonne Bannigan, 25, is the former assistant of Vogue creative director and—*Tyra voice*—living legend Grace Coddington. While snagging that job is impressive, Bannigan wasn't really on anyone's radar until her arrest in April. And she wasn't on my radar until I discovered her in a scammer withdrawal-induced Google search. Anyway, Yvonne Bannigan was charged with stealing over $50,000 from Coddington, with further allegations that she stole Coddington's property and sold it on the online consignment store TheRealReal. You know, the site we told you to go on to get designer clothes for cheap. (A recommendation I stand by if the site is selling Coddington-level goods, FYI.) These sales allegedly netted a $9,000 commission for Bannigan. The other allegedly stolen $50K is just in charges to Coddington's credit card.
Me rn: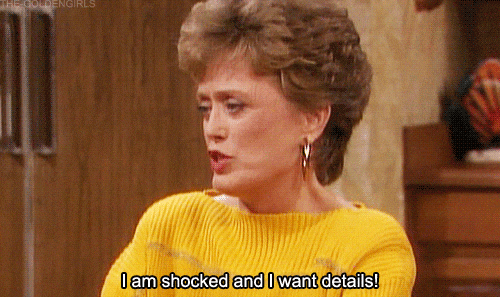 Sadly, unlike with Anna Delvey, no one seems to know how Yvonne Bannigan allegedly spent that $50K. We already know we have a second fashion-mag scammer, but did they both use the money for shopping sprees and hotel suites? Did they go to the same parties and nod at each other in scammer-to-scammer recognition? Do they both wear Supreme??? These are the important questions, people.
Also sadly, Bannigan has not commented (on Instagram or otherwise) on the charges. While Anna Delvey is still spouting an alarming amount of nonsense, Bannigan seems uninterested in preserving any kind of reputation. Her lawyer has commented that this is all a "misunderstanding," which TBH was my line every time my parents were unhappy with my credit card charges too. How does one "misunderstand" $50,000?? That's what I want to know.
So, why do we keep getting scammers like Delvey and Bannigan? For one, I am convinced fashion magazines are breeding grounds for evil, as discussed. But there's also the fact that any young girl thrown into a highly moneyed, fashionable world like Vogue will feel pressure to keep up.  And in a country where student loans can haunt you into old age, and the president's economic world views can be summed up as "I've never paid taxes and don't intend to start," things like "working hard" and "honest money" don't really seem like viable ways to get ahead. If you're still not getting the zeitgeist here, go watch The Bling Ring and maybe Ingrid Goes West a few more times. It'll start to click, I promise. In the meantime, I'll be here in my Not Not A Grifter tee hunting for leftover Coddington pieces on TheRealReal. Don't @ me, I didn't steal them!
Images: Giphy (3)
This Story About A Fake Socialite Who Scammed All Of New York Is Wild
Fans of Gossip Girl and/or The Bling Ring, you are in luck. Over the past few months, the story of the first big "scammin' for the 'Gram" con artist has come out, and it is wild. I'm already excited for the movie. Here's the story. On the surface, Anna Delvey (born Sorokin, age 27) is basically everyone you follow on Instagram. She was rich, she always dressed in designer clothes, and she frequented restaurants whose entrées cost more than your rent. She also happened to be a massive fucking fraud (allegedly), and is currently in jail on charges of alleged grand larceny and theft of services. So, how did this complete rando casually adopt the lifestyle of a Kardashian? (No, this is not a how-to guide. Note the part where she's in jail.) Let's take a look. The Cut did an amazing job reporting on it, and you should definitely read the complete story, but if you don't have time to read it all right now but don't want to sound stupid at happy hour when literally everyone is talking about it, here's our shorter breakdown for you to read first.
What Did Anna Delvey Do?
What's sad/brilliant is how fucking easy it all sounds. Anna shows up with her "ambiguously accented" English, giant Céline sunnies, and a seemingly endless supply of cash. Naturally, people fall all over themselves to befriend this assumed trust fund baby. They spend a few months enjoying extravagant gifts, dinners, and weekend getaways—until Anna's credit card "stops working," and someone needs to cover the bill.
In total, Anna allegedly scammed an estimated $275,000, including at least $50,000 in unpaid NYC hotel fees alone. Am I appalled for the individuals Delvey ripped off? Absolutely. Am I the tiniest bit impressed at her innate gift for spending money like a billionaire? Um, yeah. The list of Delvey's purchases—not including the thousands on airfare, hotels, and decadent vacations—covers a $3,500 private jet rental, multiple Tesla rentals, $4,500 personal training sessions, Gucci sandals, Alexander Wang leggings, Supreme hoodies, $800 highlights, $400 eyelash extensions, cryotherapy, multiple iPhones, and a case of 1975 Dom Perignon. Wait, is this my Pinterest page or someone's rap sheet? V confusing.
Actual footage of Delvey walking through her hotel lobby: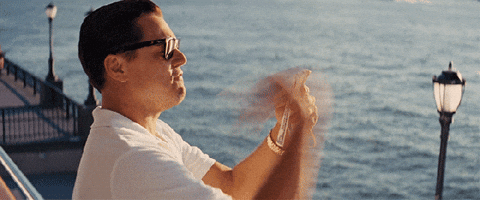 So, Who TF Was This Girl?
As for the origin story of Anna Delvey, we know she grew up in Russia, went to school in Germany/London, and then got an internship in Paris at Purple magazine. As I assume happens to most people who intern at fashion magazines in Paris, this is where Anna took a turn into becoming a horrible person. The next few years of her life are hazy, but basically she emerges into New York's social scene. By 2013, she was a Fashion Week regular, attended "all the best parties," hosted celebrity dinners with random guests like Macaulay Culkin and Martin Shkreli, and was, as one acquaintance put it, part of "the 200 or so people you see everywhere." Delvey was reportedly not, as you might expect, "superhot…or super-charming; she wasn't even very nice." All that mattered was that she was in the right places, wearing the right clothes, and appearing to spend the right amount of money.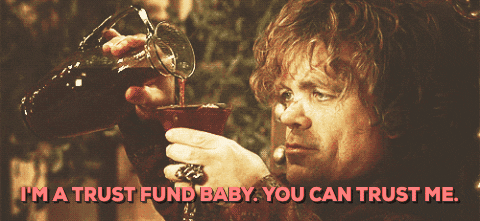 Why Did No One Stop Her?
The big question, obviously, is how she kept the alleged scam up so long. At the rate she was burning money, the fact that she didn't have the capital to back it up definitely should have come up sooner. And the reason it didn't is definitely not because she had an airtight story or was particularly good at lying. To begin with, this girl was claiming to be a German heiress without really speaking German. As this Independent article points out (a little too gleefully IMO—we get it, Americans are dumb), "a quick quiz in German could have cleared it all up very speedily." But honestly, no one who was around Delvey had any interest in finding out if her story was fake—people just wanted her to keep buying shit, trusting that the payment would eventually come through.
As for how she covered it when payment didn't come through—which was often—Delvey allegedly claimed unsuccessful wire transfers from a (nonexistent) trust fund in Germany. She also reportedly fabricated a financial adviser named Peter W. Hennecke who corresponded on her behalf when she attempted to get a loan of $25 to $35 million from various banks. The phone number associated with Hennecke was found to be a burner from a supermarket, his email was an AOL account, and when people started asking questions, Delvey literally pretended Hennecke had died. I cannot make this up. Ultimately, her debts caught up to her, and she was arrested outside rehab facility Passages in Malibu. How very Lohan of her.

What's She Doing Now?
As mentioned, Delvey is currently in jail, a turn of events she's taken surprisingly well. "People seem to think it's horrible," Delvey says about literal prison, "but I see it as like, this sociological experiment." Many quotes from Delvey's time in jail give me pause, like when she marvels over her cellmates' accounts of identity theft ("I didn't realize it was so easy"), and the tidbit that "the murderers were the most interesting to her."
Essentially, this girl is troubled—a fact equally on display in her still-existing Instagram account, which features terrible selfies interspersed with pictures of literally blank white space. Also, most of the comments on these pictures are from clearly fake accounts, with 5-10 posting the same comment verbatim within minutes. This is not the Instagram account of someone who is okay. If there's a lesson to learn here, it's that owning designer athleisure and keeping a stack of $100 bills handy is a great way to convince people you have a trust fund. Seriously though, it's an extreme example of how the Instagram existence we crave is more often than not an illusion, specifically designed to blind people with displays of money while obscuring the reality underneath. Maybe if we were less desperate to make our lives LOOK wealthy and fabulous, we wouldn't be so eager to believe someone like Delvey, who displayed more than a few red flags. And maybe we could stop breeding criminals whose primary goal is to spend more money on bottle service and sweatpants from Supreme. Just a thought.
Images: Giphy (5)
Stassi Made Crazy Allegations Against Faith & Now She's Getting Sued
Happy Monday, everyone! Stassi Schroeder of Vanderpump Rules is may be getting sued for some shit she said on a podcast—and no, not the time she referred to the #MeToo movement as a "male witch hunt." Or the time she said she was "tired" of people of color talking about race. Against the advice of everyone with a grasp on logic and a desire to see Stassi succeed, Stassi went on another podcast, The Bitch Bible, and proceeded to fuck herself over yet again. This time, she accused ex-VPR cast member Faith Stowers of stealing "over $300,000 worth of stuff," and also maybe Jax's car. I'm not sure who Stassi's publicists are, but I wonder why they continue to let her appear on podcasts, including her own. This story is fucking crazy, so pop an Adderall (but stay away from the tequila) and let's get into the details of what she said.
Stassi & Kristen's "Investigation"
Stassi made a ton of claims during this podcast episode—it was honestly kind of hard to keep up. First, she says that Kristen's friend texted her saying "do you know Faith Stowers? She was out and stole my credit card." If you're thinking this sounds less than rock-solid, don't worry—the text continued to say "I know because her friend came to me and admitted it." Maybe I'm being jaded here, but I feel like it's rare for someone to walk up to you and tell you the first and last name of the person who just stole your wallet. Must be an LA thing.
Kristen, because she's Kristen, obviously goes batshit with this information. She finds a Daily Mail article covering an investigation of a woman who allegedly drugs and robs men in LA night clubs, and decides that woman is "100% Faith." All she has to go off is some grainy surveillance footage that, I guess, could be Faith, but could also be a ton of other people. Kristen and Stassi then do a bunch of psycho shit like screen shotting surveillance footage, comparing it to Faith's tagged Instagrams, and seeing if tattoo placement lines up.
hey tweeties, doesn't this ex #pumprules thief look familiar?

someone put her on mtv & gave her a platform for press. I didn't wanna go there but I'm going there. https://t.co/4682a7jyzG

— kristen doute ???? (@kristendoute) April 26, 2018
After consulting with DJ James Kennedy, they further allege that Faith (or rather, the unnamed woman in the surveillance footage they've been obsessing over who they think is Faith) is wearing Logan's jacket in the video. (Logan is James' ex-friend/spurned lover, in case you've forgotten. God, this cast is messy.)
and she's wearing Logan's jacket!

PS it was his favesies and he would really like it back. https://t.co/SnxmJdcHIo

— kristen doute ???? (@kristendoute) April 26, 2018
Once JacketGate breaks, Stassi and Kristen go full Law & Order and call the authorities. The police tells them in no uncertain terms that they don't give a shit and are not convinced, which seems like as good a time as any to stop telling people about your "findings." Or, you know, go on a podcast six months later, up to you Stass!
Listen to Benson, sweetie, she's better at this than you.

Don't Worry, There's More
Stassi, whose Adderall appears to be furiously kicking in at this point in the podcast, drops a few more bombs. She talks about how Faith was "homeless" while shooting VPR, and says that while Faith was couch surfing, Lala Kent would "plant things in her apartment to see if Faith stole it." A statement that really exclusively makes Lala look bad, but ok. Stassi then goes on to mention Jax's car being stolen the night that the Jax/Faith hookup is revealed. Again, for unknown reasons, she decides this must be Faith too.

As a parting shot, Stassi warns Faith that she has "video cameras all up in house" and "everyone is going to know it's you." First of all, unless Faith stole the car and then stashed it in Stassi's apartment, I'm not really clear on what kind of damning footage she'd have. Also, WHY do you have video cameras all over your house?? Do you watch old footage of yourself on a regular basis? Is it a sex thing? Please explain. (Actually, don't.)
Faith's Response
Unsurprisingly, Faith has a different version of events. On Wednesday, Faith went on The Tomorrow Show and announced that she's suing Stassi, supposedly using Lisa Vanderpump's legal team. On the car-stealing accusation, Faith seems just as bewildered as I am on how Stassi got from "missing car" to "Faith took it." As Faith puts it, "Jax Taylor's car magically went missing and I had to be the person that stole it." As for the other accusations, she recounts Stassi seeing the Daily Mail article, and adds that the woman pictured "was a black woman who looks nothing like me." Hmm. "I don't know if Stassi's been around a lot of black women in her life," Faith continues. "I'm guessing probably not."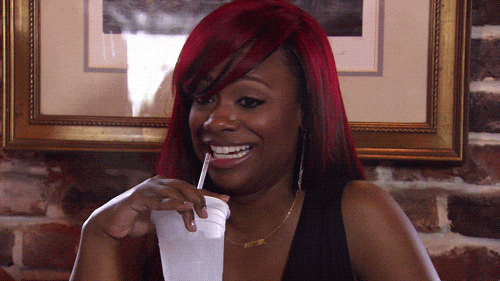 Judging from the general diversity level of VPR's cast, I'd say that's a safe assumption. Faith adds that she was "really shocked" that Stassi would associate her with the woman in the article. But notably, she refuses to label Stassi as a racist outright. "I don't want to put the 'r' word out there and say that she's racist because that can really stick with somebody," Faith says. (Despite the fact that Stassi wasn't particularly concerned about the possibility of false criminal charges sticking with Faith.) As a further insult, Faith reveals MTV "had to do a background check" because of the things Stassi said (for her new show, Ex on the Beach.) V impressed with your restraint, Faith. And good for you for getting off the toxic mess that is VPR (for the not-at-all toxic show that basically Bachelor in Paradise, but with everyone's exes). Also, I kinda think reality shows should be doing background checks in general (Chad Johnson, anyone?), but whatever.
Faith concludes by stating that she doesn't want money from this lawsuit. (I take it with a grain of salt whenever a reality star says in a TV interview that they're not doing something for the money.) She says she just wants Stassi to retract her statements, and more generally, to understand the power of her voice. "You have a reach ma'am," she says of Stassi's VPR fame, "and because you have that reach, you have a responsibility so when you say things…you make a check and you make sure they're true." As for why Stassi might be making these accusations? "Maybe she still likes Jax" is Faith's theory. Truly, the burn Stassi deserves.
Images: Twitter (2); Giphy (3)