The Best Shows And Movies Coming To Netflix In September
Sponsored by SkinnyPop
The first of the month is a tricky time, because on the one hand, I'm getting paid, but on the other, my rent is due. Luckily, my rent check doesn't manage to find its way to my landlord until around 9am, which is four hours after my direct deposit hits, so I'm rich for approximately four hours. It's the little things. Anyway, let's be real, we all love the start of a new month because it means new Netflix content, and by content, I mean the ninth season of Shameless and about 100 other shows/movies. An updated Netflix homepage is always exciting, but it's especially so in September, because it will give you something to do when your friends ask if you want to go apple picking and you realize you'd actually rather rip your eyelashes out one by one. Seriously, if Instagram didn't exist, would anyone over the age of seven go apple picking?? I digress.
Because Netflix is adding more content to their platform than my sister-in-law to her Instagram story during her bachelorette weekend, I'm going to save you some time and let y'all know which shows/movies are actually worth watching. Full disclosure, after admitting that I thought Tower Heist was a quality film back in the day, I've since been accused of having bad taste, so take this list with a grain of salt. Here we go!
'American Psycho'

Honestly, I blame my test in men on this movie. Like, why couldn't Patrick Bateman be ugly? If you haven't seen this movie, now is your moment, because it's early 2000s amazing. To sum it up, American Psycho is a documentary about mental health. Jokes! It's a thriller that, tbh, is pretty funny because it's basically Bruce Wayne's life if he didn't become Batman. Does that makes sense? All in all, this is a great movie for any occasion and if any of your friends protest, they should not be a part of your life. That's all I have to say. 
'The Walking Dead: Season 9'

Look, zombies just aren't my thing. Sorry if that offends anyone. Obviously this show is good, though, since it has almost as many seasons as Friends! If this also doesn't sound like your jam, maybe this helpful description from IMDB can change your mind: The Walking Dead tells the story of the months and years that follow after a zombie apocalypse. It follows a group of survivors, led by former police officer Rick Grimes, who travel in search of a safe and secure home. Well? Are you sold?
'Superbad'

I mean, is there a movie better than Superbad? Anyone? Bueller? What I love most about it, aside from the period pants scene, is the fact that none of the stars were that famous when it was made. Like, Bill Hader had played very minor parts in a bunch of sh*t I've never heard of, Jonah Hill's only claim to fame (kind of) was the teen version of Adam Sandler's creepy son in Click, and two roles before her stint on Superbad, Emma Stone guest starred in an episode of The Suite Life of Zack & f*cking Cody. My mind is truly blown. Anyway, the fact that this movie is so amazing even though it stars Michael "Whiney Boy" Cera essentially playing himself is a tribute to quality films everywhere. If the whole McLovin storyline was taken out, this movie would be like a more realistic version of Project X. My point is that Superbad is a great example of a perfect movie. Watch it.
'Shameless: Season 9′

Emmy Rossum in Shameless is legit my spirit animal. She's obv the definition of a hot mess, but I love her for it. Remember that time she left her cocaine out and her toddler brother subsequently had a bad trip and she ended up in jail for approximately one week? Same. This show is very complicated and has as many layers as it does members of the Gallagher family, so explaining what it's about is kind of hard, but I'll try. There are six kids and one deadbeat dad, Frank Gallagher, living the good life in the South Side. You know how when you rewatch Game of Thrones, you temporarily lose your mind when you realize that Arya, Bran, and Joffrey (ew, bye) were all legit children when the show started? Shameless is like that. And that is the only thing that Game of Thrones and Shameless have in common! It's a great show because it's funny and dramatic, so if you want to laugh and cry a the same thing, Shameless is for you. 
'Hello Privilege. It's Me, Chelsea.' 

There is only one person who can get away with a title like this, and her name is Chelsea Handler. There isn't much info on this, so I will say what Wikipedia, my most quoted source in college essays, said about it: "Hello Privilege. It's Me, Chelsea is an upcoming 2019 documentary directed by Alex Stapleton and starring Chelsea Handler. The premise revolves around examining the concept of 'White privilege,' the societal privilege that benefits white people over non-white people." A little racy for the times in which we live? Seems that way, but knowing my girl Chelsea, she's going to make it funny. 
'Surviving R. Kelly: Season 1'

Like "Trapped in the Closet", the R. Kelly documentary has a few parts. The similarities end there, aside from their involvement with R. Kelly. The documentary is a very vivid detailing of the sexual abuse allegations against the rapper/singer/alleged sex cult leader, so watch at your own risk. It's obviously a very timely documentary considering the #MeToo movement is still very relevant, and it got amazing reviews. This is a must-watch.
'American Horror Story: Apocalypse'

Truth be told, I cannot handle anything even remotely scary. Don't believe me? I couldn't make it through Pirates of the Caribbean three years ago when I was 23. So you can imagine just how many times I sh*t myself when a friend forced me to watch the Asylum season of this show over Memorial Day weekend. It was f*cking terrifying, and I can't picture just how gut-wrenching the other seasons are. I refuse to watch them, but here's what I know about Apocalypse: It revolves around some sort of nuclear explosion and is a crossover between seasons one and three of this godforsaken show. I started to read the Wikipedia episode summaries, but got too freaked out after the third one, so all I can tell you is that the apocalypse happens and the prettiest members of society are chosen to be saved…for now. K. 
'My Sister's Keeper'

If you want to cry and never stop, watch this movie. It's based on the Jodi Picoult book about a teenage girl, Kate, with a fatal cancer diagnosis. Not to worry, her parents try to save her by designing their third child, Anna, to be medically compatible with her dying sister so that doctors can take her blood, bone marrow, organs, happiness and give them to Kate. Just fun sister things! As you can imagine, this movie is sad af and Cameron Diaz deserves an award for it. I haven't seen it since it came out 10 years ago (f*ck, I feel old), but the two things I remember about it are the fact that the movie ending is the complete opposite of the book ending, and that Kate had a v promising future as a professional scrapbooker. Did I just ruin the whole movie? My b. 
'Eat, Pray, Love'

I'm just going to say it: this was no one's favorite movie, because we expect Pretty Woman energy from Julia Roberts at all times. She's kind of whiney in this "watch me find myself while I blow all my money on exotic journeys" story. It's the kind of movie you'd watch if you've already seen all you've wanted to see on Netflix, but it's only 9pm and you need to watch something. I respect her food choices and the blond hair, but that's about it.
'The Great British Baking Show'

I better speak for all of us when I say HELL F*CKING YEA, FINALLY! If you are not watching The Great British Baking Show, I literally don't know what you are doing with your life. Here's how I describe this show to literally everyone: it's the opposite of every American cooking competition show. Everyone is nice to each other, there is no sabotage (in fact, the contestants know ahead of time what the challenges will be so they can practice at home), and the format of every episode is exactly the same. It's incredibly wholesome content, and a 10/10. Starting August 30, new episodes will drop on Netflix every Friday.
To end on a sad note, there are a few gems leaving Netflix this September. Batman Begins will bid us adieu, which I guess is okay since we get another prime Christian Bale movie?  The best disney cartoon, Hercules, will also be peacing out in September and I am genuinely bummed about it. After just a few months, Magic Mike will be body rolling off Netflix and hopefully onto Amazon Prime or Hulu because I am not ready to say goodbye to him yet. Music & Lyrics, Mulan, the opposite of Titanic AKA Revolutionary Road, and The Hangover are also leaving Netflix to go apple-picking this September. It's been real, but I'm very much down for the new shows/movies to stream!
Images: Shutterstock; Giphy (6)
Here's When All Your Favorite Shows Are Coming Back This Fall
Summer is winding down, which is mostly a bad thing. No more summer Fridays, no more trips to the beach, and no more using the heat as an excuse to stay in for the entire weekend. But one good thing about the changing of the seasons is that a lot of the best TV comes back in the fall. No shade to Bachelor In Paradise, but I desperately need something else to watch.
Of course, there are tons of shows that are coming back in the next few months, but here are ten that you definitely need to have on your radar. If I forgot your favorite show, don't come for me, just drop it in the comments. I can't watch everything.
'The Real Housewives of Dallas' — 9/4

Much like The Real Housewives of Potomac, who are finishing up their mind-blowingly good fourth season, you shouldn't sleep on the women of Dallas. Their fourth season kicks off next week, with a new housewife thrown in the mix. Last season culminated with a trip to Copenhagen that almost turned violent, and this year shouldn't be any less crazy. Before Real Housewives of Atlanta and Vanderpump Rules come back later this fall, RHOD will keep you entertained.
'American Horror Story: 1984' — 9/18

The quality of American Horror Story has varied over the last two years, but it's still exciting to see what new world Ryan Murphy has created. This season is expected to have an '80s slasher film vibe, which should be a lot of fun if you're into that sort of thing. This is the first season of the show not to feature Evan Peters, but I'm sure they'll make it work without him. Or not, but I guess we'll find out.
'This Is Us' — 9/24

I'll be honest, This Is Us isn't really my thing, but apparently I'm the only one who feels this way. Whatever, I get it, you guys like to cry. NBC renewed their hit drama in the spring for an almost-unprecedented three seasons at once, so we should be getting some good long-term story arcs. I'm just happy Mandy Moore is getting those sweet coins.
'Mixed-ish' — 9/24

We're getting a new spinoff in the world of Black-ish, which also premieres on the same day. This one is a prequel that focuses on a younger version of Tracee Ellis Ross' character Rainbow, and what happens when her parents move the family from a hippie commune to the suburbs. It sounds like a fun premise, and everything these creators touch turn to gold, so this is one not to miss.
'How To Get Away With Murder' — 9/26

Annalise and the gang are coming back for a sixth and final season, so I'm sure Shonda Rhimes will make it extra juicy. I'm not sure how it can really get more juicy than it already is, but Shonda has never let us down. If nothing else, Viola Davis' performance makes this show worth it.
'The Walking Dead' — 10/6

Honestly, I forget that they're still making new episodes of The Walking Dead, but they're kicking off their TENTH season this October. Danai Gurira, who became a big movie star after Black Panther, is returning for her last season, so I'm just gonna go out on a limb and say she probably gets eaten by zombies. It just makes sense.
'El Camino: A Breaking Bad Movie' — 10/11

Okay, so this is technically a movie and not a show, but I couldn't not include it here. In this continuation of the Breaking Bad universe, we see what happens to Jesse after the show ended. I have no idea how this ended up being a movie on Netflix, but no one is complaining.
'Shameless' — 11/3

Shameless is also back for a tenth season this fall, but things will look a little different for the Gallagher family. Emmy Rossum, who played Fiona, left the show after season 9 over salary disputes, so honestly, who is gonna watch all these kids? It's probably worth tuning in for the new season, if only so you don't get roasted in the group chat.
'The Crown' — 11/17

Season 3 of The Crown brings us into a completely new era, and with it we get a new cast. Claire Foy was great, but Netflix replaced her with Olivia Colman, who just happened to win an Oscar earlier this year. Casual. Also, we get Helena Bonham Carter as the tragic Princess Margaret, which should be amazing. The royal family probably won't love this season, but I have a feeling it's going to be great.
'The Marvelous Mrs. Maisel' — 12/6

December feels like a long time from now, but I'm sure the next few months will fly by. Season 3 of Mrs. Maisel will probably win all the awards a year from now, so you better watch it now so you're not behind later. Will Midge get married? Will she become super famous? We'll find out soon, thank god.
Images: Amazon; Giphy (10)
The 15 Hottest Older Men That Might Convince You To Get A Sugar Daddy
Anyone who tells you we don't need feminism anymore is officially an idiot, but there are some redeeming things about being a woman in 2017. We can vote, open credit cards without our husband's approval (and max them out on shit we don't need), and most importantly, objectify men to our heart's content. It's practically our duty as modern women to turn the tables and make our grandmothers proud.
Well, not my grandmother in particular, but surely some elderly woman out there somewhere would approve. Maybe that lady from The Golden Girls?

All this is to say that as you read the following list of the hottest older men in Hollywood, you're basically doing gender equality a favor—reversal of the male gaze and all that jazz. Btw, if you're not normally into dating people your dad's age (reasonable), consider this your reminder that age is just a number when you have access to the world's best dermatologists and your livelihood depends on being absurdly attractive. Enjoy.
1. Idris Elba

Idris Elba is British, more than six feet tall, and everyone wants him to play James Bond. Move the fuck over, Daniel Craig.
2. Pharrell Williams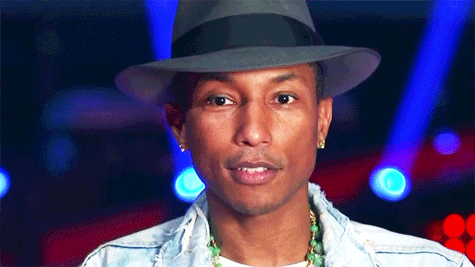 Not only does he have a ridiculously perfect voice, but he also has better skin as a 44-year-old man than you could ever hope to achieve. We're actually not sure that Pharrell is actually 44; we're pretty sure he's a 116-year-old who sold his soul to the devil many years ago in exchange for eternal youth. But whatever, he fine. If only he would lose the stupid hat.
3. Hugh Jackman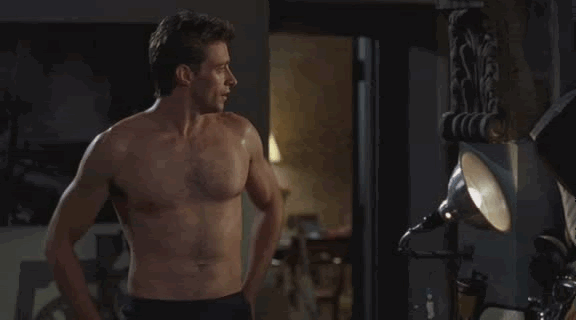 More like Hugh Jacked-man. Right? Right?? I'll stop now. Mahalo.
4. Jeffrey Dean Morgan

I challenge you to watch the latest season of The Walking Dead without wanting to hate-fuck Jeffrey Dean Morgan's character. I refuse to believe I'm the only one.
5. John Stamos

He was hot as Uncle Jesse, and now John Stamos is hot as… whatever he's doing now. Reminding people he was Uncle Jesse?
6. Pierce Brosnan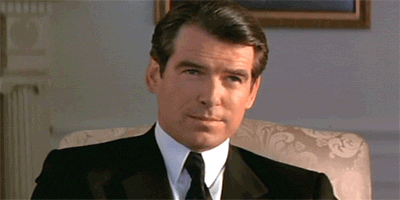 Pierce Brosnan can out-smoulder a dormant volcano. Pierce Brosnan, BTW, is a former James Bond—not to be confused with Piers Morgan, that British conservative talk show guy who everybody hates.
7. Antonio Banderas

Ignore the fact that he voiced Puss in Boots and appeared in Interview with a Vampire, and focus on his accent and cheekbones. Don't lie; you were in love with him since his Spy Kids days.
8. Lenny Kravitz

Is Lenny Kravitz drinking the same magical age-defying elixir as Pharrell?
9. Norman Reedus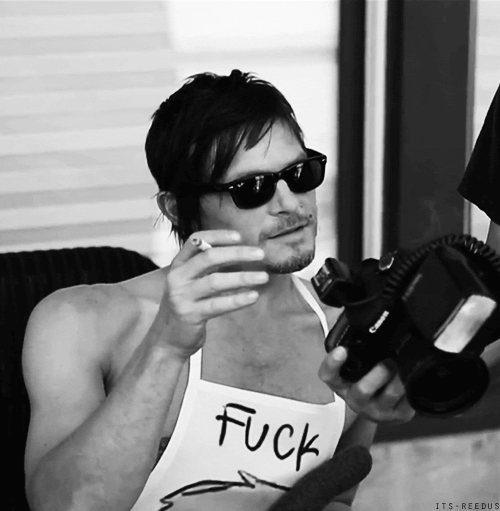 Yes, he looks kind of unwashed and eerily resembles the guy you see roaming around the campgrounds at Coachella without any friends or camping gear in sight, but check out those arms. That's the kind of muscle I'd want on my side during a zombie apocalypse for ogling and survival purposes.
10. George Clooney

Do I really need to say anything?
11. Blair Underwood

Sorry Gossip Girl, but this is probably the hottest Blair in history.
12. Jason Isaacs

Jason Isaacs is famous for two reasons: 1) playing some guy in the Harry Potter movies, and 2) being hot.
13. Daniel Dae Kim

JFC, can he put away those cheekbones? You're gonna cut someone with those.
14. Daniel Day Lewis

Different Daniel Day, same ridiculously perfect bone structure. Although it would be cool if he would quit taking roles that make him ugly on purpose.
15. Colin Firth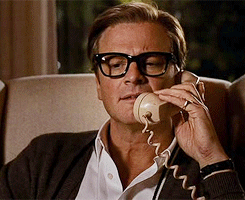 You had to know this was coming. Colin Firth is universally acknowledged as the hottest middle-aged man in the universe, let alone Hollywood.