Lala Kent Is In A New WWII Movie, And Here's Everything We Know
If you know Lala Kent at all (which I clearly do on a close personal level after watching her on my TV screen for the past three-ish years), you probably know her as the Vanderpump Rules hostess with an affinity for private jets and a special relationship with Tupac. There's no denying that Lala has had a very successful few years: she launched a makeup line, cracked 1M Instagram followers, and got engaged to her super-rich producer boyfriend, Randall Emmett. One perk of dating Randall is the boost he's apparently offered Lala's acting career. In 2018, Lala starred in The Row, a 2018 sorority-horror movie that Randall produced, and which is already green-lit for a sequel. Recently, Lala has been posting on Instagram that she's acting in a new movie, but it's not another horror flic. Lala Kent's new movie is a WWII drama set in Weimar Germany called Axis Sally. And yes, it's produced by Randall. Oh boy. Here's what we know about Lala Kent's new movie.
It's Based On A True Story
Honestly, I have no idea why Randall or Lala were drawn to this particular story, but here we go. Axis Sally is based on the story of a woman called Mildred Gillars, an American broadcaster who disseminated German propaganda from Berlin during WWII. After the war, (spoilers) Mildred is captured by the U.S., convicted of treason, and sentenced to "ten to thirty" years imprisonment (which is incidentally the same amount of time I will remain in grad school). Mildred's story is definitely not the "brave gentile saves and hides endangered Jews" heroic tale we've come to expect from WWII movies and literature, that's for sure.
Now, before you freak out, Lala isn't playing the lead—she's playing the assistant to one of the prosecutors in Gillars' case. Mildred Gillars (aka Axis Sally) is played by Meadow Williams. I'd never heard of Meadow Williams before researching this, so I gave her a quick Google. Her personal website describes her as a "remarkable young actress from the farmlands of Tennessee," which sounds to me like the set-up for a porno, but okay. There's also some fascinating information about her legal troubles with her late husband's family. (TL;DR his kids think she faked his will to get more money, which honestly sounds like a more interesting story than Axis Sally.) The meanest best description I could find for Meadow Williams is from the Daily Mail, and it labels her a "D-list actress branded a gold digger." So, a WWII drama about a distributor of Nazi propaganda, in which both of the cast members we know of so far are known for reality TV and (allegedly) gold-digging. What could go wrong?
In case you're curious, here's a picture of Meadow Williams in her full Weimar Germany-era getup, sitting in a courtroom that I have seen no less than one thousand times on Lala's Instagram story in the past week. (I would think that violates some sort of NDA or waiver they would have signed, but apparently not?)
Very Random Celebs Are Involved
First, as you already know, Lala's fiancé, Randall Emmett, is producing the movie. He posted a kind-of cute Instagram about it recently, featuring Lala in the outfit I now suspect she wears for the entire movie, given the number of Instagram stories and pictures I've seen it in. (I say the Instagram is kind of cute because there are TWO typos. It's not even a long caption.)
Also, can we discuss how Lala looks like Jaime Lannister here??

Tell me I'm wrong. I'll wait.
While I'd always thought Randall just kind of threw money behind different productions and that's how he earned his "producer" title, it turns out he actually has a production company: MoviePass Films. Yep, like the app. IMO, this explains why Randall's movies keep tanking (Gotti, anyone?)—these people are not good at business!!
Also involved in this movie: Kate Bosworth, who you should know as the girl everyone had a crush on in the '90s. (If you don't know who she is, you're too young and I hate you.) Her main and/or only involvement seems to be the fact that her husband, Michael Polish, is the director, but that hasn't stopped her from accompanying them to every set location and Instagramming the sh*t out of the whole thing.

First Khloé Kardashian, now Kate Bosworth… people in Hollywood really like Lala.
On the bright side, it's nice to see Lala diversifying her friend group. The list of random celebs involved with this movie continues with Al Pacino, a very serious A-list actor, and then someone named Alexa Dellanos. Dellanos has 1.1M Instagram followers, but I can find out literally zero information about her other than the fact that she was once spotted with boyfriend and graffiti artist Alec Monopoly, who I've also never heard of. If anyone can tell me what she does, how her waist is so small, and why she's in a movie with Al Pacino, I am eagerly accepting suggestions.

This Isn't Lala's Only Dramatic Role
While Lala's not exactly known for her serious genre work, it turns out Axis Sally isn't the only drama she's filmed this year. She's also appearing in Vault, a 2019 crime drama set in the '70s.
How I'm picturing Lala's role in Vault:

In case you were wondering, I trawled extensively and could not find Randall's name in connection to Vault, so it's nice to know she's not exclusively working on his sets. While I personally didn't love The Row (you can read my review here), I have to assume the fact that it's getting a sequel means enough people did like it (or at least watched it). And while I would've expected Lala to go in a more "designing handbags" direction with her 30s, I guess I'm here for her "attempt at an Oscar" years instead. Truly, the year we see Lala Kent get nominated for an acting award is the year we know we've entered the sunken place.
What did I miss about Axis Sally? The movie has a $25 million budget (that's a lot of PJ rides!), and is shooting in Puerto Rico. So when you see Lala posting incessantly from Puerto Rico for the next few weeks, you'll know why. (JK, you'd know why anyway—she mentions in every single IG Story that she's on her way to set. It's almost like…she really, really wants people to know she's in a movie??) So, if we all survive 2019, we can look forward to watching Lala Kent confer with Al Pacino, Instagram models, and background actors dressed in Nazi gear in 2020. Or, you know, not watch it. No one will judge you.
We Watched Lala Kent's Movie 'The Row' So You Don't Have To
If you follow any of the stars of Vanderpump Rules on Instagram, you'll notice that Lala Kent's new movie came out. It's called The Row, and was released July 27th on iTunes and very few theaters. I first heard about this movie while listening to a podcast Lala was on. She said they decided to make her the star of the movie halfway through production. Sounds totally legit and not at all like someone dropped out. I'll be honest and say I wasn't expecting this sorority horror movie to be good. I was hoping it would at least be fun (it wasn't). It required the same number of drinks as The Bachelorette to get through, so don't see it in theaters. Be like me and rent it on iTunes with a bottle of vodka nearby. Or just read this recap instead.*
*Obviously, all of this contains spoilers.
The movie opens with some very extra EDM music and strobe light effects interspersed with hot women partying. This both makes me nauseous and sets a very accurate tone for the rest of the movie. Lala, a 28 year-old woman freshman in college, is being dropped off on campus by her muscular bald dad. I Googled her dad to see if he was older than Lala's boyfriend (sorry!) and his name is Randy Couture. You're welcome. Randy Couture turns out to be a detective, and immediately busts a meth lab. The lab is run by exclusively Victoria's Secret models in bras and he kills one. This will have almost no bearing on the rest of the movie.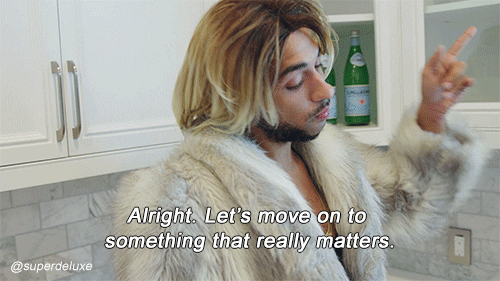 What the slutty meth lab does prepare us for is twofold. 1) Every woman cast in this movie looks like a lingerie model. 2) The women will rarely wear more than lingerie.
Back on campus, Lala's friend talks about how much she likes sleeping with professors. They decide to rush the "Victoria's Secret sorority" (told you this movie had a theme), Lambda Phi, where it turns out Lala's mother was president. Gasp. Lala is shocked, because her mother died when she was a kid and Muscle Dad doesn't open up much. Lala, who has spent the first half hour of this movie wearing knee-length dresses and refusing alcohol, reacts to this news by getting sh*tfaced. In case we forgot this was a horror movie amidst all the underage drinking and lingerie, one of the sorority girls is violently stabbed to death outside in lingerie and a robe.
TBH, I kind of expected this stabbing to have more of an effect on everyone. The police force literally says "this won't be the last," which like…is it not your job to stop it? The Lambda Phi girls take molly "for Isabel" (the dead girl), which makes me very sad for the state of female friendship in this movie. Lala is driven home by a stalker valet who tells her his sister was in Lambda Phi. Another girl is stabbed to death in hot pink lingerie.
Every girl in this movie five seconds before being murdered: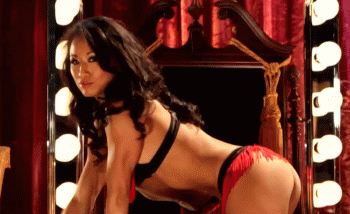 The rest of this movie pretty much drifts away with more of the same. Detective Dad struggles with case-solving and opening up emotionally to his daughter. Valet Guy shows up everywhere Lala goes without her questioning it. The Lambda Phi house mother, who very clearly wants to bang Detective Dad, tells Lala that her mom hazed a girl so badly she killed herself while she was Lambda Phi president. Lala is super upset with Detective Dad for not telling her this, which is very legit but also couldn't she have Googled this information? Two more girls are stabbed in the shower without any significant leads on the murderer. It honestly does not seem like the police are interested in this case.
I won't tell you who the murderer is, because I think that knowledge should be saved for those of us who actually had to suffer through  watch this. I can tell you that there are plenty of suspects, because every guy who hits on Lala in this movie has the facial hair and demeanor of someone who murders for sport. If you're wondering about the acting range Lala displays in the movie, she bounces solidly between "Lala trying not to get in trouble with Lisa" to "Lala drunkenly yelling at a party." She laughs, she cries, she only wears a bikini once—which makes her 600x more clothed than the rest of the female cast—and she manages to refrain from calling her detective dad "Daddy."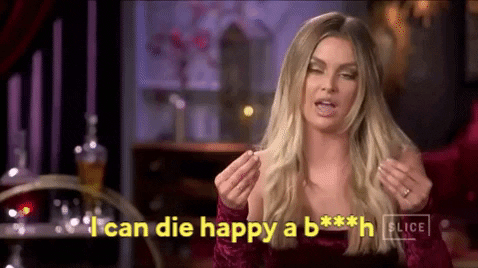 Mostly, this movie is 87 minutes of frat parties interspersed with bodies being hacked up, with lots of gratuitous nudity. If you want a reason to feel bad about your summer body, this movie will do the trick. But while it at least delivers on the promised "hot people partying" premise, the dialogue and soundtrack are honestly so bad that it's not worth blowing a Sunday afternoon on. Lala should maybe stick to reality TV where she can be her hilarious self, not star in someone's first shot at a legit movie after a long career in porn. I'm not saying that describes The Row's director, I'm just saying that's really what it felt like.
Images: Giphy (3)
Who Is Lala Kent's Man And How Much Money Is He Spending On Her?
As a newbie to the reunion episode game, the past two weeks of Vanderpump Rules have been thrilling for me. Andy Cohen is out here asking questions that therapists usually wait six months to get into, and the cast, as usual, is holding very little back. This past week, for example, we finally heard Lala open up a bit about her "man." Specifically, she listed the many, many things he buys her, a list I then aggressively relayed to my less-than-thrilled boyfriend. I know, I'm almost as petty as Scheana. (She also mentioned that her man watches VPR with superfan Martin Scorsese, but meh. At most, Randall was once like "look at this show that my girlfriend's on" and Scorsese was like "that's nice.") Anyway, somewhere between the footage of Lala getting out of her BMW i8 and all her recent Instagrams decked out in designer gear at Cannes, I suddenly got a lot more curious about who exactly Lala's man is. These aren't just established middle-aged man gifts—this is serious money. So, who TF is this guy, and what exactly is he buying Lala? Let's dive in.
Who Is Lala's Man?
Lala's man is named Randall Emmett, and he's a producer of some pretty legit films. His most recent big movie was Scorsese's Silence, which lends some credence to the whole Scorsese watching VPR lie theory. He's also currently debuting a film at Cannes called Gotti, which I was convinced until about three minutes ago starred 50 Cent. (It doesn't, and the score is composed by Pitbull, which is…disappointing.) Nonetheless, Randall is at Cannes, works with big actors and directors alike, and is undisputedly legit. (If you don't believe me, scan through Randall's Instagram. It's basically the picture version of his IMDb.) In other words, he absolutely has the Hollywood power and money to take Lala's life to another level.
On a personal level, he was previously married to Ambyr Childers, who is 17 years younger than him. (For reference, Lala is 19 years younger. I'm not loving the pattern.) I'm not going to discuss the state of his marriage when he met Lala, but you're welcome to read about it here. Lala stated on Monday that he was legally separated when they met, FWIW, which our independently conducted research seems to support. He has two children, also heavily featured on his Instagram. He also regularly posts motivational "Torpedo Tuesday" videos, in which he screams at his followers to GET UP GET OUT THERE AND MAKE THAT MONEY. All of which really make me wonder who would win in a screaming match between James and Randall.
What Is Lala's Man Buying Her?
Let's start with the list Lala rattled off on Monday night. She mentioned purses, jewelry, cars, rent, and rides on his private jet. For the cars: he pays for the lease, she pays for insurance. For rent, he pays up to an agreed-upon cap, which Lala said she is "well over." I can't imagine how big and nice of a place she has if it's well over what I'm sure is a generous cap, but it definitely made a sad contrast with the footage they showed of James sleeping on the floor of a slightly too-interested middle-aged dude. Bleak. And for the record, a BMW i8 starts at $147,500, so excuse me while I cry into my coffee for a minute.
Now let's talk about the other stuff. Since beginning her relationship with Randall, Lala has landed a starring role in a movie (produced by Randall), produced the hit song "Boy," and launched the makeup line #Give Them Lala Beauty. While she insists that her music and beauty pursuits are exclusively funded with her own money, the movie is literally her boyfriend's movie, so we can add that onto Randall's tab with a small degree of confidence. BRB, gonna go ask my boyfriend why he hasn't given me a lucrative job yet. "Give a man a fish… teach a man to fish…" and all that, ya know?
So, how are we supposed to feel about all this? Well, if you're like me, lightly devastated. For one, Lala is three years older than me but looks like she's three years younger. And the amount of money I've described in this article alone seems like more than I'll earn in my lifetime. On the other hand, Lala reportedly was already getting her breasts done when she was 20, so she's been hustling and betting on her appearance to get her places for a long-ass time. And I have to show some admiration for Lauryn Kent from Salt Lake City getting to where she is now. You can find their relationship cute or disgusting, I don't really care, but you can't deny that you'd enjoy certain aspects of her life.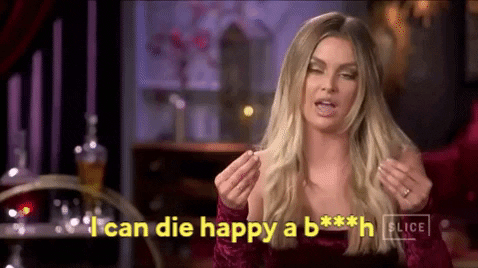 As a final note, I do wish that Lala would stop personally victimizing me saying the only reason other girls can't ride on private jets, etc. is because they're not hot enough. Lala herself admits she's gotten injections and plastic surgery to enhance her appearance, so what are the rest of us supposed to do if we get paid hostess' salaries and we don't have rich boyfriends covering our rent? It feels like when you have to have 5 years' job experience to get an entry-level position. Lala took a very specific route to get what she wanted, and she has a right to feel pride in it. But I imagine she put in a lot of effort for many years to get to this place, and that's something I'd really like to hear more about in step-by-step detail. You know, for a friend.
Images: Instagram (2); Giphy (1)