The Most Dramatic Celebrity Breakups Of 2019
There are so many things to love about this time of year. The bottomless supply of baked goods, the wall-to-wall Hallmark Channel Christmas movies, the multiple consecutive days where you don't have to change out of your pajamas, and finally, looking back on all the juicy breakups that happened throughout the year. I believe the phrase is "the best way to spread Christmas cheer is by recounting strangers' personal pain loudly for all to hear," no? Well, it certainly is for me. And this year, there were A LOT of celebrity breakups. So many, in fact,  that Ryanne even had to talk me down from one when I INSISTED you would all care about the guy from This is Us divorcing his wife. You can thank her in the comments. But let's take a look at the rest of the most dramatic celebrity breakups of 2019, and really get in the holiday spirit! 
Khloé Kardashian & Tristan Thompson
I had really hoped that by the end of this decade we would have stopped talking about these people, but it seems that is not the case. In fact, two members of America's First Family of Reality TV made it onto this list. The things I do for you guys. I still can't believe this breakup was only this year, but it was indeed back in February when Jordyn Woods foolishly cut herself off from the Kardashian juvederm gravy train by making out with Tristan Thompson. Big mistake. Huge. She claimed (on Red Table Talk) that it was just a quick kiss on the lips, but that was enough to seal her fate. Kylie threw her out, onto the mean streets of the Hollywood Hills, left to fend for herself with nowhere else to go but a slightly smaller mansion. Poor baby! 
This was the last straw for Khloé, who will tolerate her boyfriend motorboating models while she's at home pregnant, but a goodbye kiss on the lips is OVER. THE. LINE. She also seemed to blame Jordyn for her breakup when we all know men are the ones responsible for where they put their d*cks. 
Why are you lying @jordynwoods ?? If you're going to try and save yourself by going public, INSTEAD OF CALLING ME PRIVATELY TO APOLOGIZE FIRST, at least be HONEST about your story. BTW, You ARE the reason my family broke up!

— Khloé (@khloekardashian) March 1, 2019
Maybe don't pick a cheater next time, Khloé! 
Kylie Jenner & Travis Scott
We might as well get on with the Kylie and Travis breakup, since we're here. This relationship was a whirlwind. Kylie and Tyga broke up, and then she almost immediately got with Travis, and then she almost immediately got pregnant, because her mother was too busy selling her sister's sex tape and building an empire to teach her youngest daughter about the birds and the bees. At the very least she could have showed her that tape! Alas, she did not, and here we are. Stormi was born in February 2018, less than a year after Kylie and Travis got together. Things seemed to be going well for a while, with Travis even telling Playboy that having a baby had not slowed down their sex life at all. Duh, Travis! You are still in the honeymoon stage! And you have nannies! I think a decrease in sex life happens because people are tired from the baby and also kind of sick of each other from being together so long. Two problems Travis and Kylie would not be encountering. But congrats on beating the odds! 
But then, October came and Travis and Kylie announced they were on a break. Guess that sex life finally slowed down, huh? They still appear to be close, and although I wouldn't count out a reconciliation, this really was the end of an era for Kylie. Thankfully she has those billion dollars to hold her close at night! 
Miley Cyrus & Liam Hemsworth
I've got to admit, this one hurts. I thought these two crazy kids might just make it. After meeting on the set of The Last Song *pause for audible sobbing* and dating on and off for over 10 years, they finally got married in December 2018. Then, by August, it was over. And that's when it got messy. All of a sudden Miley was dating Kaitlynn Carter, the most annoying cast member on The Hills: New Beginnings, and Liam was walking around Australia looking like someone drowned his puppy. I haven't seen anything sadder since we got my brother's wedding photos back and it looked like my glass of champagne was my plus one in every single shot. (It was.)
THEN! Miley and Kaitlynn breakup (duh, she's annoying!) and now Miley is with Cody Simpson. AND THEN!!! Miley got a tattoo that says "freedom" which is obviously throwing shade at Liam. A little dramatic, but okay. 
But FINALLY! Liam is getting his head in the game and fighting back, recently posting a thirst trap. He looks hot, but we know you're not that innocent, Liam. Even my grandmother knows what a thirst trap is. 
Cole Sprouse & Lili Reinhart
This summer it was reported that Cole and Lili, aka the one sane spot in that bonkers fever dream known as Riverdale, broke up after two years of dating. OR DID THEY? This story was reported in July, but the day before they had been perfectly cordial at ComicCon. And I don't know about you, but I don't think "cordial" is the word I would use to describe myself post-breakup in my early 20s. Maybe "deranged" or "paralyzed by rage," but definitely not cordial. 
They never confirmed the breakup, and then, they started f*cking with us. Lili posted a picture of their magazine cover together saying "none of you know sh*t," and Cole posted the same picture, with a caption I don't understand but I can feel like I'm being mocked, you know?
If Cole and Lili broke up, or if they did not, it doesn't matter now, because they're back together! I don't like being toyed with, but I will take it if it means that Bughead is forever. 
Bradley Cooper & Irina Shayk
I heard you all sigh when you got to this one, but don't act like I'm the only one here who cares about Bradley Cooper. He's still hotter than most of the men in Hollywood even when he's pretending to pee himself at the Grammys, okay? So, last year, Bradley wrote, directed, and starred in a little film called A Star is Born, maybe you heard of it? *pause for audible sobbing*. Sorry, that garage scene haunts me. Anyway, his co-star was the inimitable Lady Gaga, and boy did people want them to be a thing. And then, Gaga and her fiancé broke up, and she and Bradley performed at the Oscars, making everyone believe they were in love. Guys, THEY ARE ACTORS. THEY WERE ACTING. 
With this kind of speculation, though, it was almost inevitable that Bradley and Irina were going to break up. In June they announced that they were separating, which is sad, but at least they did produce quite possibly the most adorable child of all time. Yes, I do follow celebrity baby Instagram accounts, and no I don't want to talk about it. I would just like to stress, though, for all you believers that are still out there, he will never, ever, be getting with Lady Gaga. Because he's obviously going to end up with Jennifer Garner, right? Where my Alias fans at??!
Hannah Brown & Jed Wyatt
And finally, we get to the biggest Bachelor Nation breakup of the year. I think this one can be summed up by saying "men ain't sh*t," but you probably want a little more explanation than that. Basically, Hannah picked the incredibly poor man's Tim McGraw as the winner on her season of The Bachelorette. And then, after she picked him but before the season was finished airing, it was revealed that Jed had a girlfriend when he went on the show and he clearly was in it just to get famous. FOR SHAME, JED! Tim McGraw would never do something so nefarious. So, Hannah dumped him on After the Final Rose, and went on to win Dancing with the Stars, and in general be one of the best Bachelorettes that the franchise has ever produced. She scrubbed him from her Instagram, but he didn't because he still needs her to keep him relevant, duh. It appears Jed has a new girlfriend, good for him! Just FYI sweetie, he didn't write "I wanna be your Mr. Right" for you. 
And there you have the most dramatic celebrity breakups of 2019. Count on even more Kardashians on next year's list!
Images: khloekardashian, travisscott, liamhemsworth, winterstone, commentsbycelebs, lilireinhart, colesprouse, _itsleeas, jedwyatt/ Instagram; khloekardashian/Twitter
A Breakdown Of Kylie Jenner's Most Random Magazine Covers
As much as it physically pains me to admit it (like this is actually giving me heartburn right now), the Kardashians are one of the most famous families in America. Seriously. We have the Trumps and we have the Kardashians, and that about sums up what tourists remember about us. Such a sad little list! But despite the fact that millions of people hate-click on stories about Kim's ass every day, it seems the Kardashian Klan is having a hard time breaking into, shall we say, high-class culture. Perhaps it's because they wear neon bike shorts to their local Calabasas coffee shop? Just a guess based on my own personal problems and biases against Kylie Jenner & Co!
I'm presenting this case based on Kylie Jenner's latest magazine cover for the *iconic* S Moda magazine. That's right, Forbes' youngest helped by her family self-made billionaire is officially covering a magazine that you can't purchase at your local grocery store, based on the fact that it's in another language, I'm pretty sure they don't sell it in America. Sorry if you already went to your local newsstand. And this is not the first time Kylie Jenner has posed for a random magazine—in fact, she's done it quite a few times. So let's take a look at all the f*cking weird magazines that Kylie has covered, and I hope you'll enjoy the walk down memory lane to each of Kylie's former faces as much as I did.
Fault
Kylie covered Fault Magazine in 2015, back when I still was clinging to the small hope that this family would be obliterated in an alien invasion. Please take a close look at the cover, because I shrieked "no!" approximately 11 times and spent two hours with my therapist before I was able to accept the fact that this was what Kylie used to look like.
So we all know that's not the current iteration of Kylie's nose, hair, lips, or eyebrows, and there are probably many other tweaks I'm missing that my favorite IG plastic surgery accounts could point out for me.
Has anyone ever heard of Fault Magazine? In 2015 Kylie Jenner wasn't quite the huge name she is today, but this still seems like an odd, and quite frankly, emo, choice for her. Can those of you that Keep Up please let me know if she was ever emo? Fault is described (by Wikipedia, duh) as a magazine that  "collaborates with artists in the fashion, film and music industry. It operates its own non-profit magazine as a platform for identifying young creative people of merit". CREATIVE YOUNG PEOPLE OF MERIT. So like, someone that's accused of copying the imagery for her brand, as well as copying the makeup for her brand? That kind of merit?
I'm not sure many people saw this magazine cover anyway. When I did my quick Google search intense and unrelenting research into this magazine, I found a broken link to the media kit. I did, however, find the media kit for what I believe to be a sister magazine, B Beyond, and their total print circulation in North and South America is 7,500. So way less people than saw Kim's sex tape, that's for sure.
LOVE
LOVE is a Conde Nast publication that Kylie covered at the end of 2017. In case you were unaware, Conde Nast is so famous, a former employee wrote a revenge fantasy about them called The Devil Wears Prada. I'd call my work revenge fantasy novel And Then I Burned The Place To the Ground, but sure, hers works too. Conde Nast publishes Vogue, Allure, Glamour, W, The New Yorker, Self, and many more magazines you've heard of, and, apparently, this rag. According to Wikipedia, LOVE is a bi-annual British style magazine, that once featured Minnie Mouse on the cover. I mean, she is everyone's favorite female mouse. Well deserved, Minnie!
The circulation of LOVE is around 100,000, so we're getting slightly closer to the number of people that saw Kim's sex tape. And Kylie looks a little more like her current self, so two points to LOVE magazine!
AdWeek
AdWeek is a pretty legit publication, but it's a weird choice. Why is Kylie Jenner covering the second-largest advertising trade publication? Sure, maybe the nerds in their corner office trying to think of a fresh way to market some dumb product want to jerk off to her with their morning coffee, but otherwise what's the point of this cover?
When Kylie covered AdWeek (circulation 45,000), Kylie Cosmetics had only existed for about a year, and she was only part of the way through the process of becoming a Kim clone. To me, this pairing makes no sense, but I also didn't spend the time to read the article accompanying this cover because my brain is already too filled up with inane facts about this family, and now there's no room for me to learn how to do my taxes! I lead a rough life.
Also, please feast your eyes on the outfit they chose for a TRADE PUBLICATION. It's like no one on Kylie Jenner's team has ever been to an actual office, so they just assume that all businessmen have the same tastes as Christian Grey.
Jolie
Guys, Jolie is not in English! So even if you wanted to read about how Kylie is "mastering the business world" or "so real" you would need a translator because this whole thing is in German. How many of you Kylie stans out there speak German?
Jolie is a monthly magazine and Wikipedia (it's fine, I totally donated), only had stats as recently as 2010, when there were 375,000 copies in circulation. Kendall and Kylie covered the magazine together, and they look about as happy to do this cover as I am to be constantly bombarded with pictures of their pubic bones.
To be fair, in the more recent years Kylie Jenner has covered Interview, Glamour, Allure, and GQ and MY GOD can we stop giving this family magazine covers? I really think that the reason Kylie covered all these random magazines is that, despite how famous she and her family are, they aren't really taken all that seriously by the mainstream media. Tabloids, sure. But I think everyone feels a little bit icky about how they got famous *insert raised hand emoji*, so they've been hesitant to embrace them. But like cockroaches after a nuclear disaster, this family stuck around and is slowly making their way onto legit publications. And luckily for Kylie, Kim finally got enough blackmail on Anna Wintour to get herself on the cover of American Vogue. Looks like the sky's the limit now!
Images: kyliejenner (4); jolie_redaktion / Instagram
I Regret To Inform You That Kanye West Is Cancelled
All good things must come to an end, and today that good thing is "my undying love and admiration for Kanye West." As we all know, Yeezy has been on a bit of a Twitter spree these past few days, and at first it was all good. He was just tweeting things like "we should be like water" and "the world is our office." You know, typical Kanye shit. Sadly, things changed dramatically today and Kanye's tweets about Donald Trump mean that he is cancelled until further notice. As a wise man once said – I miss the old Kanye.
This shit all started last week when, amidst a flurry of tweets about "free thinking," Kanye praised Candace Owens. If you're wondering who tf Candace Owens is — congrats! You don't watch alt-right YouTube. Candace is a black conservative woman whose main claim to fame is thinking Black Lives Matter are a bunch of whiners, and that liberalism has enslaved the minds of African Americans, who need to free themselves by becoming "free thinkers" aka "Fox News junkies." Grool.
I love the way Candace Owens thinks

— KANYE WEST (@kanyewest) April 21, 2018
Hmmm…Kanye I'ma let you finish but, "thinking" is not how I would classify what Candace Owens does. This, combined with the fact that Kanye casually met with President-Elect Trump at Trump Tower in 2016 (approximate 334,530,304 scandals ago) already put Yeezy on shaky ground, but today was the final blow:
You don't have to agree with trump but the mob can't make me not love him. We are both dragon energy. He is my brother. I love everyone. I don't agree with everything anyone does. That's what makes us individuals. And we have the right to independent thought.

— KANYE WEST (@kanyewest) April 25, 2018
I have so many questions. Namely, is dragon energy what is keeping Trump alive despite his McDonalds obsession? Also, what does Kim think about this? Also also, did Caitlyn convert Kanye to conservatism? (Say that five times fast.)
Kanye followed up with:
If your friend jumps off the bridge you don't have to do the same. Ye being Ye is a fight for you to be you. For people In my life the idea of Trump is pretty much a 50 50 split but I don't tell a Hillary supporter not to support Hillary
I love Hillary too.

— KANYE WEST (@kanyewest) April 25, 2018

Sooo….half of Kanye's friends support Trump. I guess that's what happens when you're rich. I need to know what percent of that fifty percent has the last name "Kardashian" ASAP.
So where does The New Kanye's love of Trump come from? According to Hot 97 host Ebro Darden, Kanye told him during an interview that he "reached out to Obama for years" to have a meeting but Obama was — for some insane reason — busy with other things. Trump, on the other hand, met with Kanye right away. Take from that what you will.
If I had to hazard a guess, this also might have to do with the fact that Obama famously called Kanye a "jackass" in an interview and never apologized. Just sayin…
So RIP Kanye (specifically, The Old Kanye), who is cancelled until further notice. Also if anyone wants to go in on a bet with me, I'd put money on him calling his next album some variation of "Make America Think Again." How depressing…
UPDATE: In the time it took took to post this article, Kanye also tweeted this clarification, which is important only because it shows that Kim is not down for any of this nonsense:
my wife just called me and she wanted me to make this clear to everyone. I don't agree with everything Trump does. I don't agree 100% with anyone but myself.

— KANYE WEST (@kanyewest) April 25, 2018
Damn. Can't wait for the KUWTK episode where we get to see that phone call. In addition to updating us about his marriage, Kanye has also tweeted this, which is open to interpretation:
I'm nice at ping pong

— KANYE WEST (@kanyewest) April 25, 2018
Heads up, you need to keep up with the news. It's not cute anymore. That's why we've created a 5x weekly newsletter called The 'Sup that will explain all the news of the week in a hilarious af way. Because if we weren't laughing, we'd be crying. Sign up for The 'Sup now!
There Are Rumors That Kylie Jenner Is In Labor Right Now
It's 2018, and if you tweet it it's true so…Kylie Jenner might be in labor. How do we know this? Well, mostly because fans are tweeting about it. Rumors began spreading this afternoon that Kylie may be in the hospital at this very moment, presumably trying to film her own "miracle of birth" video with a dog face filter. The origin of the rumor is apparently a group chat (aka the millennial New York Times) in which a woman claims her friend's friend's sister saw Kylie entering Cedars-Sinai Medical Center in LA. Reliable sources all around, I'm sure.
Is Kylie Jenner really in labour or fake news? pic.twitter.com/xcNFJJfhlK

— ellisehilton (@ElliseHilton) January 12, 2018
Others are pointing to this Snapchat by baby daddy Travis Scott, that could be a message to his soon-to-be baby mama:
Is Kylie Jenner in labor?? Travis Scott's Snapchat pic.twitter.com/FpocKiHfcC

— jpenny (@JennyPennyy) December 27, 2017
Obviously all of this is unsubstantiated (we still technically don't even know that Kylie is pregnant yet), but several high-profile Kardashian news outlets like Say Bible are tweeting about it so…yeah…
There's a rumor that Kylie is in labor… Stay tuned! Doing more research.

— Say Bible (@SayBiblePodcast) January 12, 2018
My sources say Kylie Jenner is in labor

— Sophie Julia (@Sophiejulia) January 12, 2018
Theres a rumor going around that Kylie Jenner is currently in labor!!!!!!!! Will keep you posted once it's confirmed!!

— Erin Robinson (@ErinRobinson) January 12, 2018
Stay tuned….

There Are Rumors Kourtney Kardashian Is Pregnant Now
These days, it's hard to check your phone without finding out about another pregnant Kardashian. It is our blessing, and our curse. So it should honestly come as no surprise that now rumors are circulating that Kourtney Kardashian is also pregnant so like, apparently 2018 will have double the amount of Kardashians we experienced in 2017. Bless up.
Now obviously, if this is true, the next question is: Who's the father? It's obviously not Scott seeing as he's dating a middle school child Sofia Richie. In this case, the father would likely be Kourtney's model boyfriend, Younes Bendjima, meaning this new potential Kardashian might be the most beautiful Kardashian yet.

But like, is any of this true, or is it all just another ploy by Kris Jenner to get ratings fake news? Unclear, but Kourtney may have responded to the rumor, originally printed in Life & Style (so take it as you will), with this cryptic Snapchat:
| Kourtney via Snapchat. (Kourtneykardash) LINDA ❤️ pic.twitter.com/bOfkDCBKFF
— Kourtney Brasil (@PortalKourtneyK) October 12, 2017
Who is she sticking her tongue at? Her future child? Or us, the American people, or believing all of this nonsense? I mean, those pants seem a little too tight, and a little too leather for a pregnant woman, but I've never been pregnant so WTF do I know?

Again, all of these rumors are totally unsubstantiated. That being said, please excuse me while I begin the nine month long prep I need for next season of KUWTK when literally everyone is pregnant. Kendall, you're next.
Caitlyn Jenner May Have Shadily Confirmed Kylie's Pregnancy
It is September of 2017 and there is only one thing on everyone's mind: the collapse go global democracy Kylie Jenner's supposed pregnancy. Is she pregnant? Who's the father? Was this all a publicity stunt? Is there a God and if there is, why does he let his creations live in such uncertainty? Well, thanks to Caitlyn Jenner, we may have the answer to at least one of those questions. Caitlyn told The Sun on Monday, "All I can tell you is that it was some time ago."
Okay so not exactly a due date, but what is the "it" Caitlyn is referring to, if not Kylie's supposed pregnancy? What could have happened "some time ago" if not one of Kylie's eggs being successfully fertilized by Tyga's Travis Scott's sperm?

Apart from Caitlyn, the only other member of the Kardashian clan to give us any clue as to the status of Kylie's womb is her momager, Kris Jenner, who told Ryan Seacrest "Kylie's not confirming anything."

Honestly, this is some pretty shady and secretive behavior from a family that is literally famous for exposing their every poo to a national audience. Why all the shadiness? Is it because their love and respect for Kylie during this time outweighs their need for media attention?
Lololololol nah.
Kylie Jenner Is Reportedly Pregnant With Travis Scott's Baby
Stop everything and take a fucking Xanax immediately because I have some disturbing exciting news: Kylie Jenner, the 20-year-old Bratz doll come to life, is reportedly pregnant with Travis Scott's baby. Yep, that's right. While her ex Tyga is slumming it with a Kim K lookalike, Kylie went and got herself knocked up. Mazel tov, I guess.
According to TMZ, Scott has been telling everyone and their drugged-out stepmom that he and King Kylie are expecting a baby girl, and that the pregnancy is going to "change his life." I mean yeah, Travis, you're probably right about that one. Couple this news with the fact that Kylie's recent instas have been from the chest up, and her apparent lack of impulse control, and this all seems pretty plausible.
Also, she was recently photographed in public looking like this, which could be due to either pregnancy, or a hangover. Sometimes it is hard to tell:

Still not convinced? Well, yesterday she posted this truly demented looking fan art of herself and…herself as a baby? Is this a nod to the rumors, or just a nod to the fact that she wishes she could hang out with herself as a baby? Both are likely:

I feel like it is important to note here that Baby Kylie is holding a Kylie Lip Kit, because not even as a baby would Kylie Jenner miss a branding opportunity.
Of course, as TMZ notes, this could all be a weird prank they're playing on their friends, or a desperate attempt to drive up Life of Kylie ratings. KUWTK season 10 premieres on Sunday, and I would not put it past Kris Jenner to drum up a fake pregnancy scandal before the premiere.
If this baby is real, then I emphatically welcome her to the Kardashian/Jenner empire, and eagerly await the lip kit/highlighter pallette that will be released in her name.
Kimye's Third Baby Has A Due Date And We Know The Gender
While Taylor Swift has been busy cooking up lame revenge plots against Kim Kardashian and Kanye West, they've been a little busy with some exciting plans of their own. Way back in July we told you that Kimye's surrogate (still upset I was not contacted for this position TBH) was pregnant. This week, most likely to distract us from the 15 category five hurricanes that are currently brewing in the Atlantic, Kim and Kanye gave us their due date. This means Kim will tie Kourtney with three children each, while Khloé still has none. She really is the Gretchen Wieners of this family.
Kim has been public about how difficult it was for her to get pregnant, so using a surrogate seemed like the obvious choice for baby number three, and now it's really happening. We've always felt strongly that the movie Baby Mama is highly underrated, so hopefully Kimye will help bring awareness to surrogates everywhere, or something.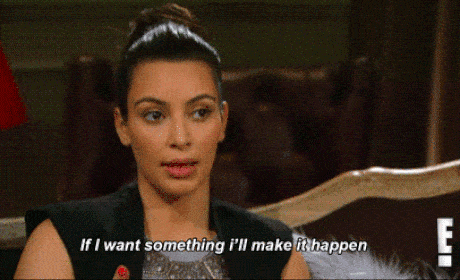 The newest Kardashian-West arrival is due in January of next year, and according to the always reliable "sources," the baby is supposedly going to be a girl. We're very happy about this. Obviously Saint is a cute kid, but North is literally the most beautiful child since me the baby Jesus. Hopefully the new baby will look just like her and everyone will be jealous happy.

Some additional sources also claim to have details about the surrogate herself, who is reportedly a black woman in her 20s who already has two children. Sounds about right. She's also reportedly a registered Democrat, which will probably cause drama with Caitlyn on a future episode of Keeping Up.
Kim has talked about wanting a third child, so she must be super excited, and is probably already making a list of baby names that will sound the best on contouring kits and reality show spin-offs. We can't wait for January 2018 when we find out what rich person name they choose, because the last two haven't disappointed.