Brody Jenner Is Already Seeing Someone New
Divorce is tough, or so I've heard, but apparently when you're a celebrity, you don't have too much trouble bouncing back. It's only been a couple weeks since the news broke that Brody Jenner and his wife Kaitlynn Carter are splitting up, but they're both wasting no time seeing who else is out there. While Kaitlynn has been busy having a Hot Girl Summer moment in Italy with Miley Cyrus, her ex Brody is apparently also moving on with someone new. Hello, yes, I officially have whiplash.
According to TMZ, Brody has been spending a lot of time lately with Josie Canseco, a 22-year-old model who is the daughter of former baseball player Jose Canseco. Jose Canseco is most famous for doing a sh*tload of steroids, but if you DGAF about sports, you might remember him for spreading rumors about A-Rod cheating on Jennifer Lopez with his ex-wife Jessica. Basically, he's a messy bitch who lives for drama. But back to Josie.
TMZ spoke to "sources familiar with the new pair," who said that Brody and Josie "seem like a good match for now," which sounds like a thinly-veiled way of saying "the sex is great but they're not going to last." This is unsurprising for a couple of reasons. First, Brody Jenner is just getting out of a marriage in which he seemed pretty miserable, so I'm not sure why he would want to commit to someone else so soon. Also, he's 35 years old, which makes Josie Canseco 13 years younger than him. I'm not here to age shame, but I feel like Brody's ideal type shouldn't be someone who wasn't legal to drink until last year when he could easily be her dad.
According to the TMZ sources, Brody and Josie met while he was on the press tour for The Hills: New Beginnings, and they were reportedly introduced by Frankie Delgado and Brandon Lee. This would make sense, because Brandon Lee is 23, so he and Josie probably knew each other from their days of using fake IDs to get into bars two whole years ago. Honestly, one of the weirdest things about the new Hills is the age difference between Brandon and everyone else, but it feels like the other guys in the group like hanging out with him to feel younger. With this in mind, it's no surprise that Brody wants to date someone younger, and Josie Canseco is also like, very hot. Josie probably sees hanging out with Brody as a way to gain some clout, and he's also still a regulation hottie too. I doubt these two are in it for the long haul, but who really cares at this point?
So let's do a quick rundown of what's going on with everyone involved. Brody and Kaitlynn split up, and now Brody is hanging out with Josie. Kaitlynn is hanging out with Miley, who just split up with Liam, who posted an emo sunset pic on Instagram and now I'm low-key concerned. I'm really trying to keep this all straight in my head, but it's barely even worth it at this point. We'll see if Josie and Brody pop up on each other's Instagrams anytime soon, but I have a feeling that this is more of a "hanging and banging" type of situation than an Instagram official thing. Only time will tell!
Images: Shutterstock; josiecanseco / Instagram
Is 'The Hills: New Beginnings' Worth Watching?
Biggest surprise? I f*cking loved it. The Hills: New Beginnings is perfect to watch if you've missed these people, but terrible to watch if you were hoping to see them do well. And even though I could have predicted, say, Spencer not being a normal person in 2019, there were other pretty big surprises in The Hills: New Beginnings pilot. The setting: Audrina's just gone through a divorce, Speidi is still holding on by a thread (now with babies!), and no one seems to have met Brody's wife. It's bleak as hell, it makes me actively sad, and yet I cannot stop watching. Here were the biggest shockers I learned from The Hills: New Beginnings episode 1.
Audrina & Justin Bobby Are STILL A THING
Audrina super casually drops that Justin Bobby was the first person to reach out to her after she got a divorce. OF COURSE HE WAS. Of course Justin Bobby is the level of douche who not only hits you up immediately after a breakup, but immediately after a divorce. Unfortunately, this is still Audrina we're dealing with, so she sees nothing suspicious about his behavior, and is strongly considering* going on a date with him soon.
*I wrote that at the beginning of the episode. 35 minutes in, they're on a date. Justin Bobby just said "comment allez-vous," and I am deceased. Here's a moment from their date: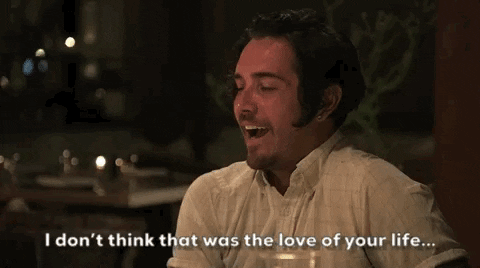 Brody Didn't Invite Spencer To His Wedding
If nothing else, you should watch the pilot just to hear Spencer say "in the media, we are very hated" with more bitterness than I knew he had in him. Among Spencer's other grievances: Brody didn't invite him to his wedding, because (per Brody) they weren't speaking on a daily basis at that time. To be fair, Spencer does say earlier in the episode that he and Heidi were "basically in the Witness Protection Program" in Costa Rica. While that's in no way factually accurate, I assume Spencer used it as an excuse to drop off the grid and ghost everyone he knew, including Brody. Seems like Brody noticed.
Brody's Marriage Is A Train Wreck
Oh my god. The very first scene with Brody and his wife Kaitlynn has me screaming into a pillow because a) it's so relatable and b) their marriage looks so very bad. Brody is in full-on avoidance mode: after coming home late the night before, he literally slept in his car to avoid being yelled at by Kaitlynn. Kaitlynn, for her part, does yell at Brody a lot and boss him around, to the point where it seems like she fundamentally doesn't trust him to remember or do anything correctly on his own. Honestly, I'd need to see footage from the past few years to know whether or not she's in the right.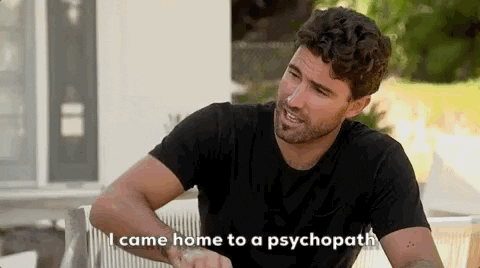 Pamela Anderson Is Kinda Political
Apparently, Pamela Anderson moved to France after Trump was elected. Not a piece of information I expected to get from The Hills: New Beginnings. But since Pamela Anderson's son Brandon is on this show, I have now found it out, and it surprises me. Also, she is a big believer in sage, and her eyes do not move the normal amount.
Mischa Barton Has No Real Connection To These People
Okay. I know the fakest part of all these reality shows is that none of the stars are actually friends off-camera—or in any case, that's the fakest part of the Housewives franchise. I knew it was weird when they added Mischa Barton to a Hills reboot, but I was open-minded: maybe these people knew her more than I thought. Nope! She and Stephanie apparently have something of a history, but the other girls are more or less strangers to her. I have a feeling Mischa's about to get the Erika Jayne treatment, aka everyone talking sh*t about how she's an ice queen. But hello! She literally isn't friends with them. I'd be cold as hell too.
Mischa at a Hills cocktail party: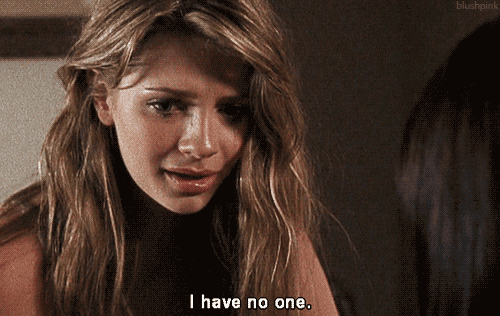 I would've loved to talk more about Heidi and Spencer from this episode, but honestly nothing they're doing is surprising. It's upsetting, it seems like a huge cry for help, but it's also exactly what you would expect of Speidi: Parent Edition. Kindly comment with your best guesses on everyone's plastic surgery choices below!
Images: MTV Press; Giphy(3)
Stephanie Pratt Is 'Not On Speaking Terms' With Heidi & Spencer Pratt
We still have over two months before the The Hills reboot premieres, but I am already 100% ready. I'll admit, until the beginning 0f 2019, I was a Hills virgin. I had seen a random episode here and there, but I had never watched start to finish. That's no longer the case, because I binged all six seasons in about three weeks, and I have absolutely no regrets. So when The Hills: New Beginnings actually starts, I will definitely be watching, but lucky for us, the cast is already bringing the drama. This is probably hard to imagine, but Spencer and Heidi are still causing problems.
The source of our info today is Stephanie Pratt's podcast Pratt Cast (cute name lol), which she cohosts with Bachelornation's Wells Adams. This is an interesting pairing, and I had no idea this podcast existed until literally today. I would say I'll check it out, but that would be a lie. Steph revealed on a recent episode that she isn't on speaking terms with her brother and his wife. In case you need a refresher, Stephanie is Spencer Pratt's sister, and Spencer is married to Heidi. On the OG Hills 10 years ago (god, we're old), Spencer and Heidi basically did what I do every time I drink Jäger and ruined their relationships with their family and friends by acting psychotic. On the show, Stephanie was often caught in the middle between being loyal to her brother and sucking up to Lauren. She can be a little bit of a thirst master general, but she always brought the drama, and for that I am thankful.
Back to the podcast and the source of this update. On the podcast, Stephanie had a lot of strong words about Spencer and Heidi. The main issue goes back to a photoshoot with the cast of The Hills, and the specifics are hilariously petty. According to Steph, Heidi opened a bottle of champagne on the set, and she shared it with everyone but her. Stephanie says that Whitney Port commented how weird the whole thing was, and that things between them just got worse from there.
"We are not on good terms. We are not on speaking terms. I do not consider them my family."
Okay, that is a lot, and I really don't feel like all of this emotion is coming from Heidi not pouring Stephanie a glass of champagne. Really, I have a feeling that these three haven't actually worked through all the issues that they had the first time around on The Hills. Here's another excerpt of what Stephanie had to say:
"I'm also not going to pretend that Spencer and Heidi are good people, like I was doing for most of the series for my parents. For the sh*t they have done to me recently, I'm done. This is why I moved to London. I'm done. I cannot live near them. They are the most toxic people I've ever met. They are Bonnie and Clyde till they die, so if they say the sky is black, all of us are morons for saying it's blue."

Stephanie also promised she wouldn't "pussyfoot around them" on the reboot, whatever that means, and she said she plans to "expose them for who they are." I mean, do any of us actually think Heidi and Spencer Pratt are good people? What is there really to expose? Either way, I am getting more and more excited for this reboot. What's crazy is that, for all the horrible things Stephanie has to say right now, she and her brother were apparently on good terms until very recently. She said on the podcast that before filming the reboot, she sat down with her whole family, and they all agreed that they wouldn't let the show tear the family apart like it did before. Welp, that comment didn't age well!
I'm so intrigued by this whole situation, and I hope that on the show, we at least get a glimpse of what's gone down within the Pratt family. Stephanie also said that Heidi was "horrific" to all the women in the cast while they were filming, and that she apologized to them on Heidi's behalf. Oh my god, I'm so excited for this.
Wherever she is, I'm sure that Lauren Conrad is extremely glad she didn't sign up for this sh*t. The Hills: New Beginnings premieres on June 24th, so let me know in the comments what you're most excited to see.
Images: Shutterstock; @officialstephpratt / Instagram; Giphy