How To Tell Him You've Been Faking Orgasms: Ask A Pro
Head Pro wishes you much good tidings, cheer, and toe-curling orgasms as the holidays approach. Email him at [email protected], and follow him on Twitter and Insta at @betchesheadpro.
Hey there head pro,
Not sure if you're still answering questions, but here's one you probably don't get that much. Basically, I'm in my mid-twenties, and I've had exactly five orgasms in my life. I have a good sex life, masturbate, etc. it's just really hard for me to orgasm. I've tried everything you can think of, read every article, even seen doctors about it, but I'm just one of the people who have a really hard time cumming. It's tragic, I know, and that's not even the problem I'm writing to you about.
A few years ago, a guy I was in a serious relationship with broke up with me over this issue. He even said that everything else in our relationship was perfect he just "didn't feel like a man" because he couldn't make me orgasm. He did tell me I could give him a call if I ever got the problem fixed (go fuck yourself). This obviously made me feel really shitty because I've tried really hard to find a solution, and he knew this and knew I was seeing doctors for it. I still like sex a lot and have an above-average sex drive, I always told him how good he was in bed, and I never pouted about my problem or anything.
Since then I've casually slept with different guys, and as long as they put in some effort to make sex enjoyable, I just fake an orgasm. I know people always say not to do this and it's like against feminism, but I started doing it because 1) I'm not interested in telling random hookups about my sexual history/issues. 2) I'd rather not scare off another guy, and 3) If I do tell a guy and he puts a lot of effort in to try and make me orgasm, it makes me feel pressured which is a guarantee it won't happen.
So, sorry for all the backstory, here's the issue. I ended up really liking one of the guys I was sleeping with, and now we're in a relationship that's going really well. Except for the fact I've been faking an orgasm 99% of the time of course. Since we're a couple now, I'd really like to stop lying and tell him the whole story, but I'm afraid what his reaction will be to both me having this problem and me having faked orgasms. The thing is, he's actually amazing in bed and is responsible for two of my orgasms, which is incredible for me. Any tips for bringing this up? And if he does dump me over this, any advice on how to handle this for future relationships? Would this be a dealbreaker for the average guy?
Orgasmless in Seattle

Yeah, I'm still answering questions, I'm just both lazy and busy, which is a lethal combination. Faking it (whether it's orgasms or being a productive blogger) is never the path you want to go down, but I understand doing what you gotta do. In this case, the good news is that you have an excellent angle from which to approach this: He is responsible for a solid 40% of your climaxes. A way better efficiency rate than the freakin' congress, amirite folks?!? I say, the next time you ride the fuckcoaster and you don't see God, that's a good time to say something like "you know, I've had a hard time reaching orgasm my entire life, I've even seen doctors about it. In fact, the only time I've ever actually cum during sex was with you."
Now: Is that last part true? I have no idea. Only you know. But even if not, it's a beautiful little lie. You can just tell him that the other three orgasms came during intense, marathon diddle sessions that left you with carpal tunnel afterwards. The point is, you're padding his ego just enough so that you can easily and honestly discuss the issue without worrying about anyone feeling awkward. Reinforce that he knows his way around his own dick, but also impress upon him that machines built literally expressly for your pleasure just won't get the job done sometimes. Also important: let him know that sex can be perfectly fun and enjoyable without an orgasm, especially for someone who has them about as often as Donald Trump has a solid bowel movement. A lot of guys don't realize that, because it's a little different for us.
Even though it's not really something you want to use in this way, it's kind of a litmus test. If he's cool, he'll totally understand, keep up the good work, and (most importantly) not make it about his ego. If not, well, you know what to do. Kick him to the curb, and tell him to call you when he gets the problem fixed.
But no more faking. No good cums of that.
Dear Head Pro,
I've been texting a swiping app match for about 2 weeks, and we originally were going to meet the weekend after thanksgiving. We never made plans with a time/place so I figured nbd, it's the holidays and we just started talking. He isn't able to meet until the weekend after Christmas….literally 4 weeks away. Is he just trying to avoid me so I don't get the wrong idea over the holidays? Or is he just not trying to meet?
For the record, I don't want a relationship or a one-nighter, just something casual with someone that is sexually curious. Specifically, we have a dom/sub thing going on and he's really into it/me from the texts, so I'm confused why he hasn't tried to move things along. I don't think he's traveling for Christmas bc his family is pretty much all in his city. He's living with his brother for the next few months so I'm wondering if that's the issue?
Side note: Another match has the same demanding hours as him (same occupation, requires weekends depending on the client) but has managed to ask me out twice within the same time span of knowing Mr.Dom. He is recently divorced so he's obvi not looking for a relationship either. Idk maybe I'm having a hard time with this because even my old dates that were like, working on a doctorate still made time to drive 45 minutes to take me out.
Should I kick him to the curb before talking drags on too long? I am only distraught over this because I want to expand my kink and we fit well personality wise. Is it normal etiquette to not hook up over the holidays?? What are guys thinking as far as plans go for someone that is FWB material before Christmas break? Is it too romantic to do stuff (like watching the lights/skating) with someone you just met?
Thanks,
Daddy's little girl

Let me get this straight: All you want is to act out the lyrics to Ludacris' second-best song. And yet, you're distraught because the guy whom you want to smack your ass raw is… unable to find the time to meet and engage in deviant sexual congress with a total stranger during literally the busiest and most miserable time of the year? I don't get it. In the same paragraph, you say it's cool he hasn't made plans because of the holidays, and then also that you're worried he's just not interested. What kind of drugs are you on, and where can I get some?
Weirder is that you've decided this based on exactly one other person you've matched with, and a handful of horny graduate students. This may shock you, but not all people are the same. I would go so far as to say that everyone is different, if I may be so bold. Yeah, guys for the most part wanna smash that ass, and we'll overcome more hurdles than is probably necessary to do it. But what you want with this guy isn't the standard "drinks and an awkward quickie" that most swiping app matches lead to. You want, like, a whole thing that involves role-play, rules, boundaries, and maybe even some heavy equipment. That's not something you do on the fly, and certainly not in the month between eating turkey at grandma's house and then ham at grandma's house a little later. Like, that's a serious commitment. A lot more serious than acting out your fantasies via text and furiously wanking it, anyway.
I don't think holiday hookups are an etiquette thing so much as they're an issue of logistics and convenience. As for guys' plans, I think that depends on the guy. A college dude, yeah, he might be angling to line up some strange while he's home for a couple months. But post-college? Nah. We're not thinking about it at all, or any differently than we do any other time of the year. Honestly, just relax, and take the stranger you've yet to meet at face value for now. Keep on sexting, if you want to. He'll still be there after NYE.
I don't know how you went from "choke me daddy" to ice skating in the same message, so I won't acknowledge it.
Head Pro wishes you much good tidings, cheer and toe-curling orgasms as the holidays approach. Email him at [email protected], and follow him on Twitter and Insta at @betchesheadpro.
The One Thing You Get Wrong About Telling Him How You Feel: Ask A Pro
Head Pro offers advice on life, love and really anything because he likes to hear himself talk. Email him at [email protected], and follow him on Twitter and Insta at @betchesheadpro.
Here's my current dilemma that's consuming my thoughts:
Summer before my freshman year of college when I was 18, I met a guy. Fast forward a couple months, I'm thinking I pretty much found my soulmate. He is one of the funniest, loving, sweetest guys I've ever met. He is the epitome of Jim from The Office, which, let's face it, is every girl's dream guy. I wanted to date, he didn't because we were "too far", aka 1-2 hours away depending on when he was away at school. Whatever, K, I got over it. I started hooking up with guys at school cause that's what freshman do, and then we started talking again, but only hooking up and just hanging out. Over the next year, we were just fuck buddies while I did my thing and he did is, even though I still had feelings for him. My junior year, we started hanging out more, going out more, hooking up more. And the sex is really fucking good.
I'm now a senior and 21 years old. I'm over every guy that goes to my school (no, not under) but I just have never met another guy like him before. I can honestly say he's my best friend, he's been there through everything I have gone through in college, including the death of my father, and I love this guy. I know feels the same about me and tells me he loves me and we act like a couple when were together, and we are still banging to this day, literally, but he hasn't shown any interest in dating. I've known him for almost 4 years now, and now that we are both graduated/graduating college I want to be with him. I have no idea how he feels because he'll text me a lot for a few days or not at all for a few days. He even wants me to go out of state with him in December, go to a concert, stay in a hotel, and enjoy the weekend. So, he's planning couple things with me in December. Like WAT. Meanwhile, I know he doesn't talk to any other girls or hook up with anyone else because he straight up tells me this and I can clearly see it while I'm looking over his shoulder at his phone (whoops).
My friends say to tell him how I feel, but I'm scared because it didn't work out well the last time. I know he has no one else, so what is he waiting for or do you think these feelings are one-sided?
HALP
Let's get one thing straight, Jim from The Office should be no girl's dream guy. Jim's ability to land Pam rested solely on him being the one non-weirdo in that office. Otherwise, he fucked around for like a decade, had no real ambitions and kind of treated Pam (and later, their daughter) as a burdensome accessory in his life. Fuck, at least Roy was ready to kick some ass. She would have been no worse off with him, I think. Don't @ me.
Anyway, just fucking tell him. It's reasonable, given that you're graduating soon and have some important decisions to make. It's also pretty weird for him to drop "I love yous" and shit without ever even once mentioning the status. It's in a sense a silly thing (after all, sentiment is most important), but it still matters.
But more importantly (and I probably bring this up in our book): if a guy's going to refuse to commit to labeling a relationship, it won't be because you asked the question. Like, that's insane. How does that even work, you tell him how you feel and he responds "hmm, despite all of my behavior that would indicate I feel the same way, now that you've brought it up my feelings have diminished?" It doesn't happen, and has never happened. The last time it didn't work out was because he had a pretty legitimate reason for not wanting to commit, not because you bothered to ask.
FWIW, almost no one I know is still with the person they were dating in college (I am le old). With someone they met in college at some point? Sure. But if you pour your heart out and this guy's still wishy washy about being serious, you might have to start taking evasive measures. It's what Pam should have done.

Dear Head Pro,
I am experiencing an uncomfortable level of confusion in my relationship with a guy that I'm interested in and need your guidance.  Here's the annoyingly convoluted background:
Had a one night stand w this guy I know and when I didn't hear from him the rest of the weekend I wasn't shocked.  Come Monday, it turns out he had tried various forms of social media to get in touch with me, I just didn't realize, so we began chatting.
He asks me out to drinks and he decides to make drinks a dinner, which I took as a good sign.  The date went really well and was a lot of fun but at the end he got very awkward, gave me a weird side hug and essentially ran away (I expected a kiss considering we had already had sex…). I left the date very confused but pretty accepting of the fact that clearly he wasn't into it. Didn't really hear from him until several few weeks later when he suggests we do it again and instead I invited him to meet my friends and I out at a bar that night,  He comes, we have a lot of fun and I go home with him again.
Jump even more weeks of minimal contact and we make a plan to go to the hang in a public setting but when I drop him off he gives me another awkward goodbye, a shoulder squeeze.  The next week he invited me to this party from which we leave together again, but I don't have sex with him and don't really explain why (we did other things though so I feel like it was fine). In the morning he makes me breakfast but doesn't kiss me goodbye.
Then he goes several MORE weeks without really reaching out to me!
By this point I was fed up with the inconsistency. As a large group we went out to a bar where I accidentally blacked out and maybe slapped him and called him an asshole; but apparently he didn't mind too much because I woke up in his apartment.  He said we were cool, texted a little the next morning and all seemed fine. Once again, weeks go by, he has texted me a few random times and IMs me but never keeps the convo going very long and never suggests hanging out.
So bottom line: This guy has been very hot and cold and hasn't asked me on a real date in two months but will still sometimes reach out but not to hangout or hookup so like wtf is the agenda.  I was under the impression that if a guy is into you he will ask you out or text you frequently.  On the assumption that he is just too awkward to function, should I keep making an ass of myself by putting myself out there and straight up ask if hes interested (which I may have done that blackout night and don't remember, i.e. may have already been denied-Yikes), or do I gather my remaining dignity and move on?
Sincerely,
Feeling too old for the hot and cold
Eh, I don't think this is all that complicated or inconsistent. Take the one-nighter out of the equation, and you're describing a brief relationship that never got off the ground between two people who never liked each other that much. Let's break down these encounters:
– One Night Stand: Presumably booze-fueled. No explanation needed.
– First "Date:" He's probably feeling a little awkward about how things started and wants to reset a little bit. Has a nice time, wants to feel things out on a romantic (as opposed to purely sexual) level. I can probably count on one hand the times I've tried to kiss someone on a first date, and I'm not exactly Mike Pence. Just doesn't always seem right.
– Second "Date:" I think you kinda fucked up a little here, given that he wanted to meet one on one and you did the "let's make it a group thing" thing. Then again, it's understandable given that he'd been radio silent for a while—no blame to go around, really, just poor communication. You meet up, the booze and social energy is flowing, and you smash. Cool.
– Third "Date:" You hang out in public, (presumably) sober. Still has a nice time, I guess? Another awkward goodbye.
– Fourth "Date:" Hey look at that, another party! And wouldn't you know it, you wind up going home and doing sex stuff again. I'm beginning to see a pattern here…
– Final Encounter: It doesn't sound like anyone actually invited anyone out here, you just ended up there as part of the same amorphous friend group. And wouldn't you know it, a lot of alcohol is involved again. And you wind up fucking, again. Color me surprised!
So yeah, besides his sporadic communication he's not really inconsistent. Other than when drinking lowers both of your inhibitions and you wind up touching each other in some places, it doesn't sound like he likes you all that much—and to be fair, it doesn't sound like you were walking on clouds after your dates, either. I think he was pretty obviously struggling to feel the vibe after the first few go-rounds, and then after whatever transpired at the bar he knew that this wasn't something worth pursuing.
He's still gonna hit it, though, because why not? That's life. Consider not going on dates with men who only contact you once per menstrual cycle and that you don't seem to like that much either, and you will be much better off.
Head Pro offers advice on life, love and really anything because he likes to hear himself talk. Email him at [email protected], and follow him on twitter and insta at @betchesheadpro.
What Guys Think About What You Order On A First Date
Head Pro would love to take you out for tacos, or at least to a place that sells tacos along with booze. Email him at [email protected], and follow him on Twitter/Insta at @betchesheadpro.
I don't know if you were aware of this, but the totality of your time here on Earth is spent interacting with other humans in ways designed to pluck at your deepest insecurities. Nowhere is this more true than in dating. All of a sudden, when the prospect of mutual coed nudity becomes even a distant possibility, it becomes even more unnerving. What do you wear? What body parts do you shave? What do I order on the first date?
Wait, what's that? Oh, hell yeah baby. The dead plants and animals you put in your mouth that will one day pass out your backside are (or can be, at least) the subject of scrutiny. Now, I believe that somewhere on this internet site, I'm on the record as saying that dinner is a bad idea for a first date, and I stand by that—happy hour, a few drinks, and decide on the rest from there. I'll also go on record, right now, and say that any guy who actually says anything about what you eat on a first (or any) date is an asshole not worth your time.
But: People do still do dinner as a first date, and when you go to dinner, the person across the table from you is going to have some kind of opinion on what's set in front of you. Not, like, a STRONG opinion, but an opinion all the same. Do with this information what you will, but here's what a guy might be thinking based on what you order on your first date.
1. Salad
This probably comes as no surprise, but ordering a salad on a first date is cliché and try-hard. Now, if you're clearly a very skinny person, or just in California where salad is all you're legally allowed to eat, that's one thing. But otherwise salads are a little messy, difficult to eat while holding a conversation, and all you're conveying is that you're someone who's incapable of being your real self when it's most beneficial. You'll get kale stuck in your teeth, and I won't tell you about it.
2. Wings
Oops, still try-hard, just in the other direction. Since everything you read tells you to not eat anything messy on a first date, the girl who orders wings is deliberately ordering something messy to show that she's a cool girl who's not like other girls. Yawn. I like sticking it to The Man (and wings) as much as anything, but your performative wing-eating is annoying. Plus wings aren't even a real meal.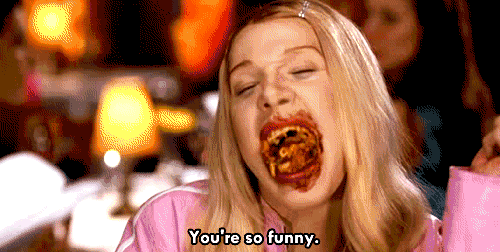 3. Just Booze
I will GLADLY eat while you just sit there drinking, but I'll also stop feigning concern for your numerous childhood issues the moment I tie a knot in the condom and drop it in your bathroom trash.
4. Pasta
I mean, pasta's alright if we're actually at an Italian restaurant I guess. But otherwise, like, what kind of adult orders chicken Alfredo at a restaurant? This isn't your college dining hall. If you're choosing pasta over everything else on the menu, I've either taken you to a shitty restaurant or you're boring as hell. One of those things is way more likely than the other.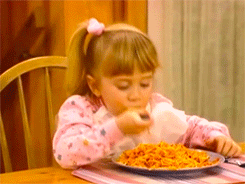 5. Some Expensive Shit
Look, even if you're not pulling some "girl's gotta eat" shit, ordering the most expensive thing on the menu makes you a sucker—it's almost never worth it. That's especially true of a first date, when no non-idiot is going to take you to the most expensive place in town. Ordering the porterhouse at an otherwise laid-back place isn't clever or betchy, it's tacky. And not just because I'm paying for it (but it doesn't hurt!).
6. A Burger
A burger's a pretty good choice, because it's hard to find fault with them. I guess the only thing I would worry about is if it's a place that serves those giant half pound pub-style burgers. I personally avoid them because if I want to keep drinking afterward or do anything physical (talking about fucking), I don't want all that cow weighing me down. If you go for it anyway, all I'm thinking is that sometime soon, you're gonna spend a lot of time on the toilet.

7. Tacos
Honestly, I got nothing. They're not overly messy or heavy, and don't say anything other than that you like things that are good. There you have it: Tacos are the perfect first date food. And if you only go out with people who are cool with eating tacos for dinner, well, that's a pretty good way to go through life.
Head Pro would love to take you out for tacos, or at least to a place that sells tacos along with booze. Email him at [email protected], and follow him on twitter/Insta at @betchesheadpro.
7 Things You Put A Lot Of Effort Into That Guys Don't Even Notice
As an Officially Woke Bae (and also, as not a giant idiot), I am fully aware that most of the things women do in terms of how they present themselves is for other women, not men. I get it, you wanna be "girl cute," because something something something about the jungle scene from Mean Girls. Ladies be catty, amirite? But also: you definitely want to meet guys, you probably want to go out with some of them, and you may even want to strip down and touch some of them under the sheets while The Weeknd plays softly in the background.
To that end, you're probably taking extra care on certain nights to be more appealing to dudes. And that's great! But before you go out and buy these ugly goddamned clear-panel mom jeans, keep in mind that a lot of the stuff you do, we won't even notice. Consider that guys don't know shit about…
1. Fake Eyelashes
The thing with fake eyelashes is I feel like you're only wearing them at night, which means it's dark, which means no one can see them. And if you're wearing them during the day, not one guy is going to care. Like, dudes don't sit around in their RompHims at the bar scoping out girls like "hey fellas, look at how beautiful her eyes are. I bet she's really cool and interesting." I mean I have a feeling this is one of those things you do for you and not for us, but I can't fathom poking yourself in the eye trying to glue them on. If my vision ever goes bad and I need contacts, I'll probably get run over in a crosswalk because no fucking way. I treat my eyes the way God Squad girls treat their vaginas: touch around it all you want, but nothing's getting in there.

2. Contouring
I guess the whole point of contouring is that NO ONE is supposed to notice it, and obviously I'm talking out of my butt here, but isn't it more for pictures than real life? Like, all the contouring is lost when someone sees you in three dimensions instead of two? I dunno, maybe it does work at first glance, and that's all that matters. The way we perceive faces is weird, mannnnnn .
3. Makeup In General, Actually
As a gender we have like, less than zero knowledge of makeup, confirmed by the mind-boggling number of men who'll say they prefer a "natural" look and girls who don't wear "too much" makeup. That's basically our binary reality—so much that it's obviously noticeable, or none at all. Now, I know that your face looks like the surface of Mars and that pulling off your "natural" look should qualify you to produce disguises for the CIA, but again, I am v woke.

4. Accessories
Unless you're wearing an Olympic medal around your neck, ear gauges big enough for me to stick my fist through, or a wedding ring, no man on Earth has any comprehension of accessorizing. Any guy who does is either gay or trying way too hard and is probably about three drinks away from dropping some sweet pickup artist material on you.
5. Your Sports Knowledge
Now, I'm not saying it's bad for girls to be into sports. Sports are good, and being into sports is good. What I'm saying is, no guy has a mental "must have" checklist that includes "into sports." In other words, you spouting off Bryce Harper's slash line at the bar might spark a conversation, but it's not going to make me think "oh wow, she's one of the good ones." You know guys who try to use their feminist bonafides as proof that you should fuck them? This is a similar (albeit much more innocent) thing.

6. Shoes
Are your shoes seasonably appropriate, as in you're not wearing sandals in the snow or snow boots to the beach? Great, that's about as far as we'll care. Like, we know heels = fancy and flip flops = casual, but the nuances are beyond us. And if a guy does know an unusual amount about shoes? Congratulations, you've got yourself a foot fetishist. Not saying there's anything wrong with that, but he is DEFINITELY going to try to suck on your toes in bed. Be prepared.
7. Fashion In General
Most guys, I think, have a vague understanding of what's fashionable, if nothing else based on what we see other people wearing every day. But in terms of actual trends, forget it. Like, women's fashion, even compared to men's fashion, is its own cultural universe. It moves too fast and follows too few rules and affects us too little to care. I'm not saying you shouldn't dress in a way that makes you look and feel your best, but don't be disappointed when he doesn't recognize that it came straight off the runway in Paris.
How Much Should You Spend On A Wedding Gift? A Guide To Buying People Expensive Sh*t They Don't Need
Head Pro sincerely holds the belief that a marriage is only valid if it's between him and an open bar. Email him at [email protected], and follow him on the social medias at @betchesheadpro.
Look, all wedding websites are terrible. Yes, even yours. Your "how we met" story is only cute to you, the bios for your bridesmaids/groomsmen are excruciating and no one gives a fuck that the third cousin of the wife of the Assistant Secretary of The Treasury lived in Slaves Built This Place Plantation in 1842.
But they're also functional, providing actual useful information to your guests—things like the location, that there won't be a shuttle to the reception venue 40 miles away, and links to your registry. They're typically hosted by TheKnot, basically the Halliburton of the wedding industrial complex. But for better or worse it's their thing, which makes it odd that they would give this dumbfuck advice for registry shopping:
Spend what you think is appropriate to your relationship to the couple, and also consider what's reasonable in your city. While a co-worker or friend may expect a gift in the $50-75 range, someone in an urban market may have double the expectations. Here's the ballpark you should be aiming for:
– Coworker and/or a distant family friend or relative: $50-$75
– Relative or friend: $75-$100
– Close relative or close friend: $100-$150
– Urbanite: $150-200+
I'm sorry, what? What the fuck precisely constitutes an "urbanite," and why the fuck am I expected to kowtow to their precious expectations to spend double? How does someone even arrive at that conclusion? "Well, I know Jeanne and Ronnie are just starting out and don't have much, but I just HAD to buy Zaydynn the Kitchenaid. She lives in a city, you know."
Fuck that. I'm not adjusting my spending just because an acquaintance I don't like that much chooses to pay upwards of $3/sq foot in rent. Besides that, how much does TheKnot think the price of consumer goods vary by geography? Are they based in a remote Laotian village? Unless the happy couple registered at Whole Foods, I'm pretty sure a set of ugly bathroom towels from Macy's costs pretty much the same everywhere.
Do you want to know how much you should actually spend on a wedding gift? Here's an easy formula: whatever the fuck you feel like spending. Seriously, though. If it's on their registry, it means they want it. It's not your problem if Becka registered for a bunch of mixing bowls and napkin rings. I would say as long as you hit the $25 mark, you're absolutely fine. Let their older family members splurge for the $500 Dyson vacuum.
Congratulations on your nuptials, I only got you a plate because convention dictated that I buy my urbanite friends a Lexus.
Head Pro sincerely holds the belief that a marriage is only valid if it's between him and an open bar. Email him at [email protected], and follow him on the social medias at @betchesheadpro.
Should I Go To A Wedding With My Ex? Ask A Pro
Head Pro is happy to answer all your questions about life, love and condoms, if he doesn't throw his computer into the ocean first. Fire up your Outlook machine to email him at [email protected], and follow him on Twitter and Insta at @betchesheadpro.
Dear Head Pro,
I need some advice. There's this guy that I've known for a while now. We run in the same very small and close group of friends. I see him basically everyday at my gym, where he works, and we all hang out every weekend. A couple weeks ago he started snapping me and texting me every night after work, but he'd pretty much completely ignore me at the gym, the most I could get out of him was a smile and a wave.
The smile was an improvement though, up until now he would completely avoid me whenever we were around each other. After a few weeks of this I was just kind of over it so through some flirty texts I told him he should ask me out sometime and he said that would be great and fun and we should go to dinner that Saturday.
Well that Saturday came around and I heard nothing from him about when and where we should go to dinner. So, I did what any self respecting betch would do and didn't text him and went and hung out with my bff, which inevitably ended with us hanging at our other friends house where he also was, awkward! He never said anything about the date or apologized or tried to reschedule. So just when I wrote this guy off as a total jerk, who doesn't deserve to be graced with my presence, our friends are getting food for dinner and he very loudly reminds them of my gluten allergy and tells them to get something different for me *swoon.*
What the hell am I suppose to do? Should I just ditch this guy? I know he likes me but he just seems too shy to do anything about it. And I know I can't do anything else without coming off like completely desperate, which I am not!
Hugs,
Betch who's losing the game
Woo, ok. It took me a while to stop laughing at this one, but: do yourself a favor and stop being so goddamned delusional. This guy doesn't like you. "We should get dinner Saturday" is already pretty noncommittal, and doubly so when it's in response to you awkwardly telling him to ask you out. He clearly had no intention of doing so. He sees you where he works, he knows all the same people and clearly knows how to contact you. And yet he didn't. Because he doesn't like you.
While remembering your fake gluten allergy is an undoubtedly swoon-worthy moment, you'll have a much happier life if you stop reading into things that aren't there. You are friends. He acts friendly towards you. This isn't that hard. Wanting to believe something's real when it isn't doesn't magically make it so. Trust me, I've been playing second base for the Washington Nationals in my head for years now, and I've inexplicably yet to receive an invite to spring training.
It's not going to happen. Stop trying to make it happen.
Dear Head Pro,
Me and boyfriend have happily a year and 5 months we have always always had sex without a condom maybe the first 2we did used , but now since I'm in school and been really focused with my last year so I can graduate I have recently asked him for us to start using again , since I do not want any "accidents" so , I'm not sure if I took the right step on asking him the use condoms again, but his response was totally hum I don't now maybe to supportive and Iam not sure if his being supportive because he has some-one on the side or because like he said "i want to be good with you and support  any decision and if that's want you want I'm okay "
So right now I just want to know or have a different point of view of why he could be all this supportive when sometimes he really is that all supportive be like I said sometime he is and he is a great guy but something in side of me was like waiting for him to be like all upset and ask no to use it …
Dearly
-Nicky…
Sent from my iPhone

I'm like honestly offended by the stupidity of this question. Also, he's definitely cheating on you. Only logical explanation.
Dear Head Pro,
Long story short my boyfriend and I just broke up as he cheated on me. At first he denied but then he fully came to admit his wrongdoing. It's more of a he-said she-said situation as to what ACTUALLY happened, but from his story they just made out, it felt weird to him etc and he left. The girl denies everything & anything, but happened to tell her best friend that relayed the news to my roommate (so again it's hard to know if his story is the truth)(also, they all work together, in finance of course). We were together two years, he's 32 and I'm 24.
We've remained on really great terms since as he was/is my best friend and has openly voiced that he would do anything to get back together, loves me so, I'm the one etc etc blah blah blah. I've basically said we're done until I figure out if I can believe/forgive/trust him again.
See the thing is now that his sister's wedding is down south in about six weeks…. I was also supposed to be in said wedding, but because of these circumstances I've obviously bowed out. ANYWAYS, he still really wants me to come / so does his family and the only people who know we broke up are his immediate family members who, since he cheated on me, know it was his fault and that he fucked up majorly and are rooting for us.
Obviously going away together in the king suite we had booked, we are going to hook up, fight, and experience all the emotions, but ultimately it might help our relationship and worst case I'll get a great tan. Anyways, I'm a little stuck as all my girlfriends despise his existence and I feel like they're against this relationship (for good reason of course). Should I go down south with my ex & his family? Subquestion, is making out completely unforgivable and does this relationship deserve a second chance?
– I've asked way too many people about this so what's one more.
Sent from Outlook
Wow, you're really burying the lede here. Yeah, sure, I guess we can call making out cheating. Like, maybe it's forgivable and maybe it isn't, but it's still on the no-no list. You're pretty clearly grasping for any reason to forgive him because pretending things are back to normal (even though they're not) is a lot easier than trying something new, but: do not go to that fucking wedding with him.
In no universe, real or imagined, will this ultimately "help" your relationship. It will ruin it irreparably. I've seen weddings ruin couples that weren't in the process of reconciliation, so what chance do you think you have? It's made even worse by the fact that this involves his family. There's going to be so much pressure, and booze, and you're going to get in a dumb fight and wind up fucking one of the groomsmen in an industrial kitchen. Then his entire family will go from half-assedly supporting you to hating your fucking guts, because you ruined his sister's wedding.
Honestly, can we collectively make the choice to ignore our primitive impulses and cut it with the "forgiving people who cheat on us" shit? It's a waste of time. No one's that important to where, in the near or distant future, you won't be happier with someone else and all but forget they existed. Like, you can go through the whole rigamarole of fighting and getting back together and (probably) ending up right where you are now, or you and your girlfriends can go do something cool like ride jet skis. I know what I'd do.
Who the fuck still uses outlook for their personal email?
Head Pro is happy to answer all your questions about life, love and condoms, if he doesn't throw his computer into the ocean first. Fire up your Outlook machine to email him at [email protected], and follow him on Twitter and Insta at @betchesheadpro.
Is This The Worst Hookup Disaster In History? Ask A Pro
Head Pro would never make you suffer the indignity of being turned down for a blowjob. Email him your most pressing questions (dating or otherwise) to [email protected]. For the same Head Pro advice with less public humiliation, buy our second book, I Had A Nice Time And Other Lies.
Dear Head Pro,
Long story short I got absolutely obliterated and started talking to a guy I barely knew in the club. This talking turned into dancing, and then somehow I went full prostitute on him and started sucking his face (not even kissing) front and centre in the middle of the fuckin club.
Brought him home. He started initiating sex and I told him we couldn't have sex b/c I was on my period (why the fuck did I bring him home). We spent the rest of the night talking. I found out he was a virgin, so I OFFERED TO SUCK HIS DICK (b/c he looked really embarrassed and I felt bad but seriously wtf), which he then POLITELY DECLINED.
We talked a bit more, for whatever reason I told him about a recent past hookup with a guy he knows (FUCK ME). End of story, we fell asleep, talked a bit in the morning then he left.
He's a nice guy and always says hi to me, but that's just the way he is. I've heard he's lost his virginity and since been racking up girls but apparently tells all his friends he really wants a girlfriend. He has gorgeous girls around him all the time b/c he is insanely nice and funny. What's sad is for whatever reason I cannot stop thinking about this kid. He is the first guy I have liked in a long time and I barely know him, and I feel like I ruined any chance I ever had with him.
Two things I need from this:
1) How do I fix things so that I could potentially maybe have another shot with this guy? Like do I apologize for publicly humiliating both of us?
2) If I've ruined everything and this will never happen again, how do I get over someone I was never even with?
This is my rock bottom please help me get back up. Thank you and pray that I wake up tomorrow a little less of a loser.
Loser
Dear Loser,
1) HAHAHAHAHAHAHA
2) Just keep offering to slob knobs until someone takes you up on it.
(But seriously, you just want what you can't have, and to make things worse he's now flaunting his awesomeness. Continue to delete him from your digital life and get on with it)
Losing his virginity riding the crimson wave would have been worth it for the story,
Head Pro
Hello Head Pro!
I've been seeing a guy for a couple of months, everything seems pretty good. We're not in a relationship because it's too soon for him, but I'm alright waiting as I don't want to dive in too soon either.
Anyway, I've noticed lately that he's not too interested in my feelings or emotional stuff…hard to explain. For example, if I text him saying I'm feeling a bit low or having a bad day, he won't respond for hours (but he will have been online, Whatsapp: destroying women's sanity since god knows when!) and when he does respond it will be about something else. I'm not expecting him to shower me with adoration or anything, but it's not hard to say something short and sweet, is it?
So the way he's acting is making me feel like I'm being lead on or that he isn't that into me as a person and it's making me feel worse. It's a vicious cycle! I have asked him if he's interested in a relationship with me down the line and if he's into me for me and not just sex and on both counts he's said yes and seemed pretty genuine, so I'm not sure what's going on.
Thanks!
Anxious and Hating Double Blue Ticks
Dear Why Denigrate The Blue Tick, The Noblest Of Tick Species?,
Fuck me, I WISH I had the balls some of these dudes have. In past situations where girls asked me if I was interested in a relationship, I'd just be like "nah, I'm good." That would be it, and I'd just find someplace else to get my pencil wet. But if I knew I could just give a noncommittal "sure," like my boss was asking me for help on a project I had no intention of doing, and girls would STILL sleep with me? Goddamn. I gotta keep this in mind.
Anywhere, there's your problem. The phrase "I could see a relationship with you, but I'm not ready for one right now" is HORSESHIT. It's a longer way of saying "I'm only doing this because you let me have sex with you." I'm not saying it's not real if you don't get engaged on the third date, or that "are we/aren't we" situations aren't common, but typically if people like each other, and they like having sex with each other, they don't waste much time making some kind of commitment, however small.
Basically, he doesn't ask about your feelings because he doesn't care, because he doesn't want to be your boyfriend. Whether you genuinely aren't "ready" for a relationship yet or are deluding yourself is actually kind of immaterial at this point.
I don't know what Whatsapp is,
Head Pro
Head Pro would never make you suffer the indignity of being turned down for a blowjob. Email him your most pressing questions (dating or otherwise) to [email protected]. For the same Head Pro advice with less public humiliation, buy our second book, I Had A Nice Time And Other Lies.