12 Fall TV Shows You Won't Want To Miss
We're now in the final months of 2020, and let's face it, this year still sucks. In the spring, we were all focused on finding new hobbies to cure our boredom while we were stuck inside (RIP my needlepoint kit), but now, most of us have settled into our couches and just need something new to watch. Luckily, the stars have aligned to bring us a lot of exciting TV this fall, even after lengthy shutdowns for much of this year. Some of your favorite shows are finally coming back for new seasons, but we're also getting a whole bunch of exciting new shows and miniseries. Basically, there's a lot to look forward to, even if the real world is still a f*cking disaster.
'Unsolved Mysteries Vol. 2' – 10/19
Our latest true crime obsession, The Vow, is drawing to a close this week, but Netflix has conveniently scheduled a new season of Unsolved Mysteries to make sure that we don't go hungry. Volume 2 of the hit show unpacks six new mysteries that remain—you guessed it—unsolved. The trailer for the new season is creepy AF, which, in the world of true crime, is all we could possibly ask for. Can't wait.
'The Queen's Gambit' – 10/23
Rising star Anya Taylor-Joy stars in this six-part adaptation of the hit novel. She plays an orphaned chess prodigy who has to deal with addiction and other demons in her quest to be the best chess player in the world. The trailer is full of brooding drama and 1960s vibes, so I have a feeling I'll be watching this in one sitting.
'The Undoing' – 10/25
As a bona fide Nicole Kidman stan, I was thrilled when I found out that she's coming back to HBO after making me cry for two full seasons of Big Little Lies. This miniseries, adapted from the thriller novel You Should Have Known, stars Kidman and Hugh Grant as a couple who have to deal with the fallout from a "violent death." It's also produced by David E. Kelley, the mastermind behind Big Little Lies. Yup, this sounds like exactly what we all need right now.
'This Is Us' Season 5 – 10/27
Who's in the mood to cry??? Due to COVID, the new season of This Is Us was originally pushed to November, but NBC saw how much y'all were struggling and moved it up to late October. It's the little things. Season 5 kicks off with a two-hour premiere episode, which means you'll probably need two full boxes of tissues at the ready—you've been warned. It'll be interesting to see how they handle all the flashbacks and future scenes this season, considering that none of us even know what year it is anymore. 2015? Sure, sounds close enough to me.
'The Mandalorian' Season 2 – 10/30
The reason your boyfriend won't let you cancel the Disney+ subscription is back! But actually, our favorite power couple the Mandalorian and Baby Yoda are back for a second season, and with that, hopefully there will be another round of fire Baby Yoda memes. He has some cute moments in the trailer, so it seems promising. But overall, the season looks intense, so maybe I'll make an effort to watch it this year.
'Industry' – 11/9
I don't know how HBO still has new shows ready to go eight months into a pandemic that brought production to a halt around the world, but I'm certainly not complaining. This new British series follows a group of young associates competing for permanent positions at a high-stakes investment bank in London, and it basically looks like Euphoria, but set in the world of finance. This might not be the one to watch if you have trouble with your anxiety, but personally, I'm very excited. Also, Lena Dunham is an executive producer, so make of that what you will.
'A Teacher' – 11/10
FX's new partnership with Hulu this year is already producing good results, and their latest collab is this miniseries about a teacher who has an illegal affair with one of her students. It's a story we've all heard before, but this looks like it's going to be a thrilling take on it. With stars Kate Mara (House of Cards) and Nick Robinson (Love, Simon), I have a good feeling about this one.
'The Real Housewives of Salt Lake City' – 11/11
Last fall, when Bravo announced that the next destination in the Real Housewives franchise would be Salt Lake City, the main reaction was "huh?" Turns out, this wintry spot in the mountains has everything you need for an A+ reality show. The women are rich, glamorous, and most importantly, ridiculous. I got a chance to check out the premiere episode early, and it does not disappoint. And even better, RHOSLC is one of the most diverse Housewives casts ever. You love to see it.
'Grey's Anatomy' Season 17 – 11/12
After season 16 was cut short in the spring due to the you-know-what, Meredith Grey & Co. are finally returning for their 17th season. Yes, it's a lot of seasons, but if you're still on the Grey's Anatomy train, there's no getting off now. Lucky for you, the season premiere will be a crossover episode with Station 19, which means it's a two-hour episode. It's really what we deserve after waiting so long.
'The Crown' Season 4 – 11/15
One of Netflix's top prestige dramas returns for its fourth season, and to quote Chris Harrison, this really might be the most dramatic season ever. As the timeline moves into the 1980s, we'll see the introduction of Lady Diana Spencer, and in the trailer we see glimpses of her wedding, as well as her tumultuous relationship with Prince Charles. This season's other top new player is Prime Minister Margaret Thatcher, played by The X-Files' Gillian Anderson. And of course, we still have Olivia Colman and Helena Bonham Carter killing it as Elizabeth and Margaret, respectively. This season looks like it's going to be wild, in the most refined way.
'Big Sky' – 11/17
Big Little Lies creator David E. Kelley has two new shows this fall, and the second is Big Sky, a drama coming to ABC. This one looks worth it for the gorgeous scenery alone, but there's also a gripping thriller plot to seal the deal. Two private detectives (one played by Ryan Phillippe, swoon) team up with an ex-cop to investigate the disappearance of two teenage girls. They soon find out that other girls have gone missing in the area, and it becomes a hunt to stop more kidnappings from happening. Looks creepy, I'm in.
'Saved by the Bell' – 11/25
The reboot trend is officially not over—sorry if you're sick of them. This might be the thing that finally forces you to get a Peacock account, because the nostalgia is out of control. In this latest reboot, Zack Morris is the Governor of California, while A.C. Slater is teaching P.E. at Bayside. The old cast is obviously here, but much of the series focuses on a new group of kids at Bayside, who are a mix of wealthy and low-income students. Should be interesting, but let's be honest, it can't be worse than last year's dreadful 90210 reboot.
Images: Liam Daniel / Netflix; Netflix, HBO, TV Promos, Star Wars, FX Networks, Bravo, Netflix UK & Ireland, ABC / YouTube
The Best TV Shows And Movies Coming To Netflix In November
Ah, November. The sweet time of the year when everyone is either still hungover and reliving their glory from Halloween (your costume wasn't even that great, chill), or already setting up their Christmas tree and writing their Hanukkah wish list. There. Is. No. In. Between. Despite the fact that Thanksgiving is around the corner, nobody really seems to care about #turkeyszn. But, fear not! I'm here to make the irrelevant month of November more relevant again. Here are some new shows and movies coming to Netflix in November that you can get excited about.
 'Grease'

It's finally here! You may have seen my recent article on a new Grease series that is yet to come, but honestly, what can ever compare with the original? Grease is the ultimate classic you can enjoy with bae, your mom, your friend, or alone. Get your pink jackets, poodle skirts, and singing voices ready, ladies!
'Step Brothers'

Netflix, did we just become best friends? Thank you for bringing us the joy of watching Brennan and Dale's rivalry and brotherhood blossom and the laughs that is Step Brothers. Having a bad day? Need a pick-me-up?  This is the perfect comedy to turn on and cry of laughter to. I love you, Will Ferrell.
'A Bad Moms Christmas'

Mila Kunis, Kristen Bell, and Kathryn Hahn. An amazing trio, I must say. A Bad Moms Christmas is the perfect feel-good and hilarious holiday movie about three overworked moms who rebel against the expectations of motherhood during Christmas time. If you're already prepared to sit on Santa's lap this week, this is the movie for you. Let's get in the holiday spirit! P.S. Kristin Bell is me during the holidays.
'A Holiday Engagement'

Bonnie Somerville stars in this this holiday rom-com about a woman named Hilary Burns who constantly feels pressure from her mother to marry (same, girl), and when her new fiancé suddenly breaks up with her, she scrambles to find a replacement. So, she hires an actor to pose as her fiancé in front of her family, as ya do. Honestly, the only reason I even know Bonnie Somerville is from her role as Mona on Friends, but this movie is a pretty fun storyline to follow. Oh also, Hilary Duff's sister, Haylie, stars as the snobby sister, so that in and of itself should be your reason to watch.
'Queer Eye': We're In Japan!

The wait is finally over. It's been a long three months without JVN on our Netflix screens, but the Fab Five are back and truly better than ever. They are abroad in Japan to help four Japanese men and women find confidence in themselves. Unfortunately, the season is only four episodes long, so pace yourselves accordingly.
'The Crown', Season 3

The Netflix series—which won the 2017 Golden Globe for Best Drama and a handful of Emmys, is back with season 3 spanning from 1964 to 1977. Yeah, 13 years of history is a lot to get through. The show follows the reign of Queen Elizabeth II and the ups and downs of the royal family. What's interesting about the show is that the actors change every two seasons. For this season, actress Olivia Colman will take over as Queen Elizabeth, Tobias Menzies as Prince Philip, and Helena Bonham Carter as Princess Margaret.
'The Great British Baking Show: Holidays', Season 2

Dig out your ugly Christmas sweater because The Great British Baking Show is back for Season 2 for the ho-ho-holidays. This holiday extravaganza will see competitors from past seasons of the show reunite under the tent. Paul Hollywood and Prue Leith are back judging this season, and the fans are going wild. We're in for a treat, literally.
'Atypical', Season 3

This Netflix drama follows Sam Gardner, an 18-year-old who's on the autism spectrum, who decides it's time to find love. His journey sets his mom and family on their own path as Sam seeks independence. In the new season, Sam starts his first year of college and is faced with the challenge of figuring out what success means for him. The show is a great presentation of life in a family, specifically with a special needs child. If you haven't seen the show yet, I definitely recommend trying it out.
Unfortunately, when one door opens, one must close *sobs*. While we are so excited about what's to come this month, we also have to face what we are leaving behind. Here are the movies leaving Netflix this month: Caddyshack and Caddyshack 2, Chasing Liberty, Groundhog Day, Sex and the City: The Movie, The House Bunny, Mamma Mia!, and Coco. Enjoy them while you can!
Images: Becca Tapert / Unsplash; Giphy (8)
Here's When All Your Favorite Shows Are Coming Back This Fall
Summer is winding down, which is mostly a bad thing. No more summer Fridays, no more trips to the beach, and no more using the heat as an excuse to stay in for the entire weekend. But one good thing about the changing of the seasons is that a lot of the best TV comes back in the fall. No shade to Bachelor In Paradise, but I desperately need something else to watch.
Of course, there are tons of shows that are coming back in the next few months, but here are ten that you definitely need to have on your radar. If I forgot your favorite show, don't come for me, just drop it in the comments. I can't watch everything.
'The Real Housewives of Dallas' — 9/4

Much like The Real Housewives of Potomac, who are finishing up their mind-blowingly good fourth season, you shouldn't sleep on the women of Dallas. Their fourth season kicks off next week, with a new housewife thrown in the mix. Last season culminated with a trip to Copenhagen that almost turned violent, and this year shouldn't be any less crazy. Before Real Housewives of Atlanta and Vanderpump Rules come back later this fall, RHOD will keep you entertained.
'American Horror Story: 1984' — 9/18

The quality of American Horror Story has varied over the last two years, but it's still exciting to see what new world Ryan Murphy has created. This season is expected to have an '80s slasher film vibe, which should be a lot of fun if you're into that sort of thing. This is the first season of the show not to feature Evan Peters, but I'm sure they'll make it work without him. Or not, but I guess we'll find out.
'This Is Us' — 9/24

I'll be honest, This Is Us isn't really my thing, but apparently I'm the only one who feels this way. Whatever, I get it, you guys like to cry. NBC renewed their hit drama in the spring for an almost-unprecedented three seasons at once, so we should be getting some good long-term story arcs. I'm just happy Mandy Moore is getting those sweet coins.
'Mixed-ish' — 9/24

We're getting a new spinoff in the world of Black-ish, which also premieres on the same day. This one is a prequel that focuses on a younger version of Tracee Ellis Ross' character Rainbow, and what happens when her parents move the family from a hippie commune to the suburbs. It sounds like a fun premise, and everything these creators touch turn to gold, so this is one not to miss.
'How To Get Away With Murder' — 9/26

Annalise and the gang are coming back for a sixth and final season, so I'm sure Shonda Rhimes will make it extra juicy. I'm not sure how it can really get more juicy than it already is, but Shonda has never let us down. If nothing else, Viola Davis' performance makes this show worth it.
'The Walking Dead' — 10/6

Honestly, I forget that they're still making new episodes of The Walking Dead, but they're kicking off their TENTH season this October. Danai Gurira, who became a big movie star after Black Panther, is returning for her last season, so I'm just gonna go out on a limb and say she probably gets eaten by zombies. It just makes sense.
'El Camino: A Breaking Bad Movie' — 10/11

Okay, so this is technically a movie and not a show, but I couldn't not include it here. In this continuation of the Breaking Bad universe, we see what happens to Jesse after the show ended. I have no idea how this ended up being a movie on Netflix, but no one is complaining.
'Shameless' — 11/3

Shameless is also back for a tenth season this fall, but things will look a little different for the Gallagher family. Emmy Rossum, who played Fiona, left the show after season 9 over salary disputes, so honestly, who is gonna watch all these kids? It's probably worth tuning in for the new season, if only so you don't get roasted in the group chat.
'The Crown' — 11/17

Season 3 of The Crown brings us into a completely new era, and with it we get a new cast. Claire Foy was great, but Netflix replaced her with Olivia Colman, who just happened to win an Oscar earlier this year. Casual. Also, we get Helena Bonham Carter as the tragic Princess Margaret, which should be amazing. The royal family probably won't love this season, but I have a feeling it's going to be great.
'The Marvelous Mrs. Maisel' — 12/6

December feels like a long time from now, but I'm sure the next few months will fly by. Season 3 of Mrs. Maisel will probably win all the awards a year from now, so you better watch it now so you're not behind later. Will Midge get married? Will she become super famous? We'll find out soon, thank god.
Images: Amazon; Giphy (10)
The 8 Prettiest Rooftop Bars In New York
Spring is finally here, which means New Yorkers will actually start to enjoy paying an exorbitant amount of money to survive living in this city. Unlike most places, spring in New York occurs for approximately two weeks between a disgustingly freezing winter à la March of the Penguins and a summer that is essentially just one giant heatwave. Fun times! New Yorkers generally don't enjoy nature (at least I don't), but that doesn't mean we don't like being outside when the arctic conditions have finally peaced the f*ck out. And because I refuse to pretend that I want to take advantage of the nice weather in Central Park, I will always be the first to propose the plan in the group chat before anyone else has the chance: rooftop bars.
Seriously, name one thing better than drinking against the backdrop of a beautiful skyline in pristine weather conditions. I'll wait. Here's the thing, as much as this city makes me question my will to live, there are times when I am happy to exist in a place where I can have a sit-down dinner at 11pm or run into Karlie Kloss every now and then. One of the most amazing qualities of this city is its ungodly amount of bars serving generous pours. So, while I couldn't tell you where the f*ck to eat in the Theater District for a 6:30 show (which is what most people want to know), I can tell you where to knock a few back as the weather warms up. You're welcome, darlings.
Gallow Green

If you can't picture where Gallow Green is on a map, would West 27th Street between 10th and 11th Avenues help? I know what you're thinking, "Wait. Isn't that where Marquee is?" Why, yes it is, but if you're not in college anymore, you have absolutely no reason to be at Marquee, so just keep walking west and you'll find yourself at the door of the McKittrick Hotel. Now, if you're a cultured New Yorker, you'll know that the McKittrick Hotel is home to the only reason any of us know what Shakespeare's Macbeth is about aka Sleep No More. So far, so good! Just above the steamiest play of all time is a seriously chic cocktail-slinging garden-vibes rooftop bar called Gallow Green. To paint a picture for you, it's the Garden of Eden with a bar in the back. It's named after a Scottish field where accused witches were hanged (neat!), so the bar has kind of an old-timey feel complete with string lights, greenery and tattered white flags hanging from the ceiling. Most importantly, the cocktails are to-die-for and the food is actually pretty amazing, too. I'll take a Sleep No More cocktail with a side of assorted pizzas, please.
Vida Verde
This place has a spring break in Cancun vibe, but for adults, and I am not mad about it. It's right in Midtown, so you can head straight here after you're done pretending to make the world a better place at your finance job. Vida Verde isn't like, revolutionary, but there are two things about it that make me want to go here over every other Midtown rooftop. First, there are more tables than I've ever seen in one place, which is ideal because I have a standing desk at work and now associate standing up with Excel and calendar invites. If there is a drink in my hand and nachos in the vicinity, I need to be sitting, mmkay? Second, there are 10 flavors of margarita. Lastly, a drinking establishment is only as good as its vibe, and Vida Verde clearly knows that, which is why the roof is literally covered in murals and every chair is a different color. I know the menu is prob the most important, but you're playing yourself if you think you're not going to take any Instagrams up here, honey. Take a seat, sip one of your 10 margs and enjoy the beautiful weather up here.
Ophelia
Ophelia is set in midtown East, but like, all the way east to the point that you are almost walking into the East River. But once you get inside, you'll realize it's well worth the trek. Perched 26 stories above the city, the Gatsby-reminiscent bar offers 360-degree views of the East River and Manhattan skyline in both its indoor and outdoor sections, so checking out this rooftop is not weather-dependent. The cocktails are delicious (and will sneak up on you—buyer beware). I had the appropriately named Flapper drink, which came in a glass dusted in sugar, and was prettier than I can ever hope to be (and tasted as good as it looked).
Refinery Rooftop

I avoid the Garment District harder than I do making eye contact with my ex in the Trader Joe's line on a Sunday morning. But I'll gladly step foot in New York's equivalent of District 12 for Refinery Rooftop. If you've ever experienced the nightmare that is a fashion internship, you'll know that those four miserable blocks between 6th and 9th Avenues are the bane of human existence during the summer months, but Refinery Rooftop is a game changer, I promise. I don't even get PTSD-induced flashbacks from my trips to Mood anymore! Anyway, Refinery is not a massive frat house like so many rooftop bars. It actually kind of feels like you got lost in someone's enormous house and just stumbled around until you ended up on her outdoor deck. I mean that in the best way possible: it's quaint, it's chic and it's surprisingly homey! The roof has a giant skylight and the walls are exposed brick, which is chic af. The cocktails are pretty decent, but be sure to order the bar's signature sips because for each one sold, one dollar will be donated to GrowNYC! According to Refinery Rooftop, GrowNYC "improve New York City's quality of life through environmental programs that transform communities and empower all New Yorkers." It'd be cool if they could improve New York City's quality of life by fixing the f*cked up subway system, but I guess environmental programs are cool, too. 
The Crown Rooftop at 50 Bowery Hotel

When it comes to sweeping views, this Chinatown gem truly has them all: Brooklyn, Manhattan, maybe even Queens! Don't get me wrong, Chinatown can def be disgusting what with the constant stench of freshly dead fish and enormous crowds that insist on taking up 110% of the sidewalks, but honestly, this is one of my favorite neighborhoods in Manhattan thanks to the mom in Broad City. Ok, back to The Crown. This summer, The Crown is rolling out all the stops with its new theme, Royal Summer. I'm into it. TBH, one of the things I love most about this place, aside from its bougie theme, is the fact that there are indoor and outdoor sections. As much as I love breathing in the polluted-beyond-reason New York air, sometimes I just want to sit on a plush sofa in an air-conditioned space with a drink in my hand. Is that too much to ask? The Crown doesn't think so! This season's new menu items include a lobster roll with North Fork chips and a "backyard" burger (among other items) and, for the drinks, Rose-Colored Glasses. My friends tell me I wear these on dates with attractive guys, fully knowing they will ruin my life for a few months, but whatever. To each her own, right?
Pod 39 Rooftop
Truth be told, I went on a horrendous date here when I first moved to New York, but the date was bad only because the guy absolutely sucked. The location was amazing and I have since been back many times. This bar is the perfect size, too: it's not too big and not too small, but more importantly, they let only a certain amount of people up at a time, so you will never have to take baby steps with your arms bent and pressed against your body like chicken wings as you try to squeeze through a crowd. I'm not sure if there's a theme, per se, but I have gotten chips and guac and a spicy marg more than once, so I'm going to go ahead and say Mexican is a safe bet? Like The Crown, there are indoor and outdoor sections, but the outdoor part is significantly better than the indoor one, which has exactly one sofa and one table. Feels like they are setting us up to fail here, but whatever. The outdoor part is also just really cute. There's no roof, so obv plan to go on a day/night when it's not monsooning, and enjoy the best views of Manhattan. The lack of roof also means the whole space looks and feels really open, so it doesn't get so loud to the point where you're scream-talking with your date/friends.
A.R.T. Soho

It's the Arlo rooftop in Soho, get it? The Hudson River provides the backdrop to this rooftop bar, so your Instas will be on point. The bar has plenty of seating (and a number of plush chaises), so you won't be fighting anyone for a seat (or, more likely, staring daggers at that table who just. won't. get. up). They've got an inventive signature cocktail list and a respectable selection of craft beer, plus snacks and small plates that I can personally attest are amazing. (Try the deviled eggs or grilled wings and thank me later.) And when the sun goes down, you can check out what's going down at the hotel downstairs, where they host all kinds of fun events, like a CBD pop-up, Movie Night, and once, a haiku poetry slam.
Brass Monkey
Say what you will about this place, but I f*cking love it. It's in the Meatpacking District, which like, chic, and the music here is on fire. The journey to get from the terrifying college-bar vibes of the first few levels can be a lot, but once you actually get to the roof, all feels right in the world again. It's the perfect place to go with a small group because there is so much space up there. You can push tables together, sofas together, your two friends you've always wanted to date together…etc. The drinks are like, fine, but no one really goes to rooftop bars for a truly quality craft cocktail. They are open pretty much all day and night, so go whenever you feel like, but I personally prefer to spend the day here than the night here because, after midnight, this place can be a cesspool rife with body con dresses and dudes asking what sorority you were in, which just shouldn't happen if both parties have graduated. The French Toast and anything from the Something Sparkly part of the menu is a perfect pair, so order up! Be sure to wear sunscreen because there is zero shade up here and no one wants brunch with a side of fine lines, amiright?
Images: Gallow Green; Refinery Rooftop; The Crown at Hotel 50 Bowery; Ophelia NYC; Arlo Hotel; Pod 39, Brass Monkey / Instagram
The Best TV Shows & Movies Coming To Netflix In December
It's fucking December, guys. As much as I wonder where the hell this year went (since I must've been blacked out for most of it), I'm beyond glad it's almost over. 2017 was pretty shitty, tbh, so here's to hoping 2018 is slightly better—only because I don't think it can get any worse. On the bright side, soon enough, we'll be bundled up for freezing temperatures, yet happily living as recluses for the next three months. With the holiday and winter season approaching, it brings with it a bunch of TV shows and movies we'll gladly binge on the couch instead of tending to our social lives. Whether you're using your boyfriend's, ex-roommate's, or you actually have your own account, log into Netflix, grab cheap wine from Target, and get comfy. Here are eight shows and movies to binge while you eat shitty takeout and live your best life in hibernation.
Movies
'V For Vendetta'
After a batshit crazy war occurs in London, the city is overtaken by a controlling psychotic government. The hero in the film, who goes by V (…couldn't tell you why), tries to fight back in order to get the world back to some sort of normalcy. Along the way, he crosses paths with Natalie Portman, who plays Evey. Together, they probably fall in love, bring world peace, and live happily ever after. I haven't seen this tbh, so whether or not that's actually the ending, this movie is supposedly v good and worth the watch.

'Hitch'
This all-time classic is one you've most likely seen only because it randomly plays during the weekends on E!. Either way, it totally sets the mood for a much-needed girls night rom-com. Will Smith is a "date doctor" in this film, aka that friend who helps you come up with your Hinge messages before there was even Hinge. He helps mentor people with like, corny pickup lines in order to score them a date with someone clearly out of their league. When Smith meets a girl for himself, his cliché tricks fail to work on his journalist girlfriend as she slowly learns his true identity. Moral of the story: You can't ever lie to us girls. We will find out. And we will kill you.

'8 Mile'
Netflix is taking us back to remind us why we fell in love with Eminem to begin with. Not only is he totally hot, protective, and like, family-oriented, but he's also a humble rapper (who may or may not dream about killing his ex-wife). The late 90's film is based on Eminem's actual tough upbringing, his struggles on becoming a famed musician, and most definitely, the only reason you know every word to "Lose Yourself."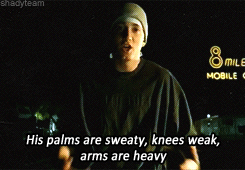 'The Santa Clause'
It's obvs December, so be prepared for holiday classics and annoying Hallmark movies coming everywhere to a screen near you. Netflix has a ton lined up for this month, including all three parts of The Santa Clause. In this classic, Tim Allen "accidentally" kills a man dressed as Santa (um, I thought this was a family movie?) and is immediately transported to the North Pole. He's forced to take Santa's place on Christmas, and suddenly, he begins to gain weight like crazy and grow a long white beard. After he realizes he's neither dreaming nor really fucking high, he decides to take on the job and all of the obstacles that come with it.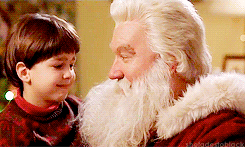 TV Shows:
'Dark' Season 1
This new German series circles around a small town and its shitty, corrupt past when two children go missing. When families go searching for them, they're introduced to shady af people who apparently are the reason why their town sucks to begin with. Supposedly full of twists, time travel, and supernatural stuff, this is being hailed as the next Stranger Things. The first season is going to be extremely binge-worthy when it's too cold to function outside.

'The Crown' Season 2
It has already been awarded the Golden Globe Award for Best Television Drama Series, so with its second season premiere around the corner, we can only hope it exceeds our expectations. The Netflix original is based on the life of Queen Elizabeth II and all those who were a part of it, from the 1940s to modern era. This may sound like your average history lesson, but I assure you, the royal Gossip Girl-like show is much juicier and more interesting than that.

'Fuller House' Season 3
Season 3 of Fuller House comes back this month (again) without the Olsen twins, because quite frankly, they obvs have better things to do than to pretend to be Bob Saget's teen daughters. Um, same. The new season brings more cheesy storylines, annoying af Kimmy Gibbler, and new (hopefully attractive) love interests.

'The Ranch' Part 4
In case you haven't watched a single minute of this, because same, Ashton Kutcher plays a true fuckboy-wannabe in this series. After his football career failed, he decides to run a ranch with family he hasn't seen in over a decade. Talk about awkward. Yet, in typical Ashton Kutcher fashion, he also eventually finds himself torn between choosing his current girlfriend or his high school booty call. See? Absolute fuckboy. However, this shit is apparently pretty funny, so it could be worth watching purely for procrastination.