What Your Thanksgiving Outfit Says About You
Thanksgiving is just a few days away, and I've already scheduled my workout classes for the next month in order to account for the 15,000 calories I plan to consume. I've also started tearing up my closet as I begin to plan my perfect Thanksgiving outfit. You see, on the surface, what you wear to Thanksgiving dinner may seem trivial. But in fact, the outfit you choose to wear is actually extremely crucial to whether you have a pleasant Thanksgiving or a straight-up unbearable one. This is because your Thanksgiving outfit says a lot about who you are, and signals to your family members how you're doing in life (aka whether you have your sh*t together or not). For example, if you choose to show up in sweats, then you're going to get a lot more judgement over still not having a boyfriend and as to whether or not you're truly "putting yourself out there enough" than you would if you show up in a sweater and jeans. So, in preparation for your family's undeserving yet totally expected judgment of your life, here's a review of what each of your possible Thanksgiving outfit says about you. 

1. Sweats, Unbrushed Hair, And Slippers
Sooo I already touched on this "look" a little, but let's dive a little deeper. As much as you may want to just throw on sweats because you're still super hungover from Thanksgiving Eve, it's best not to. Whether you love your family or can't stand them, they're going to be totally judging you and your sweats ensemble, and I can guarantee it won't be in a positive light. Your parents are going to resent you when they're repeatedly asked "if you're doing okay." Followed by snide comments about how that Comm degree really isn't working out and whether or not you actually have any plans to move out soon. Truly, I think you're better off just not even showing up to dinner than attending in your "idgaf" outfit.
2. Last Night's Makeup, Leggings, Oversize Sweater
This ~lewk~ says that you were wayyy to excited for Thanksgiving Eve and the chance to resume being your degenerate self, binge drinking with your high school besties. You clearly went full blackout mode and are suffering the consequences today. You're totally trying to mask the fact that you're running to the bathroom to throw up every 20 minutes by dressing slightly presentable. Unfortunately, last night's cat-eye paired with your VS PINK leggings is a nonsensical combo and an obvious indicator that you're nowhere close to "adulting." Not only will you have to deal with everyone thinking you're an immature hot mess, but you'll simultaneously be having to explain to all the boys in your phone why you called them each 30 plus times last night. Not fun.

3. Standard Sweater, Plain Jeans, And Flat-Heeled Boots
You're doing just fine, and have nothing exciting to report. When your great aunt asks, "whats new?" you can confidently say, "oh nothing, same-old, same-old." Basically, this choice outfit lets everyone know that you have your sh*t together but you're not exactly thriving. In fact, your life is pretty boring right now, so you legit have nothing to talk about. Meaning, those small talk convos won't last more than five minutes and you'll have plenty of free time to frequent the bar for a few more glasses of wine. Sounds good to me.
4. Stylish Blouse, Faux Fur Vest, Flare Jeans, And Heeled Booties
You've got your sh*t together and are simply living your best life. Sure, you went out last night just like your #NeverGraduating cousin but, unlike her, you had a casual three drinks. You left the bar around midnight, went home, washed all your makeup off, and snuggled into bed to watch a few episodes of Grey's Anatomy before falling asleep. Job is good, life is good, and your family will all say you "seem like you're doing well." And they're right, cause you motherf*ckin' are. Pop the champagne because you wore the perfect Thanksgiving outfit.
5. Full Face Of Makeup, Bodycon Dress, High Heels
Showing up to Thanksgiving in a bodycon, because you actually chose to wear a bodycon and not because you stayed over some boy's house the night before, screams over-the-top. This is Thanksgiving dinner, not your sorority fall formal so like, wtf are you wearing??? It's obvious you're wearing that super tight dress so everyone will tell you how good you look and you can brag about your Keto diet. You're trying to prove something with this look but trust me, it ain't working. The only thing you're proving to your family members is that you are mentally unstable and have been watching way too many episodes of the Real Housewives of OC. Go back to your closet and try again.

As Rachel Zoe once said, "Style is a way to say who you are without having to speak." This same inspirational quote applies to your Thanksgiving outfit. Don't make your Thanksgiving harder than it needs to be. Instead, actually enjoy stuffing your face in peace this holiday by wearing the right outfit.
Images: GIPHY (3); @kchance8 / Unsplash
The Best Pants For Your Thanksgiving Food Baby
Thanksgiving is the time we celebrate America's greatest traditions: racism, pillaging minorities, and gluttony. My family is from the South, so somehow we still have all three at our table every year. I play this fun drinking game with myself where every time someone makes an offensive comment I drink. I tend to fall asleep before I die of alcohol poisoning, so it's fine.
However, on Thanksgiving, I am totally pro-gluttony and I plan to shove too much of every side dish into my mouth as fast as possible. Let's be real, the side dishes are the point of Thanksgiving, we only eat the turkey because it's expected and it's a pain in the ass to cook. If you're like me and you're going to drown your problems and disrespectful relatives in wine and pumpkin pie, you need to dress accordingly. That means pants that look chic for photos, yet can expand enough to accommodate your inevitable food baby. Before you give up and buy maternity pants, try these first.

Liquid Leggings
I wear leggings as pants on the reg, so I don't really GAF about the whole "leggings aren't pants" debacle. However, if you want to look put-together and still have maximum stretch and comfort, try a pair of liquid leggings that look like leather. Pair these with a cute oversize sweater and booties and you'll look fall-ready, but be totally comfortable. Get a high waisted pair to really disguise your giant stomach and still look teeny AF in photos.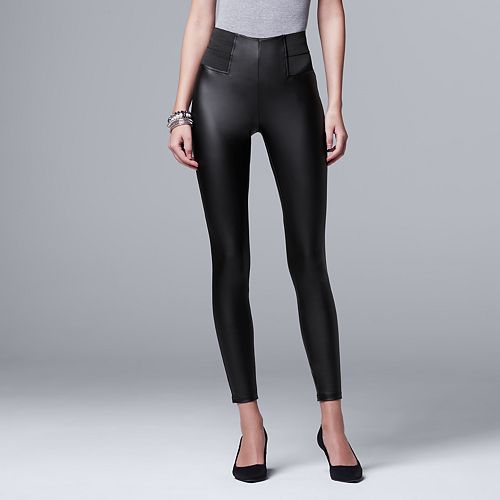 Women's Simply Vera Vera Wang Faux Leather Leggings
Jeggings
What kind of psycho wears jeans to Thanksgiving? Are you trying to get that look where your fat gets deep red marks the second you sit down? F*ck no. So if you must wear jeans with your outfit, skip the actual denim and opt for a pair of super stretchy jeggings. Just please don't wear the ones with the v obvious elastic waist unless your shirt or sweater covers it. They look stupid. These "jeans" from Vibrant are actually jeggings. They are so soft, stretchy, and look exactly like real jeans. I have the skinny, high waisted, and flares ones in almost every wash. They stretch so much so they're great if you have eaten an insane amount of food. They are also so cheap!

Vibrant Women's Juniors Bell Bottom High Waist Fitted Denim Jeans
Palazzo Pants
Who says palazzo pants are just for spring and summer? Palazzo pants are the best because they basically feel like you're wearing pajamas but they look super put-together. You can wear whatever floral or tribal prints that you already have from this summer, but if you really want to make the look feel more fall-appropriate, choose a more autumnal fabric, like velvet. I just got the most amazing green velvet pants and I'm obsessed. And they are totally appropriate for both photos and instantaneous obesity.

Rut & Circle Velvet Wide Pant Green 
Jumpsuit
Are jumpsuits considered pants? Is butter a carb? I don't care. They're super comfy, stretchy, and look really chic, but still feel like you're wearing sweats. Plus you can choose cuts that skim over your stomach and won't restrict you as you're eating seven rolls of bread.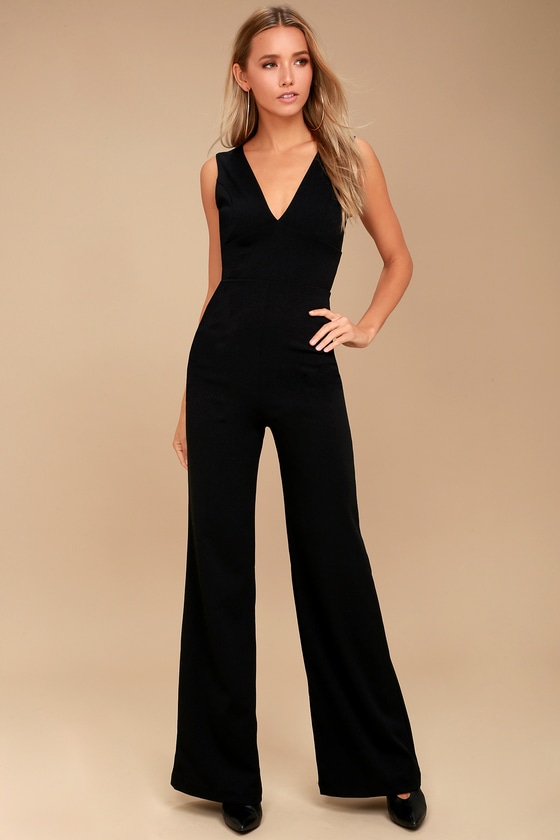 Lulus Ready For It Black Sleeveless Wide-Leg Jumpsuit 
Culottes
Culottes are another fabulous outfit option under the "pretend pants" category. They're easy to style, super stretchy and comfortable, and wearable in any season. Find some with a tie waist or other detail to distract from how rapidly you're expanding.

ASOS DESIGN Culotte With Tie Waist
Images: Giphy (1); Unsplash/Cortney White; Kohls/Vera Vera Wang; Amazon/Vibrant; NA-KD; Lulus; ASOS
Betches may receive a portion of revenue if you click a link and purchase a product or service. The links are independently placed and do not influence editorial content.