This Is How Much Exercise It Takes To Burn Off Thanksgiving Sides
If you're an inner fat kid like me, then you're probably already drooling at the thought of all the delicious food you're going to eat on Thanksgiving. I literally can't wait to eat at least seven pounds of green bean casserole, sweet potato pie, and stuffing. Thanksgiving is only one day, yes, but for many people (hi) that "it's only one day, YOLO" mindset can set off a series of unfortunate events that leads to a holiday weight gain, which I'd like to try to avoid. So I've decided to take your favorite Thanksgiving sides and put them in perspective—how much exercise does it take to burn each one off? Is it really worth having more of Aunt Marge's mediocre boxed stuffing when you're already on the verge of exploding? Maybe. Maybe not. I'm not here to make that choice for you, I'm just here to give more information. 
Stuffing
One serving of stuffing equals 195 calories. Depending on how fast you run, running a 5-minute mile or jog-walking a 13-minute mile is what it will take in order to work off this 5-star side dish. Honestly, that's pretty doable, especially if you and your cousin go out to smoke for a walk around the neighborhood after the meal. So go ahead and have that spoonful if you want. If you pack the stuffing onto your plate, increase the distance accordingly.
Cranberry Sauce
86 calories for one slice of cranberry sauce… so let's say one serving is about 200 calories. To burn that off, choose to take the stairs instead of the elevator at work, at the mall, in your apartment complex, or wherever else you can find stairs. Opt for 15 minutes worth of climbing steps outside or just hop on a Stairmaster at the gym. Again, very doable.
Sweet Potato Pie
394 calories of sugary, delicious sweet potato goodness. It's worth every bite, but will take you a little bit longer to work off. To burn around 200-300 calories, you can do 30 minutes of burpees. Spend about 45 minutes with generous breaks in between sets and you'll have earned your pie. Ugh that's like, a lot of burpees. 
Mashed Potatoes
One serving of mashed potatoes will charge you a grand total of 237 calories (why can't we have nice things?), give or take 25 calories depending on if you add gravy or not. Hop on a treadmill at the gym for an hour and you shouldn't feel those mashed potatoes weighing you down anymore.
Pumpkin Pie
It's 323 calories for a single piece of pumpkin pie on its own. Add 137 calories if you add a scoop of vanilla ice cream on top (which you should). To burn 500 calories of whatever sugary treat you ate for dessert, take an hour Zumba class and dance it all off.
Remember, this is the amount of recommended exercise per serving… and we all know we don't just have *one plate* at Thanksgiving dinner. We have 3-5 plates the day of and two more of leftovers the day after. So you could do all this exercise, or you could just not work out at all and realize that one (or three) days of eating different than normal won't kill you. Happy Thanksgiving, betches!
The Best Pants For Your Thanksgiving Food Baby
Thanksgiving is the time we celebrate America's greatest traditions: racism, pillaging minorities, and gluttony. My family is from the South, so somehow we still have all three at our table every year. I play this fun drinking game with myself where every time someone makes an offensive comment I drink. I tend to fall asleep before I die of alcohol poisoning, so it's fine.
However, on Thanksgiving, I am totally pro-gluttony and I plan to shove too much of every side dish into my mouth as fast as possible. Let's be real, the side dishes are the point of Thanksgiving, we only eat the turkey because it's expected and it's a pain in the ass to cook. If you're like me and you're going to drown your problems and disrespectful relatives in wine and pumpkin pie, you need to dress accordingly. That means pants that look chic for photos, yet can expand enough to accommodate your inevitable food baby. Before you give up and buy maternity pants, try these first.

Liquid Leggings
I wear leggings as pants on the reg, so I don't really GAF about the whole "leggings aren't pants" debacle. However, if you want to look put-together and still have maximum stretch and comfort, try a pair of liquid leggings that look like leather. Pair these with a cute oversize sweater and booties and you'll look fall-ready, but be totally comfortable. Get a high waisted pair to really disguise your giant stomach and still look teeny AF in photos.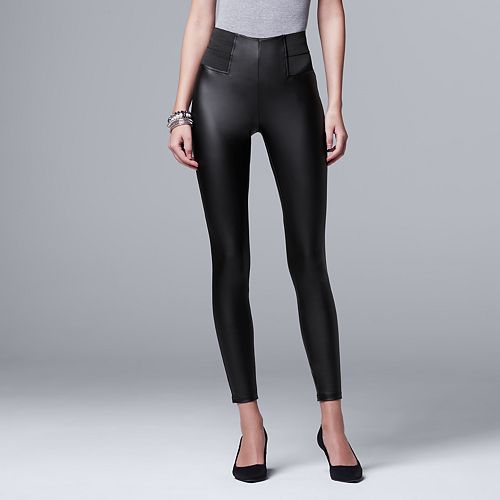 Women's Simply Vera Vera Wang Faux Leather Leggings
Jeggings
What kind of psycho wears jeans to Thanksgiving? Are you trying to get that look where your fat gets deep red marks the second you sit down? F*ck no. So if you must wear jeans with your outfit, skip the actual denim and opt for a pair of super stretchy jeggings. Just please don't wear the ones with the v obvious elastic waist unless your shirt or sweater covers it. They look stupid. These "jeans" from Vibrant are actually jeggings. They are so soft, stretchy, and look exactly like real jeans. I have the skinny, high waisted, and flares ones in almost every wash. They stretch so much so they're great if you have eaten an insane amount of food. They are also so cheap!

Vibrant Women's Juniors Bell Bottom High Waist Fitted Denim Jeans
Palazzo Pants
Who says palazzo pants are just for spring and summer? Palazzo pants are the best because they basically feel like you're wearing pajamas but they look super put-together. You can wear whatever floral or tribal prints that you already have from this summer, but if you really want to make the look feel more fall-appropriate, choose a more autumnal fabric, like velvet. I just got the most amazing green velvet pants and I'm obsessed. And they are totally appropriate for both photos and instantaneous obesity.

Rut & Circle Velvet Wide Pant Green 
Jumpsuit
Are jumpsuits considered pants? Is butter a carb? I don't care. They're super comfy, stretchy, and look really chic, but still feel like you're wearing sweats. Plus you can choose cuts that skim over your stomach and won't restrict you as you're eating seven rolls of bread.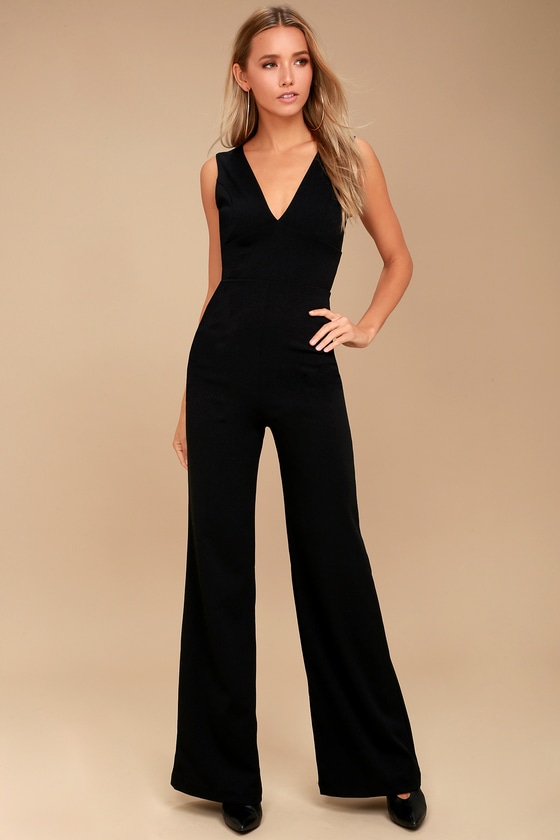 Lulus Ready For It Black Sleeveless Wide-Leg Jumpsuit 
Culottes
Culottes are another fabulous outfit option under the "pretend pants" category. They're easy to style, super stretchy and comfortable, and wearable in any season. Find some with a tie waist or other detail to distract from how rapidly you're expanding.

ASOS DESIGN Culotte With Tie Waist
Images: Giphy (1); Unsplash/Cortney White; Kohls/Vera Vera Wang; Amazon/Vibrant; NA-KD; Lulus; ASOS
Betches may receive a portion of revenue if you click a link and purchase a product or service. The links are independently placed and do not influence editorial content.