The Evolution Of Ariana Grande's Ponytail
Over the past year or so, we've experienced Ariana Grande's rise from a mid-tier pop star with a few big hits to one of the biggest stars in the world. She had a whirlwind year in her professional career, her personal life, and she's currently running herself ragged on a world tour. One thing that hasn't changed, however, is Ariana's trusty ponytail. Ari and her pony have been going strong for years, and it's one relationship that I don't see ending anytime soon.
Today, in honor of Ariana Grande's 26th birthday, let's take a look back at the evolution of the most famous ponytail in the world. From its days as a young ponytail, full of hopes and dreams, to a strong, confident pony taking over the world, it's really been a journey.
September 2012

Early in her career, Ariana Grande was best known for her iconic work on the Nickelodeon shows Victorious and Sam & Cat. On the show, her character had bright red hair, so Ariana dyed her hair red in real life for years. Honestly, my roots hurt just thinking about this. Still, there's our beloved ponytail, just waiting for its moment in the spotlight. You'll notice it hasn't taken its rightful place on the very top of Ariana's head yet. This pony looks like a kindergartener on her first day of school, still a little shy, and waiting to come out and play. An introverted ponytail, if you will.
April 2013
As you can see, by 2013 Ariana's ponytail had moved considerably higher by this point, with the big, loose curls that she loved when she was younger. Gone was the shyness of that red pony in the last photo. This was the beginning of pop star power pony—large and in charge, and destined to do big things. But really, the best thing about this is the entire 2013 Instagram aesthetic. The angle. The photo quality. The caption. :D. I'm deceased.
August 2014

As you can see, Ariana Grande looked almost exactly the same in 2014 as she does now. You could tell me this is a photo from last week and I would believe it. The only thing that's really changed is that she doesn't drape her hair over her shoulders like a curtain anymore, as she's doing here in 2014. That pony is fully a creature just living its best life up there. It could not be tamed, no matter how sweaty it makes her shoulders. But we all have to sacrifice for our beauty at some point, and I suppose sweaty shoulders was the sacrifice Ariana had to make back in this era.
November 2014
I'm mostly including this photo because seeing Ariana Grande and Big Sean is physically jarring to me, but that's not the only reason. This was an important period for Ariana, because she was in a half up, half down phase with her hair. Technically, the ponytail never went away, but this is still a pretty big departure. Also, this is just a shocking amount of hair. I have no idea how much of this is actually hers vs. extensions—probably mostly extensions. That has got to be heavy. I also wonder, does her real ponytail get jealous when Ari gets extensions? I feel like the ponytail must get jealous.
August 2016
Bangs. Bangs!!! I had completely forgotten about Ariana's bangs phase, but I kind of love it. Not gonna lie, the ponytail can get a little boring sometimes (I still love u ponytail), and the bangs were a smart and noncommittal way to switch it up without actually letting her hair down. Everyone goes through a bangs phase at some point, and Ariana pulled it off better than most. RIP bangs, 2016-2016. You had a decent run, but the ponytail asserted its dominance over Ariana's head and was the last one standing.
November 2016

As you'll see in the next few photos, Ariana Grande's look literally has not changed since the end of 2016. The tan is deep, and the pony is high and LONGGGGG. I feel confident saying that this ponytail is mostly extensions, but obviously the expensive kind. I'm still waiting on official confirmation of how she could go to the bathroom with a ponytail that long. Maybe the ponytail just instinctively knows when to make itself shorter and longer? It's so big, it has to have its own thoughts and feelings at this point.
December 2018

I could literally copy and paste everything I wrote for the photo before this, but apparently that's lazy? Honestly though, Ariana Grande is lazy with her hair, though, so it fits. This is a classic example of Ariana's ponytail demanding to be the center of attention. Ari usually doesn't do the shoulder drape anymore, but here the pony refused to be relegated to the background. Pony, you're doing amazing sweetie.
June 2019
Happy 2019! I love this photo of Ariana and her best friend Pony. They both look great here, such a cute photo. As you can see, very little has changed, except that she's added in some crimped texture and maybe a few more highlights. Is it 2004 again? Adventurous. I guess when you're the most followed woman on Instagram, there's not a lot of incentive to switch things up. We're all just trying to find our signature style, and Ari figured hers out early. Should I…get a ponytail down to my ass? Lmk in the comments.
Happy birthday Ari, I hope you and your ponytail have a great day!
Images: Shutterstock (5); arianagrande (4) / Instagram
Who Are Ariana Grande's Friends? An Investigation
Ariana Grande has been unbelievably popular over the last few months, and her success has made me ask some important questions. How is she so talented? Why didn't I buy tickets to her concert before it sold out? And, most importantly, who are all these people she's constantly hanging out with? How did they meet her? How can I become a part of this group? Seriously, one of my biggest regrets in life is that I'm not one of Ariana Grande's friends.
In her recent videos for "thank u, next" and "7 rings," Ariana Grande has basically turned her friends into celebrities by association. She's even tweeted about how all her fans should follow them. Some of them are childhood friends, while others are newer collaborators. Oh, and they're all hot, lol. If you've found yourself spending hours stalking all of these people on Instagram, but never known who they truly are, here's a guide to all of Ariana Grande's friends.
Liz Gillies
Of all of the frequent faces in Ariana Grande's crew, Liz Gillies is probably the most recognizable. She's the second one from the right, btw, and if you're squinting at her because you swear she looks familiar, it's because she was on Victorious. These days, she's best known for starring in the Dynasty reboot (or playing Cady Heron in the "thank u, next" video, see above), but she's known Ariana for more than 10 years. In 2008, they were both in the Broadway cast of 13, which means I've idolized Liz Gillies since I was in middle school. She has an actual career, so she's not constantly hanging out at Ariana's apartment like some of these people, but she's usually around when it matters.
Alexa Luria
As you probably know by now, Ariana's song "7 rings" was inspired by a time when she got drunk and bought diamond rings for her six best friends at Tiffany & Co. When I get drunk, my friends won't even buy me an entree at Waffle House, smh. The first person with a ring is Alexa Luria, who has over 600k Instagram followers thanks to her best friend status with Ariana. Lexie grew up with Ariana in Florida, and they've been friends for almost 20 years. These days, she basically travels the world taking pics for her food Instagram, so like, same.
Courtney Chipolone
Much like Alexa, Courtney Chipolone has been around since the beginning, because they were childhood friends. Actually, Ariana has said she and Courtney are cousins, but no one actually knows if they're related. This definitely seems like something Ariana would say as a joke one time and then the fans never forget it. But whatever, you'd be lying if you said you didn't have that one family friend who you call your cousin for simplicity purposes and now everyone thinks you're actually related. Courtney is a student at Florida State, and she keeps it pretty low-key when she's not hanging out with Ariana.
Doug Middlebrook
One of the main men in Ariana's crew, Doug Middlebrook, has been Ariana Grande's friend since at least 2014. He and Ari are constantly hanging out, but he also literally works for her. He's involved in the production and management side of things, and was the tour and production manager for Ariana's One Love Manchester benefit in 2017. He's also the voice you hear talking at the beginning of "In My Head" on Ariana's latest album.
Tayla Parx
Out of all the ladies in Ariana's crew, Tayla Parx probably has my favorite origin story. Last month, my friend and I were hungover AF and decided to watch Hairspray (it's still amazing btw). Little did I know, the girl who played Little Inez is TAYLA PARX. Well, back then she was just "Taylor Parks," but still, good for her on the successful rebrand and career. My hungover mind was blown, and I immediately texted like 12 people about this. These days, she's a v successful songwriter, and she's also starting to release music of her own.
Victoria Monét
Much like Tayla Parx, Victoria Monét is a songwriter who's worked with Ariana Grande on a lot of her recent songs, and she also has a performing career of her own. In the past, she's toured with Fifth Harmony and Ariana as an opening act, but I would imagine her solo stuff will be getting a lot more attention now that Ariana is like, the biggest star in the world. She is also truly so pretty, like, it's not fair.
Njomza Vitia
Rounding out the fellowship of the 7 rings is Njomza Vitia. Easily identifiable by her icy-blue wig, Njomza is—you guessed it—a songwriter who also releases solo music of her own! It'll be really interesting to see which of the women in this group is successful in their solo careers, because they've all gotten a lot of opportunities from being so close to Ariana. Njomza is from Albania, and became a U.S. citizen when she was 16. Her music is really cool, and I have a feeling she's gonna be big.
So yeah, if you're interested in becoming one of Ariana Grande's friends, I guess you have two options: you can either go back in time and grow up with her in Florida, or become an incredibly talented songwriter. Oh well, not like I wanted to hang out with her anyway.
Images: Shutterstock; @lizgillz, @lexie1225, @courtneychipolone, @dougmiddlebrook, @taylaparx, @victoriamonet, @notnjomza / Instagram
Thank U Next, February: Weekly Horoscopes Feb 18 – 22
Happy President's Day, Betches. I'm finding myself conflicted as I sit here day drunk on a Sunday afternoon because on one hand, I love a three-day weekend, but on the other hand, I hate the President. So instead of giving any thought at all to the moldy yam in the White House, for this week's horoscopes I choose to recognize American's true commander in chief: Ariana Grande.
What does your week have in store? Only our girl Ari knows.
Aries: Needy
There's no shame in letting people know how you feel, Aries. In fact, this is a week for celebrating that. "And I'ma scream and shout for what I love. Passionate but I don't give no f*cks" is the theme of the week. Use this time to get those things off your chest that you've very much been holding back. If anyone tries to tell you that you're being too much, let them know that it's okay to be needy.
Taurus: No Tears Left To Cry
You've seen some sh*t, Taurus. 2019 maybe hasn't been the kindest thus far, but that doesn't mean you need to let it win. You've reached the point where truly nothing else could rock you (knock on wood) and it's time to revel in that. This week is for living your life to the fullest. You are lovin', livin', and pickin' it up 24/7, and don't let anyone tell you otherwise.
Gemini: NASA
Even stars need space, Gemini. Stop letting people encroach on your life when all you want to do is tell them to GTFO. Sure it might be awkward asking for everyone to leave you alone, but not as awkward as the breakdown that will occur if you keep bottling up the way you feel. Everyone can say they love you through the phone tonight, and tomorrow night, and maybe even the night after. Once you've recharged, you'll be reminded that you actually like all these people.
Cancer: Break Up With Your Girlfriend, I'm Bored
You are in a mood this week Cancer, but at least you're self-aware about it. You know that there's nothing chill about demanding things from people that you have zero right demanding, but it looks like that won't be stopping you. Just remember that whatever havoc you wreak this week will probably have to be addressed once you've come down from whatever minor power trip you're on at the moment.
Leo: Into You
You are straight up sprung, Leo, and it shows. Despite your obvious feelings for your crush, you've been waiting and waiting for them to make a move before you do. This week, that changes. It's time to put the bravado aside and put your feelings on the line. For better or worse, you'll finally know where you stand. Let Ari's confidence guide you through these next few days, and don't be afraid to take that leap of faith.
Virgo: Bloodline
It's time to take a step back, Virgo. You've been on the hunt for something serious and completely ignoring the options that are right in front of you. For potentially the first time in your life, this week will have you considering the fact that sometimes the most responsible option isn't always the one you have to pursue. Stop putting so much pressure on yourself to succeed, and just let things happen as they come. Right now you just wanna have a good time (yuh), and there's nothing wrong with that.
Scorpio: In My Head
Sometimes reality isn't exactly how you imagine it, Scorpio. You're a master of wishful thinking, which, to be fair, can work in your favor at times. This, however, is not one of those times. This week you're going to have to reconcile the situation you've landed in with the one you've imagined it to be. It might not be the most pleasant reality check, but it's the only way to start moving forward. Surround yourself with people who love you and will pull you through this mess, put on those Gucci tennis shoes, and run face first into those issues.
Libra: Imagine
It's time to get your head out of the clouds, Libra. Sure, spending all your spare time daydreaming about things that will never happen is fun, but it's not getting you anywhere. In fact, at this point it's just setting you up for disappointment. Instead of imagining a world like that, imagine an attainable one where you still end up happy. Dwelling on the things you can't have only makes not having them more painful. Get yourself some bubbles and bubbly, and then get on with your life. You can do it.
Sagittarius: Get Well Soon
Babe, you gotta take care of your body. Running yourself ragged in the name of "getting your sh*t together" isn't helping anyone. Your productive streak is admirable, but it's also got the potential to ruin you if you aren't careful. This week, try taking a step back from the hustle and bustle of every day for some much needed self-care. You can work your way to the top, just know that there's up and downs and there's drops. This week will be a drop, and that's okay. You can start climbing again next week.
Capricorn: Successful
This week you're a baller, babe. After weeks of non-stop grind, you're finally getting your due, Capricorn, and it's time to celebrate! Drop the work for a few days to revel in the fact that you are young and beautiful and successful. Life is all about balance, and right now you need to focus on the lighter side of things for a few days. Be sure to shower your friends in gratitude as well, because they likely dealt with you when you were a raging stress case.
Aquarius: 7 Rings
2019 has presented you with a few bumps, Aquarius, but it's time for you to move past them. You've spent far too much time being a sad bitch, and now it's time to become a savage. For the next few days, try updating your mindset to reflect your new intentions. Forget the mishaps and hiccups of the past few weeks, and look to the future. Surround yourself with your most loyal friends, because they'll be the guardrails you need to get your life back on track.
Pisces: Make Up
It's time to stop playing games, Pisces. You've been having your fun, and holding back from people in order to get the most that you can from them, but that path is about to run out. Sure, you can get your way by manipulating those around you, but this week calls for some cold, hard honesty. Sit down and think about what it is that you need, and then start telling the people who need to hear it. It may not be as fun of a way to get what you want, but it'll be more effective in the long run.
Images: Giphy (3)
Why Is Ariana Grande Celebrated For Doing What Taylor Swift Is Mocked For?
Like most sentient Americans, I've spent the past few weeks in a world where Ariana Grande's "thank u, next" is the only soundtrack. It's passed well beyond the point of "great song!" and into the realm of "if I don't get my daily fix, I will probably die." I am certain I'm not alone in this, given that "thank u, next" has shattered multiple records in the streaming world. More importantly to me, the song and its accompanying video have secured Ariana Grande's transition from pop star to icon, from whom every social media nugget and on-screen appearance are nothing short of gospel.
As I've watched (and wholeheartedly approved of) the reaction to "thank u, next," one question continued to bug me. When Taylor Swift sings about her exes, she causes a similar flurry—but one filled with sneering, eye rolling, and the suggestion that she can't be taken seriously as an artist for choosing such diary-like content. Then Grande releases a track in which each of her exes are called out by name, and she's hailed as the ultimate badass for it. As someone who both genuinely loves Taylor Swift's music and feels that 90-95% of songs should be about one's exes, I couldn't help but wonder: why is Grande celebrated for the very thing Swift is mocked for? I've outlined my theories below.
Ariana Grande Is Cool & Confident
Let's be honest—a huge part of the appeal of "thank u, next" is the fact that, given the option, we would all present ourselves like Grande did after a breakup. "Thank u, next" is perhaps the coolest emotion one can evoke when facing an ex—even more so if done with genuine gratitude and while looking insanely flawless. "Thank u, next" is a song we can all caption our pictures with while drunkenly "accidentally" tagging exes, and the worst thing that happens is you've been overly polite to someone who wasted a year of your life. You tag an ex in a pic captioned "got a long list of ex-lovers / they'll tell you I'm insane," and you're not coming back from that so quickly. This brings me to my next point.
Taylor Swift Is Earnest & Emotional
Taylor Swift, almost determinedly, does not put up a "cool girl" façade when she sings about her exes. She painfully scrutinizes where it went wrong, often down to the minute of their breakup. She lingers on their ultimate incompatibility, mourns for the good times, and explicitly details the extent to which both she and her ex will suffer for this loss. Swift is, in my opinion, a far more realistic version of what you look like after a breakup. Contrary to what Grande's rom-com mash-up video would have you believe, most people do not soar from broken engagements feeling validated in all of their choices and loving themselves like never before. They come out feeling lost, broken, and all too likely to dwell on all the most unhelpful and unattractive things.
In other words, they look like this: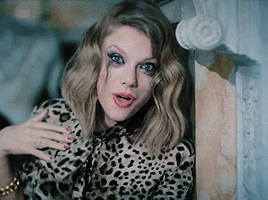 Not this: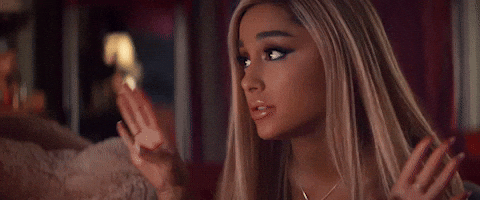 So, if Swift is ultimately more relatable, shouldn't that mean more critical success? F*ck no! Please. Name the last time someone wanted an honest reflection of themselves, particularly if it's unflattering. From the bathroom scale to the pop soundtrack of your life, you want to be fed beautiful lies. People yell at Swift for being vulnerable about her exes the same way you yell into the mirror the morning after drunk-dialing your own ex 12 times the night before. Swift isn't critiqued in spite of being relatable; she's attacked precisely because of it.
Ariana Grande Is Gracious & Direct
First and foremost, we have to acknowledge that Grande takes the high road with "thank u, next." She betrays not one scrap of vitriol toward her exes, talks no sh*t about them or the relationship. She simply thanks them for their time, and reaffirms her commitment to herself. So, that alone is easier to get behind than one of Swift's "remember those three minutes in 2004 when you said we would die together" tirades.
On top of that, there's the fact that Grande seems to have no fear of confrontation (can't relate). She names each of her exes plainly, and even gave many of them a heads-up before the song's release. So, if her exes themselves don't have an issue with the song, it's a little harder for the general public to decry it.
Taylor Swift Is Petty & Secretive
Swift, on the other hand, does everything short of attaching a treasure map to each album with hints to which lyric refers to which ex-boyfriend. Yes, the national obsession with tracking those connections, and stalking her love life in general, has gotten totally out of hand. But when she describes the relationship down to the month ("Back to December"), memorable holiday (4th of July), eye color (too many to count) and so on—it's a little hard not to engage. Add to that the fact that she decidedly doesn't take her exes' feelings into consideration on this—and given the contentious nature of many of her songs, it's not hard to see why.
To clarify, I'm not in any way saying that artists should have to poll their exes before releasing a breakup track. The world would be a much sadder place if that were the case. I'm just saying that Swift's refusal to do so—and Grande's respective decorum toward exes—makes Swift the much easier target to criticize. Basically, Grande is doing all the things you're supposed to do after a breakup; Swift is doing all the things you hope people never find out about after a breakup. And one of those girls will get dragged a lot harder than the other—it's just a fact of life.
Moral of the story here? We should all try to be more like Ariana Grande. JK—you guys knew that coming in. But honestly, that is the hidden message behind the song's unequivocal success. When Swift sings about her exes, she does it emotionally, vindictively, and evasively. She speaks about her exes with all the bitterness of someone still deeply invested in the relationship, or at least actively wounded by it. When Grande sings about her exes, she's singing from the point of view of someone who's moved on—and ultimately, just singing about herself. So yeah, do be more like Ariana Grande. Move on from relationships that didn't work, stop emotionally investing, and celebrate yourself. Apparently, the world has a much harder time tearing that down.
Images: Giphy (2)
Everything We Know About The 'Thank U, Next' Video Proves It Will Be Iconic
It's been a couple weeks since Ariana Grande dropped "thank u, next," and I'm still not really over it. The whole concept of the song is a huge power move, and it doesn't hurt that it's catchy AF. Since its number-one debut, the song has continued to dominate the charts, and I have a feeling it's not done yet. After confirming the other day that there will be a music video for the song, Ariana has been dropping some teasers about the thank u, next video that have me incredibly excited. Actually, I haven't cared this much about a music video since I was a horny teenager watching Justin Bieber dance around shirtless. I'm not proud.
Anyway, judging by the hints Ariana Grande has dropped, mostly in her Instagram stories and on Twitter, the thank u, next video is going to have four different themes, based on four iconic movies about female friendship. This makes sense, after her Ellen performance of the song was First Wives Club themed. Each day, Ari has been teasing a different movie theme on her story, and we're getting closer to having the full picture. Here's what we know so far.
nah u got it ????

— Ariana Grande (@ArianaGrande) November 20, 2018
The first movie Ariana started referencing was Mean Girls. Actually, all of the promo for "thank u, next," looks a lot like the burn book, so this theme really makes sense. She posted some stills from the movie that made it pretty obvious, and then she posted a bunch of pictures with her best friends Alexia Luria and Courtney Chipolone, who are presumable the Plastics in the video. Honestly, this was only 25% of the tea but I was already 100% excited.
meet the plastics ???? pic.twitter.com/G7UL2gZqDT

— Ariana Grande (@ArianaGrande) November 19, 2018
After Mean Girls came Legally Blonde. Ugh. Another classic movie that fits in perfectly with the theme of females teaming up to screw over some douchey men. Ariana, you're doing amazing sweetie!! Ariana posted some more screenshots, along with a couple photos from the video shoot that are already iconic. In one, she's on an elliptical with the famous orange MacBook from the early 2000s, and in the other she's posing with Jennifer Coolidge, who played Paulette in the movie. You guys, I'm so excited.
'whoever said orange was the new pink was seriously disturbed' pic.twitter.com/KUgl6vwHIn

— Ariana Grande (@ArianaGrande) November 20, 2018
Today is day three of teasing the movies, and someone correctly guessed that the third one is 13 Going On 30. Wow, perfect. I stand firmly by my opinion that 13 Going On 30 is one of the best romantic comedies ever made, so I'm obviously very happy about this. I guess the most important question is, was the short hair photo we saw a few days ago real, or was it just for the video? I won't be able to sleep until I know the answer!

So keep your eyes peeled to Ariana's social media on Wednesday for the last 25% of the thank u, next video tea, because it's sure to be amazing. Also, no, it's not going to be Clueless, because Ariana already debunked that theory on her Twitter. Somewhere, Iggy Azalea is breathing a sigh of relief that Ariana isn't stealing the last shred of cultural relevance she still has.
There's no word yet on when the thank u, next video will be released, but it looks like it was just shot a few days ago, so it might take a couple weeks. Or maybe it'll be out by the time you read this, because honestly who knows. Either way, I'm very excited, because this is going to be the video of the year.
Images: @ArianaGrande / Twitter (3)
Ariana Grande Is Our Betch Of The Year
Any way you look at it, 2018 has been a huge year for Ariana Grande. She's gone through some major turmoil in her personal life, dealt with it like a champ, and has come out on top with a hit album and the biggest songs of her career. There's no question about it: Ariana Grande is the Betch of the Year.
Before this spring, the last time most people had thought of Ariana Grande was last spring, when a tragic bombing killed 23 people at her concert in Manchester. After finishing her tour, Ariana took some much-needed time off. Coming into 2018, everyone was interested to see how she would get back into the game, and what her new music would sound like. In April, she released "no tears left to cry," an anthem about recovering from loss and finding hope in dark times. The song debuted at #3, signaling that Ariana was officially back.
Just after she dropped the new song, she suddenly became one of the world's most talked about people for more personal reasons. Her breakup with Mac Miller was surprising, but everyone was even more shocked when she immediately started dating Pete Davidson, who was henceforth basically just a random SNL millennial caricature. As you know, their whirlwind relationship (and even more whirlwind engagement) was pretty much the biggest story of the summer, full of matching tattoos, chaotic Instagram posts, and lots of iconic paparazzi pictures.
During this time, Ariana released her fourth album, Sweetener, which is full of bops, and was a big success. Her single "God is a woman" is a feminist anthem, and it combines sex and spirituality in a way that would definitely make my childhood pastor uncomfortable. Love to see it! Basically, Ariana had the best summer ever, and we were all living for it.
Then, on September 7th, Mac Miller tragically died from a drug overdose. Ariana and Mac had known each other for years, and dated starting in 2016. We were all sad about Mac's death, but it obviously had a huge effect on Ariana. Things already seemed bad enough, but then Ariana and Pete ended their relationship in October. I'm not gonna lie, the breakup with Pete surprised me more than it should have. Like, logically we all knew they weren't going to be together forever, but they seemed so in love!
We were all wondering what Ariana's next move would be, and whether she would disappear for a while to get through these tumultuous times. Instead, Ari came back just a couple weeks later with "thank u, next," an instantly iconic song dedicated to her past relationships, and what she learned from her exes. The song became Ariana's first-ever number-one song, and remained l at the top of the charts six weeks later. On top of that, the music video basically broke the internet, with its perfect references to our favorite 2000s movies, and cameos from plenty of celebs and close friends.
While accepting the Billboard Woman of the Year award a couple weeks ago, Ariana said something that really resonated:
"I find it interesting that this has been one of the best years of my career and the worst of my life. A lot of people would look at someone in my position right now as an artist that could be at her peak and think, 'She's really got her shit together, she's really on it. She's got it all.' And I do, but as far as my personal life goes, I really have no idea what the f*ck I'm doing."
That's about as betchy as it gets. Ariana has given us a lot to talk about this year, both personally and professionally, and no one has been more consistently fascinating in 2018. She might still be figuring it all out, but we're all along for the ride with her.
Images: Shutterstock; @arianagrande / Instagram (2)