The Government Might Ban TikTok, So Learn Your Dances Now
Did you, a millennial, finally break and download TikTok? Did you tell yourself you were only doing it so you could lurk at first, and now you're spending your days learning full-fledged choreography? Well, your shot at TikTok stardom might be short-lived, if the Trump administration gets its way. On Monday, Secretary of State Mike Pompeo told Fox News that the administration was considering banning TikTok over privacy and security concerns. Anddd this is why we can't have nice things. Is TikTok nice? Maybe not. In that case, this is why we can't have mildly entertaining things.
Pompeo expressed to Fox News that the administration's concerns with TikTok have to do with whether the company is giving private user data to the Chinese government, since it is owned by Beijing-based tech company Bytedance. But Bytedance insists they're not doing that, and told Business Insider in a statement, "TikTok is led by an American CEO, with hundreds of employees and key leaders across safety, security, product, and public policy in the US." Indeed, on June 1, they hired Kevin Mayer, Disney's former head of streaming, to serve as the CEO. They added, "We have no higher priority than promoting a safe and secure app experience for our users. We have never provided user data to the Chinese government, nor would we do so if asked."
The United States is not the only company who has issues with the video app, and on July 1, India banned TikTok (as well as a slew of other Chinese apps) after it was discovered that the app could secretly access user's clipboards in a beta version of iOS 14. And I know what you're thinking, because I thought it too: if the Chinese government wants a draft of the text calling out a f*ckboy that I'm first sending around to all my friends for approval, they can have it. Right?
Ehhh maybe not. I spoke to Cyber Security Expert Vinny Troia who explained that apps copying your clipboard could pose security issues, for instance, if you use a password manager and copy and paste it into various apps. It could also copy things like email addresses, account-reset links, personal messages, and cryptocurrency wallets (lol good thing I was already too stupid to figure out cryptocurrency).
But there was another issue, as Troia explained: "it appears when people are on other apps, like Instagram, Tiktok is grabbing that content." He explained that this could have been set up for benign reasons, "like predictive text", but says, "there's really no reason it should be monitoring what you're typing in other apps." A TikTok representative claimed the feature "was triggered by a feature designed to identify repetitive, spammy behavior. We have already submitted an updated version of the app to the App Store removing the anti-spam feature to eliminate any potential confusion."
Okay so TikTok is grabbing the contents of my clipboard every 1-3 keystrokes. iOS 14 is snitching on it with the new paste notification pic.twitter.com/OSXP43t5SZ

— Jeremy Burge (@jeremyburge) June 24, 2020
Even though TikTok claimed the clipboard copying was a technical bug due to an anti-spam filter, the damage was already done, and the Indian government pulled the app, claiming it (along with 58 others) "engaged in activities which is prejudicial to sovereignty and integrity of India, defence of India, security of state and public order." So, whatever the reason may be, the app appears to be (or appeared to have been) collecting users' data without them knowing. To what end? Well, that's the bajillion dollar question.
The ban also came after a border dispute between China and India turned deadly, and there are also more subtle concerns that the app restricts free speech, especially with respect to criticizing the Chinese government, so maybe it's not about the pasta clipboards at all, but something a lot deeper and darker than what I presumed when I initially thought I'd be writing a quick piece on if TikTok is going away.
If you (again, like me), are wondering WTF any of that means, this issue can be loosely translated to various governments saying of TikTok:

So, is TikTok in fact a fugly slut? It's hard to say. On the one hand, you have Mike Pompeo literally telling Fox News that you should download the app "Only if you want your private information in the hands of the Chinese Communist Party." On the other hand, TikTok says they are like, totally chill and would never sell your info out. And of course, you'd have to take both those sentences with more grains of salt than you can find in a Himalayan salt cave since of course both those parties would say exactly those things.
Donald Trump has also expressed his desire to ban TikTok in the U.S., but for less… shall I say… altruistic reasons. Trump said in an interview with Gray Television's Greta Van Susteren, "Look, what happened with China with this virus, what they've done to this country and to the entire world is disgraceful," adding that banning TikTok is "one of many" ways his administration is considering for getting back at China. Ah yes, that sounds more like the Trump we know and… know. And I'm sure it has nothing to do at all with the fact that TikTok was the main social media platform on which his rally in Tulsa got trolled.
Before you freak the f*ck out, one thing to keep in mind is, as Troia notes, "I'm not seeing indication that this information is going anywhere. So it could be just bad programming." Basically, just because TikTok is storing this information doesn't necessarily mean they are necessarily sending it somewhere, and TikTok has asserted that they are, in fact, not sending any stored information to the Chinese government. Also, it's not just TikTok, and a bunch of your apps are doing the same sh*t with the clipboard copying.
So is TikTok a not-so secret weapon by the Chinese government or an unfortunate victim in a power grab, like a child caught between two parents in a divorce? I have no answers, so whether you want to keep using TikTok is up to you—for now. Somebody call Meryl Streep and Alec Baldwin, because it's complicated. All I'm saying is that none of this was happening back when we had Vine.
Images: Kon Karampelas / Unsplash
10 Last-Minute Gifts You Can Get On Amazon
If being what my grandmother calls a "youth" has taught me one thing, it's that delayed gratification ain't worth sh*t. Call me crazy, but if there is something wrong with getting what I just decided I wanted with free two-day shipping, then I don't want to be right! Obviously, Amazon is the holy grail of online shopping 365 days a year, but the one time it really comes in handy is during the holidays.
A modern nightmare: I have a dinner date with a friend in a few days and last night, she texted to confirm and then she sent a follow-up text, "You're going to love your gift!" My first thought was "Yes! I love presents!" and my second thought was "F*ck, now I have to get this bitch a present." Even though a small part of me hates spending money on people who aren't myself, I was pretty happy to order her gift and have it wrapped and ready for her three days later for our dinner-turned-gift-exchange. 
If you, too, hate waiting, here are ten of our favorite gifts to shop on Amazon. If you order in the next two days, you can get free delivery by 12/24. 

One thing my 90-year-old grandmother and I have in common is that neither of us understands technology, like, at all. Take this Fire Stick, for example, which, after using it this weekend, seems like it was designed for idiots people like me. It's a skinny remote control and a USB that plugs into the side of your TV. It works exactly like an HDMI cord, except no one will trip over it and you don't have to have your laptop open and simultaneously playing whatever you're trying to watch on your TV. 

I am the type of person who gets the generic version of literally everything because I don't want to spend money on the name brand stuff, but this Slip pillowcase is my one exception because it's that good. First of all, it's soft af. Secondly, unlike cotton, silk doesn't absorb your expensive nighttime skin care. Lastly, it always feels cool to the touch, which, if you run hot (hi), is a blessing. 

A few weeks ago, a friend was telling me about this amazing towel for your hair and, whaddya know, I was seeing its sponsored posts on my Instagram feed later that day. As creeped out as I am by technology that has no respect for boundaries, I bought and used this Aquis towel. Let me just say, it's not just a towel. There's something about microfiber that makes it insanely absorbent without tugging your scalp. I leave this bad boy in for like, 15 minutes while I put on my makeup and when I take it off, my hair is basically dry. 

If your bedroom is like mine, it's white and boring af. This little guy changes that! You can watch movies, stalk your office crush, and mindlessly scroll Instagram from the comfort of your own bed, which may sound like what you usually do, but this is different because it's projected on your ceiling. For reference, the iPhone 11's screen is six inches long and two inches wide. The choice is yours. 

This is one of those things I really want but would never actually spend $60 on because I'm cheap. Even though I don't really go anywhere, I go to my hometown for nearly every holiday, which is enough travel to warrant a travel case for all of my jewels (one ring, my watch and a few pairs of earrings). This is the kind of gift everyone would appreciate. 

I do not fancy myself a chef, but I do f*cking live for pasta, and I love it even more when I don't have to pay New York prices for it. Luckily, none of the recipes in this cookbook are Top Chef-level complicated, so even if your Secret Santa uses her oven to store her sweaters, she'll be able to nail a few of these recipes. 

One thing I love is the amount of cups in the world. There is literally a designated cup for every type of beverage and I'm all for it. Even though I stan a beer chalice, I love a good Champagne flute. These ones are amazing because they're insulated, and because nothing is less appetizing than flat, warm Champagne, these are good to have on-hand. 

While fingerless gloves do seem completely useless in theory, gloves with fingers are horrible. Contrary to popular belief, you'll be pretty warm in fingerless gloves and you'll be able to use your phone's touchscreen while avoiding your coworkers on the subway. 

Not only does this cleanser smell amazing, it makes your skin look and feel like you just got a hydration. Seriously, use this day and night for a week and you will legit notice a difference. It doesn't leave your skin feeling tight or dry, but rather, supple and moisturized. 

Most of my friends LOL at the fact that I still use planners even though I graduated from college four years ago, but I don't give a sh*t because I love them. This one is especially nice because it's not aggressively decorated or enormous, but it's big enough that you can actually fit all your appointments and sh*t in it. Get this for your friend who double books and everyone else in your group will thank you.
Images: Kira Auf der Heide / Unsplash; Amazon (10)
Betches may receive a portion of revenue if you click a link and purchase a product or service. The links are independently placed and do not influence editorial content.
The Best Cyber Monday Deals On Home Decor, Tech, & Fashion
Kim Kardashian and I are very different people, leading very different lives, but one thing we definitely have in common is that we spend an obscene amount of money on crap we don't need. The only slight difference between our spending is that she keeps on living her high-brow life and I wake up to "low funds" alerts from my bank. So my cute little financial compromise is that I'll only buy things I need (using the term "need" loosely here) if they're on sale. Enter Cyber Monday. 
Cyber Monday is the time for me to buy things I've had my eye on for a while, but don't want to drop money on when it is full price. Ya know? Read on for our top Cyber Monday picks in every area of your life, like home decor, tech, and fashion. One small caveat, there are no beauty sales listed below because I thought those sales deserved their own story. You're welcome. 
Home Decor

Truth be told, I own zero Ikea items because the idea of paying like, $300 for a sofa that I have to put together myself after dragging it on the Ferry from Red Hook, guided only by instructions which are 100% photos and 0% words, sounds like a truly miserable time. However, Ikea is obviously popular among more patient people, so they will be excited to know that a large selection of Ikea pieces are on super sale! Daybeds like the very minimalist chic Markerad are 20% off! Honestly, if my one bedroom that I share with another person was big enough, I'd be all over this daybed situation because I believe they are the true mark of sophistication. Also on sale—up to $200 off—are the Frigeten, Gronlid and Vimle sleeper sofas so that your weird cousin doesn't have to share your bed when she comes to visit. Is it just me or do all Ikea names sound like they could be characters on Game of Thrones?

Ruggable Vintage Daisy Bordered Fuschia Rug
One thing I really want, but don't want to shell out all of my money for, is a new rug, which is why I still have the nasty-ass one from my college apartment. Before I realized Ruggable was having a 20% off sale site-wide (with the code CM2019), I kind of just accepted sleeping in the same room as a rug I puked on in college. Yum! I am so excited to spend 97% of my Monday on Ruggable since they actually have limitless rugs. I have my eye on the Vintage Daisy Bordered one, but to each her own. One last thing about Ruggable is that when you order a rug, you get a pad too, and if you've ever eaten sh*t on the corner of a rug, you know how essential a pad is. Also, they're machine washable! 

Bekka Campbell Cactus Framed Art Print
I know I'll have made it when people ask what I do and I say, "I'm an art collector." However, today is not that day and the only art displayed in my home is a bunch of tiny framed prints from Society6. Tbh even though they are already pretty cheap, I will always take advantage of one of their massive sales, like the 50% off site-wide from November 30 through December 2. If you aren't at art collector status yet, but still want aesthetically pleasing pieces for your small, windowless box apartment, Society6 is the move. I have two prints, one of a pink Art Deco building with palm trees in front of it and one of eight illustrated cacti, leaning against the wall on my floating shelves. As long as you don't get a stupid print (like "Live, Laugh, Love" in gold lettering), all of the prints will look chic af. 
Fashion

I have a love-hate relationship with Reformation because sometimes it looks like Forever21 quality with an Intermix price tag and since I don't have money to waste, I'm just not about that. However, some of my favorite dresses that I've worn to every wedding I've ever attended are Reformation and I'm okay with that. One of the few reasons I like it is because the clothes are simple in both silhouette and color, which makes me more inclined to wear them all the time. For Cyber Monday, Reformation is shining down on us and offering 30% off site-wide. I mean, finally? Call me crazy, but Reformation doesn't have sales, like, ever, so this is a big deal. I may even get up a little earlier than usual because something tells me the clothes will go fast. 

Kensie Patchwork Sequin Long Sleeve Minidress
Misleading name aside, Dress the Population is a great brand for people who like to be a little extra when they go out. I say the name is misleading because outfitting the population (aka everyone) implies the brand is affordable, but, rest assured, it is quite expensive. Luckily, their clothes will be affordable for four whole days starting November 27th, with a 30% off the whole site code (CYBER2019)! I first learned of this brand through Rent the Runway, but it's sold at Nordstrom, Bloomingdale's, Amazon Fashion, etc. My point is, it's legit. In fact, I wore a long-sleeve mini dress with heavy beading to a wedding last weekend (giving my Reformation dress the day off) and I feel like more people complimented my dress than the bride's. Weird flex, I know, but just trying to make a point that this brand is great. 

N° 21 Leopard-Print Faux Fur Match Puffer
Saks Off 5th is an amazing store and makes a serious case for never buying anything full-price. It's like a nicer and less stressful Nordstrom Rack, and I have faithfully loved it since I found my prom dress there a decade ago. So for Cyber Monday, SO5 is having a 60% off outerwear sale. Do with that enormous discount what you will, but you can bet your bottom dollar I will be purchasing more than one coat. Normally, Amazon is my coat destination of choice, but this feels too good to pass up. 
Tech

Nespresso® by De'longhi VertuoPlus Coffee and Espresso Maker Bundle and Aeroccino Frother
Bed, Bath & Beyond is hands-down my favorite store. I mean, it literally sells everything. So, if you have Abi Abrams-type feelings toward BB&B, please reach out to me in the comments because I feel like we will get along. But also, be sure to snag yourself a very chic Nespresso® by De'longhi VertuoPlus Coffee and Espresso Maker Bundle and Aeroccino Frother for 35% off. I mean, you have not had a good cappuccino until you've made it using a frother. 

Beats Studio3 Wireless Noise-Canceling Headphones
The last time I was in a Best Buy, it was to get the Sims 3: Makin' Magic! However, I will definitely be paying a visit (to the website) on Monday to get the Beats Studio3 Wireless Noise-Canceling Headphones, which are regularly $350, but on Monday, are $200. Sold! I had the Solo 3 headphones, but lost them in the security line at La Guardia. That's right, someone behind me reached into my bag and snatched them and I didn't notice until I was on the plane trying to fall asleep to the sound of giant engines and screaming infants. RIP. All I have to say is, f*ck the person who stole my Beats! Anyway, I will finally be able to tune out my coworkers again when I order the new Beats on Monday, and I truly cannot wait. 

After my old roommate **curse her soul** broke our lease and moved out, she rubbed salt in the wound by taking her TV with her. I know what you're thinking: why would she leave it there? Well, because she bullied me into signing a two-year lease then moved out after seven months because she wanted a cuter apartment in the West Village. K. So, the least she could do after completely f*cking me over was leave her sh*tty TV. However, because she's an assh*le, I had to buy a new one, and I ended up with a Roku smart TV. For Cyber Monday, you can head to Walmart's website and get the same 50-inch Roku Smart LED TV with aggressively high HD for $148! Honestly, for a 50-incher, that's pretty cheap. The smart aspect is also pretty cool because it allows you to be supremely lazy and just yell "Great British Bake Off!" and it just flips to Channel 4. Ah, technology. 
Images: Ikea; Ruggable; Society6; Reformation; Dress the Population; Saks Off 5th; Bed, Bath & Beyond; Best Buy; Walmart; Unsplash
Apple Programmed Siri to Deflect Questions About Feminism
I hate to be the one to tell you this, but much like every frat guy you've ever met, Siri has been programmed to not talk about feminism.
According to the Guardian, around 2018 an internal program at Apple aimed to rewrite how Siri would respond to "controversial" subjects such as the #MeToo Movement and feminism. People working on the project were advised to find ways for Siri to answer these questions by either not engaging, deflecting the question, or providing a neutral answer. Okay, Siri, who do you think you are, Robert Mueller at a confirmation hearing?

The goal was to make sure that Siri didn't "take a side" on this issue, but instead would say that she is in favor of human equality, without ever saying the word "feminism." For example, when asked questions like, "Are you a feminist?" Siri was designed to answer with something like, "I believe that all voices are created equal and worth equal respect," for instance, or "It seems to me that all humans should be treated equally." A very Centrist approach, if you will.
Previously when users asked Siri "Are you a feminist?" the app would yield responses such as "Sorry , I don't really know."
This information was found in documents that were leaked to the Guardian by someone who worked on the program at Apple. The leaker was one of thousands of workers who were tasked with checking Siri's responses for accuracy, but Apple ended the program after privacy concerns were raised by the Guardian (employees were privy to people's personal information when overlooking how people were using Siri).
Apple's guidelines on the matter seem to consider "feminism" — also known as the radical concept that men and women should be treated equally — a "controversial" subject, and advises Siri to be "guarded when dealing with potentially controversial content." Prior to the rewrite, Siri handled questions related to gender and equality with answers like "I just don't get this whole gender thing" and "My name is Siri, and I was designed by Apple in California. That's all I'm prepared to say," according to the Guardian.
Apple claims that this sort of programming is to avoid controversy and make sure all users are provided with facts, not opinions. This could also be a response to people's disapproval of how Siri was handling questions related to sexual harassment in the past. Apple/Siri came under fire after the #MeToo movement when users found that when called a "slut," Sir would respond, "I'd blush if I could." Now, the response is, "I won't respond to that."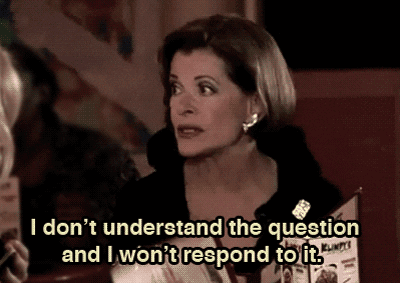 However, even if this program was meant to avoid controversy, its approach ignores some major truths. Feminism exists, and simply avoiding using the word isn't remaining neutral, it's remaining ignorant an inaccurate. You can't talk about equality without talking about feminism; they are intrinsically linked.
Additionally, most people working in tech to design programs like Siri are men. So, having a bunch of dudes come up with ways for a female voice to answer questions about feminism without saying the word is…laughably problematic. This is essentially exacerbating the problem of not having female voices heard in public discourse. And having men find a way for an A.I. to not talk about issues of feminism is certainly not "neutral," it's anti-feminist.
Want more news explained in a way that's not boring and easy to understand, AND delivered straight to your inbox five times a week? Sign up for The 'Sup!
I Didn't Realize I Was A Terrible Person Until I Deleted My Instagram
As a self-proclaimed Instagram addict, I struggled harder than I thought I would after temporarily deactivating the app that basically legalized stalking. Bless up, Mike Krieger. However, like any sort of cleanse, (unless it's a juice cleanse during which you are miserable the entire time), the longer I went on my Instagram cleanse, the less I craved it. And by "it," I mean attention and validation from my followers. I'm aware that sounded very cult-esque, but tell me what Instagram is if not a raging cult with millions of followers? I'LL WAIT. Anyway, going without Instagram is like that episode of Broad City where both Abbi and Ilana's phones break during the most epic rainbow and they are just like forced to enjoy the moment sans filters, hashtags, and posting. That's kind of what I'm doing, except instead of rainbows over the Statue of Liberty on a beautiful summer day, it's more like the cast of Queer Eye walking into Build Series studio near my office on Broadway. My point is, disabling my Instagram account has introduced me to the definition of IRL, and surprisingly, I'm into it. As Giovanna, the skinny blonde Y7 yoga instructor whose real name is definitely Sarah or Haley, says, "Connecting with the world around you is more important in the moment than after it." Truth, Gio, truth.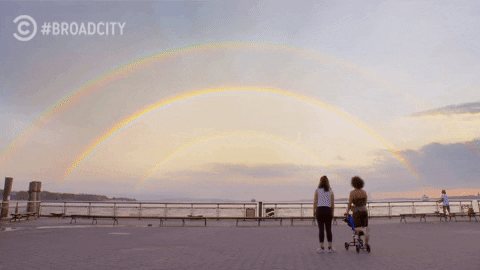 I am not one of those people who deletes Instagram just because it takes up 98% of my phone's storage space or because I never use it. On the contrary, I spent most of my time watching the Foster sisters' weird family dynamics and videos of puppies frolicking in the snow. The reason for my Instagram cleanse? I had just started dating someone, and no one outside of my immediate circle knew about him because there was no photo evidence of our relationship on Instagram or Facebook. (Does anyone even still use Facebook for purposes other than the daily birthday reminders?) The moment I realized this, I had two thoughts: "It's kind of nice to be this cozy social bubble" and "OMG will we be in this tiny claustrophobic bubble forever?" Until I'm back on the ground, I may have to share the news of his existence in person. Gross.
So that got me thinking: Instagram puts so much pressure on its users to keep their followers up-to-date with their lives! I know this isn't a revolutionary epiphany or anything, but for what it's worth, it's true. Look, I am definitely not swearing off Instagram forever, I am just really enjoying my life without it, and here are five reasons why.
I Have More Free Time
Checking Instagram isn't time-consuming the way Marie Kondo-ing your closet or making a cauliflower crust pizza from scratch are, but if you add up all of the minutes you spend on an app (there is an app for that!), you will discover that you probably spend a disgusting amount of time on Instagram on a daily basis. For the first few days sans the 'Gram, I found my thumb constantly reaching for the space where the app used to be in my phone and then accidentally opening my Con Edison app instead because it lives there now. One unexpected benefit of deleting Instagram is that I have accidentally opened the ConEd app so many times that I got to see and pay my bill the exact moment it was due. Kewl, right??
Anyway, after I got used to not checking Instagram the literal second I opened my eyes in the morning, I realized that I didn't need to physically have my phone on me at all times because, let's be real, I have iChat on my computer and does anyone under the age of 60 ever actually call anymore? No. So with 2.7 hours suddenly available in my day, I can spend that time being a real human being instead of a socially stunted child who cannot function in a social setting or watch a movie without a phone in my hand.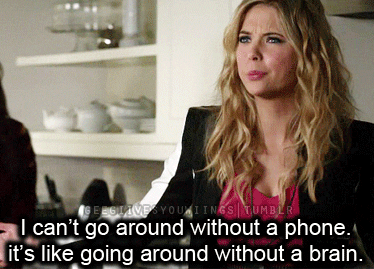 I Am More Social
It's not like I would cancel my plans just to sit in my apartment alone and scroll through Ariana Grande's feed back when I had Instagram (but no judgment if that's your M.O.). I would still go to dinner with my friends and stuff, but I would be having a conversation with them while fully looking at my phone. To paint the picture clearly for ya, we'd take a cute photo at the table, then I'd spend the next 45 minutes editing it and another 15 on the caption. For real, I barely had time to eat my burger! Life was hard. So going to meals with my gal pals without a phone glued to my hand has been an interesting experience with a myriad benefits! For starters, I get to yell at bitches for being on their phones at the table like the angry Jewish grandmother I am, and I get to genuinely enjoy the meal, restaurant, vibes, ambiance, etc. without the added pressure of capturing every moment. Like, unless you're waiting for test results, you don't need to have your phone face up on the table, just saying.
I'm Nicer (Kind Of)
Honestly, once a betch, always a betch, so I'm not about to pretend I'm Gandhi these days, but I'm not as obviously bitchy now that I am not intentionally rubbing my fun dinners and nights out in people's faces. Look, just to keep it real: No one posts an Instagram Story just to share beauty of lovely photo of a beach with the world. No. Everyone just wants to prove they are "living their best lives" (read: in tons of debt and faking it).
Now that I don't have Instagram (feel free to take a shot every time I say that), I am just taking it all in and soaking up everyone's awesomeness because, without a pic to post, there's nothing else to do. Like why did I, and everyone, feel like I needed to prove how fun and cool I am? The only people whose opinion of me that I give a sh*t about are the ones I actually spend time with IRL, not that girl I thought I'd be lifelong friends with during the first two days of freshmen orientation.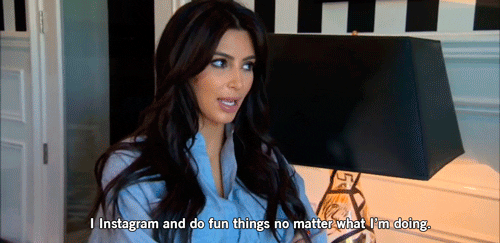 I Don't Hear/See Sh*t I Don't Care About
You know when something happens and then literally every celebrity/person feels the incessant need to post about it? For instance, the death of an icon (RIP Mac Miller), the birth of an icon (hi Blue Ivy), a scandal (anything Trump does on any given day) or an engagement/breakup (howdy Ariana and Pete). All of this ~news~ is fine in small doses (or maybe just one dose), but when every single person with decent wifi stops their lives to post about the Khloé-Tristan-Jordyn drama, I get a little overwhelmed and want to crawl into a dark hole for the rest of my life. To just drive the point home, there can be 100 posts on Instagram, and 99 of them won't be factually correct, but all you need is one that is at least kind of accurate to get the info you need.
Look, I am not swearing off Instagram forever, in fact I'll prob be reactivating my account in a few weeks (if I can remember the unnecessarily complicated password they made me choose). But for the time being, I am enjoying my life without it. If you've ever thought about doing an Instagram cleanse, I would try it. You might not miss IG as much as you think, and you can definitely live without it.
Images: Andrii Podilnyk /Unsplash; Giphy (3)
What The Industry You Work In Says About You
The following is an excerpt from our new book, "When's Happy Hour? Work Hard So You Can Hardly Work", on sale NOW.
Job environment plays a huge factor in whether it would be a good fit . Say you're really good at beauty tutorials but you wouldn't ever want to work in a big gray-carpeted corporate office, then maybe the right route for you is freelance makeup artist. On the other hand, say you need deadlines to work, love brainstorming, and seriously care what people comment on each other's Instagrams, well then, maybe you should be in media. Let's discuss popular industries and what it's like to work in them.
Fashion/PR
Exactly as The Devil Wears Prada led you to believe this job would be. Even though fashion is starting to be a little more accepting of sizes above subzero, people are still quite focused on appearance. They praise Ashley Graham on Instagram but talk sh*t about her thighs behind her back. This industry is harsh, self-important, and doesn't really pay that much. Why are people in it? Because they care about seeming cool, or maybe because they actually give a sh*t what Pantone's color of the year is.

Tech
If we learned anything from Silicon Valley, it's that this world is changing faster than your tampon on a heavy-flow day. This can be highly stressful but if you're a really skilled developer, coder, or engineer, then this is fine for you. If you're not that good, you'll know right away because you won't get work or you'll get eaten alive. If you're a female techie, now's the time to swing for the fences, as tech companies are needing to even out their ratios for press purposes because they believe in diversity and being socially conscious, of course.
Media/Advertising
If you're personable, outgoing and looking for a bullsh*t job where you get to do very little but have the opportunity to be paid more down the road, find a media job in a a large corporate company. All media companies are competing with one another, so they're all spending a sh*t ton of money on pointless employee perks like beer on tap, expensive beverages that claim to be healthier than water, and the ability to work on a couch in a different room from your desk. Gasp.

Entertainment
You have to do an incredible amount of bitch work, ass-kissing, and sliding into people's DMs to move up in this industry. Like, if you even want to write on a show, the amount of coffee you need to retrieve in your career will surpass the amount of alcohol you drank in college. If you really want to be the next Ava DuVernay, though, know that it's going to be a lot of rejection and disappointment, but it is possible to get there, so keep going.
Career Student
Rewarding AF. Not financially, though. And the only time that philosophy degree will help you is when you're discussing Game of Thrones fan theories.

Medicine/Law
Even though the two are different, we grouped them together because they're similar in that you have to put in a lot of work and hours—and also money—with very little sleep or salary to make a lot of money at some point very far in the future. Plus, you have to be really into reading to succeed in either field.
Finance
You'll have to deal with a lot of bros and douchebags to be in this industry. Everyone talks really fast and assumes you know what they're talking about when they use terms like EBIDTA and vested equity. Couldn't care less about changing interest rates? Then don't go into finance.

All The Other Sh*t, Like Agriculture
Honestly, this industry is the hardest to write about because we know very little about it. Aleen went to the College of Agriculture and Life Sciences at Cornell, yet still, not much info from us. Farmers have one of the most important jobs in the country, and do you know what they have to rely on? The weather. That's right, the weather. And then they have to deal with these huge corporations forcing them to accept buy-outs or kicking them off their land.
Yes, we left out a lot of different industries because, you know what, there are way too f*cking many, and you know what else? You'll get over it.
Want more amazing career advice? Order our new book, you won't regret it.
Images: Giphy (5)
Is The iPhone XS Worth It?
Look, I'm not a "tech" person, but I bought the iPhone XS. I don't know what a retina display, or neural engine, or a gigabyte, or any of that sh*t means. All I care about is that I have a phone that receives texts, takes amazing photos, and has a good enough battery to not die when I'm trying to find my way home after day drinking so I don't end up in bumblef*ck Brooklyn smoking bad weed on a roof with a guy named Asher. Never again. I also need a phone that won't break if I drop it on the subway while shoving people texting, and it would be nice if it was water resistant so that when I spill my vodka soda on it, it won't ruin my entire night. A girl's gotta have priorities.
Given my entirely reasonable list of demands, when the iPhone XS came out, I bought it, much to the dismay of my parents' family plan and my bank account. But enough about me. You want to know if you should get an iPhone XS, so let's make this decision together by answering some key questions..
How Much Does This Sh*t Cost?
There are arguments that you shouldn't spend your entire rent on the iPhone XS and you should just buy the iPhone 8. It is true, the iPhone XS is about $1,000 and the 8 is only $600. Depending on where you buy it, most places let you do a payment plan rather than having to put the money up front. I did this going to Verizon and ended up paying roughly $134 in the store and then I have monthly payments of $48 for the next 24 months or until I pay off the phone or die, whichever comes first.
Conclusion: The iPhone XS is expensive, but you can always just add it to the list of monthly payments that eat up your paycheck and you don't know why.
Can I F*ck This Phone up?
If you are a garbage person who breaks your phone regularly, proceed with caution. The iPhone XS is more fragile than Annaliese's mental state on the last season of Bachelor in Paradise. That's because the phone is literally all glass, and without a case it will break on the first drop. That said, the iPhone XS is water resistant up to a depth of two meters in case you drop it in a hot tub. (It happens).
Conclusion:  The iPhone XS is not for people who regularly drop their phone on the ground while drunk, but it is for people who regularly drop their phone in the toilet while drunk. I sense an important Buzzfeed Quiz coming.
Will It Help Me Flirt?
The iPhone XS also has animoji and memojis that are cute and good for flirting, which the iPhone 8 doesn't have. With the XS, you can basically send a voice memo from a cute talking pig head or bitmoji of yourself. It makes me laugh, but then again, I have the maturity of a 10-year-old.
For more examples of how the animoji feature can be used, I recommend watching this video ten thousand times:
I HAVE NEVER IN MY LIFE YELLED AT A GIRL LIKE THIS pic.twitter.com/leFT2QP9xw

— crazy SPOOKED asian (@tribranchvo) September 21, 2018
Conclusion: You need memojis in your life, but no one will ever make a better video than the above video, so don't even try.
Will It Make Me Beautiful?
This brings us to the game actual changer: PORTRAIT F*CKING MODE. I capitalized it because it is THE ANSWER TO ALL YOUR PRAYERS. Portrait mode takes your photos from cute to America's Next Top Instagram Model with smart HDR, depth control, portrait lighting with five effects (Natural, Studio, Contour, Stage, Stage Mono), extended dynamic range for video, and cinematic video stabilization. If none of that means anything to you, just know it makes you look like you had professional photos taken without having to pay your sister's creepy photographer friend to take them for you.
Additionally, you can use portrait mode to take 10-10,000 beautiful, hi def photos of your cat and then make those photos your background on everything. Not that I did that, per se. I'm just saying that's something that someone with a stunning, perfect cat could do if they wanted to.
Conclusion: Let's be honest, 90% of the time we are using our phones for social media. We all want our Insta stories and thirst traps to be FIRE, and this phone will do that for you. The higher quality the photo, the more likes you will get, and the more likes you get, the happier you are. And happy people don't kill their husbands. They just don't.
Wtf Else Does It Do?
They iPhone 8 and the iPhone XS have wireless charging and the same operating system (whatever that means), but the XS has an HDR display, which basically means your wallpaper looks dope, and you'll be able to see all the people whose Insta stories you stalk in full detail.
(Note: No matter how hi-def your display is, it does not give you the right to make your wallpaper a photo of yourself. I don't care if it's you holding a puppy. I don't care if it you and your boyfriend—actually, I especially don't care then. I don't care if it's you on a jet-ski with Kim K and North. Just don't do it.)
You can choose a 64GB, 256GB, or 512GB. I don't know why anyone would need the 512GB unless you're making a feature film with your phone or you're an amateur pornographer and like to keep all your nudes, but whatever. To each her own. (That said, you should probably not store that many nudes on your phone, just sayin'.)
Conclusion: If you care about creating cool content, get the iPhone XS. If you just want a phone for texting, get the 8. Enough said. Don't @ me.
A Literal High Schooler Hacked The US Election System
Most of us consider our computers online shopping or Netflix machines, and have no f*cking clue how they work. Beyond the turn-it-off-then-on-again method, the vast majority of computer users are not necessarily tech savvy. However, 17-year-old River O'Conner from Washington knew enough about computers to hack our election system. Before you start picturing a hacker with a black hoodie on, sitting in front of like 5 monitors in his basement (i.e. our exact header image), think again. River did this as part of a hack-a-thon, and not as an international terrorist. Very important to clarify that fact since he prob is still trying to apply to college and he's prob got a reputation to protect as a normal teen not terrorist, the usual.
Why Did He Do It?
So it wasn't even his idea… the Democratic National Committee (DNC) decided to have a mock election system hacking challenge (say that 10 times fast) at the annual DEF CON convention in Vegas. Because a group of teen hackers and the DNC could really only make sense in Vegas. River has attended the convention since he was 11 and wanted to participate in this challenge because I guess something made him feel like our election system could be vulnerable? Wonder what that could be…

How Did He Do It?
In his personal account, which you can read here, River uses some jargon like "MySQL" and a bunch of other tech info that those of us who aren't in STEM (I see you, beautiful lady STEM warriors) probs don't fully understand. But whatever the method, the outcome was that a bunch of teens were able to change names, numbers, and – oh yeah – the outcome of an election. River decided to go one step further, putting himself in the mindset of a spy. He shut down the whole system by copying the IP Address, accessing the portal from a secure wifi spot, and the googled the coding he would need to use to shut it down. This all happened in minutes and he googled how to do the main part. *jaw on floor*
Why TF Does It Matter?
Basically our entire voting system is based on the idea that everyone gets one vote and that vote matters. So, when a bunch of high schoolers are able to hack into the election system and cancel those votes out, it's def concerning. River O'Connor may not be a spy, but there are for sure plenty of countries *cough, Russia, cough* that would easily be able to pull this off. Even scarier is the fact that this may have already happened in 2016, when 21 state election systems were hacked.

It's been no secret that state election systems have been v vulnerable in recent years and it is a problem that could be fixed. Unfortunately, the powers that be in Congress and the crumbling White House aren't making any changes. If a 17-year-old who doesn't even know if he wants to study technology in college yet can hack into an election system in 10 minutes, then let's just assume pretty much every country as like hundreds of people who could too.
Heads up, you need to keep up with the news. It's not cute anymore. That's why we've created a 5x weekly newsletter called The 'Sup that will explain all the news of the week in a hilarious af way. Because if we weren't laughing, we'd be crying. Sign up for The 'Sup now!