15 Holiday Episodes To Re-Watch From Your Favorite Iconic TV Shows
Every holiday movie has the same plot: girl unexpectedly meets boy, boy falls in love with girl, something tragic happens, boy and girl profess their feelings, they kiss passionately against the backdrop of a professionally decorated Christmas tree with fake snow falling around them. Yawn. 
Although I usually put up with that cookie-cutter plot every year, I decided to try something a bit different (and way more entertaining) this December: re-watching the holiday episodes from my favorite TV shows. 
Given that basically every holiday party is canceled, in-person shopping is hardly a thing, and the gyms are closed (although let's face it, I wouldn't be going even if they were open), I had all the time in the world to cuddle up with a weighted blanket and a (spiked) hot drink and laugh, cry, and feel all sorts of emotion while watching classic shows like Parks and Recreation, Gilmore Girls, and 30 Rock. 
As my wonderful gift to you, I've listed the best holiday episodes from all our favorite shows so that you too can fill your time this December with something other than watching people's annoying Instagram Stories and cringey attempts at creating Reels. Enjoy! 
'New Girl' – "LAXmas" Season 4 Episode 11

There is literally nothing more relatable in these COVID-19 times than having your holiday plans ruined, your vacation canceled, and you therefore not being able to post that thirst trap bikini pic in December. Call me a masochist, but that's why I loved re-watching this episode of New Girl. I got to commiserate, emphasize, and shout "HA! You got screwed too!" at the TV when Jess, Nick, Winston, and Schmidt's holiday flights were canceled. 
'30 Rock' – "Ludachristmas" Season 2 Episode 9

It's as if Tina Fey knew we needed something to prove that there are families out there more dysfunctional than our own when they created this episode. In the most hilarious way, we see the picture-perfect Lemon family break down after an outing with Jack and his mother, and the TGS crew have their party plans hijacked by Kenneth. Plus, I promise this is the exact Rockefeller-related holiday content you need to get that sad excuse for a tree they put up this year out of your mind.  
'The O.C.' – "The Best Chrismukkah Ever" Season 1 Episode 13

Confession time: I completely forgot about The O.C. until I Googled "shows like Gossip Girl" this summer… and then promptly re-binged it with no regrets. And one of the most entertaining, dramatic, and heartwarming episodes happens to be a holiday one, where Seth introduces Ryan to the wonders of Chrismukkah and struggles in a love triangle between himself, Anna, and Summer. I have to admit, seeing a love triangle that didn't involve me, my fridge, and Netflix was actually pretty refreshing. 
'Keeping Up With The Kardashians' – "Christmas Chaos" Season 16 Episode 9

Being invited to the Kardashians' annual Holiday Party is on my bucket list, Amazon wishlist, and in my letter to Santa every year. Is there anywhere else I can add it at this point? But while my invite is still lost in the mail, the next best thing is to watch the party unfold on TV. And I promise you, this is one of the most iconic holiday episodes ever. It's the one where Kim is literally quoted saying, "This is so inappropriate. It is so so much money for one night." Do I need to say more?
'The Office' – "A Benihana Christmas" Season 3 Episode 10 & 11

We've all been that psycho b*tch, but in this episode Michael takes crazy to a whole new level. How? By Photoshopping his face onto his girlfriend's ex-husband's body in one of their old family photos, and sending it out as his Christmas card. And, no spoilers, but this episode includes some major Pam vs. Angela drama and a classic Jim prank on Dwight that will make you forget about TikTok for, like, 20 minutes. 
'Gilmore Girls' – "Women of Questionable Morals" Season 5 Episode 11

Some things are just the f*cking worst until someone comes along and makes it special for you (like Valentine's Day, for a totally random example). And that's the case for Lorelai and her feelings toward snow in this episode, until Luke surprises her with a romantic snow-related gift that made even a Grinch like me say, "AWWWW!". Beyond the snow drama, this episode also features the cutest little stray dog that brings Emily and Richard together in a true holiday miracle kind of way. 
'Friends' – "The One with Phoebe's Dad" Season 2, Episode 9

You know that friend who waits until the last possible moment to buy their presents? Well, be prepared to watch Joey and Chandler do that exact thing… and be forced to buy their gifts at a place I only go into when I really need to pee during a road trip. And, as if that's not enough comedy, what screams tradition more than some classic Ross and Rachel drama? Be prepared to get your fill of it this episode. 
'Gossip Girl' – "Roman Holiday" Season 1 Episode 11

I've watched this episode about 14 times, so at this point let's just say it's a holiday tradition. I swear, no matter how many times you see Blair come up with a conniving plan to break up her Dad and his boyfriend, the story is guaranteed to transport you from your burrito-stained sweats and unmade bed to the Upper East side within moments. It's the exact escape you didn't even know you needed. 
'New Girl'  – "The 23rd" Season 1 Episode 9

Picture this: Schmidt shirtless, wearing just a Santa hat and Santa shorts. If that's not enough to convince you to re-watch this episode, keep in mind that the theme is how dealing with new relationships around the holidays is stressful AF (relatable, right?). Like any New Girl episode, this one will have you laughing at the lovable, entertaining, and slightly inappropriate trouble the crew gets themselves into at Schmidt's office party.
'Fuller House' – "Oh My Santa" Season 4 Episode 1

Even though the holidays may suck more than usual this year, just know that for the first and probably only time in your life, your holiday season is going better than Lori Loughlin's. And speaking of which, this episode of Fuller House is sure to bring a smile to your face, despite how cheesy the plot is. The most relatable part? Tommy throwing a tantrum in the mall. Been there, done that (and over much less, if I may add). 
'Parks and Recreation' – "Citizen Knope" Season 4 Episode 10

Are you one of those people who re-gifts an old box of chocolate or nauseating-smelling candle to your co-workers every year? If you said "yes", you seriously need to take notes during this episode. While Leslie is off work for two weeks, Ann rallies the Parks department to create a special holiday gift for Leslie. As cheesy as the gift is, it's actually pretty sweet (pun intended) and will probably make you feel as warm and fuzzy inside as the spiked eggnog you're sipping. 
'Ally McBeal' – "Silver Bells" Season 1 Episode 11

There's something about watching Ally McBeal that brings back all sorts of early '00s nostalgia. And this episode gives us just that against the backdrop of a hectic office during the holidays (TBT to offices), and plots about Ally being her usual badass self and the romantic troubles the couples in the office are facing. I won't reveal if there are any holiday miracles at the end of the episode, but I can safely say you'll be feeling emotions far from the disappointment Kyle Richards felt when she realized bangs just weren't her thing. 
'Modern Family' – "Undeck the Halls" Season 1 Episode 10

If you want to escape the stressful bullsh*t of your family's holiday Zoom call by finding another family going through equally dramatic times, look no further. In a mix of both hilarious and feel-good storylines, you'll get to emphasize with the Dunphy kids as their parents cancel Christmas until someone fesses up to ruining their sofa. Plus, you get to see what happens when Cam and Mitchell say something we've all thought at least once in our lives: "this mall Santa is just not jolly enough".
Cougar Town – "Cry To Me" Season 2 Episode 14

If you're the kind of person who gets pissed when people leave their holiday decor up way past December, this episode will make you feel more seen than ever. Now bear with me, because this episode is actually more about Valentine's Day than Christmas, but it still delivers an accurate depiction of how crazy people get around any holiday. 
'Brooklyn 99' – "The Pontiac Bandit Returns" Season 2 Episode 10

Amy's weird-yet-adorable admiration for Captain Holt is somehow one of the most entertaining things to watch (because who TF actually likes their boss?). And as odd as their relationship is, this episode delivers just the right amount of it, showing us Amy working hard (but hardly working on her actual work) to get around Holt's "no gift" policy. And, to quote the queen of the holidays, Dorinda Medley, we see Jake "make it nice" with his nemesis/best friend Doug Judy in order to gather intel for Rosa. 
Images: Netflix; Giphy (12)
The Best & Worst 2000s Trends Making A Comeback
2020 fashion seems to be one big mashup of years past, and I mean, who can really blame us? This year is nightmare fuel, to put it nicely, and I for one am here for the return of most of the 2000s trends that have come creeping back into our lives. The 2000s were an easier time, you know? Where your biggest stress was which CD you were going to purchase from FYE (My Chemical Romance for me, always) or if the cute salesperson model in front of Abercrombie was going to notice you. Like I said, easier times.
So let me take you down memory lane, 2020 reboot style, with the best and worst 2000s trends to return this year.
The Best
Velour
I'm just going to start here with velour, because it feels really relevant to current times, and I am absolutely on board with this comeback. Obviously, we're in a time where comfy clothes have never been more relevant, and it feels like the perfect opportunity for velour tracksuits to be a thing again. If you haven't been on social media in the past few weeks, Kim Kardashian's SKIMS dropped a collaboration with the president of velour sets, none other than Paris Hilton. That's hot. I'm going to be honest, I bought a set myself after telling everyone around me how I couldn't wait for the affordable Target knock-off to launch. I simply had no self control, and I am not even sure why. Let us pray that $80 sweatpants are in fact worth it.

Juicy Couture's Limited-Edition 25th Anniversary Collection in partnership with New York City Alliance
On the topic of overpriced velour sets, we also have the comeback of the absolute OG velour sweatsuit brand, Juicy Couture. Personally, I am not ready to see "JUICY" slapped across the behind of my peers, but like, I'm still glad the brand is back and thriving. The brand is actually now celebrating its 25th year, to make you feel super f*cking old, and announced a bunch of new collabs, so it's going to feel like middle school all over again with everyone you know sporting a Juicy tracksuit. That being said, Juicy obviously has a place in the best comebacks category, because I dare not disrespect a brand that influenced a generation of fabulous middle schoolers.
Tie-Dye
View this post on Instagram
At this point, there's not much to say about tie-dye, except that it was the biggest trend of 2020. It was like a summer camp in every person on the planet's living room, tie-dying anything we could get our hands on. Eventually we all gave up and brands like BrownDyedGirl (who I found from Hannah B. Who even am I anymore?) came to our rescue bringing tie-dye sets to our doorsteps without the hassle of actually hand-dying pieces. I'm putting this in the best category for a few reasons. It hits all the Cs: cute, comfortable, cozy, casual, classic. If I'm being real, I'm not sure how long this trend will actually last, but for 2020 it has served its purpose.
Color-Tinted Sunglasses

Everyone who was someone rocked color-tinted sunglasses in the 2000s, and when they came back to life I was all in. Now, disclaimer, I literally look like Mrs. Potato Head in ALL sunglasses, but that simply did not stop me from hopping on the bandwagon. The pastel colors hit different and make me feel like a pop star. I shamelessly bought a pair from Vogue Eyewear (taking Watermelon Sugar to new levels here). I hope to see this trend live on for a few years, but if not, I'm glad it had its comeback moment.
Press-On Nails

I mean… come on. These things are so convenient. When I was younger I freakin' LOVED press-on nails and my mom thought I was pure trash. Now we've upgraded from the CVS claws to brands that actually are custom printed to fit your nail, and I really think this is the hack that we all need. I personally have been using ManiMe as my go-to, but there are multiple brands with similar concepts that are doing it right. This is great for my people who are feeling lazy, and also great for those not comfortable and ready to go back to a nail salon.
Glasses Chains
In 2020, glasses chains DID make a comeback, and it was a chic one at that. Early 2000s glasses chains were strictly for grandmothers who lost their reading glasses if they weren't literally tied around their neck, but 2020 glasses chains were a cute accessory just because. It also influenced a much bigger and more important trend, the mask chain. The first time I saw a mask chain was on Lara Eurdolian's Instagram (@prettyconnected), and then I blinked and everyone had one. They're convenient for the same reason a glasses chain would be, but also spruce up your mask in the most needed way. If you told me in January that this would be the best accessory of 2020 I'd laugh, but here we are… and that's on pandemic fashion.
Vests

ASOS Neon Rose relaxed sweater vest in marble knit
2000s vest fashion consisted of diamond checkered sweater vests that could only be rocked by Avril Lavigne. If said vests returned in the same style, this would be at the top of my "worst" list, but now they've come back in a cute and fun way, and I'm obsessed. The oversized sweater vest and button-up shirt dress combo is currently the vibe I'm enjoying, and if there wasn't a pandemic, you bet I'd be seeking fall activities weekly to rock this look. Instead, I'll be ordering this outfit and asking my mom to snap a pic of me in the yard, because that's 2020 in a nutshell.
Flavored Lip Balm

If you didn't have EVERY flavored Lip Smacker balm, were you even alive in the 2000s? I don't even recall if these actually hydrated your lips or just made them more chapped, but I do know that the sweeter the smell, the happier I was. While I would not opt for an actual Lip Smacker in 2020, I have noticed the rise of candy flavored lip products returning. My personal favorite is the Laneige Lip Mask, because it makes my lips feel super hydrated for long periods of time and the flavors are real good. Sweet Candy, Gummy Bear, and Vanilla are my top three, but really they're all delicious. As someone whose lips are literally always chapped (no amount of water can save me, I've tried), this is a trend I am here for today and every day.
Furry Sweaters

Tobi Dream of Me Fuzzy Lavender Sweater
#WinterIsComing and as someone who is ALWAYS cold, this is the type of sweater that never left my closet. That being said, I am well aware that a furry fluffy sweater hasn't always remained on trend, but this year, they're back. I picture a young Mary-Kate and/or Ashley rocking this with some pigtails, and that is the energy I am trying to bring back this winter. This sweater in particular is from Tobi (calling all my sorority girls), but it's safe to assume you can find this staple at any store.
G-Shock

Honorable Mention goes to G-Shock. I NEVER saw this comeback coming, but given the fact that these watches fashionable now must be acknowledged. What's next, Etnies?
The Worst
Visible G String
I don't think I have to go too deep into an explanation as to why this trend is falling under my worst comebacks. The first time this trend existed, I was seven years old, so I didn't really understand it. Now, I am 27 years old and still don't really understand it. The wedgie-but-make-it-fashion look is not for me, and while it might be done tastefully by Hailey Bieber and Kim Kardashian, it most certainly does not suit the average human.
Butterfly Clips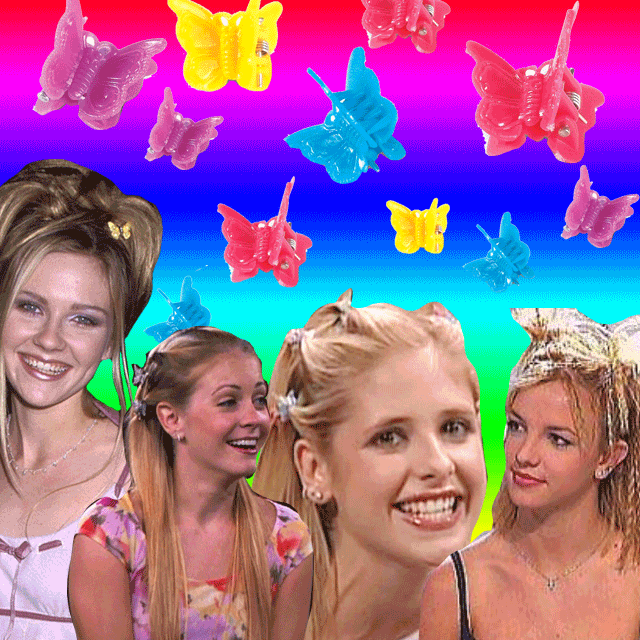 I'm kind of torn on this one, so don't hate me for putting it in the worst comeback category. That being said, I need to be a little realistic here. Butterfly clips were cute AF when we were young, but they were never practical. They never actually held my hair back (granted I have frizzy, curly hair that pre-heat iron days could literally not be tamed) but even worse, the fancy ones would get tangled and lost in my lion's mane and hurt. Now, seeing adults wear them in 2020, I am just wondering… why? Is it for the looks? Is it to test your detangling skills? Again, I see this trend fizzling out quickly, but if you can rock it and make them look as chic as above—all the power to you.
Low Rise Jeans
View this post on Instagram
Not much to say here. I thought low rise jeans were dead and gone, and I was happy about that. Low rise jeans flatter no one, and I thought we all accepted that we just don't need our jeans to expose our pubic bones? I'm just not here for it. So yeah, let's keep these bad boys in the past, please and thank you.
Money Piece
View this post on Instagram
So let me start this bit by saying I myself currently am rocking a money piece, and a thick one at that. But, I am well aware that this trend will be over in no time, and I'll look back and wonder wtf I was thinking. I have physical reactions to how strongly I dislike chunky highlights, so I assume my views will be similar in a few months. I do think they are cute and fun at the moment (when done correctly), but the upkeep sucks, and when the roots start creeping in it goes from funky to disaster real quick. Let's mark this under "worst comebacks that I am currently enjoying but can still acknowledge are the worst."
And there you have it sk8er bois and girls. 2020 has been a fun blast from the past (even the roaring 20s are making an appearance!!!) but the trends remain sharper than ever.
Betches may receive a portion of revenue if you click a link and purchase a product or service. The links are independently placed and do not influence editorial content. 
Images: Jun Sato/ WireImage; Provided by Tobi; GIPHY; SKIMS, Juicy Couture, BrownDyedGirl, DoYouLoveThe2000s, ManiMe.Co, PrettyConnected, TheFrankieShop, Laneige, G Shock, NewBalanceLifestyle, Bella Hadid, Brittany Xavier / Instagram
A New Song About ~Feelin Yourself~ By Charli XCX's Protégés Is What Single People Need RN
If you're quarantining with your significant other, consider yourself lucky—no matter how annoying their snoring is or how badly you want to throttle them when they fail to take out the trash despite your numerous reminders. After spending a few months with only Me, Myself, and I, I'm slowly losing it and beginning to understand why Tom Hanks painted his own blood on a volleyball, let's just say that. And another side-effect is that I'm literally living in one of those "Day 257 without sex" memes. If beaches weren't closed, I might have gone to one just so the waves would slap my ass. Just kidding, but like, it's real out here. Which is why it's amazing that Nasty Cherry, the stars of Netflix's I'm With The Band and Charli XCX's protégés, came out with a song that's all about ~feeling yourself~. It's called "I Am King", and it's out today, May 22, via Vroom Vroom Recordings.
When I asked about the inspo for the song, Nasty Cherry member Gabbriette said, "Masturbating seemed to be the topic of the day. Feel like we don't get to sing and dance about it enough so we made a song to help us out." Honestly, she's not wrong.
As for what it means to really be a king, each of them had a different take. Gabbriette said, "Being a king is loving what makes you you. Livin' life how you want in your body." To Debbie, "It means being fearless and needing nobody but yourself." And for Georgia, "To me, being king means being the ruler of your own body, and having complete authority over it." I cosign all these interpretations.
But we all have days when we're not exactly feelin' ourselves (whether it be literally or figuratively), and on those days, Chloe recommended, "Do an activity that makes you feel good and brings you joy. For example, when I'm low, I listen to Charli XCX and make pasta."
After you check out "I Am King", you'll probably become obsessed with Nasty Cherry. The all-female group puts out music that's fun and provocative (songs about masturbation, titles like "Music With Your Dad", need I say more?). And they have a #tbt aesthetic that any 90s betch will live for. I asked about that, too. Georgia explained, "We all love the early 2000s aesthetic! We grew up with Lizzie McGuire, Bratz dolls, the Cheetah Girls, Christina's Stripped album, etc., and have a lot of shared love for that period of pop music and film. 2002 gets such a bad rap for style, but it was f*cking fun—you could throw on a tracksuit with a pair of stripper heels and sunglasses and it was a look." Ok, like, yes.
Couldn't agree more, and I have a feeling that post-pandemic, tracksuits with stripper heels are going to make their way back. So dim the lights, maybe light a candle, and check out their newest single below.                                                                              
How The Sisterhood Of The Traveling Pants Would Shelter In Place
Welcome to week six of lockdown. Yesterday I watched a squirrel fight and that's not a metaphor—there really were two squirrels battling over supremacy over the fence around my apartment building. It was thrilling, and as I could not tell the squirrels apart, I still have no idea which one won.
We are living through a strange, critical moment in the history of the world. We are staying in, hunkering down. We are taking care of each other by staying apart. And the thing I'm struck by as we all reach out, group chat, and video call one another is all of the women who have banded together. 
And now the ways we are all coping—the ways we are checking in with our families and our loved ones. We're sharing memories, we're playing games, and we're sending good messages of babies and fur babies and plant babies to each other—I have been thinking about my favorite girl group, the Sisterhood of the Traveling Pants.
Here's what I think they're up to. And yes, I'm going based on after Forever in Blue (or Sisterhood of the Traveling Pants 2 if you only watched the movies). Don't @ me. 
Carmen Lowell

One upon a time, there was a girl named Carmen who started reading storybook fairy tales for her local library branch. She ended up doing so well that she's now joining Zoom readings and Facebook Lives with the likes of LeVar Burton and Reese Witherspoon. She wears a conical princess hat as she reads and she does all the voices.
Tibby Tomko-Rollins

Welcome to the Suckumentary, volume 2.0. It started mostly Tibby filming people violating shelter in place rules, and it's now devolved into posting thirsty TikToks. She's still trying to figure out whether she passed or failed half of the challenges she's tried. At least she refuses to go live on Instagram and she promises to not try making sourdough. Brian has already made several starters and dropped them off outside her apartment. They're all slowly dying in her fridge.
Bridget Vreeland 

Bee is teaching online HIIT and Pilates classes. And cardio boxing. She looks amazing, and she's still wearing jeans. She's also started organizing Zoom game nights for all of the girls. She's got a custom Jeopardy board that she's made, with an entire category section dedicated to different denim cuts. She's also been contributing to the Google Maps archaeology site based on her last trip to Turkey. Bee is sheltered in place with Eric, so she's messaging Tibby lots of concern-troll emojis whenever Tibby posts another thirsty meme.
Lena Karigalis

Lena is finally, finally learning Greek. She's been using Duolingo, but she never remembers to practice it until the owl starts yelling at her. She's been doing live drawings every day on Twitch, which her viewers find deeply soothing, and she's considering branching out into an ASMR Instagram account. Kostos is her most loyal viewer and she refuses to acknowledge him whenever she's streaming. They FaceTime every day throughout all of this.
Effie Karagolis
Not officially a member of the sisterhood, I know. But let's not leave Effie out, okay? (Yes, I am a younger sister. What of it?) Effie has been posting comedy cooking routines. She gets drunk and tries to make whatever recipe Samin Nosrat just posted. Everyone else finds this funny, except for Lena.
The Pants 

The Pants were last seen in Greece. They are suspiciously absent during shelter in place and while nobody can say for certain, there's more than one sister that thinks the pants might provide immunity to COVID-19, if only they could be found.
I write young adult contemporary stories. Sisterhood seems to belong only and squarely in this lane. But still, I want to provide solutions— create the girl gangs I never see. My first book, Not the Girls You're Looking For, is about four friends who have to decide if sticking together as a group—re-upping the contract of their friendship—is worth it. I say it's my ode to mean girls, messy friendships, and bad decisions. It's an exploration of the tenacity and the ferocity of girl gangs. Tell Me How You Really Feel is my enemies to lovers rom-com about two girls on the opposite side of the social scale as they work together to make a make a movie. But its core is this: that ambition and drive shouldn't get in the way of forming bonds of love, any kind of love. 
But my latest, This is All Your Fault, is about that important moment: the inception of a girl gang. Three girls band together trying to save their local Chicagoland independent bookstore. They think they all know each other. They think they each have it figured out. Throughout the course of the day, they realize that the only way they stand a fighting chance against the man is by working together. By using their conflicts and their differences for a greater good.
At the end of the day, sisterhood and girl gangs belong to stories about space exploration, stories about adventures, and beyond. Because every amazing woman I know has a group chat to turn to when times get tough. And it's time that the stories we tell started reflecting that.
Aminah Mae Safi is a Muslim-American writer who lives in Los Angeles with her partner and cat. She's the author of YA contemporaries Not the Girls You're Looking For and Tell Me How You Really Feel. Connect with her at aminahmae.com.
Images: Everett Collection / Shutterstock.com; Giphy 3); We Heart It; Primo Gif
How The Friends Would Quarantine
We've all got a lot of time on our hands right now to ponder life's greatest questions, like "how long can I go without washing my hair?" and "am I only going to hang out with people through Zoom for the rest of my life?" But there's one major question that's been on all of our minds: "how would the characters of Friends handle quarantine?" And as someone who started watching Friends at six years old (was I way too young to be watching it? Yes. Did it make me feel 1,000 times superior to all the other first-graders? Absolutely yes), I feel particularly qualified to carry out this task.
For the sake of a consistent timeline, we'll assume they go into quarantine sometime around season 6, after Monica and Chandler have moved in together and Ross is living in the apartment across the street from them, and we'll also assume that they've decided to all quarantine together. But also, if the timeline doesn't 100% line up let's just all try to remain calm. This is an imagining of a TV show that ended 16 years ago, so maybe just have a glass of wine and keep that in perspective.
Rachel Green

Rachel started dating a guy right before everyone went into quarantine and is freaking out that he hasn't called her yet. She insists on keeping the phone line open at all times in case he calls, and to distract herself she has started trying on all of her clothes and asking everyone what she should get rid of (correct answer: nothing, Rachel Green is a fashion icon). After realizing she has such great taste, she's decided she should start a fashion blog.
Phoebe Buffay

Phoebe has been reliably informed by her psychic that one of the Friends has coronavirus. In order to figure out who has it, she's trying to read everyone's auras because, according to her, that's as good as an actual test. She's also lighting an absurd amount of incense (it's "healing"), putting crystals in every room, and writing songs about literally everything everyone is doing, and it's driving them all absolutely insane.
Joey Tribbiani

Naturally, Joey is eating through all of the quarantine food like it's Thanksgiving dinner and he's got his eating pants on. And as we all know, Joey doesn't share food, so this is kind of a big problem. He's also always trying to break quarantine to go meet up with a girl, but because no one will let him, he's instead trying to flirt with girls he can see in the building across from them or on the street through the window. To no one's surprise, he's so successful he has a new girlfriend every week.
Ross Geller

Ross is the only one who didn't make it to Monica's apartment in time for quarantine, and as Monica's already got the place on full lockdown, she's refusing to let him in. Whenever he tries to call them, Rachel immediately hangs up the phone in case her date calls, so his only option is to try to communicate with them through their window.
Chandler Bing

Chandler only has two coping mechanisms: sarcasm and smoking. While his sarcasm is certainly no secret, the fact that he's started smoking again definitely is. He keeps making trips to the hallway and the balcony for a smoke break but is ultimately caught because like, the smell, duh. Could he be any more obvious?
Monica Geller

A global pandemic is Monica's worst nightmare because it's not something she has any control over. So obviously, she's making everyone to wash their hands every hour on the hour and trying to clean the apartment 24/7. The only problem? Joey got rid of most of their cleaning supplies to make room for more quarantine food, and she already ordered Amazon's entire stock of cleaning supplies. So instead, she's baking constantly to relieve stress. She started the banana bread trend.
Gunther

Devastated by the fact that he likely won't see Rachel again for months, he's started writing fan fiction about how she will eventually fall in love with him (as if he wasn't already doing that).
Janice

Janice decides to serenade her neighbors from her balcony and ends up having dozens of noise complaints filed against her because of her voice.
Images: Giphy; Paul Smith / Featureflash via Shutterstock.com
Britney And Justin Reconnected On Instagram, And We're Nostalgic AF
We're reaching the point of quarantine where normal rules just don't matter anymore. We're eating at random times, drinking at… all the times, and reaching out to people from our past just out of boredom. If you haven't texted a past hookup or ex during this pandemic, you're stronger than me, congratulations. Luckily, Britney Spears is taking my mind off of my ex, by very publicly talking about one of her own exes: Justin Timberlake.
On Wednesday, Britney Spears posted one of her now-signature videos on Instagram, featuring some frantic dance moves, choppy editing, and most importantly, ultra-low rise booty shorts. But what was notable about this video was that she's dancing to one of Justin Timberlake's songs, "Filthy." In her caption, she says that this is her "version of Snapchat or TikTok or whatever the cool thing you're supposed to do these days." God, I love her.
But then she really brings it home by addressing her song choice: "PS I know we had one of the world's biggest breakups 20 years ago …… but hey the man is a genius !!!! Great song JT". And, in that moment, my soul rose up to heaven. Britney's Instagram during quarantine has been messy in the most delightful way, and this is everything I could've asked for.
But then it got even better, because Justin Timberlake commented on the post. He kept it frustratingly simple, with just some emojis, but in these dark times, I will take what I get and I won't get upset. We know that Justin and Britney thought of each other yesterday, and for that I am thankful.
View this post on Instagram
Naturally, people were very excited by this interaction, and this post got sent in no less than three group chats I'm in. Britney's sister Jamie Lynn Spears also chimed in, commenting that "Blogs are already plotting their outrageous stories…. you keep having fun and looking cute tho!!" Okay, I don't know if I should feel attacked right now, but I will refrain from plotting any outrageous stories. And honestly, there's nothing going on here to even plot about. It's pretty obvious that Britney and Justin aren't close or anything—this isn't a Brad and Jen situation—but it's fun to see them shouting each other out.
Seeing Britney's post, and the ensuing comments, made me feel super nostalgic. Last week, we threw it back to 2006 to explain the iconic photos of Britney Spears with Lindsay Lohan and Paris Hilton, but Britney's relationship with Justin was a whole different era, and I f*cking miss it. Of course, we all remember the classic matching denim looks, but I feel like people forget how sh*tty Justin was to Britney after things ended.
In a Twitter thread from 2018 that's basically a goldmine of forgotten moments, @PallahAbdul walks us through two decades of reasons "why Justin Timberlake is trash." The thread isn't just about Britney, but their relationship is definitely a recurring theme. According to the thread, soon after Justin and Britney broke up in 2002, Justin began a pattern of portraying himself as the victim, and putting the blame on Britney for the relationship going wrong.
In this clip from a Barbara Walters interview, he says that he promised Britney he wouldn't say the exact reason for the split, but basically says yes when Barbara asks him if Britney cheated. Allegedly, they both cheated on each other, but Justin leaves that part out. Then, later in the segment, he sings a song called "Horrible Woman." Subtle!!
In his Barbara Walters interview he paints himself as a victim then goes on to sing a song about Britney called horrible woman pic.twitter.com/nngMVbN3oC

— Romeo Santos (@PallahAbdul) February 4, 2018
Soon after that, he released "Cry Me A River," which everyone has always assumed is a Britney diss track. While promoting the song, he continued to talk about Britney, and in this radio clip, he admits that he "f*cked Britney Spears." Considering that they both famously claimed to be virgins during their relationship, this feels like a pretty big betrayal of trust.
Here's another clip of him on the radio talking about sleeping with Britney pic.twitter.com/q8VulGYMFz

— Romeo Santos (@PallahAbdul) February 4, 2018
Fast forward a full decade, and Justin was still talking sh*t about Britney. In this video from 2013, he introduces a performance of "Cry Me A River" by vaguely talking about when you love someone, and they turn out to be "a bitch." Classy.
Before his album cycle in 2013, Justin predicably started bringing Britney up again. Before a performance of "cry me a river" he called her a bitch pic.twitter.com/CyEyaOqjWa

— Romeo Santos (@PallahAbdul) February 4, 2018
In the nearly two decades since the breakup, Britney has generally kept things more positive, and she even said in 2016 that she'd love to get in the studio and collaborate with Justin. That being said, she hasn't been above a shady comment or two, and in this video (that looks like it was shot in a bunker), she and K-Fed joke about how "Cry Me A River" is "pussy-fied."
Fun little bonus clip: Britney singing cry me a river and calling Justin a pussy pic.twitter.com/c47LTJv9lA
— Romeo Santos (@PallahAbdul) February 5, 2018
Honestly, I don't think these two will ever be friends, and I don't need them to be. Clearly, a lot of messiness went down in the past, and sometimes you're just not supposed to be friends with your ex. I'm happy that they can make playful comments on Instagram, but that's probably about as far as this will go. Actually, I really want Justin to post a video dancing to one of Britney's songs, but that doesn't seem realistic.
Images: Jeffrey Mayer/WireImage via Getty Images; commentsbycelebs / Instagram; pallahabdul / Twitter
The Worst Fashion Trends Of The Decade
Congrats team, we've officially (almost) completed a full decade… WOW. Hard to think about the fact that I started this decade as a naive high school junior with jet black hair, an unreasonably orange tan, and a wardrobe complete with Ed Hardy graphic tees. Oh, how far I've come! I can speak for us all when I say that we have all have changed significantly over the past ten years, as we should. And, just as we have all changed, fashion too has evolved (for better and for worse). Like, who back in 2010 could have predicted that in 2019 we'd all be wearing baggy sweats with crop tops and dad sneakers because Kim Kardashian West (a future lawyer) made it cool to do so? Trends are a weird thing and, of course, we've seen some terrible ones over this past decade. So now let's all try to contain our cringe sweats as we dive into the worst fashion trends from each year of this decade, and try to forget that we voluntarily chose to participate in these hideous trends. 
2010: Jeggings

What better way to kick off the worst trends of the decade than with jeggings! Oh, jeggings the true star of infomercials, weekend-deal-buster department store ads, and closet staple of all of the trashiest girls from your high school. No matter how hard anyone tried to "elevate" the jegging, it just simply couldn't be done. At the end of the day, it was always still a legging-jean hybrid, two things that we should never have tried to mix. And thus, forever a great fashion tragedy.
2011: Toning Sneakers

Toning sneakers… anyone, anyone? I mean, it's kind of a brilliant concept in theory, but they were just so terrible to look at that it was impossible for anyone to get on board with this trend who wasn't a suburban mom. Not to mention, there's no evidence they even work. So our moms we would be walking around with gigantic orthopedic shoes for nothing. Wait, you know what? I'm just realizing something…were these clunky toning sneakers foreshadowing of the chunky dad sneaker to come???
2012: Statement Necklaces

FSMILING Antique Gold Bib Statement Necklace
If Queen Stassi gave us anything, it was her hard endorsement of the statement necklace trend. Oh, along with, "It's my f*cking birthday!" and "I'm not sure what I've done to you, but I'll take a Pinot Grigio." Okay, she's given us A LOT this decade. Unfortunately, even with all that she has given us, she is still guilty of being a strong supporter of this terrible trend. I don't know who told us we should be walking around with the entire Cave of Wonders from Aladdin strapped to our necks, but they should be burned at the stake for that crime against humanity.
2013: Wedge Sneakers

Cambridge Lace-Up Fashion Sneaker Wedge
Wedge sneakers… yikes. If there is an overarching theme of bad 2000s fashion, it's that we thought we could mix things that never should go together. There's a reason you have sneakers for the gym and wedges for the club, so I don't know who initially thought "let's take my most comfortable, least fashionable shoes and make them hideous and harder to walk in!" But that person needs to be put to justice. I'm going to go ahead and admit here that I MAY have had a pair of these…or two. But it didn't matter because I was always too self-conscious to wear them. For all the trends I've embraced, this is one that I just never thought I could actually pull off. And like, fair, because really, no one could. 
2014: Printed Leggings

Idingding Galaxy Star Printed High Waist Leggings 
I honestly don't know what's worse, cheap-looking jeggings or tacky printed leggings. And somehow, we managed to combine both into one very unflattering and NSFW trend! If you are wearing paper-thin printed leggings for anything other than lounging around your house or a Halloween costume, please take a long, hard look in the mirror.
2015: Flower Crowns

If you didn't wear a flower crown then you're either a liar or you need to get out more. Everyone who is anyone has worn a flower crown at some point in time and, as cringe as that is, it's the sad truth. Throwback to 2015 when flower crowns were the fashion icon of the festival trend. Every basic bitch who only listens to Top 40 hits was being #wanderlust and going to any music festival she could get her dad to buy her tickets to. And that was all fine and good, but then flower crowns made their way into weddings, and we officially had a fiasco on our hands, where any bitch who'd stepped outside one time thought she was a boho princess. This is why we can't have nice things.
2016: Chokers

Forever 21 Cross Pendant Choker 
Not going to lie, I definitely gave this trend my approval along with my hard-earned dollars for legit a piece of string with a charm hanging off of it. And, if I'm still being honest, this is a trend I do still kind of like. However, it's the worst trend of 2016 because EVERY GIRL across this great nation was wearing a choker. It became so basic that seeing a girl in a choker was as much a guarantee as seeing a girl in her Adidas three stripes. 
2017: Furry Sandals

Okay, again, this was actually a trend I do support, but only in theory. This is because I, like most regular everyday civilians, have no f*cking idea how or when to wear these shoes. I have several pairs of these because I think they're adorable, but the question still remains: WHEN THE F*CK DO I WEAR THEM!?! They're sandals, but they have fur, so if I wear them in the summer then my feet will inevitably sweat and make the fur all gross and matted. And, if I wear them in the winter then I'll be on the same level as those white guys who wear shorts year-round, and I'll have to sacrifice a few toes to frostbite. And then what's left? Spring or fall maybe? But with what? And in what context? Even if these may be cute, they still make zero sense.
2018: Tiny Sunglasses

Slocyclub Vintage Small Sunglasses 
Now, I know this is a trend that most of you probably hate and will fully get behind me crowning this the "worst trend of 2018." Of course, as a self-proclaimed fashionista I admit that I do think this trend looks cool. Like, when I see Bella or Kendall wearing tiny sunglasses, it looks so chic. But therein lies the problem: You and I are not Bella or Kendall, and so there is no real-world occasion that these are useful. You're wearing sunglasses that neither protect your eyes, nor the area around your eyes to help prevent wrinkles. This trend is legit just to look cool and, as much as I love to look cool, I still need my trends to, at the minimum, be somewhat practical. Not to mention, our kids are going to roast us so hard for this.
2019 – Micro Mini Bags

Pretty Little Thing Natural Snake Micro Mini Bag
Like I just stated, impractical trends are not my thing. I can't justify spending money on sh*t that isn't going to benefit my daily life. Unlike the sunglasses trend that, although impractical I still think looks cool, I don't think the micro mini bag trend even looks cool, unless you're Lizzo. And I just don't see the point of a bag that can't even fit my phone in it. What am I meant to put in here? A tube of Chapstick and one credit card? I'm good. Call me when Olsen-level oversized hobo bags come back in style, thanks.
So as we now approach the start of this totally new decade, I can't help but think about how in 10 years from now I'll again be looking back and cringing at all the terrible trends I actively participated in. Not to mention the fact that, unfortunately for us all, thanks to social media we will all have our fashion tragedies yet to come officially recorded for all eternity. And they say social media is bad for your mental health…
Images: Beauty Style / Shutterstock.com; Chicos; Skechers; Amazon (6); Forever 21; Pretty Little Thing
Betches may receive a portion of revenue if you click a link and purchase a product or service. The links are independently placed and do not influence editorial content.
'Clueless' Is Being Made Into A TV Series That Sounds Like A 'Euphoria' Rip-Off
I really am not one to fangirl over reboots of my favorite 90s TV shows and movies simply because of the nostalgia factor. Time and time again, the reboot proves to not even come close to the original (and that's why I don't talk to my exes). BH90210 was a meta-clusterf*ck. Baywatch was a total disaster that even The Rock and Zac Efron couldn't save. We don't even talk about Mean Girls 2. And yet history does nothing to stop Hollywood from insisting on making reboot after reboot, demanding us millennials to get excited and watch it, even though we can still watch the original on repeat on Netflix. And what do we do? We play right into the narrative, with our "OMG A 'GREASE' REBOOT IS COMING" articles and our Twitter hype, never stopping to question if we should do something just because we technically can. And so today's reboot that probably some people asked for, but I was definitely not one of them is Clueless. And, while we don't know a whole lot about the Clueless reboot, what we do know is… concerning.
Entertainment Weekly reports that Clueless is in talks to be remade into a TV series by CBS Television Studios, and it apparently already has multiple bidders. Deadline reports that multiple streaming services as well as the CW are interested. (My personal vote would be the CW since, as you'll see in the description, this new Clueless would fit right in with the likes of Riverdale.) Again, we do not know much about what this Clueless reboot will entail, but we do know that it's going to be executive produced by Corinne Brinkerhoff, who created American Gothic and No Tomorrow, and it's going to be written by Jordan Reddout and Gus Hickey, who wrote Will and Grace. These are some interesting choices, but not nearly as interesting as the description of the TV show Entertainment Weekly provided.
This Clueless reboot TV show is actually going to be centered around Dionne, and I sincerely hope that they are not even considering bringing Stacey Dash into this—not even as the new Dionne's mom—because her problematic behavior does not need to be brought back into the public consciousness. In any case, Dionne is the main character, as Cher Horowitz disappears, and Dionne is forced to step into her role as Queen Bee. Or, as the unofficial description puts it, "a baby pink and bisexual blue-tinted, tiny sunglasses-wearing, oat milk latté, and Adderall-fueled look at what happens when the high school Queen Bee (Cher) disappears and her life-long No. 2 (Dionne) steps into Cher's vacant Air Jordans. How does Dionne deal with the pressures of being the new most popular girl in school, while also unraveling the mystery of what happened to her best friend, all in a setting that is uniquely 2020 L.A.?"
First, in what world does Cher Horowitz wear Air Jordans? I don't know about you guys, but I just took an Adderall, and that description still gave me a headache. (Just kidding mom, it was only a Sudafed!) This kind of reminds me of Euphoria, and I'm bregrudgingly into the idea that the creators are making their Clueless reboot grittier and darker. However, this whole description reads like these writers Googled "millennial buzzwords" and threw them all together in a word salad. Or, if you're looking for a visual description:

If this all sounds familiar, that's because Clueless was already adapted into a TV show. It aired from 1996-1999 and starred Amy Heckerling as Cher (since Alicia Silverstone wasn't available) and Stacey Dash as Dionne. However, while the '90s TV show was not much of a departure from the original movie, this 2020 adaptation is going to be markedly different. For all my complaining, I actually think that if you're going to revive a 90s classic, you need to go in a totally different direction with it. So that I support. The thing is, though, this could have been a totally new TV show and it would have still been compelling. There was no real reason to bring Cher and Dionne into this. That said, I did watch and enjoy Riverdale season one, so if the Clueless TV series is in the same vein, it might actually be good… until it jumps the shark in season 2.
Images: Giphy (2)